December 5, 2012
This weekend I finished my first batch of handmade Christmas presents. Warning friends and family – you may or may not be gifted one of the several projects that I'm planning to feature over the next two weeks. If you are, pinky swear you'll act surprised.
This first gift is inspired by our love of cooking. Kevin and I are the type that really dig those usual (and sometimes a little crazy) gifts of thyme-infused syrup, lemon sea salt, curry pistachio paste, pickled potatoes… you know, the weird stuff that you can experiment with in the kitchen. This actually happens to be my favorite find of all time, I keep containers of it in our pantry and add it to almost every finished dish. Especially raw avocados. Mmmm.
My goal was to make something unique – and not too crazy – for kitchen use for friends and family. Actually, many of my homemade ideas this year stem from some sort of favorite cooking or bartending technique.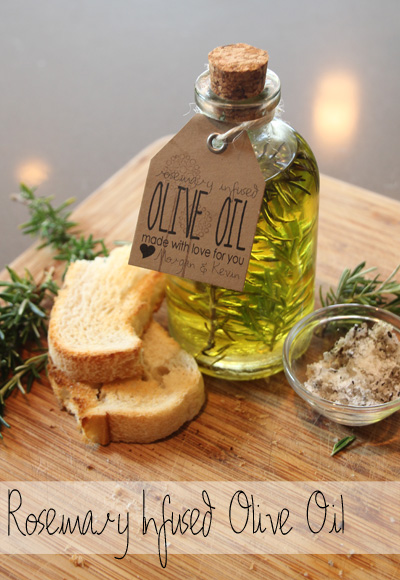 Pretty, inexpensive and not too time consuming! The trifecta of handmade gifting. I really enjoyed spending this past Saturday morning decorating for Christmas with this delicious fragrance roaming through the house in the background. A homemade gift that I highly recommend.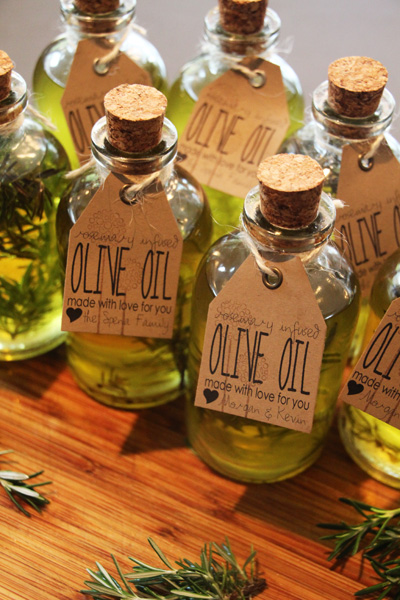 The infusion will now sit until Christmas, soaking up all of that wonderful rosemary goodness while the oil becomes the perfect base for salad dressings and marinades, or drizzled alone over sliced heirloom tomatoes or crusty bread.
Rosemary Infused Olive Oil
m
Materials for six 8oz bottles: 15-20 fresh rosemary sprigs, one half gallon of olive oil, small glass bottles with a sealable lid
A quick note on materials. You really could swap out any fresh herb in exchange for rosemary (or even lemon, garlic or roasted veggies, for that matter – though you'll want to read up on how to prep these to avoid bacterial growth). Olive oil is completely subjective to taste but I've read that original (and not extra virgin) is ideal for taking on infused flavors. I imagine EVOO would work great as a substitute in a pinch. I considered ordering a fancy gallon of olive oil online and then I read the rave reviews and blind taste testing results for Costco's very own and was sold. It's supposedly one of the best! Finally, any glass bottle will do (even canning jars) and I've heard that Ikea carries a nice selection as well.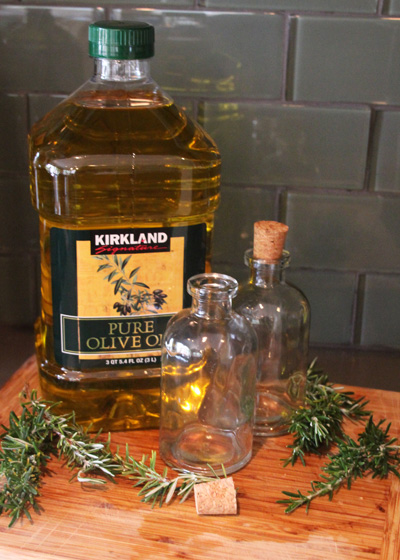 One big secret here is to use fresh herbs, preferably those that you grow just under your window sill (or in your front yard, we have waaay too much rosemary in our front yard, but it does smell fresh and yummy year round).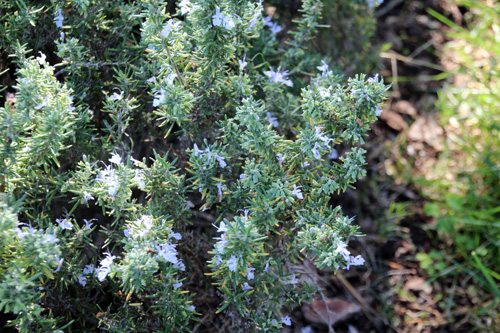 I found my little glass bottles at Save-On-Crafts after searching and searching (my kind sister noticed my dilemma over Thanksgiving and a day later she pointed me to a pinterest link for these adorable bottles! Thanks sis.) and was pleasantly surprised at the quality, price ($1.29 each!) and adorable little corks. When the bottles arrived, they received a thorough dishwasher washing and were allowed to completely dry.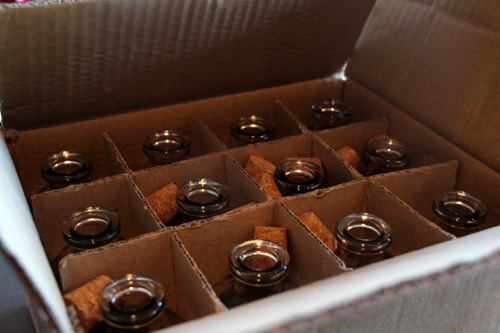 The rosemary, mind you it's straight from the garden where bugs live and children play, was cut down to sprig size and thoroughly rinsed. The whole bunch was left to soak in a water bath for about an hour. This is a sure fire way to uncling any unnecessary flavoring, if you know what I mean, from the sprigs. Followed by a few more rinses.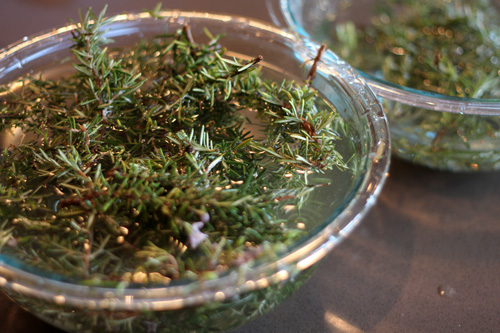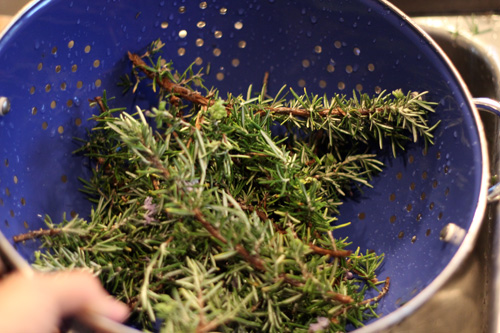 Once the rosemary is thoroughly washed, allow it to thoroughly dry (either out on the counter or by speeding up the process on a low temp in the oven). This is especially important for the rosemary sprigs that will go straight into the bottles (rather than the infusion) – any type of moisture allows for the possibility of mold. Update: my very first batch began showing mold at the very top of the rosemary in several jars after two weeks. I did a bit of research and realized that by soaking the rosemary I had allowed too much moisture into the bottle. For my second round, I let my rosemary dry out for several days so that no water was present during bottling.
To prep my infusion, I poured half of the olive oil and half of my clean rosemary into a large pot on low heat. To keep the olive oil from frying the herbs, ensure all goes in at the same time and that the oil is not spattering when you dust a little water over its surface, the oil should be luke warm. Let the mixture sit and infuse for 5-10 minutes, there's no science to this process but you'll know that much of the flavor has been steeped out of the herbs when they begin to wilt and turn a different shade of green. Turn heat off and let cool completely.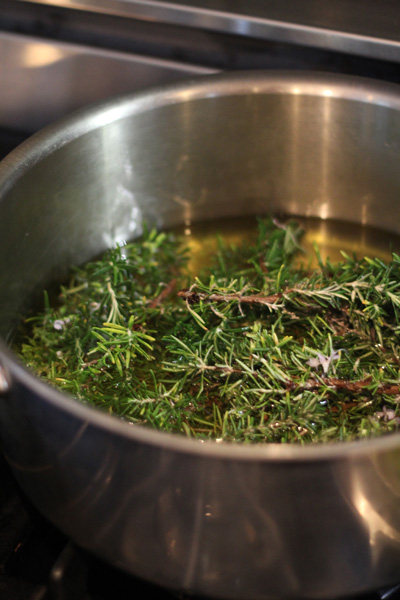 Meanwhile, use the other half batch of fresh rosemary to fill your glass bottles. You don't want to reuse the same rosemary in the above process, this rosemary is now a sad shade of green and will droop in your bottles.
I used a small liquid measuring cup to scoop out the rosemary infused olive oil from the pot to pour slowly into each bottle. It's okay if some rosemary leaves and even sprigs are transferred with the oil. Fill each bottle half way with warm, infused olive oil and half with your remaining fresh olive oil.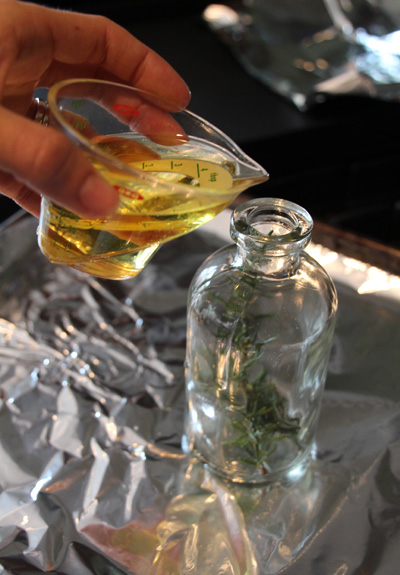 Pouring over a foil lined cookie sheet makes clean up a breeze. Simply scrunch up the mess when you're done, no gooey oil to sop up.
Oh it smells sooo good.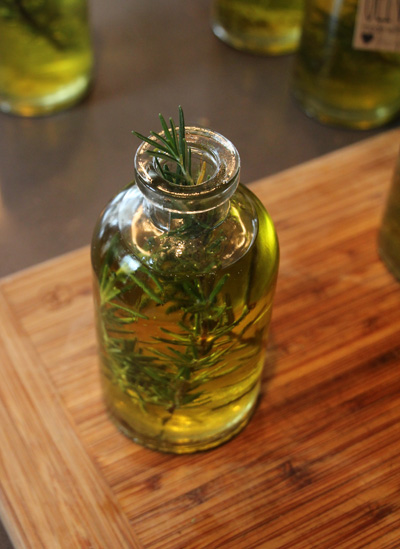 Cork well and let sit for 1-2 weeks for a full infusion. If you're planning on gifting right away, the oil will still be deliciously infused after just a few days, but mention to the giftee that if they let it sit in the cupboard for a full two weeks the olive oil will reach its peak.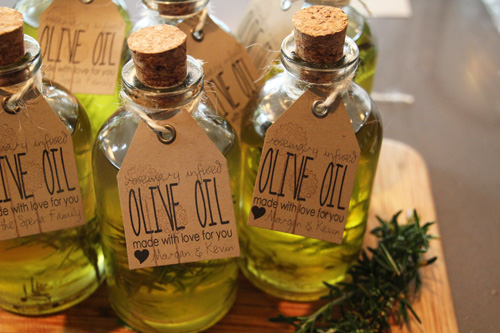 I made these labels on my computer at home and printed on brown card stock. A little stamp in the background adds a subtle handmade touch. Do you use Illustrator? You're welcome to my template if you'd like, just shoot me an email since I can't post ai files directly on the blog.
Update: So thrilled there are so many of you who would like to try this out! I've made a generic pdf template without the 'Love, Morgan & Kevin' that you can download here, you could always leave it blank or write in your own name on the printed version. Of course I'm also happy to share the .ai file, too!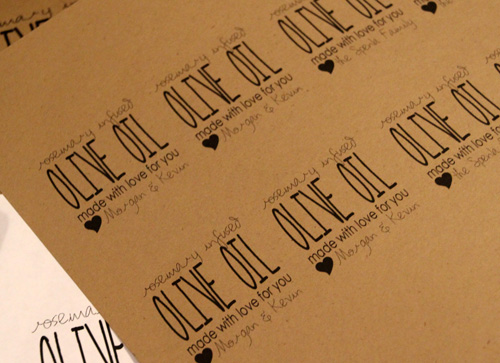 A couple of snips, a grommet and some twine later, and my rosemary infused olive oil project is finished.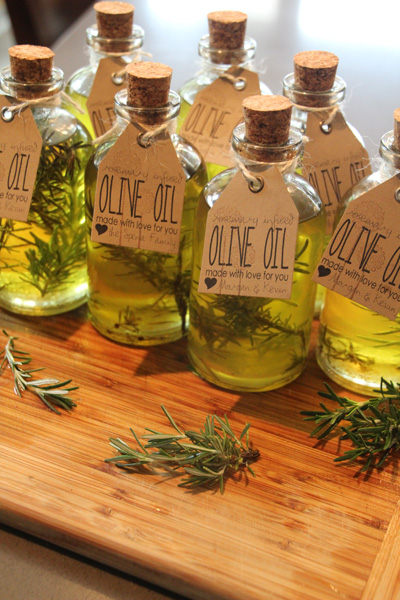 Did I mention it's delicious with just plain bread and salt? Oh man.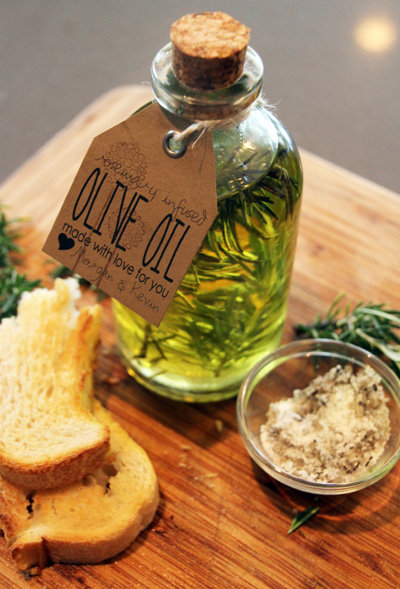 Happy cooking!
Tags:
Christmas
,
Crafty Solutions
,
Parties & Entertaining
,
Recipes
,
Tutorial
Posted in
DIY
,
Handmade Gifts
,
Holidays
,
Parties & Entertaining
,
Recipes
|
9 Comments »
November 26, 2012
Hope you had a restful and relaxing few days with family and friends! I took a much needed break… no work, no computer, very little media (even on Black Friday!) and attempted to keep all focus on what I'm most thankful for – that awesome bunch of family that I'm so fortunate enough to have. BUT I snuck in a few online deals post-Thanksgiving, when everyone was in that nap/football/book reading zone.

I am also just about finished with my Christmas shopping list. I love to brainstorm, shop for and sometimes even make Christmas gifts, so these coming few weeks will be full of delicious fun (rubbing hands together with a twinkle in the eye). More so than usual, I'm hand making a good chunk this year and I'll keep you updated on my ideas over the next couple of weeks to see if some of them resonate with you, too.
First things first, Liv is getting a DIY kitchen so that she can 'cook' along side momma and dadda. Here's a peek at my inspiration.
Annie's awesome creation, (built from off-the-shelf home improvement store cabinets) complete with magnetic paint on the little fridge and a soap dispenser as a working sink.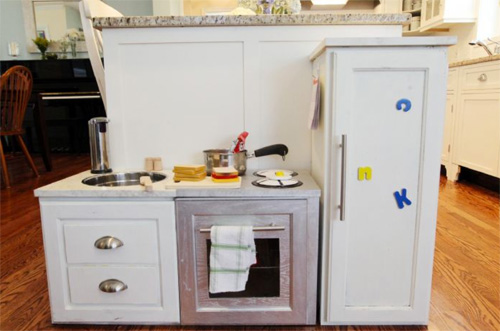 Carla's Ikea hack (previously two MALM nightstands), I love the little tile backsplash!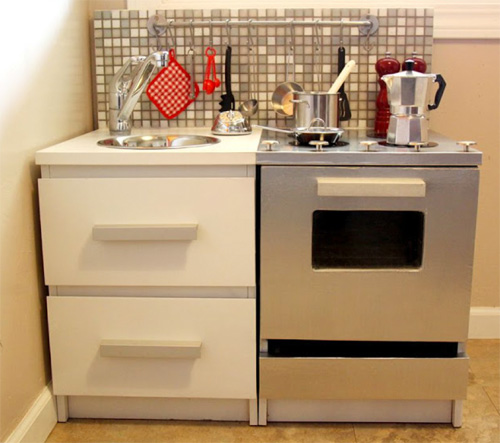 Holly designed a play kitchen with vintage knobs and a sweet little shelf to hold tea cups and what not…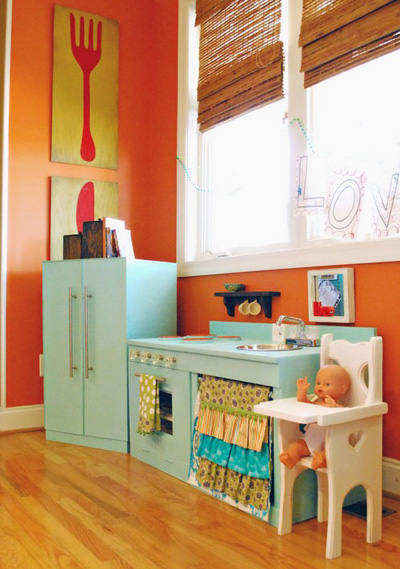 Love Jane's chalkboard detail and those little legs!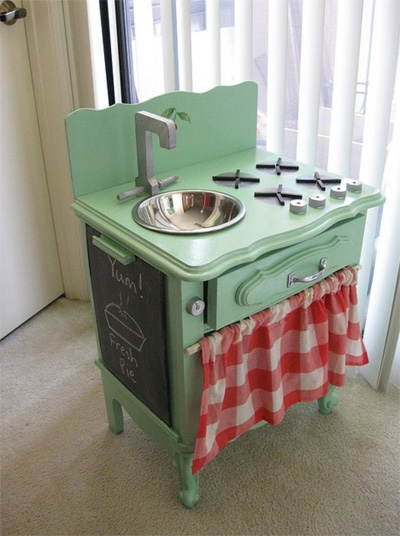 Don't have the original post for this one… Pinterest leads me here. I love the little burners and the oven.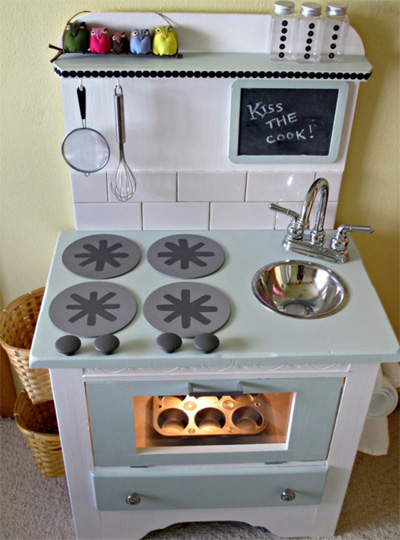 This looks like it used to be a changing table! Perty clever.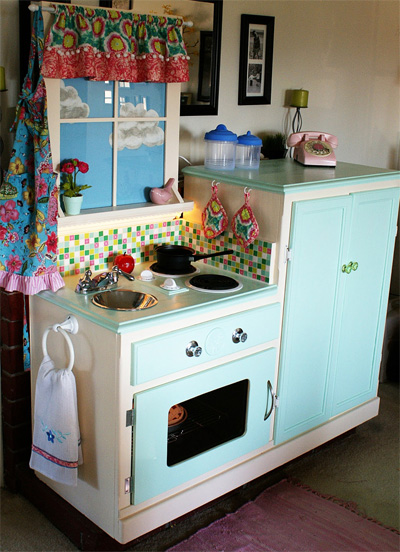 Loving this modern kitchen Ikea hack, too!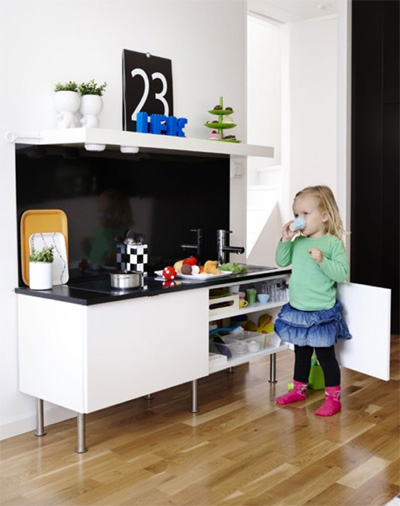 Finally, this YHL kitchen is full of cute ideas on how to make a cabinet makeover both pretty and functional.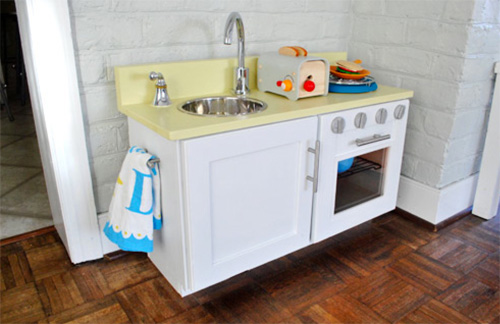 So many fun ideas

, four weeks to build. Will keep you posted.
Tags:
DIY
,
Kid's Rooms
Posted in
Crafty Solutions
,
DIY
,
Home
,
Olivia
|
3 Comments »
November 12, 2012
The new breakfast nook (shared about here) is on its way! I crossed my fingers, gulped twice and ordered those above-the-fridge cabinets that match the rest of our kitchen cabinetry and are perfectly sized as future bench seats for a breakfast nook. (For reference, they're cherry wood shaker-style KraftMaid cabinets from Lowe's in a honey spice finish.)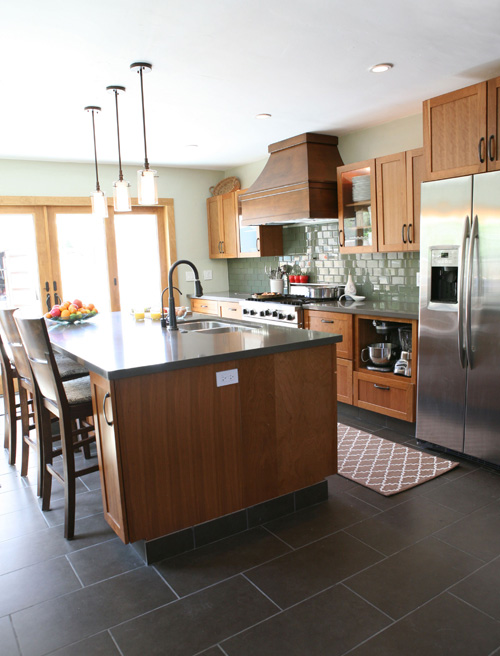 And then they arrived! And are just as perfect as had hoped. I opted for drawers rather than doors so that as I move my bench pieces around the kitchen (I'd like these guys to serve double-duty as all sorts of seating options) the contents won't come spilling out. The drawers provide a nice little stash place for tablecloths and runners and such, too.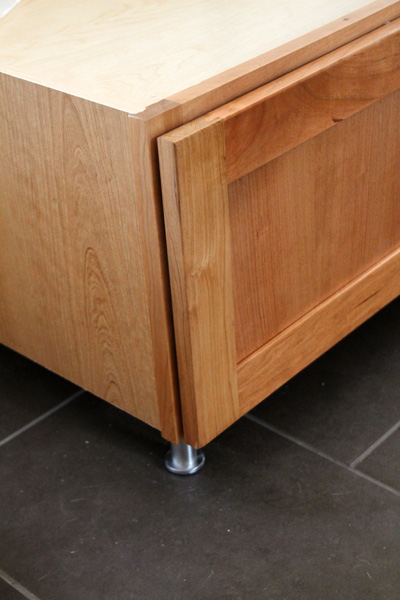 The drawers came assembled straight out of the box, but rather than add a toe kick to the bottom of the cabinets so that they aren't directly on the ground, I thought that legs might look a bit nicer and will add a little industrial detail.
Ikea came through with two varieties that I thought would work well – one a solid metal 'skinny' leg with a round foot, the other a pewter-painted 'fatter' leg with a rubber foot. The skinnier guys won based solely on ease of installation (I could drill the legs directly to the base of the cabinet without the screws interfering with drawer functionality).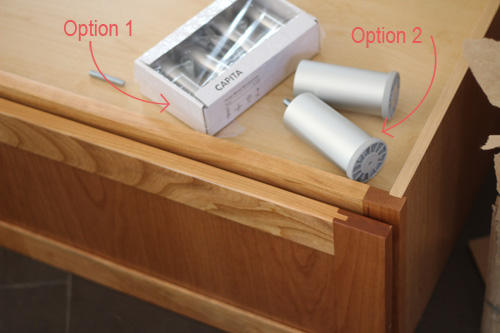 You can see that the fatter legs actually require a decently sized pre-drilled hole and something to screw the current exposed screw into (which is probably customary on the Ikea cabinets you're supposed to buy them for). See how the legs would sit into the underside of the cabinet above and not flush with the bottom (as I had imagined them showing up)? That plan was a no-go.
My skinnier legs are attached to a cabinet by securing each with four small screws, a perfect solution when a drawer must function on a track that is in the way of potential screws. The small screws were about 1/2″ long and didn't interfere with any sliding motion when drilled through the base.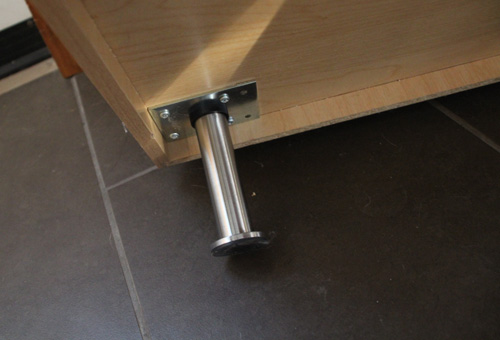 I totally dig my Ikea industrial legs. They don't look very Ikea-ish at all and are perfect for the kitchen!
Don't mind the dusty floors.
Now it's on to pretty cushions to top these rather uncomfortable drawer cabinets with, and then a table and maybe a few cool chairs. The breakfast nook is coming together!
All kitchen posts can be found right here (we built this space from scratch, at one point in its past life it was actually a den).
Tags:
Breakfast Nook
,
Construction
,
Kitchen
Posted in
Construction
,
DIY
,
Home
,
Our Kitchen Remodel
,
Renovating Adventures
|
10 Comments »