October 15, 2012
It feels a little funny to leave home in the middle of a hot summer and come back right in the thick of fall, Halloween, cool weather and changing leaves (well, that last one is almost true. We have only two trees on our street here in San Diego that go from green to red but I marvel at them all season long…) This past weekend we made our annual trip to our favorite pumpkin patch (complete with pumpkin spice lattes before hand and a delicious chili potluck after) and the reality of the season has finally hit! More on that below…
While at the pumpkin patch I picked up a handful of pumpkins to decorate the house with too, and thought I'd share my faux 'dipped' versions today.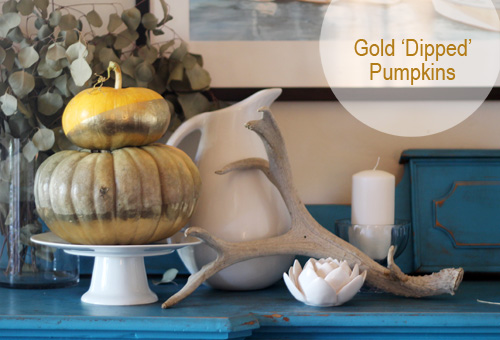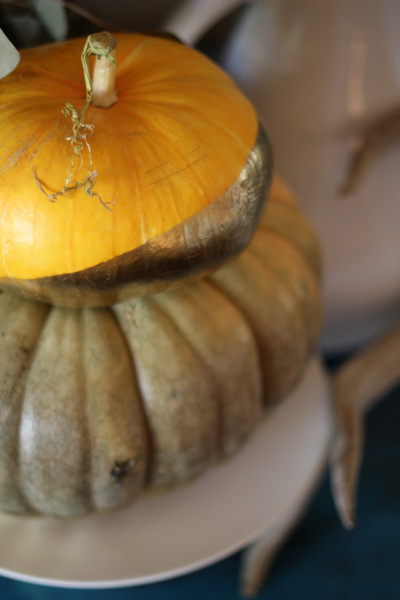 I'm not sure where the idea came from but while brainstorming fall & Halloween decorations I thought it might be fun to bring a few organic, neutral details into our house (that I wouldn't mind leaving up for a few months) while also filling it with plenty of oranges and reds and traditional colors.
Gold has been a favorite accent color of mine, from shiny knob handles to burnished vintage vases to classic jewelry – and that became a starting point. Creating some sort of dipped decor out of white and green pumpkins seemed like a neat way to try it out.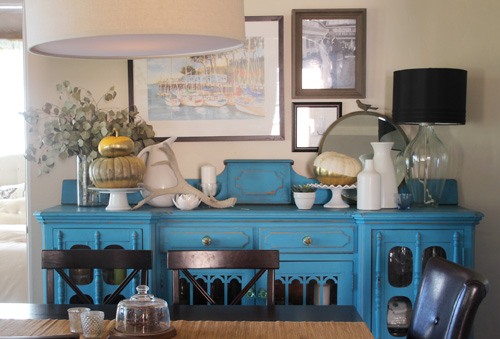 I'll have to mix some spooky Halloween decor in there soon, too.
These pumpkins really don't looked as if they were 'dipped' in paint in the traditional sense, but I actually love the contrast of the lines and attempted to give it a slightly crooked, mis-aligned feel on purpose. A little more organic.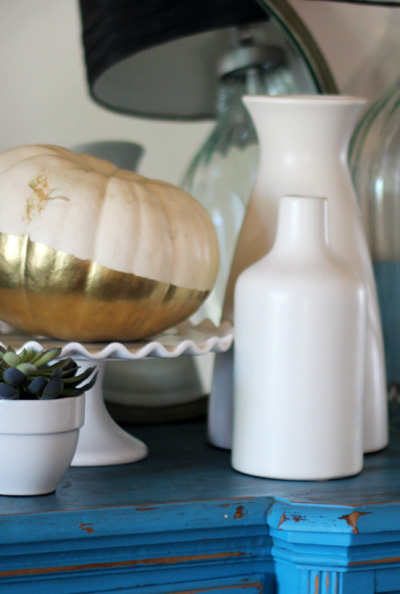 My original thought was that maybe I'd actually try to dip the pumpkins and considered buying a quart of gold paint, filling a round bowl large enough for my pumpkins and literally 'dipping' them, but then realized that spray paint might be a bit more efficient in application, cheaper and less wasteful.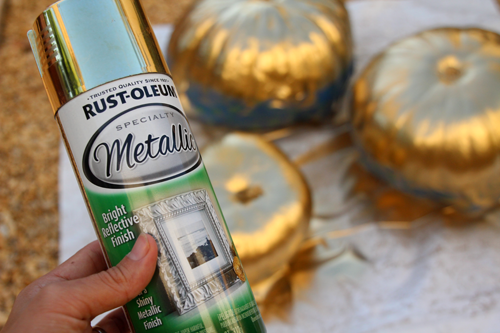 I love the result!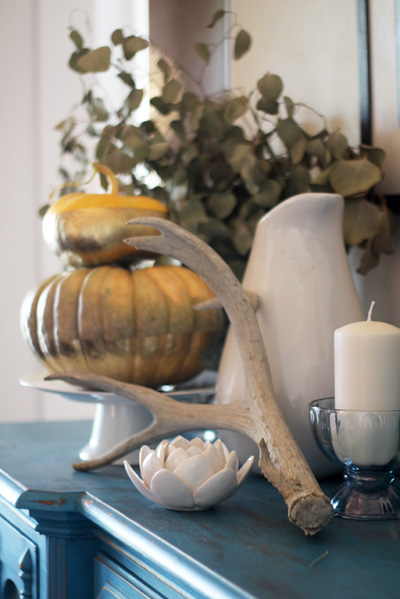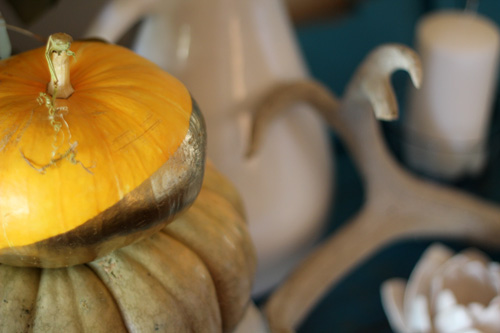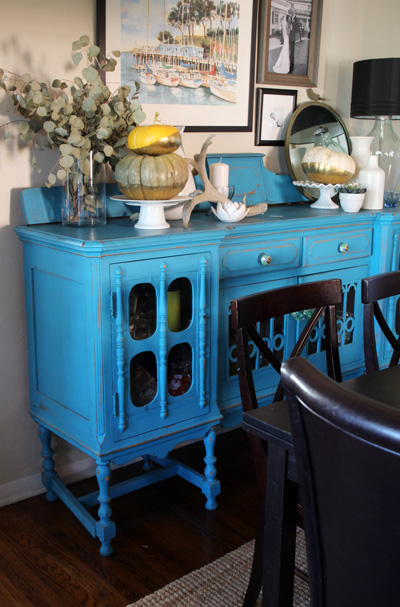 Just a little bling for the room, and a fun alternative to decorating pumpkins in the usual way. Soon Liv will be old enough to really help!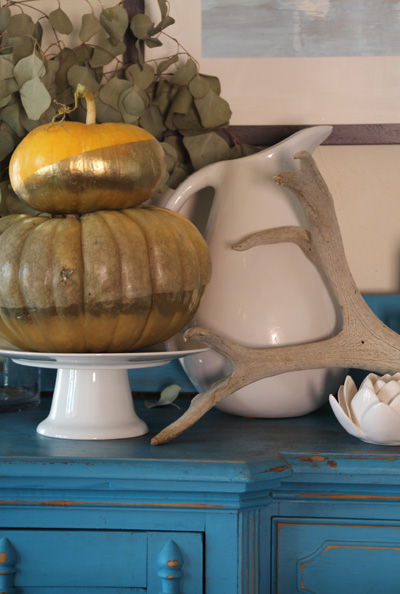 The process was simple. I first wrapped the pumpkins with painters tape (choosing the wider version since spray paint can get a little crazy and I wanted to avoid paint getting on the top half of my pumpkins. The alternative would be to tape on some type of barrier like cellophane or paper to cover the top completely), pressing down on just the lower half of the tape (since the edges are round to prevent creases in the tape) and aligning it at a bit of an angle.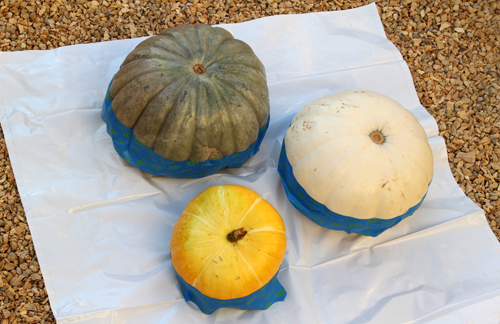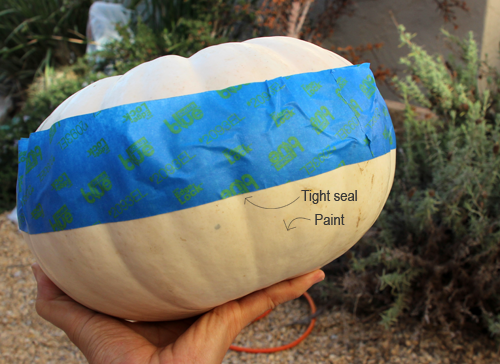 Then spray away! Be sure to keep your can of spray paint at least 10-12″ from the actual pumpkin to avoid dripping.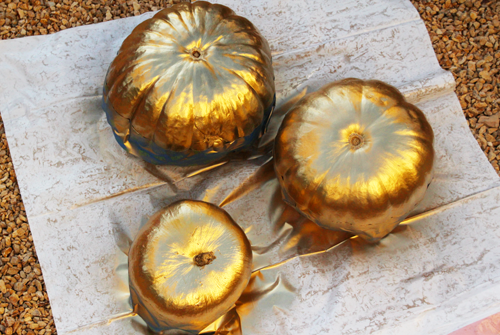 And here they are again in the dining room: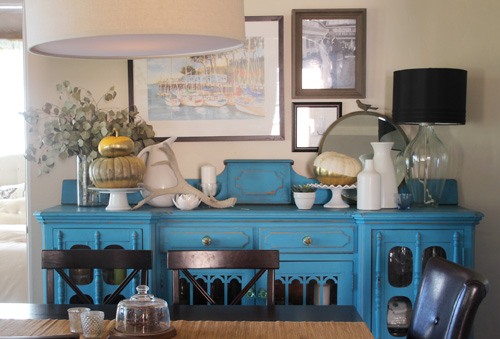 Looks great with the turquoise buffet!
Decorating the pumpkins has been a lot of fun, but visiting the pumpkin patch to find them is a great family tradition, too! Years back a friend found the perfect pumpkin patch for our annual trip just about 25 minutes east of us here in San Diego.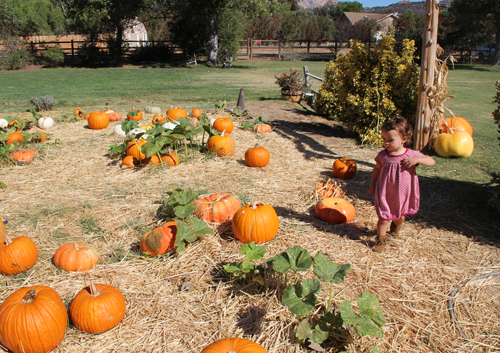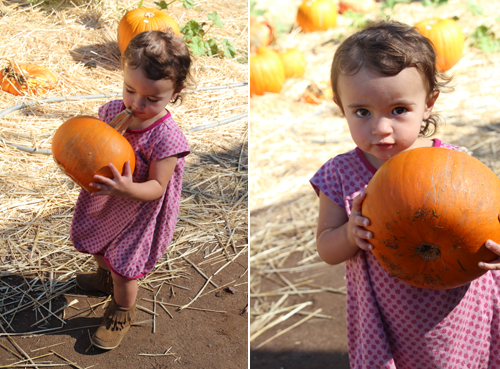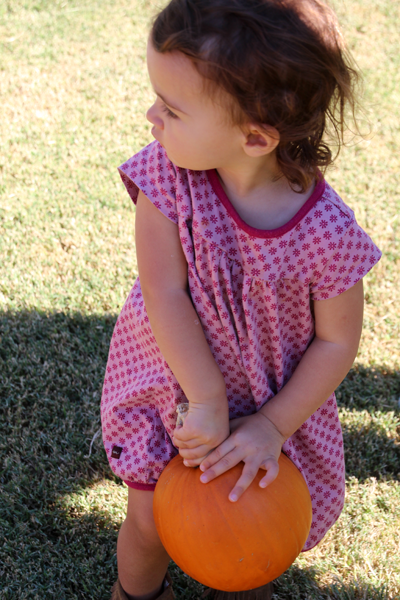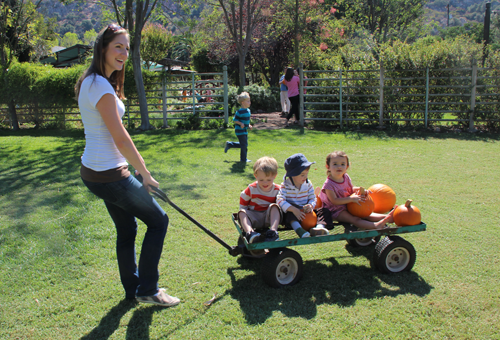 Summer's Past offers huge, crawling gardens to roam, a snap pea 'maze', animals for petting, a coffee bar for warm beverages (although the weather in October is always about 75), a cute little shop full of lavender soaps and such, little 'vignettes' around the property that are perfect for holiday photos, jump houses for the kids and a great big open pumpkin patch. We've even aligned our visit with their little harvest festival in the past for even more goodies.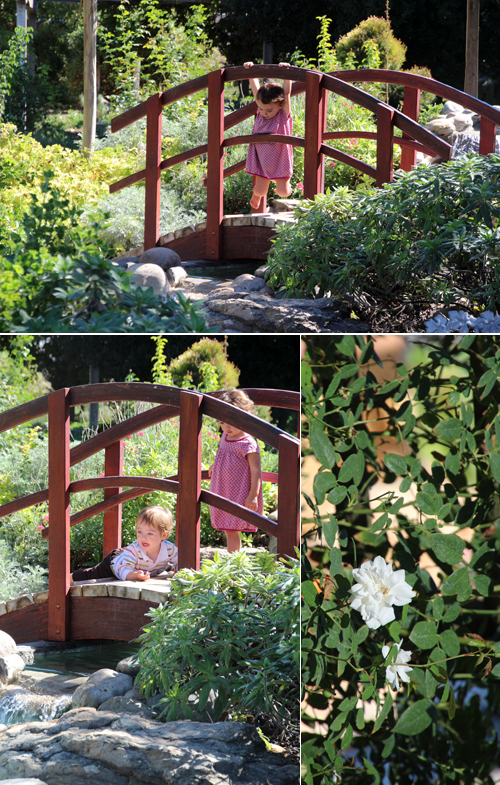 Liv romantically walking the gardens with her potential future hubby, Gavin.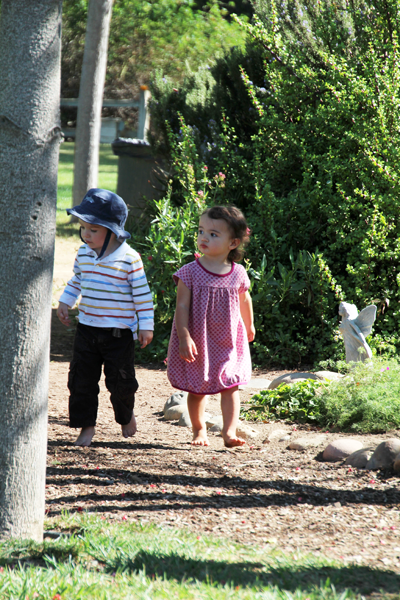 Why won't it move!?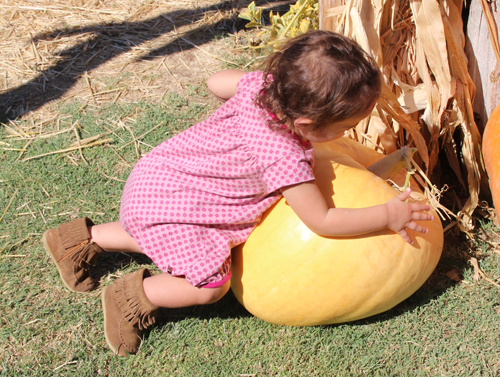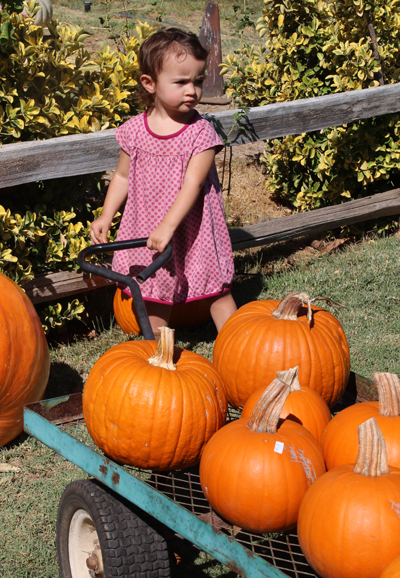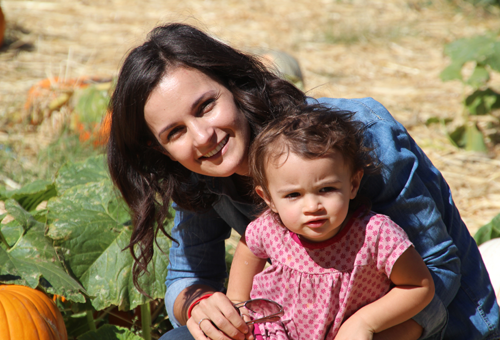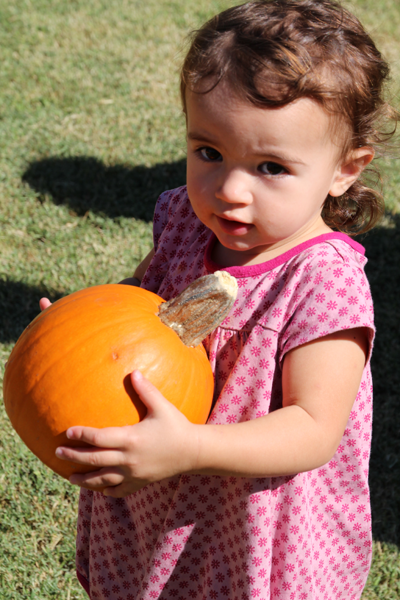 Here's our group shot this year!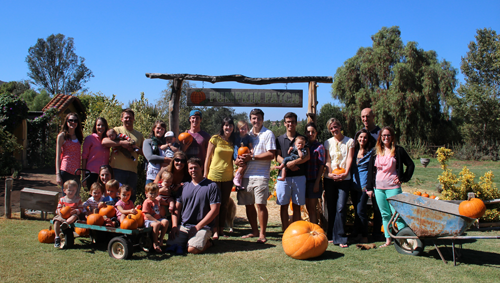 And a sneak back on previous years… the quantity of children continues to climb!
2010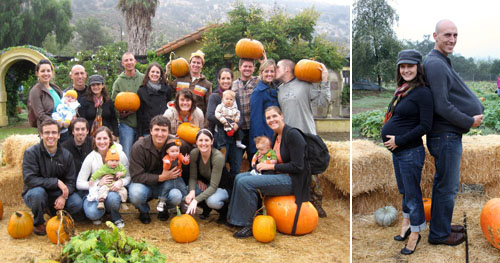 2011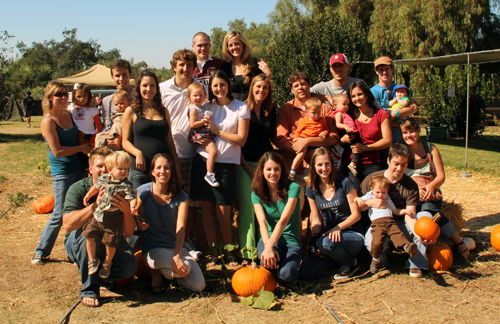 2012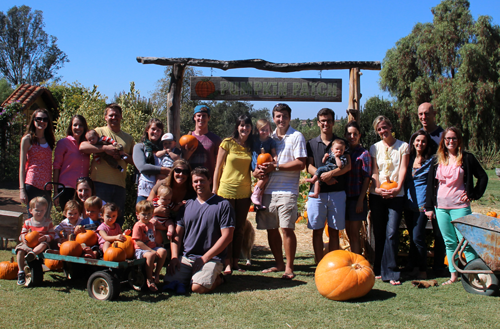 Liv picked out a few pumpkins, enjoyed a little cart ride and played in the jump house for most of the morning. We managed a family photo as well.
Sort of. Liv's not paying attention, but what can you do…
I look forward to this event with amazing anticipation every fall! This one sort of snuck up on me but I already can't wait to go back. And now it's time to really get decorating for Halloween! We're also throwing a little dinner and trick or treating around the neighborhood party again this year. Yay for fall!
Tags:
Accessories
,
Crafty Solutions
,
Decorating
,
Dining Room
,
DIY
,
Fall
,
Gold
,
Halloween
,
Home
,
Paint
,
Patterns & Color
,
Thanksgiving
,
Tutorial
Posted in
Crafty Solutions
,
DIY
,
Family & Friends
,
Holidays
,
Olivia
|
11 Comments »
October 9, 2012
While we were away we celebrated Kevin's birthday! I actually haven't gotten around to finishing his present, but I do have his Father's Day present to share (four months later…). I originally hadn't planned on posting about this project (part of my effort to show Kevin that I hadn't made the piece for the blog – but for him! But I think it's kind of cool and four months of not posting about it is enough time for me.)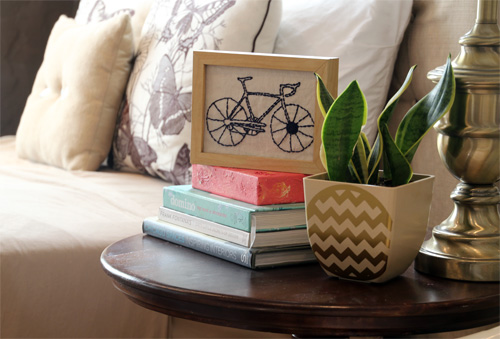 It's an embroidered bicycle that I then framed and had on display on our mantel for a while. Kevin and his family are big bikers, and I was hoping to hand make something that was special to him personally. He and Olivia LOVE to bike (she is thrilled every time she sees one go by, and constantly asks to go for a ride in her iBert) and I thought that something with bicycles might be fitting for Father's Day. (I also traced her little hand on a card – something that I think will be neat to do every year just to watch how she grows!)
Kevin is really terrible to buy gifts for. I mean, really terrible. He doesn't need anything, doesn't really get excited  about anything and in general is hard to impress. I worked on this project during the evenings when he was in class for a few weeks in the spring, when he opened it he thought it was cool and thoughtful and that was enough for me.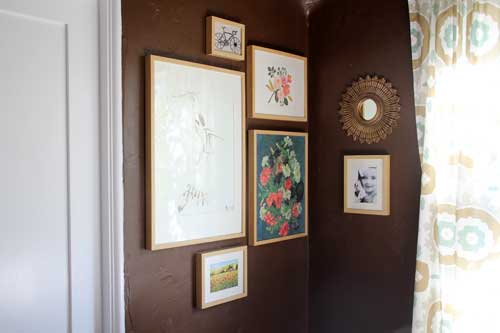 Now the embroidered bike sits at the top of the wall collage in the office/guestroom. This is a nice spot for it, perhaps a permanent one.
Sadly, I don't have photos documenting the progress (goes along with the whole I-made-this-just-for-you part of the gift), but this is an excellent tutorial on how to embroider just about anything. I actually found a generic picture of a bicycle online and printed it out to the proper size, lined it up with an off white fabric scrap I had on hand and reminded myself on how to make a basic embroidery stitch. I didn't use an embroidery hoop but I will next time. Lesson learned.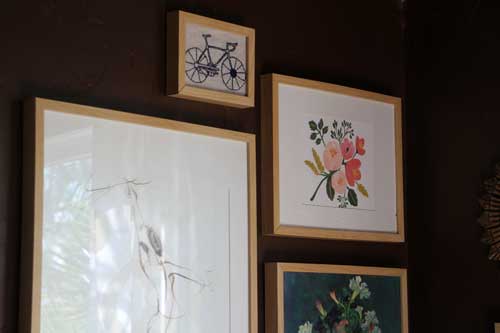 It's a little folksy, a little artsy, and by no means perfect. But that's what I kind of what I like about it!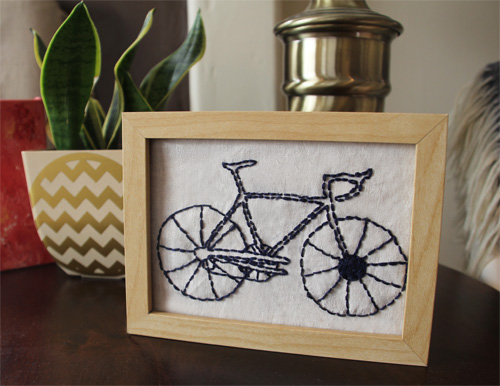 Maybe a quick ironing pre-framing would have helped with a few of those wrinkles…
More office/guestroom posts found here.
Tags:
Accessories
,
Crafty Solutions
,
Decorating
,
Embroidery
,
Father's Day
,
Home
,
Office
,
Tutorial
Posted in
Crafty Solutions
,
DIY
,
Home
,
Our Guestroom/Office
,
Renovating Adventures
|
2 Comments »
September 7, 2012
Happy Monday! Before we jump into this giveaway, I have to share that Liv has been cracking me up lately. The rate of words that she is absorbing from everyday conversation, stowing away and reusing these days is just crazy to me. She asked for a shovel while playing with sand yesterday and I gave her a side-eye glance because I had no idea she knew what a shovel was, let alone how to say it and how to then fill up her bucket while singing to herself. And here I am trying to remember remedial Spanish for our trip to Spain, awkwardly sounding out verb conjugations when it's just us in the car and failing miserably. I need a toddler brain asap.
Speaking of quick changes, I have a new hallway project that I wanted to share with you despite the crazy happenings that are going on on the outside of our house. And this post ends in an awesome giveaway! Double bonus and a big thank you to Lowe's for sponsoring.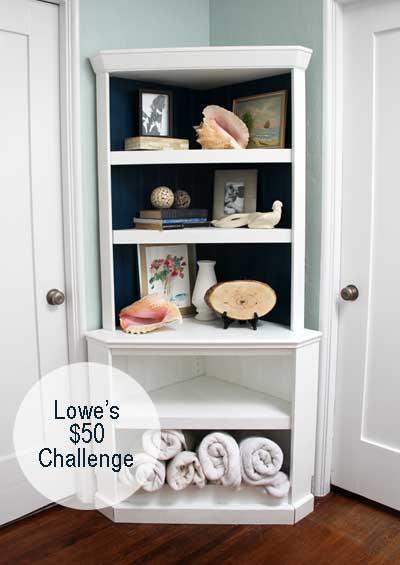 Lowe's is launching a new program called $50 and Change. I don't know about you, but it seems that $50 is often that magic number when it comes to tackling a small project from start to finish – and recognizing that, Lowe's is challenging bloggers and readers alike to create our own projects with this budget in mind and to post those ideas over at the Lowe's Idea Exchange on Facebook.
Beginning in September and continuing on every other month for a while now, I'll be sharing one of my own $50 and Change projects as well as giving away a $50 Lowe's gift card so that on reader can tackle their own, all courtesy of Lowe's.
High on my list of must-finish-soon projects is to repaint a Craigslist corner unit for our hallway. I kid you not when I say that this bookshelf has stayed in its 'antique white' form covered in odds and ends (and other 'where does this go?' objects) for the past two years. Though it didn't come with the house, the unit looks like it was intended as a built-in just for this corner! and I sadly neglected it and turned it into a dumping ground of sorts.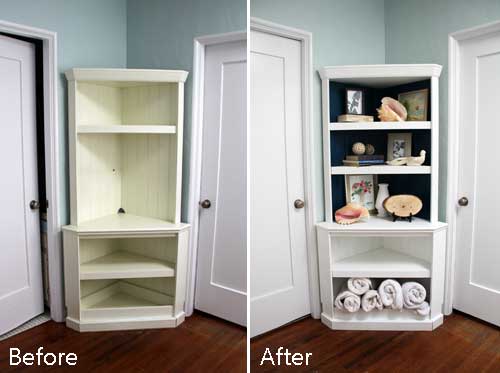 But thanks to a little motivation and a friend coming to town to work on a few paint projects, I stripped this shelving unit down and gave her a full makeover (just like exercise, blame partner accountability to get projects finished!).
Once dry and decorated from items around the house (some will likely stay, some will eventally get switched out as the bookcase evolves), I'm so happy with how this bookshelf greets me now when I enter the hall!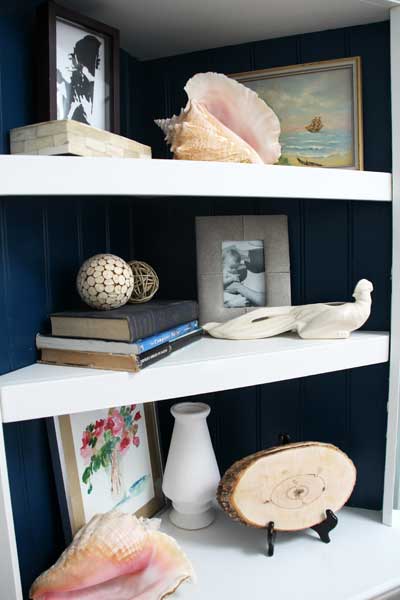 Favorite finds include these two conch shells from a garage sale I happened to drive by on our street – $3 each! And this great vintage painting that I scooped up for about $8 at the Rose Bowl Flea Market.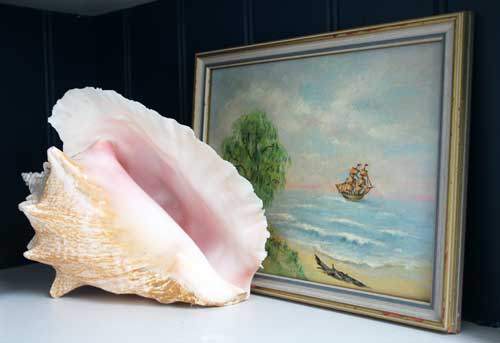 Also finding a new home in the hallway is a lounging cermic bird (thrift store), a stack of vintage (or just really old?) sailing books from Kevin's collection, a few favorite black and white photos, my Etsy watercolor find (which provides just the right pop of color and contrast to the blue), a white vase from West Elm (on super sale) and a cut of wood that I've outlined our small family tree on for Father's Day for Kevin.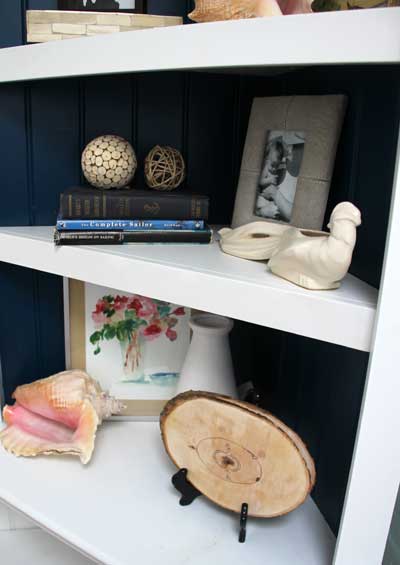 That blank shelf is staring at me… but I think  I might try to track down a triangular basket to give myself even more storage, or load it up with more rolled white towels for guests.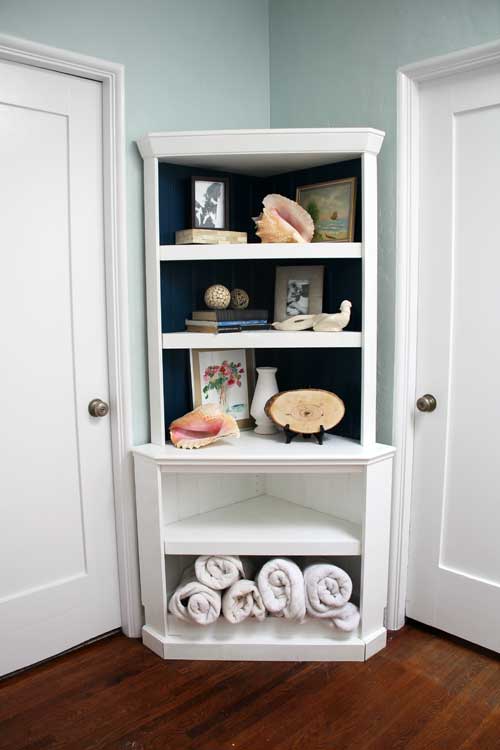 The process was a bit bittersweet. I struggled coming up with the right lining for the shelves, trying out various Paper-Source sheets of wrapping paper to wallpaper to random shades of green, pink and blue before deciding on a dark peacock-navy.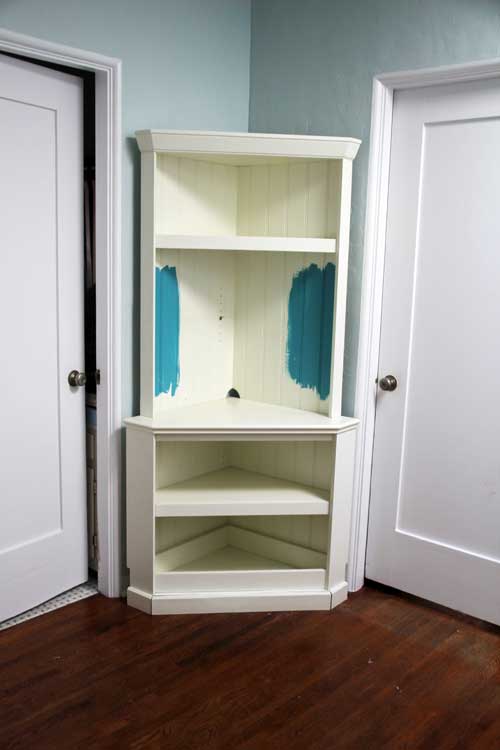 With all of the natural light and soft colors going on in the hallway, the bookshelf was just asking for something deep and saturated.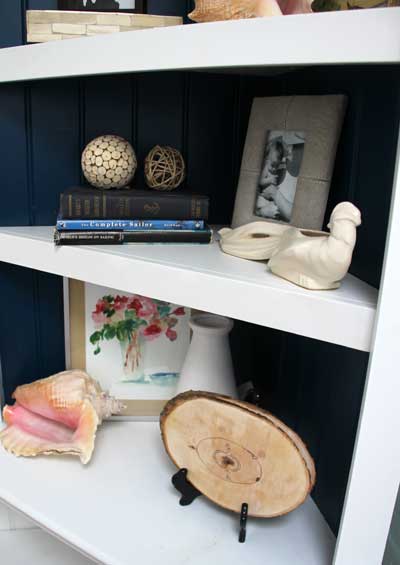 Plus, when that right door is open you can see the bedroom just beyond, a color that played well with my patterned curtains was a must and this particular blue was almost pulled right out of a scrap of fabric from those curtains.
I actually ended up breaking my own mixing rule and added 1/3 parts Castile to 2/3 Plymouth Blue from Olympic. Armed with a sample of each to test out, I found this combo to be the perfect mix of navy and green – sort of a dark teal, if you will. I saved just a bit of the mixture for patching purposes should I need it.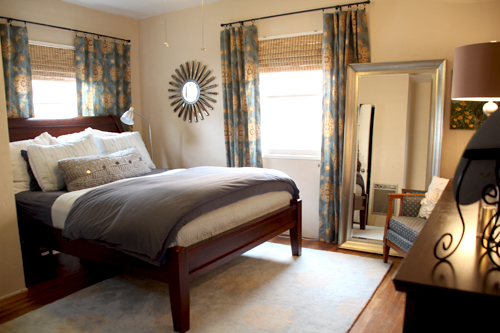 But before any blue could be applied, this guy needed to go from an antique/manilla white to a nice bright white so that it tied in seamlessly with the trim and doors.
Here she is with a nice layer of primer.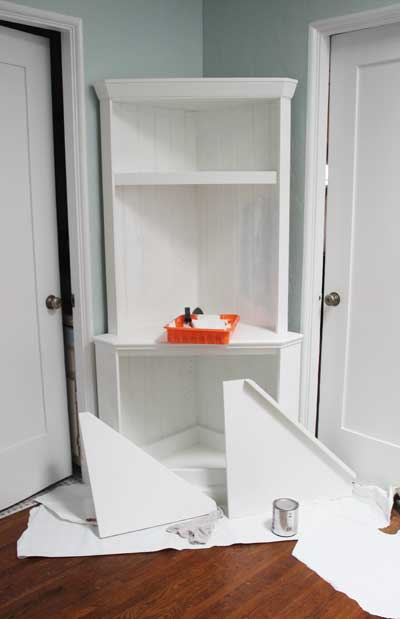 Primer was followed by a semi-gloss bright white followed by taping off top of back bookshelf area and my new favorite blue. That plus lots of touch ups because the edges wanted to keep bleeding on each other…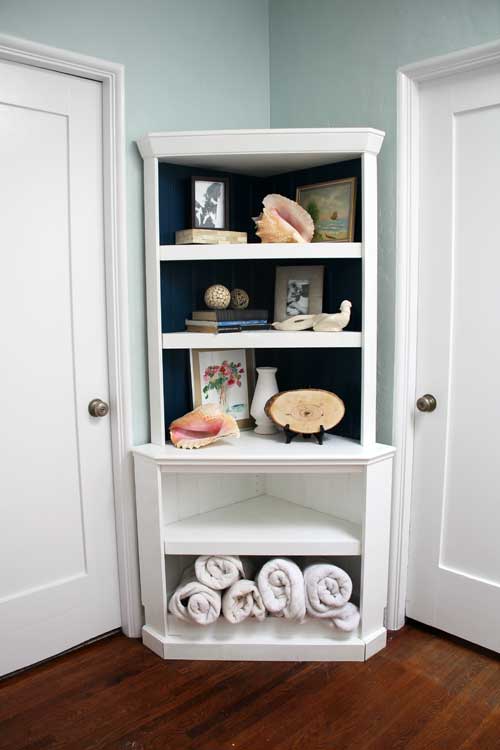 Looks so great now! So fresh and so clean. The shelf definitely appears to have that built-in quality now that it's the same shade of white as the trim, and that blue is an unexpected pop of color that meets you as you round the door into the hallway.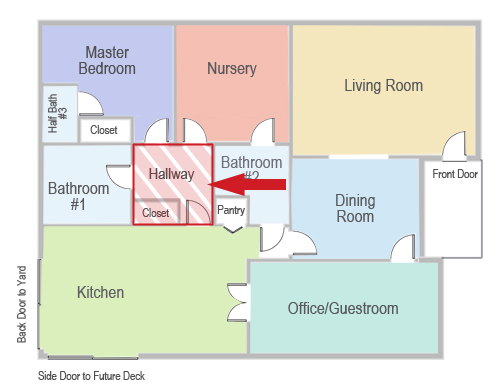 My total budget for this project was $50, though I have to admit that I came in about 25% lower and splurged on some extra paint and materials to cover up the back of another bookcase in the house. Details to be shared soon.
My gift card covered: 2 samples of paint in Castile and Plymouth Blue by Olympic (that were eventually mixed together to create that pretty blue-green teal), a small wire frame for rolling (similar to this one – great for cabinetry), a pack of sponge roller brushes, a quart each of primer and a bright white sem-gloss paint, painter's tape, traditional black sponge brush to help with beadboard (inside of bookcase) nooks and grooves, a drop cloth and paint tray. But you could conceivably tackle this project for $6 (cost of two samples) if you have all of the above painting supplies on hand!
******************************************************************************************

Giveaway: A $50 gift card to Lowe's!
To Enter: Leave a comment here with the $50 project you have in mind for your space.

For Additional Entries: Become a Facebook fan of Lowe's Idea Exchange and/or Pepper Design Blog. Be sure to leave a separate comment for each additional entry.
Giveaway ends Wednesday, September 12 at midnight PST, winner will be chosen randomly and announced on the blog. Good luck!
*****************************************************************************************
For more hallway makeover progress (like my painter's tape wallpaper), check out this link.

PS If you're an email subscriber, my apologies if you received 'half' an email on Saturday! This is the entire  post

.
Tags:
Accessories
,
Before & After
,
Blue
,
Paint
,
Tutorial
Posted in
Crafty Solutions
,
DIY
,
Giveaway
,
Home
,
Our Hallway
,
Project Lowe's
,
Renovating Adventures
,
Tools of the Trade
|
40 Comments »