June 20, 2012
The curtains are up! Remember back here when I was debating six favorite fabrics for the new curtains?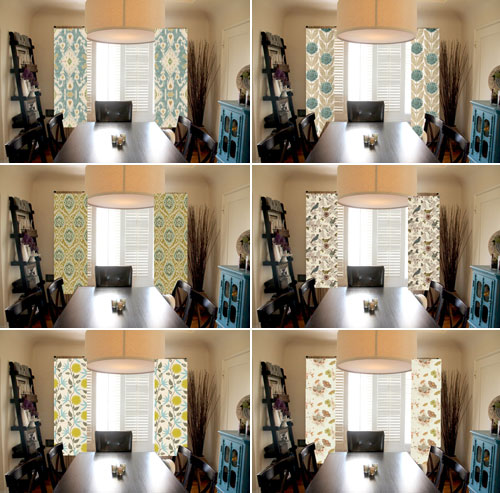 I had the hardest time deciding… but thank you all for the comments and emails that you sent my direction! You helped to confirm my final choice which was the Orla Kiely print!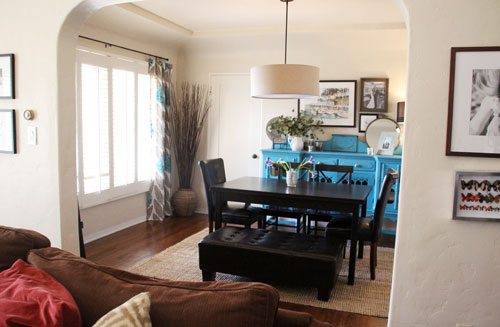 You might also remember that if I chose the Orla Kiely print I'd have to make the curtains out of a duvet cover. Well it was a close close project, but my king duvet cover (90×108″) made for a near perfect fit. I was hoping to use grommets to hang these guys but when I received the fabric in the mail I realized that the pattern ran in the 90″ direction rather than the 108″ – eek! So instead I clipped up my curtains which gave me a few extra inches of fabric to play with to create a wide hem.
These photos are a bit washed out… it was hard to capture the print against the bright windows and I may end up lining them to help show off the design that I love so much!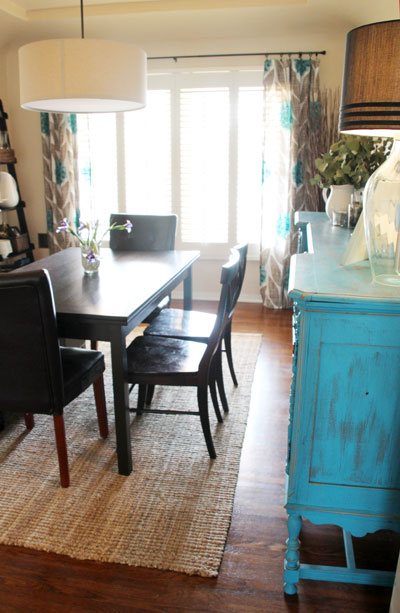 I'm sticking with just the jute rug for now, though I might swap out for the brown cowhide rug if I can find other ways to bring in bright colors (you might remember that it was my favorite but made the space feel a tad too dark).
I've also swapped out two dining room chairs for a bench/ottoman from the living room.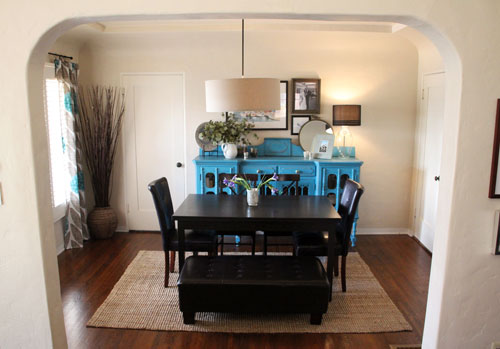 It makes the space feel much more open – though I'm also keeping an eye out for a bench that might be a little higher and a little narrower. This guy isn't too realistic to sit on for a full meal.
I love most how the turquoisy blue in the buffet is accented so well in the curtains. They really compliment each other and look great in person.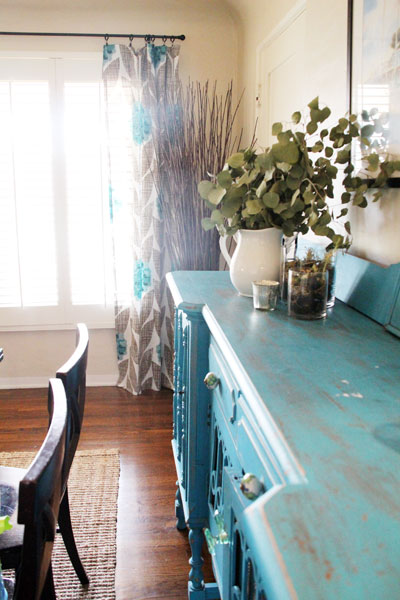 The pattern is just the modern, geometric update that the space needs!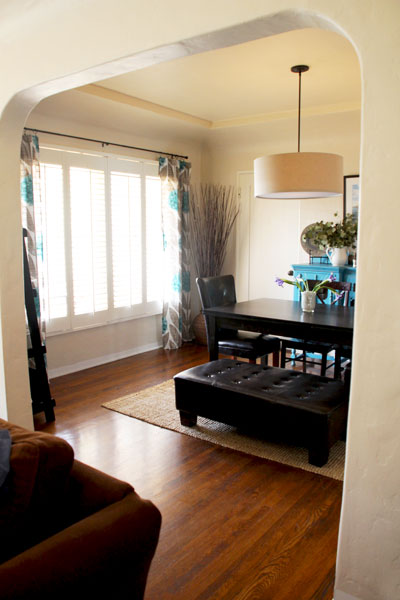 And overall the room is really moving in the right direction… here's a reminder of the space before we moved in!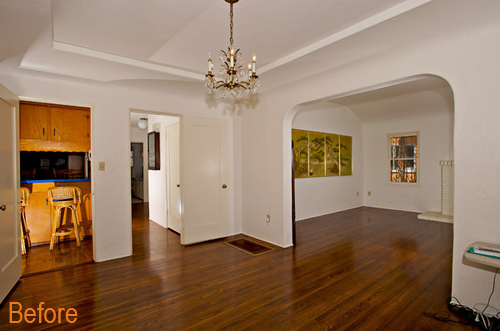 So happy I took the leap of faith with these new curtains and ordered an unusual fabric choice (a duvet cover!) off of eBay, they turned out to be much cheaper than buying the fabric by the yard and I'm so happy with the look! What do you think?
Read the full dining room story by starting here: choosing a rug, curtain call part 2, curtain call part 1, newly styled bookshelves, a buffet-over, upgrading the lighting, the before.
Tags:
Accessories
,
Blue
,
Decorating
,
Dining Room
,
DIY
,
Fabric
,
Home
,
Patterns & Color
Posted in
DIY
,
Favorite Fabric
,
Home
,
Our Dining Room
,
Renovating Adventures
|
18 Comments »
June 12, 2012
Back before Liv was born and I was unsure if we were having a little boy or girl, I had put together a pretty gender free nursery (we added the coral and pink touches just after Liv's birth) inspired by cute little playful baby animals. I hadn't wanted to carry the theme too far throughout the room and stuck to these awesome wall designs with coordinating solid and patterned fabrics. But I had always had an eye for these guys!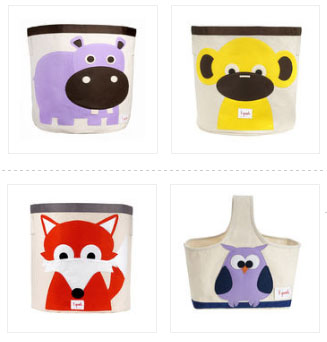 I had imagined making my own with whichever storage bins we ended up needing for the space. 18 months later and I've finally given it a go, converting a standard brown canvas hamper into a cute little owl bin for dirty clothes.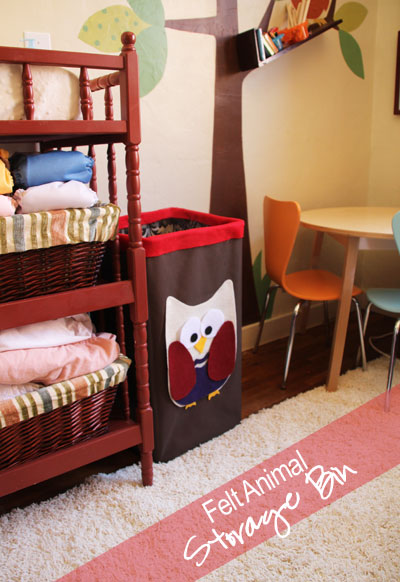 A fabric bin like this would be great for toys, too!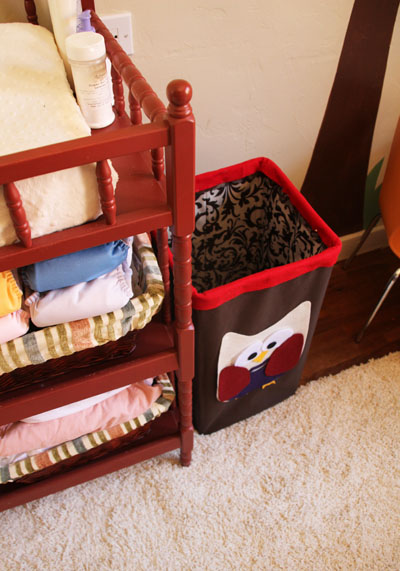 The process could have been incredibly simple but my quest for a smaller-than-average laundry basket proved to be daunting! The usual (in case you're interested) is roughly 14x14x30″ and is quite a big size for a nursery space. I finally found the above at The Container Store and spent a little more than I had planned (this guy was on sale for $22.99) for my 11.5×11.5×23.5″ mini-me laundry bin.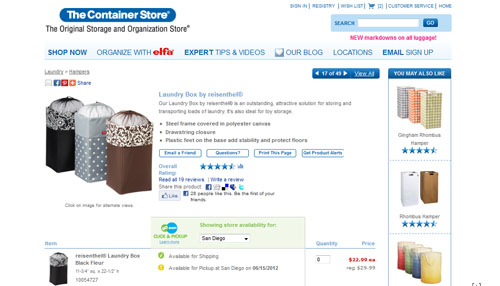 The good news! If a regular laundry bin will fit your space, there's a plethora of options in all colors and price points over at Amazon.
I created the little owl out of felt sheets from Michaels (I think they were $.99 each) and sort of winged the design (hehe) after Googling images of nursery owls. This guy ended up with an oatmeal tan body, burgundy wings and purple feathers.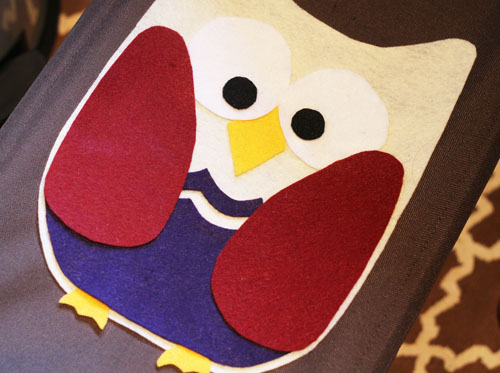 I used a standard white glue to adhere him together, though I noticed that it started to seep through the felt! and ended up creating a few funny blotches. I might try using just a little crazy glue next time instead, hot glue would be tough as I bet it might melt parts of the felt material.
Next up was the top red lining. You'll notice in the picture from The Container Store that the actual hamper has a damask fold over lining and a mesh closure, both of which I didn't need and both of which I carefully cut out.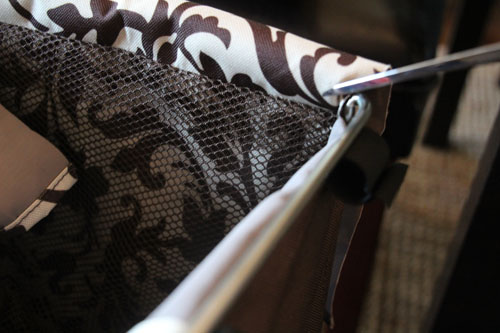 Here's a shot of the outside lip which is now sans the fold over lining and mesh: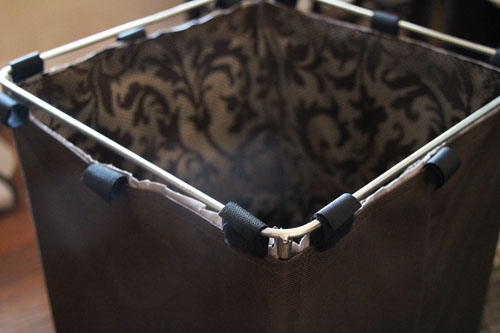 And one of the inside of the bag: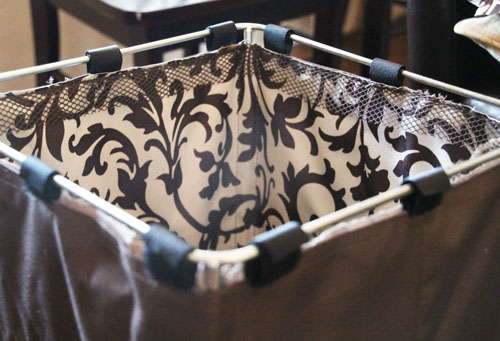 If you had a laundry basket that is ready to go as is, this is where you'd jump into the tutorial to add the top lining and animal on the front.
I made the red lining for the top of the bin out of red felt as well.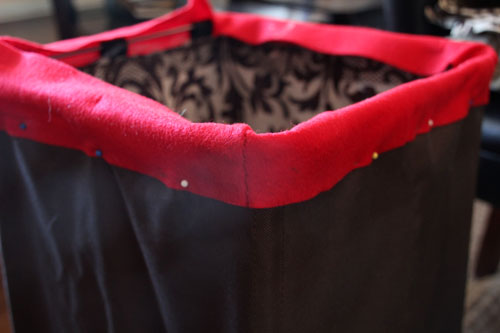 Because my edges were 11.5″ in length, I cut four 12×3″ sections of felt and then sewed the lengths together to create one long piece with three seams.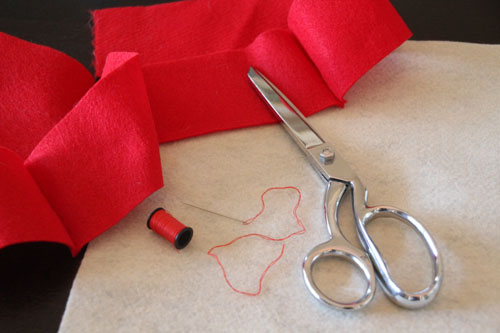 Then I added a few stitches at each corner, sewing the felt seams directly to the hamper seams. You could always use a ribbon for a similar effect but I wanted a material I could actually fold over the metal bars of the hamper rather than just line the very top edge.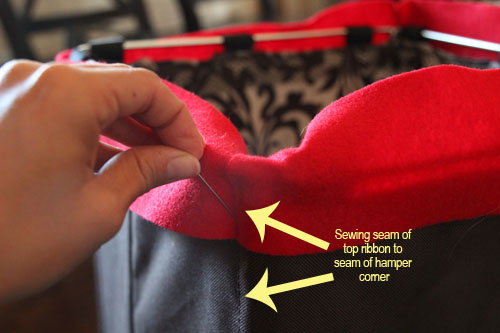 Instead of continuing my stitch (which could have taken a long time! plus I was going for a pretty seamless look) I used a line of glue down both the inside and outside of the lining and pinned the felt in place on the laundry bin to dry (ended up needing pliers to pull the glued pins out, maybe I waited too long

, clothes pins might be a nice alternative).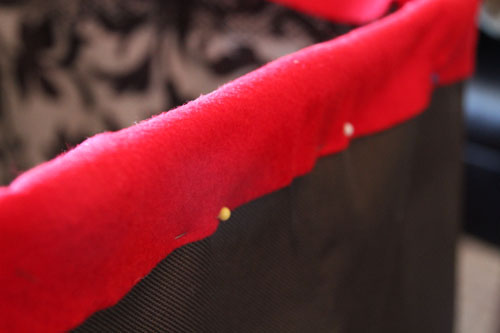 And here she is! Ready for clothes and ready for action.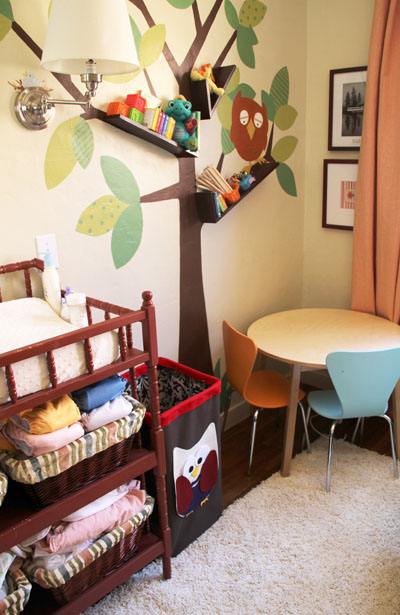 Do you like my empty Aaron's Brothers frame up there in the right corner? I have so many pictures that I really need to hang up…
I looove how small it is, it fits perfectly into the space between Liv's reading/play nook and her changing table. The damask lining actually adds a nice, unexpected touch!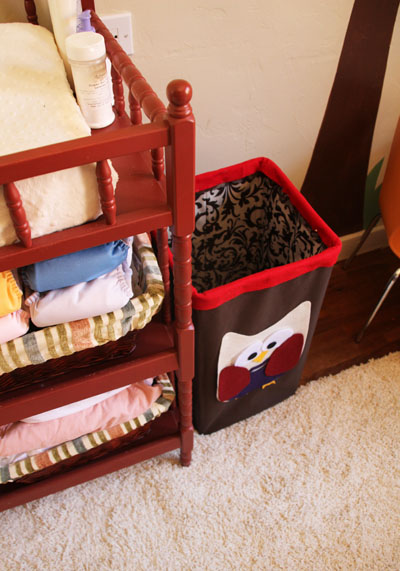 Now how fun would it be to convert these storage bins into toy catch-alls around the house? or on a bookshelf in a playroom?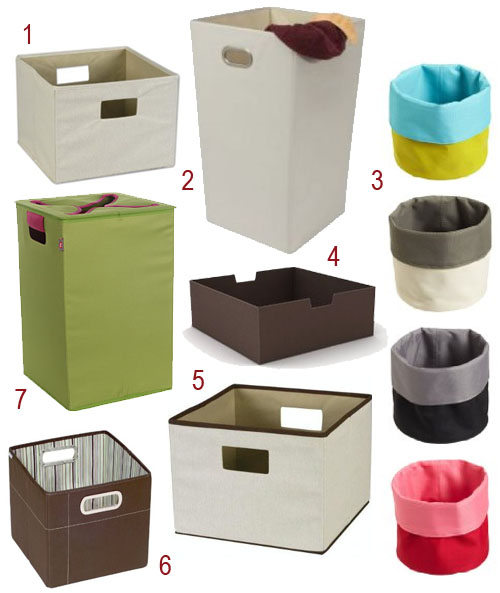 Happy crafting

.
PS If you want to go waaaay back, here are more Project Nursery posts: tree branch floating shelves, tree branch bookshelf inspiration, newly updated felt mobile, a new reading nook part 1, finished after photos, no sew fabric pennant, baby clothing art, handmade felt butterfly mobile, DIY crib skirt, basket liners part 1, part 2, the, glider makeover, recovering an ottoman, sewing lined curtains part 1, part 2, part 3, curtain fabric selection, nursery fabric board, rocking horse find, new pendant light, new sconce lighting, vintage wall art addition, changing table makeover, nursery wall striping tutorial , painted animal project, the initial inspiration board breakdown, the before pictures
Tags:
Accessories
,
Before & After
,
Crafty Solutions
,
Decorating
,
DIY
,
Fabric
,
Home
,
Nursery
,
Patterns & Color
,
Purple
,
Red
,
Tutorial
Posted in
Crafty Solutions
,
DIY
,
Favorites
,
Home
,
Liv's Nursery
,
Renovating Adventures
|
6 Comments »
May 24, 2012
Thank you for your birthday wishes!
The dining room has been on my mind all week… it's making such progress! We have the new light fixture installed, the buffet was made over and now it's time to tackle the bookshelves on the opposite wall.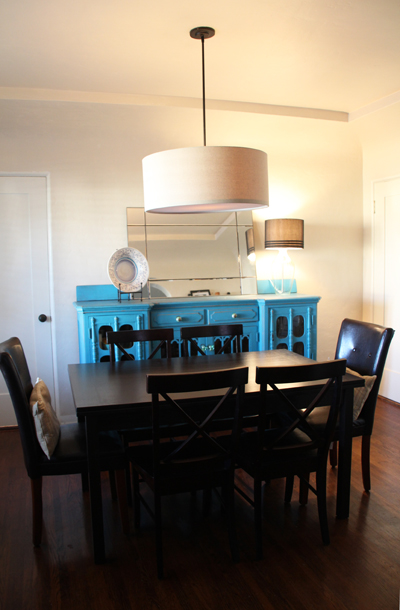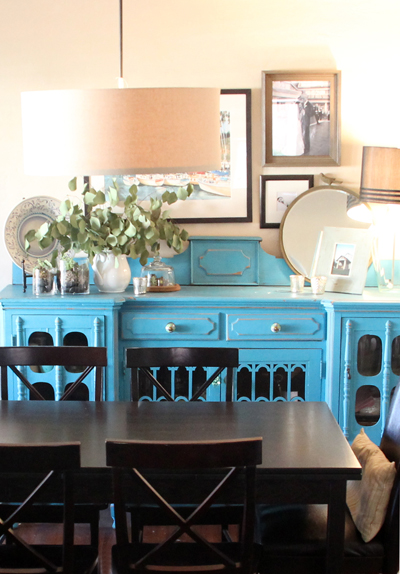 Looking at the buffet the bookshelves are actually behind you, leaning up against either side of the arches facing into the living room.
Here's a 'before we moved in' to give you a really clear idea of the wall space available there (that second door is now sealed up and a part of the new bathroom, and that older kitchen you see in the first door is now here):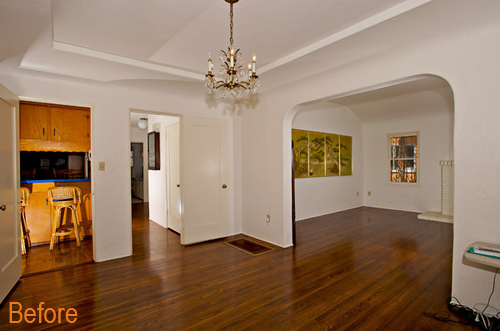 This was a hard spot to figure out how to utilize. Big clunky bookcases would stick out like a sore thumb but I knew the wall space could be so much more than room for hanging photos. This was also right about that time when the leaning bookshelf craze was in full effect, and I really liked that they were backless, the depth narrowed from the base to the top, and that they were much less obtrusive than your usual variety.
When I found a set of leaning C&B bookshelves on Craigslist I knew they would fit perrrrfectly. Here's a slightly awkward, coming in to the dining room from the guest room shot to show how these bookcases fit: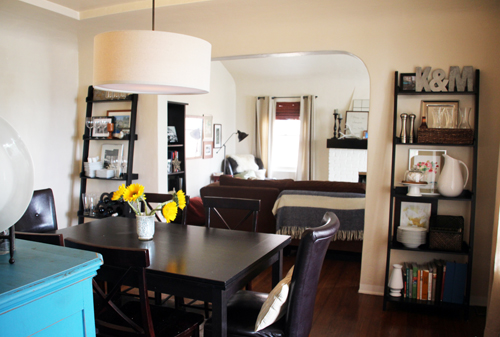 The leaning bookcases hold just enough storage – I keep wine and beer glasses, cookbooks and extra dining dishes on these guys – plus they're lean enough to allow plenty of walk around room.
I had first styled them like this: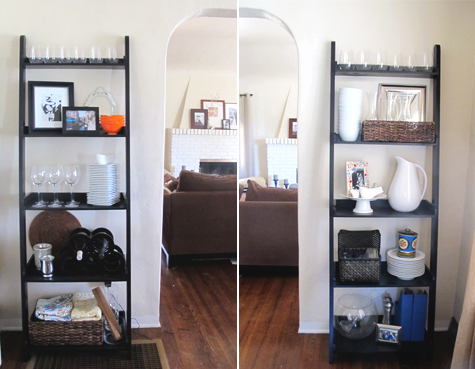 We didn't repaint, those are just grainy, washed out pictures from last year. Darn camera settings that I must conquer.
And after yesterday they look more like this: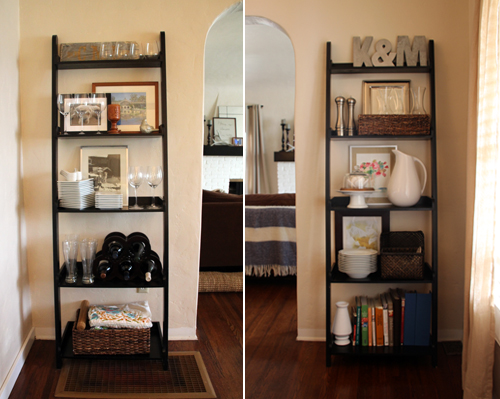 One day I will master the focus on the camera. One day.
A few of my new goodies include pictures and prints that I've collected over the past year.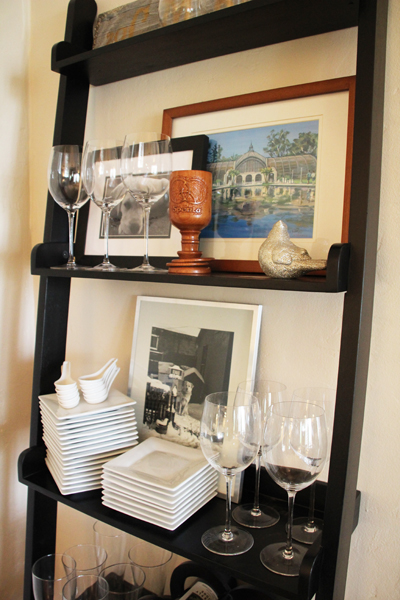 It was hard to get this shot without a horrible glare, but this black and white is a photo that my mother-in-law gave me for Christmas – she had taken it in college as an art major and had framed it for me for Christmas. The juxtaposition is amazing (the 'Beware of Dog' sign in the foreground and the kind looking observer just a few feet behind) and I can just picture Eileen at 20, stopping to see this ironic pose and kneeling down to get closer to the dog's eye level, hair flipped back in some feathered 70′s do.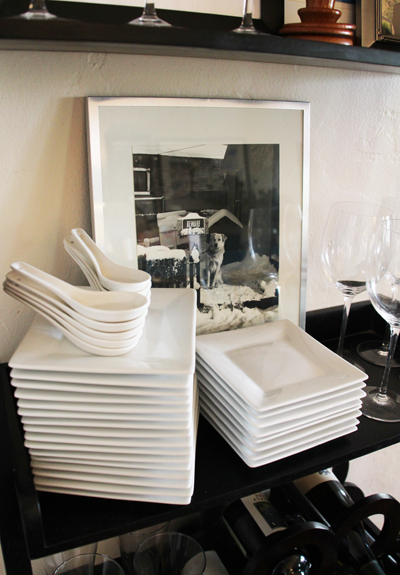 The next shelf up holds a picture of Bodie when he was just a couple of months old by my mom with his big sweet nose close against the camera lens, and next to that a Mother's Day print that I picked out when we were at Balboa Park. The arboretum there is one of my very favorite buildings and I was thrilled to find a local artist in the park selling his paintings and prints.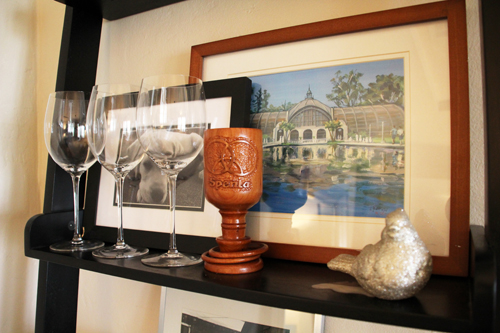 I chose a warm wood frame that compliments a handmade cup from our wedding from Kevin's best man. My little silver bird is attempting to hide a candle wax stain that discolored the bookshelf! Bummer. Ha, in this particular shot it kind of looks like something else…
The other bookshelf is home to my new favorite vignette which includes a cloche (a thrift store find and a gift from a friend who knew I was dying to find one) and a water color by the etsy Honolulu artist behind Pineapple Bay Studio.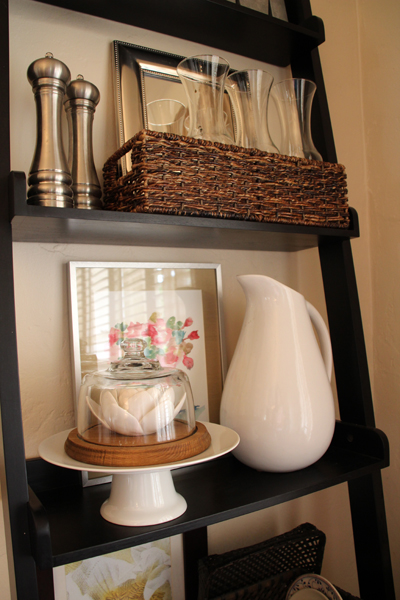 The colors provide just the pop of contrast this space needs!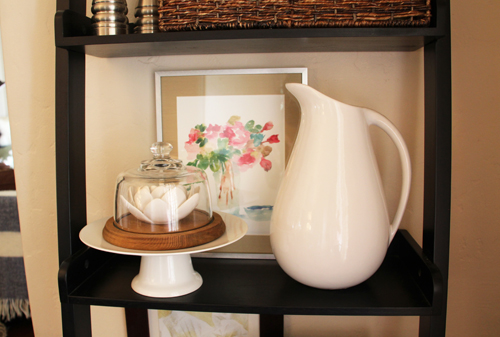 The cake platter and pitcher are Target finds from way back, and I'm pretty sure the white ceramic water lily is from West Elm. The galvanized metal letters at top are from Anthropologie and that picture on the same shelf as my square basket (to hold votive holders and what not) is a poster of giant magnolias that I cut apart and framed – sometimes framed art is as easy as taking apart packaging or gift cards!
There's something about filling in a backless bookcase with sporadic art and height that keeps the shelves feeling airy, but brings in enough content so that it doesn't feel sparse and lonely.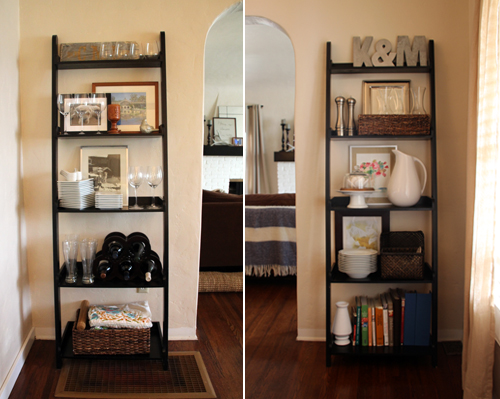 My favorite suggestions are to work in odd numbers, keep a variation of height on each shelf (with at one least one over-sized or tall piece) and mix up the colors while keeping some sort of consistent theme throughout (in this example I'd say it's my white ceramic dishware and vases that show up frequently throughout both bookshelves, and maybe a basket or two).
One more item checked off of that list. Next up is a new rug, new curtains, reupholstered chairs? or maybe cushions? plus some huge piece of art or a mirror for that big blank wall where that extra door used to be. But in no particular order, it's all part of the adventure

.
Read the full dining room story by starting here: a buffet-over, upgrading the lighting, the before
Tags:
Decorating
,
Dining Room
,
DIY
,
Home
Posted in
DIY
,
Home
,
Organizing
,
Our Dining Room
,
Renovating Adventures
|
19 Comments »