February 28, 2012
We've just finished installing our new vanity, vanity top, faucet and toilet! Our previous set of three closets is really beginning to look like a bathroom now.
To date, we've demoed those three adjoining closets, reframed all walls to create one 10×10′ ish room, Kevin used his amazing skills to plumb the entire space, tile was installed, electrician came out to help us with lighting, we've painted and we chose a vanity, sink and toilet.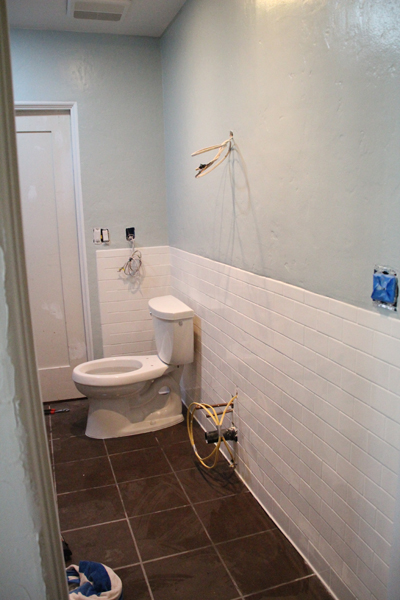 Let's start with the toilet. I'm excited because it's been a while since I've had an opportunity to post on anything Project Going Green and this first install more than fits the bill.
Did you know that all toilets manufactured today use less than half the water of older models? The average pre-1992 toilet uses 3.5 gallons of water per flush (wow) and today's low-flow versions use a mere 1.6 gallons. BUT there's an even better solution. High Efficiency Toilets – or HETs – (which are marked with a WaterSense label by the EPA to vouch for their credibility) drop that number down to 1.1 or 1.28 gpf (gallons-per-flush for those not up on their toilet acronyms). That adds up to a savings of about $90 per toilet per year. Consider that an average toilet lasts upwards of 20 years (that's nearly $2,000 in savings) and since the program's inception in 2006, WaterSense has helped consumers save a cumulative 125 billion gallons of water (a finite resource) and over $2 billion in water and energy bills. Now those are some numbers.
Okay, stepping down from my green soapbox now.
Back to the down and dirty. This here is the nifty little space that we used to use to pass tools to one another from the bathroom to the crawl space below. There was never a toilet there before so it was basically just a clean hole in the dry wall.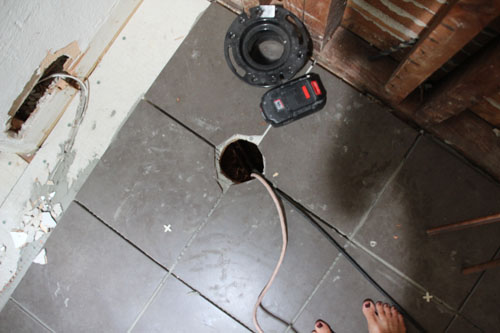 Then along came our Kohler WaterSense toilet from Lowe's.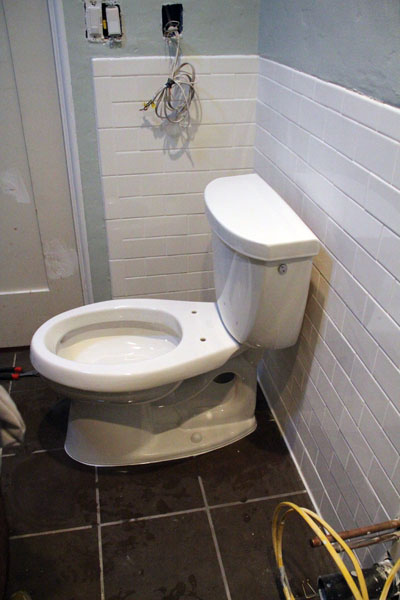 I don't have any fun pictures of Kevin reworking the plumbing below or above the floor (more about plumbing a new toilet here) but he's a self-taught master DIYer.
A helpful tip for caulking the base of the toilet is to use painters tape. You can see that the little blue bits above help to keep the caulk from getting caught in the grout (they're not placed under the toilet but right up against it). When you wipe up the extra caulk and pull up the tape you have a nice even line.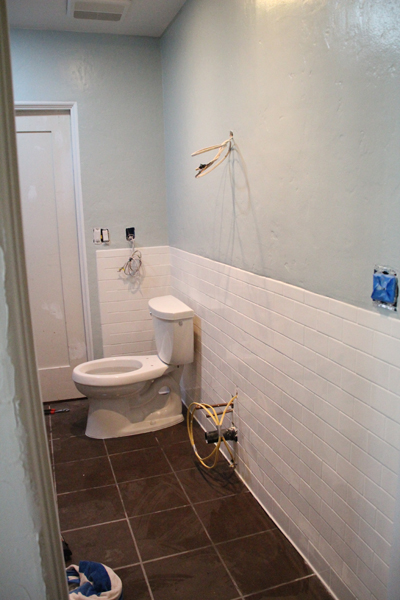 If you are replacing a current toilet these are the pitfalls to watch out for: make sure your new toilet will fit where your old toilet was once installed (measure from behind the toilet to the floor bolts – you don't want to get stuck with a toilet that is too long and doesn't line up with the drain when you are in the process of removing your current one), turn off your water supply before you start and don't forget to plug the drain hole to keep gases from escaping (but don't let that rag or whatever you're using fall down the drain). Lot's of tips can be found right here.
Now onto the vanity. You can read all about this big decision (I agonized over it…) and how we found the perfect vanity and top combo here.
Before any securing, screwing or gluing went underway, we had to get the vanity on level ground.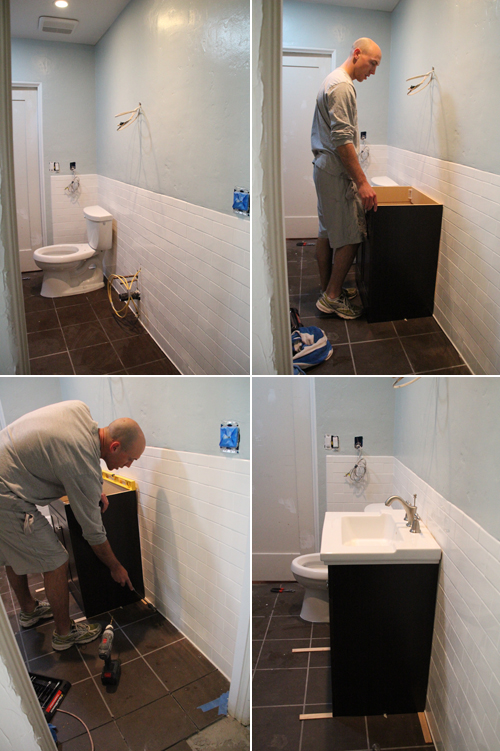 Shims are used to level out the vanity and are almost a guaranteed necessity in a home full of unlevel walls and floors like our 1930′s bungalow.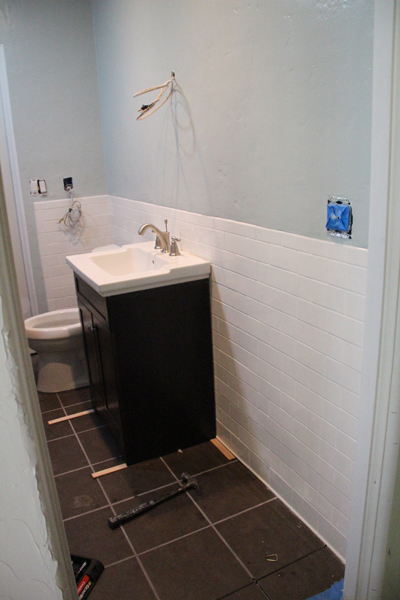 Those guys will stay put during the install and then will be snapped off (half remaining under the vanity) when we're finished.
The part of the cabinet that actually makes permanent contact with the wall is the back of the vanity – two screws later and she's stuck.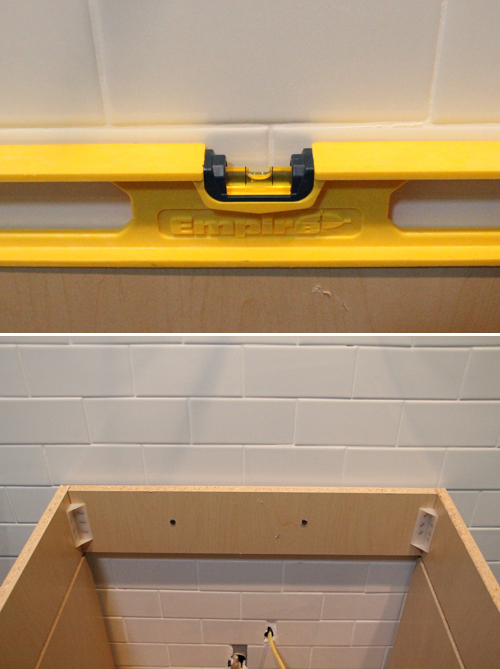 Next is adding the vanity top, complete with a thick line of adhesive (applied with a caulking gun) for an extra secure hold.
That line of adhesive is applied to the top of the entire cabinet (where it will come into contact with the vanity top):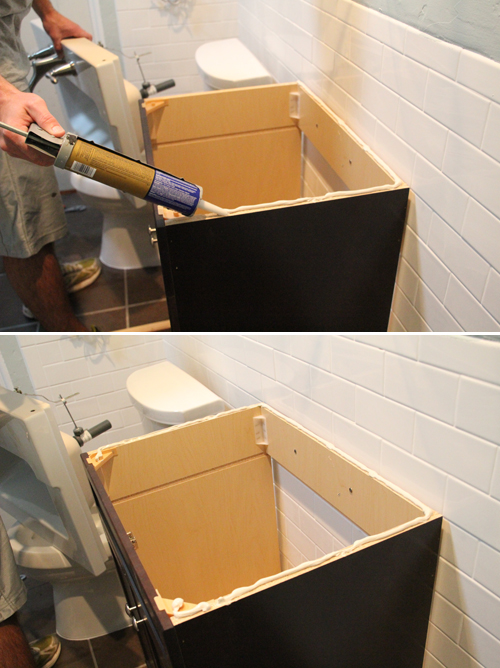 As well as to the back of the top.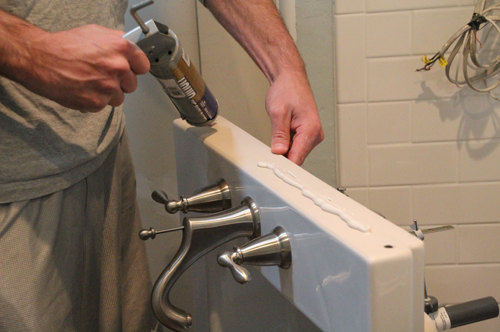 Not to worry if it makes a mess, you can wipe up any smooshed out adhesive afterwards.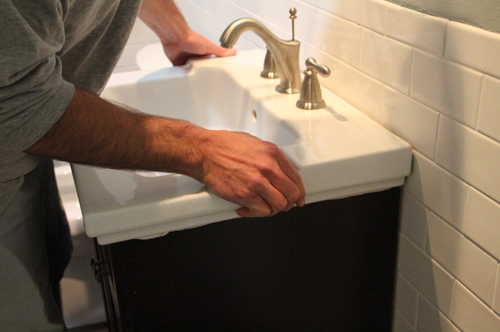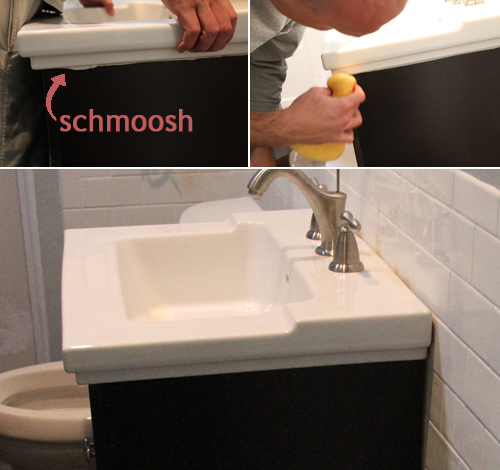 It looks great!
Kevin has also finished installing the new faucet which looks really great with the combination of the dark cabinet, sea salt blue walls, glass shower tile and white subway tile. I initially was leaning towards an oil rubbed bronze faucet for that vintage vibe (since the goal of the new bathroom was to build a modernized space that fit in a 1930′s home):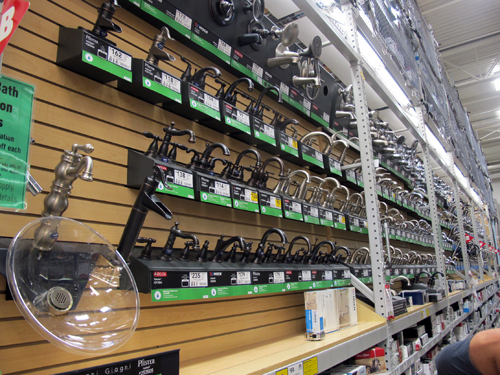 Not sure why it felt more vintage to me but I love our oil rubbed bronze faucet in the kitchen and I thought from the get-go that that would be my choice.
After much wondering I picked up a brushed nickel and an oil rubbed bronze version from Lowe's…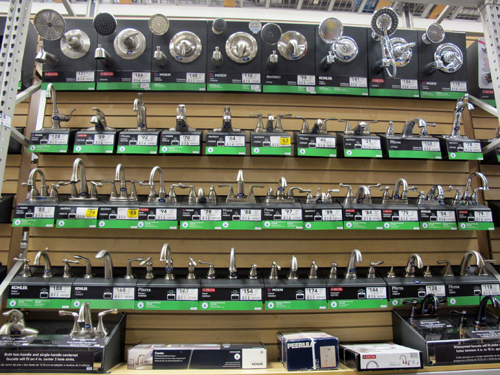 And eventually settled on this Moen Caldwell faucet: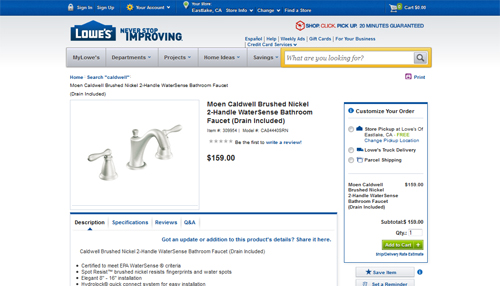 A brushed nickel finished in a slightly vintage shape and feel. Love how it looks with the rest of the bathroom (we have the matching shower head and tub faucet on the other side of the bathroom now, too). The new bathroom is almost here!
More building a bathroom posts: vanity wars, subway tile installation,  floor tiles and toe warmers, a quick catch-up on our work on the bathroom in 2011, tiling with recycled glass, choosing and installing a bathtub, demo time!, a peak at the layout, initial inspiration, partnering with Lowe's
We partnered with Lowe's on our bathroom remodel and received some product at no cost and some product at a discount. The ideas and stories shared in this post are entirely our own.
Posted in
Construction
,
DIY
,
Home
,
Our Guest Bathroom
,
Project Lowe's
,
Renovating Adventures
|
2 Comments »
February 15, 2012
Hope you had a great Valentine's Day!
I have a funny story… Kevin took me to a really lovely restaurant last night in La Jolla (just north of San Diego) called Whisk n Ladle. It's a place that I've wanted to check out for some time and it was delicious! I'm not sure you can call us 'foodies' but we're big on locavore-style restaurants full of unique flavor. If a menu mentions anything with the words 'fig compote', 'breaded goat cheese' or 'lavender infused anything' I start to salivate immediately. It's the unique pairings that you can't always accomplish in your own kitchen that I like most about eating out.
Well, this menu was everything and more and I was so excited to try it all. We narrowed our choices down to two specialty cocktails to start, braised pork shoulder with dates and roasted brussel sprouts as well as seared local halibut for our main courses — and to start us off delicious pan fried sweetbreads with onion confit in an au jus sauce. Are you salivating yet? But this is where things got a little crazy. What do you think of when you hear 'sweetbreads'? (this is officially why we're not foodies), I was picturing a most delectable french-toast style of handmade bread with an onion confit for dipping. Nope! Sweetbreads are a friendly word for the throat, glands, stomach and intestines of a lamb or calf. We were half way through the appetizer when I decided to Google it because it just didn't taste like I was expecting… ha! Kevin happily finished off the rest. So maybe he's the foodie in the family.
Okay, back to a fun little laser cut butterfly art project that brought a little more Spring to our living room.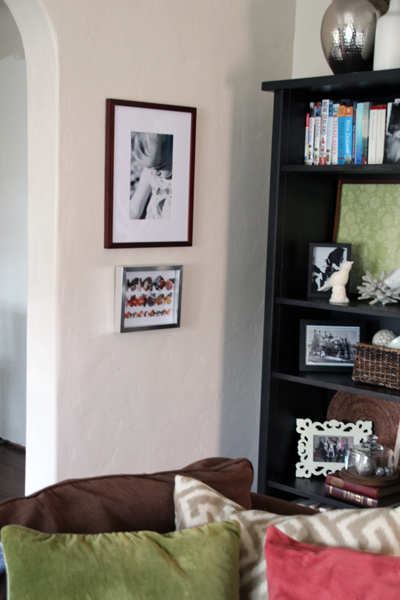 There's just something about these natural beauties that is so lovely to look at! And such an easy way to add color and bring nature into a space.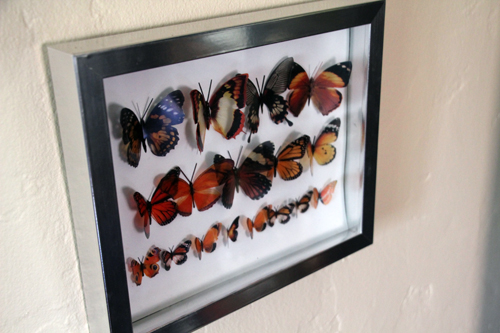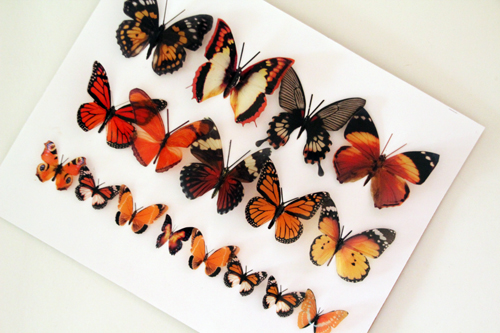 More lovely inspiration: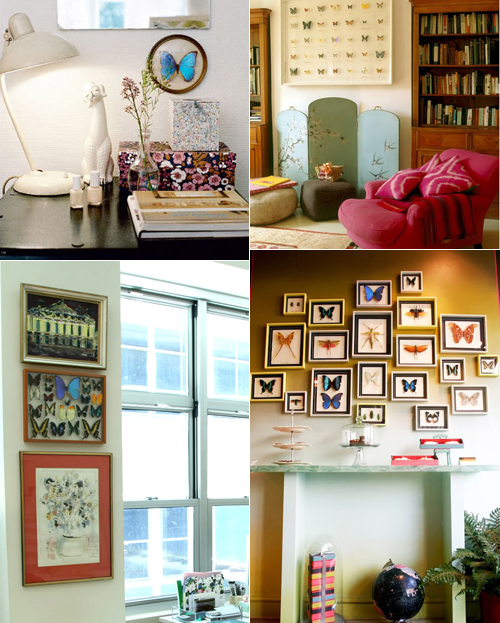 Lots of folks are not fans of taxidermy butterflies. It doesn't bother me so much if I'm purchasing from a humane seller who harvests butterflies after they have naturally passed (since many live only 3-4 weeks) but if you're looking for an alternative (or you don't want to spend $50-100 for a shadow box) plastic laser cut butterflies are the way to go.
Krista of Kiki's List (who I learned about from this favorite site) turned me on to Etsy seller Clear Cut Crafts that creates just that – beautiful, natural looking thin plastic butterflies that can be used for cake decor, weddings, you name it.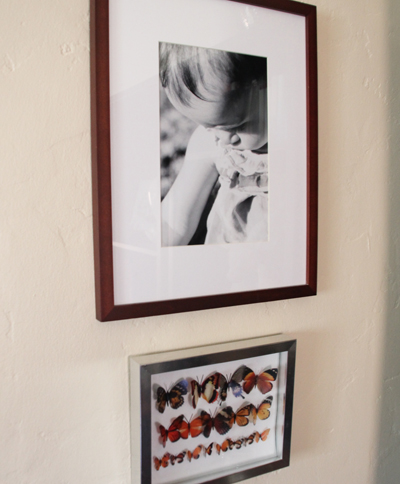 I placed an order for 2 dozen Monarch colored butterflies (love that orange! and thought they were the most realistic – plus I grew up near Monarch groves which are just beautiful when full of butterflies). To hang them, I found a cheap Ikea frame in silver that I altered just a bit to function as a shadow box.
***************************************************************
Butterfly Art
(and converting a Ribba frame to a shadow box)
m
Materials: laser cut butterflies (or the like), Ikea Ribba frame, white construction paper, scissors, pliers, 1″ tack nails, hammer, glue
Using the back of the frame as a guide, I cut out a piece of white construction paper to match. My butterflies came pre-cut (huge time saver! hence the laser cut) and so I gently folded the wings and laid them out on my paper to get an idea of how I wanted the finished display to look.
Once I had settled on a layout I used a white glue (so that I could adjust placing as I went) to hold them in place.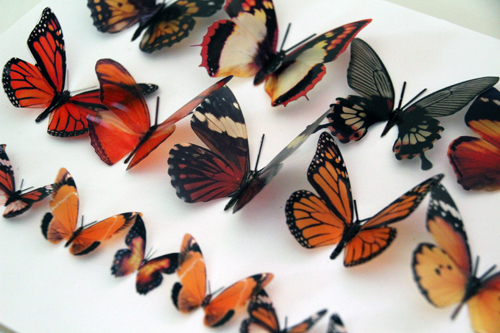 I let this dry over night and began working on the frame. Apparently there is a shadow box frame that Ikea makes – and I thought that I had picked up that version when I found my $4.99 find. But later after arriving back home I realized that while it's deep for a frame (as most Ikea frames are) the photograph mounting was smooshed right up against the glass.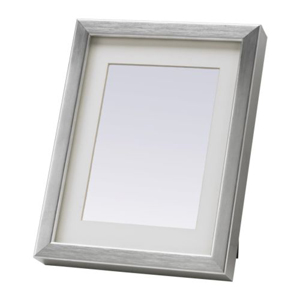 To create a shadow box out of the Ribba frame, I popped out the glass and mat and pulled out each mounting clasp (is there a more accurate term for those little metal clips?) with pliers.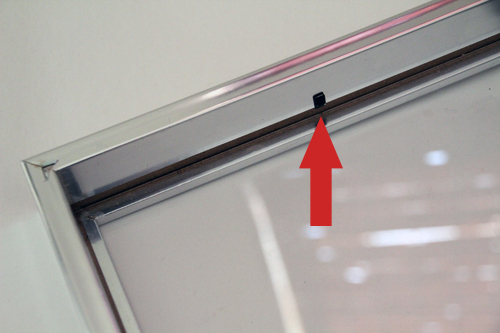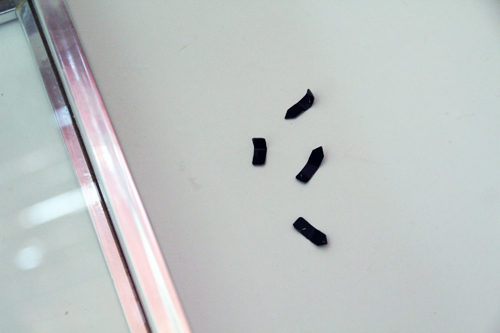 Then I added small tack nails between the edge of the glass and the frame. Just a gentle bump with the hammer and a little glue held these guys in place. I also let the glue dry overnight.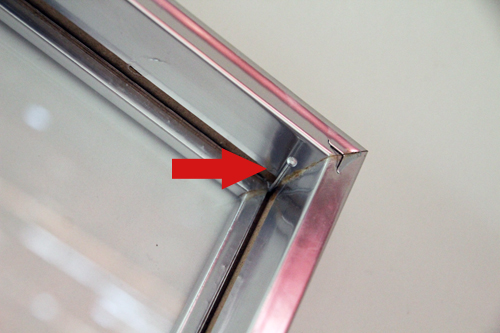 Now the back of the frame would sit atop the nails and the nails would bridge the distance between the glass and artwork — making the frame a shadow box (and perhaps the cheapest I've ever bought).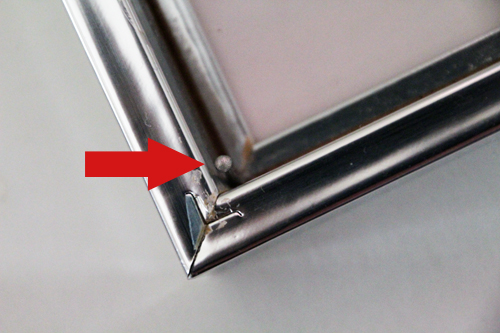 Since I pulled out the little clasps that keep the back in place (because they were in the wrong location for a shadow box) I simply glued my back to the frame edge. Since it's a tacky white glue that I used it will hold my artwork in place for as long as I'd like but will allow me to easily pull the back off (maybe with the help of a utility knife) later down the line to update the contents. A glue gun here would be equally useful but might not allow the versatility to easily replace the artwork inside. Let dry overnight if using white glue.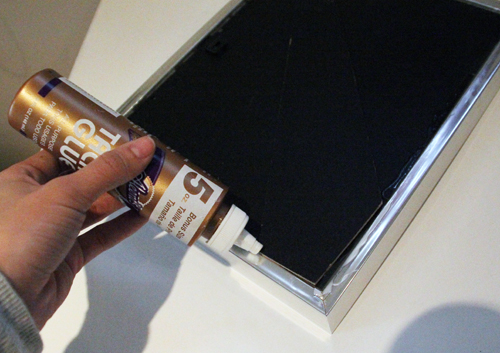 Finally, flip over and hang!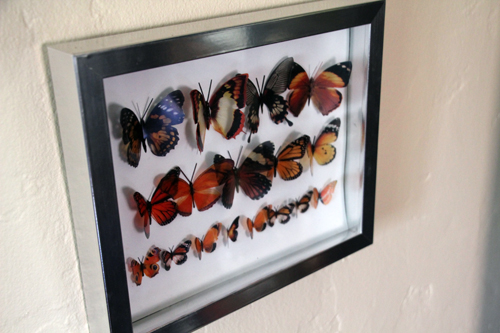 ***************************************************************
The finished frame fits in well with my Spring update for the living room with the bright colors playing off of the new throw pillows.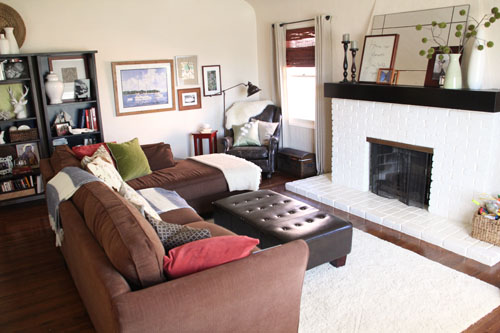 And another shot of the corner of the room with the new butterfly artwork: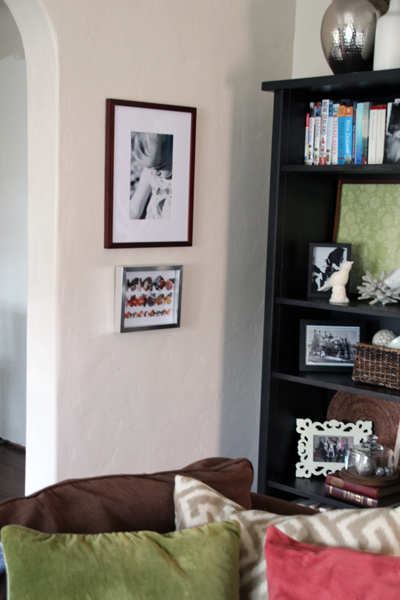 Do you have any funny stories to share from Valentine's Day? Or any new DIY artwork projects? What are your thoughts on butterflies – fake or taxidermied?
More living room posts right here.
Tags:
Accessories
,
Artwork
,
Before & After
,
Crafty Solutions
,
Decorating
,
DIY
,
Home
,
Living Room
,
Orange
,
Tutorial
Posted in
Crafty Solutions
,
DIY
,
Favorites
,
Home
,
Our Living Room
,
Renovating Adventures
|
6 Comments »
February 13, 2012
Hope you had a lovely weekend! I'm traveling back to San Diego from a business trip in the Bay Area (of California) followed by a wedding in Iowa, so I'm going to leave you today with a very cool DIY project I spotted over at Little Green Notebook.
When garage saling or thrifting, I'm always on the lookout for little figurines and bowls and tschotchkis for my bookshelves. My favorite finds tend to be old brass animals or white curvy ceramic vases because they look awesome as bookcase and shelf fillers (helping to break up the shapes of bound books and square bins).
Now this idea takes it all to the next level and is quite clever.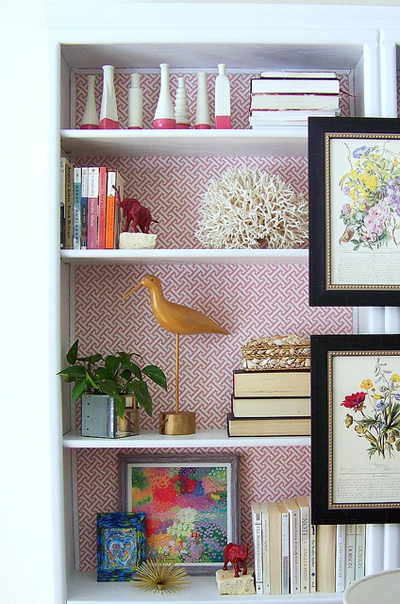 Hi Sugarplum! turned plastic toys, and crazy thrift store finds into bright and bold figurines with a little Rustolium spray. I've seen this idea before but I really dig how Cassie styled her finished pieces!
Mount your figurines on flat stones for a more polished look.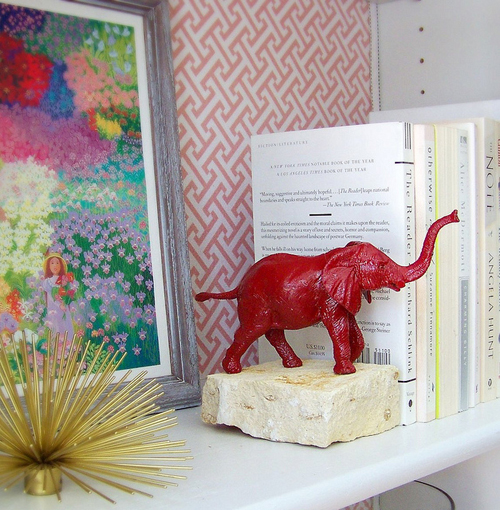 And for that favorite brass sheen, try metallic gold: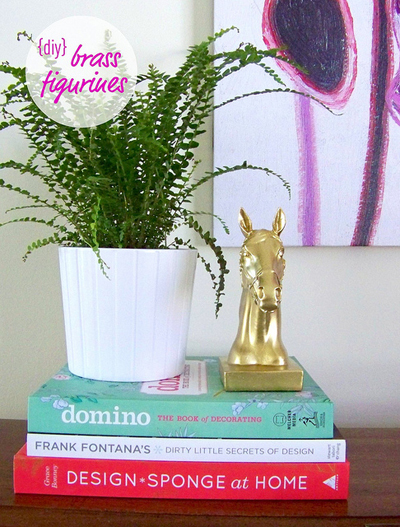 I tend to stick to neutrals like a bright white or a weathered grey – but after this inspiration I might try out a crimson red, kelly green or sunshine yellow soon! Cant wait to give it a go.
Posted in
Crafty Solutions
,
DIY
,
Featured DIY Project
,
Home
|
1 Comment »