April 5, 2013

I have a special guest to introduce to you all today. Erin from House of Earnest is popping over to share her answers to PDB's Friday Guest Interview questions and I know you'll love her inspiration and answers!
Through House of Earnest, Erin chronicles her favorite home decor, entertaining ideas and crafty solutions. She's so talented – what I'm drawn to most is her unique spin on the everyday and the beautiful way she captures it all with the photos she shares. Take these gold + avocado seed place settings, for example. How beautiful! Or these gold foil confetti tumblers that I'm dying to try, these incredibly unique crated photos, or the lacquered animal bookends that Erin reveals in the the new 5th question addition that I've added to this series (after 3 years of hosting this little Friday special with just four great questions on inspiration and trends – I'm introducing a new favorite DIY-related Q&A addition, and you must check out Erin's answer).
Or how about this beautiful summery brunch? See… so talented.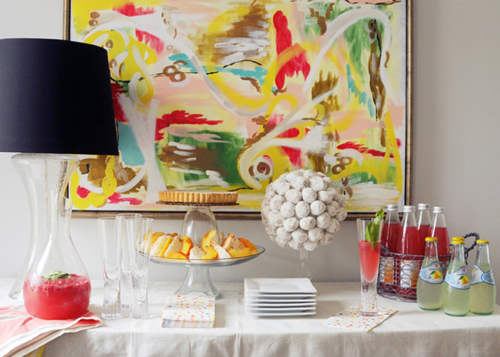 Erin was recently named as one of the "Best Up-And-Coming" blogs by a panel at Altitude Design Summit, she writes for Etsy twice a month and has been featured over at design*sponge and HGTV.com. Thank you for joining us today, Erin! Come check out all of her answers and inspirational photos after the jump. Read more »
Tags:
Decorating
,
Guest Blog
,
Guest Interview
,
Parties & Entertaining
Posted in
DIY
,
Guest Blog
,
Interview
|
Comment »
April 4, 2013
I have a horrible little secret. We hoard paint cans over here as if they were going out of style. Every size, shape, color – even long after that little label from the paint store begins to wear off from old age and we can no longer read the brand, sheen or color composite – still we hoard. Our paint cabinet overfloweth.
When Color-Glide Pro reached out to me regarding their new brushless paint sample tubes (that you fill and label yourself to keep on hand for little touch up projects) a little light in my head went off and I began dreaming of a certain over flowing cabinet suddenly becoming empty and clean. I screen product reviews here pretty thoroughly and I often don't take on a project that I don't think will fit in line with how we work on home projects or ones that won't jive well with the blog. BUT this particular sample landed in my inbox with perfect timing. I've been imagining a product just like this and if they hadn't invented this genius of a little squirt tube, I would have been on it like a fly to honey. It's that smart.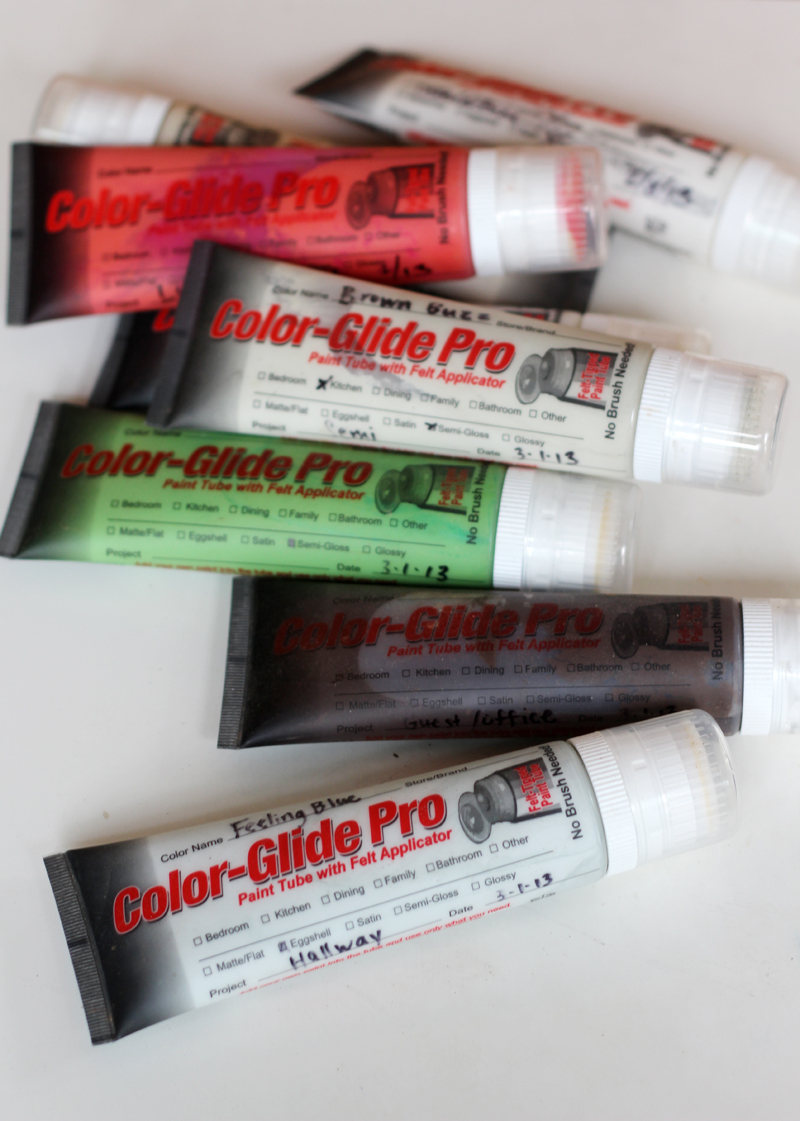 Here is just a wee selection of paint that a friend and I drug out of our garage a little while back to sort.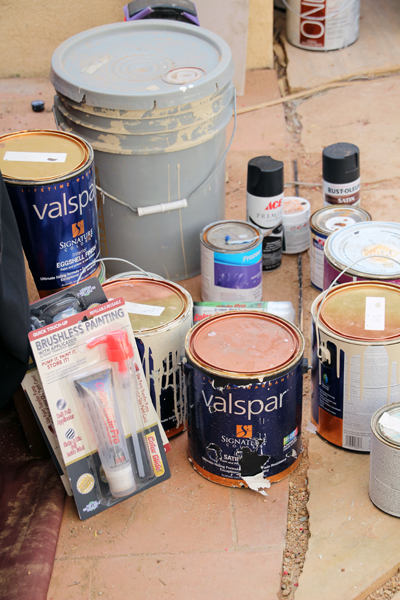 Then we opened up all of those cans, made notes on which paint belonged to which rooms (with lots of swatch testing going back and forth since the labels were all practically gone) and used the 10 or so pump + tubes that come with each Color-Glide Pro applicator to reorganize.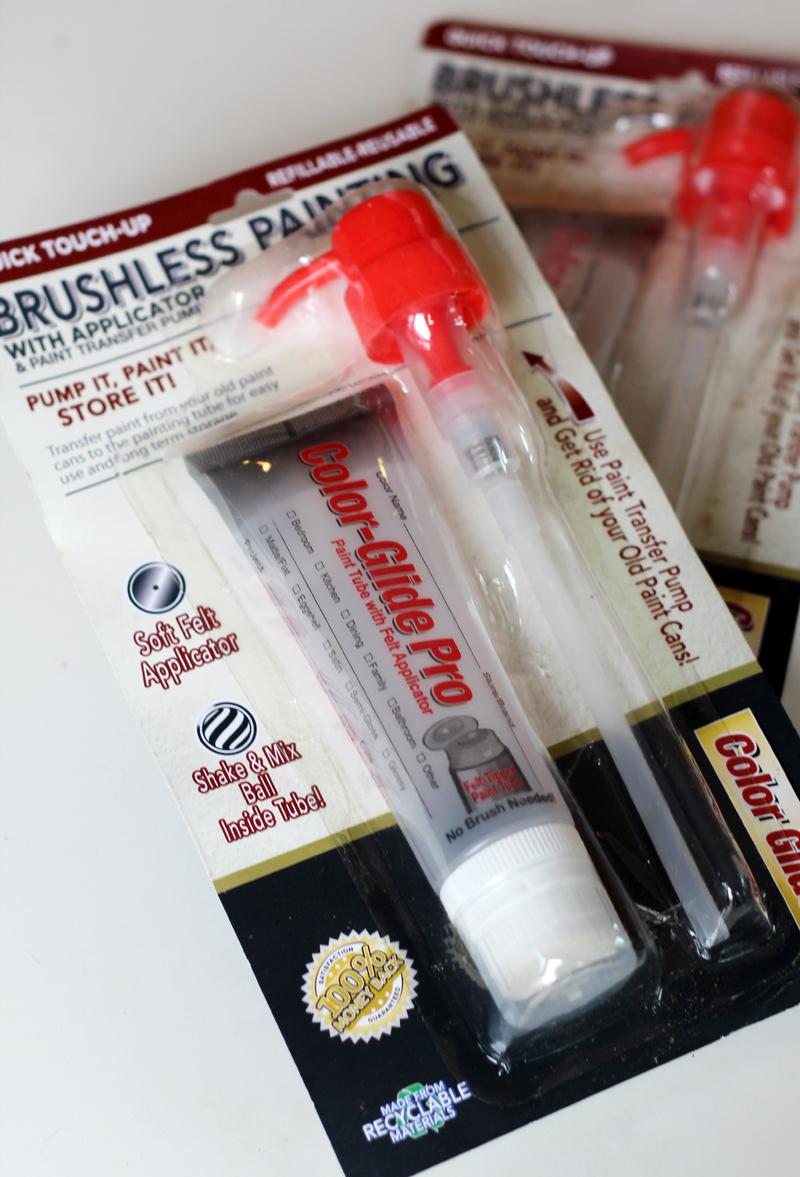 I loved that each tube had its own pump. You set the pump into the open can of paint and fill, fill, fill.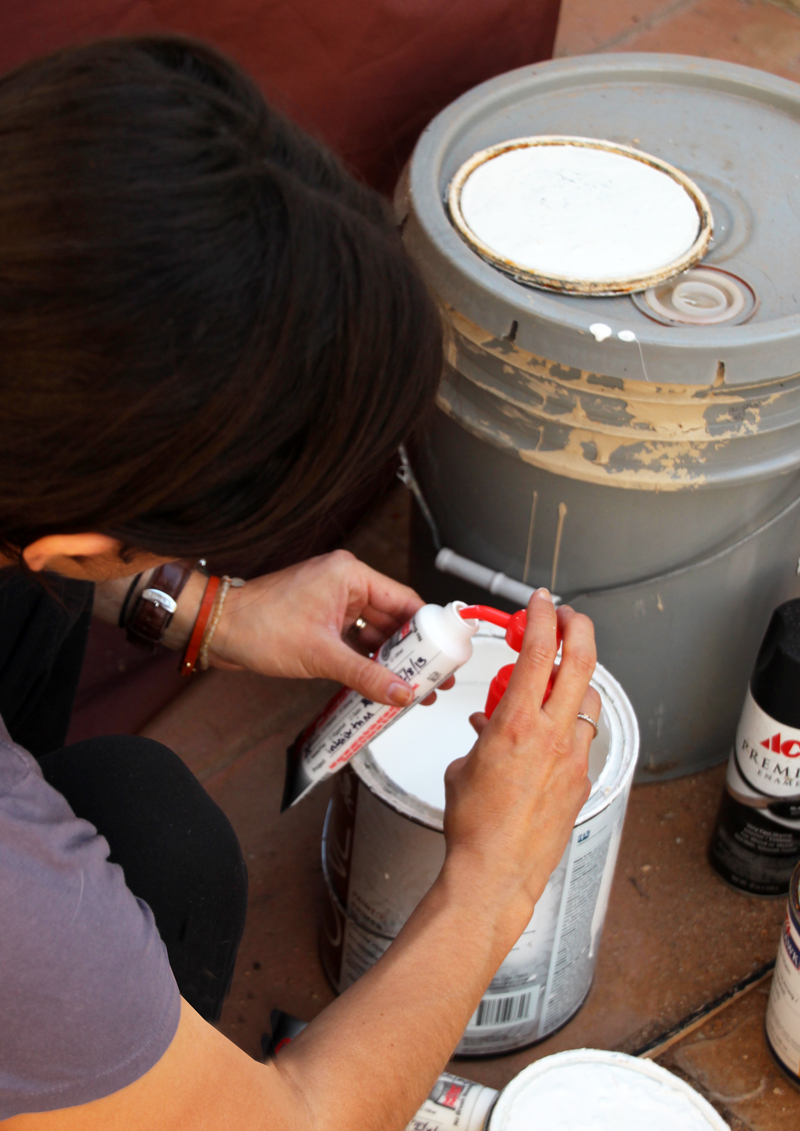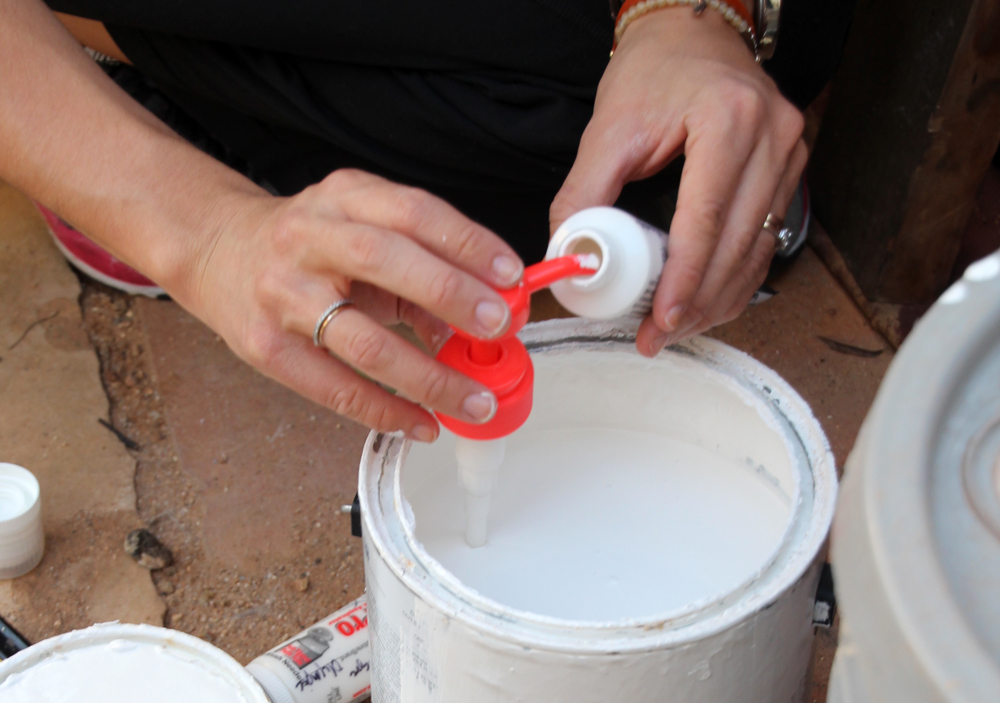 The tube is easily recycled afterwards (there would be no way for multiple colors to share the same tube, I thought about it but cleaning would be a mess).
The outside of the tube allows you to label the color name, brand or store, which room the paint is for, the sheen and any other details you'd like to add with a sharpie.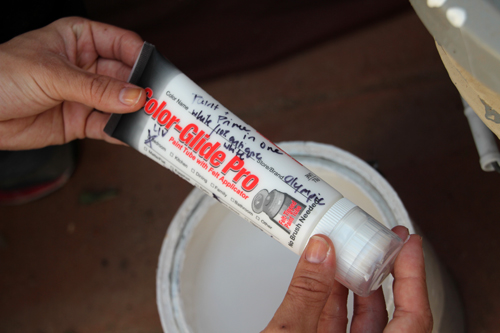 The best part? When it comes time to actually put the now nicely organized paint samples to use. We recently repaired two big plaster spots in our kitchen just a day or so before an appraiser was set to conduct a house tour (for a refinance that we're in the middle of) and just hours before his arrival I quickly repainted the large blemishes using the brushless applicators in the Color-Glide Pro tubes.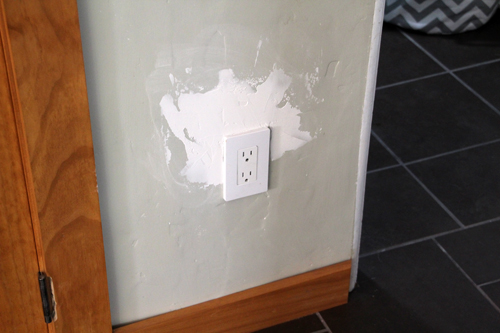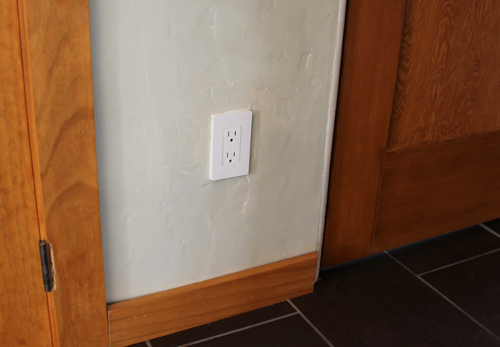 Here's an in-progress shot (though the paint is still wet in each photo and the texture of the walls makes it appear a little crazy). The end of the tube has a little felt applicator that you gently squeeze paint out onto (kind of like the automatic dish soap dispenser scrubber – do you use that too? – in your kitchen sink). No need for brushes or tape or cleaning of any kind, just shape the tube (there's a little ball inside to mix everything up) squeeze a bit of paint out onto the felt applicator and rub onto your patch area. When finished, wipe off the felt and pop the plastic lid back on. The plastic lip on the applicator acts as a little barrier between raised surfaces and the paint so I didn't actually tape off the light switches below, even though I was able to get a perfectly smooth line right along the edge.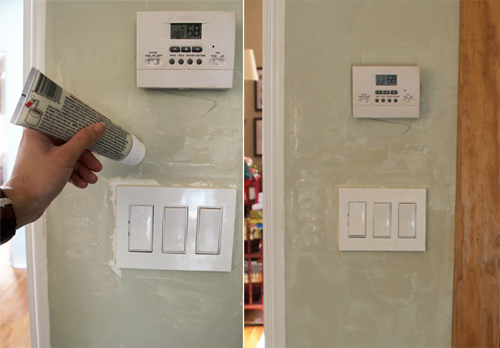 Finished! The three different types of trim in the below picture are driving me crazy, but for now the paint looks awesome. Except maybe for where the wall meets ceiling, looks like I have a couple of spots to patch up now that the ceiling has been replastered as well…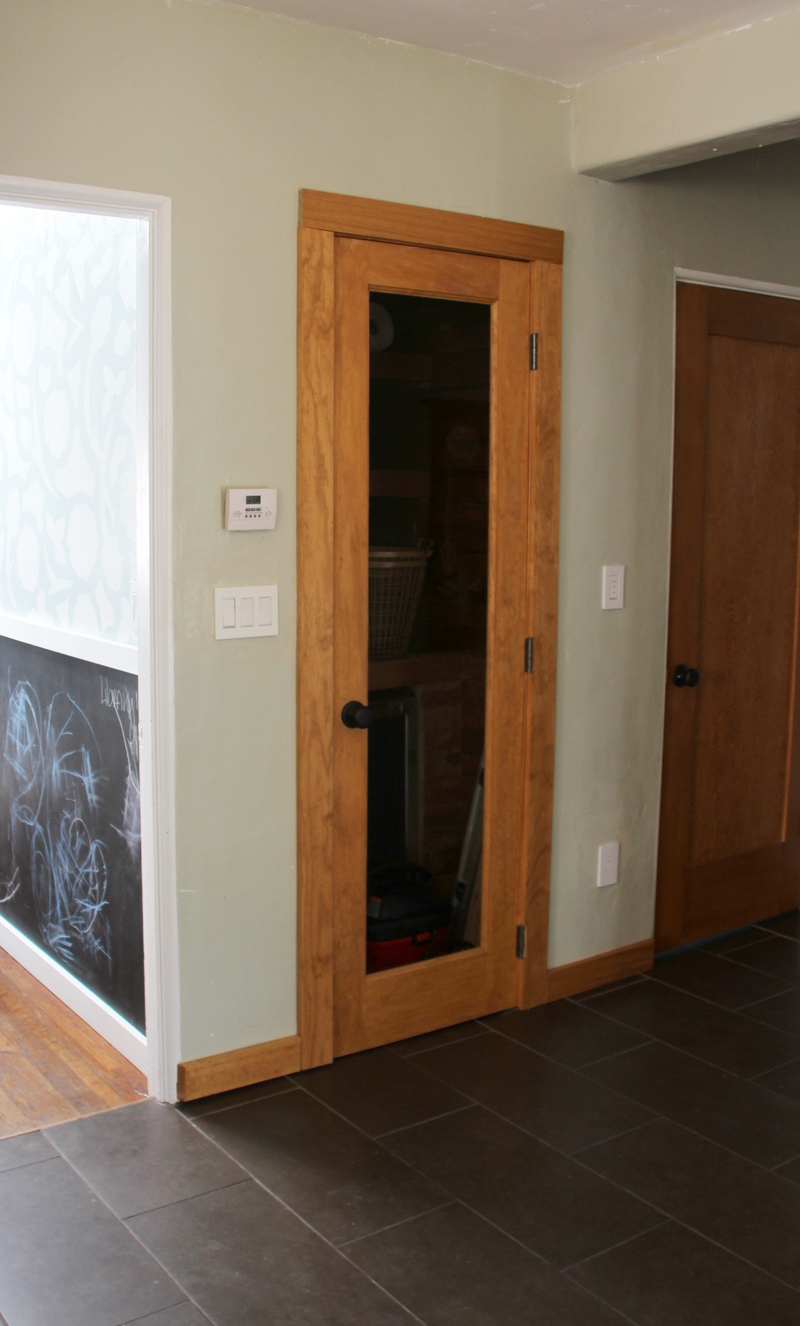 I must confess that my paint cabinet in the garage still overfloweth – I had a hard time parting with near full gallons or quarts of paint that I *hope* to use on a future project. But now at the very front of my cabinet sit my paint tubes, ready and waiting for repairs in the house!
It's nice to know that if we're patching a hole where a picture frame used to hang in the dining room or replacing trim in the office, I can run out to the garage and grab the correct tube and quickly finish the project – sans all of the paint supplies and clean up that it used to involve (and therefore was always relegated to last on the to-do list).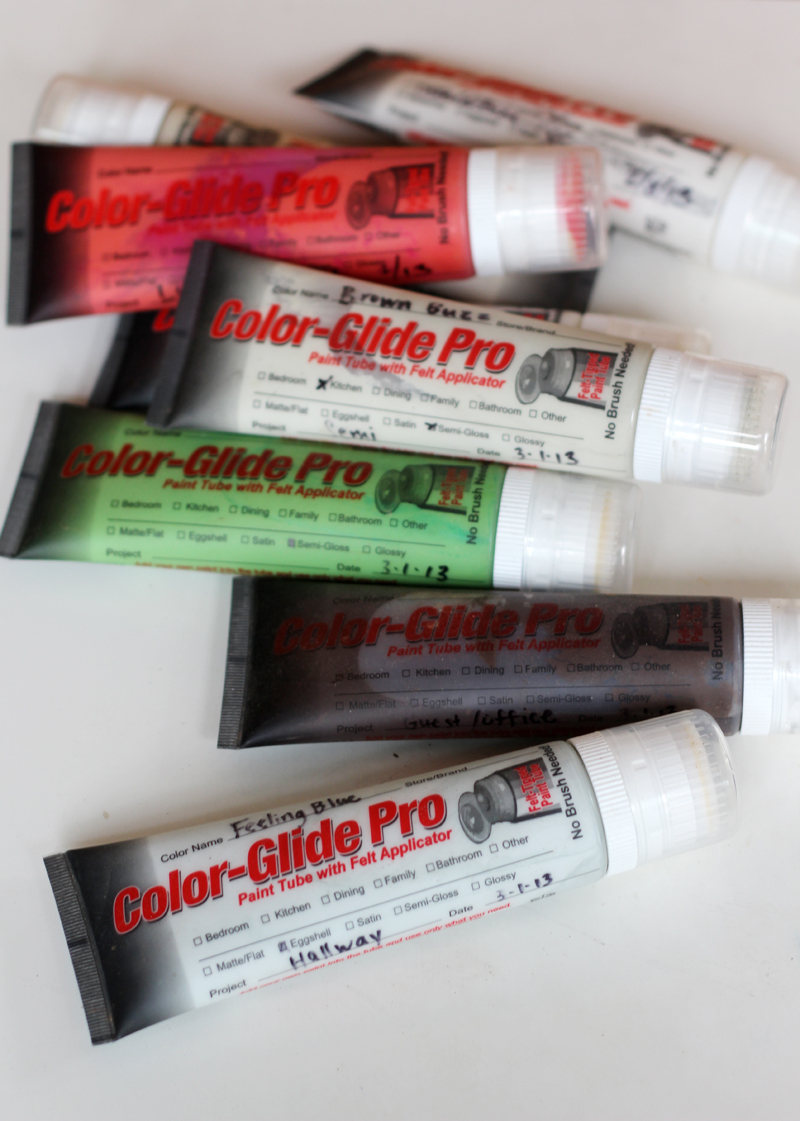 Thank you to the folks over at Color-Glide Pro for suppling the brushless paint tube applicators for me to try out. Here's a link to their website for more information and a plethora of application videos. You can also find a pack of four sample tubes available on Amazon with Prime shipping.
Tags:
Paint
Posted in
Crafty Solutions
,
DIY
,
Home
,
Product Review
,
Tips & Ideas
|
3 Comments »
March 26, 2013
I thought I'd share a little project with you today that I recently hung up in our kitchen, but that I actually created about six months ago. We lost my Grandma just before our big trip to Europe and it was devestating. She was the local Grandma in my life that I was very close to – the one that taught me to bake, gave me sage advice on finding 'the one' (which subsequently confirmed my yes to Kevin) and who picked blackberries with me every summer when we visited Washington together. It was a very heartfelt loss and there were no words to describe it. To add salt to the wound it was in a matter of weeks that we were celebrating the passing of my other special Grandma, whom we had lost the year before.
But, I took what meant most to our relationship and created a piece of art that I thought my family would enjoy.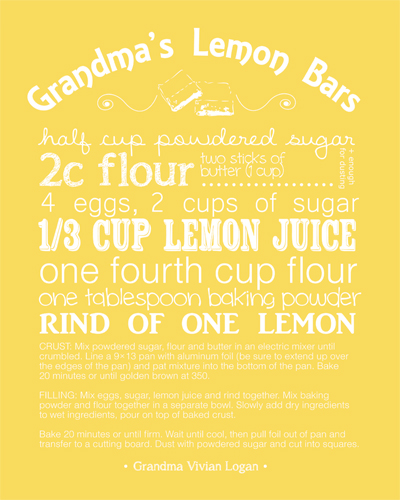 Grandma and I baked together at every opportunity we had – she was an incredible baker!
We couldn't attend her funeral because of travel and that was a second blow to my heart. There was nothing to be done regardless of how hard I tried to change flights and so on… so instead of being there in person, I was there in spirit (while in the Ireland countryside, her heritage) and I wanted to leave something for the guests that were present to celebrate her life.
My first thought was to create a memorable piece of Recipe Art for everyone to take home and I was on the hunt to find an Etsy artist to help me out! But because of short notice (as these things often go, funerals that is) no one could fit my short timeline. Sooo, I opened Adobe Illustrator up and created the art myself.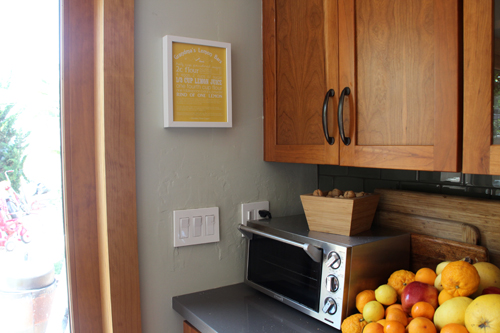 I made about 50 copies for the funeral, packaged them up and sent them to my Dad to leave out for family. And now, finally, one of my prints hangs in our kitchen.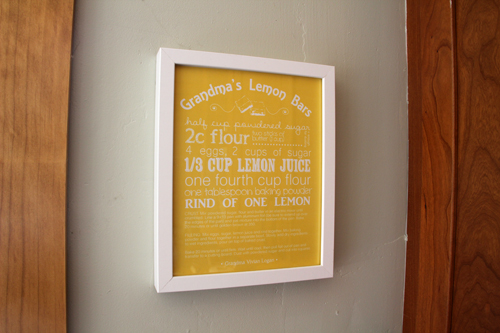 Lemon bars (hence the bright, happy color) is one of the BEST recipes we have from my Grandma, though I'm working on an entire cookie book inspired by Grandma's delicious creations. She was a baker – a real conossieur of the trade. She taught me everything I know and it runs in my blood because of her. I hope to pass that on to my girls.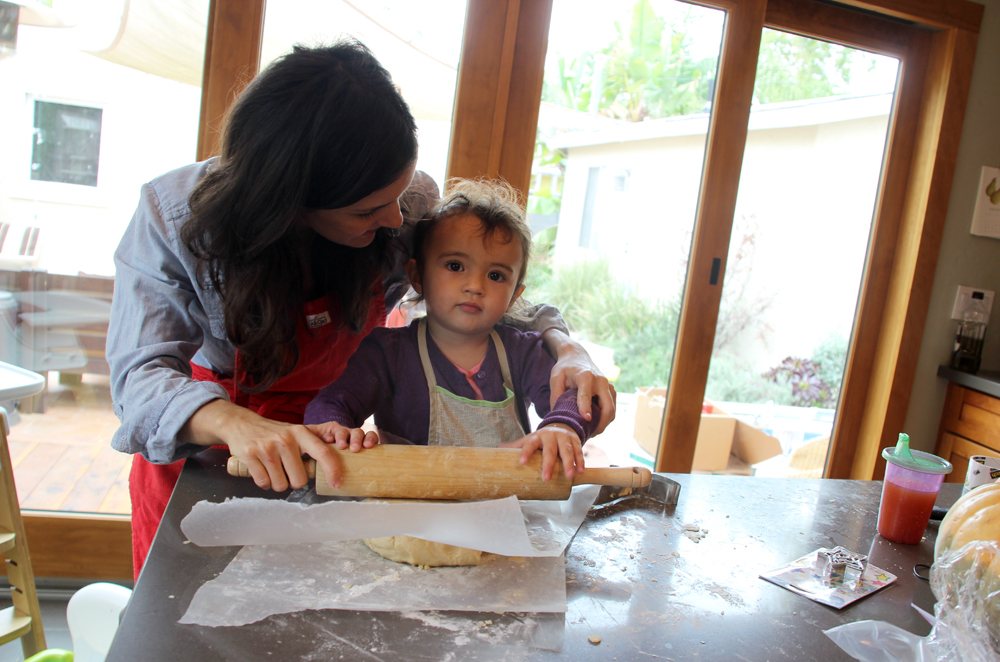 About a week prior to her death, I was visiting her home in my hometown of Santa Cruz and I sat down next to her bed with a tablet and began recording. I knew that I didn't have much time and Grandma was happy to share her secrets (the ones that I had heard before, the ones that I was just learning for the first time) of baking with me. We went through hundreds of recipes together from her shelves and hand written books and boxes of torn out magazine clippings, and picked out about 30 that were her favorites. The legacy she will leave us is the love that she shared, the stories of her inspiring life, and her recipes.
Grandma's memory lives in the heart of my home now, and she will be with me every time I bake.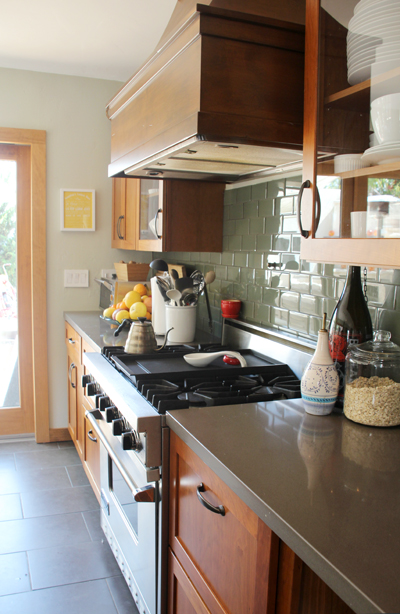 Love you, Grandma! I know you are watching over us with the angels now.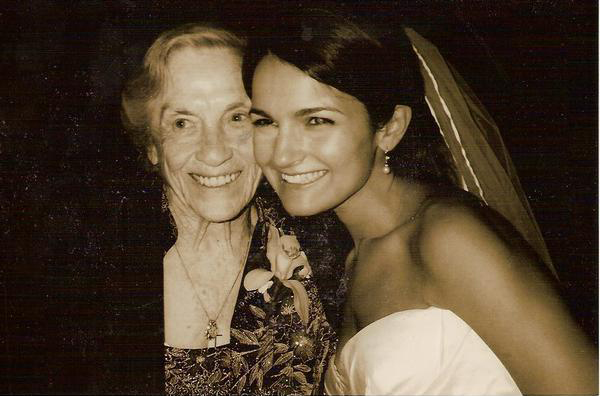 PS I shared the actual recipe here when we made lemon bars for Liv's baptism. Delicious.
PPS If you are an Illustrator wiz, I'd be happy to share the original file with you so that you can edit it with your own favorite recipe. I can't link it here because it's not compatible, but feel free to email me at: morgan at pepperdesignblog.com
Tags:
Art
,
Decorating
,
DIY Art
,
Kitchen
,
Paper Crafts
,
Recipes
,
Yellow
Posted in
DIY
,
Downloadables
,
Family & Friends
,
Our Kitchen Remodel
,
Recipes
,
Renovating Adventures
|
5 Comments »