February 5, 2013
I have one more quick project to share from building the breakfast nook in the kitchen. See that big ole chalkboard above the new bench and table? Figuring out how to fill that space proved to be one of the hardest puzzle pieces with this entire project.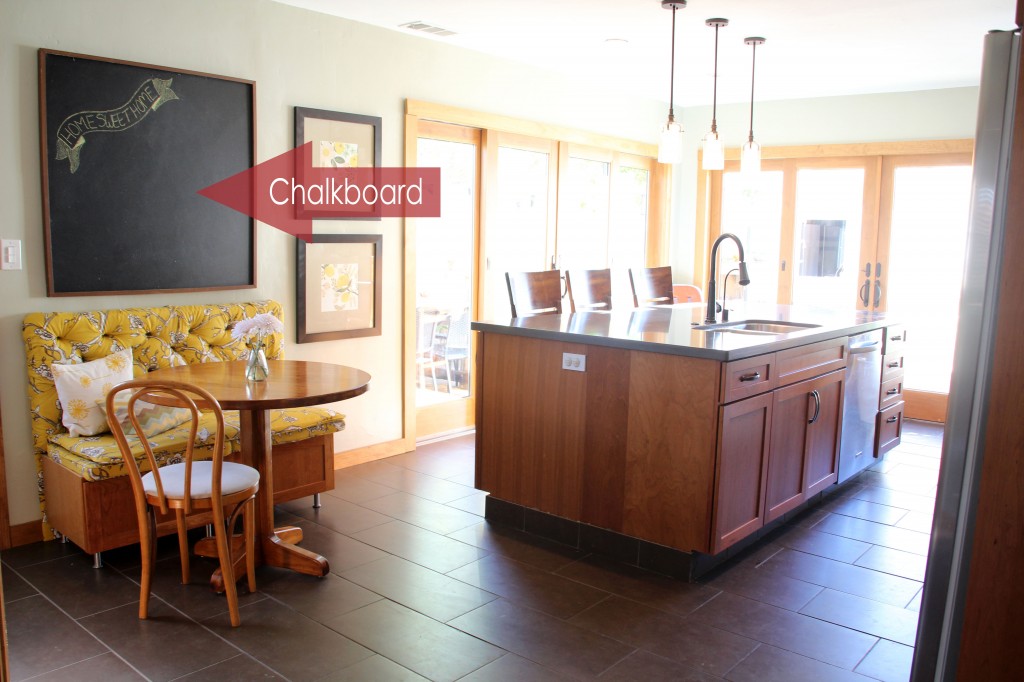 I love the final solution and it has already been a fun spot to share family messages (like Liv's 2nd birthday!) but it took me a while to figure out how we would temporarily cover that massively large gap (and old window that's hiding behind plywood and needing repair – on the list for this summer) that was left in the kitchen when the bench was finished.
We brainstormed ideas ranging from framed fabric wall art (one of my favorites), finding actual wall art, hanging a whiteboard or cork board, creating a faux roman shade (very clever, Mom) to a chalkboard. Nothing too permanent because we may end up opening up that window again this summer or trying something brand new with the space.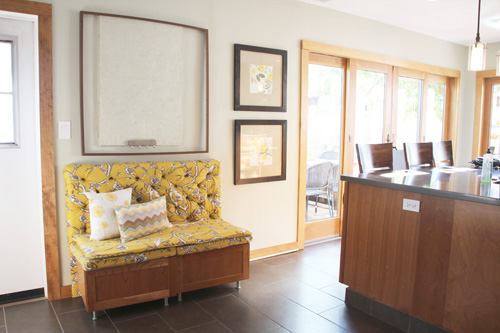 I thought a cool piece of fabric (like a remnant, silk scarf or even a chunk of something random like a tablecloth) framed would fit the bill, but then struggled to find a fabric that I wanted to hang as a focal point in the room — and one that also played nicely with the new tufted bench seat, pillows and bar stool cushions. No luck. I love me some mixed patterns but there were just too many in that little space.
My back up plan was an awesomely large frame to house a chalkboard. You can never have too many of those.
I made the frame first because it was such an awkward size. It had to be tall enough to cover the window and wide enough to look like it's supposed to be there (and is not just covering up a flaw in the wall, which it actually is).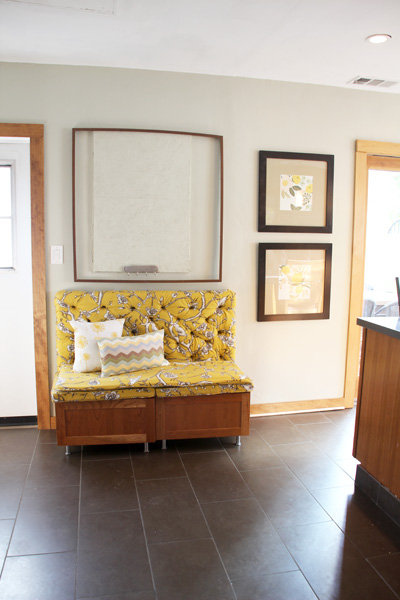 I could have built a frame from scratch, but that felt very, very daunting. I priced out purchasing a custom frame at that crazy size. Waaaaay out of budget. Then I stumbled again upon these giant Ribba frames at Ikea: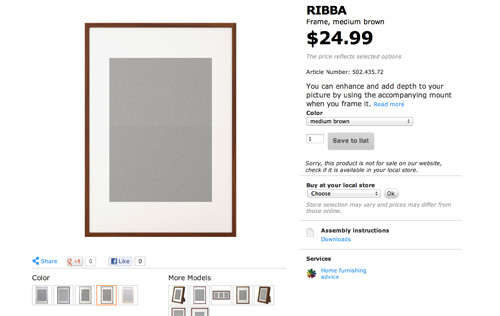 This frame is the same poster frame that I used on my semi-DIY fabric canvas artwork in the living room (my local Ikea doesn't carry the birch version anymore

). It's SO big at just over 28×40″, and at $25 it's a killer steal in the framing world.
One would have not looked purposeful, it would have oddly sat above the breakfast nook and would not have tied in in the two Rifle prints to the right of the seating area. The chalkboard needed to go big. After carefully measuring, I purchased two of the Ribba frames with this plan in mind:
First disassemble both frames, next reassemble one giant frame using just the longer 40″ edges.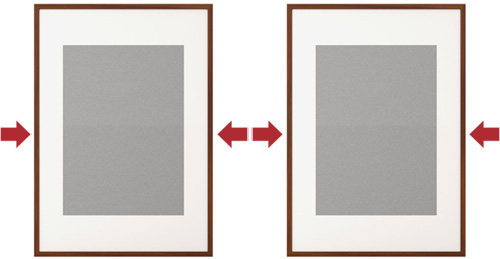 Disassembling was actually quite tricky! You would think that an Ikea frame would pop easily apart. Oooohhhh no. I assumed I could pull out the staples that held the perfectly mitered corners together (the hardest part of building your own frame) and re nail gun the edges. But after a little sawzall action late at night and about 20 nail gun holes later, I managed to reassemble my giant frame.
I wish I had pics of that night! Me, my red slippers, an air compressor and the power tools (don't let anyone try to fool you – power tools are just larger versions of the craft tools we ladies know and love).
But it looked something like this when I was done: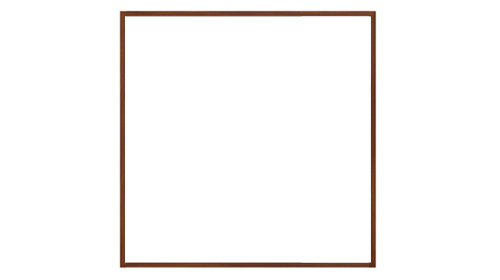 Except that if you're ever over at the house, don't look so carefully at the corners. They are not so pretty with their wood glue remnants (who knew it wouldn't dry perfectly clear?) and nail marks. I just keep telling myself it's a great temporary solution.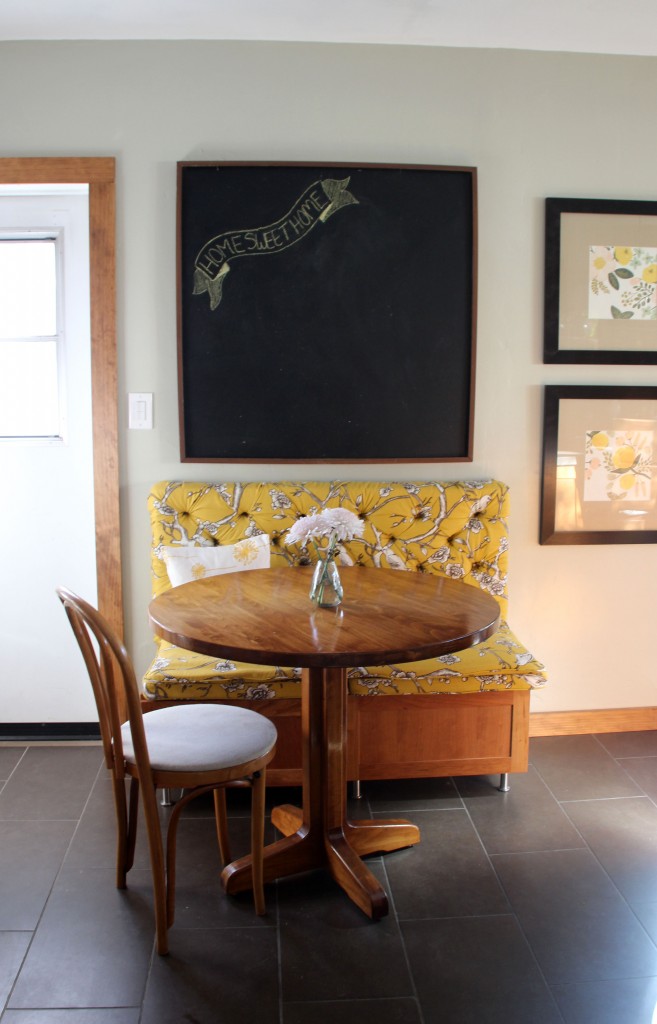 For the chalkboard on the inside, I headed down to my local Lowe's, found a sturdy and flat piece of particle board and gave the nice milling guy my dimensions.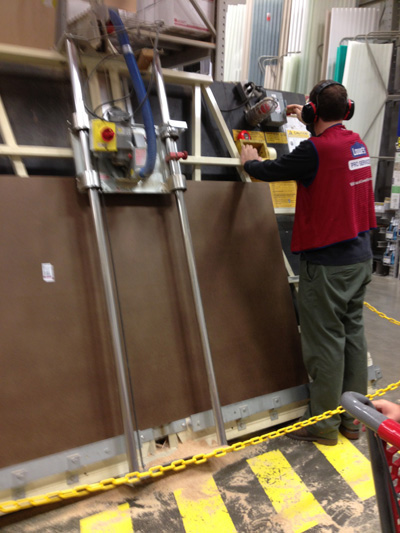 Three coats of chalkboard paint later and we were done! Also don't look too closely at the black paint either – you might see an accidental footprint. For the record I also added three coats of magnetic paint under the chalkboard paint but the finished product is not quite strong enough to hold anything up. Ah well.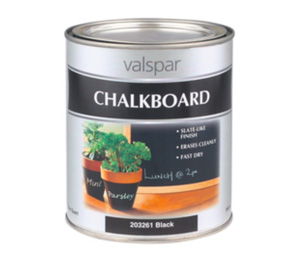 Hanging the frame and board was a bit of a challenge… the Ikea frame was not sturdy enough to hold such a large board (even particle board) so I reinforced the entire frame by driving a few nails directly though the chalkboard and into that plywood window that we were trying to cover up. Very convenient that it was there! An alternative might be to use a much lighter type of board (perhaps even plexiglass?) or to build a much sturdier frame to support so much weight.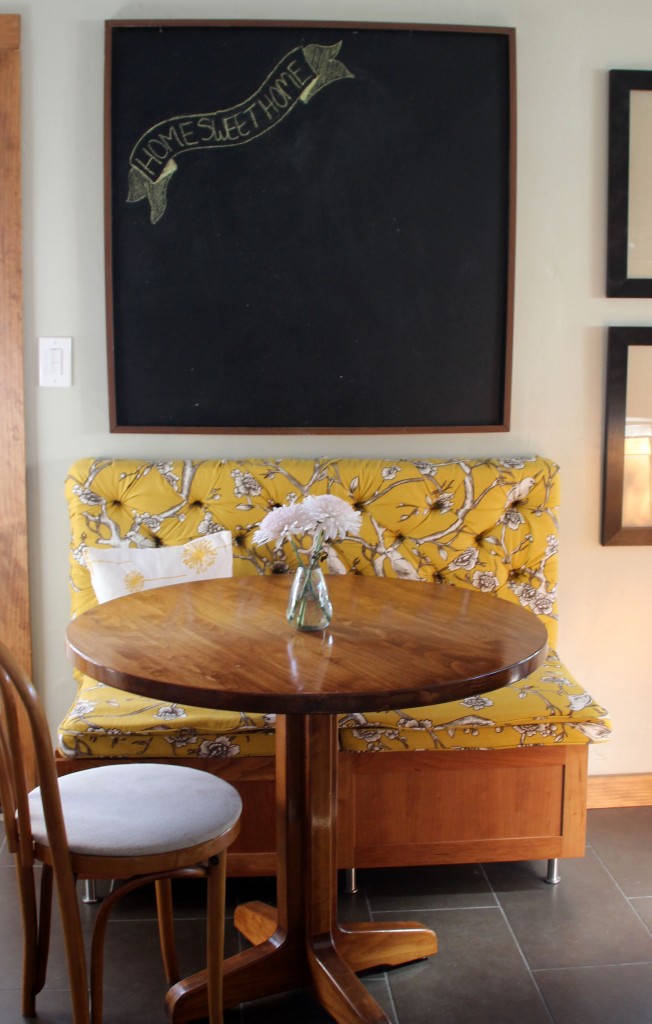 And that's the story behind the giant chalkboard

.
These days I love how the black paint looks against the black of the botanical frames and the grey floors, it really is the perfect solution for this spot.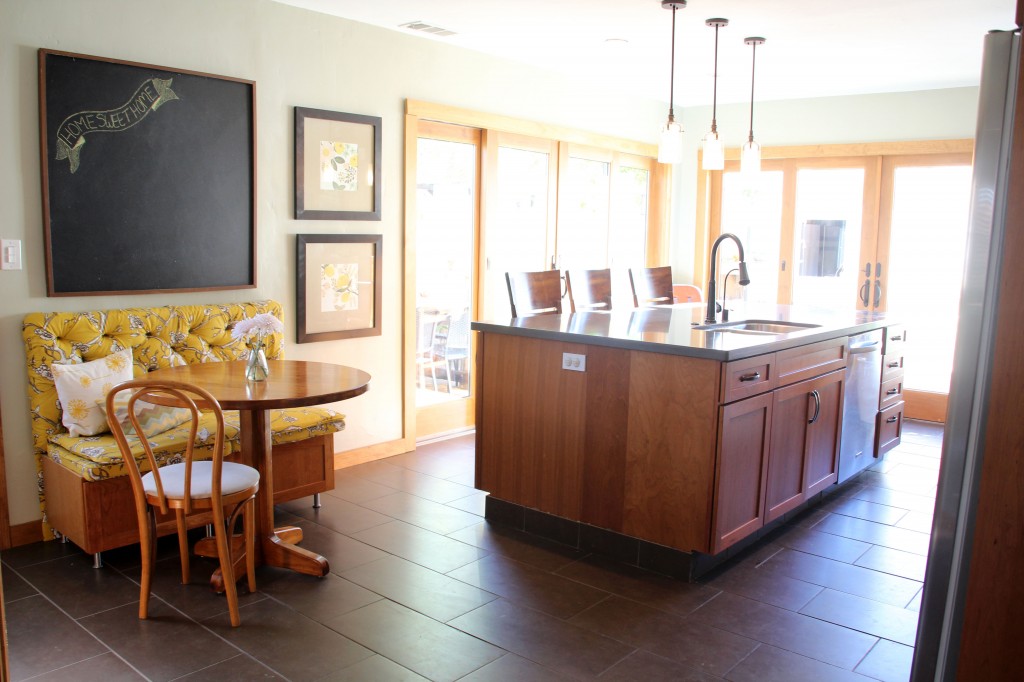 PS More kitchen renovation posts found right here. And breakfast nook building here: part 1, 2, 3, 4, 5, 6, 7
PPS Thank you so much to Calico Corners for including my breakfast nook project in your most recent newsletter! Such a big honor, thank you, thank you, thank you.
Tags:
Accessories
,
Crafty Solutions
,
Decorating
,
DIY
,
DIY Art
,
Home
,
Kitchen
Posted in
Crafty Solutions
,
DIY
,
Featured In
,
Home
,
Our Kitchen Remodel
,
Renovating Adventures
|
6 Comments »
January 31, 2013
Do you ever puzzle over which type of paint should go where? Flat or gloss for the kitchen? What type of roller for the cabinets? Should I invest in a synthetic or natural brush for latex paint? To prime or not to prime (that is the question). I am always quizzing the paint desk folks at my local home improvement store with questions like these.
This in mind, here's a cheat sheet that I've put together with the help of paint specialists Nicole Jones and Kimberle Greene of Olympic Paint. Olympic teamed up with us to paint the exterior of our home and I have been blown away by their helpfulness and expertise with the project!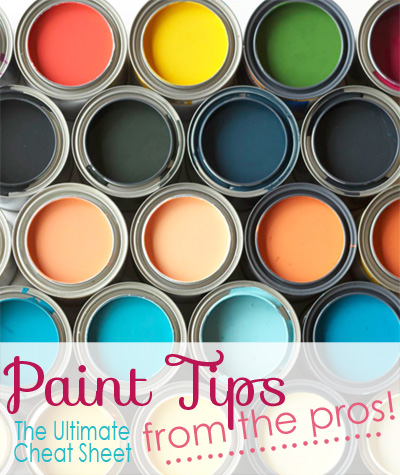 This post includes super helpful tips on topics such as how to choose your brush type, when and where to prime, and even stain application suggestions for wood makeovers.
But because I'm all about a visual cheat sheet, if I could wrap all of the paint sheen tips into one graphic that would be easy to pin, print out for a trip to the store or post on my bulletin board, here it is: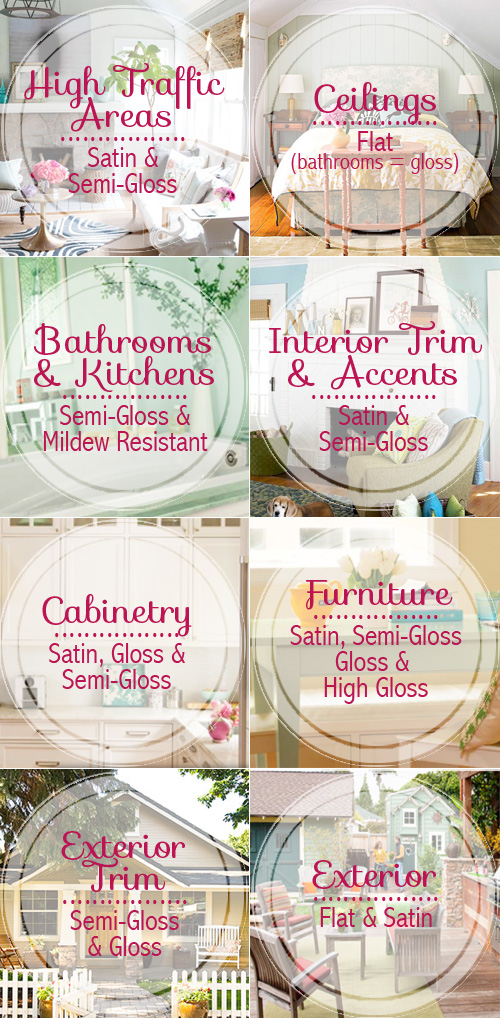 Now I need to process all of that through my long term memory asap. But first, let's jump into the full Q&A with Nicole and Kim!
Let's start off with a frequently asked question… what are your tips for high traffic areas and living spaces?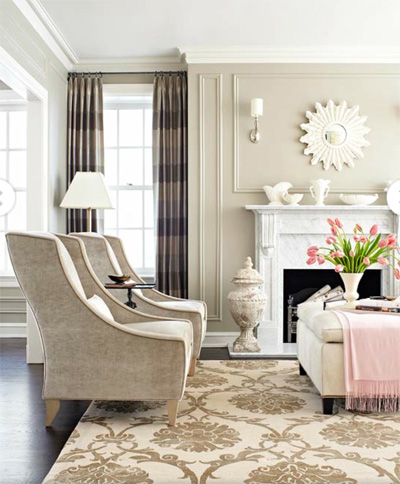 Flat to satin for most rooms depending on how busy your home is and satin/semi-gloss for bathrooms, kitchens and kids rooms or even laundry rooms.  When choosing the right paint for a project, it is important to consider the durability attributes of the paint and sheen. Typically, the higher the sheen, the higher the durability; therefore, satin and semi-gloss sheens are usually recommended for high-traffic areas where the paint finish needs to withstand multiple scrubbings and resist staining. Super-premium paints like Olympic ONE, however, have advanced durability benefits like superior scrub and stain resistance in all sheens.
What about bathrooms and kitchens?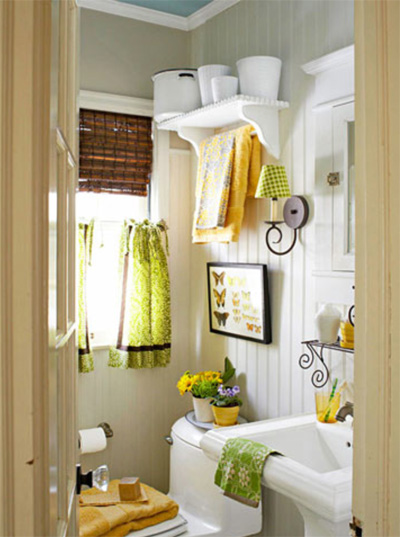 In high-moisture environments, like kitchens and baths, rooms require paint with mildew-resistance. Some paint lines have kitchen & bath specialty products and some paint lines offer mildew-resistance in all sheens. In the Olympic line, our ONE paint has mildew-resistance in all sheens and is appropriate for high-moisture areas, and we also offer Premium Kitchen & Bath Semi-Gloss.
Lets talk about ceilings and trim work for a moment.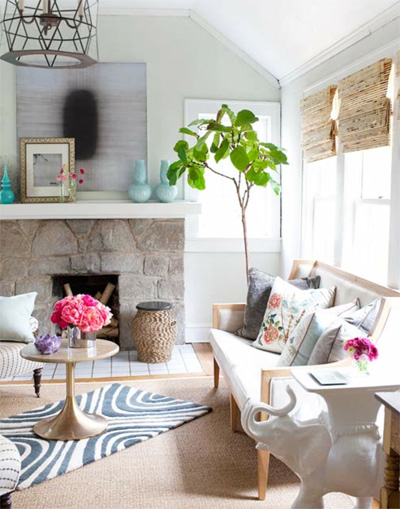 Flat works best for ceilings, however if you're painting a bathroom, kitchen or kid's room a semi-gloss may be more appropriate considering the high levels of moisture and or accidents that can occur in these areas. The higher you go in sheen, the easier it will be to clean. Though, if there are problem areas, flat will be best in all cases (glossy paint tends to accentuate flaws such as uneven walls or textures).
Satin and semi-gloss sheens are great for trim. Though if using Olympic ONE interior paint, any sheen could work including flat for those that prefers no sheen.
What type of paint do you recommend for furniture?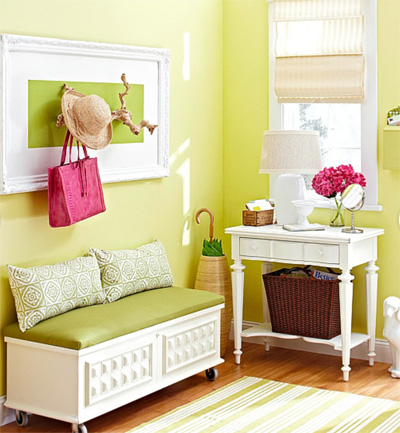 A satin to high gloss sheen of paint will work great here. First however, if there is an existing coating of varnish or lacquered paint finish that already exists on the piece, sanding and priming may be required to dull/remove the sealer or glossiness and prepare the surface prior to painting. NOTE: The paint finish should be allowed to cure (dry) fully prior to everyday use.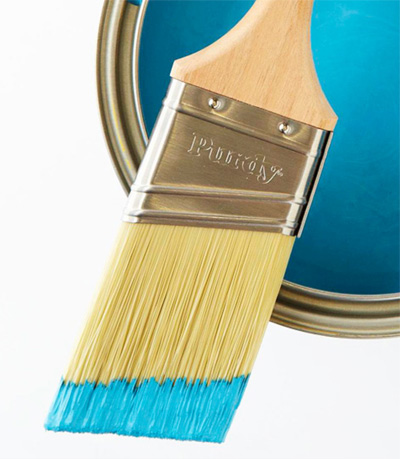 When and where must we prime, and when can we skip it? 
When in doubt of whether or not to use a primer the first test that can be performed is the water test. In an inconspicuous area spray some water on the wall. If the water absorbs quickly, a primer will be needed. If the water beads and rolls down the wall without much penetration a primer may not be needed. However, if not sure whether latex or alkyd paint is currently on the wall, another test can be performed using nail polish remover (acetone). Apply a small amount of the nail polish remover to a cloth and wipe the wall in a circular motion. If the paint comes off onto the cloth, then the current coating is latex. If the paint does not come off on the cloth, then the current coating is alkyd. When applying a latex coating over an alkyd coating, a primer is recommended.
A primer is also recommended when dealing with the following:
-Difficult stains such as water marks or smoke
-Visible debris, oils etc.
-Shifting from an extremely dark color to a n an extremely light color
I've recently been experimenting with staining wood to bring it back to its natural brilliance, any suggestions for this process?
Make sure that the surface is clean. If any sanding or puttying is needed, be sure to take care of it before applying the first coat. Always keep a wet edge, in other words once you start be sure to complete the entire area before stopping to take a break (i.e. if you're staining a chair and you start on the back, complete the back before moving to another section). After applying the stain use a varnish or polyurethane to seal it and provide a protective finish.
If I'm attempting to hide wall stains (not mold or water damage but more of the kid's marker/previous home owner variety), what do you suggest?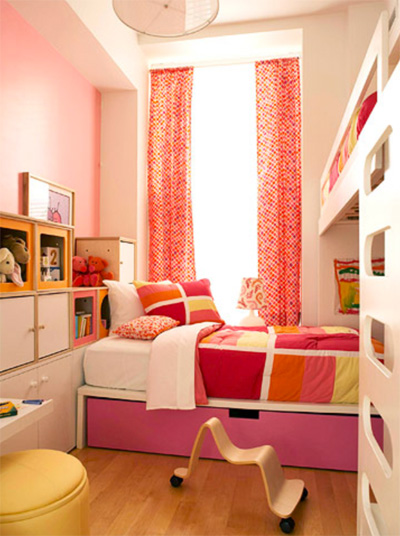 If you're referring to stains such as dirt, oil, marker etc. spot priming would be fine so that the stains are sealed in and don't bleed through the paint finish.
We recently tackled the exterior of our home and learned quite a bit from Heather, our Olympic paint rep. What are your thoughts for choosing exterior sheens?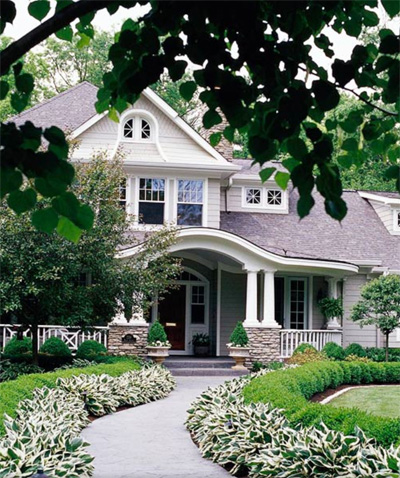 For exteriors, flat and satin are typically recommended for siding. Flat is less likely to show imperfections. Semi-gloss and gloss are recommended for accents (such as shutters) and trim – the higher sheen allows these architectural details to pop. It is also important to consider a paint that will resist dirt, mildew, cracking and peeling to provide a longer lasting finish. Additionally, super-premium exterior paints can "bridge" hairline cracks, helping provide a smoother finish when painting over old paint. In the Olympic line, our Premium Exterior paint features a proprietary technology called Dirtguard™ that helps rain naturally wash away dirt and grime, keeping siding cleaner longer, in addition to offering the other properties that help provide a longer lasting finish.
Lets talk about tools. When should I use an angled brush, foam brush, roller, etc? Natural, synthetic, nylon, foam – there are so many choices?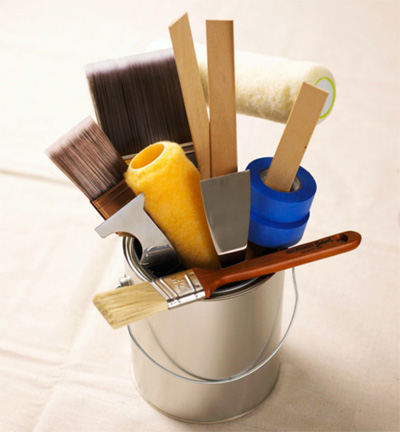 Use a brush (2 ½" angle brush to cut-in the walls (paint the edges and corners)) or for painting trim. Be sure to use the appropriate brush with the product i.e. if your painting using a latex based paint, then you would not want to use a natural bristle hair brush because the filaments will swell and make it difficult to paint. A synthetic blend or nylon will be best.
Quick brush guide:
-Use a foam brush or roller when painting super smooth surfaces (cabinets)
-Use a roller to paint in the remaining unpainted area once cutting in is complete. The roller will allow you to cover more area and at a faster pace than brushing alone.
-The type of roller will vary by the smoothness or roughness of the substrate. Smoother walls/substrates will require a shorter nap (3/16", 3/8") whereas a semi-rough to plaster wall may require a 1/2" nap or more.
-Rags are appropriate for staining. There are also brushes that are specific to staining.
Additional resources:
We have a lot of great color tips on our website (my favorite is the visualizer color tool) and here's a link to our full range of color brochures. Give this fun color personality game a go, as well!
***************************************************************
Thank you so much, Kimberle and Nicole!
Images can be found at Olympic.com and BHG.com
Tags:
Construction
,
Decorating
,
DIY
,
Home
,
Paint
,
Tutorial
Posted in
Construction
,
Crafty Solutions
,
DIY
,
Favorites
,
Guest Blog
,
Guest Post
,
Home
,
Project Lowe's
,
Renovating Adventures
,
Tips & Ideas
|
5 Comments »
January 30, 2013
I took a few moments today to update the Project Gallery (link is over there in the right hand sidebar, just below Liv and my's bio pic) and I invite you to add your most recent projects, too! I noticed that many of you are still contributing and I'm so happy that you are

.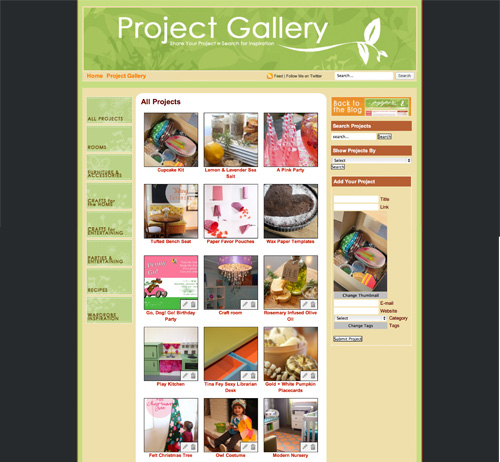 It's very easy to upload a project. Add a link to your project blog post under 'Add Your Project' and select an image, category and tags. You can also search through various projects by selecting the different green category buttons on the left! Jump on over to check it out here.
Posted in
Crafty Solutions
,
DIY
,
Project Gallery
|
2 Comments »