July 12, 2012
Liv turned 18 months old on Monday! The months have flown by awfully fast and I can't believe that our brand new baby from just last year is now a talking, running, laughing toddler.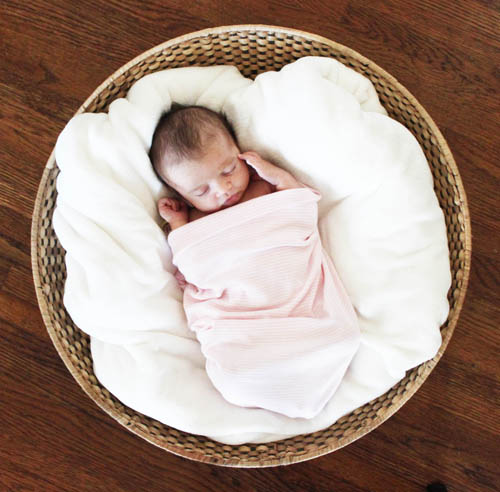 Amazing! I'm sure all parents experience this crazy time warp, but it's really pretty wild.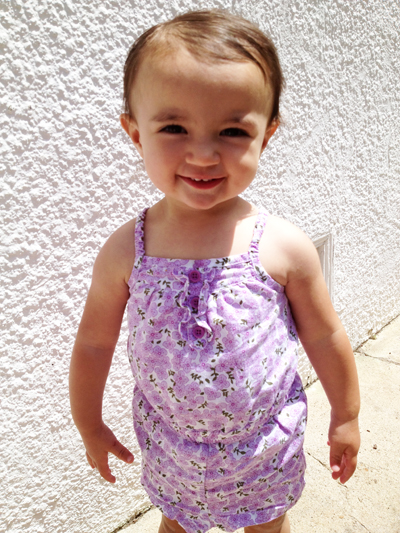 She's got her momma's eyebrows

.
As a new parent I have loved sharing favorite finds here on the blog in hopes that other mommas and daddys (or grandmas and aunts and sisters) might find them equally useful. Here are links to favorite baby product posts for 0-3 months, 3-6 months and 6-12 months.
Let's dive right into 12-18 months!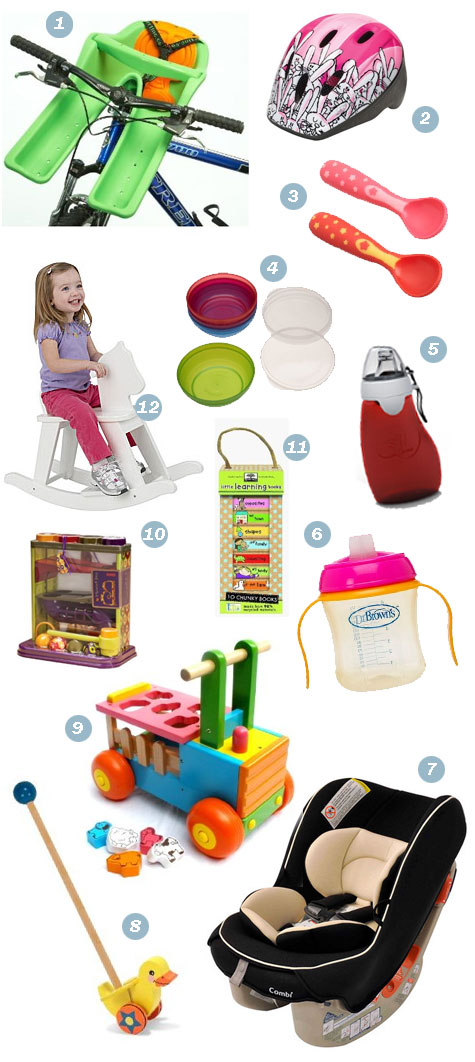 Clockwise from top:
1-2. iBert & Giro Me2 Infant Bike Helmet: This bike seat is by far one of Liv's favorite activities to do with Kevin. 'Bike' was one of her first words and every time she sees a biker pass by these days she eagerly points them out. When she see her iBert in the garage she's giddy with excitement. I love the concept of being able to see your child as well (instead of having the seat on the back of the bike) though we were big fans of a traditional trailer for the first 9 months and definitely for longer rides these days.
Second on the list must be the infant helmet that protects her little noggin when biking with dad. The title is slightly deceptive as there really aren't any helmets that fit an infant, but just about the time she was big enough for the iBert was when this guy fit appropriately.
3-6. Toddler feeding supplies: A few suggestions that have made meals a lot easier include soft, large spoons (what toddlers need are a shovel, not the dainty baby spoons that so many stores sell) and we have a set similar to these that we love. Bowls with lids are another plus – I found myself frequently transferring unfinished meals into tupperware containers for the fridge, now I pop a lid onto one of these inexpensive baby bowls and save yogurt, pasta or soup for the next meal with minimal clean up. #5 is quite genius! The company Sili Squeeze has come out with a reusable squeeze containers (similar to those 4oz store bought versions that must be tossed) to be filled up with applesauce, purees, yogurt, etc. I always found the disposable versions to be soo wasteful and never enough. This guy is perfect. Last but not least is the search for a perfect sippy cup. We have gone through every cup in the book during the transition from breastfeeding to cup (where a soft, malleable pour spout is preferred) and nearly all began leaking after 2-3 months of use. It's no fun watching milk trail across the carpet as your toddler carries a sippy upside down. We are moving on to 'big girl' plastic cups and squeeze bottles, but I found Dr. Brown's Soft Spout Training Cup to be the best when it came to the longest lasting, no-spill solution.
7. Combi Coccoro car seat: I travel quite a bit for work and I was not looking forward to the day that we would be upgrading Liv from her very light weight infant car seat to a toddler version. I did a ton of research before settling on the Coccoro car seat. It's best in class in terms of safety ratings, the lightest car seat on the market (12 lbs!) and extremely narrow (but reassuringly sturdy). I can easly tote this car seat, Liv and my diaper bag/briefcase down the aisle of an airplane on my own. Another huge bonus is that it fits in the BOB (just like an infant seat) for to and from the airport gates (when traveling solo this is amazing). PS just found this guy on Zulily right now on sale!
8-12. Favorite Toddler Toys: This category is entirely subjective depending on your little one's loves, but it was also a hard transition for me. When it was time to buy some toddler-esq toys I wasn't exactly sure what would be developmentally helpful and funfor that 12-18 month age (plus I really didn't want to fill the house with tons and tons of toys, just a handful in addition to the traditional books, drawing supplies, etc). The winners? Our wooden animal farm shape sorter cart, this Whacky Ball set (a gift from a friend), flapping duck push toy (amazingly popular! another gift from a friend and I actually remember having one of these as a kid) and the original wooden rocking horse that Liv LOVES at this age but that I scooped up on Zulily when Liv was brand new. You can find it here on Overstock now. Last but not least are books. We love Olivia books, animal books, books about farms and dogs and fish… but small board books like these have been a huge hit because they're easy to tote around, Liv has started to identify and show off characters in the books and she can carry them as she goes. Another gift from a friend and another winner!
My previous lists include must-haves that we still use to this day. I cannot be happier with our OXO Tot Sprout high chair (the company is wonderful too – we've had to replace the tray, velcro strips and padding due to LOTS of use and they've sent every piece out free), and we still love our Fisher Price portable high chair which we keep full time at Grandmas. Sadly, Liv has outgrown the super-easy-to-travel with Wriggle Wrapper.
Anything by Mishi Design (like this wooden walker & wheelbarrow) is pretty genius. All of the toys 'grow' with your child and are pretty easy on the eyes (they fit into that wooden Melissa & Doug category).
Here's another set of the above links for checking out previous finds! 0-3 months, 3-6 months and 6-12 months

Posted in
Family & Friends
,
Gift Guides
|
6 Comments »
July 4, 2012
Thank you, thank you, thank you from the bottom of my heart for the comments, the emails (oh, the emails!) and the love after my last post and the events of this weekend. I am so grateful for your encouraging words, kind thoughts and promise of prayers. Monday's post felt quite vulnerable but I was grateful at how well it was received and for all of your virtual hugs and companionship.
We are taking a break today, heading to the beach for a little relaxing in the sun. For my US friends, enjoy your beautiful 4th of July holiday!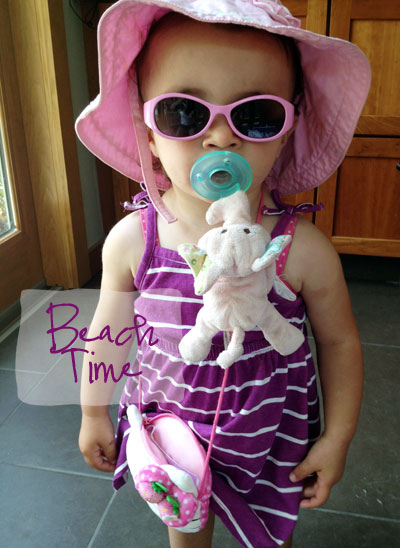 I'm a wee bit embarrassed by the hanging stuffed animal binky, but we're trying to slowly ween Liv off of it. All in due time.
PS you can find a compilation of all July 4th entertaining ideas collected on this blog right here if you're in need of some last minute inspiration.
Tags:
July 4th and Labor Day
Posted in
Family & Friends
,
Holidays
|
2 Comments »
July 2, 2012
Friends, I have some sorrow to share with you today. I've debated making this public because it is oh so personal and quite painful… but I've decided that taking comfort in the virtual embrace of my friends (which I very much consider you to be) is something of a gift and perhaps a gift that would be most special right now.
I also know that some of you out there might empathize with this particular sorrow, and if I can share one or two words (or you with me) with the right person at the right time then this message is well worth the post.
I'll preface by saying that I'm ok. We are firm believers in this house that everything happens for a reason. We need that assurance, right? that even frustration and suffering and sadness is inherently the right thing – even though it might not feel that way?
This weekend we miscarried. I was not far along, just five weeks, but the loss of losing this little baby has caused my heart to be sore. When we found out we were pregnant several weeks ago we were overjoyed – a little sibling for Liv! a new precious bundle to welcome into our family! I began imagining how we would split Liv's room into a brand new nursery/big girl space. I made mental lists of names for a baby boy and a baby girl, I dogeared wallpaper ideas in my House Beautiful and new built-in storage solutions on Pinterest. We've had a terrible time keeping it a secret amongst friends and we had even decided to spill the beans with family as early as our July 4th mini vacation.
Last Friday came around though and I was keenly aware that something was wrong. Two calls to the triage nurse and a visit to my ob/gyn confirmed what I knew was happening to my body… this baby was not meant to greet us in this life. This baby was not meant to stay here with us to join our family at this time.
Kevin and I have both secretly shared with each other that we are certain that this little angel baby is a boy. But even as I dropped to my knees that afternoon to ask God if he would permit this baby to stay resting in his cozy haven, I knew with a heavy heart that it wasn't meant to be.
I had a remarkable sense of calm and ease moving forward after that. My doctor showed me quietly on the ultrasound where the little baby was nestled up in his cocoon (though smaller than a grain of rice), but how there was no heartbeat radiating from his tiny little sack. I took comfort in that image, in seeing his picture, in knowing that life was cozy and perfect and peaceful for this short amount of time.
I have taken the time to cry. I cuddled with Liv that afternoon, shushing her to sleep in my arms rather than lying her down in her crib. She reminds me of what a gift children are and I am so grateful for her comfort. I am also grateful for the gift of friends. Friends joined us on Sunday morning for an amazing brunch where we hugged, laughed, celebrated life.
We are back on our feet now. We are feeling much better after a weekend of resting and contemplating. I know that an event like this will affect different people in very different ways and I grieve for those that have or will experience a miscarriage. Right now I take comfort in trusting a greater plan, and in understanding the science behind why miscarriages do happen. But I am happy that I could share this story with you. This blog is so much more than a journal of home renovating, it's a window into our family's lives and an opportunity for me to document the good, the great, the happy, the frustrating, the sad. It's an opportunity to celebrate life from all its multifaceted angles.
Angles like this bit of happiness from over the weekend that makes me smile (it's the little things in life right? like the joy of holding your first gardening hose!):
and it's these moments that we cling to, especially when life gets a little tough.
Posted in
Family & Friends
|
56 Comments »