February 7, 2012
I have a massive stationary collection (I heart beautifully made cards) and was rifling through my stash the other day to write thank you notes for Liv's first birthday when I came across a handful of cards that I had purchased for envelope purposes only. I am often short on envelopes and sometimes buy the super cheap cards just for extras!
These cards have a sweet pattern that remind me a little of a playful Valentine's day note – and an idea was born.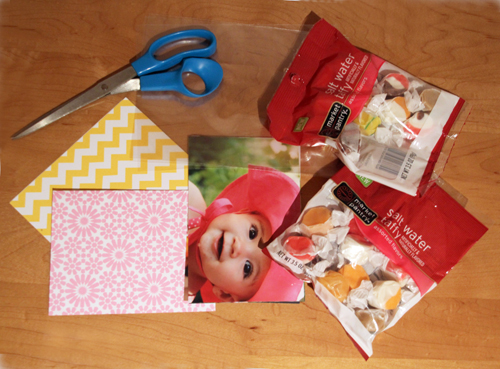 After hunting around the house I was happy to find that I had nearly everything I needed on hand for my Valentine's Day treat bags. Though I did pick up those two small bags of salt water taffy for $1 at Target.
**************************************************************
Custom Valentine's Day Treat Bags


m



Materials: cellophane treat bags (available at Michaels or on Amazon), note cards, candy, photos, scissors and stapler
To make the treat bags, I filled each plastic sack with salt water taffy and a photo of Liv trimmed to size (I keep a stack of pictures on hand from Costco to send to grandparents and great grandparents when they're needing a Liv fix). My cellophane bags were just the right size to match up with my 4×6 note cards, but if you're buying all of your materials from scratch that's something to keep in mind (you can always trip down your note cards but you don't want the bag to be wider than the cards).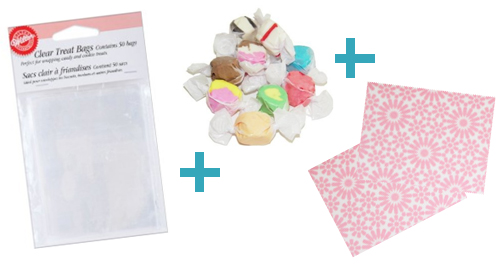 The notecards have the perfect fold for the top of your treat bags, I simply chopped mine in half length-wise (so that the card was shorter near the fold) and sandwiched the treat bag between each side of the card. Two staples held my finished bag in place.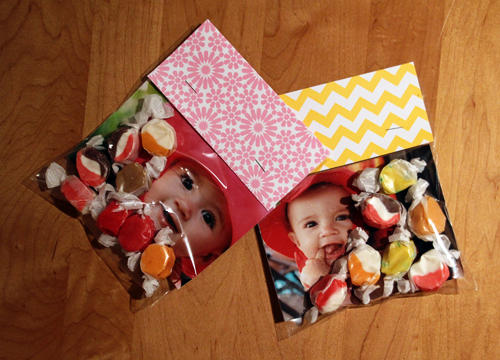 An alternative to note cards would be scrapbooking paper with a bone folder for a professional looking fold (this tool scores and creases your paper). Or for a cheaper option just fold that sucker in half and press between heavy books so that the fold stays put.
These would be great for family, but for a kid-friendly option I would fill the baggie with animal crackers and include a fun illustration instead of a photo, or perhaps a few crayons and a coloring sheet. Cookies and wrapped candies are probably the way to go since any candy prone to melting would smudge up the photo and transfer ink to the candy. Fun stamps or stickers might make for a neat note at the top of the treat bag, too.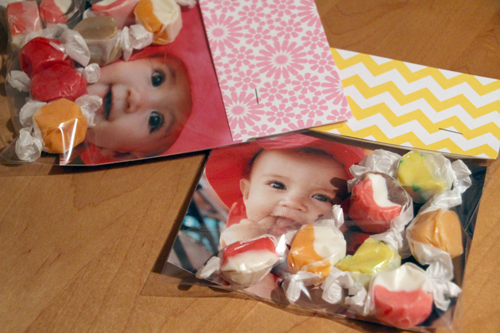 I can see reusing this ideas for party favor bags somewhere down the line… PS I can't believe it's already the middle of February!
More Valentine's Day ideas right here.
Tags:
Birthday
,
Crafty Solutions
,
Decorating
,
Desserts
,
DIY
,
Kids Party
,
Paper Crafts
,
Parties & Entertaining
,
Party Favors
,
Patterns & Color
,
Pink
,
Red
,
Tutorial
,
Valentine's Day
,
Yellow
Posted in
Crafty Solutions
,
DIY
,
Family & Friends
,
Holidays
,
Parties & Entertaining
,
Valentine's Day
|
8 Comments »
January 24, 2012
Back with a few more details from Liv's 1st birthday. When it came to creating little invitations for her party I was a big time procrastinator. Actually, it was during my few days off between Christmas and New Years that it suddenly dawned on me that her birthday was just a few weeks away! and we needed to get something in the mail asap.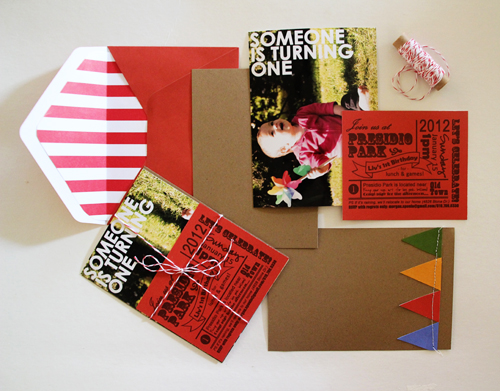 It was fairly simple to throw these guys together quickly. I used Photoshop to add some cute, bold text to two of my favorite photos of Liv (I couldn't pick between the two! So half of the invitees received one and half the other), but you could use one of the free programs reviewed here to do the same.
I sandwiched that photo between a smaller red card (bought a set of red envelopes and matching cards at Michaels and printed the party info in fun fonts directly on to the red inserts, then cut them to size) and a piece of brown construction paper.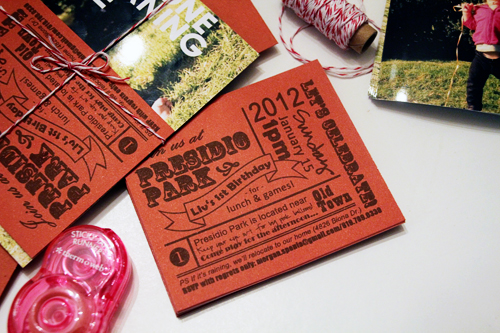 Inspired by this creative girl's Christmas card and this beautiful invite from Pinterest, I tied up the bundle with Martha Stewart's striped baking twine (found in the scrapbooking department in a pack of 6).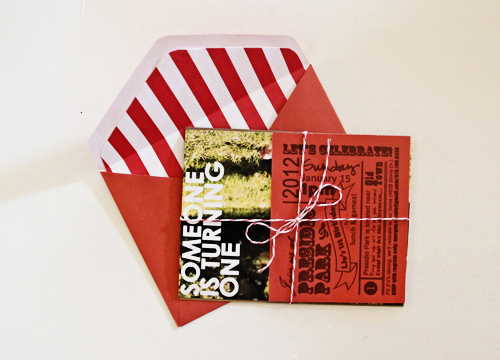 The other half of the fun was creating envelope liners that for me really made the entire invite. I love the peak of red and white striped paper and it tied in perfectly with the rest of the party. It was a little teaser of what was to come!
To make the envelope liners (by the way, they've been on the back of my mind since seeing this adorable version), I created a simple template of the inside of the envelope (trace the shape of the envelope on to thicker paper, cut out and then snip off about 1/3″ of an inch from each side) and then cut out about 25 from 12×12 striped scrapbooking sheets of paper from Michaels. I used double sided scrapbooking tape to adhere into place.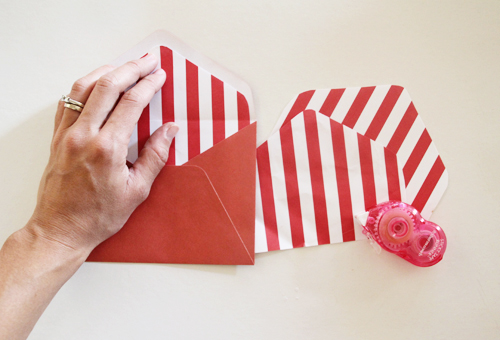 My last addition was a failed attempt. I had originally hoped to sandwich the information card and photo of Liv between a piece of paper bag brown construction paper (that was the specific color I was on the hunt for

) and a top piece of the same size but with cute, colorful bunting (a la a few images from my Pinterest board on Liv's party).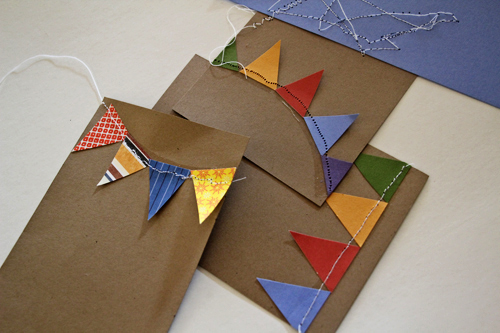 Sewing paper is seeeeeeew difficult (see that crazy stitching above?), and after a half hour of testing, tearing, tangling and tormenting I decided to omit the addition.
But I was thrilled with the results of the invites and we got those puppies in the mail just in time to notify friends and family that there was a par-tay coming up!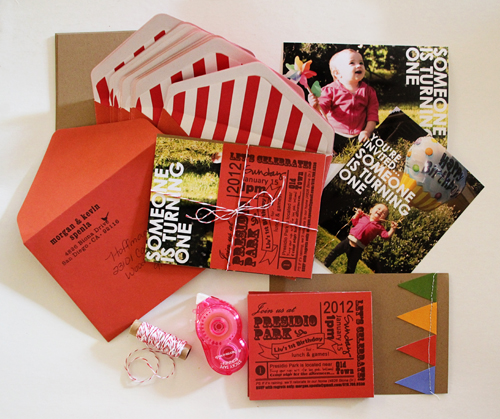 Total cost was about $.25 per invite and from the time I hit 'send' on my online Costco photo order to the time I picked up my pics at our local Costco, all of the supplies at Michaels and assembled the invites, it took just a day or two to get them finished and in the mail.
And just for fun, here was my assembly workstation: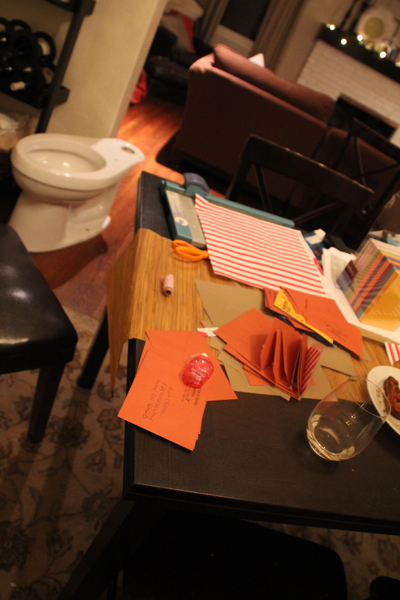 Wait, you don't have a toilet in your living room? Just us?
Tags:
Birthday
,
Carnival
,
Circus
,
Crafty Solutions
,
DIY
,
Kids Party
,
Liv's 1st Birthday
,
Paper Crafts
,
Paper Goods
,
Red
,
Sewing
,
Tutorial
,
white
Posted in
Crafty Solutions
,
DIY
,
Family & Friends
,
Parties & Entertaining
|
7 Comments »
January 17, 2012
We had such a wonderful time celebrating Liv's first birthday. You only get to do a first birthday once (and I suspect future birthdays will be dictated by the little one) so I took advantage and had a lot fun planning out and preparing for a big day.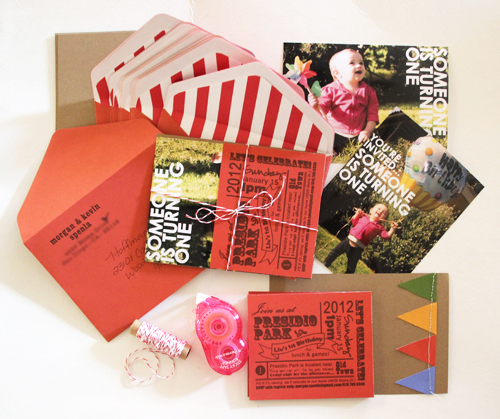 I'm not sure how the theme initially came about, but a striped, circus-y party slowly developed as we planned. (Okay… get ready for way too many pictures.)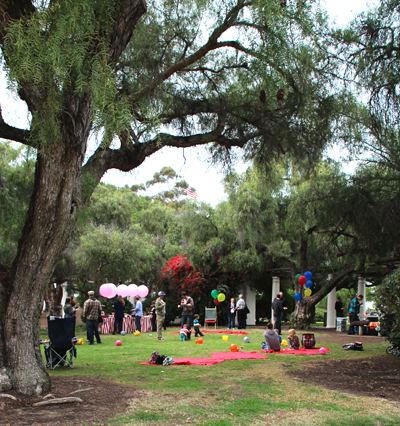 We've had record breaking warm weather (think low 80′s) here this January so we planned for a beautiful day at the park (that and our house has a bit of open construction going on right now). Oh we were biting our nails though… 5 days till the party and the weatherman promised 10% chance of rain, 2 days until the big day and my iPhone notified me we were up to a 60% chance of rain! and that morning we woke to a forecast of 20% chance of precipitation. Thankfully we had a quick sprinkle when setting up but other than that a dry – albeit a bit chilly – day. But no matter, we had a great time anyway.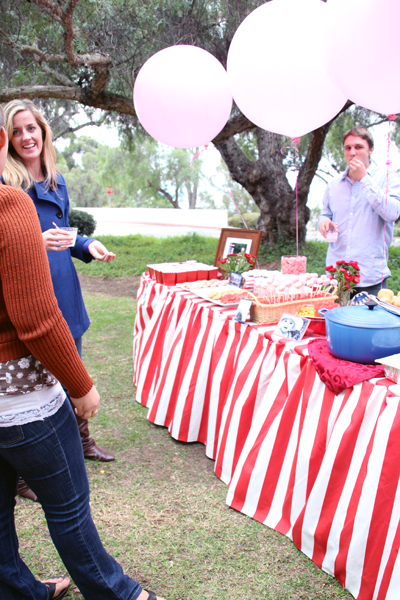 After deciding on the carnival/circus theme, I came across this party and was immediately inspired to create a similar tablecloth for our food/dessert table. I purchased 10 yards of Ikea striped fabric and used Stitch Witchery to hem a skirt and a top piece. I included elastic in the top hem of the skirt to create the ruching effect and kept the skirt and top pieces separate so that if I ever wanted to cover a different sized table it would be easy to adjust (these two 6′ foot banquet tables are covered on three sides, but my skirt would easily wrap around an entire 8′ table, for example). I think I may go back and sew my hems into place now that the rush of getting ready for the party is over…
We dined on Kevin's smoked pulled pork sandwiches and potato salad, and washed it all down with homemade pink lavender lemonade (Kev's new recipe that he coaxed out of one of our favorite local restaurants).
Friends and family helped pull the little dessert bar together (my Grandma made her famous wedding cookies, peanut butter cookies and adorable iced '1′ cookies) and a big thanks to friends Liz and Stephanie for adding cookies and the awesome cake pops to the mix!
I made Liv's first birthday cake from a box mix and covered it whipped cream icing and handmade pink fondant polka dots.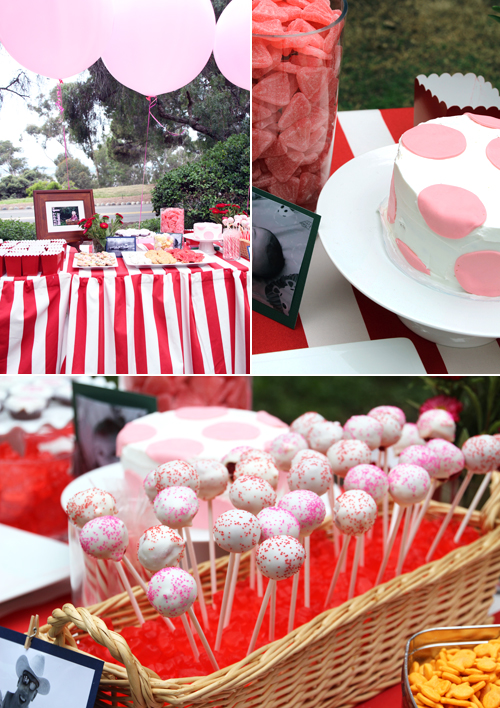 There were just a few yards of fabric leftover from the tablecloth and so I covered a few pillows from the house for the picnic area. All of these red fleece blankets were scooped up on sale at Ikea for $2.50 a piece – much cheaper than renting chairs!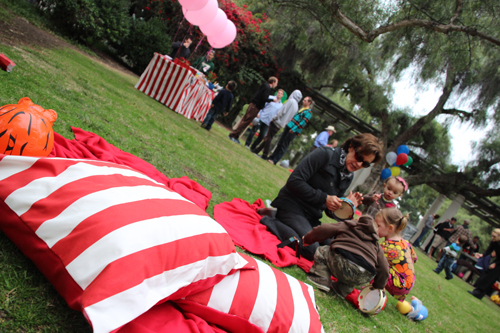 On the other side of our little space of park, we strung up the super-easy-to-make fabric bunting from this party in the trees above the present table:
And added a string of matted black and white photos from Liv's first year.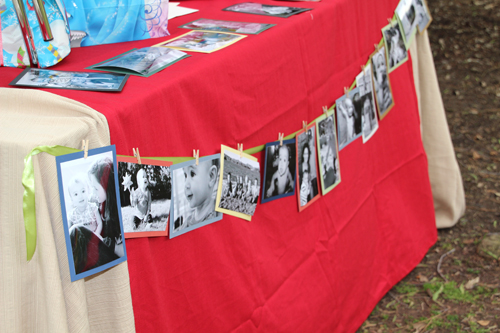 Luckily I had family in town for the weekend so that our little army could assemble the entire party Sunday morning (Mom, you are the best!). I was so nervous that our spot at the park would be taken (it was a holiday weekend, after all) that I asked my dad and all of the brothers to take shifts 'guarding' it from 7:30am on. But in the end we were the only party on this cloudy day!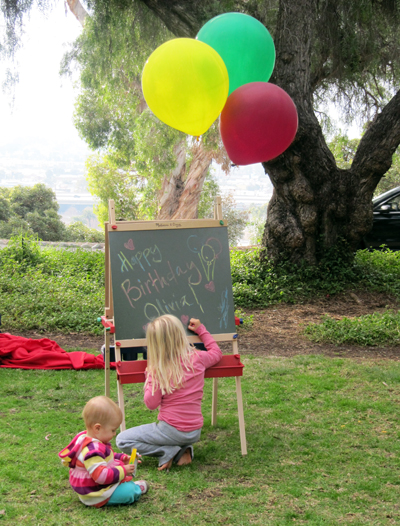 Liv was quite unsure about her birthday cake. It could have been the 30ish people standing around and watching her but she was verrry hesitant before finally tasting and diving right in. I did attempt to light the candles but the breeze wasn't having it

.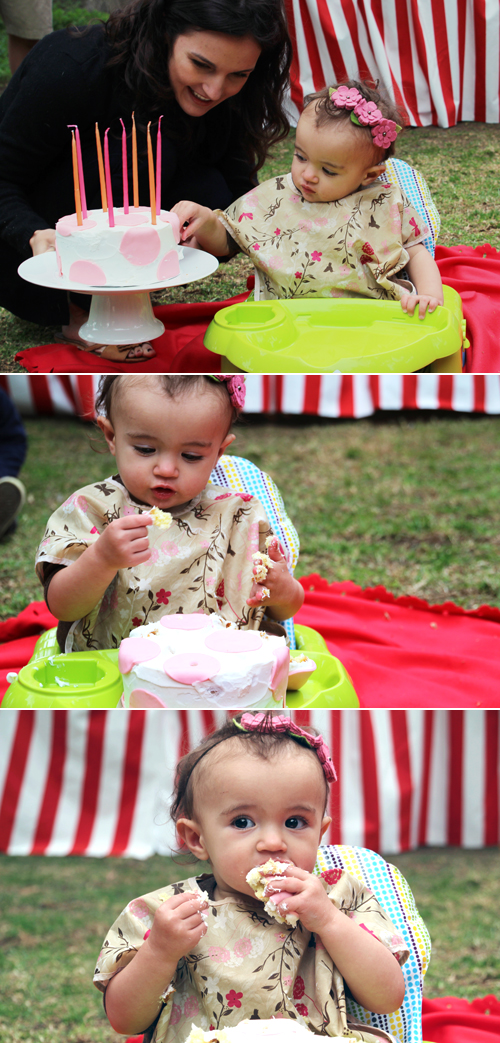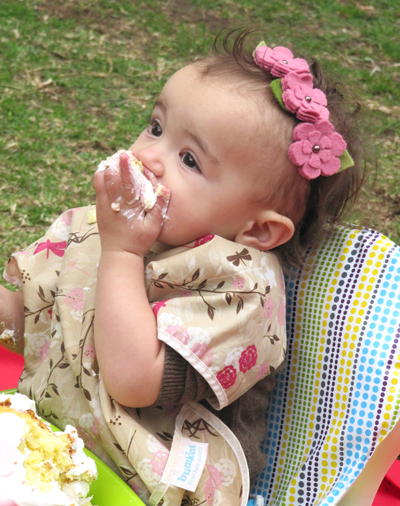 We offered forks to any other kids that wanted to help her with her birthday cake – I feared a sore tummy was inevitable!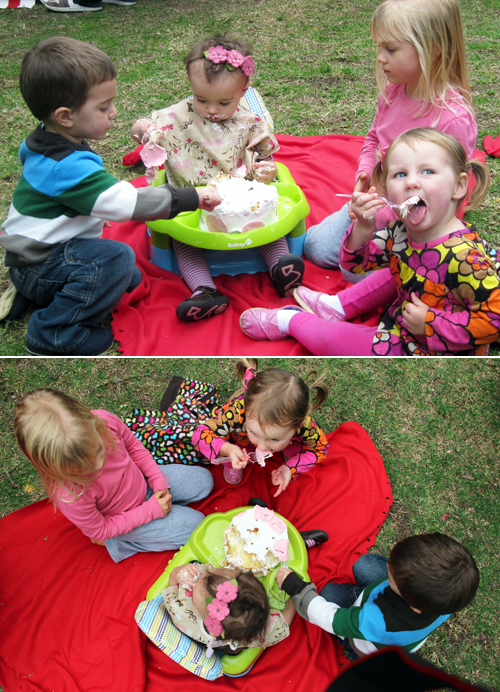 Finally, we played and played. I found pink bouncy balls at Toy's R Us for $1.99 and  bought a dozen animal beach balls as prizes for the little relay we set up.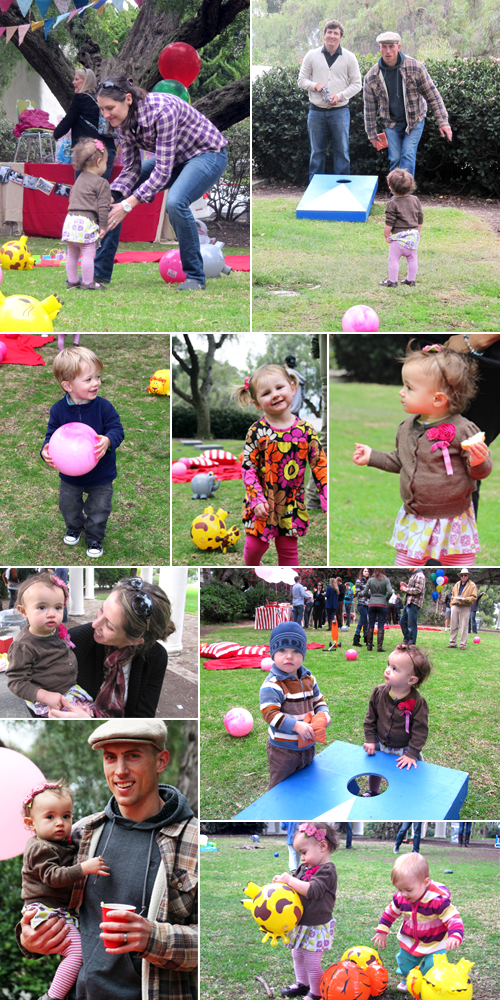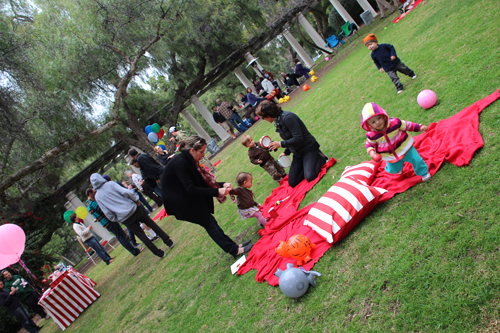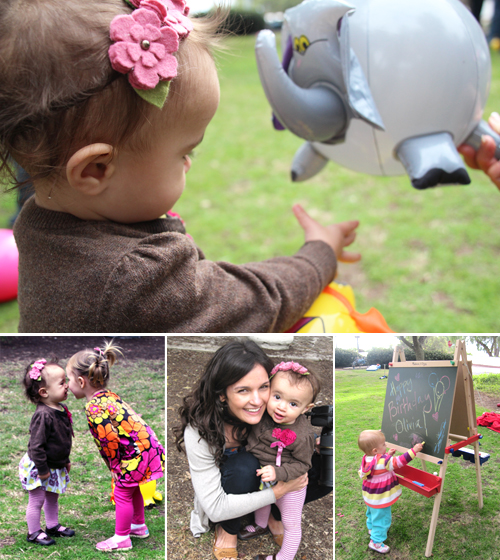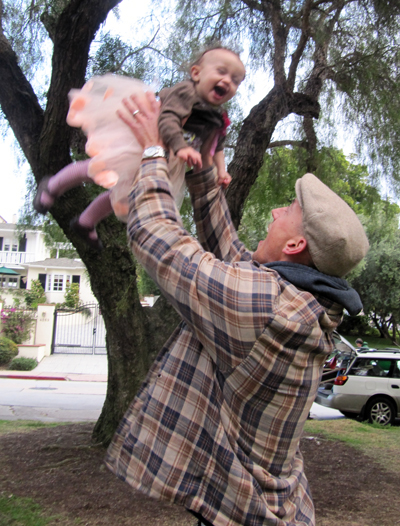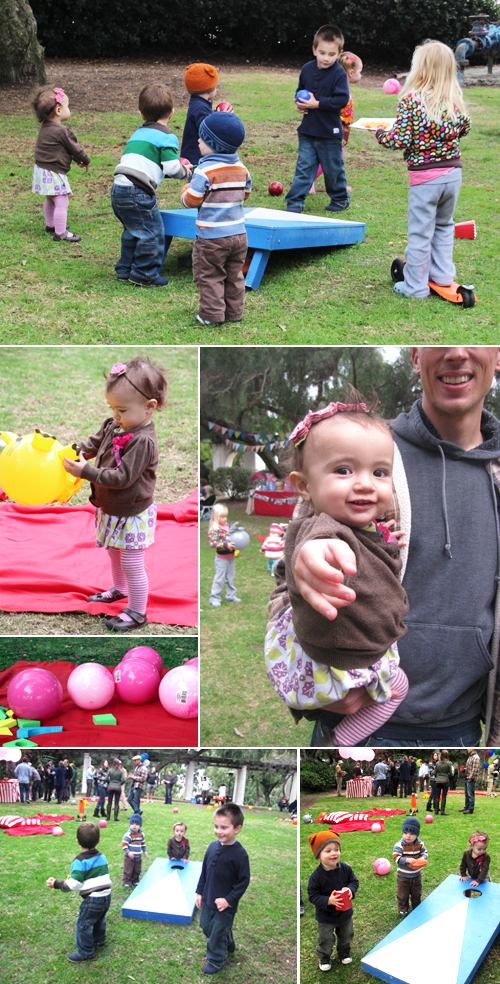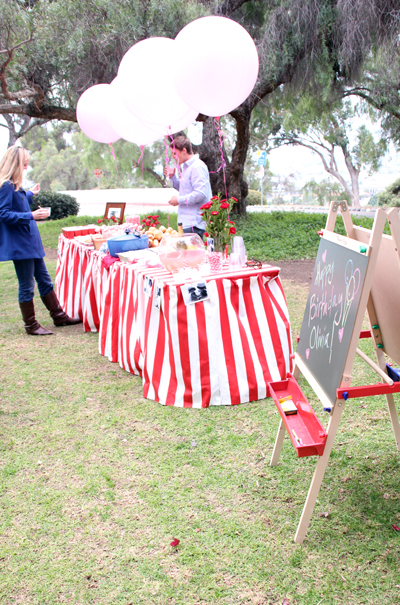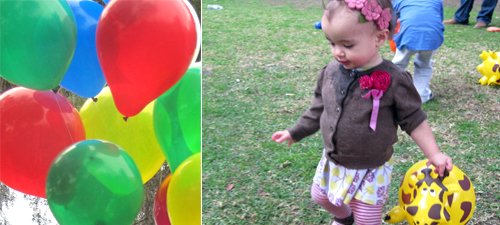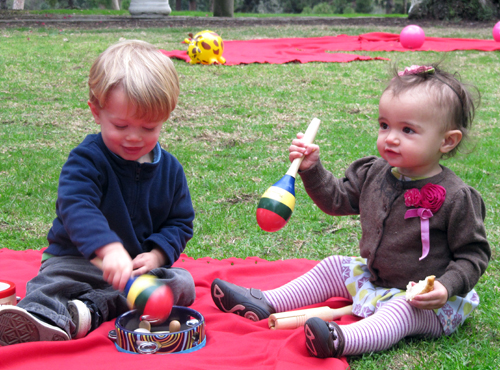 One of Liv's birthday presents was an adorable peach tutu from her buddy Gigi. That inspired some serious running with balloons during clean up after everyone had left.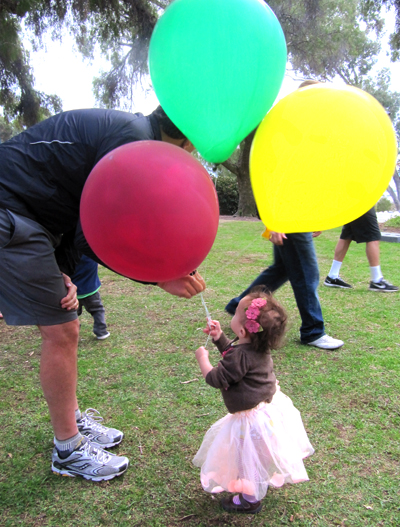 Yes, that is her dress awkwardly tucked into her tutu.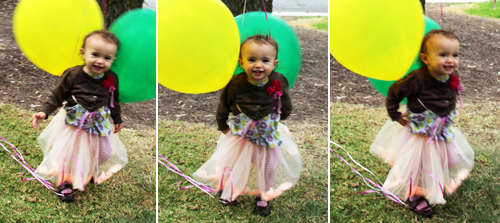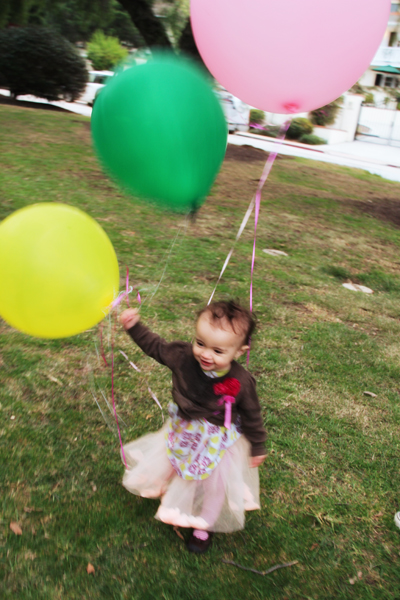 You know how I'm always talking about all of those uncles? Here's a visual.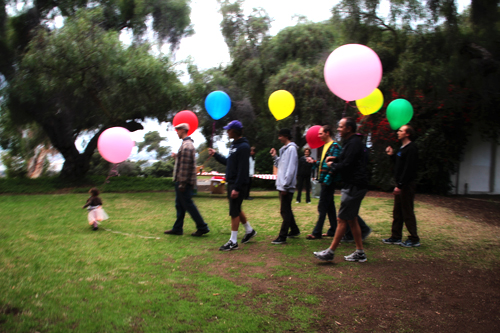 Too bad this one is just a little out of focus… but it's adorable! Dad and Grandpa are in the mix too, but she has seven of these wonderful guys (two are missing) as uncles looking out for her!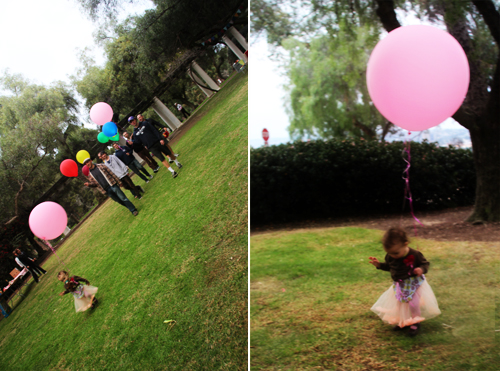 And there it is, Liv's first birthday celebration

.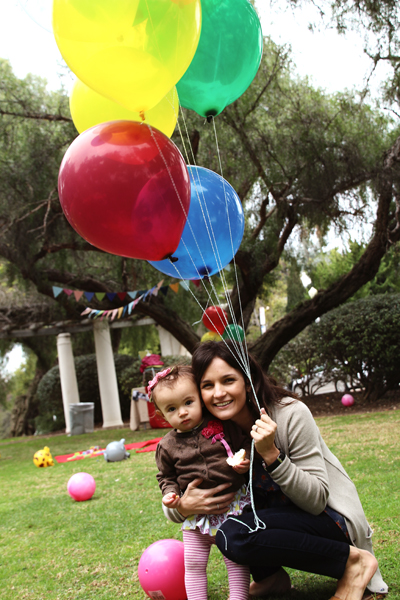 Tags:
Birthday
,
Blue
,
Decorating
,
DIY
,
Green
,
Kids Party
,
Liv's 1st Birthday
,
Parties & Entertaining
,
Patterns & Color
,
Pink
,
Red
,
Yellow
Posted in
Family & Friends
,
Parties & Entertaining
|
10 Comments »