January 17, 2012
We had such a wonderful time celebrating Liv's first birthday. You only get to do a first birthday once (and I suspect future birthdays will be dictated by the little one) so I took advantage and had a lot fun planning out and preparing for a big day.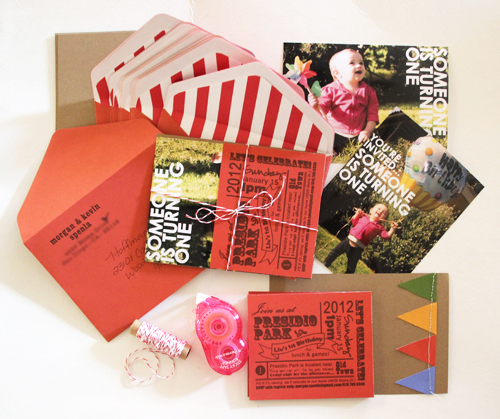 I'm not sure how the theme initially came about, but a striped, circus-y party slowly developed as we planned. (Okay… get ready for way too many pictures.)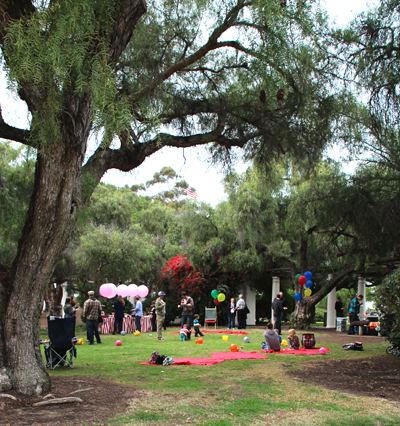 We've had record breaking warm weather (think low 80′s) here this January so we planned for a beautiful day at the park (that and our house has a bit of open construction going on right now). Oh we were biting our nails though… 5 days till the party and the weatherman promised 10% chance of rain, 2 days until the big day and my iPhone notified me we were up to a 60% chance of rain! and that morning we woke to a forecast of 20% chance of precipitation. Thankfully we had a quick sprinkle when setting up but other than that a dry – albeit a bit chilly – day. But no matter, we had a great time anyway.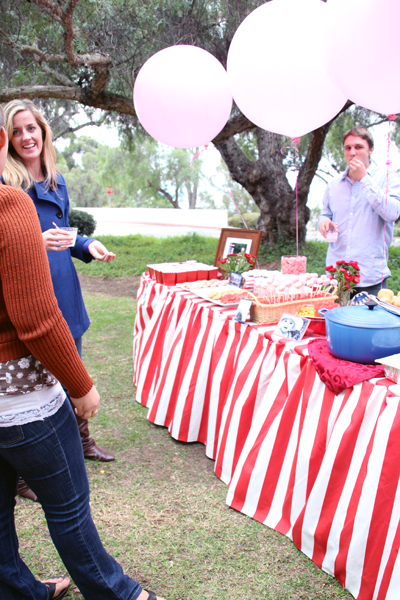 After deciding on the carnival/circus theme, I came across this party and was immediately inspired to create a similar tablecloth for our food/dessert table. I purchased 10 yards of Ikea striped fabric and used Stitch Witchery to hem a skirt and a top piece. I included elastic in the top hem of the skirt to create the ruching effect and kept the skirt and top pieces separate so that if I ever wanted to cover a different sized table it would be easy to adjust (these two 6′ foot banquet tables are covered on three sides, but my skirt would easily wrap around an entire 8′ table, for example). I think I may go back and sew my hems into place now that the rush of getting ready for the party is over…
We dined on Kevin's smoked pulled pork sandwiches and potato salad, and washed it all down with homemade pink lavender lemonade (Kev's new recipe that he coaxed out of one of our favorite local restaurants).
Friends and family helped pull the little dessert bar together (my Grandma made her famous wedding cookies, peanut butter cookies and adorable iced '1′ cookies) and a big thanks to friends Liz and Stephanie for adding cookies and the awesome cake pops to the mix!
I made Liv's first birthday cake from a box mix and covered it whipped cream icing and handmade pink fondant polka dots.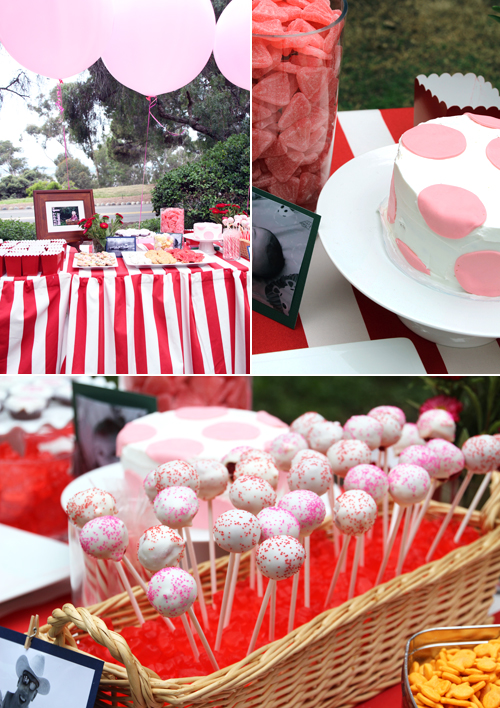 There were just a few yards of fabric leftover from the tablecloth and so I covered a few pillows from the house for the picnic area. All of these red fleece blankets were scooped up on sale at Ikea for $2.50 a piece – much cheaper than renting chairs!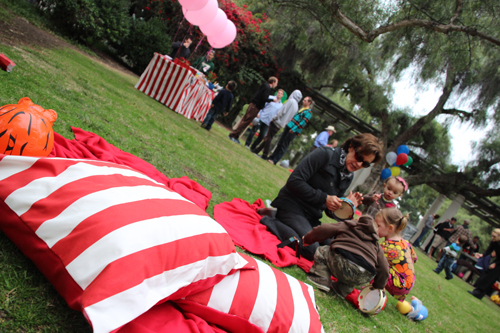 On the other side of our little space of park, we strung up the super-easy-to-make fabric bunting from this party in the trees above the present table:
And added a string of matted black and white photos from Liv's first year.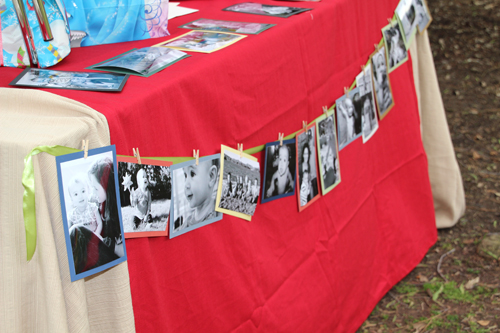 Luckily I had family in town for the weekend so that our little army could assemble the entire party Sunday morning (Mom, you are the best!). I was so nervous that our spot at the park would be taken (it was a holiday weekend, after all) that I asked my dad and all of the brothers to take shifts 'guarding' it from 7:30am on. But in the end we were the only party on this cloudy day!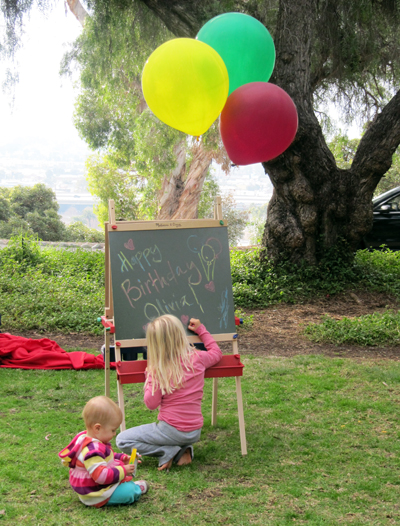 Liv was quite unsure about her birthday cake. It could have been the 30ish people standing around and watching her but she was verrry hesitant before finally tasting and diving right in. I did attempt to light the candles but the breeze wasn't having it

.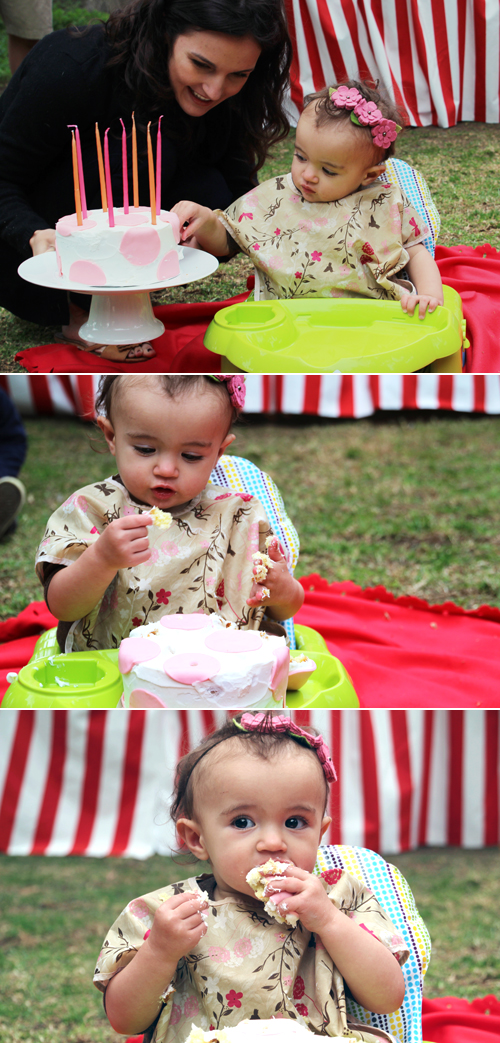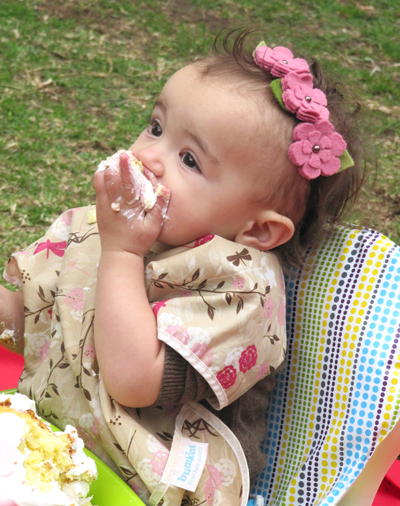 We offered forks to any other kids that wanted to help her with her birthday cake – I feared a sore tummy was inevitable!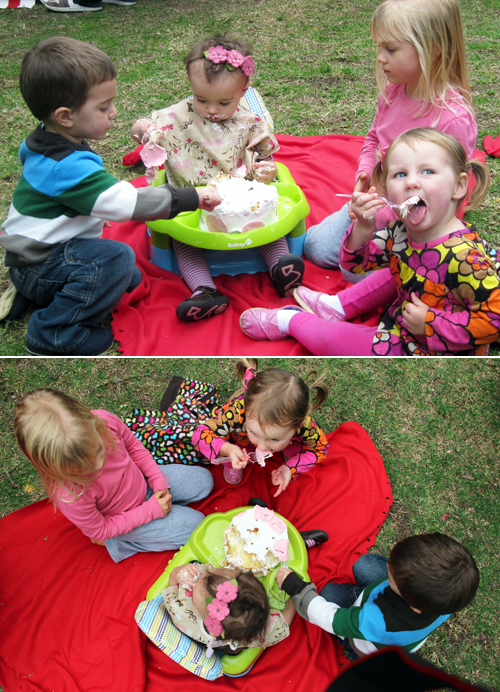 Finally, we played and played. I found pink bouncy balls at Toy's R Us for $1.99 and  bought a dozen animal beach balls as prizes for the little relay we set up.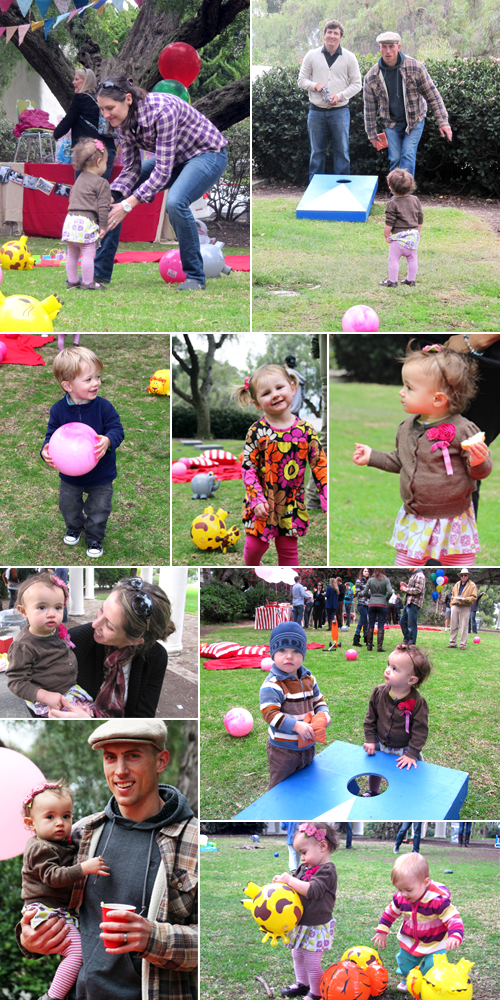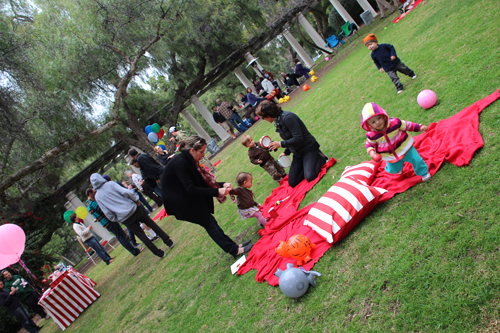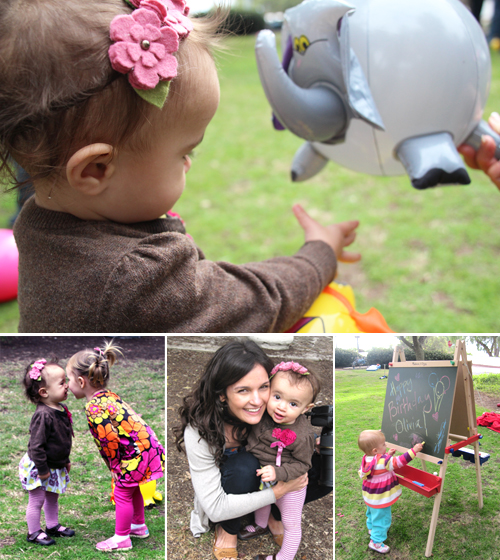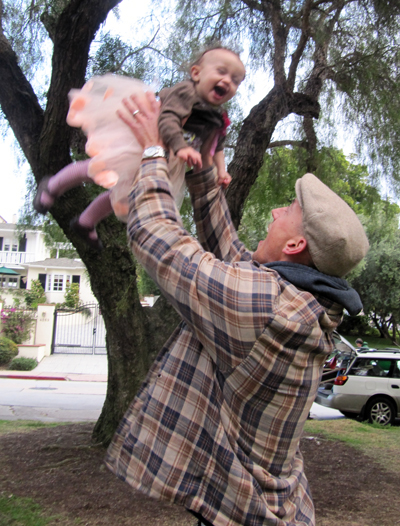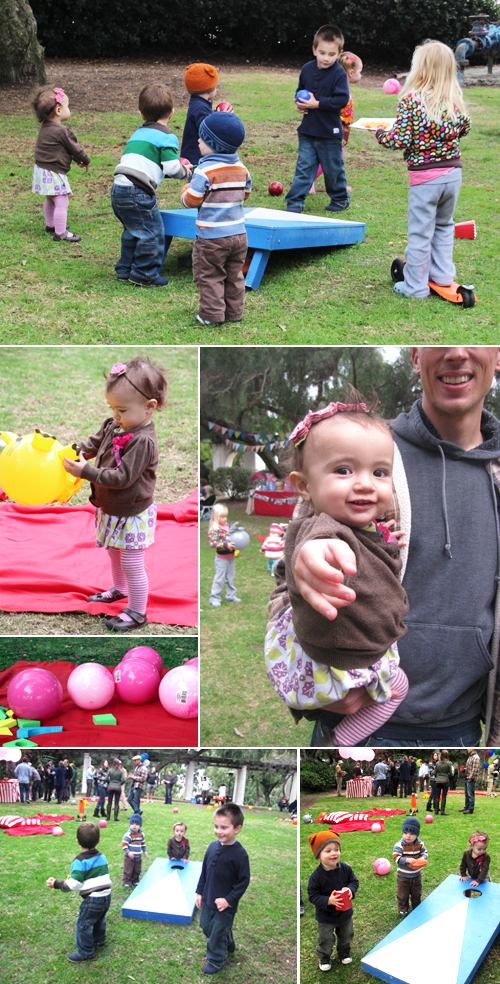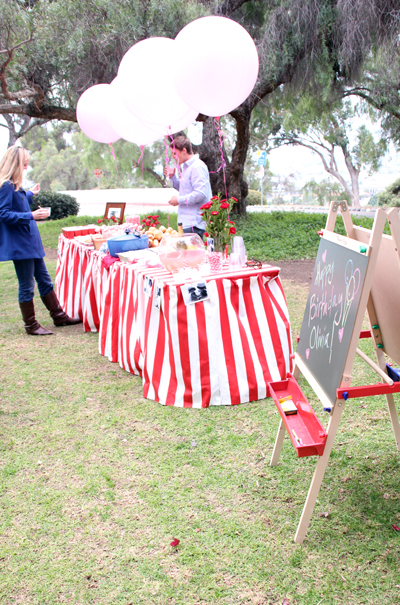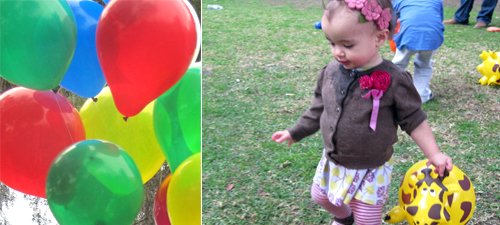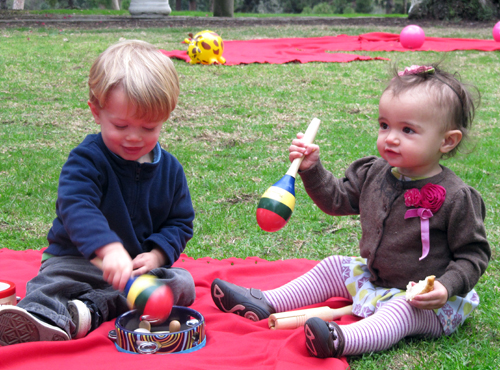 One of Liv's birthday presents was an adorable peach tutu from her buddy Gigi. That inspired some serious running with balloons during clean up after everyone had left.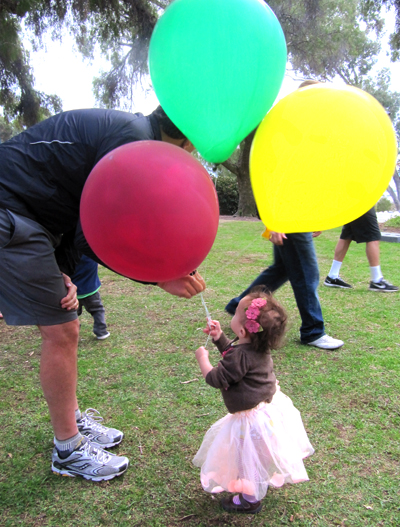 Yes, that is her dress awkwardly tucked into her tutu.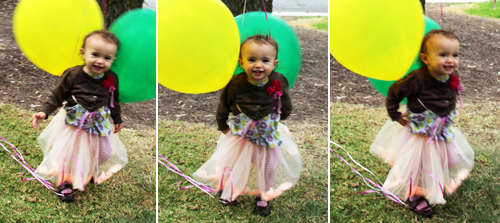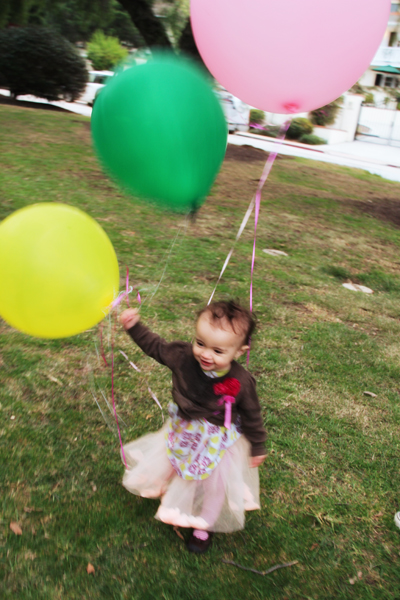 You know how I'm always talking about all of those uncles? Here's a visual.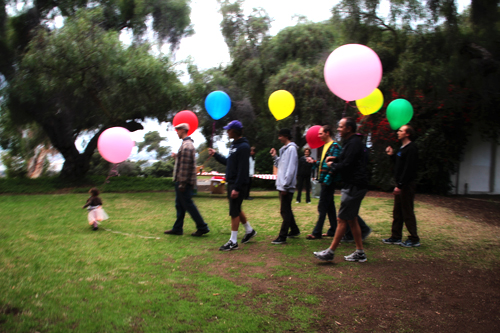 Too bad this one is just a little out of focus… but it's adorable! Dad and Grandpa are in the mix too, but she has seven of these wonderful guys (two are missing) as uncles looking out for her!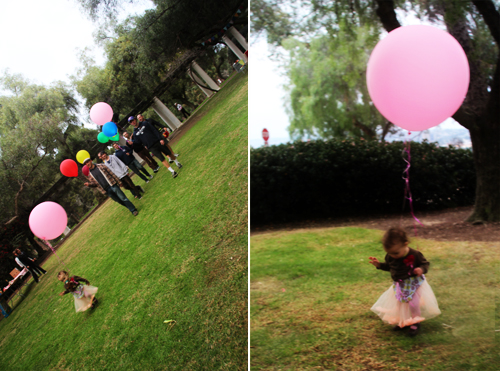 And there it is, Liv's first birthday celebration

.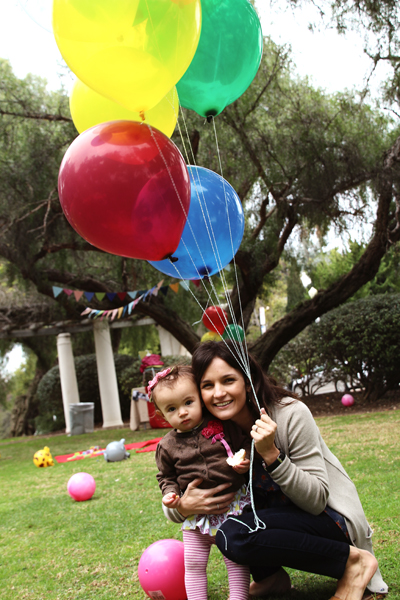 Tags:
Birthday
,
Blue
,
Decorating
,
DIY
,
Green
,
Kids Party
,
Liv's 1st Birthday
,
Parties & Entertaining
,
Patterns & Color
,
Pink
,
Red
,
Yellow
Posted in
Family & Friends
,
Parties & Entertaining
|
10 Comments »
January 16, 2012
Happy MLK Day! We're recovering over here from a busy weekend, but Liv's first birthday party was one full of celebration!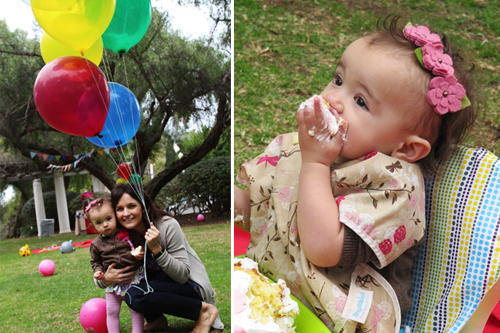 Busy editing some photos… but I'll be back soon with a few details.
Posted in
Family & Friends
|
2 Comments »
January 13, 2012
Now that Liv is officially one, I thought it would be fun to pull together a round up of the baby products we found most useful in the first 12 months. I did something similar at 3 months and at 6 months as well – but this post is all of the above!
We found that you really don't need too many gadgets for a baby – but there sure are modern day solutions that make sleeping, eating, traveling, and so on much easier. Many of these products spanned the entire 12 months (even if they're listed in the 3 month category, for example), but they're grouped by the age they were introduced to us or to Liv.
Since it's fresh in my mind, let's start with the…
6-12 month round up!


a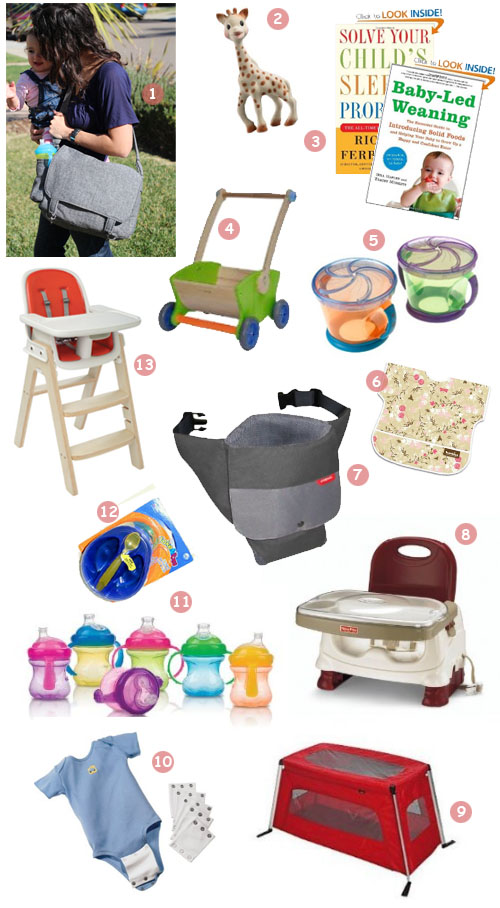 Clockwise from the top…
1. Herringbone Non-Diaper Diaper Bag: I love my diaper bag! I worked with Etsy artist Rebecca from ThreadBeat to design a bag that (complete with pockets that were sized to hold items like a cell phone, sippy cup and wallet) and chose this grey herringbone for a non-diaper bag look. We also collaborated on a larger version that can hold my laptop and DSLR (+ diapers!) while traveling for work. I could sport either with no baby and it would function as a chic messenger bag as well. Rebecca is very easy to work with, very professional and I highly recommend. Use promo code: pepperesignblog15 for a 15% discount!
2. Sophie giraffe: You've probably heard of this guy (girl?) but I second everyone's love of this little teething toy. There's just something about it that baby's love.
3. BLW & Sleep Habits Books: You might remember from this post that we are huge fans of baby-led weaning. This book taught me the ins and outs of how it all works.
We traveled for a bit over the summer in 2011 (you might remember us mentioning Ragbrai, Sedona and a trip to Santa Cruz) and it threw off Liv's awesome sleep-all-night sleeping habits. She consistently woke up once (usually around 2am) for 2 months or so between the ages of 6-8 months before I finally bought Ferber's very helpful book about retraining sleep habits. Just as suggested, four days into the Ferber Method (of comforting but not lifting up and out of the crib) and she's been a solid sleeper AND napper since (we can even put her down awake). For helping younger infants sleep (0-3 months), see my book recommendations in the newborn to 3 month category.
4. Push Cart: I found this guy for 50% off over at Zulily and loved the modern wooden design! Liv learned how to walk pushing it around the living room and would throw toys into the barrel and take them for a ride. I like that when she's a little older the walker turns into a wheelbarrow. Gotta love double duty.
5. Snack Catcher: These are a must-have for toddlers on the go. Just don't put these guys in the dishwasher – I learned the hard way after finding the lid melted to the inside.
6. Waterproof Bib: These bibs are made of a waterproof fabric yet they're super pliable and very easy to clean. The little sleeves help to keep messy food at bay. The velcro did begin to wear down after 4-5 months.
7. Roll-Up Highchair: This Phil and Ted's is the easiest highchair to travel with – it rolls up to fit in a small little bag and is an easy stow away in your diaper bag regardless of whether you're flying, driving or walking to your next meal. I loved how simply it snapped around any chair (not up and over because some chairs have very funny dimensions) and how it could be used for napping on a bed (we didn't try this but you can use the extension straps that come with it to wrap around a mattress to keep a baby from rolling when alone on a bed). The only bummer? No tray.
8. Travel Booster Seat: After we graduated from the easy travel version, we moved on up to this Fisher-Price booster seat so Liv could feed herself with a solid tray. I was skeptical at this guy (I'm usually all about the small, double-duty, non-plastic kid gear) but after my mom bought us one for her house I bought one for us, too. We have yet to fly with this guy but it folds up to a somewhat small size and fits nicely in the car for road trips or dinner at a friends.
9. Traveller Bed: The Phil & Ted travel bed is only worth it if you are A. a serious travel with no access to a pack 'n play or B. a big time camper. This bed is super light weight, folds up like a tent and is pretty compact. The downside is that you have to assemble it at your destination (kind of like a tent) and it's pricey. A normal (albeit heavier but easier to assemble) pack 'n play is probably a great solution for most babes.
10. Snappi Extender: Preserve the life of your onesies with clothing extenders, just be sure to buy a pack like this one that offers five different kinds of snaps so that they will easily fit different brands of clothes your baby's wardrobe. We made that mistake the first time around. I also found that with cloth diapering it's much easier to cut off the crotch of onesies and hem to make shirts out of those cute patterns (my local dry cleaning spot helped with this). Kevin never snapped the onesies up anyway

.
11. Nuby Sippy Cups: We tried LOTS of sippy cups and these no-spill Nuby's were the clear winners. They have a soft spout so it makes for an easier transition from a bottle (we didn't ever really need a bottle since Liv was 100% breastfed and I was working from home and available for feedings, but because the spout on this sippy cup is so similar to her pacifier, she took to it so quickly after rejecting every other hard spout sippy cup). If you don't think your little one will take a sippy cup – try this one! Also available at Target.
12. Take & Toss Meal Containers: We didn't actually use these as a disposable container but reused the partitioned bowl again and again when taking lunch on the go. They were the perfect size to for a full lunch (sadly they're too small now – we've moved on to these) and hold two different types of food + the spoon right in the packaging – so smart! no more spoon digging in your diaper bag and no more carrying separate containers to keep the apple sauce from mixing with the broccoli.
13. OXO Tot Sprout Highchair: I was nervous about the investment but we've loved this highchair since it's initial purchase and it will definitely last through multiple kids. It fits nicely int our kitchen (love the light birch wood and bold orange cushions – not an eyesore) and is really easy to clean.
Moving on to the 3-6 month category!

d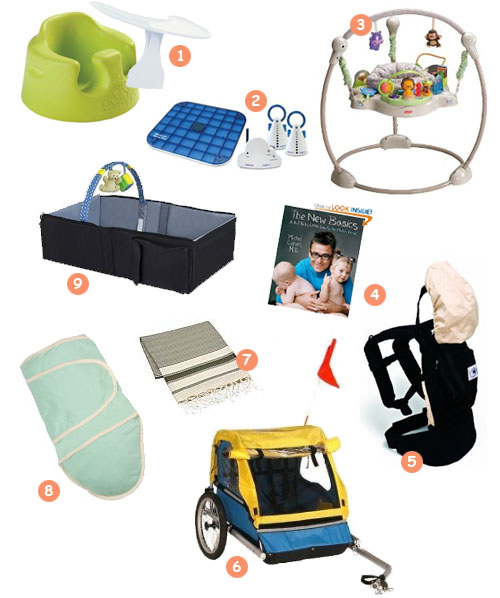 1. Bumbo: The Bumbo is a deep seated rubber 'chair' that holds babies upright so that they can safely observe all that is going on around them. We introduced the Bumbo right about the time Liv began holding her upper torso up comfortably and boy what a great change! She could now sit on the counter as we cooked meals, worked on the computer, or even as I was getting ready in the morning. And she was happy as a clam observing all first hand. (That white plastic piece above is the attachable tray – helpful when baby gets big enough to stretch up and out).
2. Angelcare Movement Sensor & Monitor: We sleep soundly each night with our sensoring monitor. The Angelcare system registers both sound and breathing through a small pad that's placed just under the crib mattress, and if it doesn't register small chest movement after 20 seconds, a loud beeping goes off.
3. Jumping Toys: We don't have traditional door frames so a compact jumper (that fits in the door) wasn't an option. While this particular Jumparoo is quite large and in charge, it's the best Liv entertainer out there. She LOVES to jump!
4. The New Basics: This book is a modern A-Z reference guide with answers to every question you might have about babies & toddlers. It helps dispel common myths and concerns (what foods to introduce when, for example) while offering practical guidelines and suggestions to parents. I like the Cohen's conversational writing style even if I don't agree with every idea he shares.
5. The Ergo Baby Carrier: I love the Moby, but Liv's big enough now to sit comfortably in the Ergo. Wow I can't speak highly enough of this carrier – it's comfortable on the hips, distributes weight evenly, and fits both 6'3″ Kevin and 5'3″ me well.
6. Double Bike Trailer: Now that we're training for RAGBRAI, Kev and I love to head out for a good family ride. This double wide stroller holds a car seat comfortably and Liv hasn't complained once, even though she'll often be back there for hours at a time. It's like her little chariot (not much to complain about there, I guess).
7. Woven Towel: With all that you have to carry around with a baby for a trip to the park or beach, a humongous towel or picnic blanket is the last thing I want to add to the mix. I love this super thin towel that opens up to seat four but rolls easily into the diaper bag.
8. Miracle Blanket: We have many a friend who relied on this swaddler to settle down a fussy newborn, and it has become our go-to daytime nap swaddler. We didn't end up needing it until we were looking for a warm weather version of our favorite fleece nightime swaddler, but the Miracle Blanket is ideal for squirmy babies that keep themselves awake! Liv falls fast asleep when she's all bundled up (we literally put her down awake with a binky and she's out in two seconds).
9. Travel Bed: With Liv swaddled up for naps and overnight, she doesn't move much while sleeping. This bed has proven to be invaluable on our many weekend trips and it folds up to fit nicely. On the rare occasion it's not with me, I've used a dresser drawer (on the floor and padded with blankets) as a substitute (works great
).
Finally, Newborn to 3 months:


m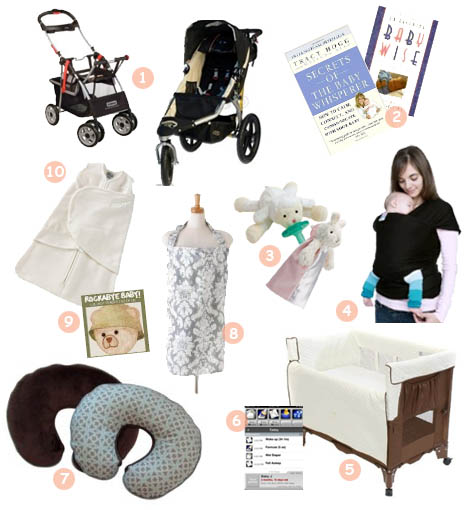 1. Jeep Car Seat Carrier & Bob Revolution: While it's definitely not necessary to have two strollers, we've found that our quick snap-and-go stroller is a dream for trips to the grocery store and other errands (easy to fold and our Graco Snugride carseat fits right in), while our Bob Revolution is great as a walking and park stroller (we use it ALL the time!).
2. Baby Wise & Secrets of the Baby Whisperer: These two books have been our everyday resource for introducing a new baby into our lives, and vice versa. The tips on schedules (we keep a pretty relaxed but somewhat regular schedule) and sleep training are invaluable – Liv began sleeping through the night at 8 weeks (the a few exceptions here and there…).
3. First Friends & Wubbanub: The newborn soothie pacifier is amazing – but it's a lifesaver when attached to the Wubbanub or First Friend! These, along with the above books, can be credited for Liv's sleeping patterns. When she spits out or drops her paci, the stuffed animal on her chest keeps it within reach to grab again! It's a-mazing.
4. Wrap-Style Carriers: We've taken Olivia everywhere in the Moby Wrap – from playing in the snow to walking the streets of New Orleans while on vacation to sporting events to shopping around town. She loves it and it's so very comfortable for Mom and babe.
Hint: It can be tough running errands with a baby that you have to take in and out of a carseat at each stop – I wear the Moby while driving, without her in it, of course – so that when we stop I can slip her right into the Moby at each errand. It beats carrying a heavy carseat everywhere.
5. Arms Reach Cosleeper: Liv sleeps right next to our bed in her cosleeper. It's wonderfully convenient to not have to get up out of bed in the middle of the night to nurse and it's nice to safely 'co-sleep' during her first few months. We use the risers now (not shown in picture below) to bring the cosleeper up even with our bed.
6. Total Baby iPhone App: This app keeps my life in order – well, my life so far as Liv's schedule goes. It tracks when she eats, on which side, for how long, etc. It also includes cool tools such as sleep tracking and diaper counting. By checking my phone I can predict when she'll be ready for her next nap and if she's crying because it's time to eat or time to sleep.
7. Boppy: I love my boppy nursing pillow! I wish that I had one in every room because it makes nursing so easy with its wrap around shape.
8. Nursing Cover: Speaking of making nursing easier, my Udder Cover is big and breezy and super convenient for nursing on the go. I use it almost everyday and because of its light material (the actual pattern I own is linked in the name) I don't worry about it being too warm for Liv beneath the cover. The boning around the top of the cover is a hands-free way to keep an eye on her.
9. Rockabye Baby, U2: You won't mind listening to the same lullaby cd again and again when it's a rendition of Coldplay, Bob Marley or U2. In fact you'll look forward to hitting play each time you rock baby. Another great lullaby source? Looping Lullabies – check the site out to hear a few soothing samples.
10. Halo Sleepsack: We have several sleepsacks to rotate throughout the week but one of our favorites is this version by Halo. Because Liv was born in the winter, and because blankets can be dangerous, this super cozy sleepsack both swaddles and keeps her warm all night long. I don't worry about a blanket covering her face and her arms don't wake her up when they're snuggled by her side.
And that's my line up for helpful products in a baby's first year! As mentioned earlier, while none of the above are necessary for a happy, healthy baby, sometimes it's nice to get a personal recommendation of favorites!
Posted in
Family & Friends
|
6 Comments »