August 15, 2011
We've been using cloth diapers on Liv for a little over 6 months now and I thought I'd share a little update.
First, while it's a bit more work than the conventional, we really love it. It's environmentally friendly (reduces our waste by about 2,500+ disposable diapers), tush friendly (no diaper rash to date) and wallet friendly (to the tune of about $1500 over Liv's first two years). Plus, they look great with a little dress. Sometimes I even color coordinate Liv's outfits based on her diaper colors for the day

.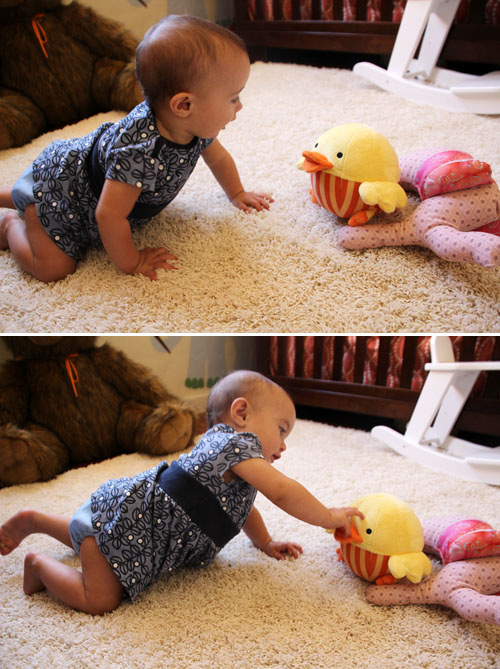 Liv's crawling! I can't believe it. Shortly after she turned 6 months old she began the unsteady rock, and then two weeks later, zoom – she can now follow us from room to room.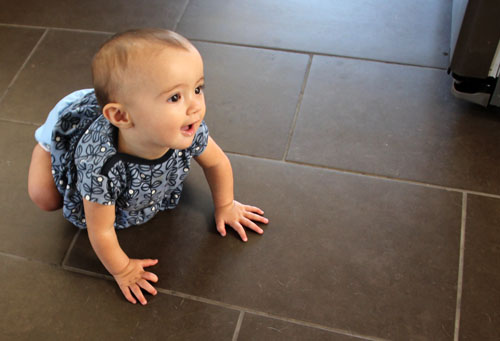 Back to CDing… As you might recall,  I tried out quite a few of the cloth diapers currently on the market hoping to find that 'perfect fit' (in terms of type, sizing, material, etc). Here's more on CD testing/reviewing 1, 2 and the initial results. In the end I found pros and cons to all of the different brands and styles. The biggest lesson? It's all about personal preference and what works best with your little one.
So… now that Liv is rounding 17lbs we're getting ready to size up. Maybe half of my diapers are actually 'sized' diapers rather that a 'one-size-fits-all' diaper. The sized diapers we use now are extra small and small, and we'll need to move to size medium soon.
We don't use all OS (one-size) diapers because I actually really prefer the sized versions. They fit Liv more snugly and without as much bulk. That aside, the benefit of OS diapers is that you can invest in just one stash from about 8-35lbs (so economically it is the smartest solution).
In about a month here, I'll be retiring maybe 12 small diapers and investing in 12 mediums to rotate into the mix. Which one am I ordering? Of all of the versions that are in my stash, I always reach for the BumGenius 3.0 all-in-one sized diaper first. (Though I must say, my stash of mini/small Happy Heinys is a close second!)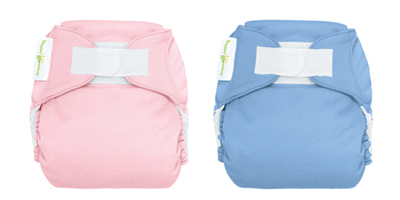 I had mentioned before that Liv is a little bit of a soaker, so I love that this AIO (that's CD speak for all-in-one) has a built-in liner AND a pocket. I stuff that pocket with an extra insert and we're golden. The fit is great, the velcro is a huge plus (easy to fasten on a super squirmy baby) and the design is leak-proof for us.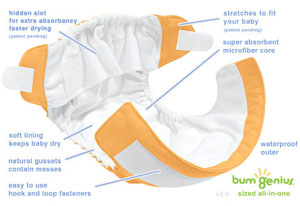 I know, I know – the one thought on everyone's mind. What about the poop? Breastmilk poop is 100% water soluble so diapers from 0 to 6 months are tossed right into the diaper pail which is emptied right into the wash (yep, the same machine that gets sweaty athletic equipment, dirt-covered construction t-shirts and towels covered in sand from the beach clean does an awesome job on diapers). Just like not having to do a rinse cycle between loads of whites using bleach and regular clothes, your washing machine keeps itself really clean making it so easy.
Now that we're  to solid foods it's a bit different… but happy to say, a much appreciated change. Solid food poop – pardon my French – plops itself right into the toilet. I occasionally use a flushable liner or gDiaper disposable (but still biodegradable) insert on top of the cloth diaper by laying one end under the above pocket flap and leaving the rest exposed. Then everything is contained and thrown into the toilet or trash (if I have a biodegradable bag in the trashcan). When our new bathroom is finished, I'll probably connect one of these.
The bummer? BumGenius sized diapers are discontinued. I don't know why, but this brilliant little bum hugger is no longer on the market. The plus? I've purchased nearly all of my BumGenius stash at a discounted rate through online and local suppliers. (Google them, they're still out there!)
UPDATE: I have since had several smaller retail shops contact me about these specific diapers – if you're looking to purchase sized AIO BumGenius 3.0 diapers, please shoot me an email and I'll get you in touch with the sellers! All are willing to match the Cotton Babies discount price

: morgan@pepperdesignblog.com.
Here's a great blog to subscribe to if you're new to or interested in CDing: All About Cloth Diapers, a reader recommended blog: Dirty Diaper Laundry (check out the cloth diaper finder!), and a reader's blog: Cotton Bottom Mama.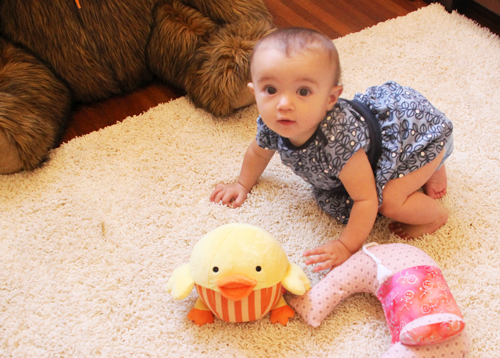 That adorable dress is from Tea Collection, which was just recently featured over at HauteLook at 50% off.
So we've used cloth diapers for 6 months now and I hope to use them until Liv is potty trained, and then to use the same cloth diapers on our next baby. But admittedly there are times when a disposable diaper is WAY more convenient, and I'll be back to share our favorite way to diaper while traveling.
Don't worry, if you're not loving all of the dirty talk around here, our office/guestroom is really coming along and it's just about ready for an update!
Posted in
Family & Friends
,
Going Green
|
10 Comments »
August 8, 2011
Okay, so this isn't really a Going Green post, but since it fits in with the idea of eating fresh, eating organic, I'll add it to the series.
Have you heard of Baby Led Weaning? It's a new, well actually, old idea on introducing solid foods to infants. Way before we had baby spoons and Cuisinarts, babies learned to eat 'adult food' by handling, sniffing, tasting, gumming and squishing whatever they were introduced to.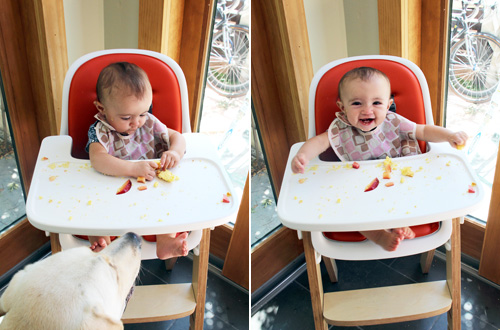 That means big chunks of food for babies to 'palm' (since most don't yet have a pincher grasp by 6 months) and play with. Big chunks might include a strip of toast, a slice of peach or a large chunk of chicken. Any food cut long enough that they can both grasp it in their fist and gnaw on it.
Some of Liv's favorites? Sliced peaches, pears and apples (sometimes raw, sometimes a little cooked or stewed), strips of roasted carrots, broccoli, sweet potato, squash (roast all of the above with a little salt, pepper & olive oil – let cool), diced plums, blueberries, apricots (small pieces to practice grasping), hunks of chicken, pork, beef, ribs (really!) and sliced bread (loves it toasted), cornbread, avocado and eggs.
At this point she's still 100% breastfed, so the quantity she takes in is up to her.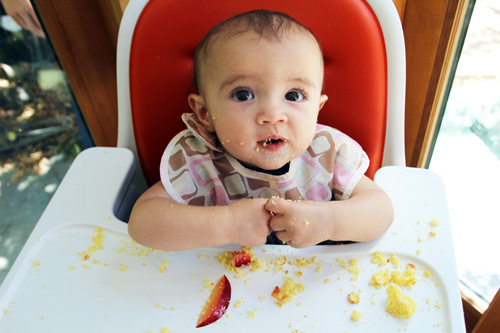 BLW means skipping pureed and mashed foods for 'table foods', or basically whatever the family is eating for dinner. We decided to experiment with the concept (no extra work pureeing everything? the opportunity for Liv to pick and choose her foods – and hopefully grow to love our dinners – herself? sounds great) and introduced Liv to roasted carrots and Italian broccoli (you know, the long kind that looks a bit like an asparagus) at about 6 months. She's checking out sliced plouts (plum + apricot = yum) and cornbread above.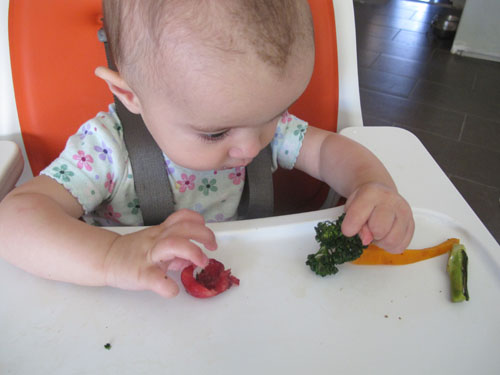 I still cut up food that is of choking size (such as these little blueberries which she devours) so she can feed herself.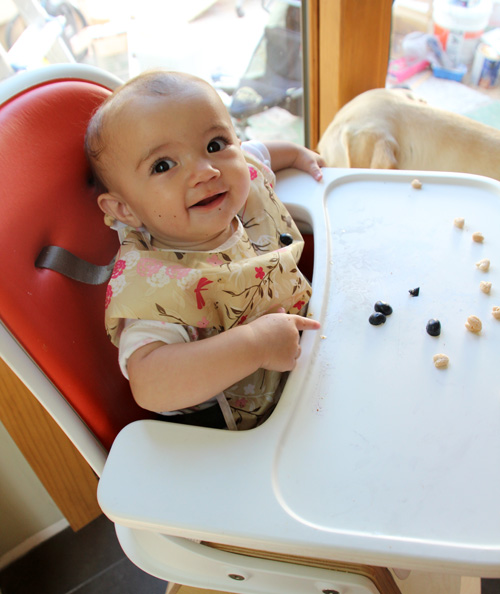 No, she's not really pointing

. Liv's been practicing her hand eye coordination to get that pincher grasp (thumb and forefinger) down – all while playing with her food.
The one downfall? It's so messy!!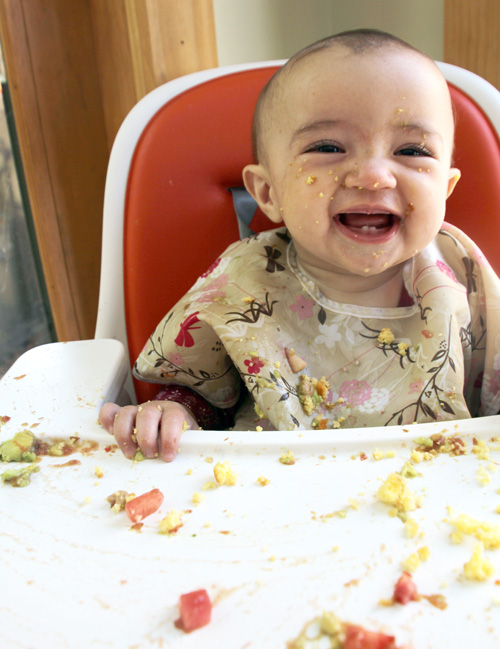 As you can imagine, if baby gets to control where the food goes, it goes everywhere. Thankfully our yellow lab, Bodie, is quick to catch most of the chunks that go tumbling off of her tray!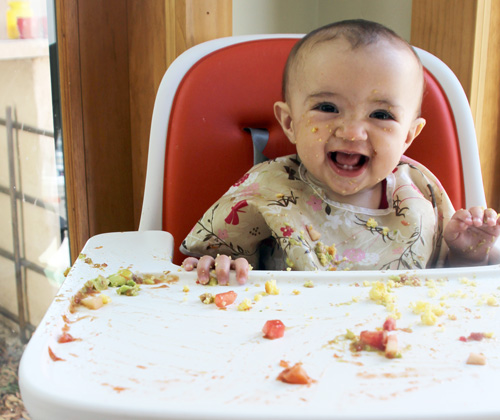 You have to get used to the idea that about 2/3 of the food that you first introduce will be wasted and in piles on the floor. Slowly that number drops and slowly babies begin to consume more of the food itself.
I think Liv might even love the clean up part just as much as the eating part.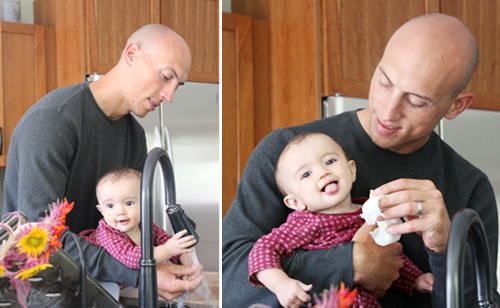 We love it. BLW means I get to put a few choices of food in front of her and she gets to feed herself. I can eat lunch, make dinner or otherwise work with her right next to me. If you're interested in learning more, Google 'Baby Led Weaning', there are a ton of great blogs and resources out there – including this book.
It's a great option but we're not strictly BLW and we also don't discount purees for when they're best, such as when we're traveling (once Liv knows we're eating she insists on being involved, so there's no just waiting for a later time in the day to feed her). While out at restaurants we feed her right off of our plate but offer bite sized pieces of beef tenderloin or potatoes so that she doesn't need to grasp everything (because let's face it, sometimes a crazy mess of food in every direction just won't fly).
What we do love is that she gets to participate in our meals! And she totally digs it.
Posted in
Family & Friends
,
Going Green
|
13 Comments »
August 3, 2011
We've been working on Going Green over here through our remodeling, household purchases and especially in the way we cook and eat. One of the best ways to do that is through our local Farmers Market! Gotta love wholesome, locally grown, farm-to-table food (especially now that Liv joins us at the dinner table! More on that soon).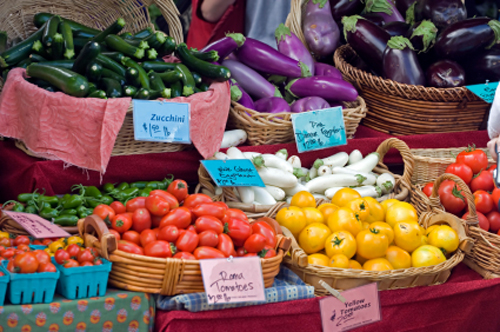 While we are registered with a local CSA (Community Supported Agriculture) group and pick up a box chock full of delicious goodies once every other week, sometimes we like to supplement with the local Farmers Market, and since San Diego supports over 50 local Farmers Markets - there's a plethora to choose from.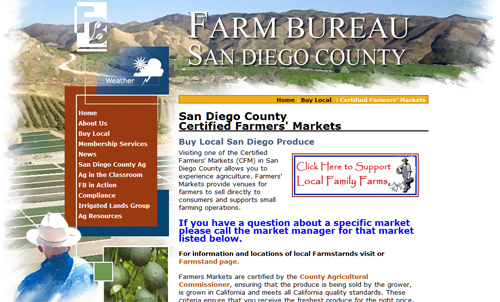 But… can buying local be as cost-efficient as buying from the grocery store? I headed out to our Sunday morning Hillcrest Farmers Market to check it out.
My mission: Spend $25 for a weeks worth of organic fruits and veggies.
My finds: 1 canteloupe, 1 acorn squash, 3 large bell peppers, 2 bunches baby carrots, 1 head of garlic, 1 bag each (about 8 total) of tomatoes, peaches & apricots, and for good measure – two $2.50 bouquets of flowers, 1 container fresh mozzarella cheese and one loaf of locally baked bread.
The results: My locavore basket beat out the local supermarket by about 50% (I'm sure with coupons and specials you could get awfully close though) and when I added up the finds it was roughly Farmers Market: $25, Supermarket: $38. Score one for the home team.
Best tips: I prefer to hit up the Farmers Market about an hour before closing. The selection is usually just as great but the vendors are eager to part with their wares (to not truck anything home) and offer great sales. Bartering is always to be expected around this time, too! Pick out a range of 'ripeness', such as melons a week or so out, peaches that are still hard and squash that will last for a while in your fridge. You don't want to be stuck with an entire basket that's bound to ripen up (or is already ripe) too soon.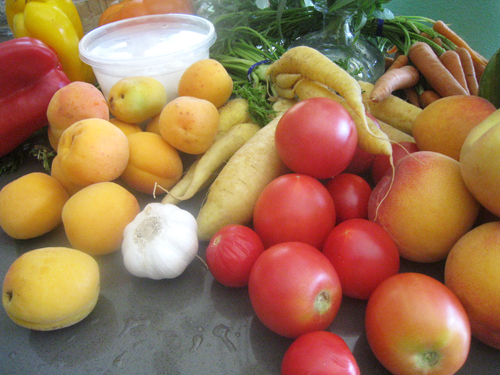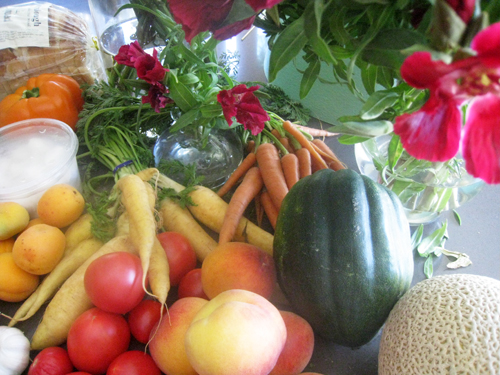 So delicious! I usually roast my squash and carrots to draw out the natural sugars (450 deg tossed in olive oil, salt and pepper) – also great for any root veggie, BBQ stone fruits (such as my peaches and nectarines – add a bit of honey and yogurt) and saute the bell peppers with fingerling potatoes. If we do have veggies and fruit that we won't eat quickly enough, into the juicer they go.
By eating locally, we're supporting our ranchers and farmers, keep our hard earned dollars in the local economy, eating fresher produce (no shipping and shelf life here), reducing energy consumption (transportation and storage) while protecting our environment, and getting the opportunity to cook in season with ingredients that might not often be found in the store (yay for the funny looking vegetable you've never tried before! or, chocolate mint, anyone?). Plus, most of the locally produced food grown by family farmers is organic and chemical free.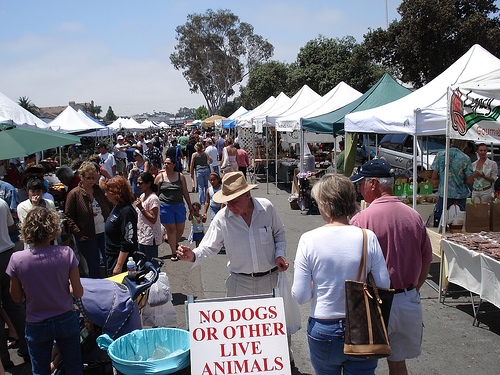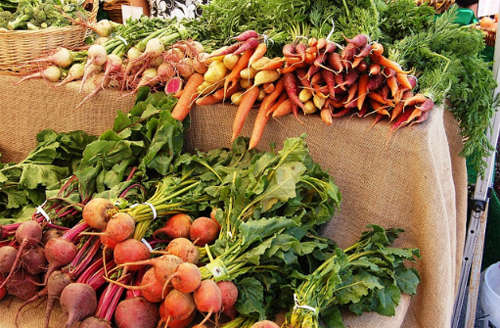 Yum.
Tags:
Recipes
Posted in
Family & Friends
,
Going Green
|
6 Comments »