October 19, 2009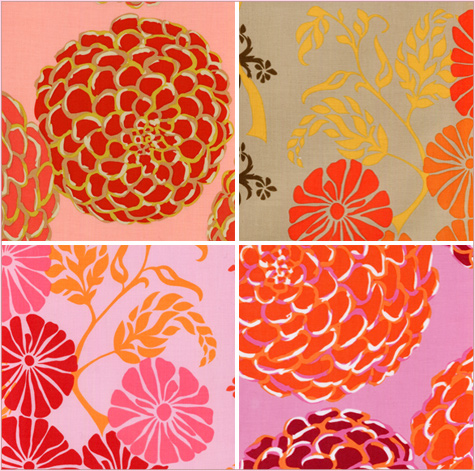 This week's feature fabric brings a bit of sunshine into the coming fall. The line, Del Hi by Valori Wells, was designed to capture the sense of nostalgia: your grandma's antique couch, a Jane Austin novel, florals from a favorite childhood dress… A perfect blend of graphic prints and blooming botanicals — the look of an antique patina and modern whimsy all wrapped into one collection. The line was created for FreeSpirit Quilting Fabric, and you can purchase by the yard online!
Tags:
Decorating
,
Fabric
,
Orange
,
Pink
,
Red
Posted in
Favorite Fabric
|
1 Comment »
October 8, 2009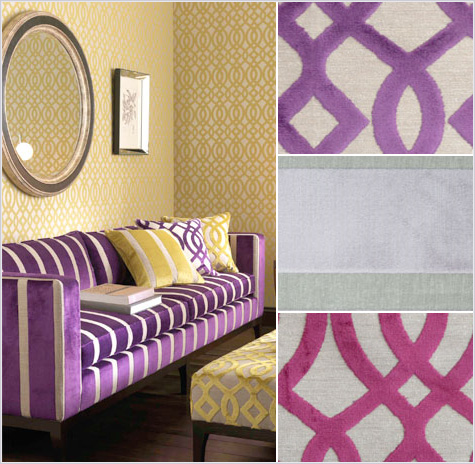 So I've changed the name of my favorite fabric show-and-tell postings to "Fabric of the Week", which more aptly explains the purpose of sharing my favorite prints that I get so darn giddy over (old name: Fabric of the Day, despite the fact that I kept just one beautiful design posted all week!).
This week's fabric, a rich velvet by Du Barry, is a gorgeous print that has caught my eye with it's vibrant colors and bold texture. You want to reach out and pet the walls thats how great the fabric/wallpaper combo looks. Du Barry Velvets is part of the Spring 2009 collection over at Osborne & Little (a treasure trove of great fabrics and wallpapers to check out). I'd LOVE to reupholster a bench or settee for the end of my bed in this bright purple or fuscia — I wonder if the husband would concede.
Tags:
Accessories
,
Bedroom
,
Decorating
,
Fabric
,
Home
,
Living Room
,
Patterns & Color
,
Pink
,
Purple
,
wallpaper
,
Yellow
Posted in
Crafty Solutions
,
Favorite Fabric
,
Home
|
1 Comment »
September 25, 2009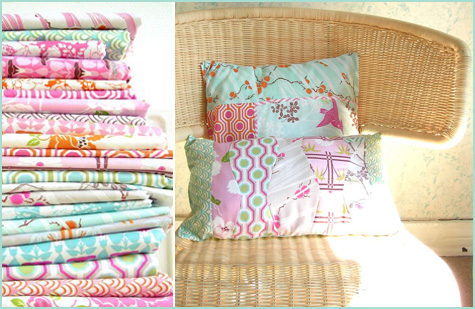 Today's Fabric of the Day is actually fabrics of the day because Grand Revival's new line of chic home-spun patterns is great enough to bundle into one little post… It's a bit of a teaser though, I must admit, because the Dolce line is actually set to be released in Fall 2009 (we're there, but not quite there!). BUT you can pre-order at Fat Quarter Shop. I'd love to see a little girl's room done in a patchwork/hodge-podge of these prints!
Grand Revival was founded by the very creative Tanya (who is an American fabric designer currently residing in Belgium) and is now on it's fifth collection! Check out her blog too, where she shares the joys of patterns, sewing and living abroad. You can also find more creative uses for her fabrics (bag patterns, table runners and the like) with great close-up pictures posted at the blog.
Tags:
Accessories
,
Crafty Solutions
,
Decorating
,
DIY
,
Fabric
,
Orange
,
Patterns & Color
,
Pink
,
Turquoise
Posted in
Crafty Solutions
,
Favorite Fabric
,
Home
|
1 Comment »