March 16, 2012
In addition to the monster wall project I worked on for the Pinterest Challenge, I also wanted to attempt to tackle a few smaller pinned ideas that I've had my eye on. The first was a gold stenciled chevron napkin project and the second, today's gold mercury glass makeover for a few plain glass vases I have lying around.
My inspiration came from the adorable dipped gold drinking ware that I had pinned over in my Dining Room Inspiration board (that room is getting its makeover soon):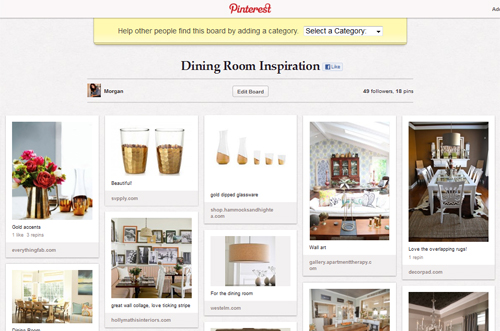 But I modified the project a bit because I was really wanting to create more of a mercury glass effect with that neat, mottled coloring and multiple layers of paint and distressing.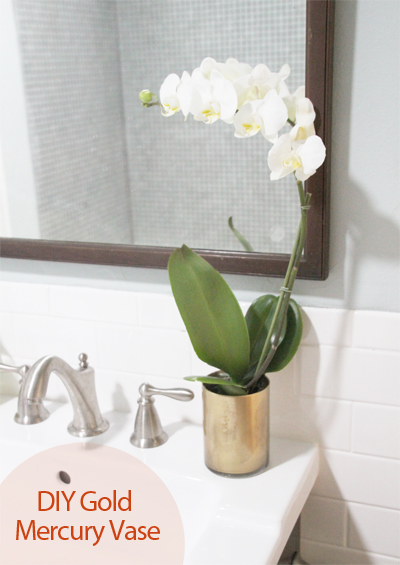 I love my finished vase and I'll probably use it for holding silverware at a dinner, straws at a party or pencils on my desk in the future. Plus flowers! Looks great in the new bathroom with my new orchid (thanks house guests for the thoughtful gift!).
I opted for a more subtle mercury finish (you could instead take big chunks out of the paint for a more distressed look that you often see in stores – and while I started with that I ended up filling in some of those holes and liking this best) because of the gold rather than the traditional mirror or silver finish.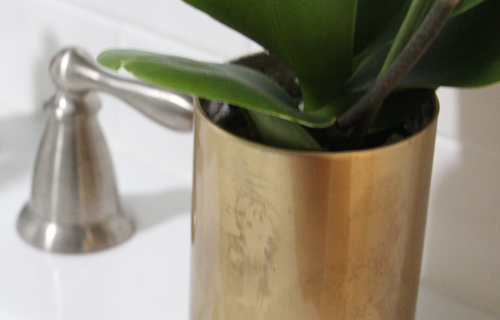 In a nutshell, here was the process: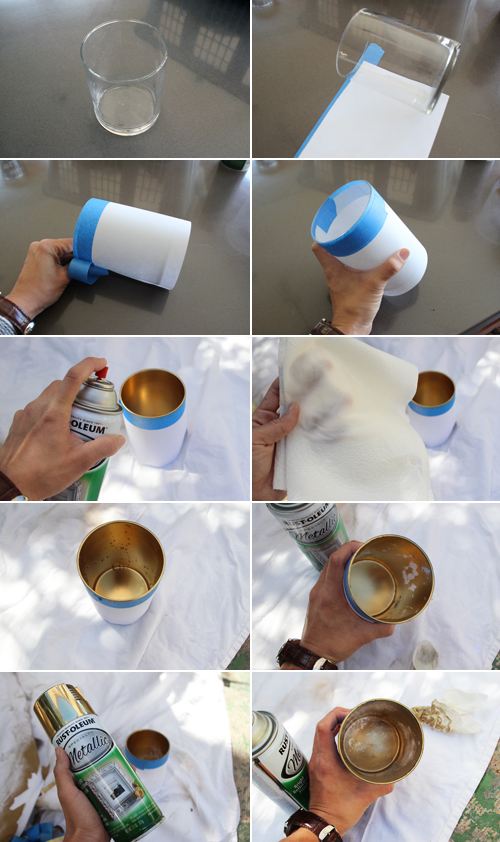 I used the super helpful tutorials here and here to get me started.
Now in slow motion… I began by lining a clear glass vase in painter's tape and paper to keep the paint on the inside of the glass.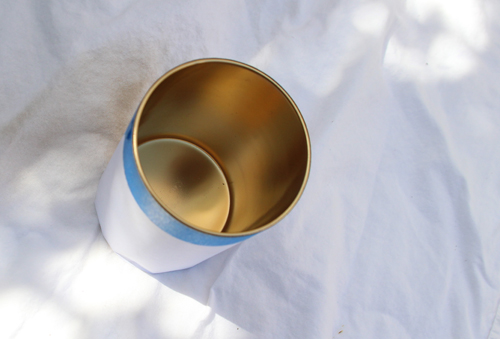 Once I had a nice, even coat of gold (I chose Rust-Oleum's Metallic Gold) I used the above tutorial's suggestions of blotting vinegar onto the inside of the vase to begin to distress the gold.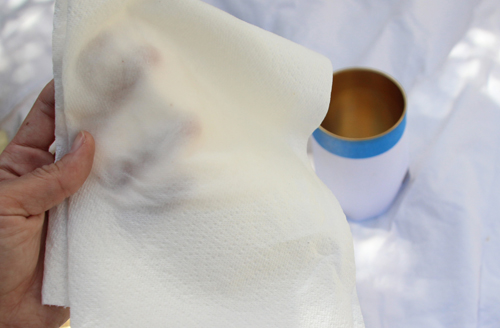 I learned the hard way that you don't want to pour the vinegar in over the edges or you'll end up with big drip marks in your gold, but you want to squeegie out the vinegar onto the surface until it beads, let sit for a minute or two, and then rub, rub rub!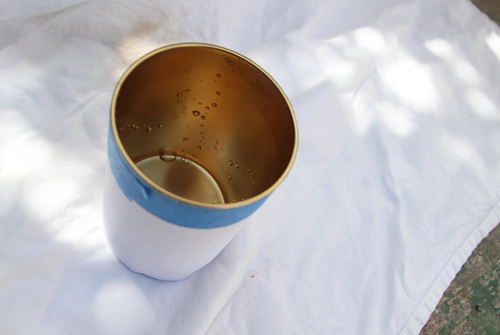 As I rubbed I slowly began noticing chunks of the gold begin to fall away, creating that distressed mercury glass effect.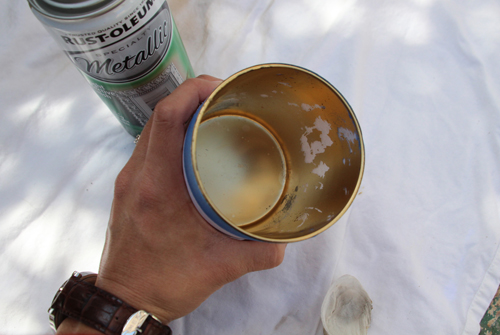 Cool, right?
Word of caution: I thought I'd expedite the process (I love to find the best shortcuts) and used a piece of a wire sponge to burnish the inside of the glass for a more distressed look, but that left really scratchy results (hardy har har). Back to the paper towel I went.

When I had finished my distressing I let the vase dry for quite some time (the vinegar will repel any future coats of gold until dry), and then gave another soft spray of gold, another level of distressing and so on until I was happy with the results.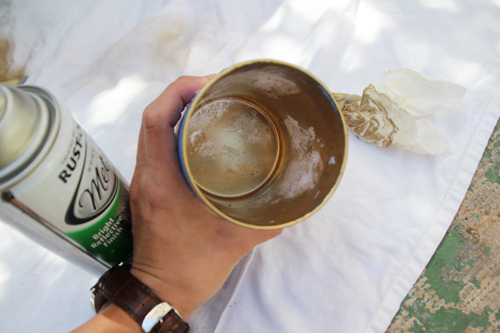 If you put a candle to it you'll really see the visible layers and holes in the gold for a more 'mercury' look, but I'm really digging the subtleness of the distressing with my orchid pot as the backdrop.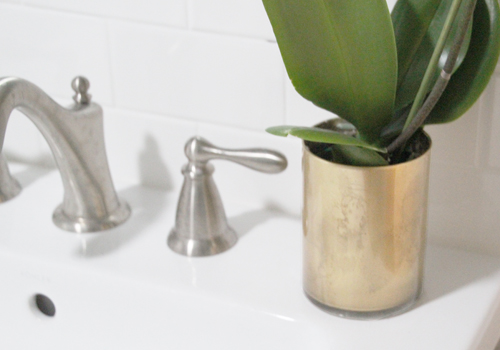 The first accessory of many for the new bathroom! More on that very soon

.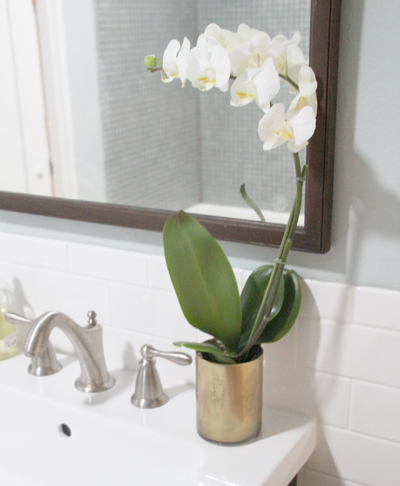 While I was at it, I used my new favorite spray paint to line the inside of a white ceramic vase, love that bold gold peeking out!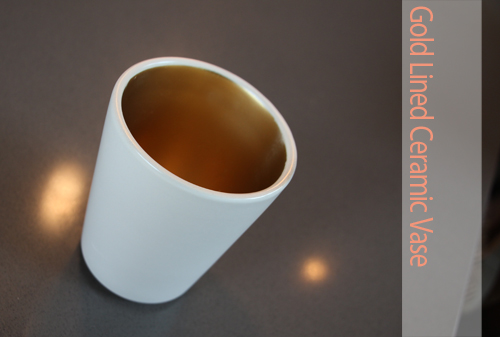 PS you can find my other Pinterest Challenge projects right here, or by choosing one of these guys: diy gold chevron cloth napkins, painter's tape accent wall or capiz shell pendant (from last year).
Tags:
Accessories
,
Before & After
,
Crafty Solutions
,
Decorating
,
DIY
,
Gold
,
Home
,
Pinterest Challenge
,
Tutorial
,
white
,
Yellow
Posted in
Crafty Solutions
,
DIY
,
Favorites
,
Home
,
Our Guest Bathroom
,
Parties & Entertaining
|
7 Comments »
March 14, 2012
I'm excited to share with you my Pinterest Challenge project! As mentioned last week, this quarterly challenge is all about tackling a project that's been inspired by a pinned image or idea.

On Thursday I announced my hallway makeover plan and how I wanted to create a neat accent wall on the large and blank surface that greets us when we head back to the bedrooms.
I actually had a hard time nailing down just one project so I've got two more to share (this cool painter's tape gold chevron cloth napkin design from yesterday and the other a surprise for later this week

).
Of the three projects, the biggest to tackle was by far the hallway.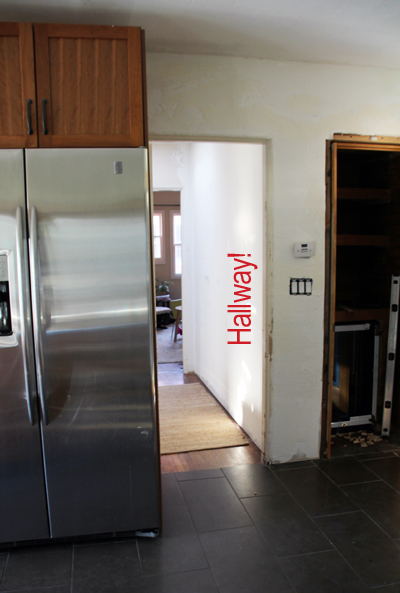 Since taking the above photo, we've actually patched and painted that wall of the kitchen (on the outside of the hallway) and have added molding where you can clearly tell it's missing. It's a nice update, too.
The wall originally hosted two closet doors and the entire space started as a tan color, but when we built that new middle bathroom the wall came down to help with electrical and plumbing, and went back up as a solid white blank canvas.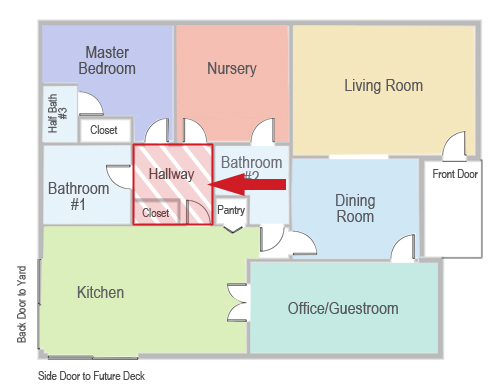 But today? She's not empty anymore.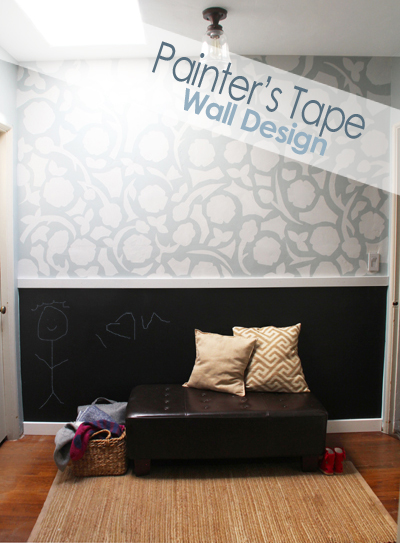 I created the block print design out of painter's tape, scissors and two contrasting colors of paint. I attempted to stick with shapes of tape that were pretty easy to assemble (in front of the TV, while on the computer, etc) so that I could whip out a whole bunch of the same shape at the same time.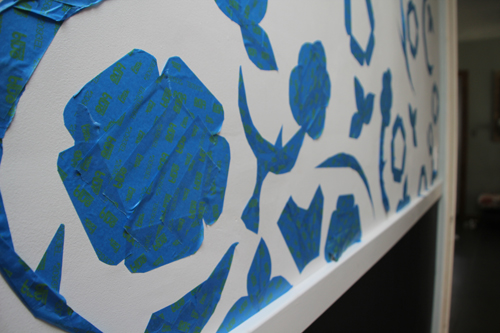 My inspiration for the project developed out of this Pinterest board: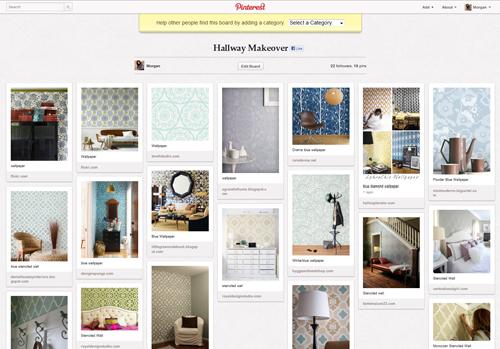 I had started with the idea that I'd wallpaper that upper section above the chair rail and then I moved on to stenciling. But after hunting for just the right pattern for a bit I decided to try something creative by making my own. Check out this project for a different sort of hand painted (and very awesome) set of walls, too.
When it came to prepping the actual wall and hallway for this project, we first patched, plastered and painted with a primer. Three of the hallway walls were painted "Feeling Blue" from the Valspar paint deck but that last accent wall was left white.
I'm really happy with the blue that we ended up using in the space. I was searching for that perfect gray/blue and this one is close to fitting the bill. It looks very grayish at certain times of the day but over all feels fresh and blue.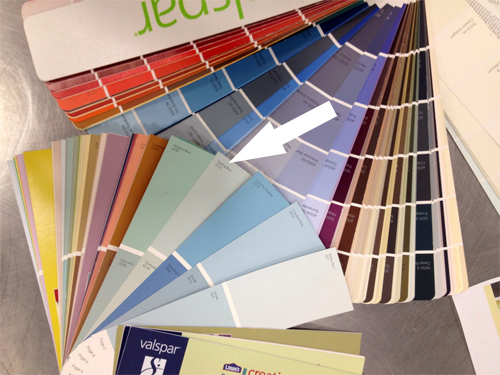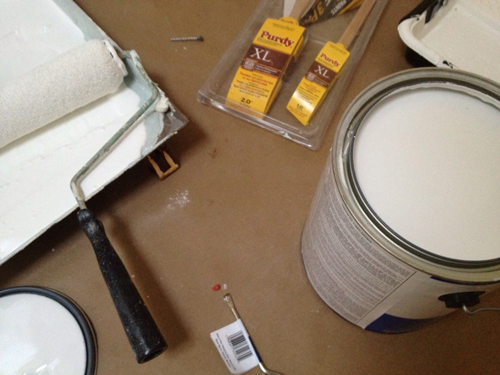 After painting the hallway, we measured out the bottom chalkboard portion of the wall and gave that several good coats of chalkboard paint (that little portion used up an entire quart!) until the section was a rich black.
Kevin lined the top and bottom of the black with baseboard and a chair rail painted the same white as the ceiling and trim (that we're slowly cleaning up).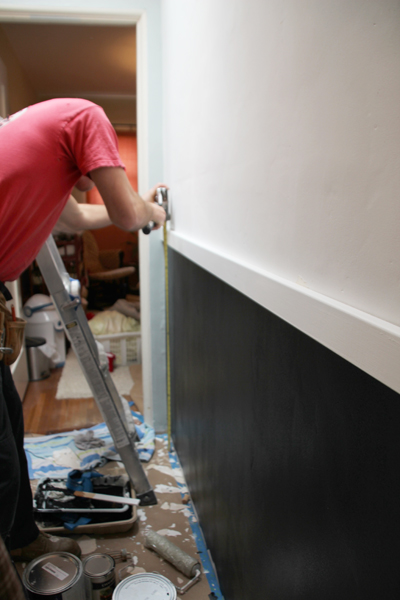 Then came the fun part!

I slowly began filling in the space with my painter's tape shapes until the wall was completely covered. Instead of sticking to a strict pattern or design, I sort of just filled in the gaps to create a fun block print that wasn't too overly detailed.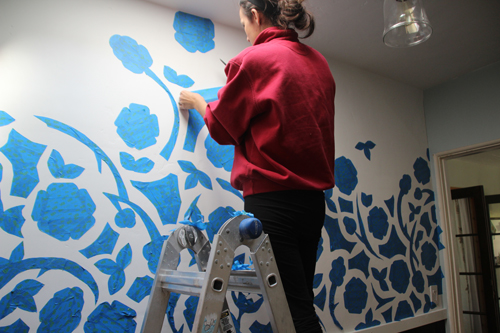 The design consisted of little bunches of leaves in twos or threes, a five sided round flower, a hycinth-esq flower on a curvy stem (the hardest shape to create) and then filler shapes in various sizes as needed.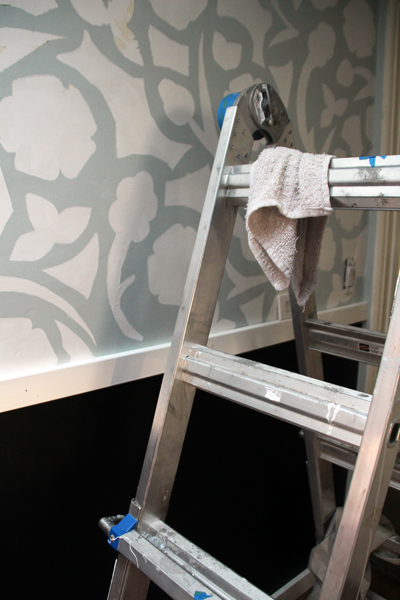 When all of my taped shapes were up, I painted over the shapes with the same Feeling Blue as the rest of the hallway and let dry. The next day I began slowwwly peeling my paint off.
If I were to do this project again, I'd first paint over the wall in my same base coat of white to really help seal those edges, just like I did when painting stripes in the nursery, then I'd top that with my blue.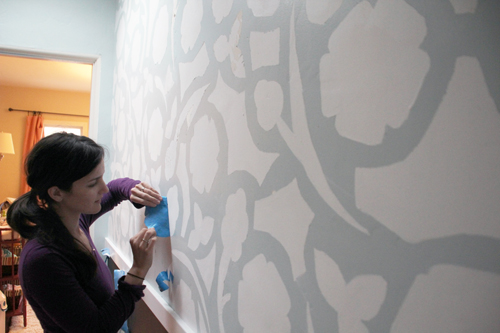 The first snafu that I actually ran into is that I had left the tape up for too long! And had probably taped too closely after the primer had been applied (maybe a day) because as I pulled tape I also began to pull up chunks of the paint from underneath.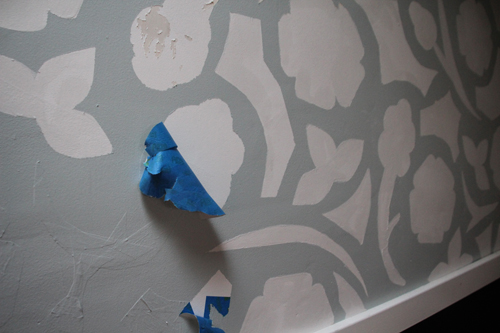 Oh so devastating! To fix, I used a sanding bar to break up the rough edges of the peeled paint and then repainted in white. Thankfully this wall has a slight Spanish texture (as do all walls in our bungalow) so this last-minute fix wasn't too noticeable.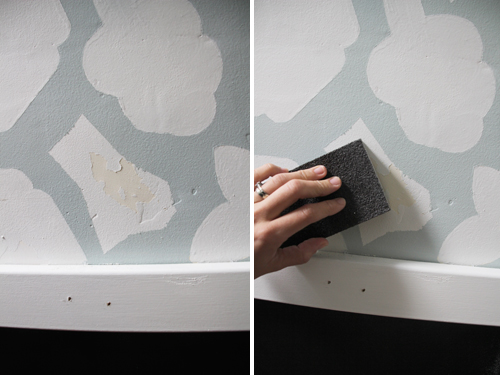 I also found myself retracing all of the shape edges with a small angled brush and more white paint to keep from the blurry bleed lines that appeared around the edges.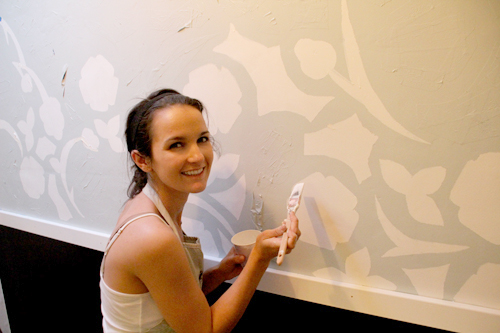 A late night photo! I ended up tackling the wall section by section, first pulling up tape and then touching up with white paint before moving on to the next section.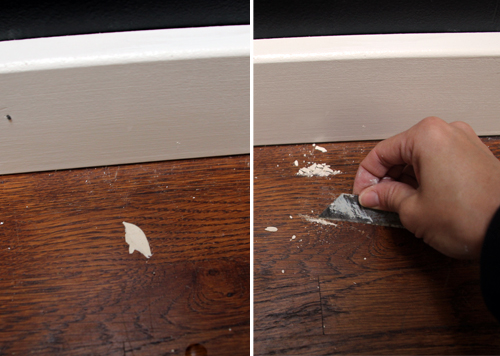 I used a dropcloth for the big paint jobs but for my minor touch ups just relied on a straight edge raiser to pull dried paint right up off of the hardwood floors. A nifty trick!
My set backs meant that this was not an overnight project by any means, but I really love the results so I'm definitely happy I put in the time and late night motivational pep talks to get 'er done.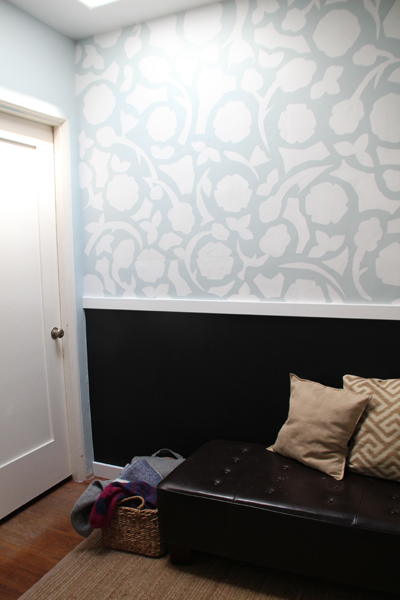 I love the idea of using the space as a drop zone for bags and coats, and a comfy place to slip shoes on and off. We don't have an entry or mudroom and an easy spot to set your purse/diaper bag on the way in is a must. This particular bench might be too big for the area but we'll see how it goes.
I also want to make sure Liv has plenty of access to her new huge drawing board! And while she can't scribble now (yes, I did those stick figure drawings in the 'after' shot *sigh/wink*) I know she'll dig it in a few months.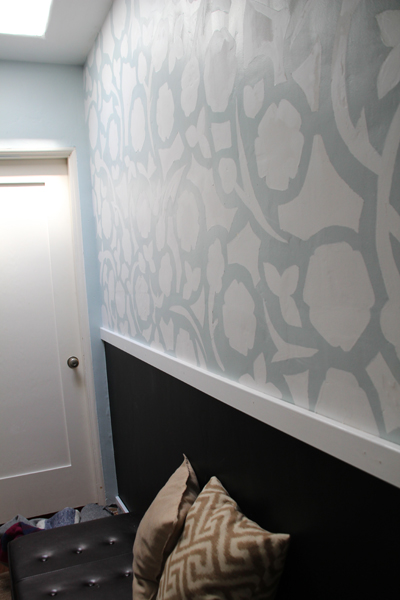 I'm thinking maybe a picture wall above the chair rail? That plus the rest of the doors and trim are screaming for a fresh coat of white! I had hoped to finish the entire hallway but that just wasn't in the cards.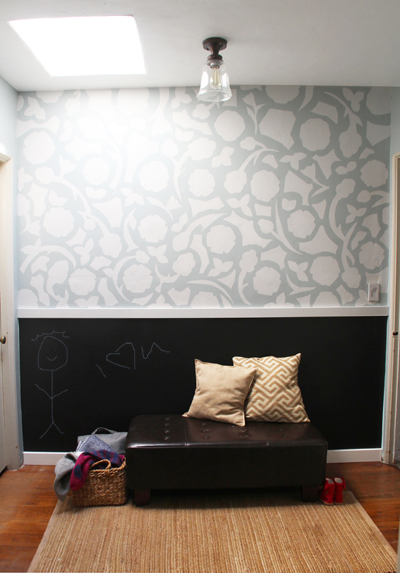 What do you think? I hope you love it as much as I do! Did you participate in the challenge? Would love to know what you worked on.
PS You can check out my DIY capiz pendant from the Fall Pinterest Challange right here!
Tags:
Blue
,
Crafty Solutions
,
Decorating
,
DIY
,
Home
,
Patterns & Color
,
Pinterest Challenge
,
Tutorial
Posted in
Crafty Solutions
,
DIY
,
Favorites
,
Home
,
Our Hallway
,
Renovating Adventures
|
32 Comments »
March 13, 2012
Hi all! Quick update – be sure you use a fabric paint for this project! My spray paint idea lasted just a few washes

. Though I love how EASY it was! Another option might be line drying, but who has time for that?
Here's another little project that I finished up this week: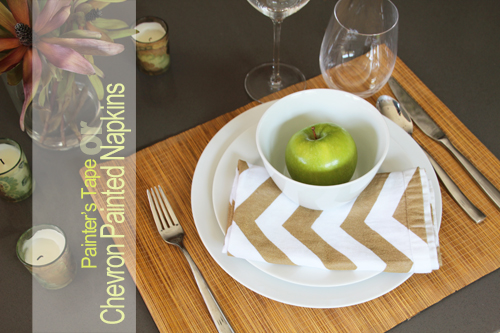 I was inspired to DIY my own cloth napkins after checking out these awesome gold chevron shelf liners (which I'm now dying to try out) that I came across on Pinterest. Aren't they perty?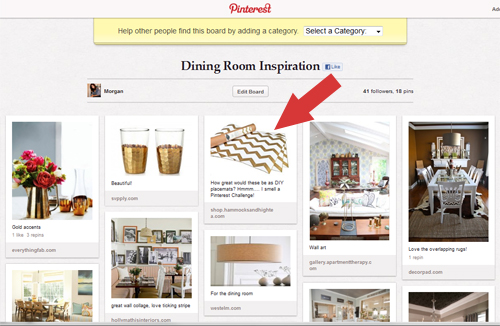 I thought something for the dining room table would be equally cool and considered placemats before finally settling on cloth napkins.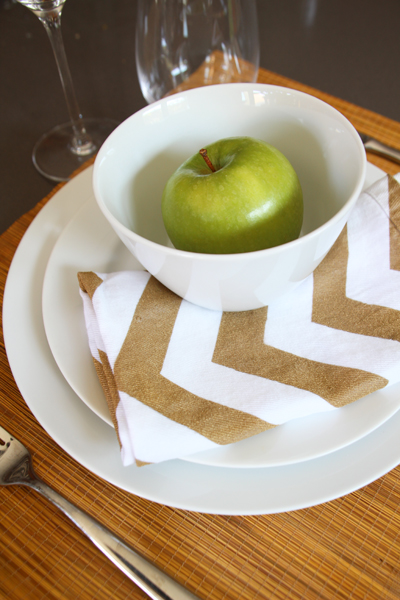 It's all in an effort to finally start creating out of those great big pin boards I have over on Pinterest! And to participate in this challenge.

When it came to narrowing down which project to tackle this week I had a hard time choosing just one, so I actually attempted three that I plan on sharing with ya'll – this being the first!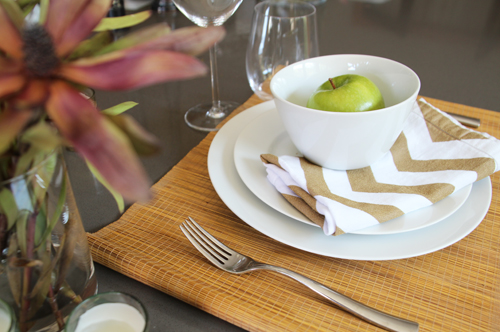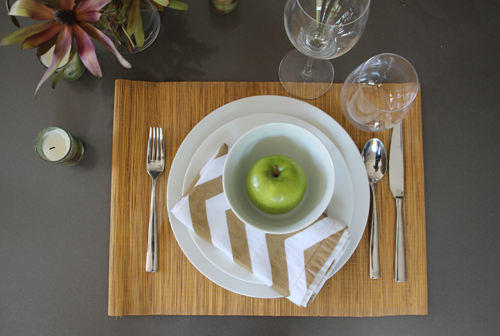 And I'm really thrilled with the results so far.
***************************************************************************
Chevron Painter's Tape Cloth Napkins


m



Materials: Rust-Oleum metallic gold spray paint (or fabric paint), cloth napkins (though you could use placemats or the like), painter's tape, scissors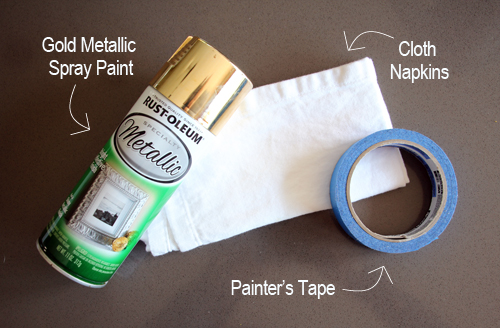 1. I began this project by marking off my chevron design with painter's tape. I ended up eye balling the design making is a super simple process, though you could measure for more accuracy with a very light pencil mark to keep you on track (I would be nervous about pencil lines showing through the paint, so I'd recommend just little dots here and there if you opt for this route).
My drop cloth was also white so I apologize for the white-on-white effect, but you can see the thin edge of the napkin if you look really close. It was helpful to let the strips of the tape from the chevron design overlap onto the drop cloth to keep my napkin nice and taut for painting, too.
Here's a close up of the painter's tape application, you want to essentially be sure that the straight edge of the tape is in contact with the fabric with no ripped or squiggly lines.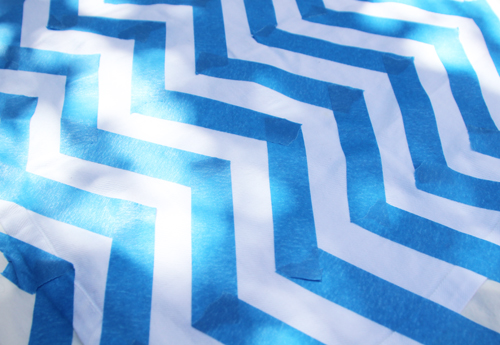 Scissors were useful for cleaning up some of those edges where two strips of painter's tape connected.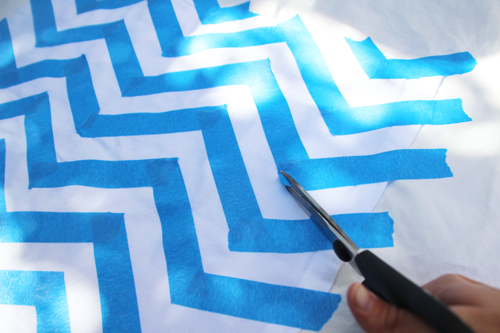 Another tip worth noting is that I found it really helpful to go over each line where the tape met the fabric to press down and really create a sealed off stick. You won't want any gold bleeding through!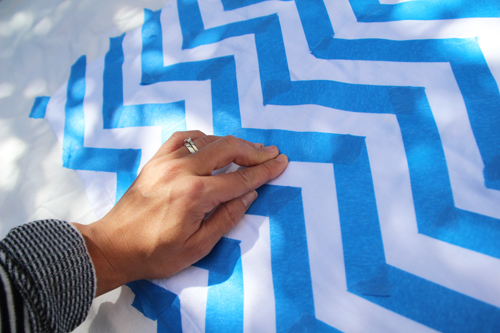 2. Next up was applying a thin coat of gold spray paint over the entire design (keeping the can about a foot above the napkin is the best way to create an even application without any drips – be sure that you're spraying in wide, even motions too).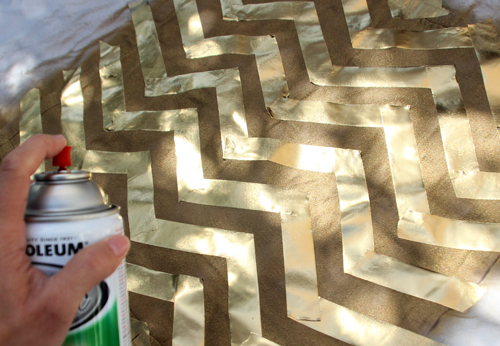 At this point in the process I was just really digging how the painter's tape looked when spray painted – so shiny and bright! But alas a cloth napkin covered in shimmery tape would not be a useful napkin at all…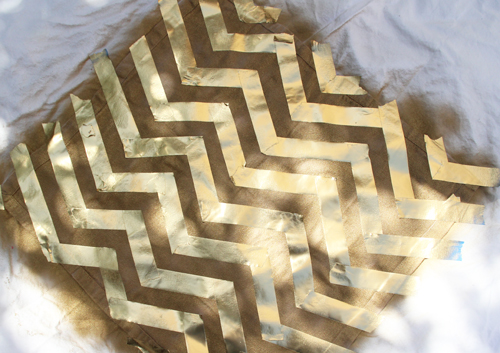 3. I let the paint dry for 20-30 minutes and then slowly began pulling up tape. It's amazing how fast spray paint dries – no need to wait overnight which is always helpful in that instant gratification moment.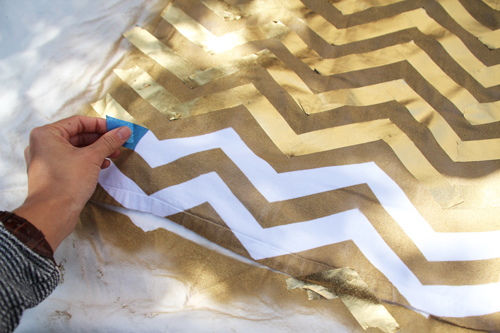 The Rust-Oleum website suggests not using a clear top coat on its metallic line so as not to dull the finish, but if you were using another paint color you could apply a final coat before pealing the tape.
I also attempted to research the 'food safety' of the Rust-Oleum metallic line of paint but without much luck – it's safe to say that I wouldn't use this cloth napkin as a lining in a bread basket and I'd definitely wipe my mouth with the other side

. Same goes for babies, thankfully Liv's not an everything-must-go-in-mouth kind of baby, but I won't be giving her the opportunity to chew on these spray painted napkins either!
Here's a little example of what happens if the edges of the strips of tape don't meet just right at each intersection.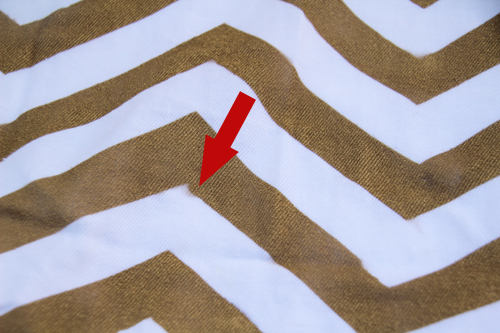 Other than a few hardly noticeable boo boos, we're all done! So pretty.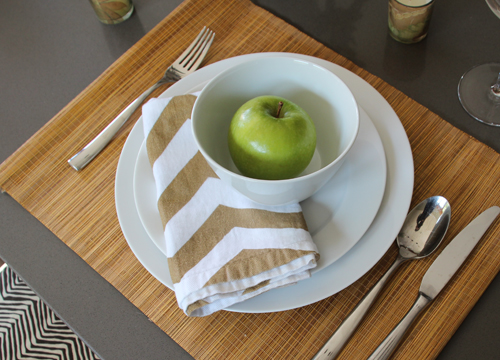 ***************************************************************************
I'm really digging the results! I haven't tried washing yet so TBD if there's any bleeding involved.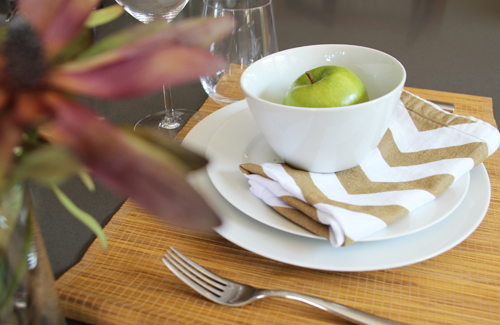 This was a very fast, easy project with just three basic steps, it could easily be replicated for a BIG party without a problem (so, so fast!) and I think that a set of these would look just stunning at a shower or even small wedding. Would also make a neat gift for Mother's Day or as a housewarming present! Sort of like when I stenciled my winter cloth napkins.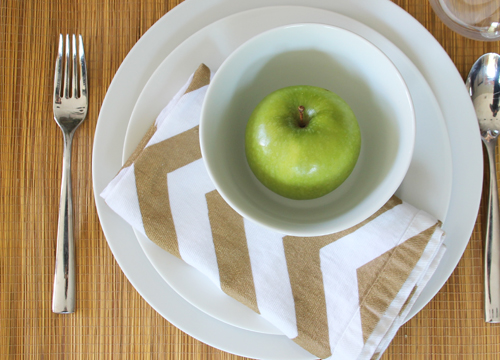 One Pinterest project down and two more to share with you this week!
PS My hallway wall is Finished! and I'm so so happy with how it all turned out – I'll be sharing all of the details manana.
Tags:
Accessories
,
Crafty Solutions
,
Decorating
,
Dining Room
,
Dinner Parties
,
DIY
,
Gold
,
Home
,
Paint
,
Patterns & Color
,
Pinterest Challenge
,
Tutorial
,
Wedding
,
white
Posted in
Crafty Solutions
,
DIY
,
Favorites
,
Home
,
Parties & Entertaining
|
14 Comments »