May 1, 2013
Mother's Day is right around the corner – 12 days and counting, which leaves us just about enough time to order a gift with the more reasonably priced option of snail mail shipping. Let's call this Mother's Day round up the 'purchased' version since I have a few handmade ideas posting soon as well. But who doesn't love purchased and ready to ship presents?? Sometimes it's easy that's best.

Here are ten ideas that I'm especially keen on this Mother's Day, whether it's a special something that I've been eyeing for some time (helloooo beautiful Michelle Armas painting) or have in mind for someone else.
PS You can find plenty of additional great gift guides (inspiration boards and crafty ideas) here! Though that's a link to all gift guides on the blog so you might have to search through a few to find some mom-quality ones (like this one).

1. I'm quite smitten with pretty storage containers these days, whether it's for the office, a bookshelf in the dining room or to hold jewelry on my dresser. This pink lacquer box is very pretty and shiny.
2. Watches are my best friend and I'm rarely without one. I love this La Mer brown wrap watch! Perfect for everyday wear. I was tempted to post this one as well but didn't want to overdo it on my favorite accessory. Maybe this second one is my favorite… maybe I'll regret posting the one link to it on Etsy later…
3. I just splurged on a two strand version of this Crave Jewels mint & gold necklace. It's as beautiful in person AND Erin (the artist behind the site) is offering 10% off with code ILOVEMOM.
4. Still head over heals for this Michelle Armas That Bowtie I Like painting. Sigh. Maybe a Mother's Day gift for myself? Enter FIFTEEN at checkout for 15% off. Hint: small prints and canvas rolls are available at wallet-friendly price, too.
5. I'm Your Favorite Child card. Enough said.
6. With my poor green thumb I'm surprised at how frequently I'm drawn to garden-related gifts. These ceramic herb garden labels are so pretty and perfect for the Mom herbalist.
7. This is a last minute addition but it's my new favorite morning ritual. I used to own this milk frother and it did an awesome job! However it broke after about a year so I'm trying out the Aeroccino Plus and hoping for a bit more longevity. So far I prefer the first version for the amount it holds, but the second for the froth and heated milk. Have you ever had steamed milk and foam in your morning coffee? Best way to start your day. Ever. I wake up an hour earlier just to enjoy a cup of coffee in quiet and read the paper.
8. Love the classic look of a Sailor's Knot bracelet.
9. You cannot go wrong with a classic handmade coin purse in a beautiful, cross generational favorite print like this Missoni fabric.
10. If I have time I'm planning on assembling a few of these Printstagram calendars. We capture all of these amazing everyday moments and I can't think of a better way to share! Check out Prinstagram for plenty of Instagram related presents.
Here's the link to all of the gift guides posted on this blog one more time. 
Tags:
Mother's Day
Posted in
Gift Guides
|
Comment »
April 2, 2013
Liv turned two almost three months ago, I can't believe it! For me, it's almost as if she skipped toddlerhood all together and jumped straight from my baby to my big girl. I'm a little behind on this post but I thought I'd share a few of the products that have been most successful for us during that baby-to-toddler transition time.
One of my favorite things about this blog is the ability to share little finds that I come across… tips or games or craft projects or favorite baby items. All of us moms benefit from sharing 'the goods'! Here's a round up of favorite baby items starting at the beginning: 0-3 months, 3-6 months, 6-12 months and 12-18 months.
And now on to the 18-24 month collage:

1. When it comes to snack time, I'm a huge proponent of easy and convenient. Yet I can't get myself to buy those $1-2/each fruit pouches that are all over the grocery store – it seems like such a waste! That goes for most prepackaged baggies of food. We gave a version of a reusable pouch a go here but when a daily deal popped up in my email to give Squooshies a try at 50% off, I jumped on it and now love them. We fill them with yogurt and applesauce for trips to the park or when we're on the go! Reusable, easy to clean and easy for Liv to use. Sold.
2. These days we've practically abandoned all other sippy cups and have settled on the Gerber Grips. I hate rifling through a drawer of plastic cups with no matching lids so I invested in about four of these guys and I'm planning on storing all other transitional cups (those with straws – never loved those, soft spouts, etc) until baby #2 is ready for them. Or maybe we'll stick with these for all and make it easy peasy. Why I love them? They're small and fit in the outside pockets of my bags and Liv's backpacks, plus there are only two pieces – no extra straws or suction cups or small crevices to try and clean.
3. I had been eying a small, collapsible stroller for around town and trips for some time and did my research for months before choosing the Maclaren Triumph. So happy with it. It reclines for naps, fits babies and toddlers (and up) of all sizes and has a huge umbrella canopy for hot days. Plus, you can collapse and store it in two seconds which proved to be perfect for our trip to Europe when we were jumping on and off of buses.
4. I've mentioned these before but Minnetonka Moccasins are are still Liv's favorite shoes! I'll have to order the next size up soon – but boy can they go through their fair share of wear and tear, and they're still adorable! I love them because they have a zipper that extends to the sole of the shoe (making them easy to pull on and off) and are made of a very soft leather that will last a long time.
5. In other clothes-worthy mentions, I stocked up on about 4 or 5 kids cardigans while at the H&M in Ireland. We live in them. Wish we had a kids H&M here in San Diego!
6. I heard this tip from a friend and it's the best I've received for introducing teeth brushing. When a toothbrush is a novelty and fun to use it's looked forward to – and when it's electric mom or dad can get that toothbrushing job done in seconds with real results (toddler morning breath? Oh man). Genius. This is the one we love and they're fairly inexpensive.
7. We were given this soap and this cream when Liv was just a wee one, and I have sparingly used it with love and care since! So amazingly sweet to smell that you will look forward to bath time all of the time.
8. My aunt gave Liv a cuddly sheep pillow that is absolutely worth a mention. We don't travel with it but it would be easy to add to a bag if your child needed one, and it converts from pillow to stuffy for multi use. The girl is crazy about having a pillow

.
9-12. Now we're venturing in to favorite toys. A coloring station is a must at this age, but besides the obvious I adore sticker books for Liv, this memory game (a gift from a friend) that we love to play together, she's newly in love with dolls and the best might be a mini stroller that she pushes her babies about it.
13. A toddler sized set of table and chairs is a must! I found this set of chairs through Room & Board and this round table – love them both very much. We even dipped the table legs for a little fun.
14. Last but definitely not least are books. We are within walking distance to our local library so we regularly switch out the collection (more of a benefit to the reader than the toddler

), but these are absolutely some of our favorite series: Llama Llama, Biscuit Adventures, Olivia books (thanks, Sarah for the tips!).
PS Just as a reminder, here are a few of my other baby round up posts: 0-3 months, 3-6 months, 6-12 months and 12-18 months
Posted in
Family & Friends
,
Gift Guides
,
Inspiration Board
|
4 Comments »
December 22, 2012
I haven't had much time to blog about the different types of handmade gifts I've been working on, but just in case you're scrambling for a certain someone on your list, here are four more semi-DIY gift ideas that ended up under our tree for family and friends.
Fort Kit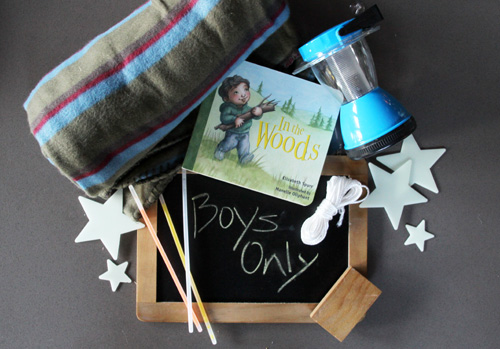 I put this kit together for three special toddler-aged boys and I hope that it's something that will inspire fun living room camping (a favorite past time of mine!). All of the above was placed in a muslin bag and labeled with 'Fort Kit' in stamped letters (similar to the Felt Town Kit below).
This was so easy to assemble and while I relied on Amazon (my best Christmas friend) for many of the above components, you could find most of these goodies around the house, at the Dollar Store or local home improvement center. My kit included: a flannel blanket to build the 'fort', rope and little suction cups to keep it assembled, a camping book to snuggle up with, a mini lantern to read and play by, glow-in-the-dark stars for star gazing, glow bracelets for fun and a chalkboard sign to post outside. You could also include: clothespins, zip ties, rubber bands, twine and a flashlight or head lamp (instead of a lantern).
Cocktail Kit (French 75)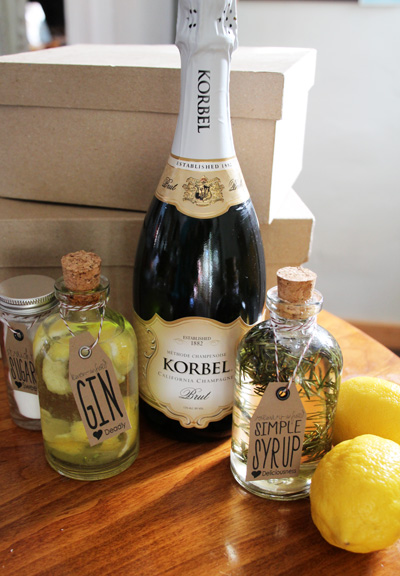 This little semi-DIY project could really be for any favorite cocktail. It's all about assembling each piece of the chosen drink (including garnishments and maybe even tools or glasses) in one sweet presentation so that the giftee might even be able to enjoy their drink when opening. Perfect for a hard-to-shop-for guy in the family, for the novice bartender or as a hostess gift. I created a Bloody Mary Kit one year for Kevin (complete with unique pickled oddities that are only for the true connoisseur) and discovered that a Cocktail Kit can be pretty easy and fun to assemble and create – even last minute.
A girlfriend and I attended a cooking class together where we learned how to make a delicious lemon, rosemary and gin French 75. To remember the night, I assembled a 'French 75 Kit' and went ahead and premade some of the more intricate ingredients for her. This included lemon-infused gin (I used a bottle from this project and added lemon rind directly to gin from our own bar) and rosemary-infused simple syrup (same style of bottle, but to make the simple syrup boil 1 part sugar and 1 part water with your herbs, voila). Extra ingredients like sugar for the rim (used an extra jar from this project) and lemons for garnish were thrown in for fun. The final ingredient? Champagne.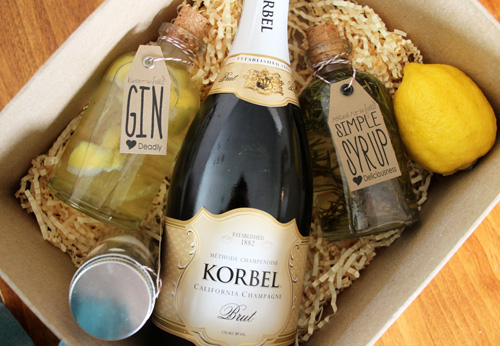 The label on the front of the box offered the recipe and a list of the contents inside.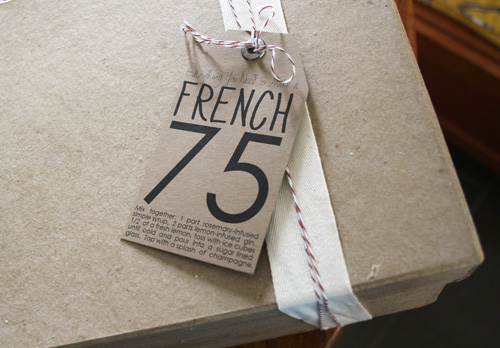 Personable and unique!
Stationary Kit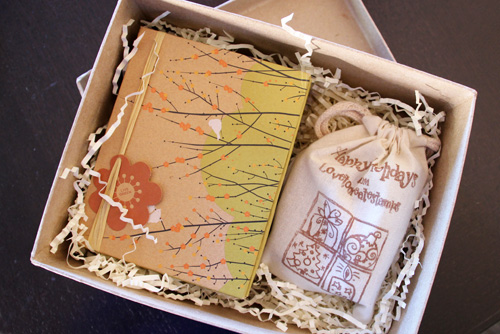 Here is an easy kit that involves assembly only. I have an Aunt who is an avid letter writer with a recently engaged daughter, and I thought that a self-inking address stamp and cute stationary would be the perfect combo for her to stay on top of pre-wedding notes, invites and thank you cards. The stationary is from Paperie and the address label from this Etsy seller (love the cute little bag they provide, too).
I dressed it up in a brown box and twine! My favorite wrapping combo this Christmas.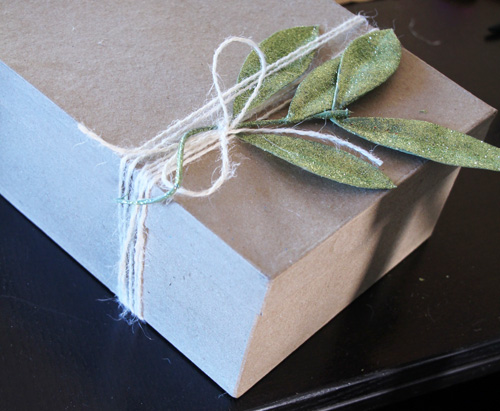 Felt Car Kit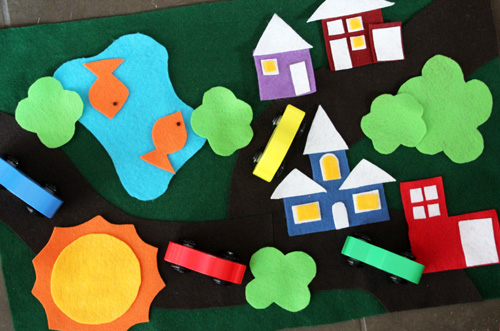 Liv pulled her buddy Isaac's name for our annual gift exchange amongst friends. We made him a little felt town and car kit – complete with what I hope looks like a firehouse, Church and pond – for him to play with while on the go (running errands, doctor's office, appointments, etc).
The only permanent pieces are the below road sections: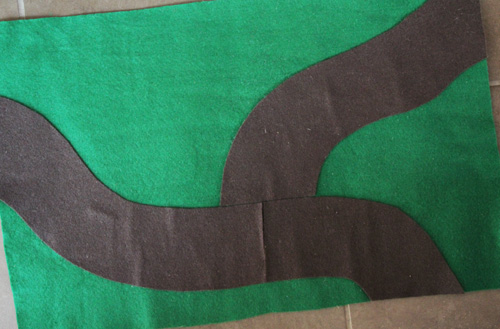 The houses, big sun, fishies, trees and other decor are all movable to build different 'towns', though the small little pieces that make up each of the buildings are glued together as well. Bonus part? Felt has become a staple in our household (since this felt Christmas tree project) and most of the materials needed were already on hand.
Melissa & Doug wooden cars help bring the town to life: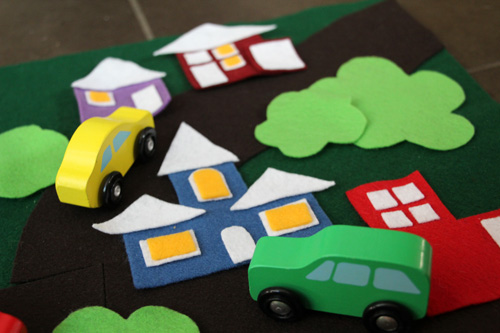 and a muslin bag makes carrying around and storing the felt car kit easy.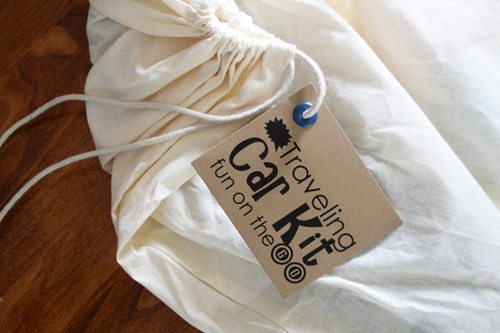 ****************************************************************
There you have it! Four more ideas that will hopefully make last-minute gift giving fun and easy this year. You can also check out the Cupcake Kit, Rosemary-Infused Olive Oil and Lavender & Lemon Sea Salt projects that we tackled in early December for a few more ideas.
Merry Christmas!
Tags:
Christmas
,
DIY
,
Kids Party
,
Parties & Entertaining
,
Recipes
,
Tutorial
Posted in
Crafty Solutions
,
DIY
,
Gift Guides
,
Handmade Gifts
,
Holidays
,
Parties & Entertaining
|
5 Comments »