April 22, 2013
Recently a neighbor who knew we had chickens stopped by to check them out. He was considering setting up his own little city hen house and was curious as to how we were getting along with our feathered friends – the conversation sparked a little reminder that I haven't posted an update on the ladies in some time!
Here's the original post on when we added them to the roost, complete with a tour of the homemade coop and blue nesting box Kevin built from scratch.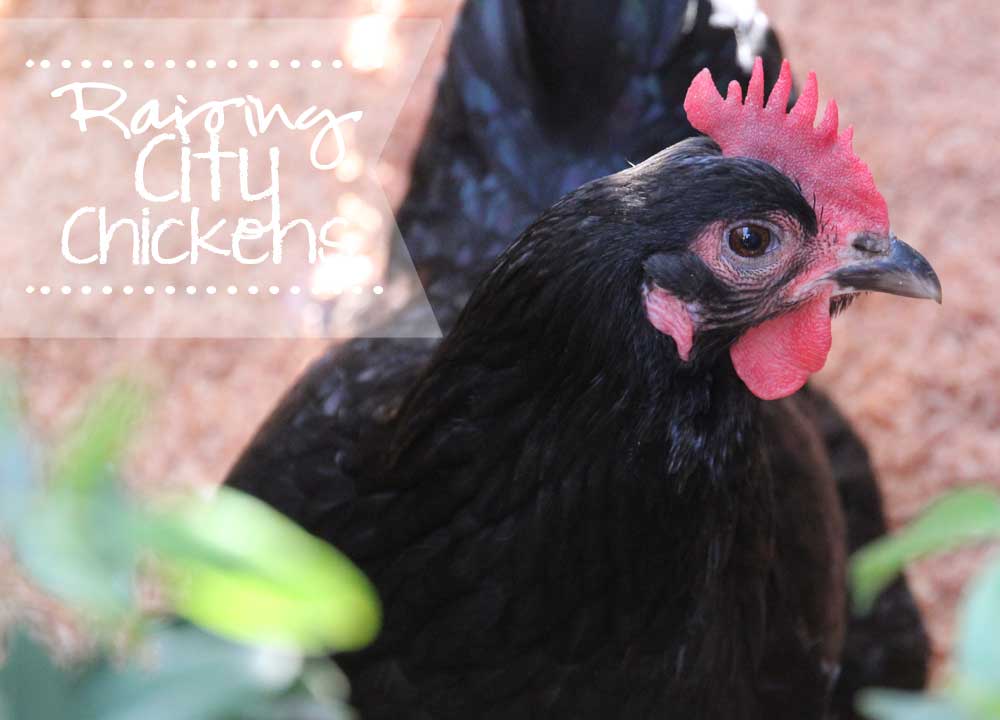 You'll notice in this post that we have just two lovely ladies left in the mix. Due to an unfortunate mix up early on, we accidentally returned our white hen back to the farm when her frequent 'cockle-doodle-doo!' early morning wake up calls had us convinced we ended up with a rooster. Turns out she was really a she and from that day forward we stopped finding white eggs in the hen house. I later learned that it's not unusual for a female chicken to exhibit a few of the traditional rooster cries and reactions when there's no rooster around. Sigh.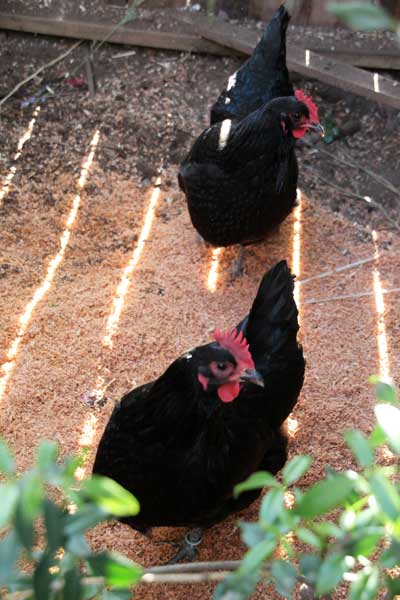 But! Our two other ladies are doing just great. See how much they've grown? They joined our family at just 4 months old – almost two years ago.
Between breakfast, hard boiled egg snacks and baking, two hens are actually the ideal for the amount of farm fresh eggs our family eats each week.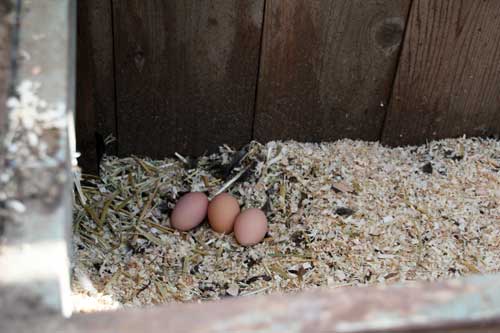 Each hen lays maybe 5-6 per week which means that we rarely ever have to purchase eggs from the grocery store or Farmer's Market. Plus, the eggs are the best you've ever had. Rich, dark yellow yolks full of yummy nutrients, thick egg whites perfect for separating out or cooking with, and of course they're incredibly fresh.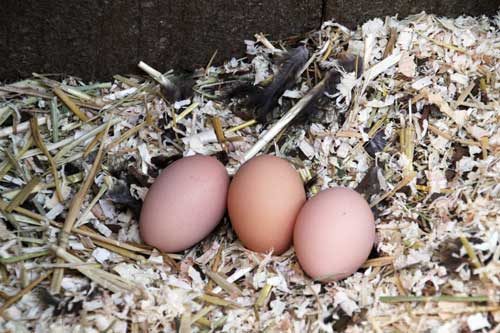 We feed the ladies a mixture of pellets, mash (a corn blend) and kitchen scraps. They devour left over morning oatmeal with raisins (a near everyday treat) and love veggies – especially greens and tomatoes – and fruit. It's a great way to compost, nothing goes to waste.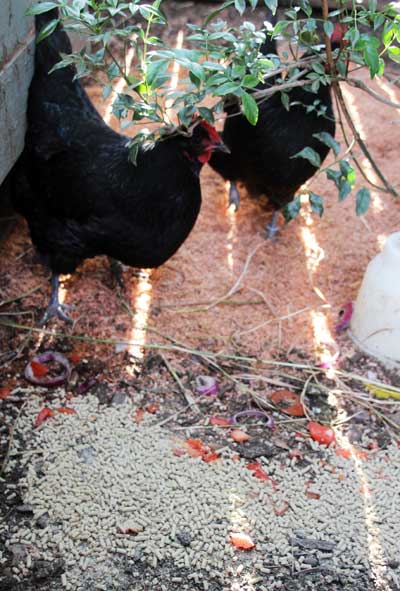 Prior to us finishing the new deck and outdoor dining area, the chickens freely roamed our entire backyard. Gathering up eggs turned into all out Easter egg hunt where one of us would suddenly stumble upon a hidden nest. Here's an Instagram post from a little while back: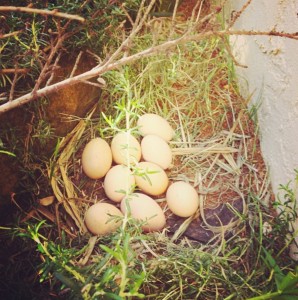 (Don't worry, fresh eggs can be left outside for weeks before going bad.)
But letting them loose outside had its pros and cons. They had their choice of vegetation and bugs to snack on plus plenty of daily exercise. But they also made a mess. Once the deck went in, back to the coop the ladies went.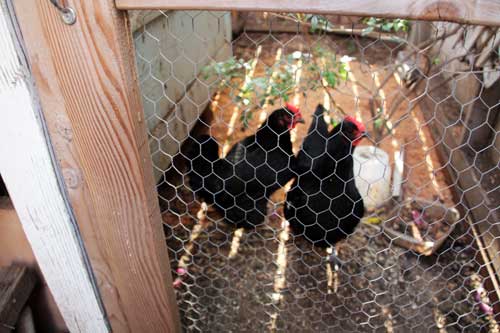 Locked up. Now instead of just sleeping in their home, they enjoy their studio apartment full time. But don't feel bad for them, their home comes complete with wood shavings for a nicely textured floor, fresh hay and alfafa in their nesting box and a roosting pole that's quite high for sleeping.
And we still enjoy a nice big bowl of free-range, farm-fresh, naturally grown eggs. If your chickens are really mad at you they'll stop laying

.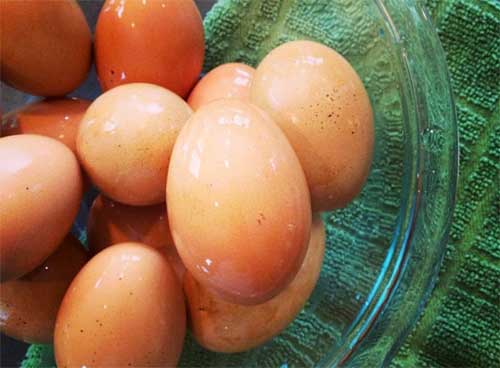 Questions that I'm frequently asked:
1. Where do you find your feed and hay supply? We used to have to source both of these from the outlying San Diego feedshops (the nearest being a half hour from our home). But we recently found out that there are quite a few city farmers in our neighborhood! And now our local pet supply store happily orders and delivers all of the supplies we need.
2. Have you had to deal with rodents or bugs? Yes. Both. We eradicated all of the above within the first few months of the hens moving in and haven't had an issue since, but it was definitely not fun to learn how to fend off non-feather friendly creatures. Diatomaceous Earth (DE for short) became a product we now know.
3. Do you add any supplements to their food? These ladies receive A LOT of delicious fruit and veggie scraps and I think that has a ton to do with how delicious their eggs are, but after a little research I began adding ground up oyster shells (also from our pet store) to the mix for extra strong egg shells.
4. How much do they cost to raise? Is it worth it? Truth be told, the cost of caring for these ladies is about equal to the price you'd pay for free range eggs at the supermarket. You have to love the idea of caring for and growing your own food to be a full fledged chicken farmer. Or, invest in more than two hens and share the wealth with friends and neighbors. We've considered expanding the flock since taking care of two or six is probably about the same amount of work.
5. What's one thing that really surprised you? We didn't realize that hens take a break from laying during winter to more permanently roost or brood. The newbies that we are, we couldn't figure out why the ladies suddenly stopped producing so frequently November – February! Many backyard farmers add heat lamps or lights to extend the daylight that chickens receive during the winter so that they'll continue to lay, but we're going au naturale – we all need a break now and then.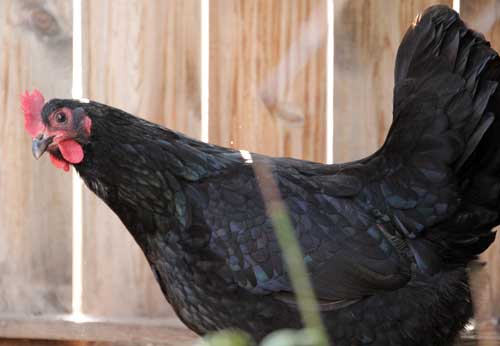 The conclusion? Chickens are a lot of work! and they're not for everyone. But we love 'em. Our mini city farm will be sticking around for a while. 
In honor of Earth Day, here's a link to all of our Going Green posts (with ideas on worm composting, favorite green household products, cloth diapering, etc).
Tags:
Chickens
Posted in
Family & Friends
,
Going Green
|
4 Comments »
July 31, 2012
I'm singing Oliva Newton-John's 'Let's get physical, physical!' in my head as I type that title but I wanted to pause the usual line-up of posts over here (working on a hallway lighting project now) for a second to offer a big thank you to the following blogs for their mention of PDB.

First, I am honored to be a guest blogger over at Pampers, Play Dates & Parties while Leslie enjoys some quiet time with her band new little one! A big congrats to Leslie and a big thank you for asking me to share five of my favorite eco-friendly habits that any family can try out. Read more here.
Thank you to Alex of North of Seven for nominating me for the One Lovely Blog award!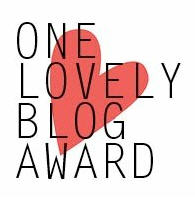 I'm supposed to share seven possibly unknown things about myself… here goes:
1. My Grandma's lemon bars are still one of my all time favorite (and treasured) recipes. Gold Medal Ribbon from Baskin Robbins is a close second in the dessert category.
2. I have four younger siblings (Kevin is the oldest of five, too! Marriage psychologists, feel free to discuss.)
3. I secretly wish I could sing. I can't. at all. (not even a little bit…)
4. I'm taking a glass blowing class next month (a gift from my lovely in-laws) and I couldn't be more excited! A true date with myself (and possibly 3-4 other class attendees…).
5. I was awarded my black belt at eighteen (my mom has two!). I am terrible at most all other sports, especially those involving a ball.
6. My very favorite way to spend an afternoon is to explore some wonderful downtown shopping area or street fair with a coffee in one hand and a good book (for pausing and soaking in the sunshine in a park, at a cafe or on a bench) in the other. A companion is a plus, but not required. (Did I ever tell you about the time Kevin and his Dad and brothers biked down the coast of Oregon a few years back? Being the sag wagon that I was, I did the above every day in a new small, coastal town for a week – it was glorious.)
7. I would categorize myself as a reluctant pragmatist (but a hopeless romantic

).
I have never been nominated for an award before, but this month I was lucky enough to have two bloggers reach out to me. Thank you to Leigh of 1 of a Kind for the Liebster Award. As with most of these recognitions, here are another set of questions asked to get to know me better. I have loved reading these on other blogs (including Leigh's!), so I hope you will enjoy.

1. What drew you to creating a blog?
The much needed creative outlet that I knew it would bring. It didn't matter if there were two people in this world reading it, this blog allowed me to roll up my sleeves and explore what I love (and to keep an online journal of our family – which I know will one day be a treasure in and of itself).
2. What is the funniest one liner you've ever heard?
I am not witty nor have I a good memory. Bah.

But the next one I hear I'll be sure to share!
3. What are you hoping to get out of your blog?
More of what I get out of it today – enjoyment in creating, being inspired by and chronicling what makes me happy.
4. Have you ever upset someone by something that you said in your blog?
Oh I hope not! I try to keep it sunny over here – though I'm sure that, humans as we are, not everything reads as I intend it to.
5. Are you supported in your bloggy endeavors?
My family enjoys staying attune to the daily experiences of our family and home, and my hubby supports my extracurricular activity. But it certainly is a balance.
6. Optimist or pessimist?
I would be lying if I said was always the glass-half-full kind of gal, but I try hard.
7. What makes you smile?
My daughter, my hubby, my family, my friends. An encouraging blog comment on a tough day! A cup of coffee when I wake up. An already made meal when I am done with work.
8. If there was one thing that you could do everyday that would make you happy, what would that be?
My most fulfilling job is my role as a mom. Getting to do that everyday makes me unbelievably happy.
9. Do you like the person that smiles back at you in your mirror?
Depends on which side of the bed I rolled out of… but usually yes! I do.
10. If you could change one thing about your life, what would it be?
Less dreaming and more doing!
11. What is the most inspirational quote you've heard.
That's a tough one. I can't recall if this is an abridged version, but "do what you love, and do it well" is certainly something I think about and aspire to.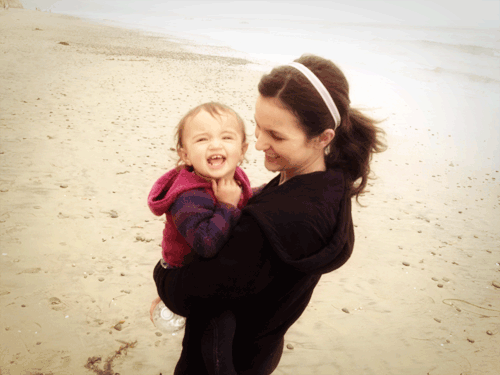 If I don't say it enough, thank you to all of you who read this blog and stop in on a regular basis to enjoy and share in my little nook of the universe. It means a lot to me. Truly, truly. And be sure to check out the lovely blogs mentioned above!
Tags:
Guest Blog
Posted in
Featured In
,
Going Green
,
Guest Blog
,
Guest Post
|
4 Comments »
April 23, 2012
Happy Monday! Hope you had a great weekend!
Did you do anything special for Earth Day on Sunday? San Diego celebrates Earth Day in a big way. The city hosts a big outdoor food and music expo in Balboa Park, one of our prettiest attractions, and it's so popular that people usually have to be bussed in from different areas around town.
We decided to avoid the crowds though to get one with nature on a family hike along Torrey Pines State Beach and up the trails of the crawling shoreline canyons. It was a chilly afternoon but usually that equates to perfect hiking weather.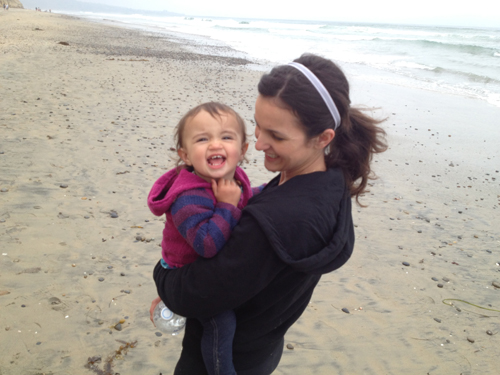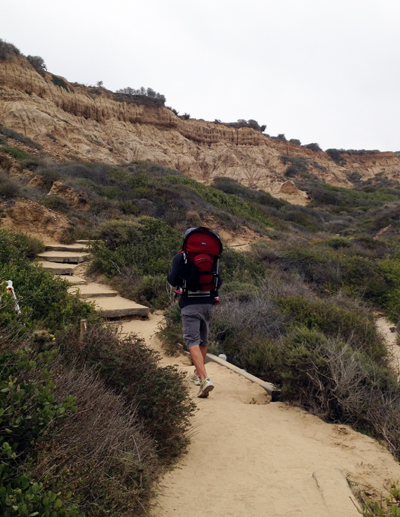 Rocks were by far the coolest part of the hike for Liv. Searching through the river rock (where the river arms meet the ocean) was like a giant treasure hunt and the treasures just kept on coming.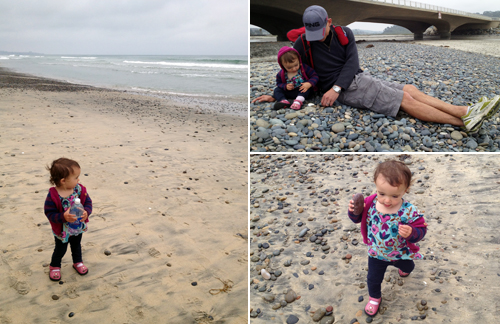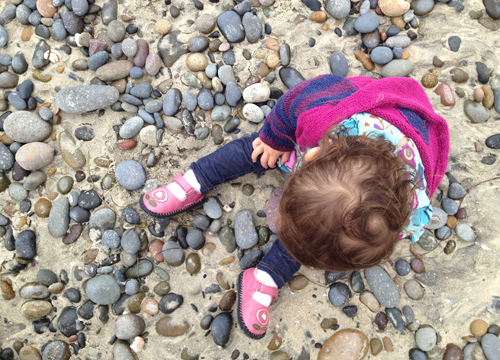 It's not always this rocky at the beach, but around this time of the year we get big wind storms that move debris on and off the sand for a couple of months.
Living so close to the ocean means we don't visit it often enough. It's a horrible self-fulfilling prophesy. But this day more than made up for a few months of staying away.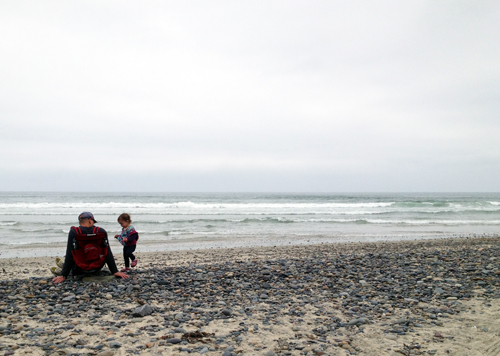 In other news, Liv recently mastered the fist bump. Boo-ya.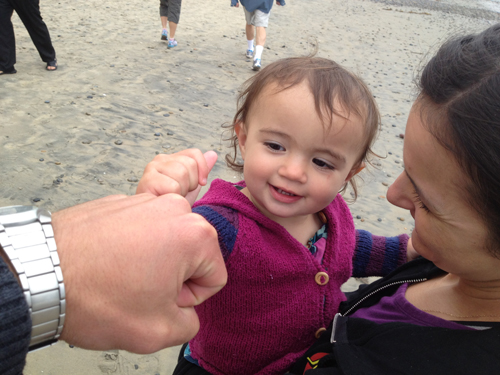 Speaking of Earth Day, we try our best to be aware of our impact on this big old planet at home. There is so much more that our family can do to improve our green-ness, but hopefully making little changes on a regular basis will eventually get us there.
Here are a few of my favorites in the Green department:
Reusable bags: These bags come in a pack of six and are invaluable around the house and in the car on the go. I use Waste-Less bags at home to collect dry cleaning, toys and clothing we have to return to friends, dirty rags getting ready for the washing machine, and when out and about for groceries and the like.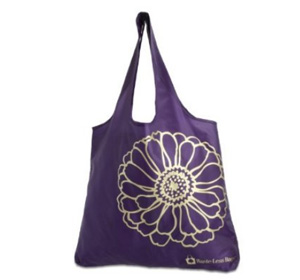 They're so awesome! and so durable. This particular set of bags is slowly helping me to phase out the plastic and paper versions, even thought it can be so hard to remember to tote them along when running errands. It's helpful that they're very easy to travel with since they wrap up to about the size of a large chapstick and have a built in velcro band to keep them compact and small.
Compostable Trash Bags: When it comes to phasing out plastic bags around the house, I'm trying to get rid of them completely. But that's not always possible with pets and a diaper changing station, never mind the bags that line the kitchen trash bin.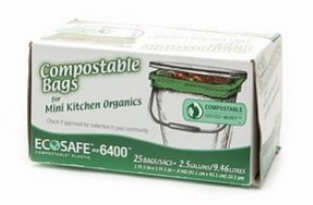 For those areas I use compostable bags and I've had the best luck with EcoSafe. These bags are great for lining our little trash cans in the house (like the one that collects dirty wipes in the nursery) and at picking up after Bodie.
For our 13 gallon kitchen trash, my favorite is PrideGreen. The 2 year shelf life before any sign of breaking down means that these guys are strong, no degrading on you as you're hauling from the kitchen to the outside garbage bins, but they will eventually break down in a landfill environment.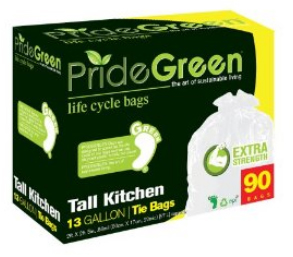 I bought a box of these sometime last year and we're still working our way through it.
Compost Pail: We keep one of these guys under our kitchen sink. All food scraps for our worm bin (other than citrus, the worms can't process citris) go into the Norpro 1 gallon compost pail, and the contents of the pail are added to the bin a couple of times a week. 1 gallon is a great size for a small family.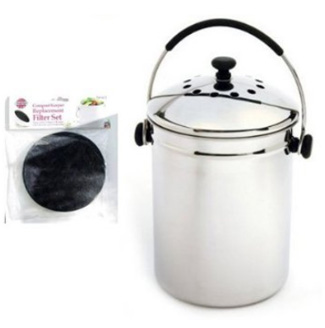 The filter that's built into the lid of this indoor compost pail means that we don't ever smell it, ever, and it's so nice to know that our food waste won't be trapped in a plastic bag in a landfill somewhere, but will instead be added back to our garden to nourish more vegetables and continue on in the circle of life. The usual style of outdoor composting is pretty easy if you're not the worm bin type, too.
Cooking: Our new favorite cookbook around here is the amazing vegetarian Plenty by Yotam Ottolenghi. We're meat lovers, but more often than not our meals these days have been primarily veggie based. We participate in a CSA group (more about that here) and have a box of local fruits and vegetables delivered every other week, and on our off weeks we hit up the Farmer's Market. This cookbook is full of amazing deliciousness if you're a vegetable loving foodie ready to experiment – I highly recommend.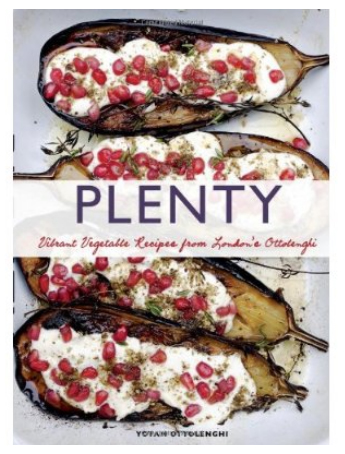 My favorite so far is probably the roasted sage pumpkin wedges.
Cleaning Products: Mrs. Meyer's is my favorite when it comes to cleaning supplies. I'm also a huge fan of plain old diluted vinegar as an all purpose cleaner, but not a huge fan of the smell (a vinegar covered countertop is not always the most appetizing) so I usually find myself buying the below in packs of six on Amazon, storing the excess in the garage, and refilling my indoor spray bottles with half diluted vinegar (4:1 ratio with water) and half Mrs. Meyers All Purpose in Basil (love that smell!).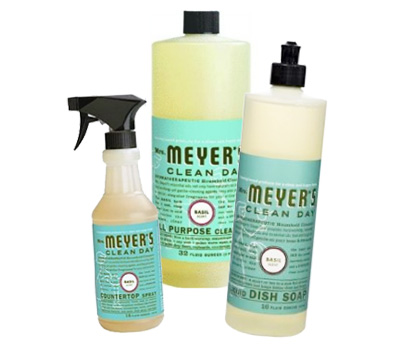 The dish washing soap smells just as good, too. Above Mrs. Meyer's Countertop Spray, Mrs. Meyer's All Purpose Cleaner in Basil (to refill the counter top spray and for mopping) and Mrs. Meyer's Dish Soap all in basil.
Cloth Diapers: I owe an update on our cloth diapering adventure, but suffice to say that we still love it and are still going strong with nearly 100% cloth (I use disposables just when traveling). I have several favorite brands but two that I'm most recently reaching for first are bumGenius (the FreeTime, 3.0s and Elemental) and Swaddlebees (2.0) with a Bummis biodegradable liner. When it comes to wipes, I prefer cloth with warm water or these flushable versions that we subscribe to with Amazon to have delivered every 3 months.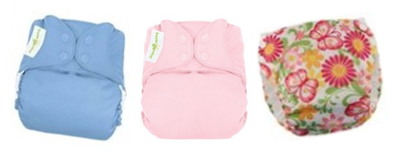 There we are, that's the line up! These are my favorite products that come to mind first with helping our fam to leave a less obvious footprint for Liv's generation and grandchildren after that.
Do you have any favorite green products you'd like to share? How did you spend your Earth Day?
Just a quick note that there are a few Amazon affiliate links in this post, but these are all favorite, well-loved products in our casa.

Posted in
Family & Friends
,
Going Green
,
Weekend Fun
|
6 Comments »