May 9, 2010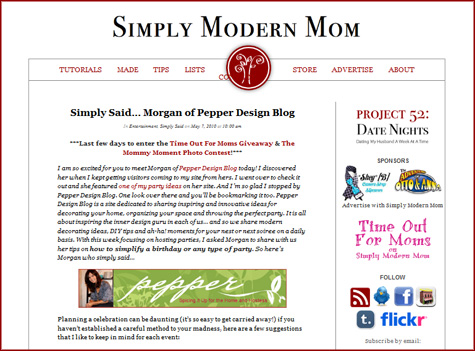 Tiffany over at Simply Modern Mom asked if I wouldn't mind sharing a few tips and tricks for simplifying the planning process of a party. I was more than delighted to take part in her week of party hosting posts!
Check out the guest blog and my three tips here.
Tags:
Guest Blog
,
Parties & Entertaining
Posted in
Guest Blog
,
Parties & Entertaining
|
Comment »
May 7, 2010

I recently discovered a neat little blog (while participating in this series) that has become a regular in my reading: Three Men and a Lady. I asked Michelle if she'd like to participate in PDB's Friday Guest Interview posts so that I could introduce her to you as well!
This mom of two boys has a wonderful knack for interior design. She fills Three Men and a Lady with inspirational ideas and documents her own home design progress (isn't that striped entryway wonderful?):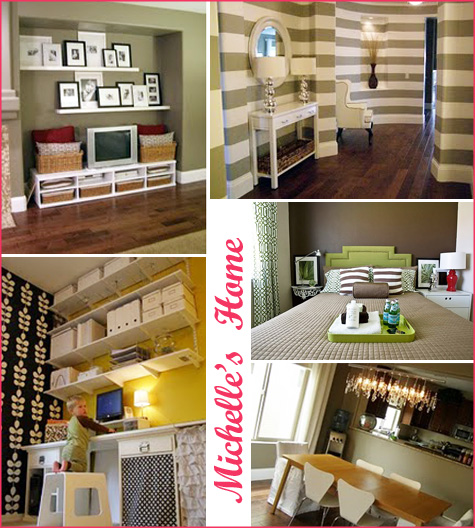 Michelle has a beautiful, modern sense of style with an emphasis on refashioning the worn-down and old, bringing new life and meaning to each of her pieces.
I love her answers to PDB's four interview questions and you'll thoroughly enjoy the eye candy too (especially her grey and yellow living room). Read more »
Tags:
Crafty Solutions
,
Decorating
,
Guest Interview
,
Home
Posted in
Crafty Solutions
,
Guest Blog
,
Home
,
Interview
|
4 Comments »
April 23, 2010

It would be a close call… but if I could choose one person to decorate my home from top to bottom it would be Janell of Isabella & Max Rooms. Her style is a creative combination between traditional & contemporary – with a comfy twist.
I adore her daily posts about diy projects and decorating – Janell shares step-by-step tutorials on everything from sewing and lining drapes to reupholstering occasional chairs, along with her inspiration process for her beautifully decorated home & client projects.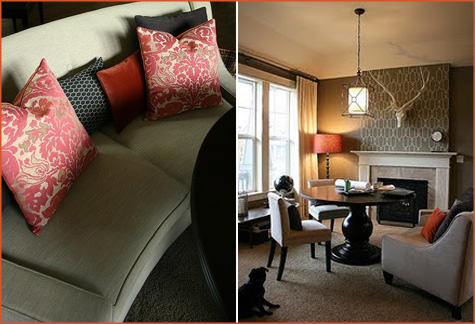 You might recognize the above room from an inspiration board I created a while back for my own living room . I *love* it – everything from the colors to the beautiful patterns and those wonderful antlers above the mantle.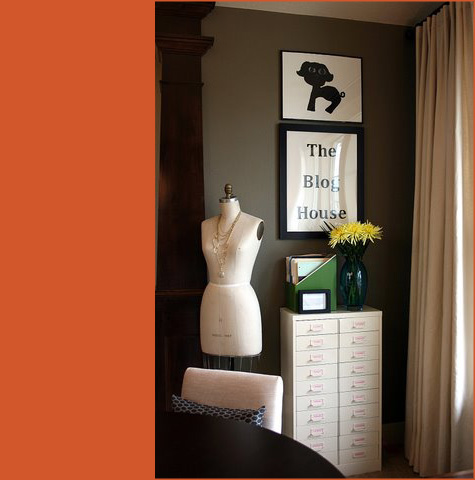 A bit about Janell: "I have always been passionate about design… I first studied painting and drawing, receiving a BFA from the School of the Art Institute of Chicago. After working briefly for a clothing manufacturer, I launched my own line [and] when a move took me to San Francisco I opened a boutique where I continued to design for my wholesale line.
Several years later, with a move to Portland, Oregon and the arrival of my wonderful children Isabella and Max, my focus shifted to the home and interior design. In 2006, I started my current business creating warm and eclectic interiors. It is a field I am thoroughly enjoying being involved in and challenged by!"
Let's dive right into this interview and see the rest of her home! Including her son Max's map-inspired bedroom (the chalkboard paint is genius), a beautiful teal & coral bedroom and remodeled living room. Read more »
Tags:
Bedroom
,
Decorating
,
DIY
,
Guest Blog
,
Guest Interview
,
Kid's Room
,
Living Room
,
Office
,
Patterns & Color
Posted in
Guest Blog
,
Home
,
Interview
|
9 Comments »