January 29, 2010

Today's Friday guest blog interview brings us over to the darling site, Maddycakes Muse. Have you had a chance to check out this neat party inspiration blog yet? If not, you'll love her frugalista approach to all things entertaining. Michelle recently showcased her Dr. Suess Thing One, Thing Two party for an event industry convention, Parties for Pennies, and planned the entire party for just $213!! (more on that after the jump…)
She "muses" about all things creative and beautiful: coffee filter roses & mailed diaper invitations (for a baby shower) being two of my recent favorites on the creative side (would that not make you smile to get one in the mail?) and beautiful damask dinner parties and elaborate tablescapes being on the beautiful end. On that note, how lovely is this Asian-themed dinner party?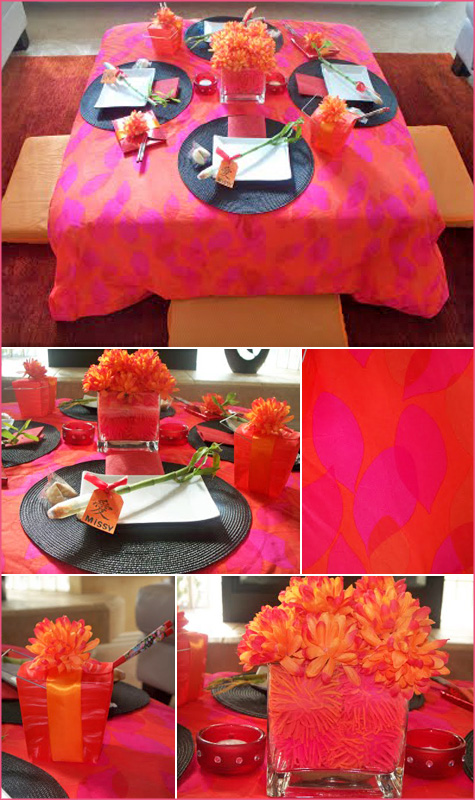 I love all of the brilliant colors! and the bamboo name cards double as a clever favor. The tablecloth is actually an Ikea duvet cover found in the As-Is section at a steal of a price (note to self: search through sheets at Ikea asap).
When Michelle is not sharing her latest finds online, she designs & plans childrens parties through her business (by the same name) in Pheonix, Arizona.
If you didn't think entertaining on a budget was possible – check out two more delicious tablescapes after the jump! and Michelle takes a moment to answer PDB's four interview questions. Read more »
Tags:
Baby Shower
,
Birthday
,
Bridal Shower
,
Crafty Solutions
,
Decorating
,
Dinner Parties
,
DIY
,
Guest Blog
,
Guest Interview
,
Kids Party
,
Parties & Entertaining
,
Patterns & Color
Posted in
Crafty Solutions
,
Guest Blog
,
Interview
,
Parties & Entertaining
|
12 Comments »
January 22, 2010

Happy Friday! Today I'm sharing one of my very favorite blogs…
Young House Love is an inspiring and informative resource for all things home renovating. Sherry & John, the brains behind this great blog, are a young couple that has tackled every project from floor boards to kitchen remodels.
If you ever want to drop in on a charming duo that is not only rhetorically amusing but also incredibly insightful (step-by-step guides to just about any home project), pop on over! Today Sherry & John share with us a few of their favorite tips… in the form of PDB's four favorite questions… and you'll love their answers.
You may recognize this couple from their appearance on the cover of the 2009 spring edition of The Nest - a popular newlywed magazine from the creators of the The Knot (and a personal favorite). They've also been featured on HGTV's Rate My Space, were key bloggers behind True Value's DIY Blog Squad, and have a wonderful house tour featured here.

Young House Love is part of my daily read. Not every other day and not once a week – but my daily read – because these twenty-something-year-olds are inspiring and creative at a whole new level. I love their fascinating stories and their endless projects… but most importantly I love their engaging and positive attitudes surrounding the whole mess that is remodeling.
As a young home renovating couple ourselves, it's inspiring to see such beautiful progress and 'project tackling' from like-minded friends! Jump on over to their blog and prepare to be thoroughly charmed.
I've provided a few of my FAVORITE before and afters from their sweet little Richmond home, so follow the jump for a wonderful PDB interview and some serious eye candy – and don't forget to visit Young House Love for a step-by-step playback of each of these projects. Read more »
Tags:
Bedroom
,
Before & After
,
Decorating
,
Dining Room
,
Guest Blog
,
Guest Interview
,
guest room
,
Home
,
Kitchen
,
Living Room
Posted in
Guest Blog
,
Home
,
Interview
|
5 Comments »
January 19, 2010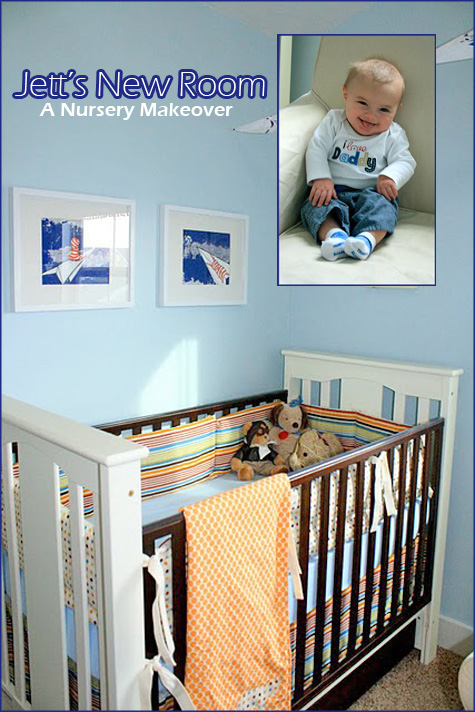 Kirsten, over at 6th Street Design School blog, just finished the cutest makeover for her son, Jett. Her son's name, and husband's full time job as a pilot, gave way to the perfect aviation theme for the space; from the wall decals, model airplanes, clustered globes and paper plane garland strung across the ceiling, all of the details are adorable.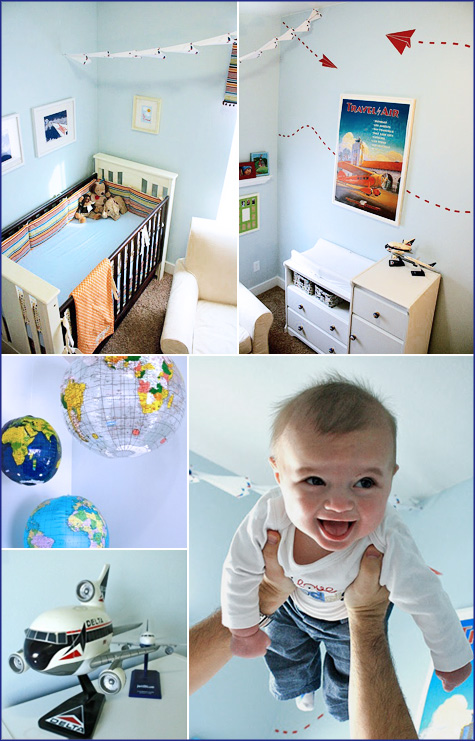 But Kirsten confides that she didn't start out with a jet theme in mind: "In designing his nursery I wanted to steer clear of the obvious airplane theme.  But guess what? I just couldn't do it.  The airplanes kept calling to me.  But in the end I really like how it turned out. If I would have to describe this room in 3 words they would be Adventure, Colorful and Sentimental. It is full of mementos from my husband's childhood and even has a few items from our travels. The room is the tiniest room on the planet earth so I tried to make sure each item in it meaningful."
To see the 'before' as well as many more room details, follow the jump! Read more »
Tags:
Bedroom
,
Blue
,
Boy's Room
,
Crafty Solutions
,
Decorating
,
DIY
,
Home
,
Nursery
Posted in
Crafty Solutions
,
Guest Blog
,
Home
|
7 Comments »