January 31, 2013
Do you ever puzzle over which type of paint should go where? Flat or gloss for the kitchen? What type of roller for the cabinets? Should I invest in a synthetic or natural brush for latex paint? To prime or not to prime (that is the question). I am always quizzing the paint desk folks at my local home improvement store with questions like these.
This in mind, here's a cheat sheet that I've put together with the help of paint specialists Nicole Jones and Kimberle Greene of Olympic Paint. Olympic teamed up with us to paint the exterior of our home and I have been blown away by their helpfulness and expertise with the project!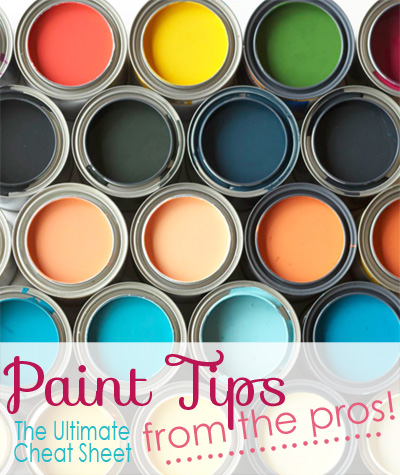 This post includes super helpful tips on topics such as how to choose your brush type, when and where to prime, and even stain application suggestions for wood makeovers.
But because I'm all about a visual cheat sheet, if I could wrap all of the paint sheen tips into one graphic that would be easy to pin, print out for a trip to the store or post on my bulletin board, here it is: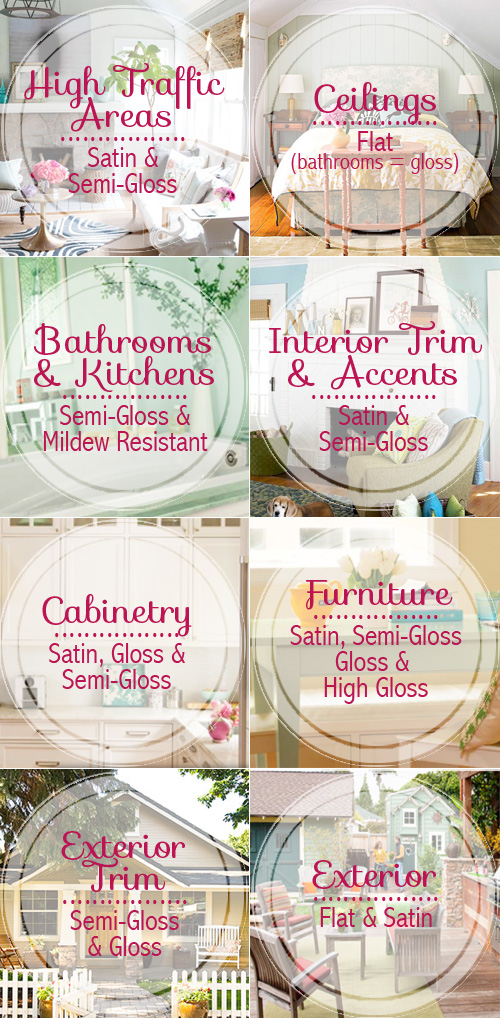 Now I need to process all of that through my long term memory asap. But first, let's jump into the full Q&A with Nicole and Kim!
Let's start off with a frequently asked question… what are your tips for high traffic areas and living spaces?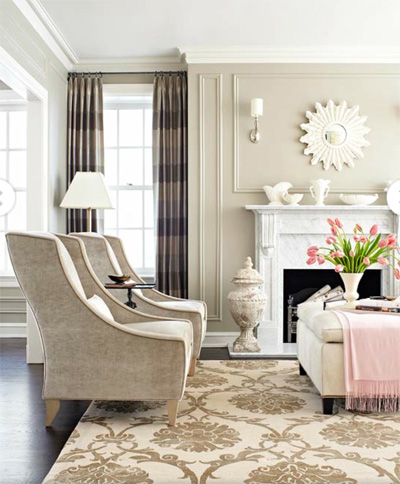 Flat to satin for most rooms depending on how busy your home is and satin/semi-gloss for bathrooms, kitchens and kids rooms or even laundry rooms.  When choosing the right paint for a project, it is important to consider the durability attributes of the paint and sheen. Typically, the higher the sheen, the higher the durability; therefore, satin and semi-gloss sheens are usually recommended for high-traffic areas where the paint finish needs to withstand multiple scrubbings and resist staining. Super-premium paints like Olympic ONE, however, have advanced durability benefits like superior scrub and stain resistance in all sheens.
What about bathrooms and kitchens?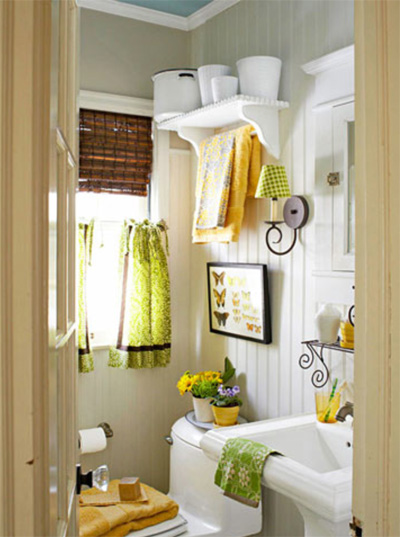 In high-moisture environments, like kitchens and baths, rooms require paint with mildew-resistance. Some paint lines have kitchen & bath specialty products and some paint lines offer mildew-resistance in all sheens. In the Olympic line, our ONE paint has mildew-resistance in all sheens and is appropriate for high-moisture areas, and we also offer Premium Kitchen & Bath Semi-Gloss.
Lets talk about ceilings and trim work for a moment.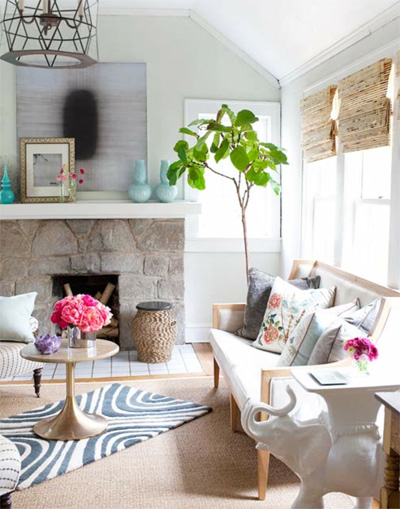 Flat works best for ceilings, however if you're painting a bathroom, kitchen or kid's room a semi-gloss may be more appropriate considering the high levels of moisture and or accidents that can occur in these areas. The higher you go in sheen, the easier it will be to clean. Though, if there are problem areas, flat will be best in all cases (glossy paint tends to accentuate flaws such as uneven walls or textures).
Satin and semi-gloss sheens are great for trim. Though if using Olympic ONE interior paint, any sheen could work including flat for those that prefers no sheen.
What type of paint do you recommend for furniture?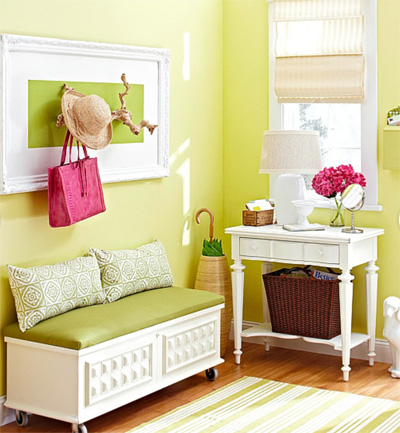 A satin to high gloss sheen of paint will work great here. First however, if there is an existing coating of varnish or lacquered paint finish that already exists on the piece, sanding and priming may be required to dull/remove the sealer or glossiness and prepare the surface prior to painting. NOTE: The paint finish should be allowed to cure (dry) fully prior to everyday use.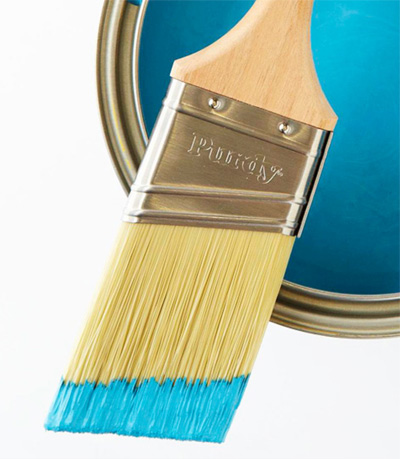 When and where must we prime, and when can we skip it? 
When in doubt of whether or not to use a primer the first test that can be performed is the water test. In an inconspicuous area spray some water on the wall. If the water absorbs quickly, a primer will be needed. If the water beads and rolls down the wall without much penetration a primer may not be needed. However, if not sure whether latex or alkyd paint is currently on the wall, another test can be performed using nail polish remover (acetone). Apply a small amount of the nail polish remover to a cloth and wipe the wall in a circular motion. If the paint comes off onto the cloth, then the current coating is latex. If the paint does not come off on the cloth, then the current coating is alkyd. When applying a latex coating over an alkyd coating, a primer is recommended.
A primer is also recommended when dealing with the following:
-Difficult stains such as water marks or smoke
-Visible debris, oils etc.
-Shifting from an extremely dark color to a n an extremely light color
I've recently been experimenting with staining wood to bring it back to its natural brilliance, any suggestions for this process?
Make sure that the surface is clean. If any sanding or puttying is needed, be sure to take care of it before applying the first coat. Always keep a wet edge, in other words once you start be sure to complete the entire area before stopping to take a break (i.e. if you're staining a chair and you start on the back, complete the back before moving to another section). After applying the stain use a varnish or polyurethane to seal it and provide a protective finish.
If I'm attempting to hide wall stains (not mold or water damage but more of the kid's marker/previous home owner variety), what do you suggest?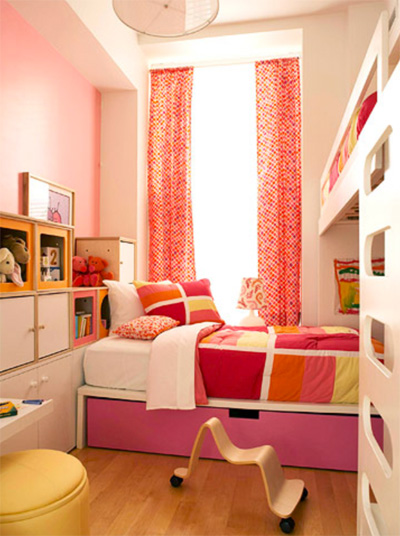 If you're referring to stains such as dirt, oil, marker etc. spot priming would be fine so that the stains are sealed in and don't bleed through the paint finish.
We recently tackled the exterior of our home and learned quite a bit from Heather, our Olympic paint rep. What are your thoughts for choosing exterior sheens?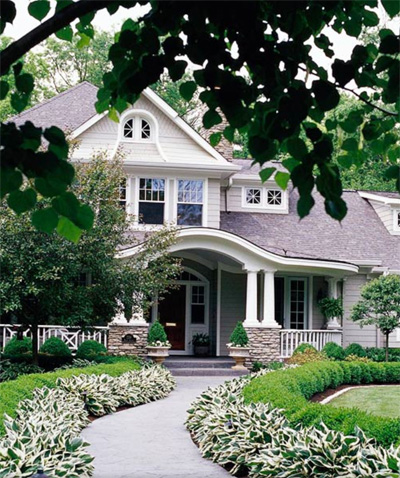 For exteriors, flat and satin are typically recommended for siding. Flat is less likely to show imperfections. Semi-gloss and gloss are recommended for accents (such as shutters) and trim – the higher sheen allows these architectural details to pop. It is also important to consider a paint that will resist dirt, mildew, cracking and peeling to provide a longer lasting finish. Additionally, super-premium exterior paints can "bridge" hairline cracks, helping provide a smoother finish when painting over old paint. In the Olympic line, our Premium Exterior paint features a proprietary technology called Dirtguard™ that helps rain naturally wash away dirt and grime, keeping siding cleaner longer, in addition to offering the other properties that help provide a longer lasting finish.
Lets talk about tools. When should I use an angled brush, foam brush, roller, etc? Natural, synthetic, nylon, foam – there are so many choices?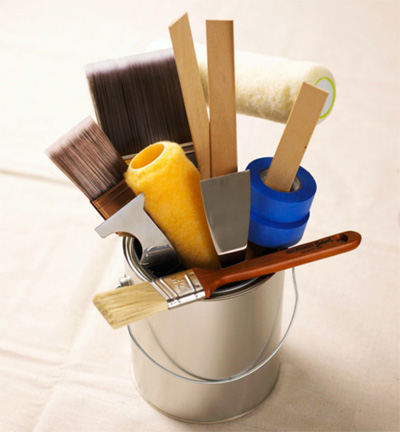 Use a brush (2 ½" angle brush to cut-in the walls (paint the edges and corners)) or for painting trim. Be sure to use the appropriate brush with the product i.e. if your painting using a latex based paint, then you would not want to use a natural bristle hair brush because the filaments will swell and make it difficult to paint. A synthetic blend or nylon will be best.
Quick brush guide:
-Use a foam brush or roller when painting super smooth surfaces (cabinets)
-Use a roller to paint in the remaining unpainted area once cutting in is complete. The roller will allow you to cover more area and at a faster pace than brushing alone.
-The type of roller will vary by the smoothness or roughness of the substrate. Smoother walls/substrates will require a shorter nap (3/16", 3/8") whereas a semi-rough to plaster wall may require a 1/2" nap or more.
-Rags are appropriate for staining. There are also brushes that are specific to staining.
Additional resources:
We have a lot of great color tips on our website (my favorite is the visualizer color tool) and here's a link to our full range of color brochures. Give this fun color personality game a go, as well!
***************************************************************
Thank you so much, Kimberle and Nicole!
Images can be found at Olympic.com and BHG.com
Tags:
Construction
,
Decorating
,
DIY
,
Home
,
Paint
,
Tutorial
Posted in
Construction
,
Crafty Solutions
,
DIY
,
Favorites
,
Guest Blog
,
Guest Post
,
Home
,
Project Lowe's
,
Renovating Adventures
,
Tips & Ideas
|
5 Comments »
December 7, 2012

A couple of my favorite magazines (the ones I still subscribe to and love to devour in Kevin's big leather smoking chair – don't worry, it's called that by name only in this casa) include favorites like House Beautiful, Better Homes & Gardens and Martha Stewart.
One that I absolutely adore in the virtual format because it reminds me in bits and pieces of Domino (sigh) and other favorite shelter magazines that have gone the way of the dinosaur, is Lonny. Oh what a wonderful read it is! And what a void these very talented, soon-to-be-mentioned editors have filled! When the little Lonny icon pops up in my email inbox on a monthly basis, I flag it, wait for a quiet morning moment with a cup of coffee and a proverbial smoking chair (okay, my office chair) and 'flip' through it page by page. While I can't dog ear my favorite living room or rip out a great recipe, I can pin, save a favorite pillow find (a quick click away) and easily track down an image or entire article that inspires me. It's a nice trade off.
It's no surprise then that I am totally over the moon to feature Michelle Adams, cofounder and editor-in-chief of Lonny, and her answers to PDB's four usual Friday Guest Interview questions today! And with a holiday spin.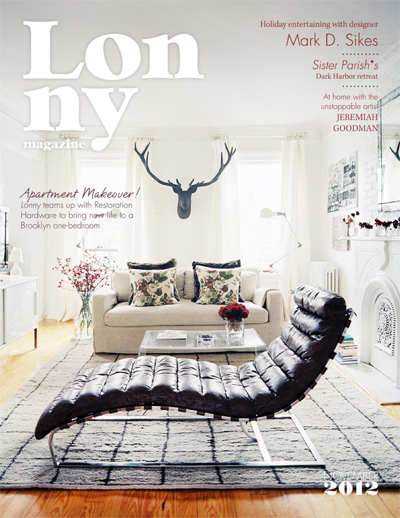 I am particularly fond of women who mean business – and Michelle's accomplishments and goals (more in question 2), not to mention the magazine that she has built from the ground up, are inspiring.
Michelle and her photographer partner Patrick Cline launched the online magazine in October of 2009 and I still recall that very first issue! It has since moved on to a monthly virtual publication with a regular line up of all star authors and designers. A textile designer at heart, Michelle is also the brainchild behind Rubie Green, a fabric company that I actually featured here back in 2010 without realizing the wonderful connection at the time.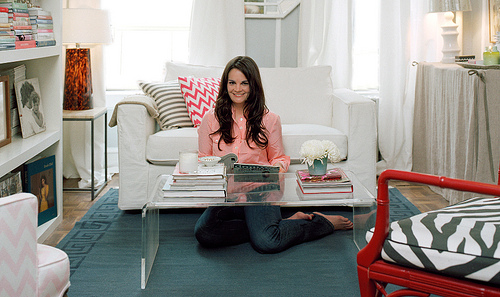 Let's talk about Lonny for a moment, because this is a gem that offers quite a few resources that are helpful in the home design department. Their blog features fun articles like this one on Interior Design Rules You Should Break and their photos tab brings you to all archived magazine photos that have been included in previous issues. Talk about a great way to spend a Saturday afternoon, perusing by style or room and trying not to get lost in the dreamy inspiration! Be sure to check out the ideas section, too.
Alright, on to the interview. Follow the jump to learn more about Michelle, her favorite trends, holiday decor tips and where all of this crazy inspiration stems from. Read more »
Tags:
Decorating
,
Guest Blog
,
Guest Interview
,
Home
Posted in
Guest Blog
,
Guest Post
,
Home
,
Interview
|
Comment »
October 19, 2012

Today I am honored to invite the Novogratz Family (yes the Design by Nine team!) to PDB to participate in our Friday Guest Blog Interview series. I absolutely adore their organic, eclectic and family-oriented style, and I'm pinching myself that they've agreed to take a few moments to answer our four usual questions on personal design, and to share their newest collection over at CB2!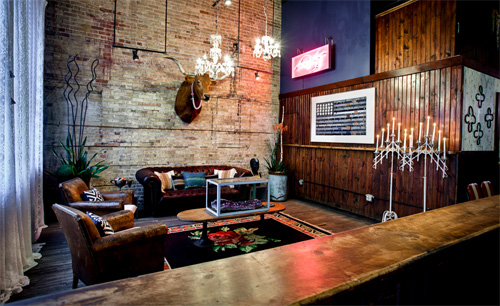 The above is one of my favorite rooms.
Robert and Cortney Novogratz (along with their seven children) have made stylish family design and functionality hip, eccentric and homey. The couple have designed a variety of hotels, homes, NYC apartments, have created their very own line through CB2 (check out the 'family' lightbox after the jump), are seasoned authors (more in question 2) and reality TV show stars over at HGTV. Their signature design style is wonderful, creating striking, memorable spaces around the globe. Spaces that make you go – I want to copy that now!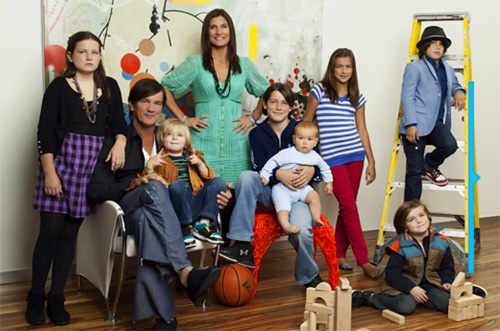 What a lucky bunch! I stole this image from a while back, their kids are a wee bit older now. Follow the jump for the full interview!
Tags:
Decorating
,
Guest Blog
,
Guest Interview
,
Home
Posted in
Guest Blog
,
Home
,
Interview
|
Comment »