September 11, 2009

It is such an honor to host Chris of Celebrations at Home for our Friday Guest Blog series! She's an extremely talented event planner & styler (you MUST check out her nautical themed baby shower after the jump!) with a degree in Fashion Merchandising and a spot-on specialty for creating perfect celebrations. Her passions include fashion, interior decorating and entertaining — and you'll absolutely agree with me that her eye for details is superb after reading her interview! After throwing a multitude of themed parties, showers and events for family and friends, she finally took her passion to the blogging world and created Celebrations at Home.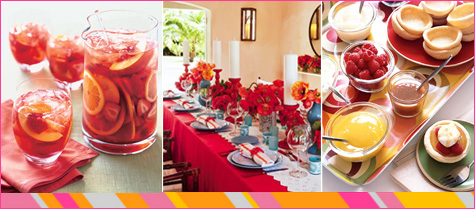 Again, we quizzed her with four critical home & entertaining design questions, and you will love her answers! She's offered us some incredible inspiration, tips and DIY ideas for our next Celebration at Home. Read more »
Tags:
Baby Shower
,
Birthday
,
Bridal Shower
,
Dinner Parties
,
Guest Blog
,
Guest Interview
,
Home
,
Parties & Entertaining
Posted in
Guest Blog
,
Interview
,
Parties & Entertaining
|
7 Comments »
September 4, 2009
I'm so excited to bring you our first Friday Guest Blogger, Kim Vallée! She absolutely embodies the 'home and entertaining inspiration & innovation' theme of Pepper Design Blog and has had wonderful success with her own stylish living website: At Home with Kim Valleé. Kim writes food and entertaining articles for FoodTV.ca and is a collaborator for Style Sheet, the blog of HGTV.ca where she shares tips on home decor. In addition, Kim has been featured in a host of major newspapers and magazines offering advice and tips on entertaining, home decor and social media.
For our interview, we asked her four critical questions about her design style, what she loves most about design blogging, her favorite trends and of course, her top suggestions for our readers!

Follow the jump to read the interview & see great ideas from her fabulous blog! Read more »
Tags:
Guest Blog
,
Guest Interview
,
Home
,
Parties & Entertaining
Posted in
Guest Blog
,
Home
,
Interview
,
Parties & Entertaining
|
4 Comments »