April 10, 2012
How was your Easter? Ours was a really nice little celebration with family at my aunt's house in Santa Cruz. Pictures soon to be edited… hope to share a few this week.
I've actually been gone for over ten days and now I'm back home and sooo happy to be back in my zone. Part of my 9-5 job includes traveling up to my company's main office in the bay area (of Cali) for a week every 6 weeks, so part of me is very used to time on the road and the other part is always so happy to be home again. Luckily I get to take the little one with me and her grandparents watch her while I'm away during the day. It's a pretty ideal traveling situation.
Back at the home office, I received a really cute, thoughtful gift from Maryam (she's a style board contributor over here) and her business partner, Jennifer: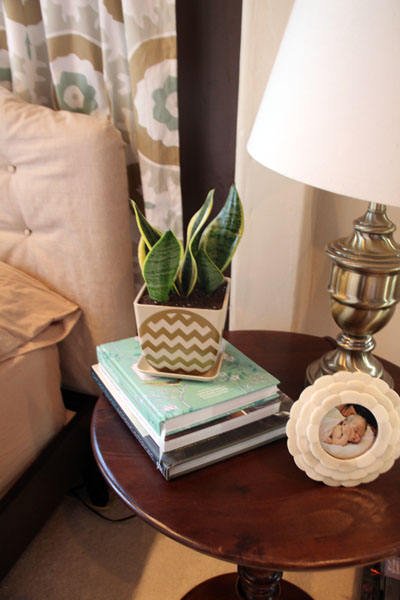 Adorable!
Maryam and Jennifer co-founded Green Your Air, a site that provides air purifying plants for the home in cleverly designed biodegradable pots. I love the new chevron print and I'm so thrilled they brought this guy over! I hope that eventually they'll see this post and the big thank you/virtual hug I'm sending their direction!
You might have spotted the addition during the tufted headboard reveal last week: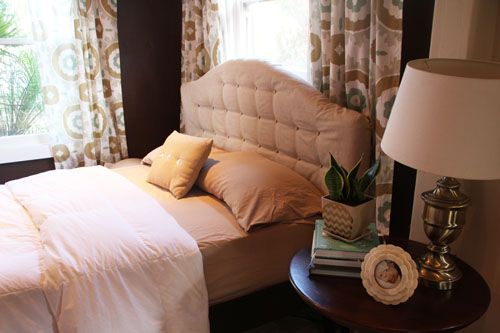 I have so much respect for these two ladies and their growing venture. They are stylish, green mommas (and entrepreneurs!) that are trying to change the quality of air indoors one home at a time. Here's the reasoning they share over on their site: certain varieties of indoor plants absorb and filter the air of harmful chemicals and airborne toxins (did you know that the indoors can be as much as 10 times more polluted than the outdoors?). A chart sharing the chemical emissions found in the average home or office and which products they are generally emitted from can be found here. Surprising, right?
I'm a big fan of something living and green in each room (brings a little life to the party) and also a huge fan of hardly having to remember to water. This guy needs maybe an ice cube every 2-3 weeks to keep him going.
We currently have the Viridis in Liv's room, too: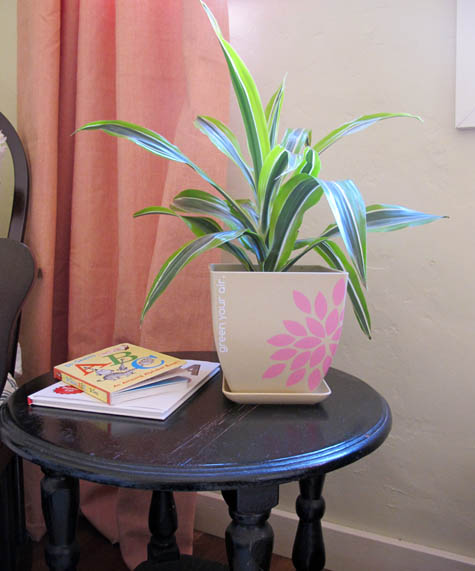 And he's still alive! And going strong. Here's another glance at those air-purifying leaves of the Fortis: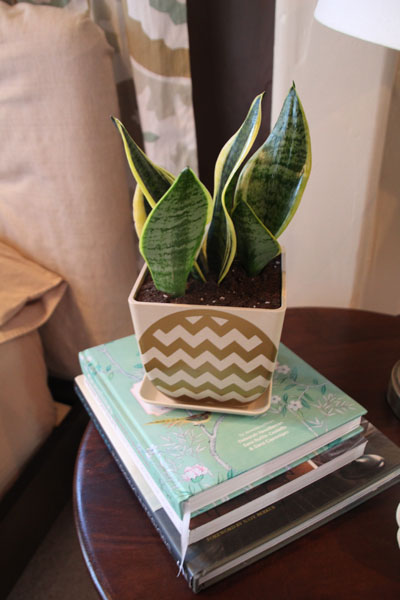 Maryam and Jennifer have extended a 20% discount to all readers through the end of May – these guys make lovely gifts for new mommies! or are great to add to your own space. Instead of sending flowers, this would be a great gift to have shipped to someone who has just bought a new home, too. Use code PEPPER20 during checkout.
Here's a little inspiration that they feature on the site. Love that headboard!!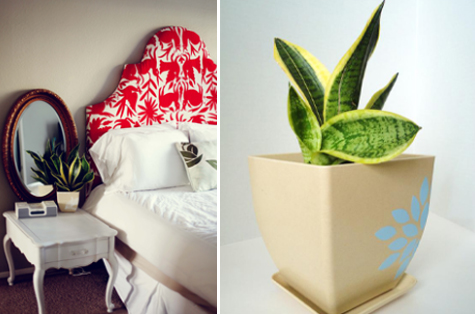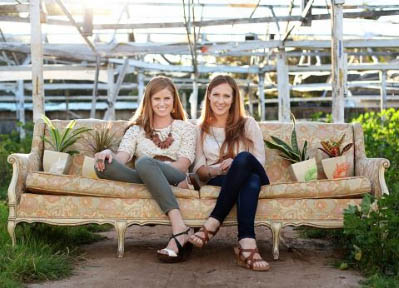 Thank you again Maryam and Jennifer for the sweet new addition to the office.
PS, follow our family's efforts to Go Green by checking out this series.
Tags:
Decorating
,
Home
Posted in
Going Green
,
Guest Post
,
Our Guestroom/Office
,
Renovating Adventures
|
2 Comments »
February 22, 2012
Earlier this month Cristin of Simplified Bee asked myself and three other bloggers to design a space around this Serena & Lily Campaign Storage Bench as a part of her Design Blogger Series: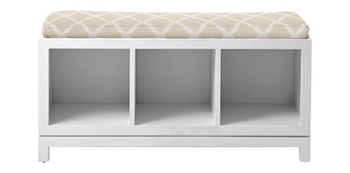 I was excited for the challenge and created a mudroom around Julia Rothman's Daydream wallpaper: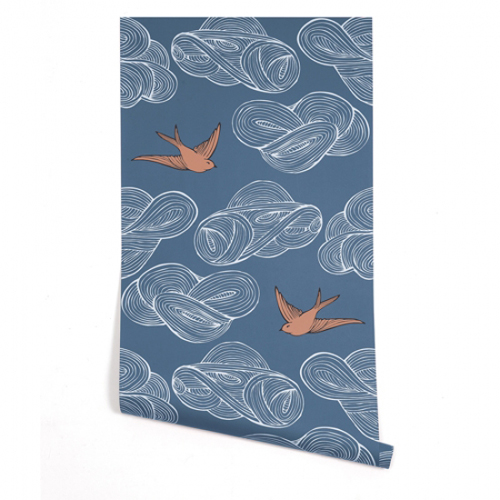 I adore the playful print – what a whimsical way for your home to greet you each day! But for the rest of the mudroom features (a side chair, fun pillow fabric, matching rain boots, a killer mirror and light fixture…) jump on over to Cristin's post!

And if you're visiting from over yonder – welcome!

PS You can read my Friday Guest Blog interview with Cristin on her favorite design secrets right here.
Tags:
Accessories
,
Blue
,
Decorating
,
Entryway
,
Guest Blog
,
Home
,
Mudroom
,
Patterns & Color
Posted in
Featured In
,
Guest Post
,
Home
,
Home Inspiration Board
|
1 Comment »
January 21, 2012
Happy weekend! A big thanks to Sandi for including me in her organizational series round-up. I'm happy to announce that I have officially finished organizing my office bookshelves (complete with labels and everything), feel free to check in on it over here.

One piece of one room down… so much more organizing to do… thank goodness it's a Saturday.
Tags:
Guest Blog
Posted in
Guest Post
,
Organizing
,
Our Guestroom/Office
,
Renovating Adventures
|
1 Comment »