October 19, 2011
If you had a chance to read about our introduction of solid foods to Liv earlier this summer, you'll remember that we skipped pureed foods and opted to share our meals with her right off the bat. But we're not crazy parents, promise. We're actually using a method called Baby Led Weaning. Read more about it over at Milk-Friendly where I'm sharing our adventure with her readers.
We did give handmade pureed foods a try for a few days… I also cover that over at my guest post. *Hint* the only successful recipe was my basic cinnamon applesauce!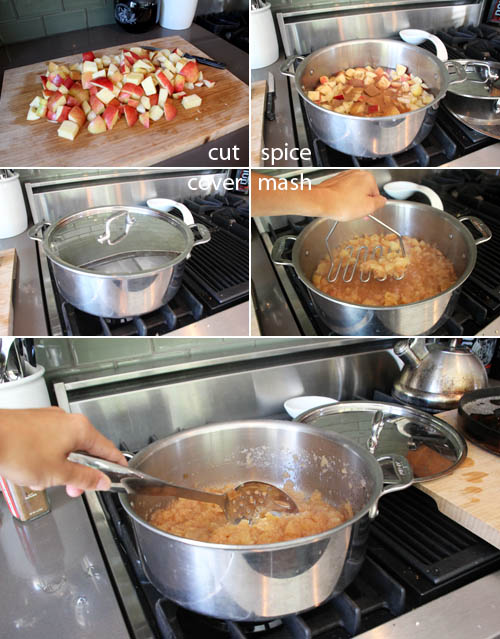 Liv digs it. For everything else, she prefers the solid version however spiced, roasted or textured it may be.
We love that she gets to participate in our meals and enjoys a good steak, fish fillet or pork tenderloin just as much as us! Read about our first intro to it all here.
Posted in
Family & Friends
,
Guest Post
|
Comment »
October 4, 2011
Project Nursery featured the nursery's clothing art project (in the fabric-lined shadow boxes) this morning! Go check it out – it's an easy way to commemorate a special outfit, hat, booties, blanket – even a baseball glove or ballerina slippers for big kids. Hope you enjoy!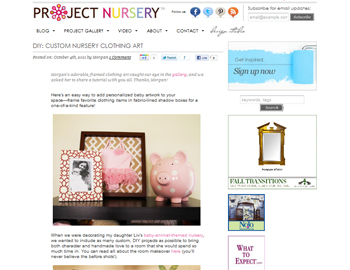 And thanks so much Project Nursery for including me!
Posted in
Guest Post
|
2 Comments »
September 22, 2011
Hey all, hope you're having a great Thursday. Maybe you've noticed a new feature in the right sidebar? I have a little widget that shares my Ideabooks from Houzz. A while back, Houzz asked to partner with me and PDB to create a new Ideabook each month of 20 favorite products. What fun it's been!
Yesterday I was so surprised to find that they chose my latest 'Fall Finds' Ideabook to share on their home page: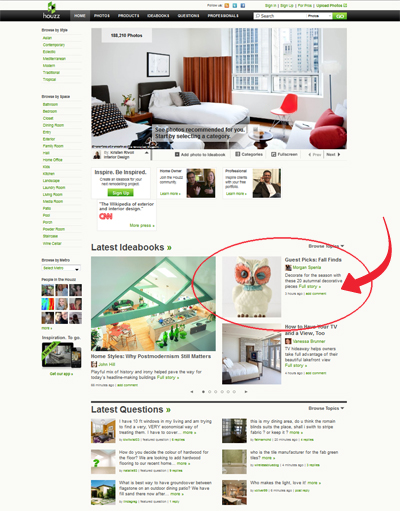 So cool, thanks Houzz! For a few unique fall decorating ideas (some crazy, some totally practical), check it out.
You can head out to Houzz and the Pepper Design Blog page to see a new Ideabook each month (and inspiration for a rooms in our home, including the new office and future master bath). Or, try the link there over in the right sidebar.
Posted in
Blog World News
,
Featured In
,
Guest Post
,
Home
|
3 Comments »