November 15, 2011
There are three trees in our neighborhood that change colors during the fall. Three. In the entire neighborhood. When Liv and I go for walks I stare longingly up at the branches willing those crisp green leaves to take on their yellow and orange shades.
When my mother-in-law was in town this past weekend it happened! Not only did the trees change color but they shed a good portion of those beautiful leaves to the ground. When she came back from taking Liv for a stroll she brought with her a huge bundle of these: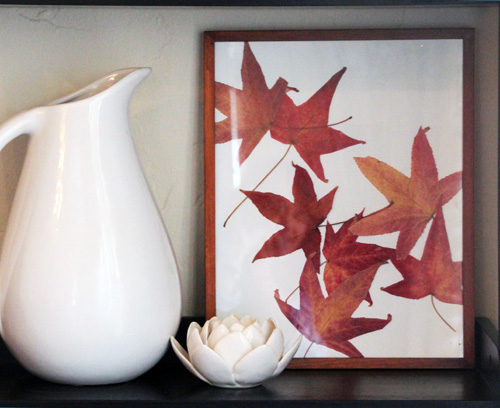 Naturally I pressed and framed them. I don't know how long they'll last but just maybe I can preserve them for the future. Waaaaay better than the fake ones I used over here.
Here they are sitting on a shelf in our dining room: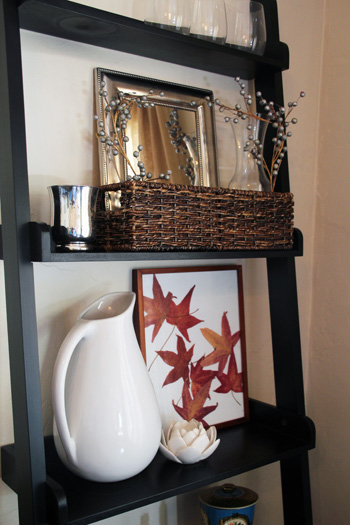 I first attempted to frame without flattening and the result was a bit sloppy, so my next approach was to organize them on my white sheet of construction paper, attach to paper with a double sided adhesive and then smoosh between two big heavy books.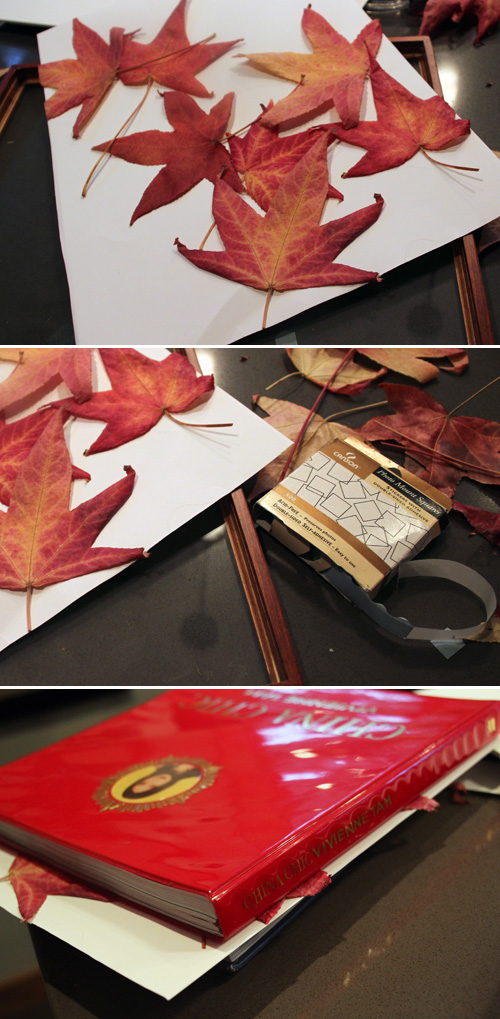 Then I added the construction paper back into the frame and sealed it up.
I love the colors, especially against the brownish red frame.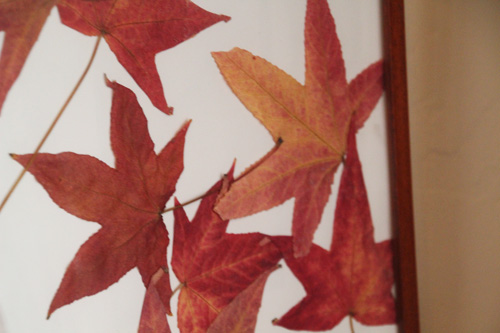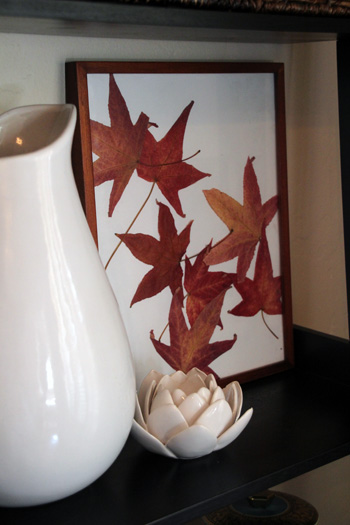 I had quite a few leaves left over so I made a very simple garland by stringing the leaves through twine. Here they are on the other bookcase: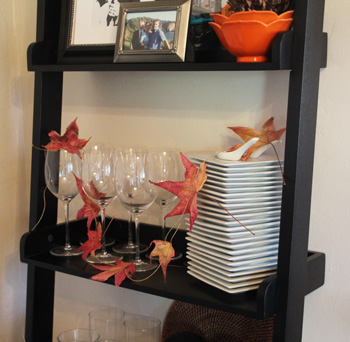 I think it's a nice little fall detail, especially when casually strung up like they are here.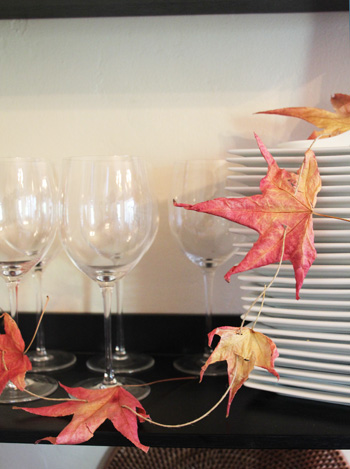 The process to make this guy was so simple and so quick: poke two holes in each leaf and string through – up and over for the first leaf, down and under for the next.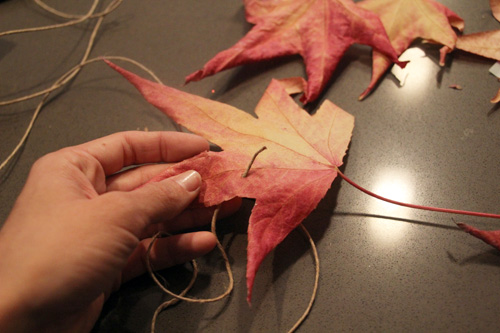 Just like you're sewing a simple stitch.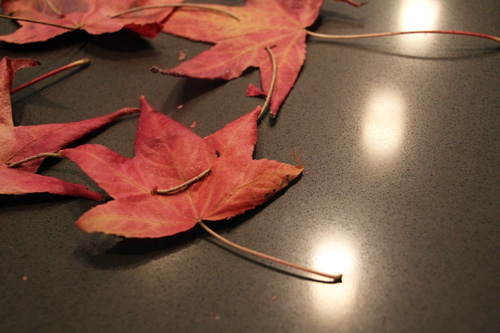 Until you've finished the whole lot:
They're perfect for the upcoming Thanksgiving holiday and I love how they bring just a little bit of the outdoors in!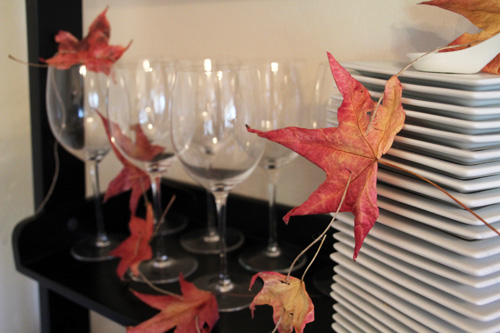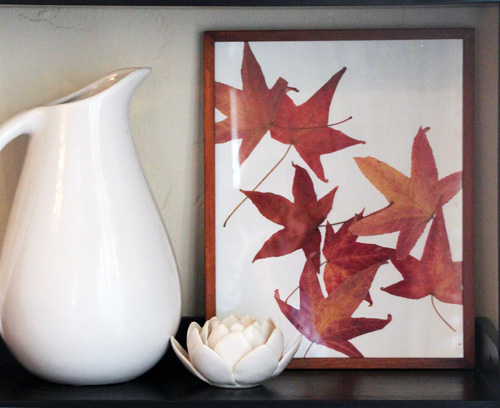 Tags:
By Color
,
Crafty Solutions
,
Decorating
,
DIY
,
Fall
,
Halloween
,
Home
,
Orange
,
Patterns & Color
,
Red
,
Thanksgiving
,
Tutorial
,
Yellow
Posted in
Crafty Solutions
,
DIY
,
Holidays
,
Home
|
6 Comments »
November 1, 2011
As promised, a few pics from our night of Halloween fun.
We began the evening with a trip around the block with all of the kiddies in their adorable costumes and ended the night with a delicious potluck at the house.
Here are a few shots from before the sun went down: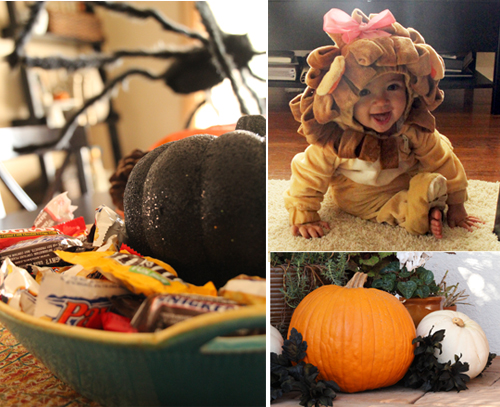 Look at that adorable Cowardly Lion! Such a cutie.
Here's a group shot just before we headed out for a little trick o' treating: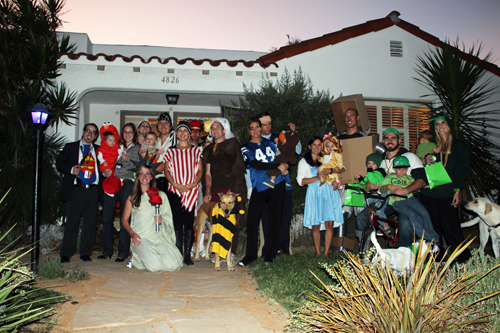 Awesome costumes! See that family of five there to the right? They're 'Gang-Green', so great.
A close up of a few more costumes: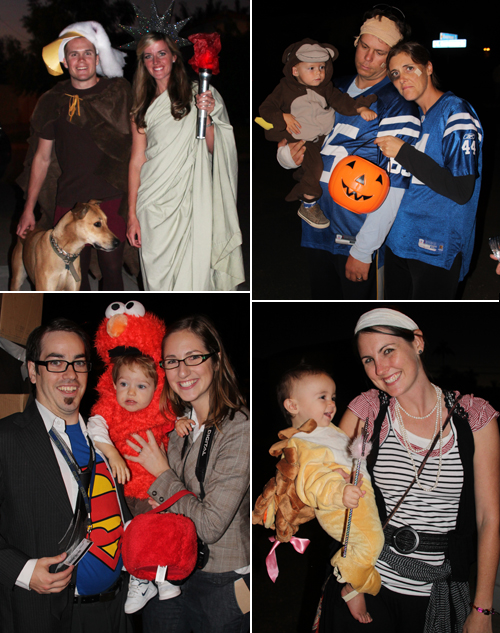 Our family theme was the Wizard of Oz – but Kev didn't have much time for his Tin Man costume (despite the Awesome radiator cover I found) and ended up as a robot

. Bodie was our Scarecrow but we forgot to dress him up for pictures!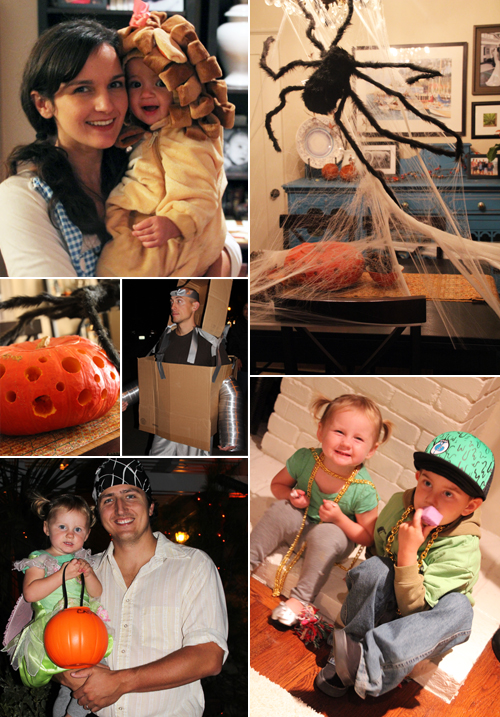 Found Liv's costume on eBay a couple of weeks ago. Such a treasure trove of discounted goodies!
Kev's big day-of project were these 'carved' pumpkins. We didn't do any real carving this year (maybe when Liv's a bit older) but for some spooky ambiance Kevin picked up these guys from the local grocery store for $2 a pop, hollowed them out and drilled different sized holes in them. That's my creative hubby!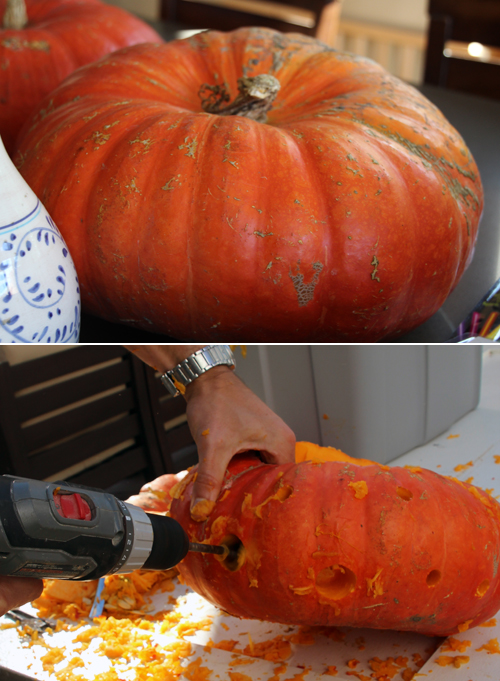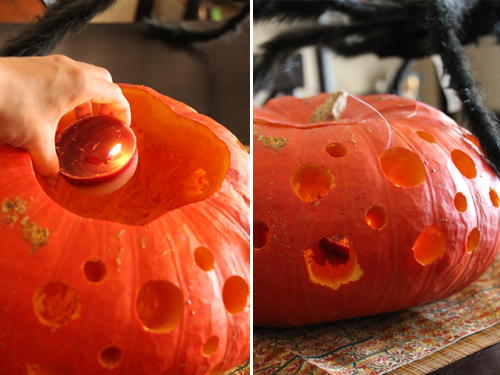 Speaking of crafty ideas, my mom sent over pics from her latest Halloween party up in Northern California and I'm happy to say that this blogging/crafting business must run in the family.
Such a fun night. Liv might not remember it but we've captured plenty of adorable photos for her future wedding slideshow!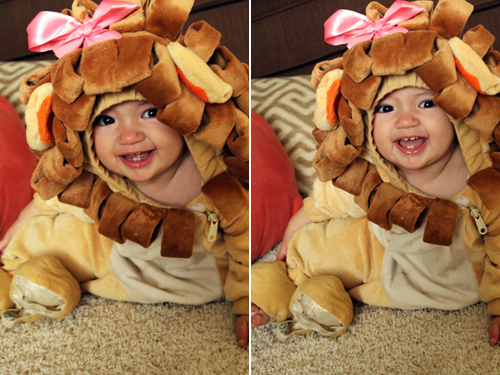 Tags:
Halloween
Posted in
Family & Friends
,
Holidays
,
Weekend Fun
|
7 Comments »
October 31, 2011
Today I'm putting a few last minute touches on Liv's costume (we have a family theme this year – Kev, your costume is finished, right?) and on our home decorations for a little post trick or treating potluck with friends.
Hope you have an awesome time tonight whether you'll be dressing up, hopping house to house with kids, passing out candy at your own doorstep or keeping the lights low to snuggle up to a movie!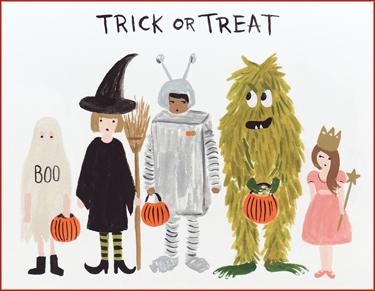 Adorable illustration found here.
I'll be back with more fun Halloween photos very soon.
Tags:
Halloween
Posted in
Holidays
|
2 Comments »