December 28, 2010
There are so many inspiring ideas out there for New Year's Eve! If you're planning on throwing a dinner or late-night bash, here's a round up of a few of my favorites. They may not all be designed for New Years (some of the tablescapes are from weddings and photoshoots) but the colors and diy ideas are beautiful.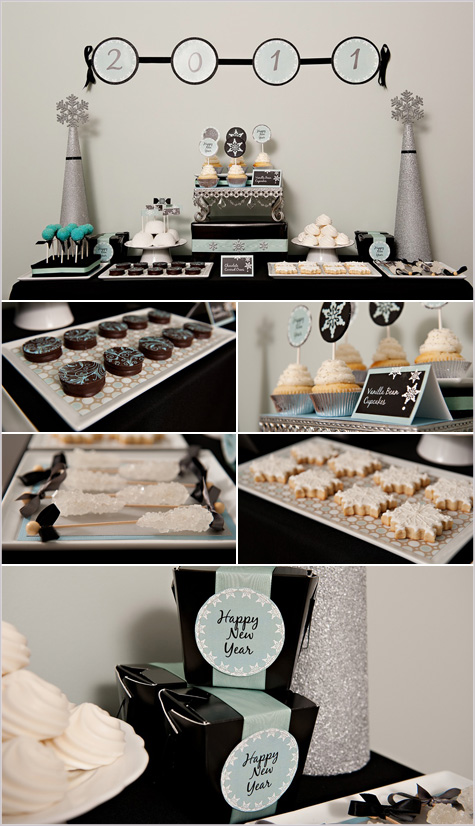 Sandra from The White Library recently sent over the above Winter Wonderful New Year's Eve dessert bar. The entire table is so fun but my favorite is the paper lined party trays – what a great idea!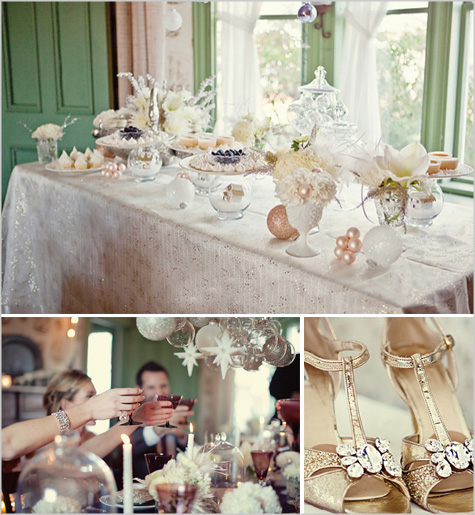 The above Style Me Pretty photoshoot is the perfect combination of a little dash of Christmas filled in with a whole lot of glittery New Years. A dinner party focused on soothing colors such as green, pink and gold would be oh-so-lovely.
This Glitter and Snow themed celebration was sent over by Bird from Bird's Party. I adore the little details that make this black & white party so special – from the mini glitter disco balls to the cute labels it's a classic way to ring in the New Year.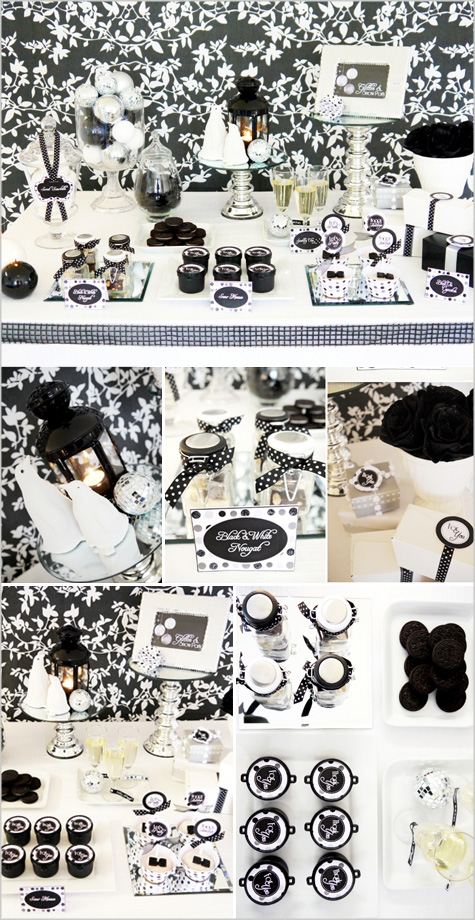 This Kate Spade-inspired shoot could easily be modified to create a beautiful New Year's Eve party. How great are the colors?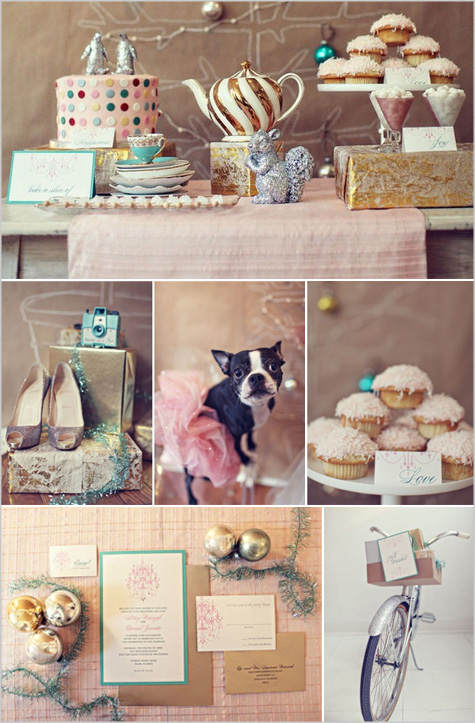 I think if I had to pick a theme for a dinner party at our house I would lean towards a rich peacock blue with vintage silver accents setting like this inspirational photoshoot (found here at SMP).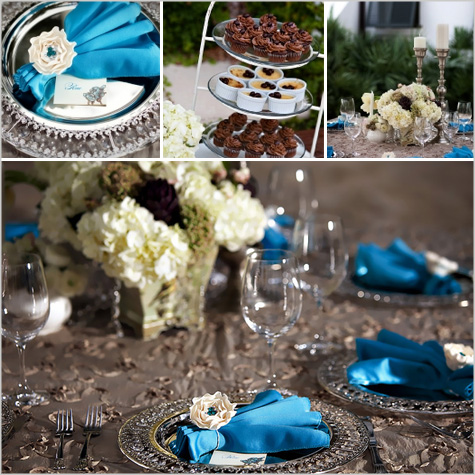 Finally, The Couture Cakery designed a damask-themed dessert table and party (shared recenty at HWTM) that pulls in big white feathers and bold prints perfect for the holiday!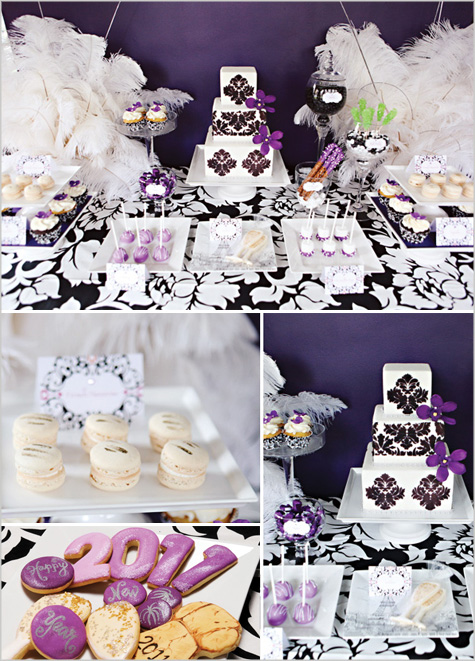 There you have it, five themes to inspire for the final days of 2010! I'm always so surprised at how quickly the week between Christmas and New Years flies by…
Tags:
Decorating
,
Dinner Parties
,
DIY
,
Glitter
,
New Year's Eve
,
Parties & Entertaining
Posted in
Holidays
,
Parties & Entertaining
|
2 Comments »
December 27, 2010
I hope you all had a wonderful Christmas! Ours was very low key – we enjoyed a delicious Christmas Eve meal with family, went to Mass to celebrate the Reason for the Season and checked out Christmas lights around town. On Christmas day we slept in, enjoyed a delicious brunch by Kevin and opened presents with family – an afternoon walk and a trip to the movies (maybe our last for a while?) capped off the perfect day!
This weekend has already been pretty productive when it comes to home updates – we had electricians over all day yesterday installing lights and outlets in the new guestroom/office while Kevin cleared up the ceilings (being an old kitchen, there were plenty of gas lines and the like).
Meanwhile… my mind has already begun to wander to our next big holiday. And when I think of New Year's Eve, all that glitters is what comes to mind!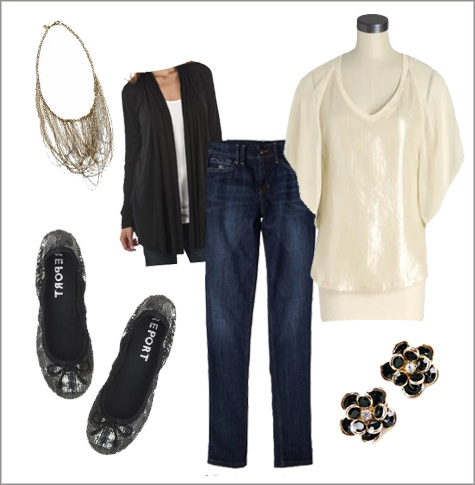 While I may not get to partake in the skinny jeans and sheer dress look this coming weekend, I've been inspired by a couple of New Year's Eve wardrobe ideas (here's a link to the entire list of style boards). I can't think of a better reason to embrace sequins, sparkles and glitter!
Two looks that I'm especially drawn to:
A Casual Dinner Out: I'm loving the above white sequin top for so many reasons, especially that casual/comfy shape that looks so great when paired with skinny jeans. These Report flats are spot-on in price and would add that little something to outfits throughout the year.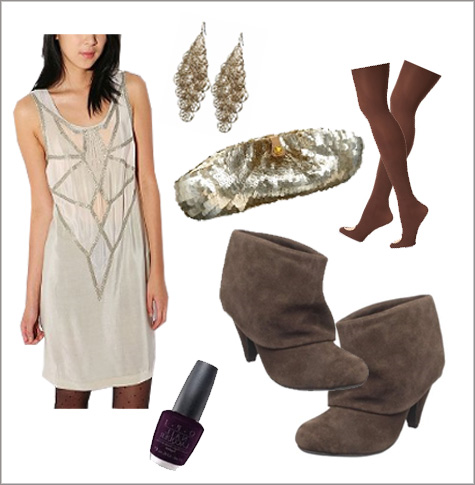 Downtown with Friends: These semi-low booties would be the perfect pair for walking the streets of downtown with friends for the final countdown. Whether it's bar hopping or setting up shop at one favorite locale, I love this shear little dress and glittery clutch.
To track down any of these finds and see pricing info, check out the slideshow here.
This weekend you'll likely find me uber pregnant and curled up on the couch with hubby and Martinellis enjoying the last few days of Christmas decor around the house, but here's to dreaming of a sparkly, glittery night welcoming in the new year!
Tags:
Fashion
,
Party Style Boards
Posted in
Holidays
,
Wardrobe
|
5 Comments »
December 25, 2010
Today we're spending time celebrating with family and friends… but before I sign off for the weekend I wanted to wish you the happiest of holidays! Thank you for your support and love over the past year, may you have a restful and relaxing holiday break and a very merry Christmas!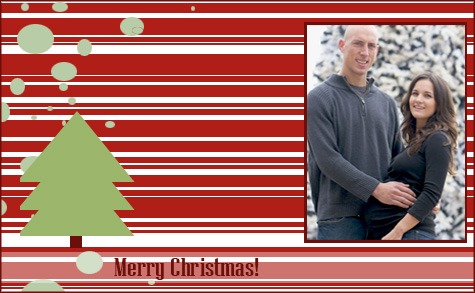 "And, lo, the angel of the Lord came upon them, and the glory of the Lord shone round about them: and they were sore afraid. And the angel said unto them, Fear not: for, behold, I bring you good tidings of great joy, which shall be to all people. For unto you is born this day in the city of David a Savior, which is Christ the Lord. And this shall be a sign unto you; Ye shall find the babe wrapped in swaddling clothes, lying in a manger. And suddenly there was with the angel a multitude of the heavenly host praising God, and saying, Glory to God in the highest, and on earth peace, good will toward men." Luke 2:9-14
Posted in
Family & Friends
,
Holidays
|
2 Comments »