December 14, 2012
Oooh I have infusion fever. Once you start you just can't stop, there are too many creative and easy ideas out there. My next big project is a custom salt (inspired by the one that I currently love) with ingredients that are readily available from the kitchen or yard.
Rather than a straight sea salt, which can get very strong very fast, I created a Kosher and sea salt blend with dried lavender and lemon.
PS the last big infusion project included olive oil and rosemary, you can find it right here.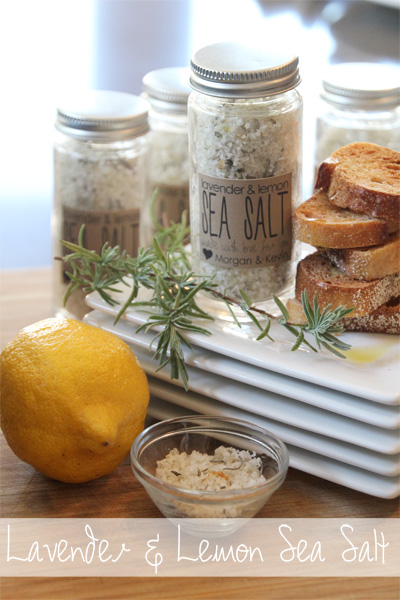 This is the perfect top salt for a finished dish – sprinkle on roasted chicken, raw salads, sliced tomatoes, avocados, in olive oil and vinegar with toasted baguettes… you name it. One of my favorite uses? Bruschetta.
An added bonus is that this was so very easy to whip up – even easier than my rosemary infused olive oil! And it doesn't need ages to infuse, either. You could use the finished salt right away (ideal for a last minute gift) or allow to sit for a more intense mingling of flavors.
Lavender & Lemon Sea Salt
m
Materials for six 3.4oz jars: 10-15 fresh lavender sprigs, grated rind of one lemon (more is optional), 1 pound sea salt, 1 pound kosher salt, small glass bottles/jars with a sealable lid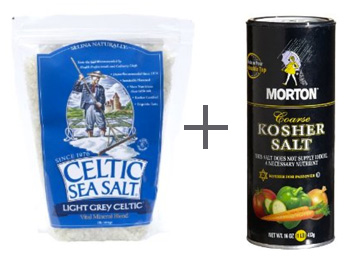 As mentioned above I chose a blend for my salts, Celtic sea salt as the dominate flavor and a standard Kosher to help balance out the taste buds (Kosher is an excellent everyday cooking salt). Granulated salt is extra important here! Table salt just won't be the same.
As far as my little containers go, I picked up a 12 pack of these 3.4 oz spice jars (though I might try this cute corked version next time).
I chose lavender and lemon as my concentrated flavor mix, though you could really substitute any delicious herb or infusion here (the sky's the limit!). Lavender was an easy pick because we grow it right in our front yard.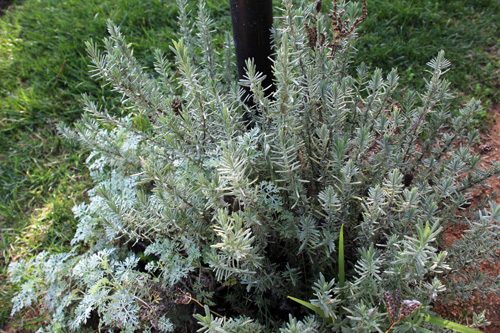 As with the rosemary from last week, I thoroughly soaked my lavender clippings in a bowl of water for about an hour and then rinsed to ensure that all I had left was fresh and clean sprigs.
Then I lined them up on a cookie sheet (covered in foil) and popped the sprigs into the oven at 200 degrees until they were nicely dried (there's no precise time here, but maybe 2 hours ish).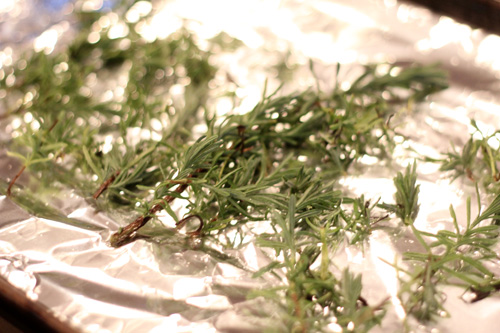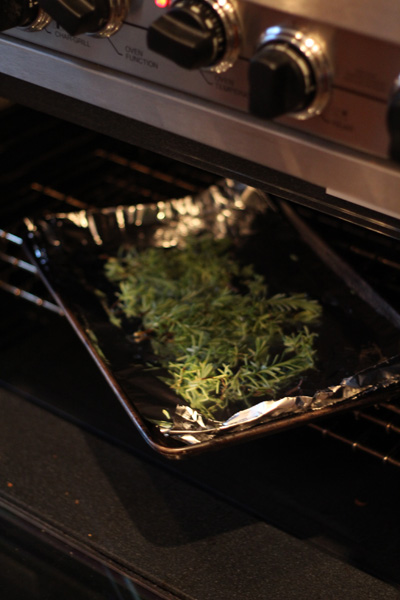 When they came out, they were ready to go!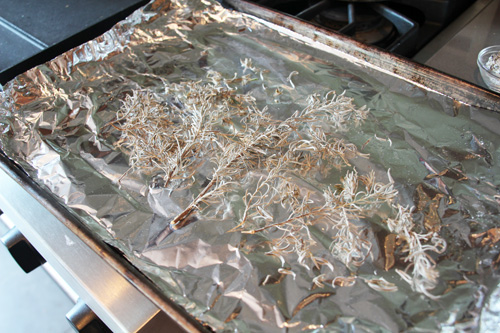 I stripped the leaves from the stems and discarded any extra crispy pieces. I added the dried lavender leaves and fresh lemon rind to my Kosher salt:
And spread the entire mixture out onto my cookie sheet once again for another round of light toasting. The goal now is for the Kosher salt to bake with the lavender and lemon, and also for our lemon rind to dry out completely (to avoid any bacteria growth in our salt containers).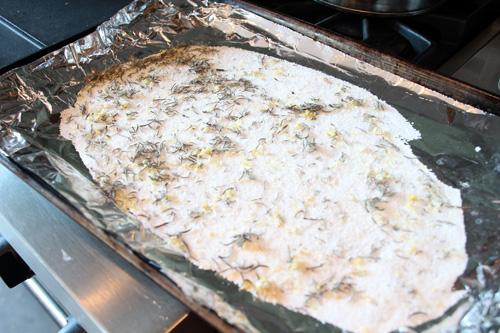 Once my mixture is sufficiently dried out, I added the infused blend to my raw sea salt and mixed well.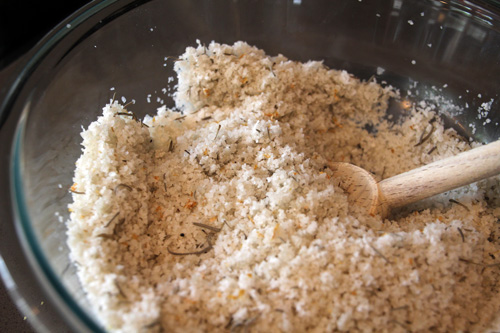 I used a small spoon (a baby spoon or cocktail spoon) to add the mixture to each of my little jars.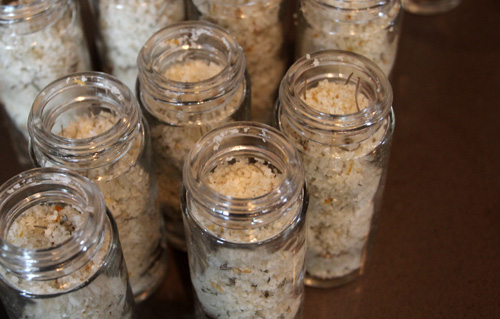 I made matching labels for the sea salt mixture (similar to my olive oil labels) and applied a sticky backing (available at most craft stores) to create mini stickers for the front of each jar. Here's a link to a downloadable pdf with a generic version of the below labels if you'd like to print out a version for yourself, and you can always email me for the .ai file to substitute your own name.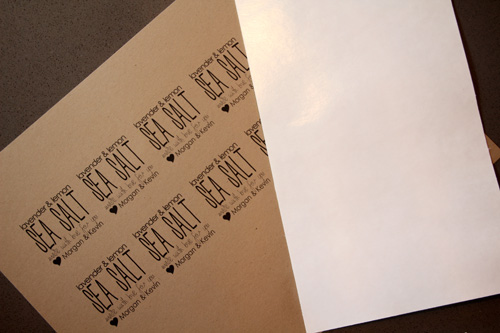 Then I cut the stickers into tiny squares and applied to each jar: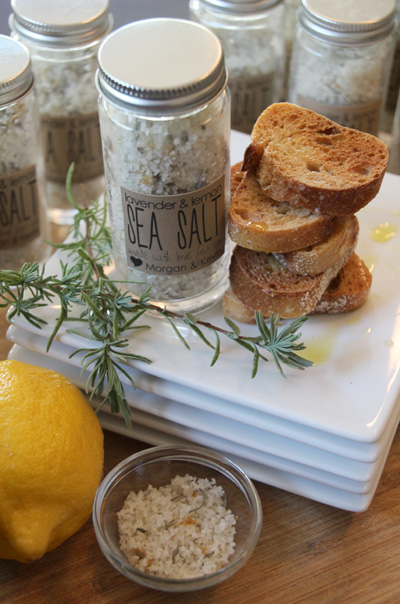 Sure is delicious with just crudités and olive oil!
That's two infused projects down and a couple of more handmade gifts to go… happy cooking!
PS You can find the line up of this year's handmade projects by sorting all posts here.
Tags:
Parties & Entertaining
,
Recipes
,
Tutorial
Posted in
Crafty Solutions
,
DIY
,
Handmade Gifts
,
Holidays
,
Parties & Entertaining
,
Recipes
|
1 Comment »
December 12, 2012
After much perusing and window shopping, I'm ready to launch my Ladies Gift Guide for 2012. I create this list with not just me in mind, but the gifter that has a wide variety of women to purchase for this holiday season. Between best friends and sisters and babysitters and mother-in-laws, we all have plenty of women to shower love on! I hope this helps with a few clever ideas!
PS here's a link to last year's list, too.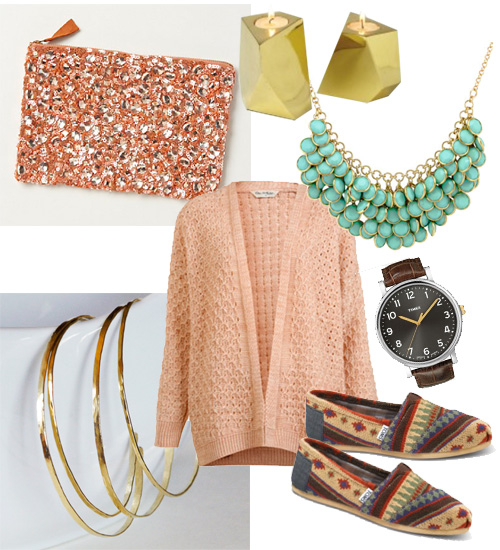 Let's start with favorite clothing and jewelry finds. I am currently on the hunt for over-sized, comfy sweater for this season (nothing sounds more lovely when it's cold outside) and this soft peach guy is just right (and would work well for most any size, shape, age…). Speaking of cozy, I picked up a pair of Toms in Kilim for winter as a comfy slip on with jeans and a sweater, Toms always make great gifts, especially considering their commitment to helping others.
This awesome jeweled pouch would be great for collecting loose change in a big bag, but is perhaps more perfect (and big enough) to sport as a clutch with a few credit cards, cell phone and a lip gloss (I love an anthro find under $50). I've been eying these hammered bangles for a while and think that they would make a very thoughtful and pretty gift for any girl (I was recently thinking of getting 5 to celebrate our 5th anniversary, Kev – what do you think?

).
This necklace is a fun, inexpensive addition to the jewelry box for special occasions just like the holidays (goes great with the peach sweater, no?). I still love my Timex watches! Though the face of mine now has a crack in it and I'd like to replace it with this one. 
These gold 'rock' votive candle holders are really fun and I have my eye on them for the dining room table…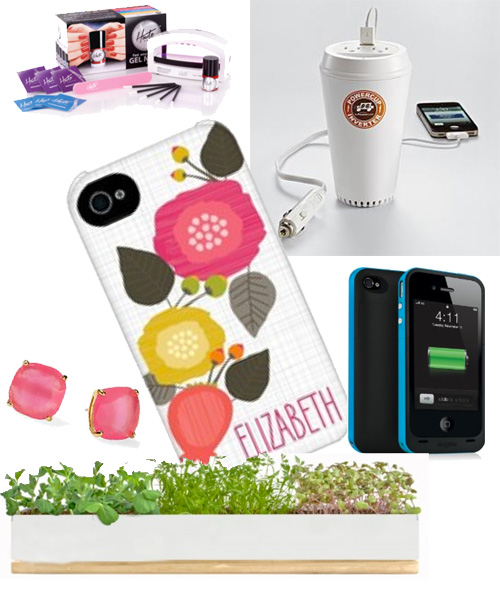 These personalized iPhone cases are adorable. You can also have them printed with a picture, which is pretty cool. Sticking with the theme of cool techy gadgets, my measly iPhone battery dies mid day these days (oh, internet) and having an extra boost in the form of a slide on battery case on hand would be amazing. Cnet identifies a bunch of great ones, Morphie is one of the more popular versions. And for charging laptops and ipads on long car rides? A coffee cup gadget charger for the console.
If I splurge on a manicure these days I usually opt for gel, 2 weeks of painted nails over 4 days? Love that. I've just found this at-home gel nail kit and that sounds like my money-saving solution.
I have been gravitating towards simple studs over the past few months and these grapefruit pink guys have caught my eye. What a bright pop of color!
Inspire the inner chef to launch her own micro green garden! I would love to add this as the centerpiece to our outdoor dining table, and to grow delicious sprouts and herbs in the spring (would look great in a kitchen bay window as well).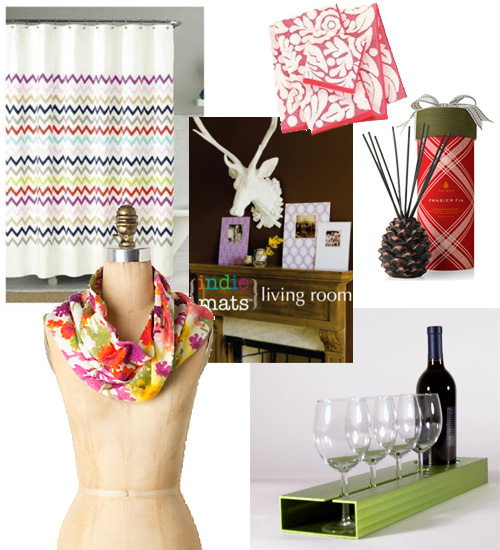 This Kate Spade shower curtain is less than $40 and can be found at Bed, Bath & Beyond, same with the above awesome coral towels. Speaking of ideas for the home, a no nail, no frame solution for awesomely matted photos? Indie Mats has come up with a clever solution. Makes a fun gift as a set, or give your wee one's annual photo to family fully matted and in style.
This is a clever gift for the hostess – with this tray now carrying it all from kitchen or bar to entertaining area IS possible (and the green is a fun color!). Another hostess idea? Thymes sent over this sweet holiday diffuser and I thought I'd share it with you all as well. If you're looking for that evergreen Christmas tree scent to flow throughout your house all winter long, this is the answer.
This eternity scarf reminds me of spring in the midst of winter and adds a nice little something to a big peacoat jacket. It's too pretty!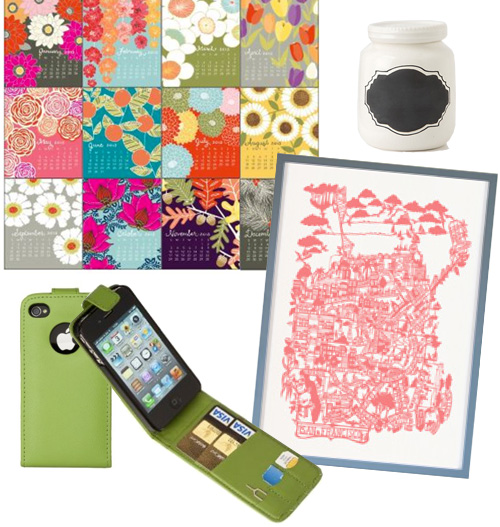 This floral calendar would make a lovely replacement for my current 2012 Rifle Paper find (which I adore, but is no longer in print for the coming year). A bright pop of color for the wall. Chalkboard spice jars make cute kitchen accessories and great reusable containers.
I extolled the virtues of my favorite iPhone case from last season here, but THIS is the newly replaced version (after much wear and tear) and it is my favorite. I slip my phone, credit cards and ID into my back pocket and I'm off. It's also super easy to transfer your most important contents from a purse to a briefcase to a diaper bag, and the green color is easily noticeable in a big, full bag.
San Francisco holds a special place in my heart and I would very much like to add this print to my office. The site sells a selection of fun cities to choose from to help personalize the gift and be sure to check Etsy for other vendors if your city is not listed.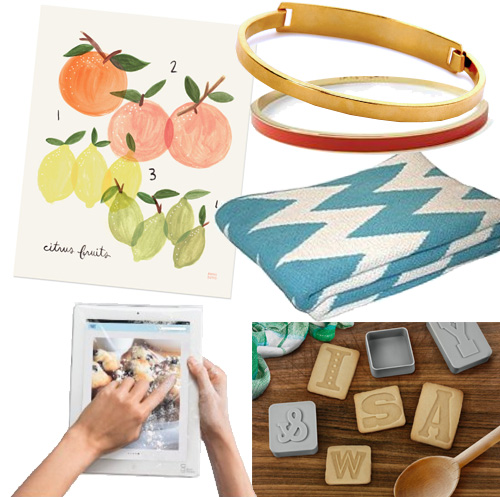 I love this citrus print, it would look great in any kitchen (and kind of falls along the theme of the Rifle calendar I mentioned earlier – that, drat, doesn't have a live link available anymore). This chevron blanket is a splurge, but would be so pretty flung casually over the end of a sofa.
Really digging gold bracelets right now so I had to throw two more classic versions in. This ID bracelet is chunky and great, and this coral bangle is an excellent addition to any stacking collection (bracelets are universal! Most women love them, even if just as costume jewelry).
Here's a clever idea for the chef: disposable iPad sleeves that protect your 'recipe book' while you cook. Genius! There's nothing like wet flour stuck in your tech nooks and crannies… argh. And for the bakers, all my letterpress fans out there, check out these awesome cookie cutters.
Last but not least, here are a few stocking stuffer ideas that I love for the family: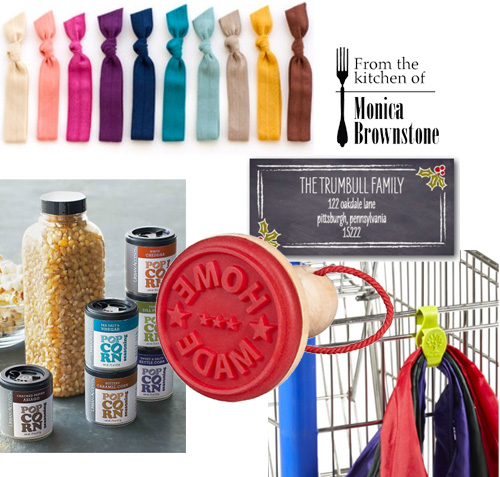 These hair ties are so soft and comfortable, and I love that the ladies behind this amazing business are two seventeen-year-old entrepreneurs! You go girls. They sent me a batch to test out and I offer two full thumbs up.
Address labels from Tiny Prints would be a thoughtful stocking stuffer for the thank you card writer/New Year's holiday card sender (address stamps are equally appreciated!).
Three more ideas for the amazing chefs in our lives: a Home Made cookie stamper for the baker with a funny bone

, a very sweet self-inking label maker for the constantly gifting chef, and as a fun yet practical stuffer, a hookeez bag holder for the environmentally friendly cook!
Another sweet treat for the giftee that has everything (or just really enjoys a movie night with the family). This pack of six delectable popcorn seasonings is only $15.
***********************************************************
That's this year's round up! There are an awful lot of great gifting ideas out there but these are a few of my favorites. Be sure to check out last year's list (I tried not to repeat but I love all of these ideas, too). And here's a list to all gift guides posted here on the blog (including last week's Kid's Gift Guide

).
Tags:
Christmas
Posted in
Gift Guides
,
Holidays
|
1 Comment »
December 10, 2012
Here's a quick DIY gift to share today that I just finished and put under our tree. I can't remember where this idea stemmed from – possibly a Pinterest post? or an excess of cupcake supplies in the kitchen? perhaps from something I've seen at the store? – but either way this was a fun and easy gift to assemble and one I hope the recipient will think is thoughtful and fun (especially for the baker!).
I made two versions of this gift, one that was smaller and is packaged more as a hostess gift, stocking stuffer or little favor, and the other as a meatier version with plenty of cupcake treats.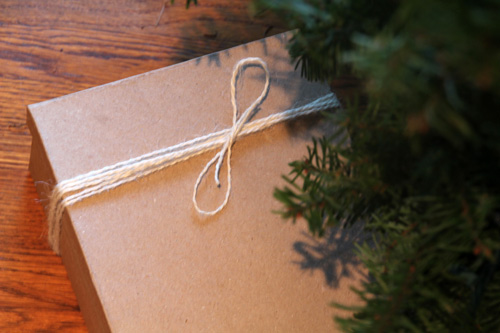 The larger kit contains a colorful mix of mini taper candles, cupcake liners in a variety of shapes and sizes, sprinkles (repackaged in little bead containers), specialty nonpareils, mini cookie cutters (perfect for fondant or cupcake pops) and lollipop sticks (more cupcake pop!). You could also include icing tubes, food coloring, marzipan flowers, toothpick toppers or a little cupcake book for decorating inspiration. I found my cardboard box right here.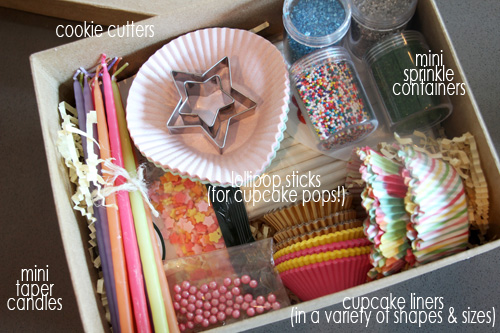 I like the idea of sticking to a rough color scheme (mine below is sort of pink, orange and yellow) to keep the contents looking a little planned. But it could be equally fun to go crazy with color! Or design a kit based off of a specific event, like a graduation with school colors, a bridal shower theme or a holiday.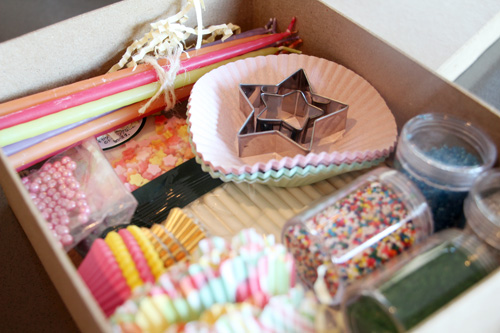 The mini kit contained some of the above but in a more edited form.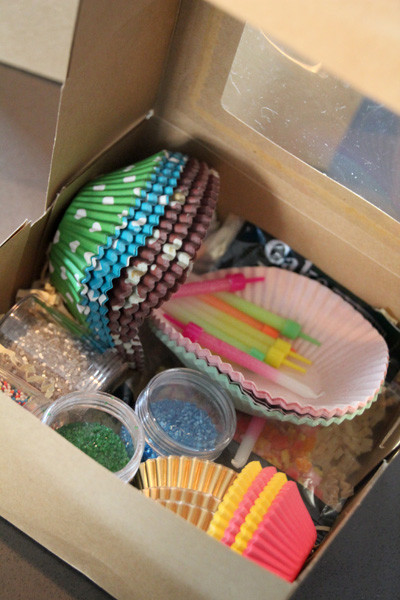 I found the clear-topped cupcake boxes at Michaels, it's kind of fun to peek inside!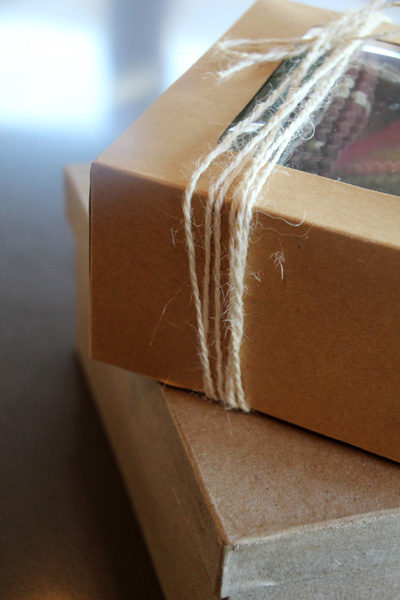 One more gift to cross off of the Christmas list and one more handmade project that I'm really digging. Now on to the rest!
PS You can find the line up of this year's handmade projects by sorting all posts here.
Tags:
Christmas
,
Crafty Solutions
,
Desserts
,
DIY
,
Parties & Entertaining
Posted in
Crafty Solutions
,
DIY
,
Gift Guides
,
Handmade Gifts
,
Holidays
,
Parties & Entertaining
|
8 Comments »