February 22, 2012
Earlier this month Cristin of Simplified Bee asked myself and three other bloggers to design a space around this Serena & Lily Campaign Storage Bench as a part of her Design Blogger Series: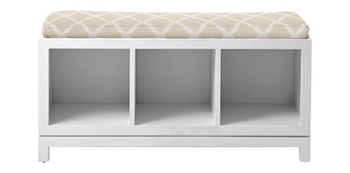 I was excited for the challenge and created a mudroom around Julia Rothman's Daydream wallpaper: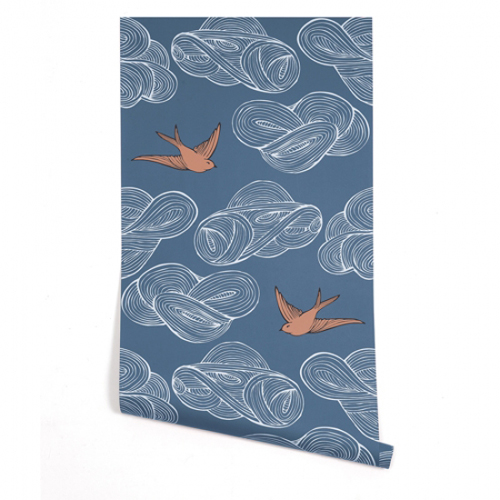 I adore the playful print – what a whimsical way for your home to greet you each day! But for the rest of the mudroom features (a side chair, fun pillow fabric, matching rain boots, a killer mirror and light fixture…) jump on over to Cristin's post!

And if you're visiting from over yonder – welcome!

PS You can read my Friday Guest Blog interview with Cristin on her favorite design secrets right here.
Tags:
Accessories
,
Blue
,
Decorating
,
Entryway
,
Guest Blog
,
Home
,
Mudroom
,
Patterns & Color
Posted in
Featured In
,
Guest Post
,
Home
,
Home Inspiration Board
|
1 Comment »
September 26, 2011
Thank you so much to everyone who sent their condolences yesterday, I really appreciate the notes. I'm so grateful to have such kind readers! We're back from Omaha and the dust has settled, it's good to be distracted.
I thought it might be fun today to share the 'inspiration board' behind the new office. This isn't an exact and I'm sure our minds will change again and again over the next month, but it's an outline that helps to narrow down furniture, accessory and 'do we need this?' choices.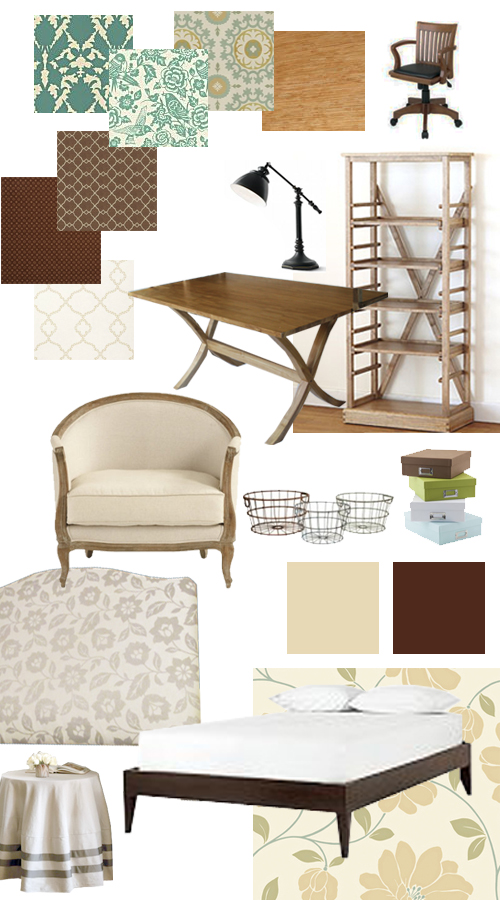 Back before we were even close to finishing the space, I shared this layout idea (with an initial color palette) and these inspirational rooms. Wow, much has changed in the last eight months! But you know, looking back so many ideas have stayed the same, too. Some stuff just sticks with you.
Key pieces in the above room include: a desk, bookshelves, refrubished credenza (not pictured), wallpaper for credenza, grasscloth, new platform bed, a wooden office chair (I'll add plenty of padding to make it comfy), a French-style occasional chair (a Craigslist find like this would be so cool), bedding, window curtains, side table with a handmade skirt, new lamp and chic office organizers. So I'm maybe half way through the list?
Inspirational fabrics include: Arden Chocolate by Ballard Design, Joann's Dot Brown, Calico Corners' Thomas Paul in Silhouette, Aviary Thomas Paul in Robin, Robert Allen Roman's Circle in Pool and Thibaut's Jubilee Collection. Love, love, loving these prints!
Creating an inspiration board is usually high in my process for building out a room. It keeps you from distraction and really focuses you on the functions and feel of your finished space – it's especially useful if you're tempted with an impulse buy!
Wow it feels like the office is ALMOST there! Especially considering the room started as this: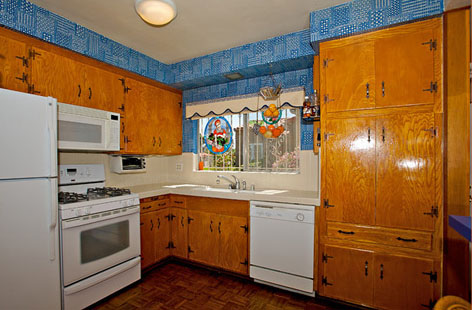 And once the kitchen was removed (and the wall between the old office and kitchen was knocked down), turned into this: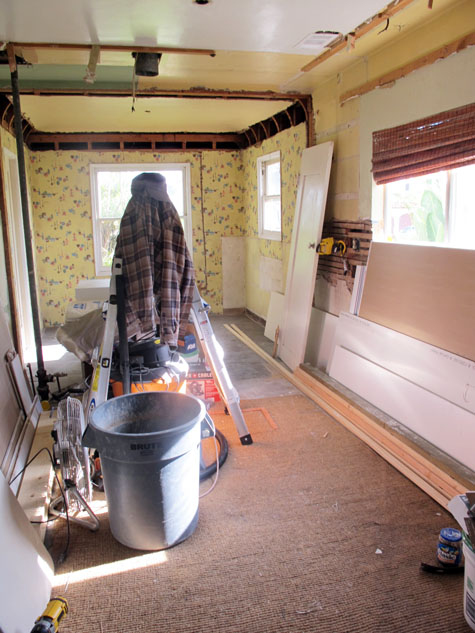 Little by little!
For more Office Makeover posts, check out: new lamps, wallpapering open shelves, finding the perfect credenza, new trim, dining table-to-desk, a new desk & bookshelves, installing remnant carpeting, grasscloth wallpaper, painting the office nook, finding carpet for the office, chocolate brown wall ideas, plastering progress,  inspiration for a diy desk, back in action!, desking hunting for under $300, bookcases under $300, inspirational rooms, room layout options, demo part 1 & demo part 2.
Tags:
Decorating
,
Home
,
Office
,
Teal
Posted in
Home
,
Home Inspiration Board
,
Our Guestroom/Office
,
Renovating Adventures
|
6 Comments »
July 13, 2011
Hi everyone, my apologies that I've been MIA these last few days. It's been a whirlwind of work and catch-up after a busy weekend, but I think that I am almost back on track.
On Saturday Liv turned 6 months old! Just around Olivia's 3 month birthday, I shared my favorite products for those very first few months – and now I'm back again with a round-up of favorite baby products for the 3-6 month age range.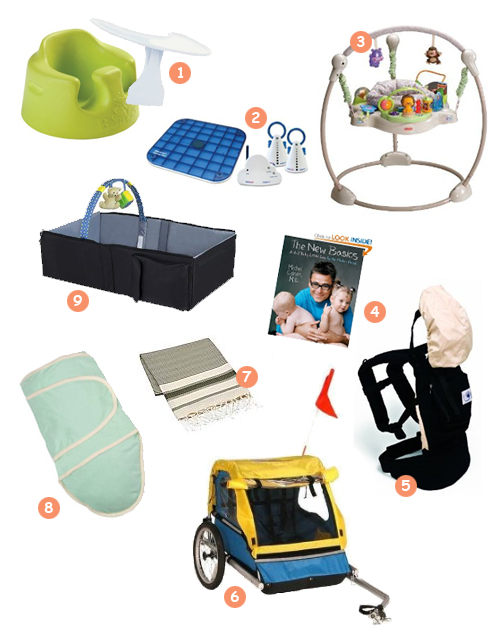 Squeaky teething toys and soft foam books aside, these are a few items that have been helpful to have around the house. By no means are they necessary – in fact you could easily do away with all of the above – but if you're on the search for helpful baby products (or want to share your own!), this post is for you.
1. Bumbo: The Bumbo is a deep seated rubber 'chair' that holds babies upright so that they can safely observe all that is going on around them. We introduced the Bumbo right about the time Liv began holding her upper torso up comfortably and boy what a great change! She could now sit on the counter as we cooked meals, worked on the computer, or even as I was getting ready in the morning. And she was happy as a clam observing all first hand. (That white plastic piece above is the attachable tray – helpful when baby gets big enough to stretch up and out).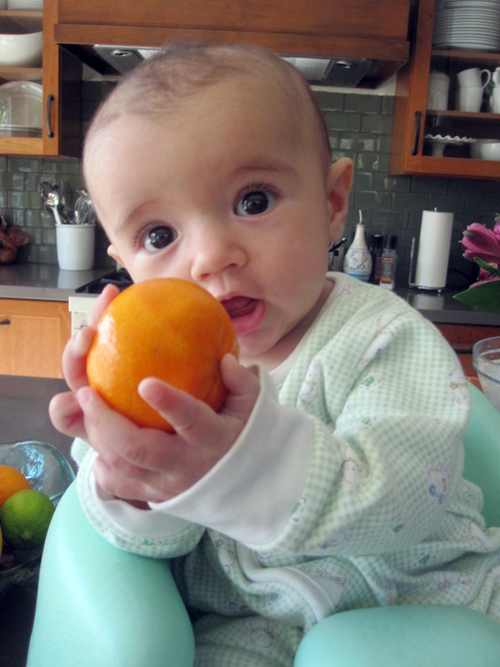 Would you like an orange?
2. Angelcare Movement Sensor & Monitor: We sleep soundly each night with our sensoring monitor. The Angelcare system registers both sound and breathing through a small pad that's placed just under the crib mattress, and if it doesn't register small chest movement after 20 seconds, a loud beeping goes off.
3. Jumparoo: We don't have traditional door frames so a compact jumper (that fits in the door) wasn't an option. While this particular Juparoo is quite large and in charge, it's the best Liv entertainer out there. She LOVES to jump!
4. The New Basics: This book is a modern A-Z reference guide with answers to every question you might have about babies & toddlers. It helps dispel common myths and concerns (what foods to introduce when, for example) while offering practical guidelines and suggestions to parents. I like the Cohen's conversational writing style even if I don't agree with every idea he shares.
5. The Ergo Baby Carrier: I love the Moby, but Liv's big enough now to sit comfortably in the Ergo. Wow I can't speak highly enough of this carrier – it's comfortable on the hips, distributes weight evenly, and fits both 6'3″ Kevin and 5'3″ me well.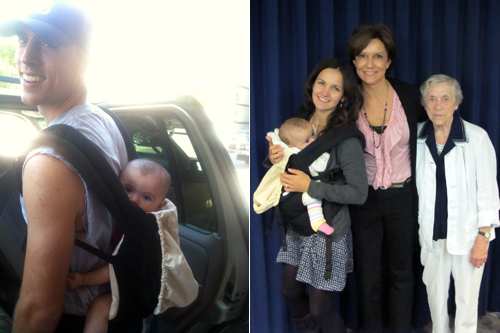 6. Double Bike Trailer: Now that we're training for RAGBRAI, Kev and I love to head out for a good family ride. This double wide stroller holds a car seat comfortably and Liv hasn't complained once, even though she'll often be back there for hours at a time. It's like her little chariot (not much to complain about there, I guess).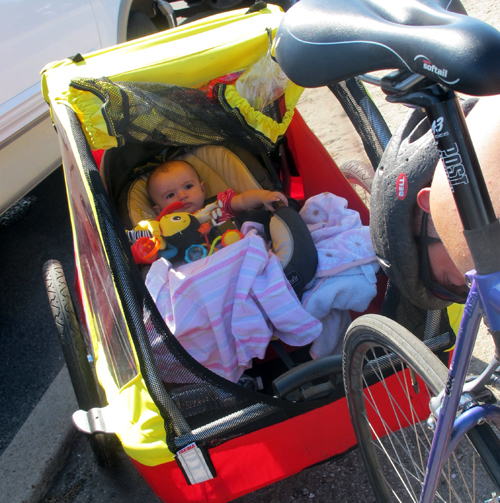 Take me on my ride now.
7. Woven Towel: With all that you have to carry around with a baby for a trip to the park or beach, a humongous towel or picnic blanket is the last thing I want to add to the mix. I love this super thin towel that opens up to seat four but rolls easily into the diaper bag.
8. Miracle Blanket: We have many a friend who relied on this swaddler to settle down a fussy newborn, and it has become our go-to daytime nap swaddler. We didn't end up needing it until we were looking for a warm weather version of our favorite fleece nightime swaddler, but the Miracle Blanket is ideal for squirmy babies that keep themselves awake! Liv falls fast asleep when she's all bundled up (we literally put her down awake with a binky and she's out in two seconds).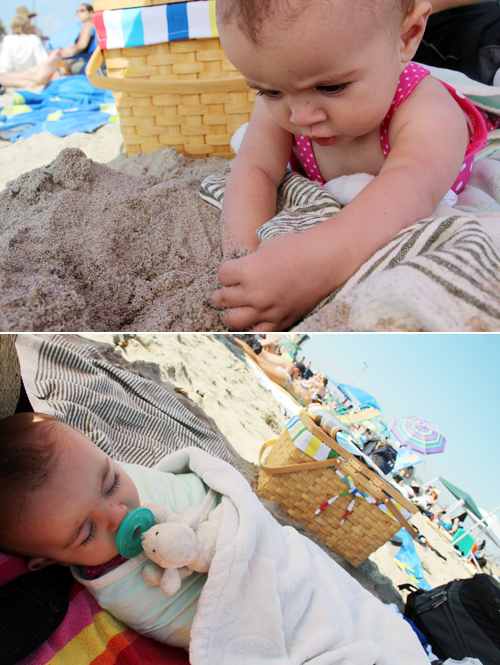 Liv playing on the travel towel and later napping on the beach in her cozy Miracle Blanket (4th of July) .
9. Travel Bed: With Liv swaddled up for naps and overnight, she doesn't move much while sleeping. This bed has proven to be invaluable on our many weekend trips and it folds up to fit nicely. On the rare occasion it's not with me, I've used a dresser drawer (on the floor and padded with blankets) as a substitute (works great

).
And that's the round-up! I'm sure I've left something off of the list… If you have any favorite products or secrets – do share!
Posted in
Family & Friends
,
Home Inspiration Board
|
1 Comment »