May 20, 2011
Back with another issue of San Diego Magazine! It's really so fun to work with our local city publication to share design inspiration and ideas – and of course I always love to post the collages here as well because I hope they'll be equally inspiring to readers from all over!
Whether your backyard features the great outdoors or a pocket-sized patio, my contribution to May's issue of San Diego Magazine focused on all things design for lounging, entertaining and dining outside.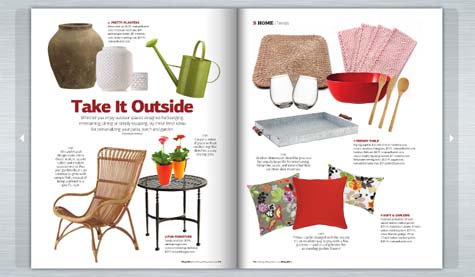 It's the perfect time of year to create an outdoor retreat – a place to escape from the hustle and bustle of everyday life and to enjoy those flowers that are blooming at their best.
I love the idea of mixing a variety of styles so that an outdoor space can grow and change with cool finds from over the years. Speaking of favorite finds, the above retro Anthropologie banda arm chair mixed with modern West Elm ceramic lanterns and a bright floral pattern (in the C&B cushions) is just what I have in mind for a cozy, eclectic personalized space.
The entire digital edition (including a neat gift guide from Mrs. Lilien – another SD native) here! Find my outdoor design tips and resources on pages 82 & 83.
Tags:
Outdoor Spaces
Posted in
Home
,
Home Inspiration Board
,
San Diego Magazine
|
2 Comments »
April 13, 2011
Liv is three months this week! Wow it seems like it was just yesterday that we brought her home from the hospital.
Being the new parents that we are, there are a few products that have helped to make the transition a little easier. I thought I'd share with you a few of my favorite finds.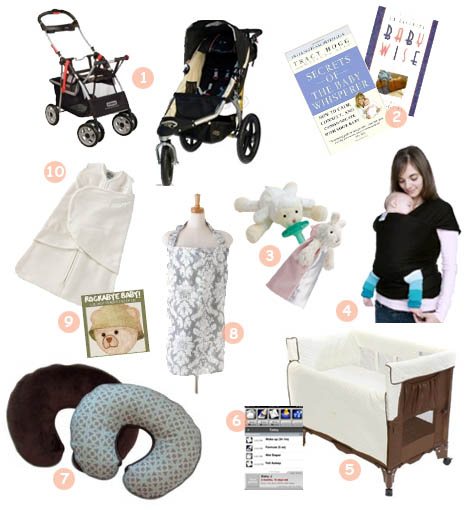 Clockwise from top:
1. Jeep Car Seat Carrier & Bob Revolution: While it's definitely not necessary to have two strollers, we've found that our quick snap-and-go stroller is a dream for trips to the grocery store and other errands (easy to fold and our Graco Snugride carseat fits right in), while our Bob Revolution is great as a walking and park stroller (we use it ALL the time!).
2. Baby Wise & Secrets of the Baby Whisperer: These two books have been our everyday resource for introducing a new baby into our lives, and vice versa. The tips on schedules (we keep a pretty relaxed but somewhat regular schedule) and sleep training are invaluable – Liv began sleeping through the night at 8 weeks (the a few exceptions here and there…).
3. First Friends & Wubbanub: The newborn soothie pacifier is amazing – but it's a lifesaver when attached to the Wubbanub or First Friend! These, along with the above books, can be credited for Liv's sleeping patterns. When she spits out or drops her paci, the stuffed animal on her chest keeps it within reach to grab again! It's a-mazing.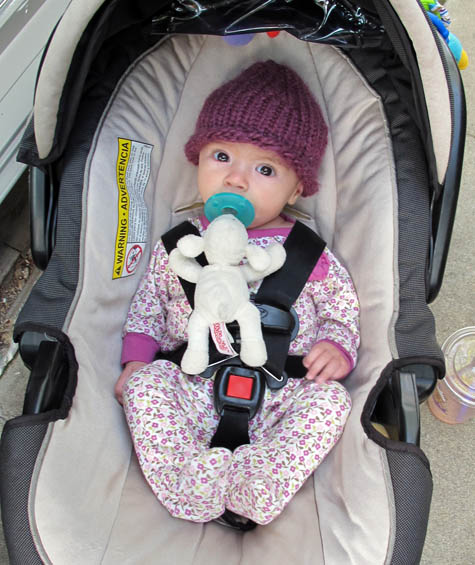 A little demo in how both the First Friend and Wubbanub works. When Liv falls asleep in one of her sleepsacks with her paci, I like to keep a very thin blanket over her pacifier (rather than swaddling it directly into her sleepslack which could be dangerous) so that when she spits it out and wakes up again, there it is! Of course you don't need the blanket on top to help begin the self-soothing process, but I find it can help.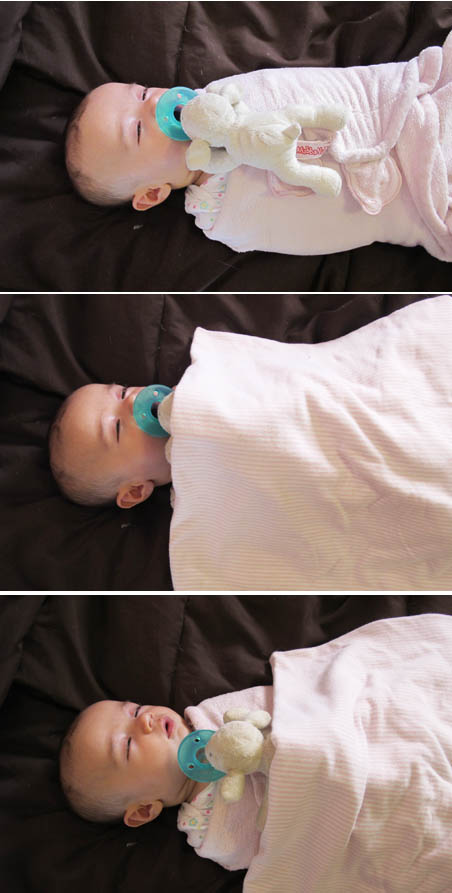 4. Moby Wrap: We've taken Olivia everywhere in the Moby Wrap – from playing in the snow to walking the streets of New Orleans while on vacation to sporting events to shopping around town. She loves it and it's so very comfortable for Mom and babe.
Hint: It can be tough running errands with a baby that you have to take in and out of a carseat at each stop – I wear the Moby while driving – without her in it, of course – so that when we stop I can slip her right into the Moby at each errand. It beats carrying a heavy carseat everywhere.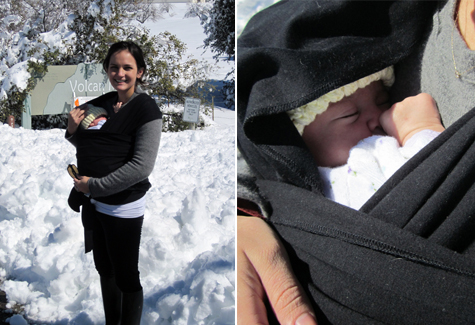 5. Arms Reach Cosleeper: Liv sleeps right next to our bed in her cosleeper. It's wonderfully convenient to not have to get up out of bed in the middle of the night to nurse and it's nice to safely 'co-sleep' during her first few months. We use the risers now (not shown in picture below) to bring the cosleeper up even with our bed.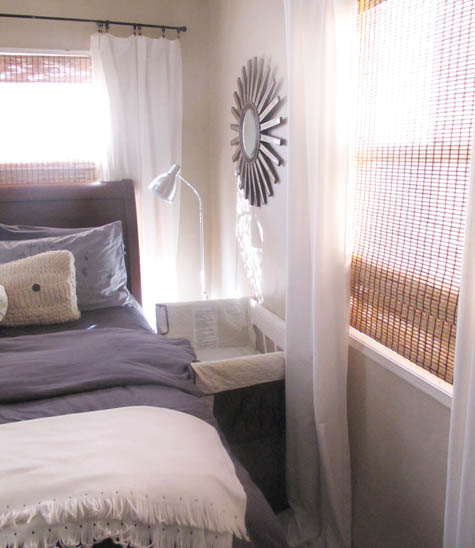 6. Total Baby iPhone App: This app keeps my life in order – well, my life so far as Liv's schedule goes. It tracks when she eats, on which side, for how long, etc. It also includes cool tools such as sleep tracking and diaper counting. By checking my phone I can predict when she'll be ready for her next nap and if she's crying because it's time to eat or time to sleep.
7. Boppy: I love my boppy nursing pillow! I wish that I had one in every room because it makes nursing so easy with its wrap around shape.
8. Udder Cover: Speaking of making nursing easier, my Udder Cover is big and breezy and super convenient for nursing on the go. I use it almost everyday and because of its light material (the actual pattern I own is linked in the name) I don't worry about it being too warm for Liv beneath the cover. The boning around the top of the cover is a hands-free way to keep an eye on her.
9. Rockabye Baby, U2: You won't mind listening to the same lullaby cd again and again when it's a rendition of Coldplay, Bob Marley or U2. In fact you'll look forward to hitting play each time you rock baby. Another great lullaby source? Looping Lullabies – check the site out to hear a few soothing samples.
10. Halo Sleepsack: We have several sleepsacks to rotate throughout the week but one of our favorites is this version by Halo. Because Liv was born in the winter, and because blankets can be dangerous, this super cozy sleepsack both swaddles and keeps her warm all night long. I don't worry about a blanket covering her face and her arms don't wake her up when they're snuggled by her side.
And there you have it! I hope it's helpful for all of you mom's-to-be, current mommies, aunts, grandmas, etc!
And just for fun, a little video of Liv singing at three months old:
Ahhh, too cute. She just learned that her little voice has pitch and that she can control it.
If you have any favorite products or tips of your own, feel free to share!
Posted in
Family & Friends
,
Home Inspiration Board
|
16 Comments »
February 28, 2011
I recently put together a trends piece for the March issue of San Diego Magazine that offers tips for designing & organizing your home office (spring cleaning time is almost here!). I also included a collage of inspiring office additions – many of the pieces which represent a 'dream' office space in our office/guestroom remodel – that pull together a very gender-neutral (but pretty!) organized office space.
Here's the inspiration board I created: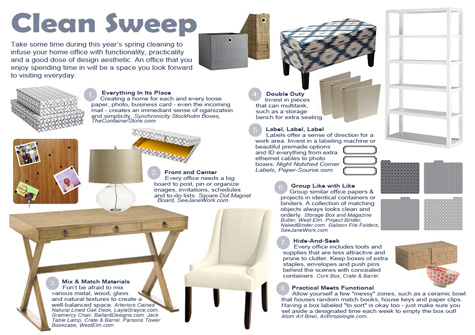 And just for fun, here's the published spread (find the online issue – as well as the eight organization/decorating tips & tricks – here on pages 82 & 83):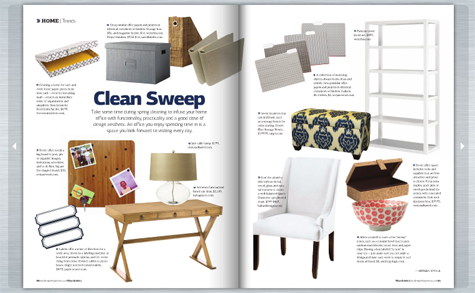 I also wrote an article on a beautiful "ultra modern" home here in San Diego by famed local architect Jonathan Segal: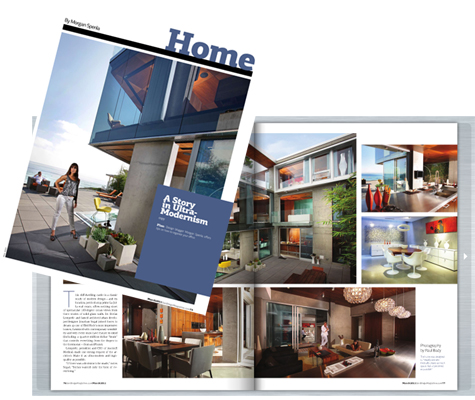 A fun read if you love contemporary design and architecture!
Now if I can only find that beautiful wood desk from Layla & Grayce at about an eighth of the price… it's stunning

and would make an excellent addition to the new office. Hope you had a lovely weekend!
You can find the February San Diego Magazine edition on masculine and feminine bedroom inspiration boards here.
Tags:
Office
Posted in
Home Inspiration Board
,
Organizing
,
San Diego Magazine
|
6 Comments »