January 7, 2013
I've been on the hunt for a lighting solution for our little hallway for quite some time… but not many pre-made ideas have a. hit the head on the nail for the right look or b. fit the little budget we have in mind.
Here's that hallway now, badly in need of some cool lighting love.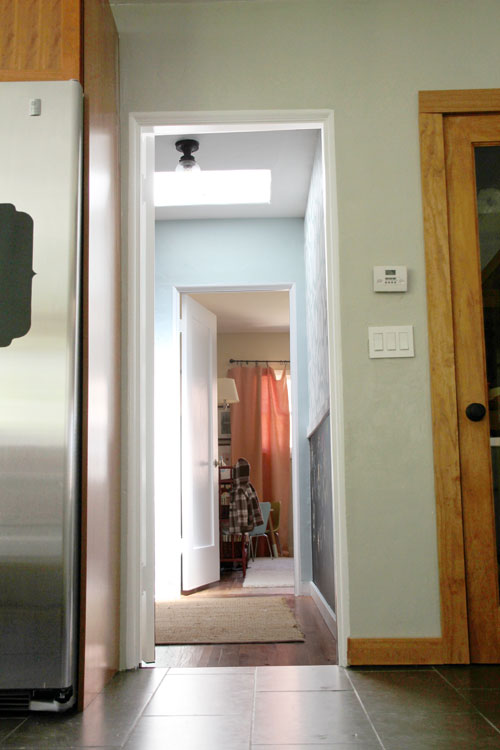 Especially against the new painter's tape wallpapered wall!
I played with the idea of something large and white and modern, something bright and contrasting in color – maybe with beads??, something in the black or gold or basket variety (see all pinned ideas right over here) and eventually settled on something woodsy. A concept that's a little vague, I know…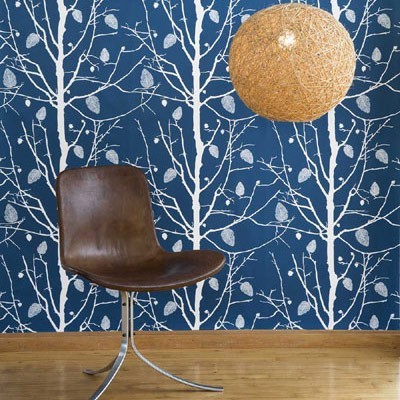 I didn't know what woodsy might specifically might be, but I love the look of raw or slightly honey-stained wood and blue. They're so perfect together! Birch and navy (image above) play very well together, or check out the walnut mirror below and how it 'pops' off of those awesome walls! (image) It's hard to tell in the very top photo, but the accent wall in our hallway is blue, actually I suppose all four are blue.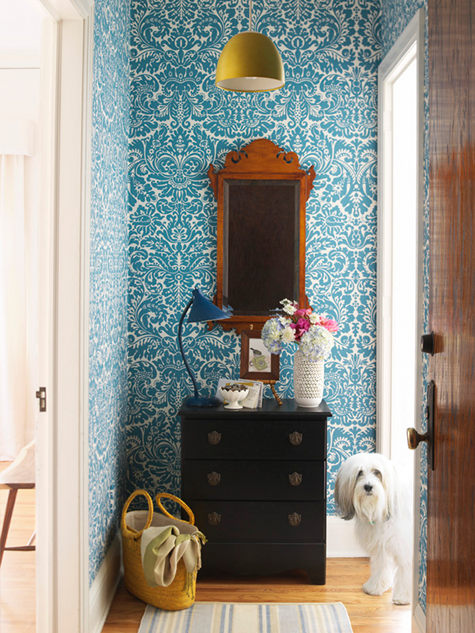 There is just something about blue and natural wood… same goes for gold (image).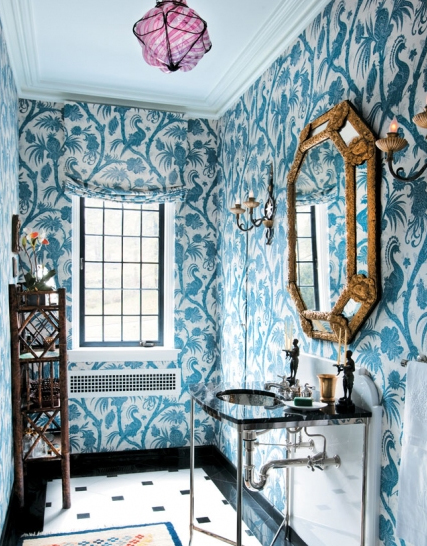 I was originally inspired to build a light out of wood veneer (kind of like this one, but I was thinking big and couldn't manage to get the wood veneer sphere to hold its shape once my play pendant grew larger than about 14″ in diameter), here are a few examples of the inspiration I played around with: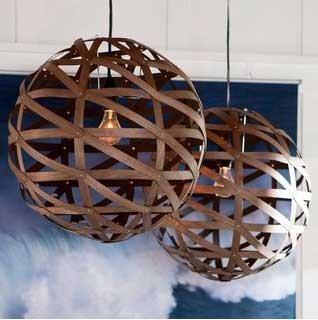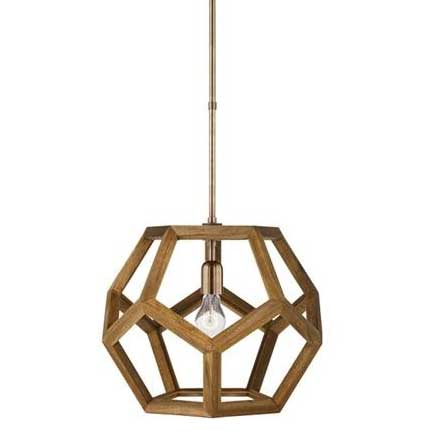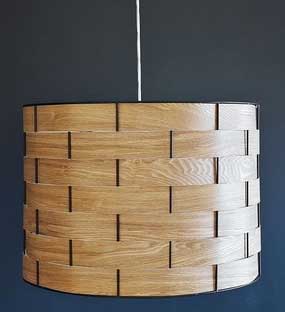 The round guy at top is a little dark in color but the shape allows plenty of light in (image) which is crucial for this hallway space at night, the honeycomb version is a very cool idea with its unique design (image) which is sure to make people stare up at it when they walk by, and the third option on my list is one of my favorites with its weaved wood veneer and traditional drum shape (West Elm, but no longer available). I actually thought that guy might be the easiest to DIY.
But I was looking for something a little less ordinary and perhaps a bit more organic in style and shape? Sort of like this one? (image) But maybe not sooo crazy.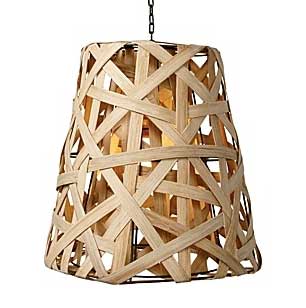 Time to DIY!
I should warn you now though that this project failed. Womp womp.
Before you get too excited for me for finding and then DIYing the perfect, most amazing pendant that ever walked this earth… it didn't happen. But I gave it an honest effort. Still shedding a tear over it.
On to the good stuff.
Materials included 4 packs of 3/4″ wood veneer edging from Lowes and a vintage wire lampshade: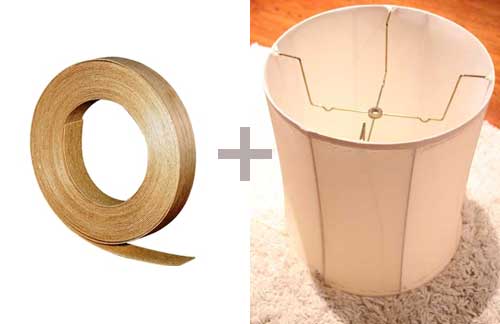 That night I stripped that lampshade down to its bones: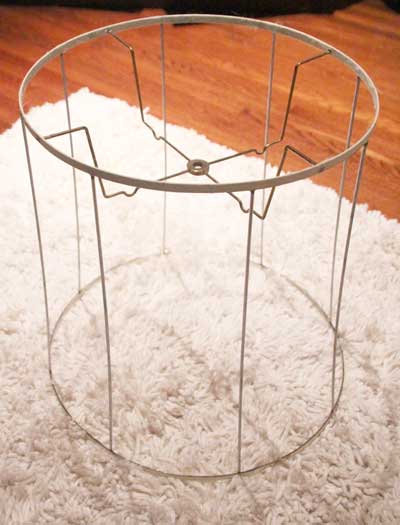 And then began using that wire structural design to add veneer strips to the shade. Using office clips, I first outlined several ideas on how this might look, later I could glue my favorite design in place (highly recommend this less temporary solution for any major project while in the 'playing around stage').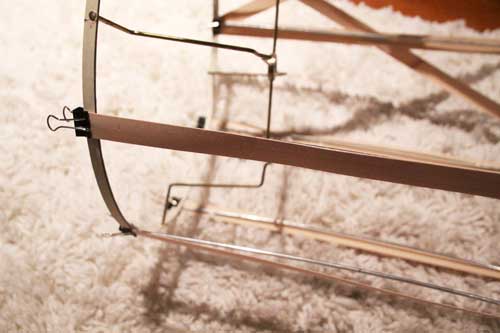 I settled on a design with a pattern, though a slightly unusual one at that. Then it was time to glue (I recommend a wood glue for extra support), and be sure to leave those clips on with the glue overnight (though I was careful not to glue any clips, and I moved my pendant out to the garage for the drying portion of this project).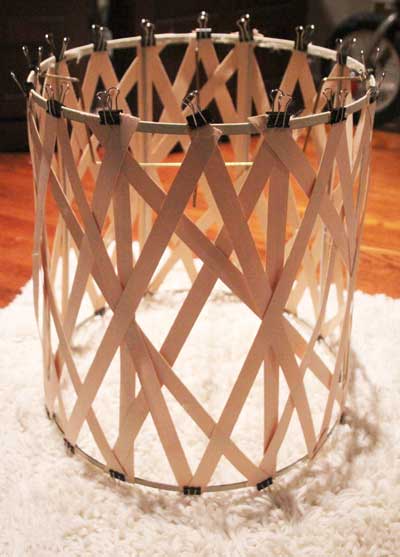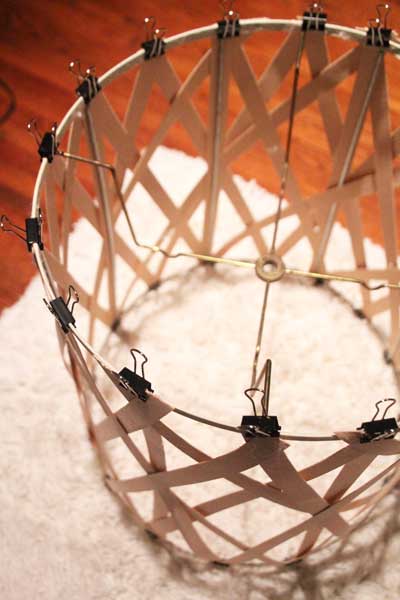 I eventually lined the wires (and top and bottom) of the inside of the shade in veneer as well, so that if you're looking up or down into the body of the shade it looked as if almost all of the wire had disappeared.
This is the womp-womp part of the project… my new shade looked so neat there on the floor all perty and structural and finished!
But as soon as we played with how it would hang in the hallway it became very clear that the shape and size was just not right, and that the color (which looked so cool and birch-like up close) looked much more like raw, unfinished wood from the next room over.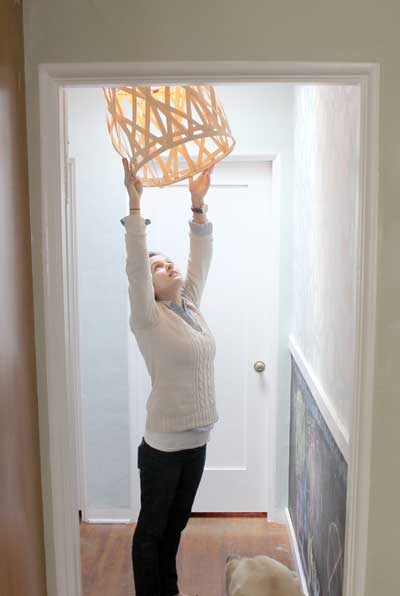 Oh man, so disappointing. But sometimes you just know when a project is not right.
I'm hoping to reuse the shade or materials for something else around the house and to start over on the hallway light. On the plus side, I'm a little wiser on what will look appropriate up there – I'm not opposed to something over-sized or structurally interesting, but now more horizontal, less vertical and perhaps something stained.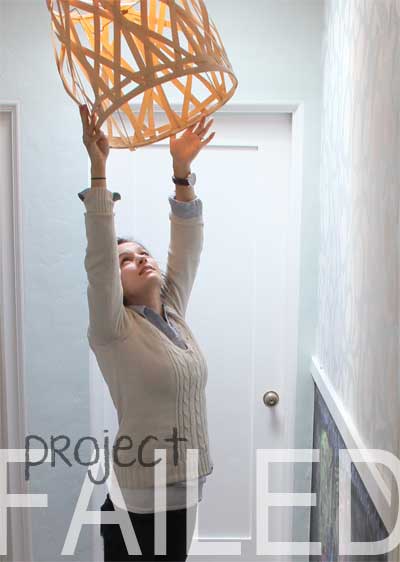 You win some, you lose some.
Tags:
Accessories
,
Crafty Solutions
,
Decorating
,
DIY
,
Home
,
Tutorial
Posted in
Crafty Solutions
,
DIY
,
Home
,
Our Hallway
,
Renovating Adventures
|
13 Comments »
January 1, 2013
Happy 2013! As promised, I spent my New Year's at home with a glass of (Martinelli's) champagne and in uber comfy style (unlike my imagined idea), no major stories to tell but a relaxing welcome to the new year.
Man oh man I can't believe it's already 2013. This past year has come and gone in the blink of an eye and while there were so many adventures and projects and stories to share, it feels like it all happened quite quickly really. With that in mind, I thought now might be a fun time to take a walk around the house to see what Kevin and I crossed off the house renovation project list from last year, and what we might be tackling in the coming months/year now that it is officially brand new. Here's a similar walk-through from 2011 (wow, that seems like yesterday!).
Just for fun, let's take it waaaay back and sneak a peek at what each of these rooms looked like before moving in as a more grand comparison.
The Dining Room
First up, the dining room. No major construction changes here (except that that left door below now leads to a hallway to the new kitchen and the right door below no longer exists – see bathroom update next) but plenty of design changes. Mmm I still love the soffits in the ceiling and the rounded walls that make this a 1930s home.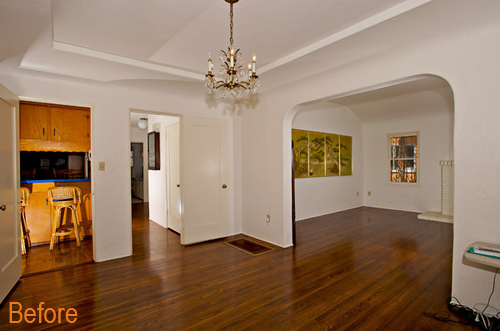 In 2012 we played with rug ideas, new lighting, adding curtains (transformed from a favorite pattern found in a duvet cover) and finding neutral art to balance out the dining room space. Plus this awesome greenery (which does not like its current location – Fiddle Leaf Fig owners with a green thumb, please email!). We still have plans to come up with comfier seating options and more light (that pendant, as beautiful as she is, does not give off a whole lot of bright).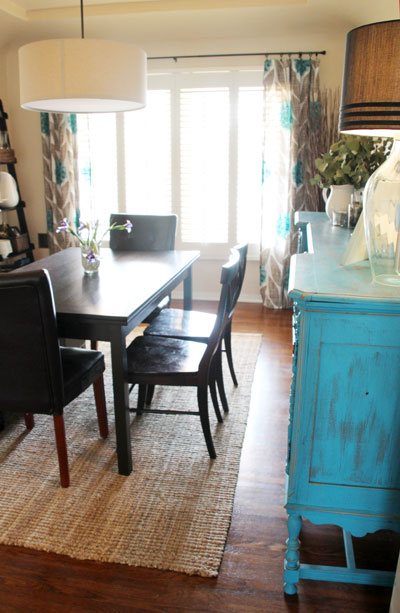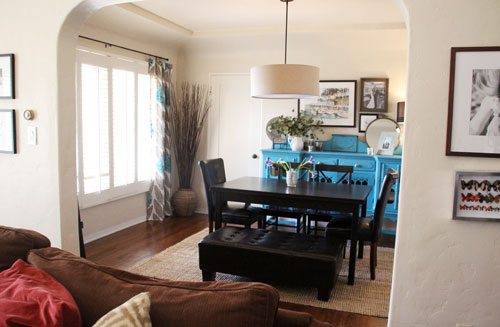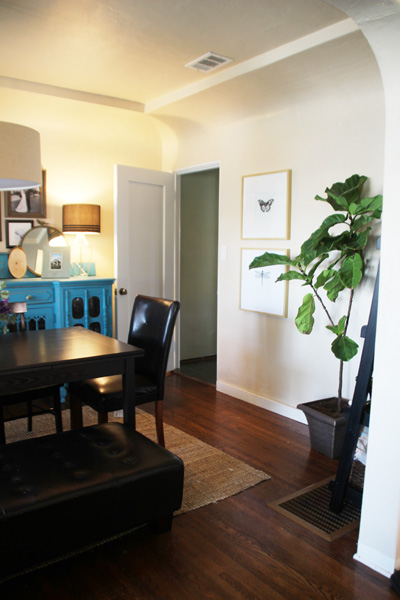 More about all of the the dining room updates here.
New Guest Bathroom
Next is our build-from-scratch bath that used to function as three small closets (two for the hallway, one for Liv's room). The before (photo taken from the back of the house, the same hallway from the other direction is in that top before shot of the dining room):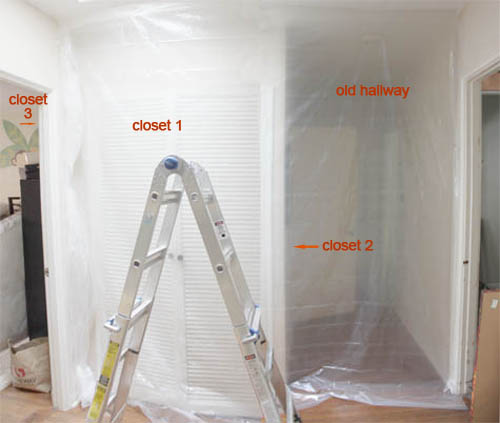 Here's a quick glance at the sketches we initially created to help guide the space, not too much changed over the course of the couple of months of building in terms of layout and design: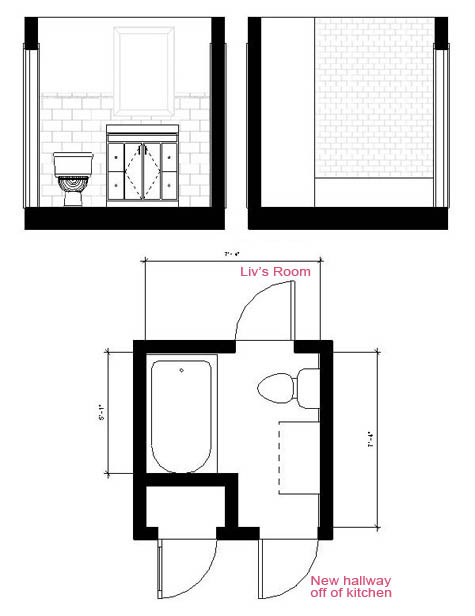 And the crazy construction behind it: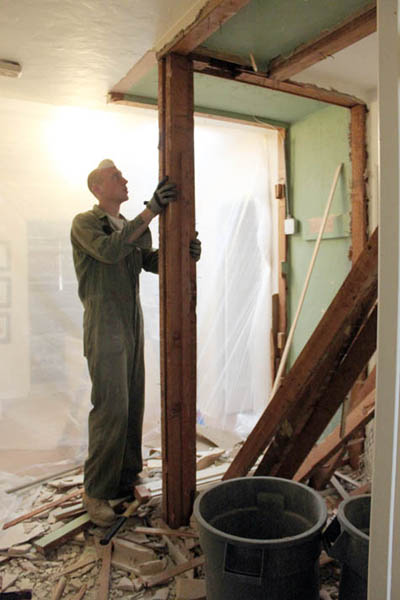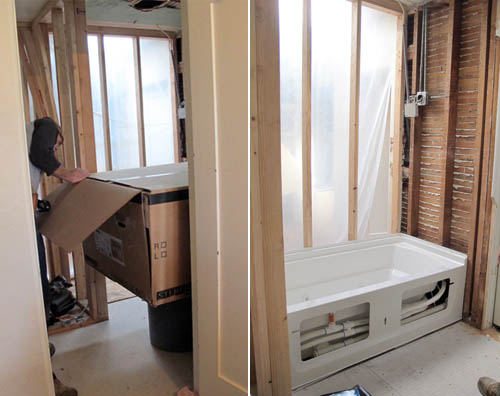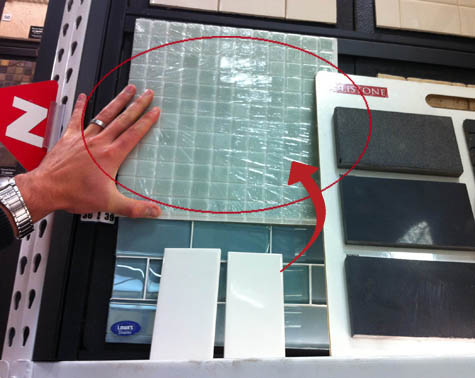 All of which brought us to here!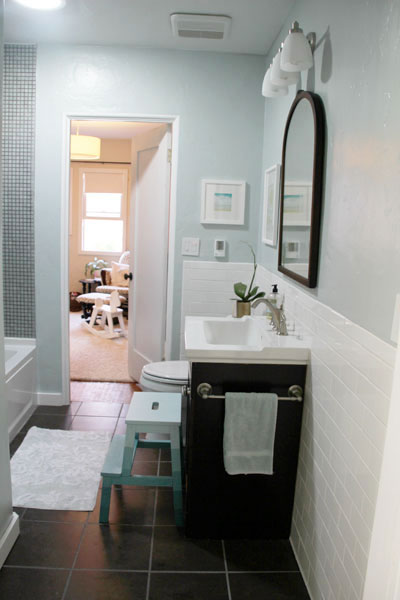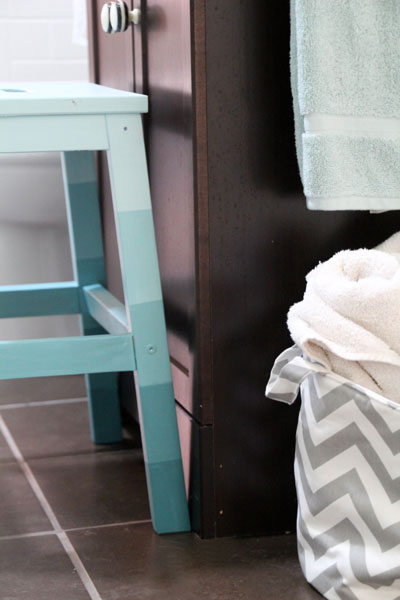 More details on all of the little DIY projects plus the full construction process play-by-play can be found here (favorites include this ombre footstool and awesome Etsy chevron towel bag).
Hallway Redesign
Once the bathroom was finished it was time to tackle a big chunk of empty wall on the opposite side of that tub up above in the hallway. This particular hallway is a roomy space that connects bedrooms to the kitchen and the rest of the house, so it's a natural play space for Liv and her push toys/doll strollers while we're cooking or eating in the kitchen. It made the most sense to keep it as kid-friendly as can be.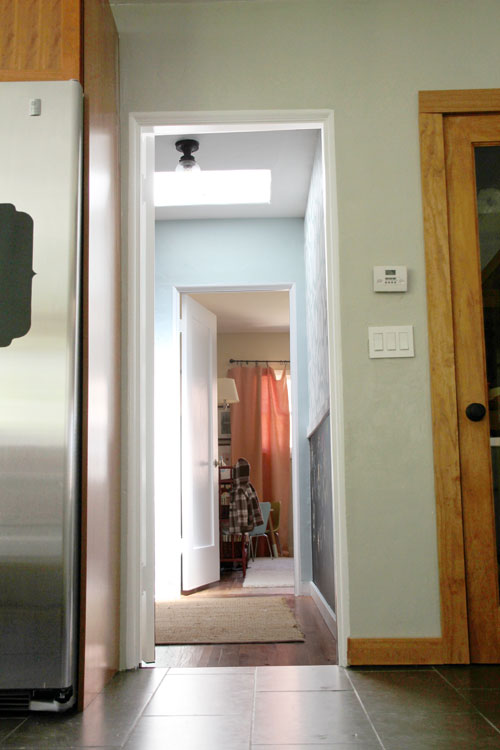 So, I painted the lower half of the wall to encourage massive chalkboard murals and the top half with my own version of a wallpaper design using painter's tape (after much searching and not being able to track down 'the one').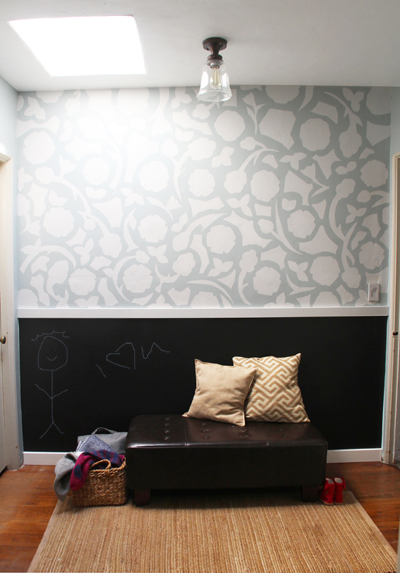 We have since removed my 'shoe-putting-on-station' because the bench really was not so great at corralling loose jackets, shoes, handbags and what not as I had hoped, and eventually became more of a tripping hazard. Ah well. On the plus side, Liv has more access to the full chalkboard and loves to cover it with her shapes and squiggles!
We plan to revamp this entire hallway space once we settle on a master bedroom/bath redesign, so this next update will likely not last through the end of this upcoming summer. But this side of the hallway needed a little storage love as well so a Craigslist corner unit received a paint update and a few favorite knick knacks. The below two shelves now house blankets and what not.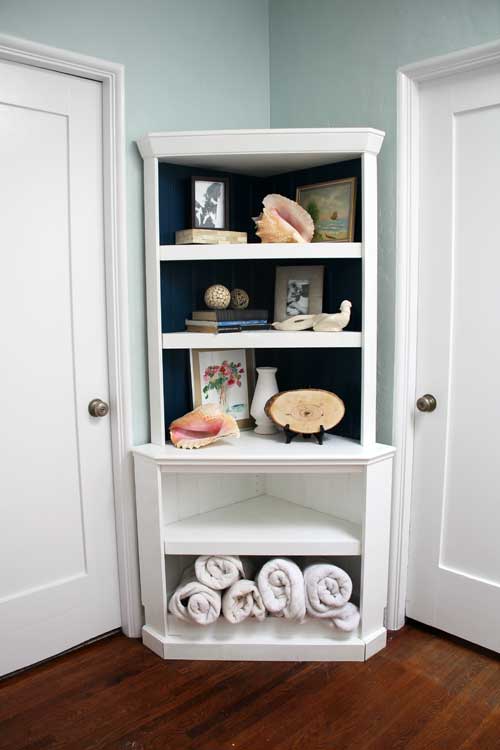 Office/Guestroom
Most of this space was built and finished in 2011 (the original kitchen used to live here). But we did make a few updates such as a new fabric headboard for the guest bed, new wall collage (including this handmade favorite), new Craigslist vintage storage and chair, and rug for on top of our rug (that perty white has nothing against a dog and toddler).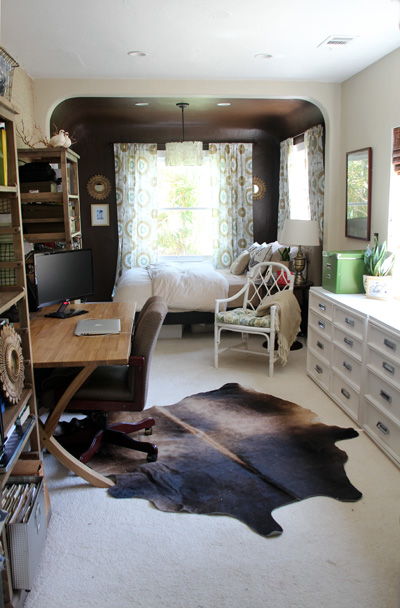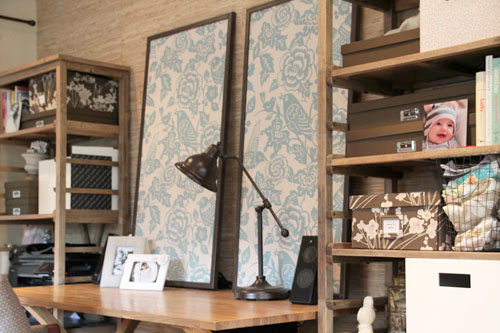 Follow along with office projects here. And believe it or not this space used to actually look like this!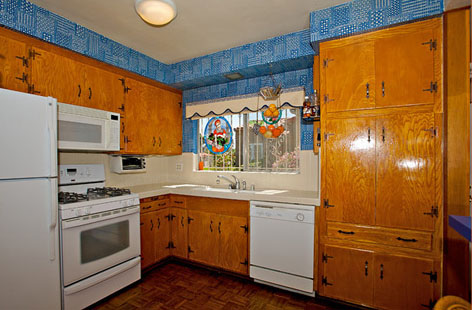 Living Room
Our living room received a few cozier updates with a few more in store for 2013.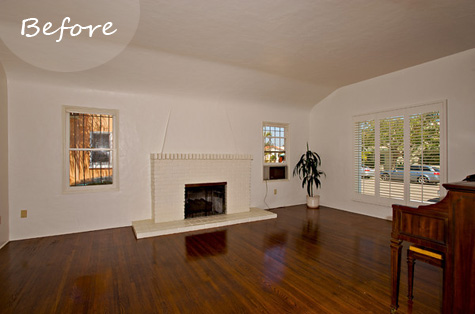 New envelope pillows, embroidered artwork, DIY butterfly art and a faux canvas painting made my list of top changes, though we also invested in a super shaggy/soft rug for playing with blocks and a few new pieces of bookshelf tchotchkis (this being my favorite).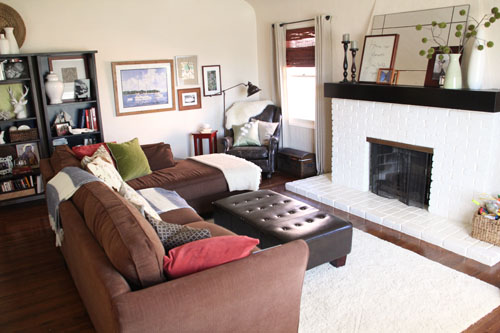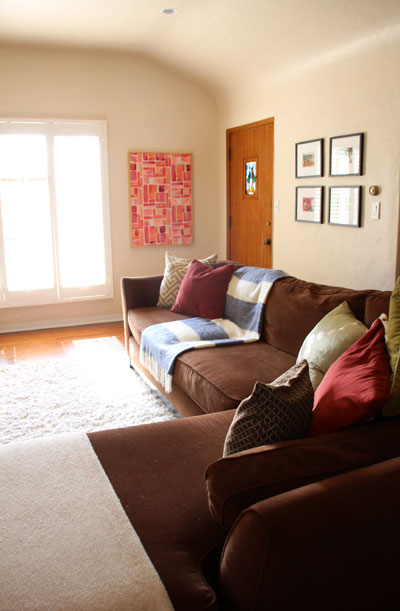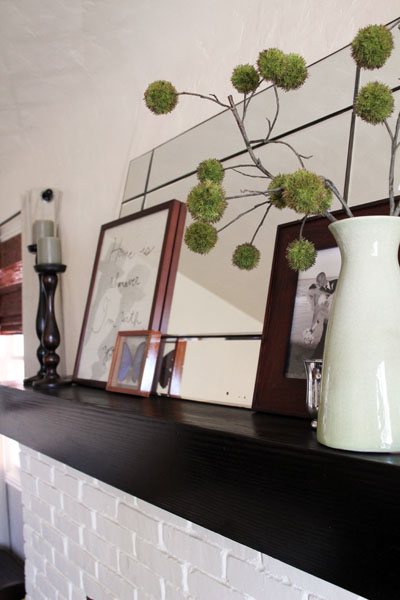 Curb Appeal
So much to be said about all of the outdoor work happening around these parts in the fall of 2012! We painted the house (more to come on that, we actually still have windows and a few little areas to complete) and we're loving the new soft tan color!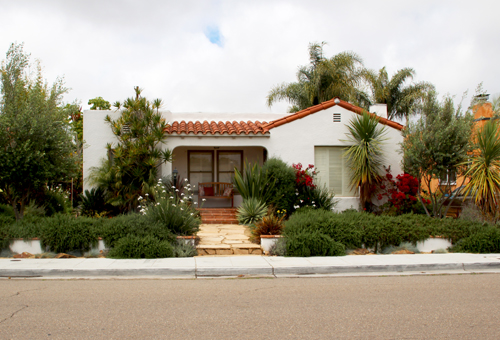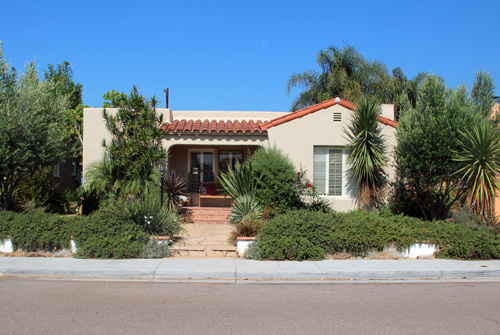 We've chosen white as the window trim and those front two windows have since been restored (also something we're teaming up with professionals for) and painted. Kevin stained the front porch bench and grouted the saltillo tile under foot as well.
The jungle of a sideyard was also tackled!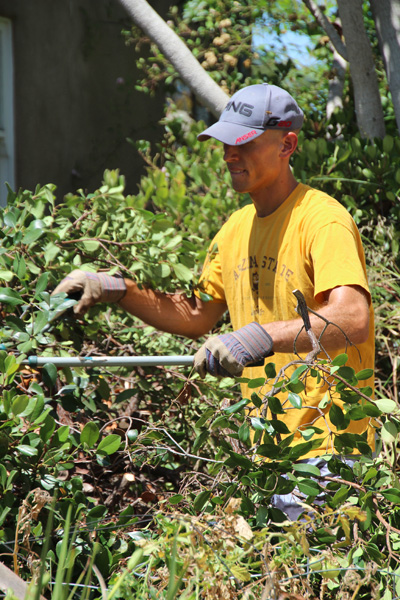 A little clearing, wall building, deck laying and table building (from very cool reclaimed wood) later…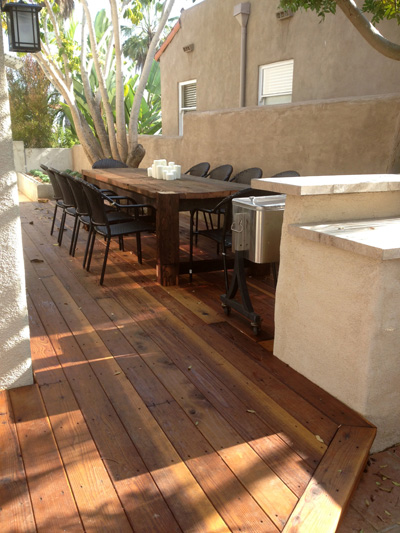 And you have one of our very favorite updates. This is an awesomely useful outdoor space now for dining, cooking marshmallows and BBQing alike. The above dining table is just off of our new kitchen so when it's time to par-tay we push the wide doors open and join the two big spaces.
These two photos below are pre staining, but you can see how the new flagstone ties in with the rest of the backyard!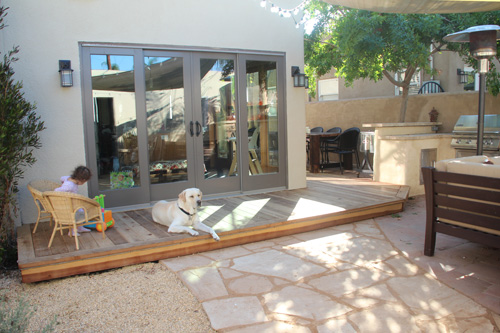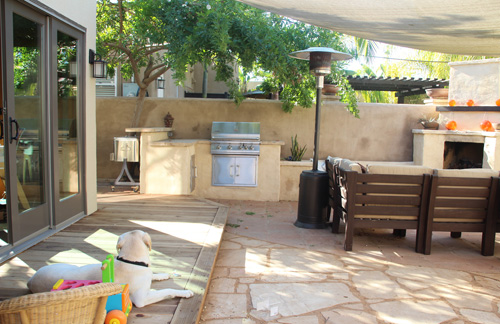 And there it is, the big stuff from 2012.
Still on this list? Much. A master bedroom/bath remodel, guesthouse makeover (we have a little back unit near the garage), finishing up the kitchen nook and hallway, Liv's big girl room + new nursery, the garage and a few more curb appeal updates. Plus the usual day to day crafts, style boards, parties and ramblings of this blog. AND a new baby. Woohoo!
Thank you for joining us on our adventure. I feel so incredibly lucky to have an online group of friends that offer awesome suggestions, that extra encouragment just when we need it and who check in on us on a regular basis. Thank you. And very much looking forward to spending the rest of this new year with you!
Tags:
Decorating
,
Dining Room
,
DIY
,
Home
,
Living Room
,
Office
,
Year in Review
Posted in
Curb Appeal
,
DIY
,
Home
,
Our Dining Room
,
Our Guest Bathroom
,
Our Guestroom/Office
,
Our Hallway
,
Renovating Adventures
|
10 Comments »
December 19, 2012
I'm working on adding a few homemade Christmas touches each year to our collection and this year I decided to DIY a new pillow cover for our couch. The sectional is an ever-changing pillow hodge podge (I tend to just cover up a current pillow with a new cover, so sometimes you can find two or three previous designs underneath

) and I scooped up this particular basic tan throw pillow cover from Ikea for $6.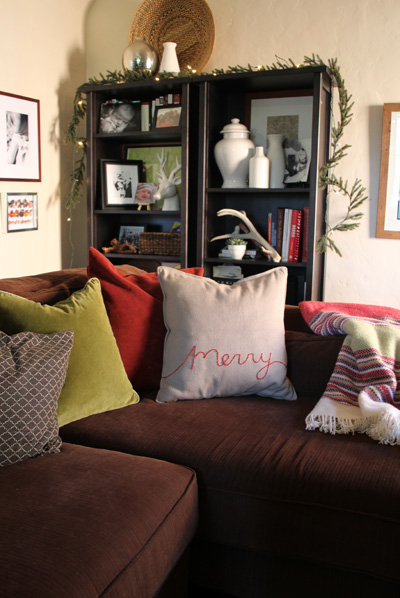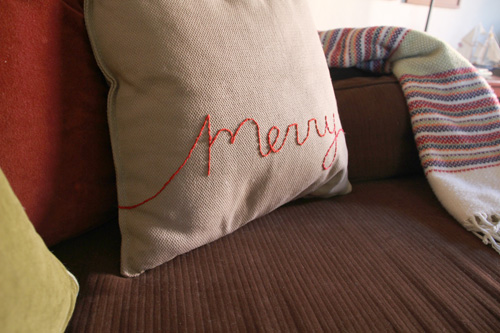 I thought about felting an ornament or Christmas tree design onto the front (maybe a future project?) but then recalled seeing pillows of seasons past with a simple, scripted message and decided to give it a go.
The toughest part was deciding on what word! I love the pretty flow of 'Merry' and the joyful message – or state of Christmas being – that it conveys. It's a good word to see day in and day out during this special time of gratefulness. Plus 'M's are just too fun to write out in cursive! (yeah for an 'M' first name)
Supplies for this project included two bright red embroidery thread bunches, an embroidery needle and my blank pillow cover.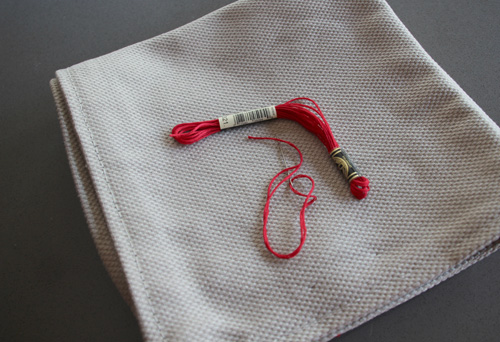 An embroidery stitch is quite simple, it involves a basic back stitch technique so that while you're stitching forward in your design, each stitch will head backwards as you go. Forgive the left hand awkwardness of this shot while I balance my camera in the other:

So my forward progress is on the reverse side of the pillow (though make sure you're not stitching the two pillow sides together) and my needle pops up and out of the fabric about 1/4 of an inch out from the previous stitch. Then I head back towards that previous stitch to cover up my 1/4 fabric gap. The back stitch allows me to overlap my stitches just a hair so that the embroidery might appear to be close to one continuous line.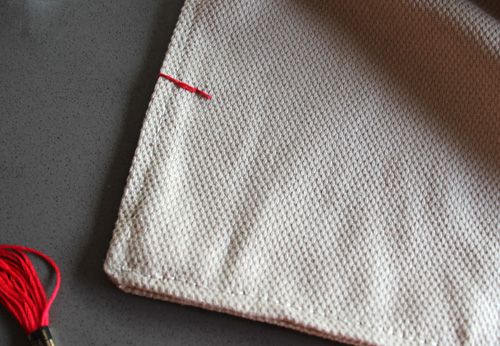 Writing out the entire word 'Merry' took a couple of hours one late evening while we had some friends over. I like projects that occupy the hands but don't require too much thinking

.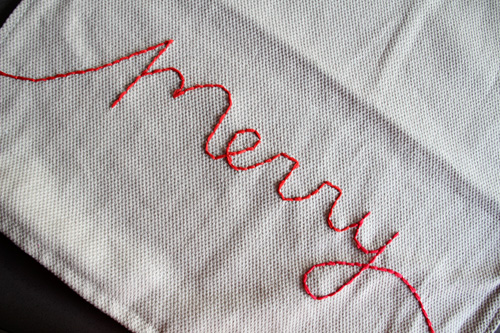 I first attempted to draw a light pencil line on the actual fabric to give myself a template to follow with the needle, but quickly found that it disappeard into the color of the tan fabric too quickly. Anything darker and it would have been harder to erase off of this heavily weaved fabric. Update: Sheila just shared with me that you can purchase a vanishing fabric marker that will write purple and disappear by the next day! Perfect!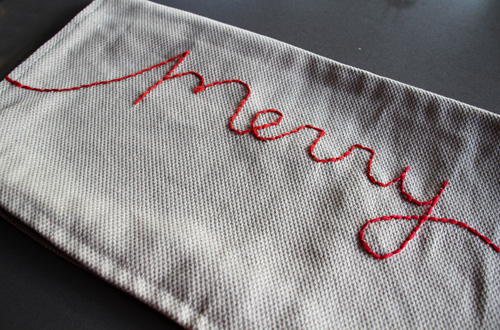 In the end I wrote out 'Merry' on a card and free handed the pillow. The imperfections are part of what makes it special, though I see areas where I would have dipped my cursive down further, should have slanted my 'y' more, or might have added more flourish for interest. Ah well.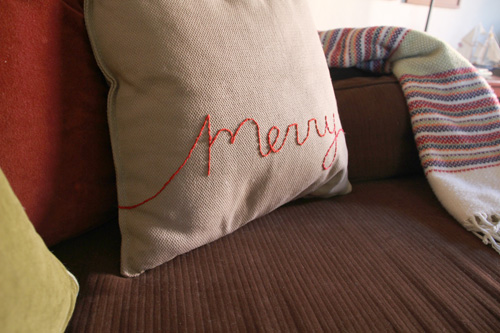 I'm really excited with how this project turned out given the time I worked on it and the easy update it makes to the living room! When Christmas is over I can pull off the cover of one of my favorite pillows (those ikat tan ones left over from the nursery glider fabric) that's hiding below and pack up the 'Merry' cheer into my Christmas boxes for next year.
Christmas is just around the corner! So exciting!
Tags:
Accessories
,
Christmas
,
Crafty Solutions
,
Decorating
,
DIY
,
Home
,
Living Room
,
Red
,
Sewing
,
Tutorial
Posted in
Crafty Solutions
,
DIY
,
Holidays
,
Home
,
Our Living Room
,
Renovating Adventures
|
3 Comments »