February 24, 2010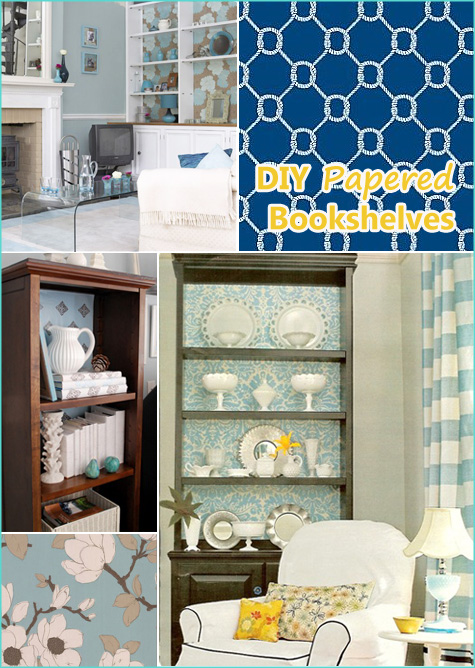 I've been mulling over my living room bookshelves recently… and am suddenly inspired to add a modern Jonathan Adler-esq wallpaper print to cover the back of the shelves. Here is some inspiration that might inspire you to take on a weekend project as well!
Canadian House & Home stripped kitchen cabinets to reveal neatly stacked dishes and a vintage print (via Centsational Girl).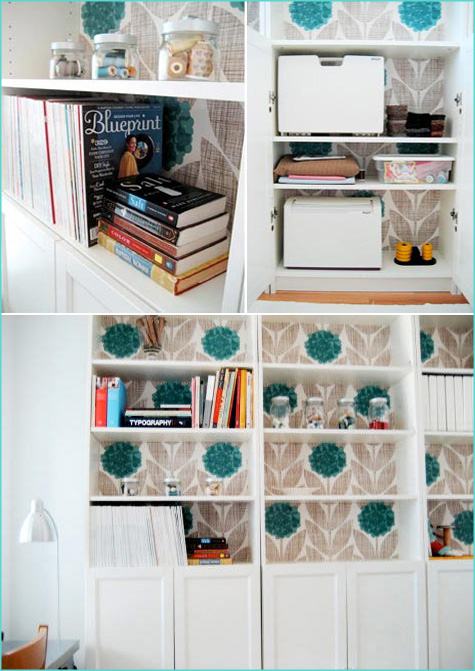 These white bookshelves with Orla Kiley wallpaper from design*sponge is one of my favorite examples a bookshelf backdrop (above).
Whole Latta Lovely and All About You features various color combinations in the same or similar floral prints for a fun variation (below).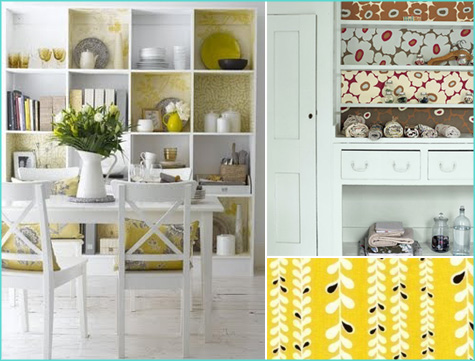 What about fabric? There are so many options to choose from… cutting templates (out of foam core, balsa wood or mdf) to fit the back of your shelf and 'upholstering' the board is a great option that can be replaced as often as you'd like. For a more direct application, fold fabric edges in (for a makeshift hem) and use colorful pushpins to pin fabric to each corner. I love this Taxi Leaf Stripe in Yellow print from Timeless Treasures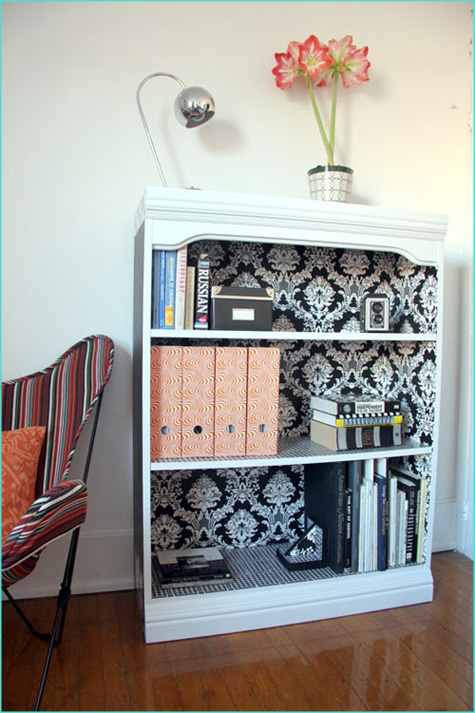 For a smaller commitment (isn't this perfect for the office or guest room?) Apartment Therapy shares a tutorial for lining a bookshelf in this black and white paisley print.
Four more ideas plus a quick How-To after the jump! Read more »
Tags:
Accessories
,
Before & After
,
Blue
,
Crafty Solutions
,
Decorating
,
DIY
,
Fabric
,
Home
,
Patterns & Color
,
Tutorial
,
wallpaper
Posted in
Crafty Solutions
,
Home
|
8 Comments »
February 22, 2010
Update: I finally made my own ottoman out of a coffee table and you can read all about it over here, feel free to check it out for even more tips and tricks.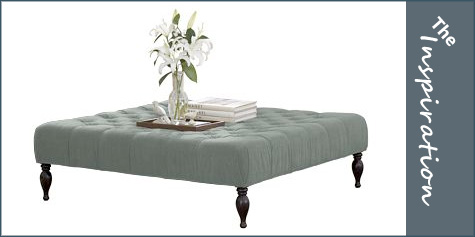 Here's a little project from Little Green Notebook that I've been so anxious to try. Jenny has transformed an everyday, unexciting coffee table into a beautifully cushioned ottoman!
After falling in love with the above Restoration Hardware design (that came with a hefty $1200 price tag), Jenny refashioned a Craigslist find into the perfect replication (for $60!):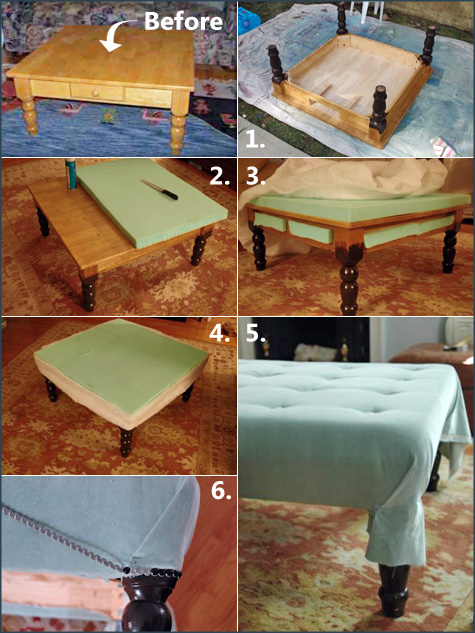 In a very simple wrap-up, Jenny (1) painted the legs, drilled holes for her tufted buttons, (2) added foam padding to the top and sides, (3&4) covered the table in batting and then her light blue fabric, used a button kit from JoAnns for the buttons (attaching to table through drilled holes with an upholstery needle and thread), (5) folded the fabric under the table and tacked around corners, and (6) finished off the edges with upholstery nails. Whew!
For the entire scoop (with great suggestions for tackling on your own), check out the full post here.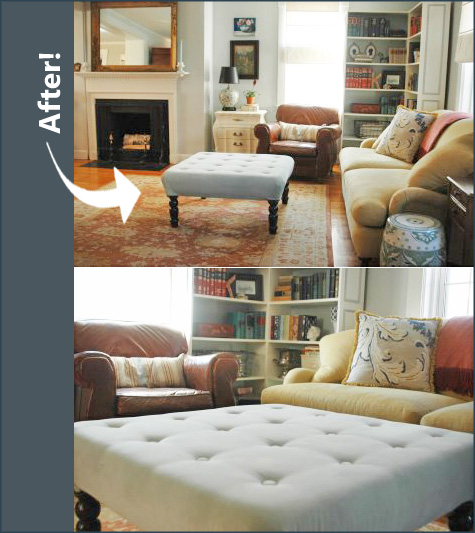 I'm amazed and completely inspired to take on my own coffee table refashion for an ottoman in the living room, or perhaps by the foot of the bed, or maybe in the dining room for extra bench seating? Too many options.
Tags:
Accessories
,
Before & After
,
Blue
,
Crafty Solutions
,
Decorating
,
DIY
,
Furniture
,
Home
,
Tutorial
Posted in
Crafty Solutions
,
Home
|
22 Comments »
February 16, 2010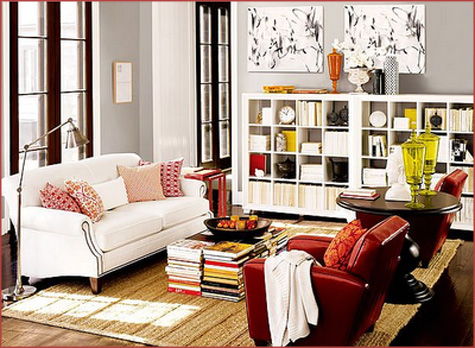 Are you ready for spring yet? While it may be just around the corner, these clean and fresh looks inspired by the month of February couldn't come at a more perfect time! A bit of winter… a bright, brilliant shot of pink or red calling in the spring… that's what February is all about.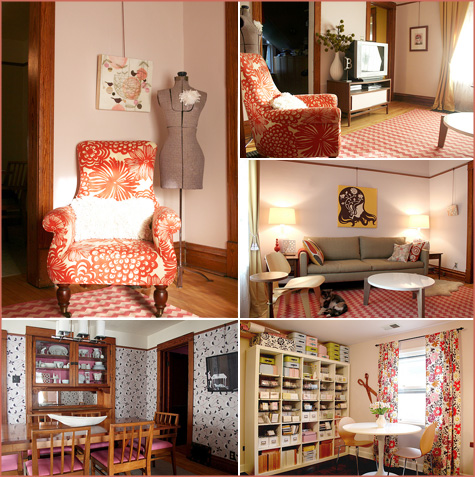 Making it Lovely has achieved the 'February look' spot on. How sweet is her homemade abode? I love Nicole's pink chevron living room rug and that big, wonderful chair.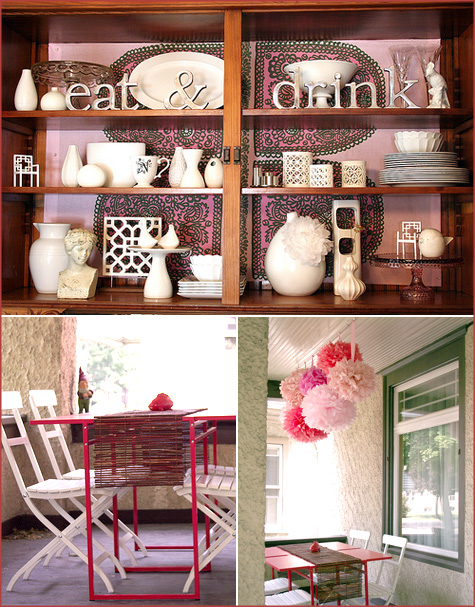 The best part? Nicole's significant other doesn't mind the pink a bit – in fact she notes in her blog that he casually defers to her for nearly all design queries (lucky), and she's created a perfectly lovely space by incorporating the shade!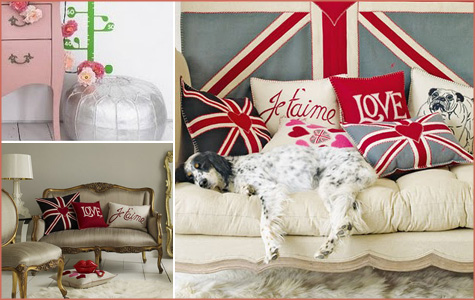 Graham and Green above (via 6th Street Design School) takes home decor love to a new level with cozy pillows and year-round affection.
More Rooms Inspired by February after the jump! Read more »
Tags:
Bedroom
,
By Color
,
Decorating
,
Dining Room
,
DIY
,
Fuchsia
,
Home
,
Living Room
,
Patterns & Color
,
Pink
,
Red
,
Rooms Inspired by the
Posted in
Home
|
3 Comments »