December 28, 2009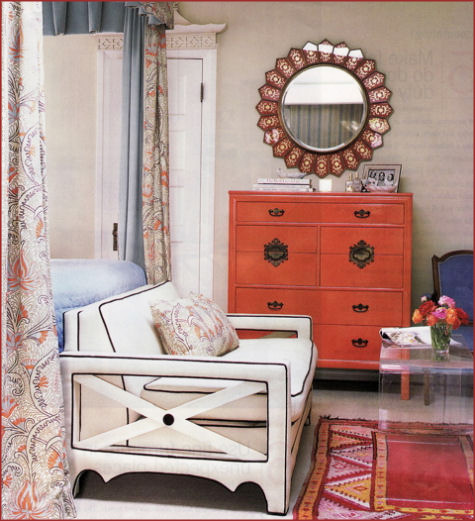 I am inspired this New Years to find beauty in the old — to embrace the well-worn as well-done and honor the original craftsmanship of 'outdated pieces' by providing them a new lease on life. Perhaps it's a need to downsize, or maybe it's that I'm not ready to throw in the decorating hat even though I have accumulated more than enough furniture to fill the house.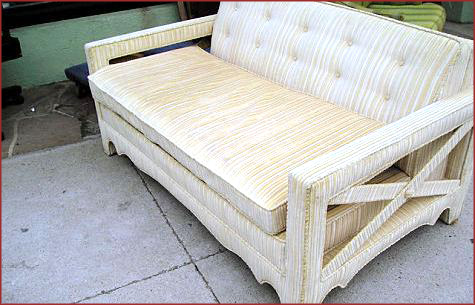 Refurbishing is clearly the answer! With the unfortunate lack of space to add more 'stuff' — I continue my decorating adventures without having to give up previous 'stuff'.
Ruthie Sommers (spotlighted in December) is an excellent example of a very posh interior designer who regularly scrounges through the thrift store circuit to come up with THESE incredible projects! The room at top (how perfect is that room?) is filled with this sofa (above) and this dresser (below).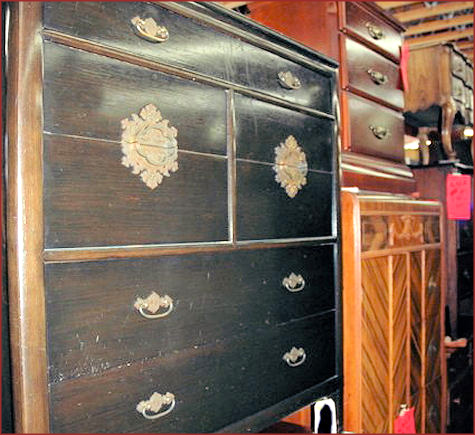 Wow! is all I have to say to that. Follow the jump for three more refashions by Sommers. Read more »
Tags:
Accessories
,
Bedroom
,
Before & After
,
Crafty Solutions
,
Decorating
,
DIY
,
Fabric
,
Furniture
,
Home
,
Patterns & Color
Posted in
Crafty Solutions
,
Favorite Interior Designers
,
Home
|
Comment »
December 23, 2009
I must admit that I love this time of the year for so many reasons… gold twinkle lights, hot cocoa, Christmas music, glittens (I LOVE my glittens)…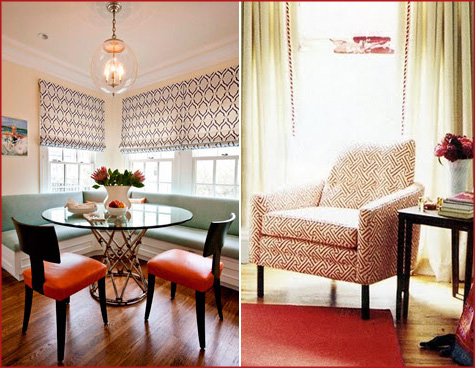 To bring on the cheer all year long here are some of my favorite rooms inspired by the season (velvet red, deep green, glittery gold and snowy white make me feel warm and fuzzy 356 days a year).
Whatever colors inspire you this holiday, may they be cheery and bright year long!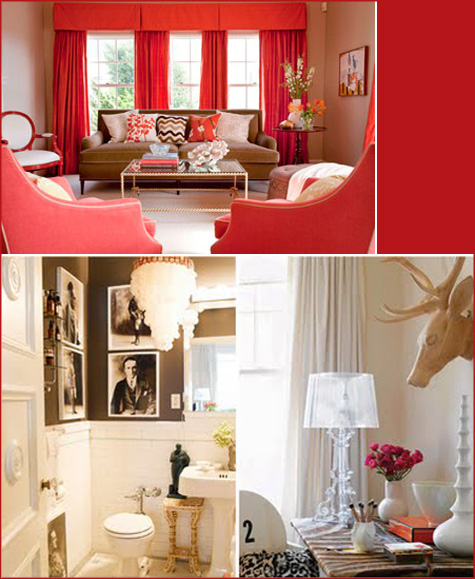 Tags:
Christmas
,
Decorating
,
Dining Room
,
Home
,
Living Room
,
Patterns & Color
,
Red
,
Rooms Inspired by the Month
Posted in
Home
|
4 Comments »
December 20, 2009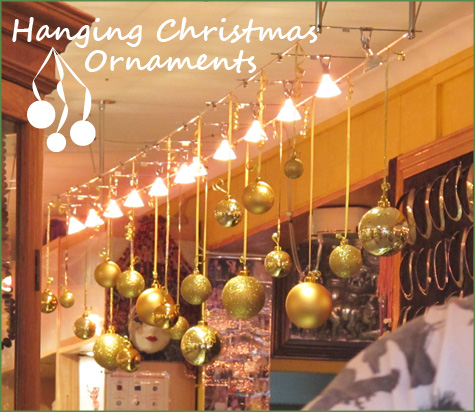 While we may have all seen this neat idea before, I thought I'd take a quick moment to point it out after finding this 'ornament chandelier' in a shop in Port Douglas.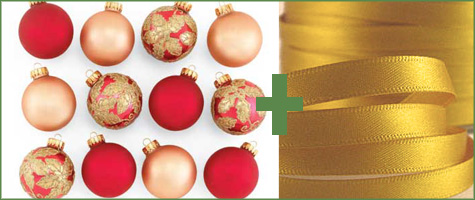 So easy to make! These would be beautiful from any hanging lamp pendant or chandalier — or inside a window frame for a glittery display.
These yarn ornaments (or decorative party spheres for any other time of the year) were also showcased in a little eclectic shop here. They're made by: wrapping yarn or thin colored twine around a perfectly round balloon, covering yarn in a glue + water mixture (similar to paper mache), and waiting until dry before popping balloon. So fun! GIANT ornaments hanging from the ceiling, a staircase or from the mantel in front of the fireplace (when it's not in use, of course

).
Now… where to find said perfectly round balloon…
Tags:
Accessories
,
Christmas
,
Crafty Solutions
,
Decorating
,
DIY
,
Home
,
Parties & Entertaining
Posted in
Crafty Solutions
,
Home
,
Parties & Entertaining
|
3 Comments »