February 27, 2013
Six ish months ago we had to turn the gas off in our fireplace… which was such a downer as there's nothing more amazing than flipping that little gas switch and watching a beautiful, blazing fire set the mood for your living room. Perfect for chilly nights that call for family games on the living room rug or for a late night Netflix. But alas, this is an older home with old fireplace issues and we had to switch her off.
Hopefully one day she'll blaze again.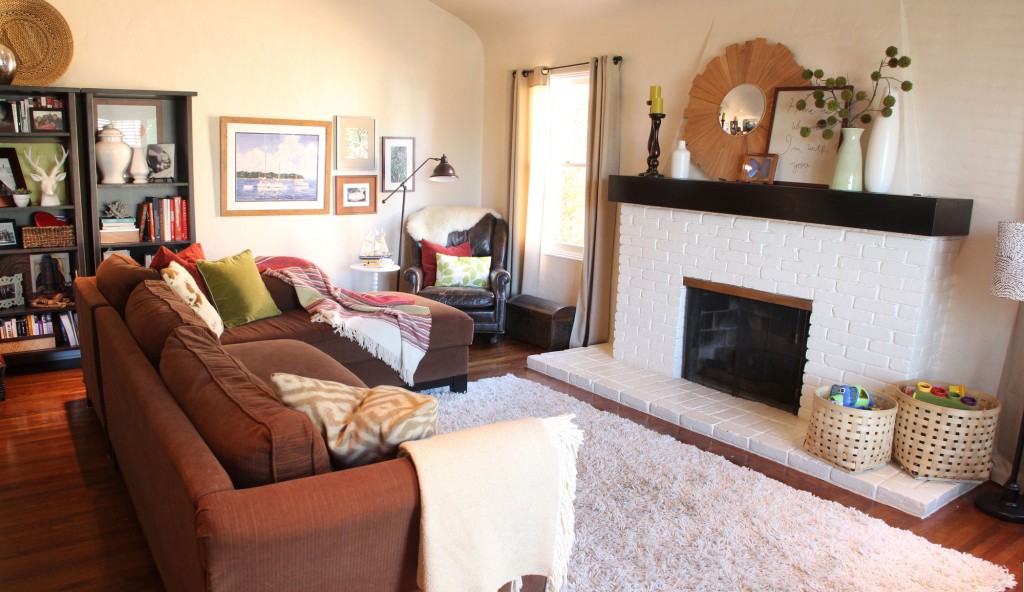 Until that day it's time to turn the eye-sore innards of this old fireplace (black bricks, metal curtain and goldish top plate and all) into a prettier focal point for the room. Enter Pinterest Challenge, Winter 2013.
I love these little challenges because they provide the motivation to cross a big project off of the massive to-do list, and usually I can justify choosing a project that I more love and want to complete, and less of one I must do because it's next on the priority list. Here are a few past projects that we've tackled around here, including painter's tape wallpaper, gold chevron napkins and an ombre stool for Liv (one of my favorites) among others.

With a little motivation, a week to track down materials and a great inspiration picture, I had an idea of where to start.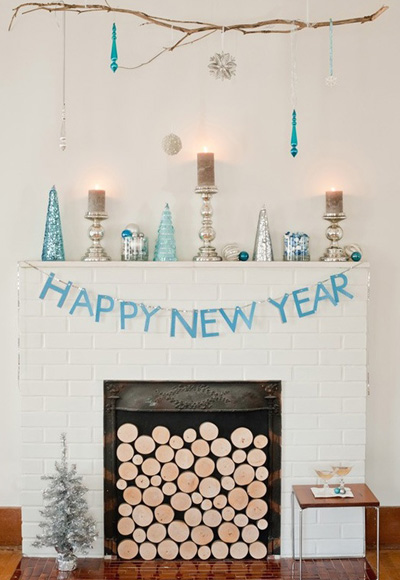 Oooo I love the above image! What a great way to utilize the empty space in a fireplace while still keeping a room cozy and comfortable (fireplaces and stacked wood have a way of doing that…).
Our finished project… drumroll…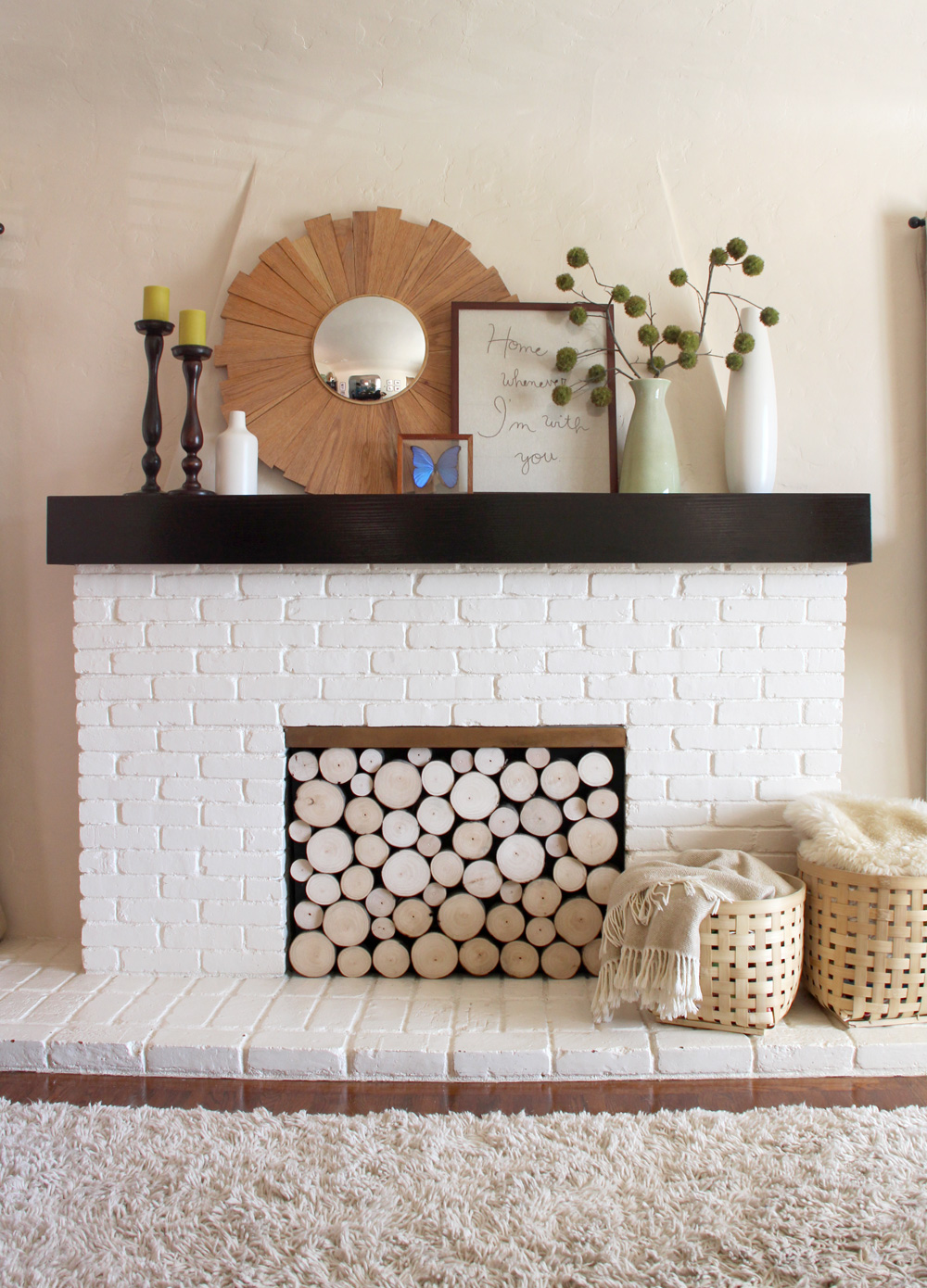 I would be very happy if you thought we went and stacked a bunch of logs in our fireplace and called it a project! But I promise it was much more than that. The goal here was to build a faux log stack facade that we could remove when we were ready to use the actual fireplace, and replace the next day once the fireplace was cool again.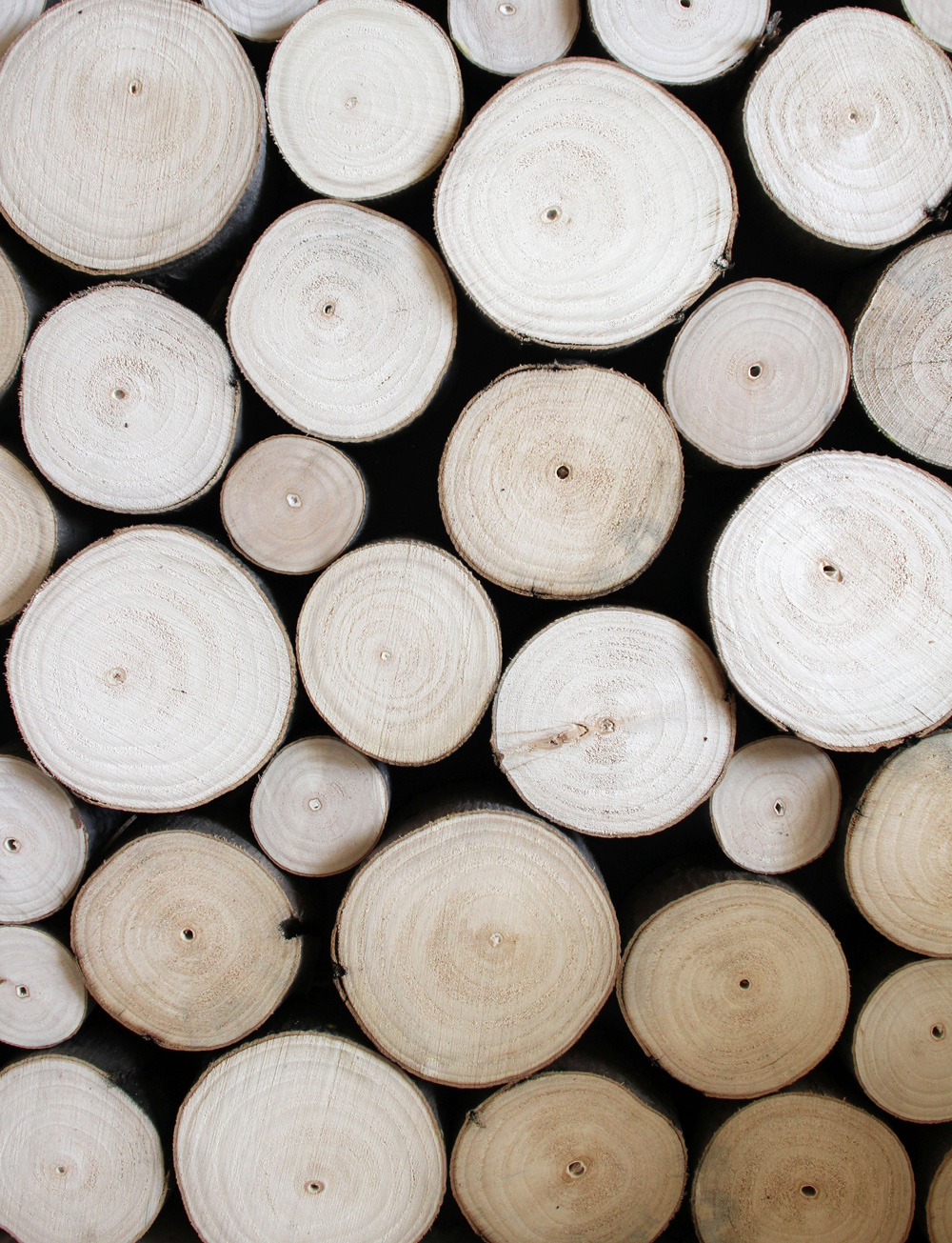 The hope was that the screen would give the depth and perception of a a bunch of stacked wood, but really it would be just a few inches thick and somewhat easy to pop in and out.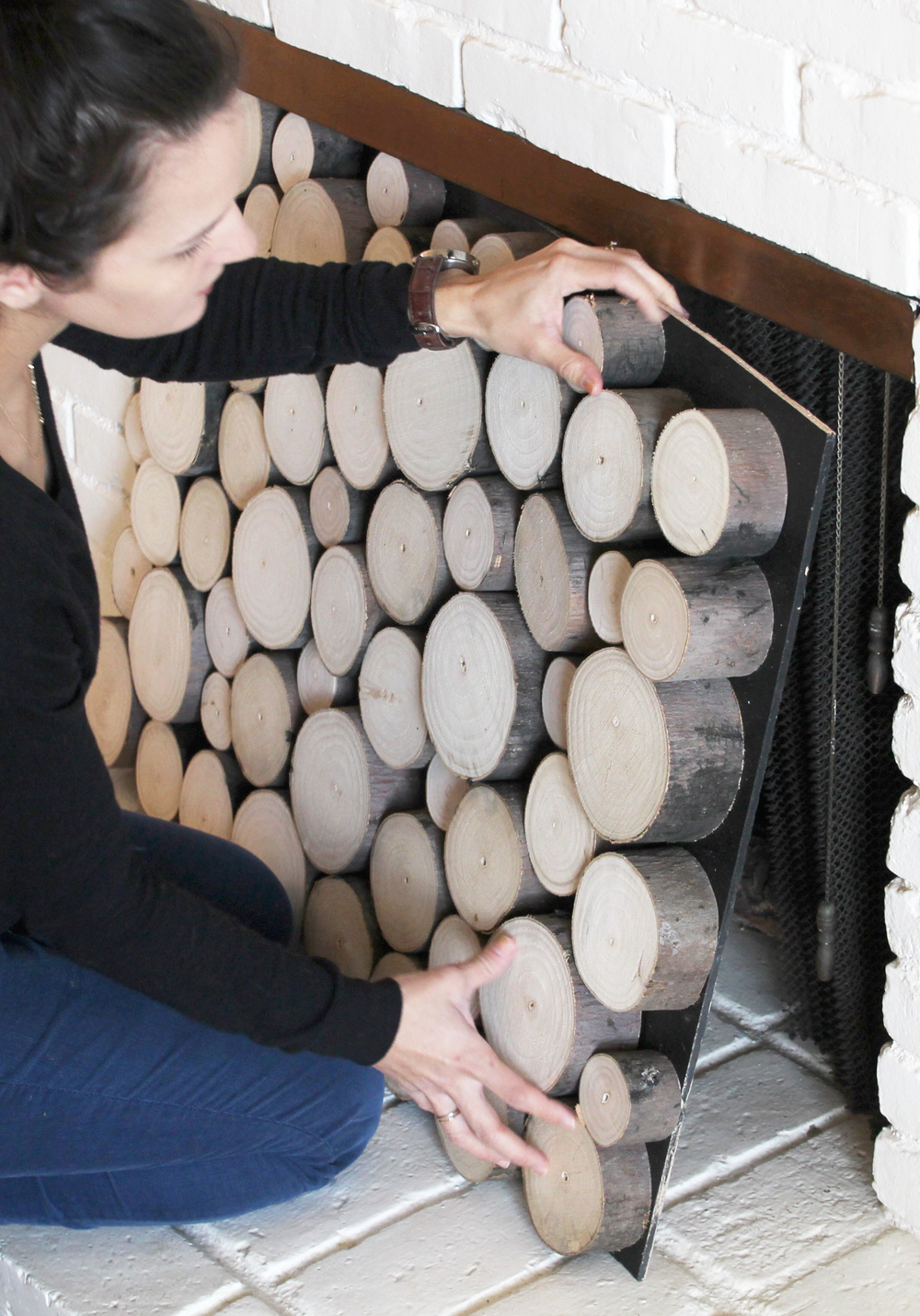 What do you think? Are we fooling anyone?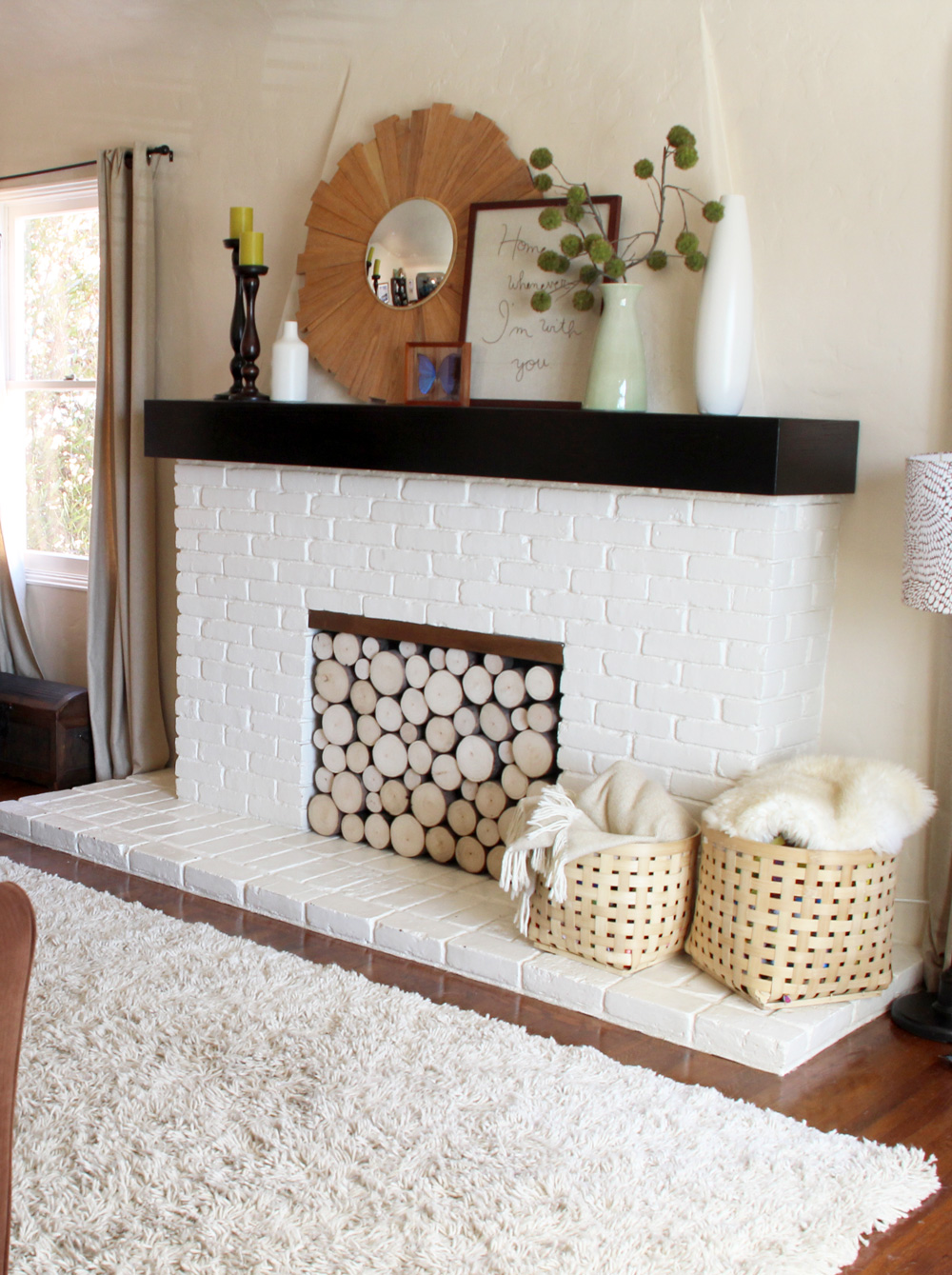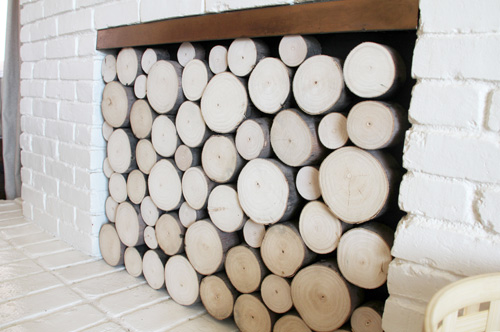 Now on to building the screen!
*******************************************************************************
Fireplace Faux Wood Stack Facade
m
Materials: ~50 variously sized log slices, plywood cut to the shape of your fireplace opening, black matte paint, wood glue (or nail gun) 
I ran into the first big road block while tracking down the actual logs. You'd think that this would be fairly easy… but turns out smaller logs (unchopped) in lighter wood colors (such as birch rather than oak or redwood) are not always readily available in these desert parts of San Diego. Who would have guessed.
I really lucked out when a friend of ours suggested eucalyptus and then found a huge pile of firewood for the taking! And he generously handed over variously sized logs for me to include in the project (thanks, Dave). Other resources that might be useful? Craigslist and Etsy (turns out you can even purchase sliced logs for the right price).
Kevin chopped up my logs into 3″ slices and I began assembling my faux stacked wood.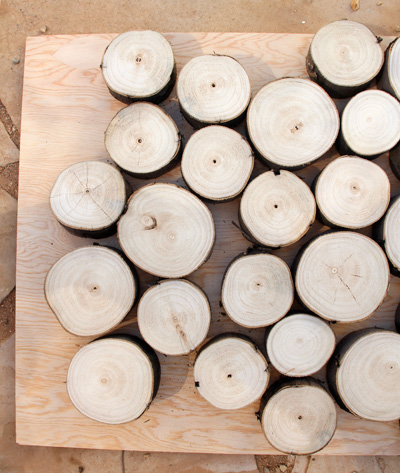 The backing for our fireplace screen is a piece of plywood measured, cut to size and painted black.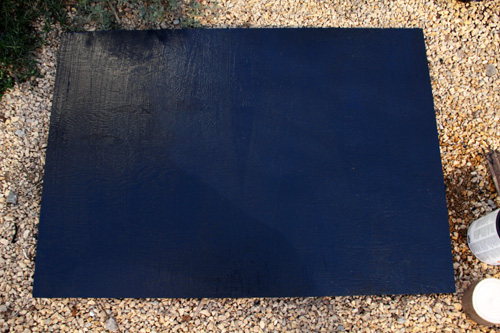 I considered spray painting it but we had only a satin finish in the paint closet, so I used up a bit of leftover chalkboard paint that we had on hand (from this and this project) to achieve a more matte finish (the above is still wet, but once this paint dried it was more than perfect).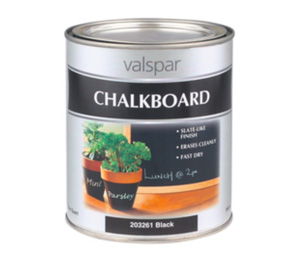 Our nail gun is out on loan at the moment or I would have simply lined up my log slices, laid the backing over the top and fired away to secure the slices to the backing and to keep the logs from moving, but instead I lathered each slice individually with a thin coat of wood glue and allowed the entire project to dry overnight (that stuff is tough). When we get the nail gun back I'll add extra reinforcements to ensure that none of these logs come sliding down, especially with toddlers at play.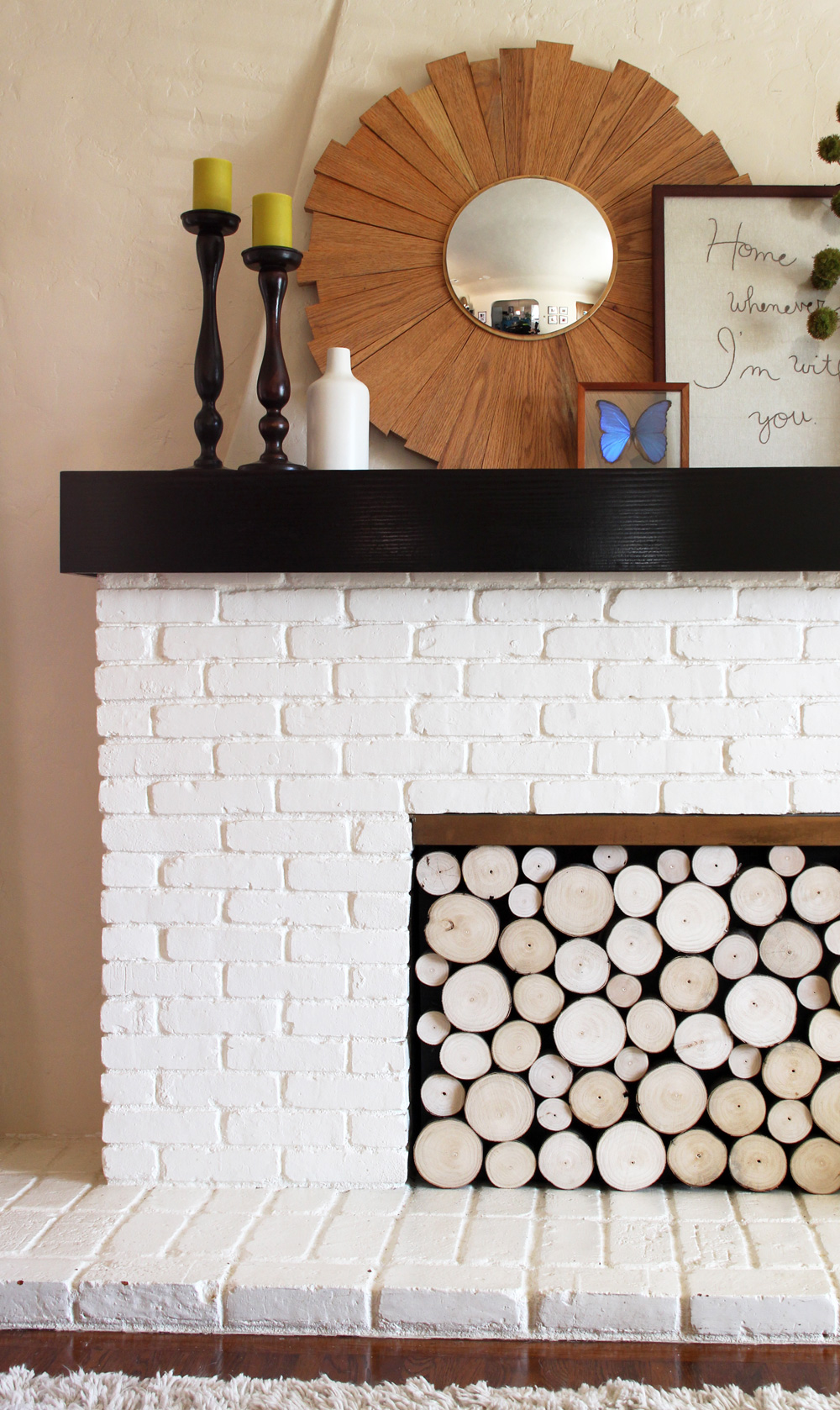 I opted for a 3″ depth on the log slices (rather than 1/2″ or something easier to manage/less heavy) so that they would add more depth to the fireplace and (hopefully) make the black backing a bit more invisible. In person it's obvious that this is a faux fix to our little fireplace conundrum, but it's a neat faux finish at that! 
Should I paint out that gold top plate a darker, oil rubbed bronze color?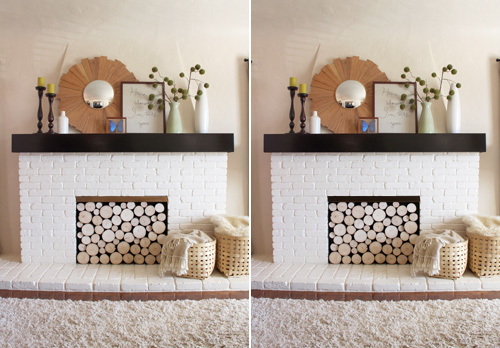 That might be step two to this project, looks kind of nice!
*******************************************************************************
I'm linking this project back to Katie's, Sherry's, Megan's and Michelle's Link Parties today!
PS all Pinterest Challenge projects are sorted here, and all living room projects can be found here.
Tags:
Accessories
,
Before & After
,
Crafty Solutions
,
Decorating
,
DIY
,
Home
,
Living Room
,
Pinterest Challenge
,
Tutorial
,
Winter
Posted in
Crafty Solutions
,
DIY
,
Favorites
,
Home
,
Our Living Room
,
Renovating Adventures
|
21 Comments »
February 22, 2013

About once a month I get the chance to sit down *virtually* with a blogger (or author or artist or designer…) to pick their brain about their own sense of creativity and style.
Usually it's a home design blogger. Sometimes it's an entertaining/hostessing site (like here), or an organizing blog (like here), an inspirational everything collection (like here), an author or editor (here or here) and sometimes it's a super clever crafter (like here or here), but usually it's a blogger remodeling/redesigning/reimagining their home. Through these little interviews I get to share what makes these bloggers/authors/artists spark, what inspires them, what trends they're following and what some of their favorite design tricks might be. I don't get to interview nearly as many as I'd like. It's a time-consuming sort of post, but it is truly one of my favorites.
Some of my favorite blogs include families that are completely modifying and remodeling an older or builder-style home little by little. Like an HGTV show but over a few years rather than 30 minutes.
My guest today, Dana of House*Tweaking, is one of those bloggers! And her 1950′s rancher-style home is a seriously pretty example of such a transformation.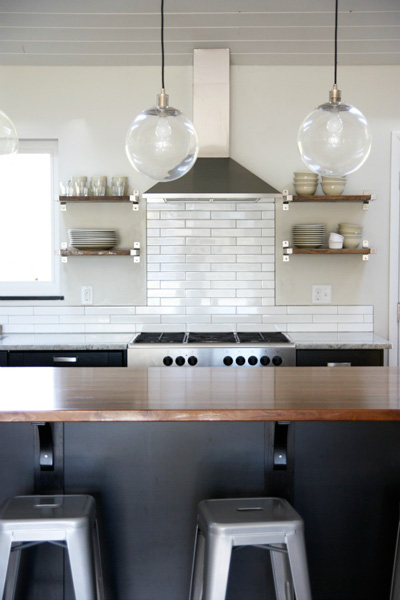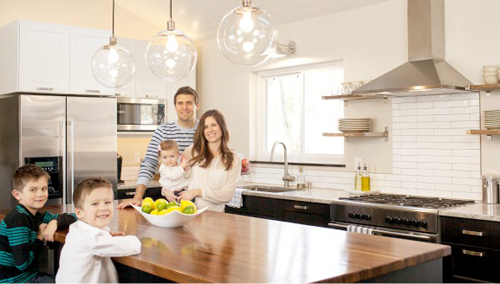 What initially drew me to Dana's blog is the awesome nursery she designed for her daughter, Mabrey (isn't that an equally awesome name??). The white wooden mirror with the coral gradient, those dark charcoal walls, the chevron jute rug, the white Eames rocker… I could go on and on.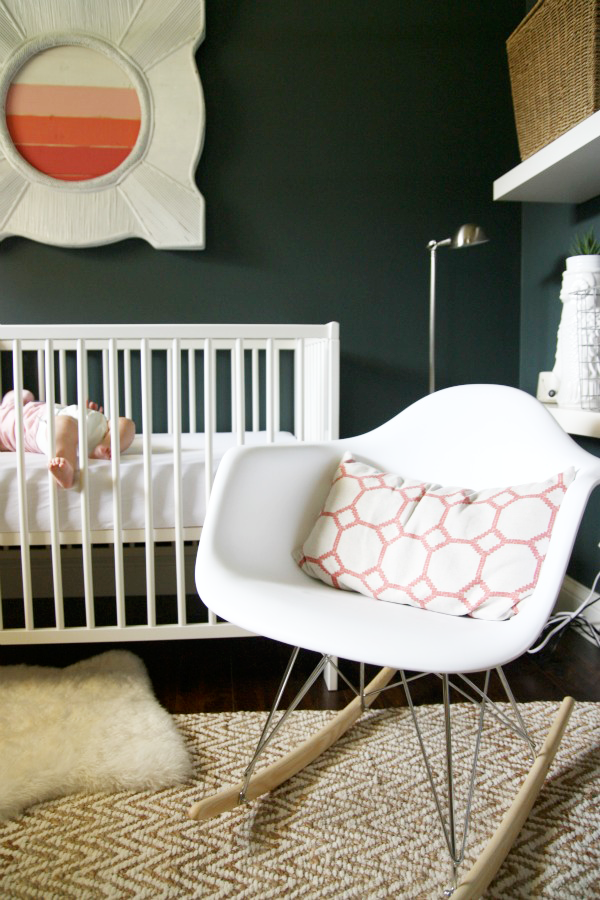 And the rest of her home? So very inspiring. (Wait until you see their new 'everything' room after the jump.) In fact, this interview is a reminder to myself that I'm about one weekend (and ten paint brushes) away from painting the inside of my entire house charcoal and white. Sigh.
Read on for more examples, and Dana's answers! Read more »
Tags:
Decorating
,
DIY
,
Guest Blog
,
Guest Interview
,
Home
Posted in
Guest Blog
,
Guest Post
,
Home
,
Interview
|
5 Comments »
February 20, 2013
Organization has been on my mind lately… somehow stacks of paperwork and magazines and yesterday's mail are slowly starting to creep up and take over favorite spaces of mine, like the breakfast table in the kitchen. It's high time that we add a functional and easy-to-use corner somewhere in the house that can display Liv's adorable works of art (I've waited so long for those!), wedding invitations, birth announcements and important family reminders.
Inspired by our big chalkboard addition (but not wanting to cover that guy in glitter and pink construction paper), I've found the perfect home for such a display.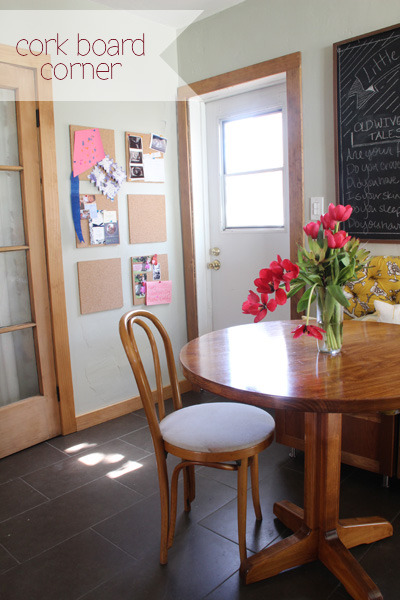 We actually previously had a white board here (that a friend of mine helped me to construct to size from molding and white board from Lowe's – I swear I had pictures somewhere…) but we never used the white board to actually 'write' anything on it. I ended up just taping important announcements directly to the board, and that became really crowded really fast.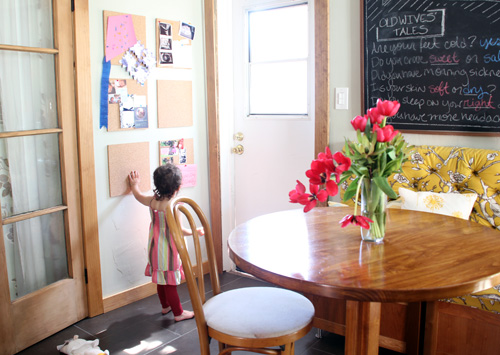 Now there are spots for Liv's artwork (she likes to help arrange), photo cards, invites, you name it. And we can circulate items in and out to fit the seasons or what's most important right now.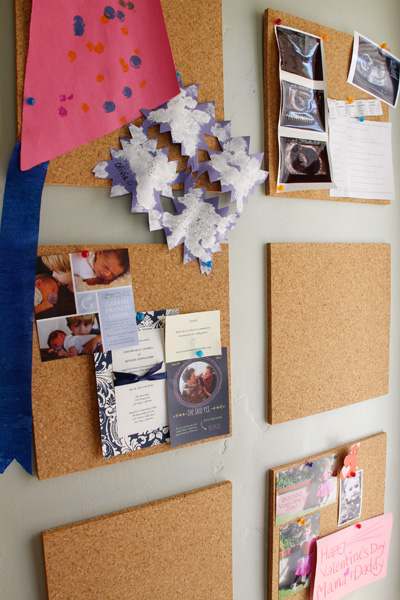 I thought the idea of a cork board would be most realistic for what we need – aka a space to pin, pin, pin – but didn't want one giant long piece of cork along the wall (our chalkboard across the way is already massive enough). Squares made sense, but most of the cork tiles available these days online and in craft stores are too flimsy at just a 1/4″ thick.
I took a chance and ordered these guys sight unseen from Amazon:

Package of six? Perfect. 3/8″ thick? Much better than 1/4″. Self-adhesive? Bonus.
Once they arrived, applying them to the wall was as simple as unpackaging them (directions instructed to leave the cork out for 72 hours to acclimate to the air so that they can expand before adhering to wall), unpeeling the self-adhesive backing and sticking them up.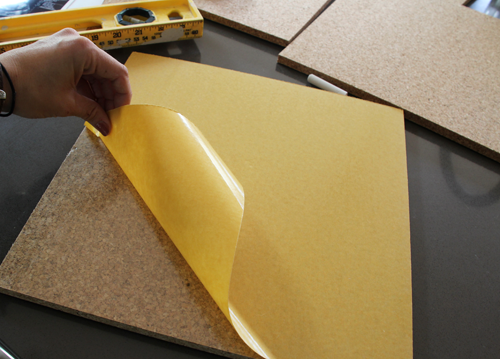 The sticky backside made these cork tiles very easy to install. Most tiles come with little adhesive squares, but the all over strong 'sticky side' of these made me a little more confident that they might actually stay put. One week later (we finished this project just before our Gender Reveal Party) and I'm noticing a few edges that are lifting up. Might have to readhere with something stronger in the future.
To create a grid on the wall, I used a level and chalk during installation.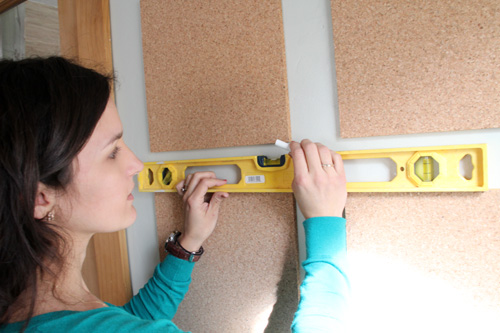 And then at the suggestion of the instructions, a rolling pin with lots of pressure. Finally, time to decorate the tiles!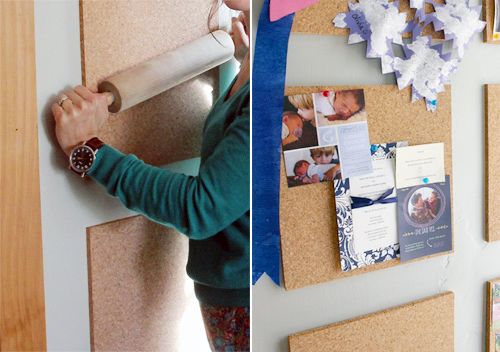 Liv's Valentine's Day tile is one of my favorites right now

: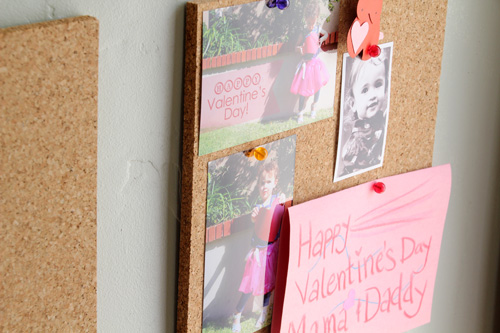 She made us that sweet card and Kevin delivered the below beautiful red tulips!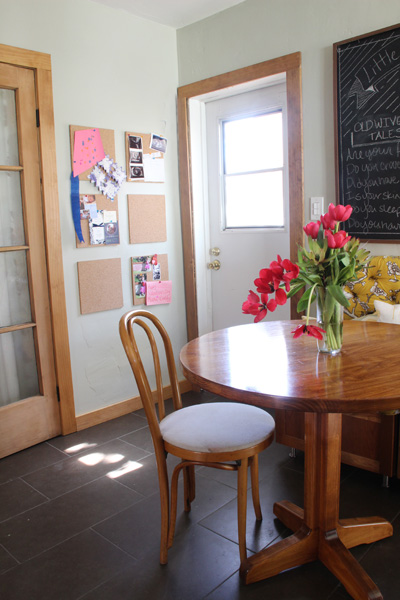 We've just ordered a replacement door for the white one above, shortly all of the doors in the kitchen will be matching (yay!). Still a big improvement from this, though

: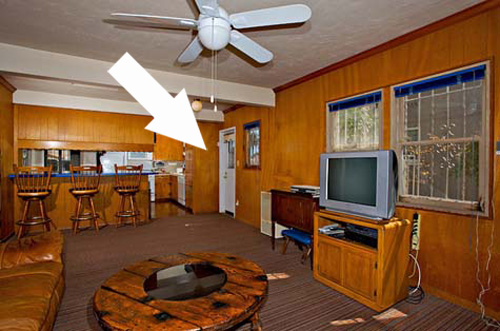 That's the new cork board corner above!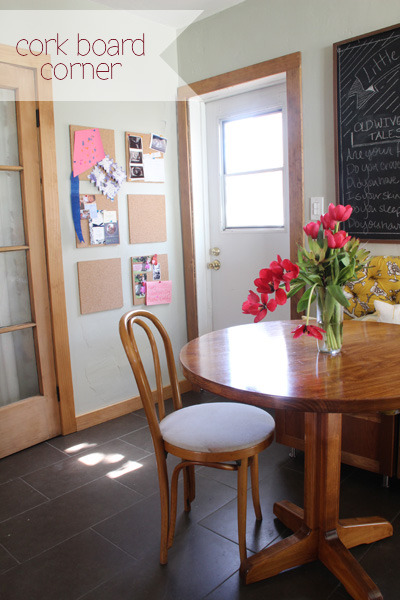 Our new mail/message/art station is finished and the kitchen is almost at a place where I can confidently call it finished (for a little while, at least…).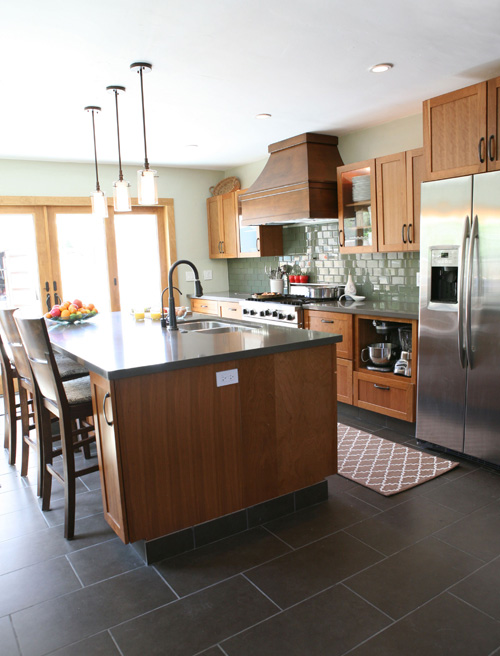 PS To start at the beginning of the remodel (or checkout projects like the tufted breakfast nook), see all kitchen posts sorted right here.
Tags:
Accessories
,
Before & After
,
Crafty Solutions
,
Decorating
,
DIY
,
Home
,
Kitchen
Posted in
Crafty Solutions
,
DIY
,
Home
,
Organizing
,
Our Kitchen Remodel
,
Renovating Adventures
|
4 Comments »