January 18, 2013
The new artwork is up! The tufted bench is finished! And the breakfast nook has a table and chair(s)!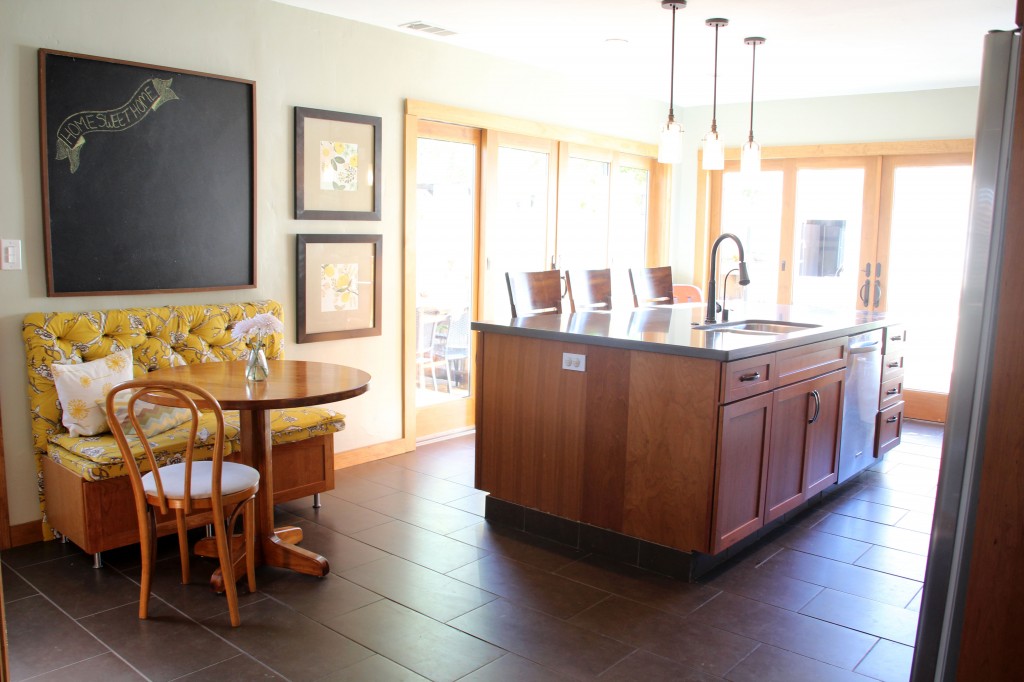 It's really wonderful to have this empty area of the kitchen finished and ready to go. Now walking into the kitchen space feels pretty complete, minus just a few additional updates (such as adding molding to the end of each side of the kitchen island and replacing the white door to the far left which you can see in below photos).
The space before: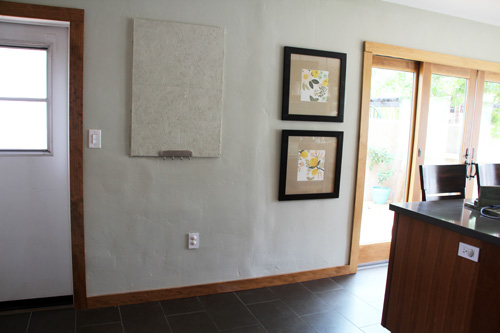 And with all of the updates: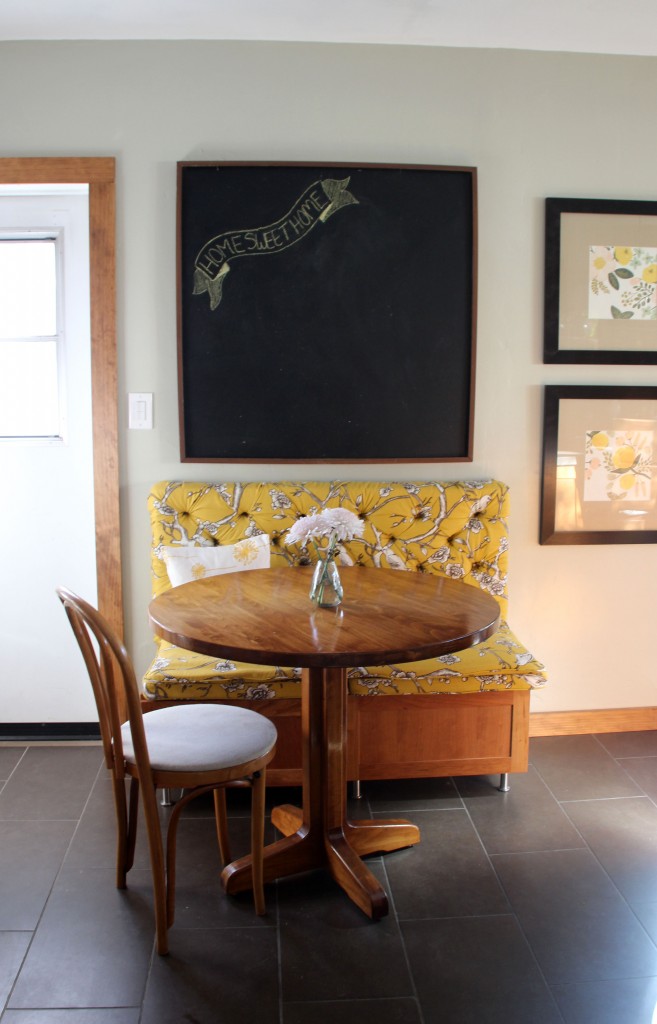 Which include new bench seats and cushions (a duo pair so we can move the seats around the kitchen, like we did when we moved them to the end of the island), a DIY tufted bench backing (revealed here, but here's a link to the tutorial), new Craigslist table and thrift store chair and an over-sized chalkboard to cover up an ugly plywood repair (that we are waiting to fix this summer). Here's a link to the calendar art that I DIYed last year that's just to the right of the nook, I love that the art and fabric work so well together.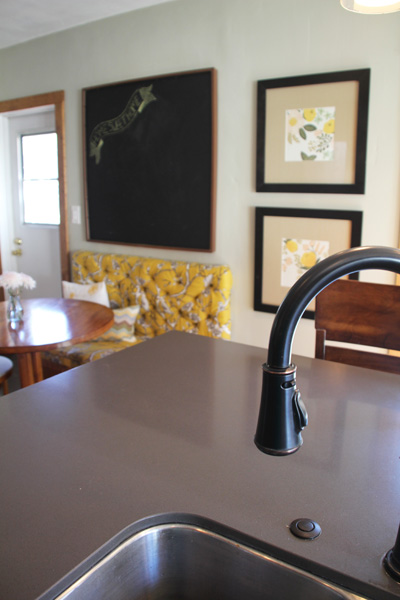 More to come on building that giant chalkboard, but because it was assembled from two pre made frames, it wasn't a horrible task. I might use it for notes to share with the family, or maybe a few beautiful sepia photos on white mats to keep it a bit more organized. I attempted three layers of magnetic paint under the chalkboard, but alas it didn't work out and a magnet won't stick even if its life depended on it (and I threatened).
Prior to the chalkboard, I had attempted a faux window curtain, some sort of cool fabric art and a few other ideas… but the chalkboard ended up looking the best.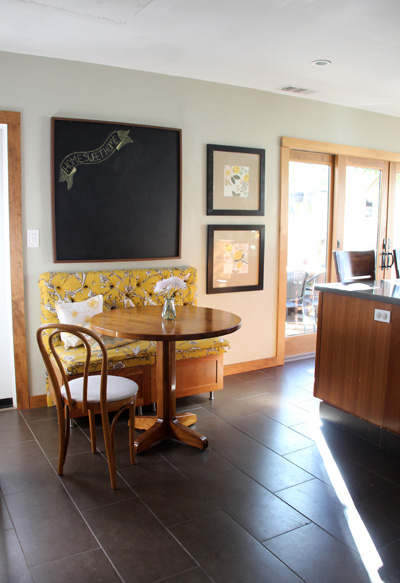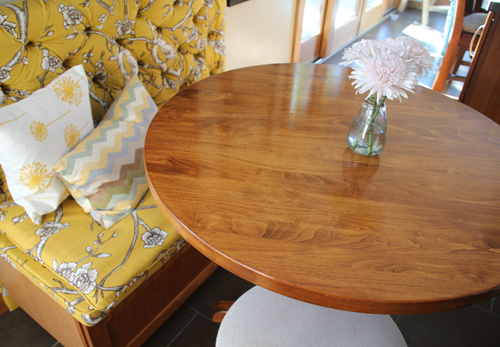 Here's the other side of the kitchen for full perspective: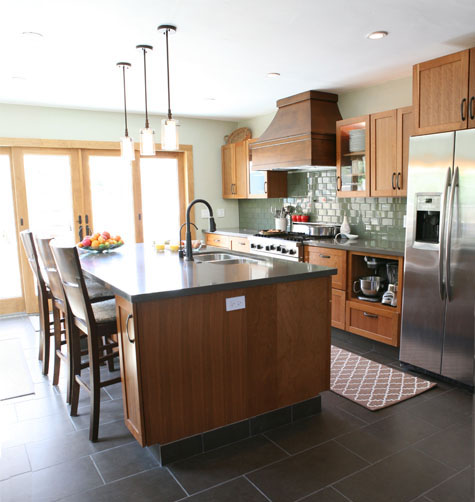 Have an awesome weekend and see you back here Monday for the full tufted tutorial post.
PS More on the breakfast nook transformation here: part 1, the inspiration, part 2, the bench, part 3, the cushions!, part 4, the ugly wall design dilemma, part 5, revealing the tufted bench
Tags:
Accessories
,
Breakfast Nook
,
Crafty Solutions
,
Decorating
,
DIY
,
Home
,
Kitchen
,
Yellow
Posted in
Crafty Solutions
,
DIY
,
Home
,
Our Kitchen Remodel
|
6 Comments »
January 17, 2013
Sorry for the lull around here! We've all been fighting off terrible colds and crossing our fingers that the flu doesn't arrive at our doorstep – but it feels as though it might. We've all been a bit down lately.
I did get an awesome project finished before the horrible sniffles and headaches hit though, and I can't wait to share with you. AND found a great Craigslist breakfast nook table that fits the spot really well!
There she is! A newly tufted back to the breakfast nook bench seat. It makes a world of a difference.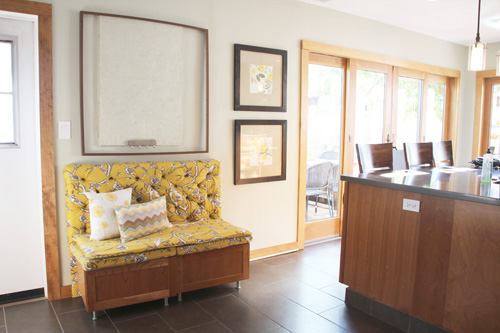 Previously the space felt bare and the cushions weren't substantial enough to make a big impact.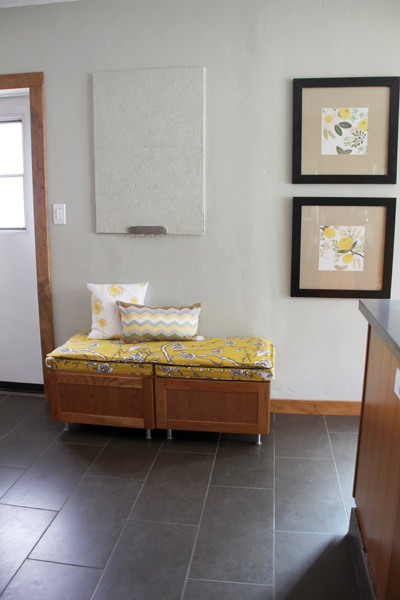 Now the bench feels a little more permanent (even though we assembled all of the pieces so that it can move about the kitchen, backing and all) and it really fills up the space well!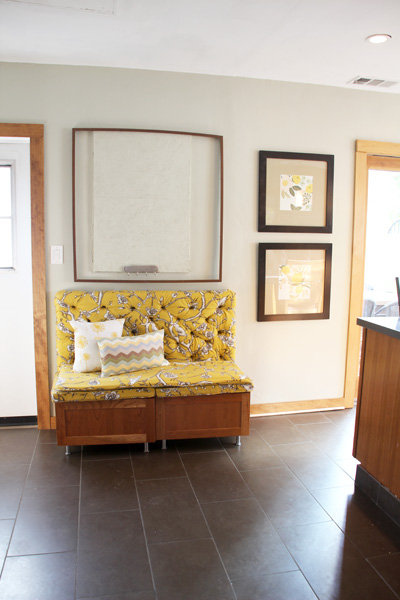 Love the detail and the deep tufts, more on DIYing this project very soon.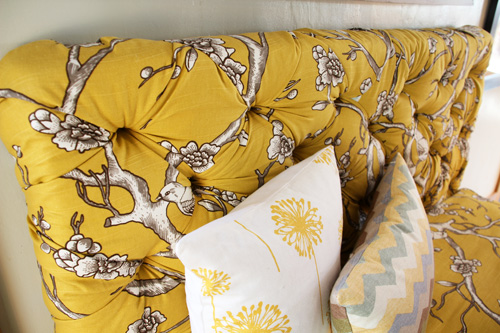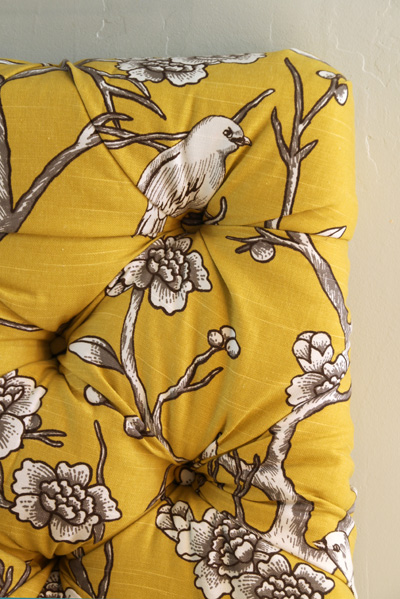 But that's not the only breakfast nook update… I found a Craigslist table and a thrift store chair to match: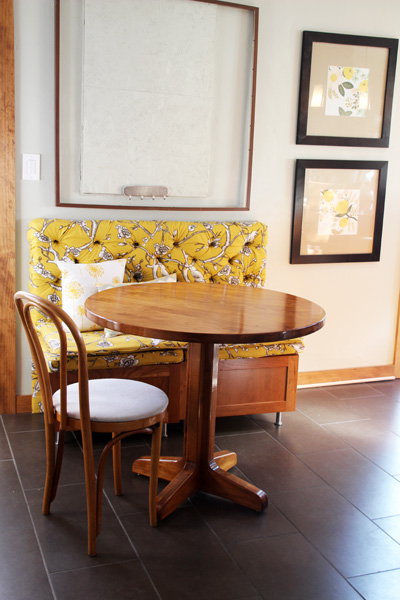 Initially I was on the hunt for a table in a contrasting color – perhaps something dark or something that I could paint a bold 'pop' of color. But finding a table that was neither too small, too big or too expensive was a challenge. So when this bad boy came up in my Craigslist search, I jumped on the chance to check it out. Turns out it matches the cabinetry almost perfectly and is just the right size.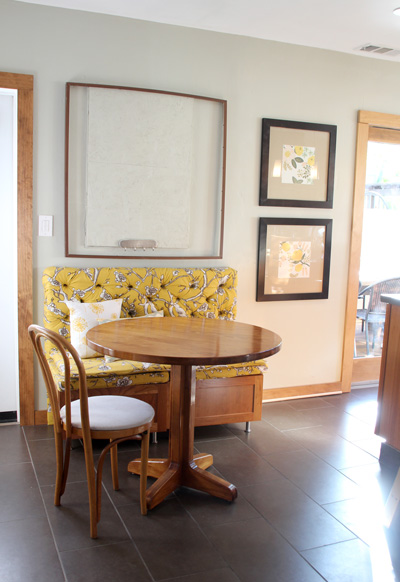 I've played with the idea of painting it because I'm not too crazy matching sets (see how the table looks like it almost belongs to the bench seats?), but it's in such great shape that that decision can sit on the back burner for a little while.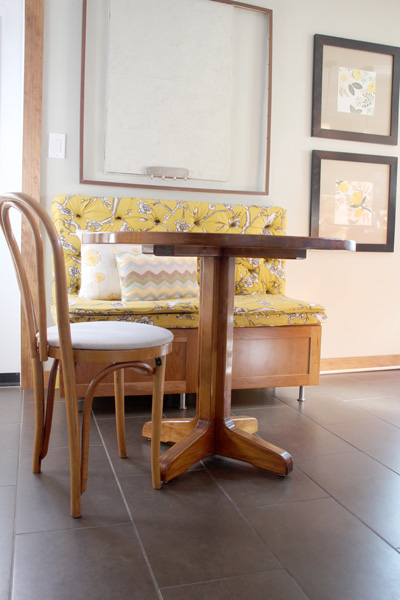 I also played a bit with making my own table – that is, hunting down a neat pedestal and then getting a little creative with the top. Ahh well, sometimes these things fall in your lap and you take 'em and run!
The first chair I spotted for this table was actually a bentwood from a thrift store that salvages pieces from the local junk yard. It's in pretty bad shape and I scored it for $1. Then I found this matching guy at a local furniture consignment shop for $19: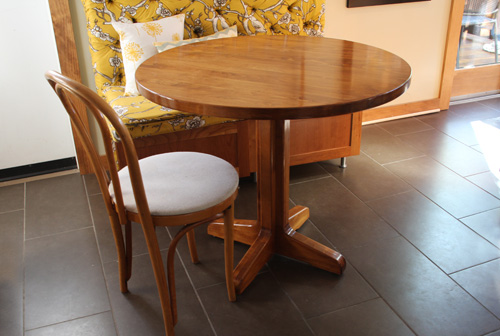 The $1 version needs some love before she's allowed inside. But hopefully a pair of chairs is in this table's immediate future.
And hopefully some artwork, too! Thank you, thank you for all of your excellent suggestions on how to temporarily cover up that plywood window we're hiding until summer, and as you can tell from my photos I'm on to an idea… as oversized as it may be at the moment.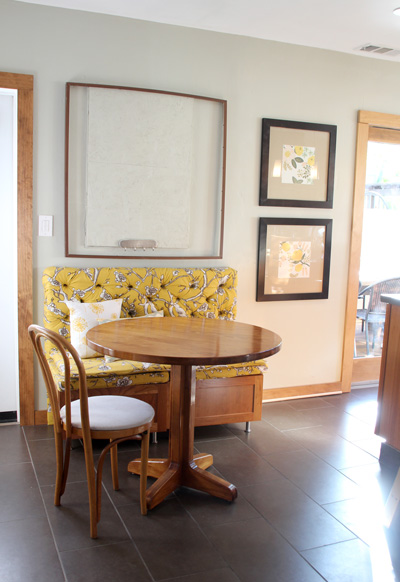 Still loving my new tufting! My favorite upholstery project to date.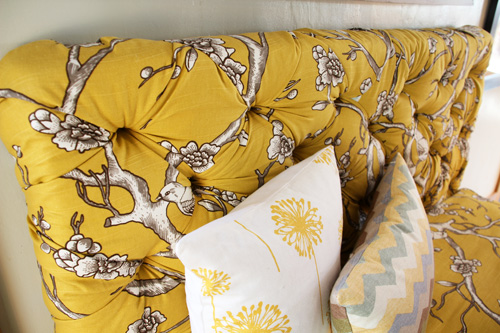 This bench area is now a great spot to snuggle up in while reading the morning paper or to enjoy a quick bowl of oatmeal before the day starts. The thick, soft backing is just what this space needed.
Working on pulling all of the images together now for a little DIY post on how I made the stand alone bench back (it's not connected to the actual benches) and finished the tufting.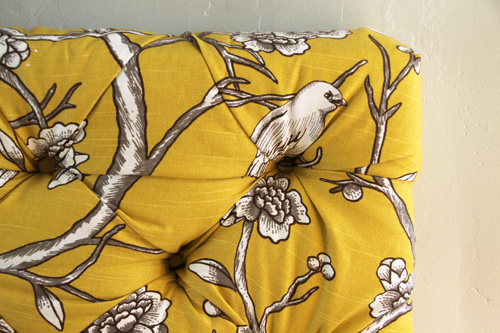 More to come.
Hope your home is staying sick-free and keep us in your no-flu thoughts! We are all hanging on…
PS More on the breakfast nook transformation here: part 1, the inspiration, part 2, the bench, part 3, the cushions!, part 4, the ugly wall design dilemma
Also, a big thank you to iVillage for featuring the dipped play table legs project in Liv's room in their 2013 trends to watch!
Tags:
Breakfast Nook
,
Crafty Solutions
,
Decorating
,
DIY
,
Fabric
,
Home
,
Kitchen
,
Patterns & Color
,
Yellow
Posted in
Crafty Solutions
,
DIY
,
Home
,
Our Kitchen Remodel
,
Renovating Adventures
|
10 Comments »
January 7, 2013
I've been on the hunt for a lighting solution for our little hallway for quite some time… but not many pre-made ideas have a. hit the head on the nail for the right look or b. fit the little budget we have in mind.
Here's that hallway now, badly in need of some cool lighting love.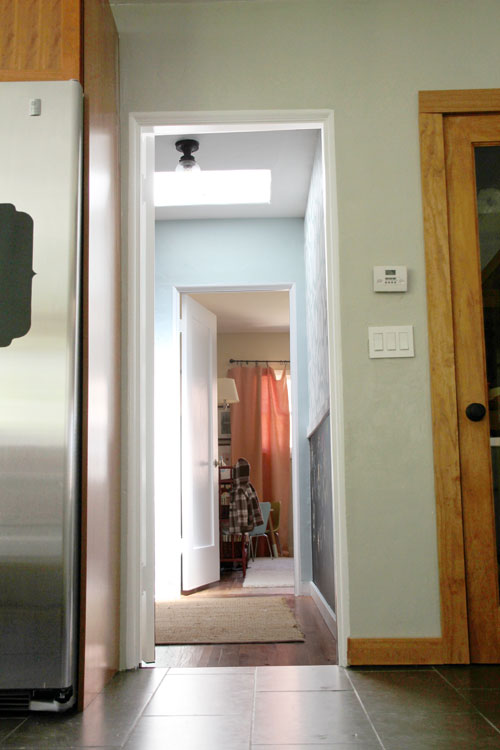 Especially against the new painter's tape wallpapered wall!
I played with the idea of something large and white and modern, something bright and contrasting in color – maybe with beads??, something in the black or gold or basket variety (see all pinned ideas right over here) and eventually settled on something woodsy. A concept that's a little vague, I know…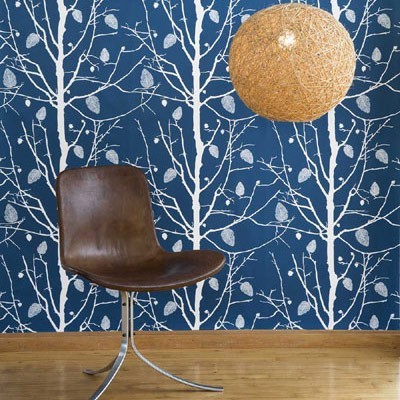 I didn't know what woodsy might specifically might be, but I love the look of raw or slightly honey-stained wood and blue. They're so perfect together! Birch and navy (image above) play very well together, or check out the walnut mirror below and how it 'pops' off of those awesome walls! (image) It's hard to tell in the very top photo, but the accent wall in our hallway is blue, actually I suppose all four are blue.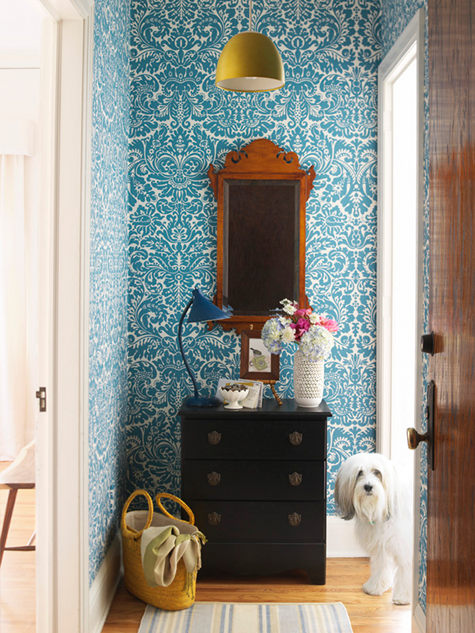 There is just something about blue and natural wood… same goes for gold (image).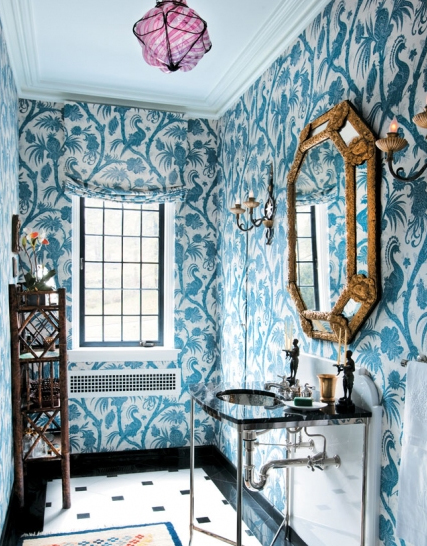 I was originally inspired to build a light out of wood veneer (kind of like this one, but I was thinking big and couldn't manage to get the wood veneer sphere to hold its shape once my play pendant grew larger than about 14″ in diameter), here are a few examples of the inspiration I played around with: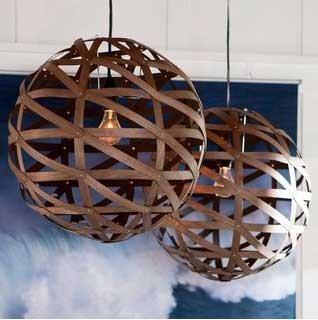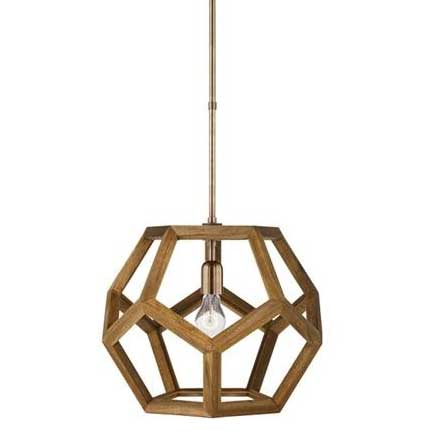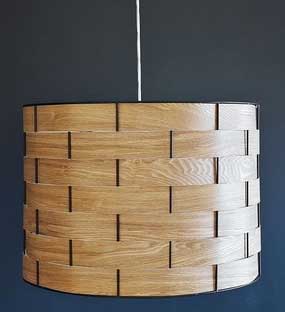 The round guy at top is a little dark in color but the shape allows plenty of light in (image) which is crucial for this hallway space at night, the honeycomb version is a very cool idea with its unique design (image) which is sure to make people stare up at it when they walk by, and the third option on my list is one of my favorites with its weaved wood veneer and traditional drum shape (West Elm, but no longer available). I actually thought that guy might be the easiest to DIY.
But I was looking for something a little less ordinary and perhaps a bit more organic in style and shape? Sort of like this one? (image) But maybe not sooo crazy.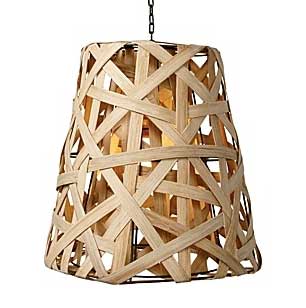 Time to DIY!
I should warn you now though that this project failed. Womp womp.
Before you get too excited for me for finding and then DIYing the perfect, most amazing pendant that ever walked this earth… it didn't happen. But I gave it an honest effort. Still shedding a tear over it.
On to the good stuff.
Materials included 4 packs of 3/4″ wood veneer edging from Lowes and a vintage wire lampshade: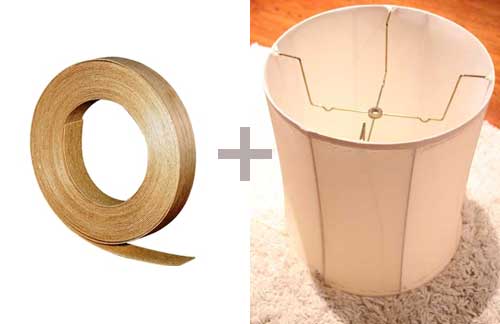 That night I stripped that lampshade down to its bones: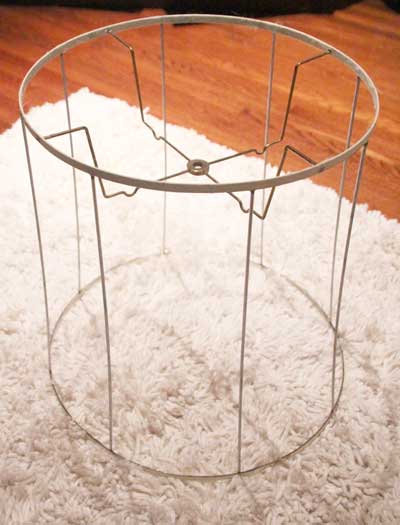 And then began using that wire structural design to add veneer strips to the shade. Using office clips, I first outlined several ideas on how this might look, later I could glue my favorite design in place (highly recommend this less temporary solution for any major project while in the 'playing around stage').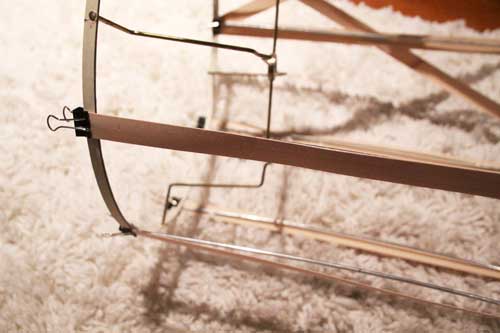 I settled on a design with a pattern, though a slightly unusual one at that. Then it was time to glue (I recommend a wood glue for extra support), and be sure to leave those clips on with the glue overnight (though I was careful not to glue any clips, and I moved my pendant out to the garage for the drying portion of this project).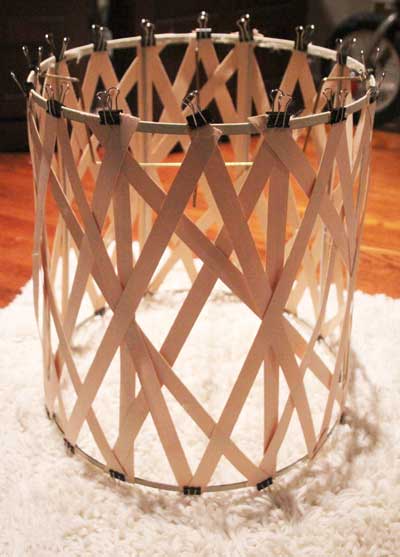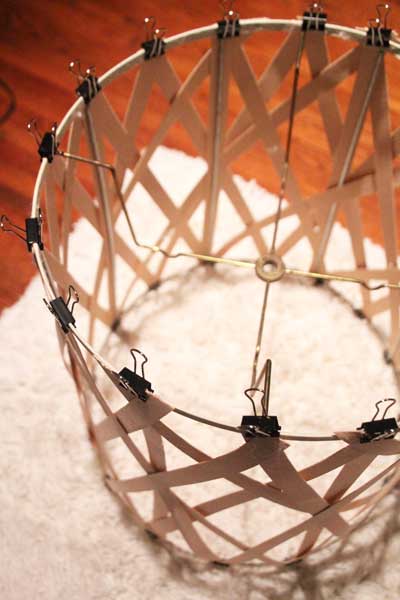 I eventually lined the wires (and top and bottom) of the inside of the shade in veneer as well, so that if you're looking up or down into the body of the shade it looked as if almost all of the wire had disappeared.
This is the womp-womp part of the project… my new shade looked so neat there on the floor all perty and structural and finished!
But as soon as we played with how it would hang in the hallway it became very clear that the shape and size was just not right, and that the color (which looked so cool and birch-like up close) looked much more like raw, unfinished wood from the next room over.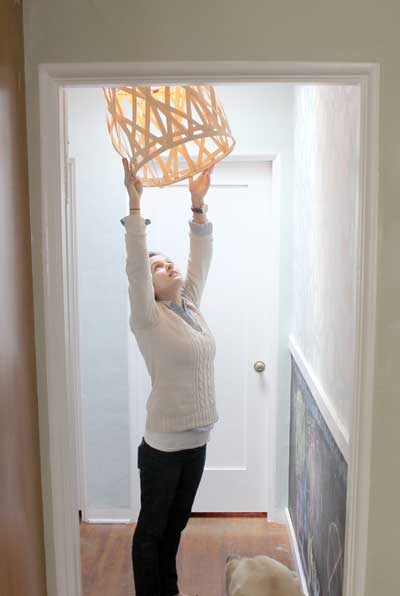 Oh man, so disappointing. But sometimes you just know when a project is not right.
I'm hoping to reuse the shade or materials for something else around the house and to start over on the hallway light. On the plus side, I'm a little wiser on what will look appropriate up there – I'm not opposed to something over-sized or structurally interesting, but now more horizontal, less vertical and perhaps something stained.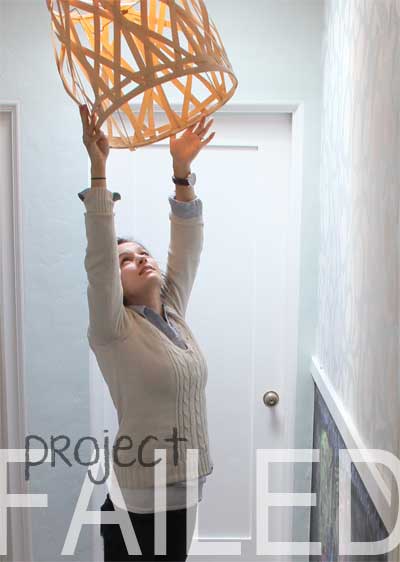 You win some, you lose some.
Tags:
Accessories
,
Crafty Solutions
,
Decorating
,
DIY
,
Home
,
Tutorial
Posted in
Crafty Solutions
,
DIY
,
Home
,
Our Hallway
,
Renovating Adventures
|
13 Comments »