April 21, 2010
If you had a chance to check in yesterday, you got a sneak peek at all of the projects going on here to modernize an old Spanish bath that hasn't seen many updates for quite a bit of time (I'm guessing that the previous owners did a bit of updating in the realm of handicap bars, mirrors and lowering the built in vanity in the 80s, but other than that the architecture, original basketweave flooring and old fixtures are pure 1930s).
Here's a reminder of what the bathroom looked like just before we moved in: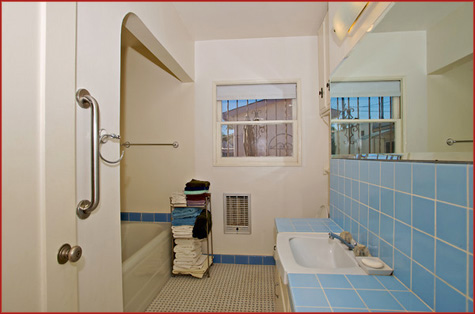 I love the older features of the room and we've done our best to maintain the integrity of the original architecture throughout the house. The arch over the tub is one of my favorites.
Our updates included bringing down that giant old mirror and replacing with two smaller vanity-style versions, patching and painting the lathe & plaster walls, updating the window shade, making our own fabric shower curtain and adding a few new accessories.
And here's the recently updated space: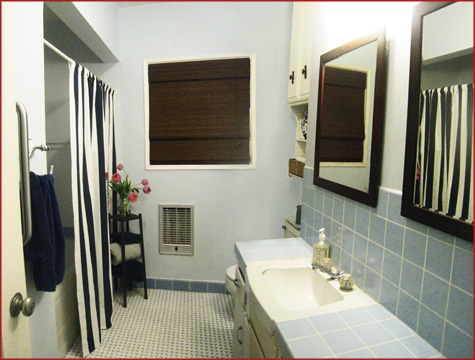 The photo's at a bit of an odd angle as the counter tops really don't jut out to the right. What do you think?
The shower curtain is my favorite part of the project! Just a bit of a modern pattern will update any space. We used an inexpensive Ikea white rod and while I bought a liner to keep the fabric from getting wet, this bathtub shower space doesn't serve as the primary shower (there's a built in shower nook hiding behind that door handle in the above pictures) so I'm not worried about it getting too wet.
If you do have plans to make your own curtain, Ikea sells a simple clear liner for around $2 that could easily be sewn to the back of your fabric (as the reverse side) or hung on in the inside of the shower.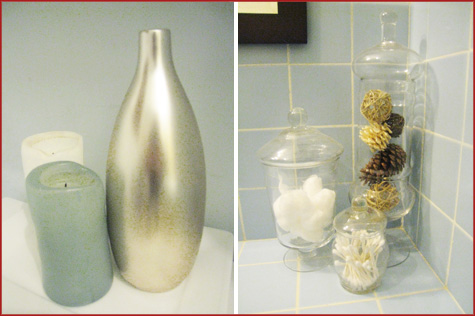 A few new accessories… including:
*garage sale candles (nothing says 'relaxing' like a bubble bath and plenty of twinkling lights)
*apothecary jars from Michaels (40% off coupons can go a long way… did you know you can print them any time online, including their '20% off an entire purchase' coupons?)
*baskets from the Container Store
*a neat plate on sale from Pier 1 (picked it up ages ago)
*vases from West Elm's 20%-off-all-vases sale
*shells from ebay (used for a wedding shower from a couple of years ago when I bought them by the dozen – beautiful!)
*my favorite soap container from Home Goods
*bamboo shade from Lowes
*espresso picture framed (Aaron Brothers) mirrors (Lowes)
*shower curtain and rod from Ikea
The entire Before & After project (since I shopped my house and kept purchases to a minimum) came in at just under $100.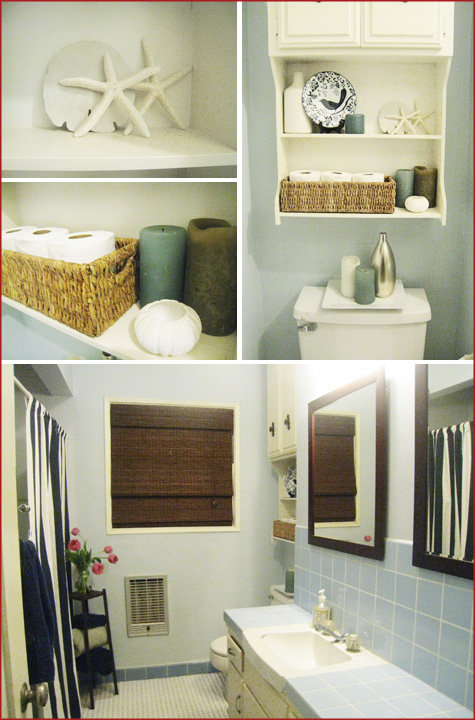 We're hoping to overhaul this bathroom in the fall, so hardware, light fixtures, coil heater (does anyone else have one of those?) and annoying handicap bars had to stay. But I'm enjoying all of the updates!
Tags:
Before & After
,
Blue
,
Crafty Solutions
,
Decorating
,
DIY
,
Home
,
Our Bathroom
Posted in
Crafty Solutions
,
Home
,
Renovating Adventures
|
18 Comments »
April 20, 2010
My project this past week has been to update our older Spanish-style bathroom. We have all intentions of overhauling what is currently the only full size bathroom in the house this fall, but the dated look and feel needed just a few tweaks until then.
Without taking on the cost of changing fixtures or hardware I set out to 'modernize' the space with a few inexpensive ideas and lots of paint. I hope you find a few inspiring tips in here, too!
Here's the professionally shot 'before' picture from our realtor: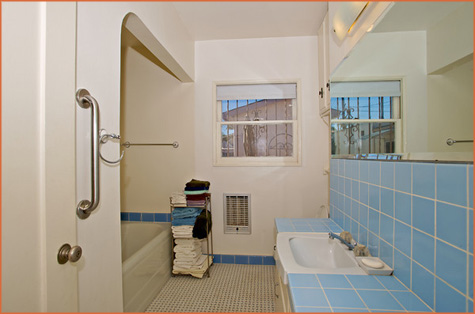 The first to go was the giant mirror. Next came a layer of patching, sanding and priming. Working with the blue theme our previous owners left us with, I color matched a slightly lighter shade to add to the walls.
We also replaced the white vinyl shade with an espresso-colored bamboo version: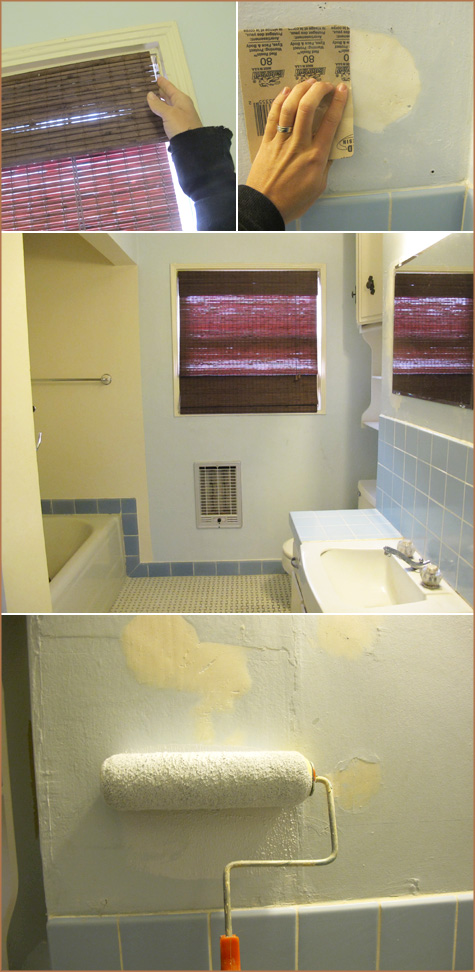 Did you notice that the counters in the bathroom are a bit smaller than average? The previous owners adjusted the height to accommodate for their 97-year-old Mom, who had lived in the house since the 50s. That's also the reason the bathroom is covered in handicap bars – but per our remodel rules I wasn't allowed to go tearing fixtures and hardware down just yet. That would have to wait.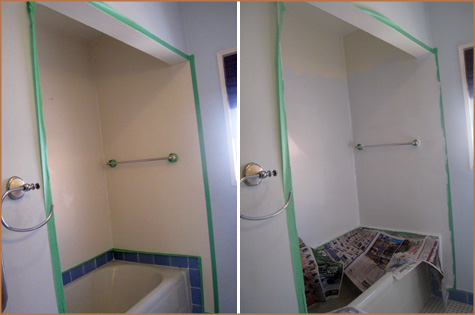 The inside tub nook (with that neat architectural arch detail) got yet a slightly lighter blue to highlight the feature. That's my newspaper-tape job above, don't laugh.
Here's my Ikea buddy cutting out the perfect striped fabric for the project (I looove stripes). After searching high and low through my favorite fabric shops I was amazed that Ikea carried my ideal pattern – and at $6.99 yard I was thrilled with my find.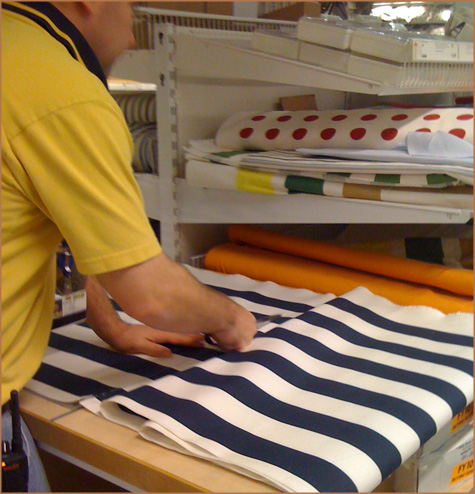 I found this basic stand at Ikea as well. A quick coat of paint to match the new mirror frames and it was ready to go: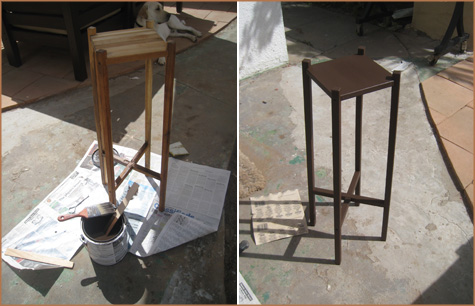 Last but not least I updated that giant old-school mirror with two small vanity versions framed in espresso Aaron Brothers wood frames. The mirrors were purchased at Lowes for $10 a piece and I used my favorite 40% off coupons for each of the frames.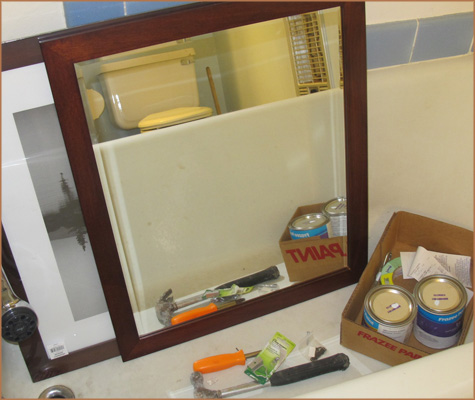 I'm putting the room and all of it's pieces in perfect order now – come back tomorrow to see the finished project!
Tags:
Before & After
,
Blue
,
Crafty Solutions
,
Decorating
,
DIY
,
Home
,
Our Bathroom
Posted in
Crafty Solutions
,
Home
,
Renovating Adventures
|
3 Comments »
April 17, 2010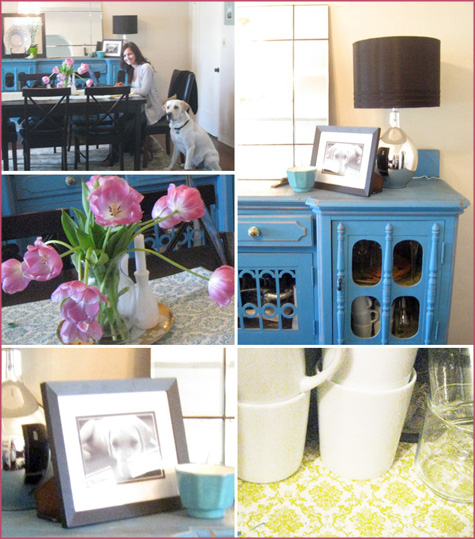 Come visit me today over at 6th Street Design School! Kirsten asked me to share one of my favorite spots in our home… and I was delighted to share a sneak peek and several details of our ever-transforming dining room (which has served as my office space, our dinner party venue and project table during our remodel).
Come say hi!
Tags:
Accessories
,
Blue
,
Decorating
,
Dining Room
,
Furniture
,
Turquoise
Posted in
Guest Blog
,
Home
,
Renovating Adventures
|
2 Comments »