January 10, 2013
About a month into winter each year, I begin to wonder if this throw-on-a-cozy-sweater-and-boots weather might not be one of my favorites. I hardly feel as if I'm getting dressed in the morning when my staple has become black leggings (these ones are awesome for the growing belly), a tee, grey boots and an oversized cardigan. Maybe uggs if I'm at the home office, maybe a blouse if I'm headed into corporate.
Before Christmas, I took full advantage of Norstrom's half yearly sale and scooped up three new veryyy cozy cardigan additions to add to my stash. Options are in abundance this season! I remember 3 or 4 years ago when I worked for a big consulting firm and we never knew how cold the office building was going to be that day – I used to stash a treasured giant black cardigan in one of my desk drawers just in case. But this was when it was nearly impossible to find a bulky, hip length anything sweater and I was sure I had struck gold with my office secret. I sincerely dislike office building air conditioning to this day.
A round-up of deliciously comfy, can't-wait-to-crawl-into-you cardigans for the rest of the season: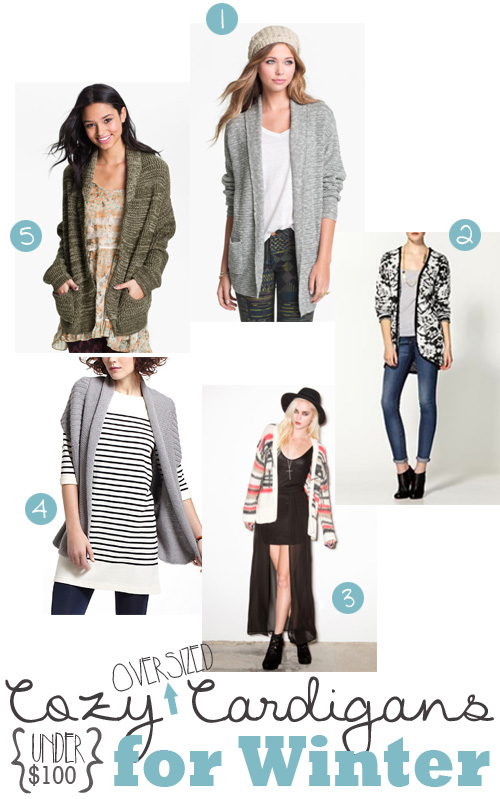 1. Cotton Emporium Marled Cardigan 2. Reflection Cardigan 3. Multi-Colored Open Front Cardigan 4. Ribbed High Low Sweater Vest 5. Cotton Emporium Oversized Cardigan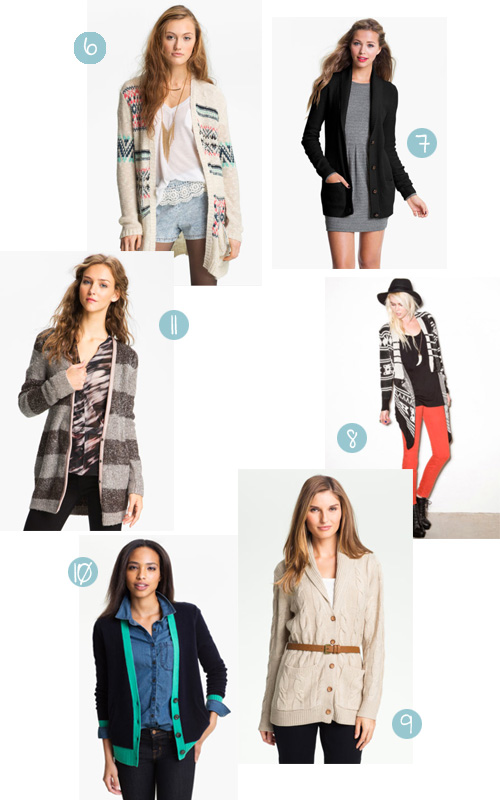 6. Rubbish Blanket Cardigan 7. BP Shawl Collar Cardigan 8. Open Front Southwestern Cardigan 9. Beatrix Ost Belted Cable Cardigan 10. Caslon Tipped V-Neck Cardigan 11. Hinge Metallic Boucle Cardigan
PS I bought 5, 7 & 10, and I'm pretty sure at least two of those are still on super sale.
Posted in
Fall
,
Inspiration Board
,
Wardrobe
,
Winter
|
Comment »
January 3, 2013
Liv will be TWO in less than one week! I forget how quickly her little birthday comes following the holidays (I suppose it will become old habit once we've done this a few years in a row

) but I have kept a Pinterest board with her name on it for the last few months to bookmark any favorite ideas.
The invites are finished and went out with our Christmas cards. Just a few close family and friends. The decor awaits final decisions, but this is always the best part!
My theme is pink. Simple, easy, full of potential.

This next week will be filled with late night craft projects and a little bit of prep. We are laid back folks over here – hardly a menu planning list in site, though I'll probably make a special dessert (I'm even thinking strawberry shortcake) a day or so in advance.
I love to plan little parties, it may be one of my favorite extracurricular activities all year

and I'm already seeing tissue paper and striped straws and paper flags in my near future… will keep you posted!
PS please forgive my terrible rush with this post, today has been pouring over with back-from-the-holidays make up work. To find the credits for all of the above gorgeous photos, head over to Liv's 2nd Birthday Pinterest board.
Tags:
Kids Party
Posted in
Family & Friends
,
Inspiration Board
,
Olivia
|
3 Comments »
November 13, 2012
It is a crisp but sunny day here in San Diego and I am soaking up our delicious fall weather. Fall has always been my favorite time of the year and especially for the weather right around this time, too. It's cold enough at night to enjoy slippers and coco (I've made myself a mug a couple of times this past week, with marshmallows – I totally recommend it) but still sunny enough during the day to enjoy being outside for a nice walk at lunch or after work.
I've been known to pull out fall wear too early in September and October – you can't wear knee high boots and layers of socks and cowl neck sweaters in San Diego during these months or you will boil. But now we are close! Maybe a couple of weeks away. And to all of you enjoying snow in your parts, insert my jealous grin here

.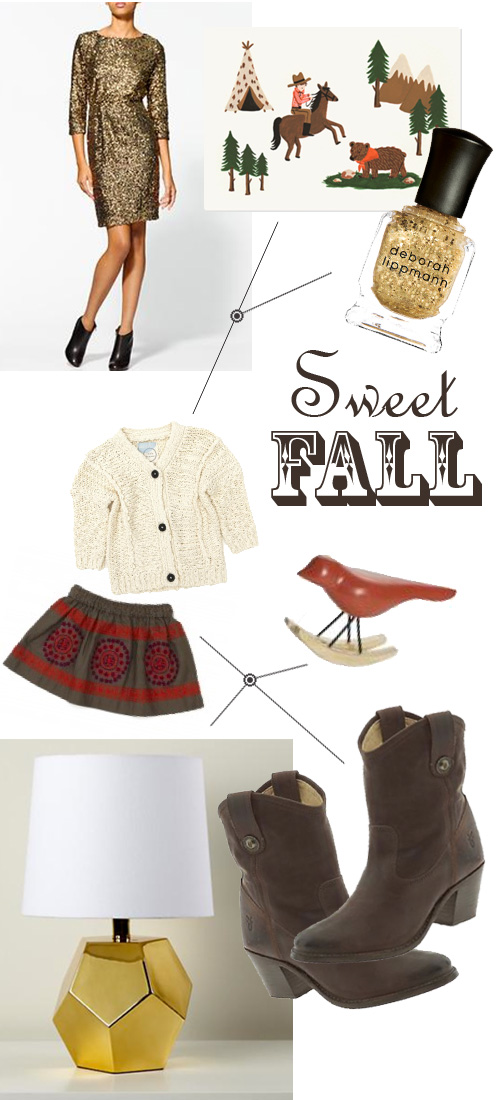 Gold sequin dress, cowboy print, glitter nail laquer, baby fisherman's cardigan, baby Frida skirt, rocking bird, button booties, rock lamp base
That baby fisherman's cardigan is amazing, as are those leather booties! And the cowboy print. Hope you are enjoying your fall!
Tags:
Accessories
,
Decorating
,
Fall
,
Home
Posted in
Fall
,
Home
,
Inspiration Board
,
Wardrobe
|
7 Comments »