March 5, 2013
We didn't find out if Liv was a boy or girl until we welcomed her on the day of her birth. That was thrilling and exciting and so worth the wait for baby #1. But this time around, I was much more ancy to know whether she might have a little sister or brother and I was so happy that Kevin agreed to a big gender reveal. Now I have three and a half months to plan, design and scheme a new nursery for 2! And two beautiful girls at that!
This means lots of pink. We're pulling out all of the stops. There will probably be very little about this space that could qualify as gender neutral (basically the opposite of the design plan for Liv's nursery back when).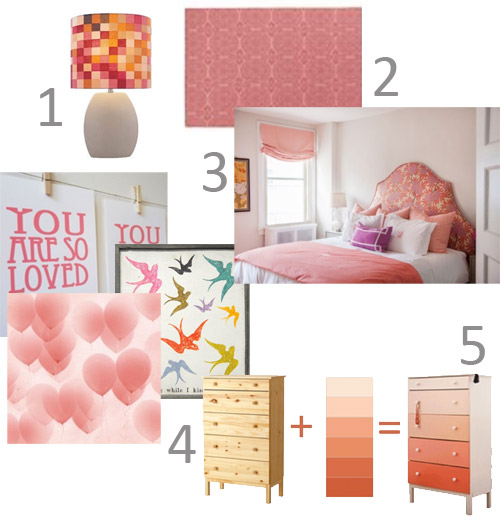 Pink!! Still undecided on specific fabrics and patterns and art and rugs and lamps and paint and all of the details, but here are a few images that have resonated with me and have made it to the Pinterest board that continues to inspire.
1. We'll keep the big drum pendant that currently hangs at the center of the room, but this lamp is very cool and a potential DIY project. I have wanted to DIY a glass bead hanging chandelier for some time too! This might be the right opportunity to make a version of this one.
2. Still quite unsure on the rug. Might be an excellent opportunity to introduce a contrasting color like this navy guy, or more pink. TBD.
3. Liv won't move into a toddler bed for a while (she's not ready, plus the new baby will stay in our room for at least the first 4-5 months), but when she is I would love to make a mini upholstered headboard out of a fun fabric and maybe attach it to an Ikea low toddler-sized platform bed. This photo is by the lovely Caitlin Wilson.
4. Art! I'm not sure at all where we'll go with art, but I hope to add plenty of it

. Here Here are a few ideas.
5. Liv's room currently has a dark brown dresser that we scooped up on Craigslist (it's Pottery Barn so it's sturdy as a rock). Rather than replace it, I'm considering painting the drawers ombre like this guy.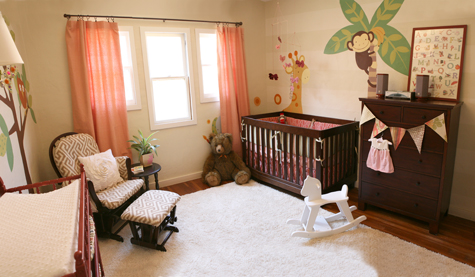 Other than decor updates, there's one big elephant in the room that we'll have to deal with when reconsidering this room. When we opted to build a bathroom ensuite off of it, we completely demolished all closet storage space. All of it.
It hasn't been terrible so far. Between the dresser, changing table and bookshelf we've managed to find homes for all clothing, baby storage (like diapers, wipes, wash clothes) and toys. It only becomes a bummer when we lack storage for bigger items like an umbrella stroller or Liv's travel gear. BUT with two, I know that zero closet is going to be tough. So after much deliberating I've decided to build a series of built-in bookcases along the window side of the room. The unfortunate part of this decision is that we'll have to paint over the beautifully awesome wall animals that Kevin's mom and aunt gifted us with (they are both phenomenal artists). I measured and measured again but most of the animals will be awkwardly half covered up by the new bookshelves and drawers, and it just wouldn't look right. Too bad we couldn't pull the plaster board right off of the walls and relocate!
Those little baby animals are popular! They have been saved in over 37,ooo Ideabooks on Houzz and the tree bookshelves alone have been repinned more times than I can count.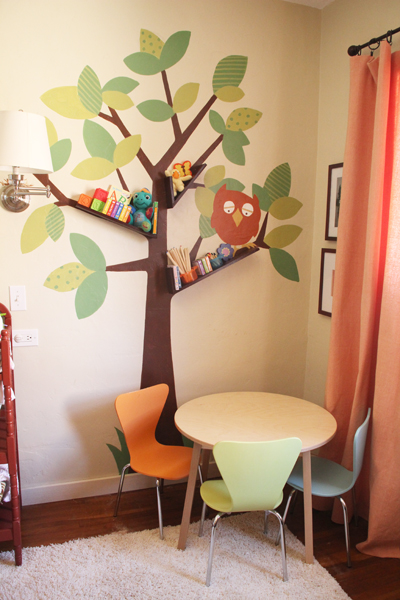 It will be hard to say goodbye.
My ideas right now include a built-in unit like 7 below, but perhaps painting out the backings like Kate did in 8, and I'd like to use fabric for the new shade and window box similar to this little trio show in 6.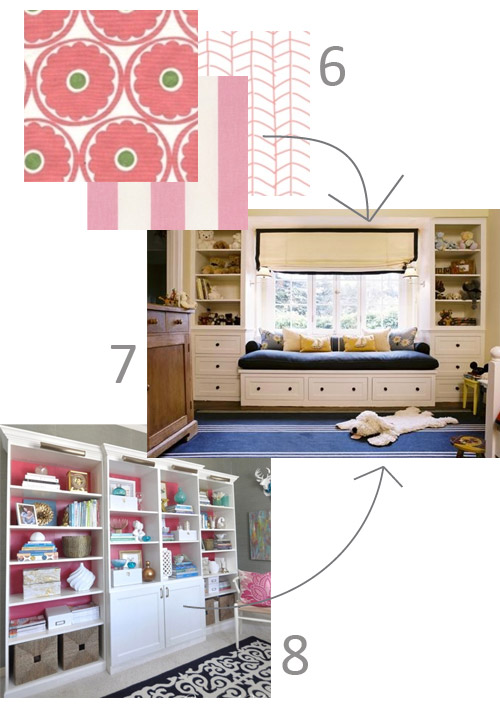 Last but not least are the walls. Everything will get a coat of clean white with the exception of the far right wall, which I hope to turn into a really cool accent wall by finding the right wallpaper.
Sort of like this room (so pretty, right?):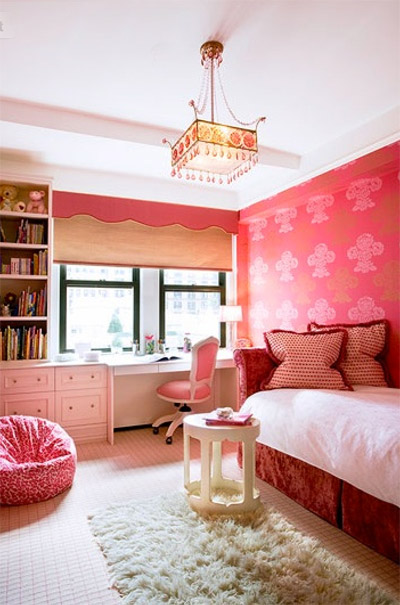 Here are a few patterns from Spoonflower (you can print your own wallpaper now! So cool!) that I love: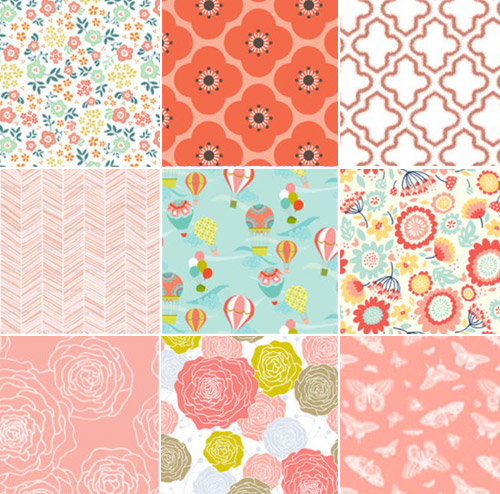 The sources for each (and even a dozen or so more that I love) can be found in my Houzz Ideabook.
There's the start! What do you think? I'm so ready for a full room reno, even though it will be very, very hard to part with Liv's current nursery. This is when you wish you had an extra room in the house for every idea

. Except for cleaning, then that's a terrible idea.
PS See more of our nursery projects for the current room right here.
Tags:
Decorating
,
Home
,
Kid's Rooms
,
Pink
Posted in
DIY
,
Girls' Room
,
Inspiration Board
,
Liv's Nursery
,
Olivia
,
Renovating Adventures
|
6 Comments »
February 11, 2013
***Congrats to Ashley D. on winning the $100 Minted.com giveaway!! Thank you to everyone who entered***
Liv and I made little Valentine's Day treat bags for her grandparents and great grandparents (they were inspired by this version we made last year for Mother's Day with drawings by Liv and taffy), and this time around we filled the little clear bags with Hershey's kisses to officially send 'Bags of Kisses' through the mail.
BUT, before I share this super easy and customizable candy bag, I have to share that we had our little gender reveal party yesterday and it was so much fun! So neat to experience the awesome surprise of what we're having with everyone at the same time!! Caught it on camera so I can share the surprise with you all. But you have to wait just one more day or two while I edit the video! So sorry for the suspense… let me just say I was totally caught off guard!
Okay… back to the cute little baggies

.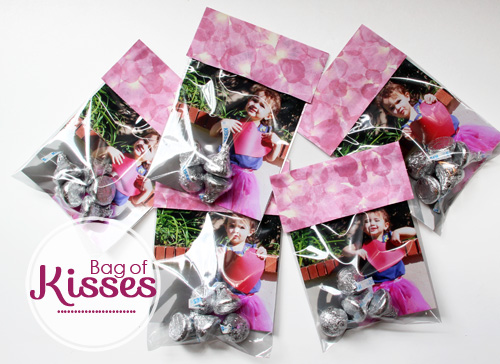 ********************************************************************************************
'Bag of Kisses' Treat Bags
m
Materials: pretty paper, clear treat bags (almost any size will work – I used 5×7 bags for this project and 4×6 bags for today's project), an optional photo or image for the bag, Hershey's kisses, paper cutter, glue/stapler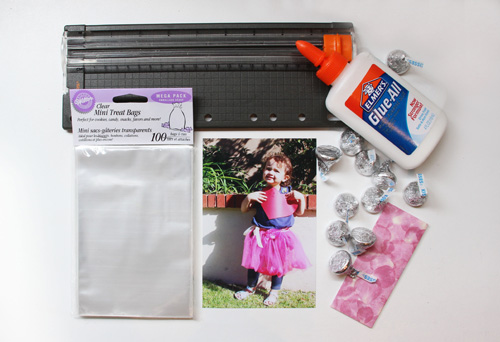 A very quick and simple project to assemble.
First up was Liv's Valentine's Day photo shoot! I actually caught Liv on a day that she was wearing her little tutu (as a 'ballerina' – which rarely happens) and handed her a construction paper heart to play with (I made two which turned out to be the smartest plan because the first was crinkled and torn before I had even pulled out my camera).
Then we shot away!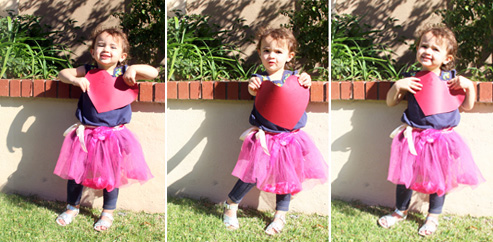 500 pictures later (in about 45 seconds) and Liv was smiling and standing and carrying the heart in the same photo. I love that middle shot – I always have to take a ton, but it's always worth it.
Actually this might be my favorite: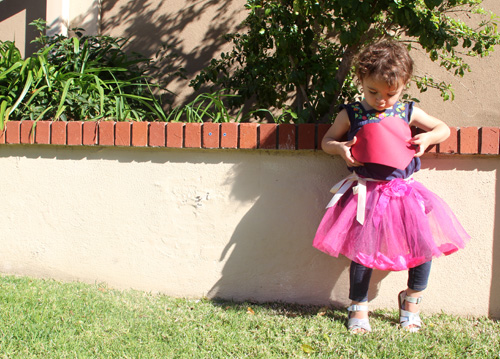 We turned it into the little card that we'd send out with the bags: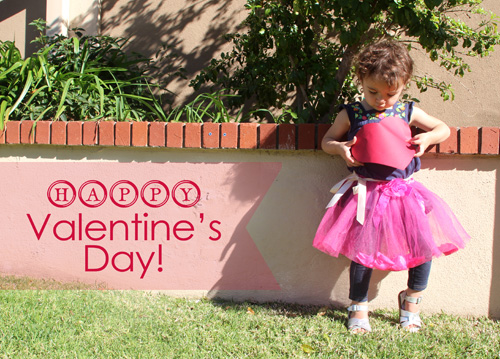 Ahhh and here's Liv last Valentine's Day! One year makes a huge difference.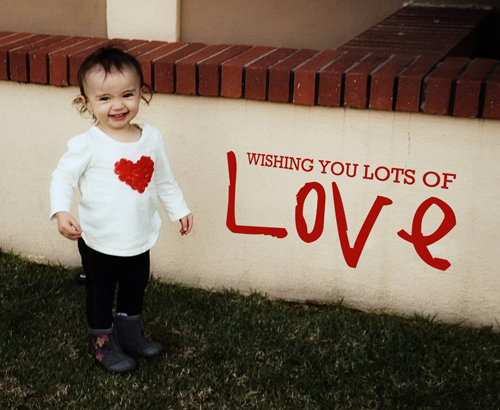 After processing the photos, I ended up cropping both the bag and photo to make the finished bags just a little smaller.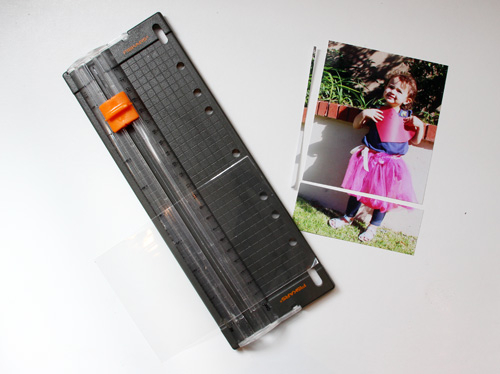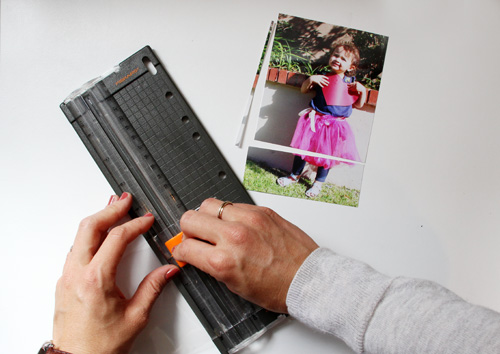 Then into the bag went a handful of kisses and on the top of the bag a cut rectangle of a pretty paper (from the scrapbooking aisle) that was folded in half. You could easily staple the top directly onto the clear bag as well, but I tried something new for a seamless look this time around with glue.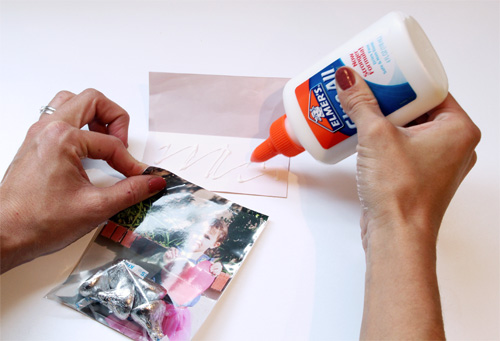 Finished!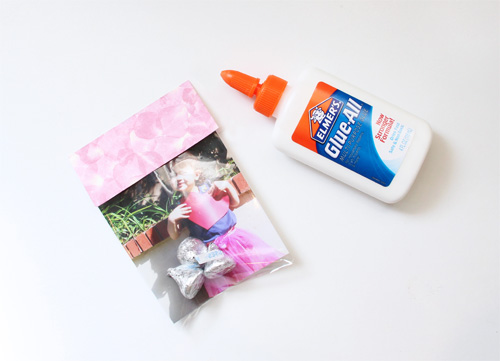 I couldn't decide on which pose I loved best, so I made several of each: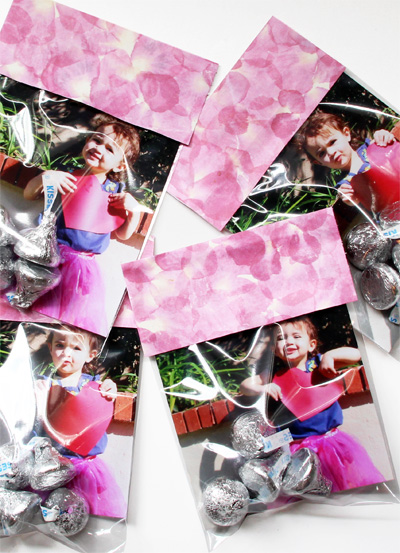 Here's the entire project in one quick collage: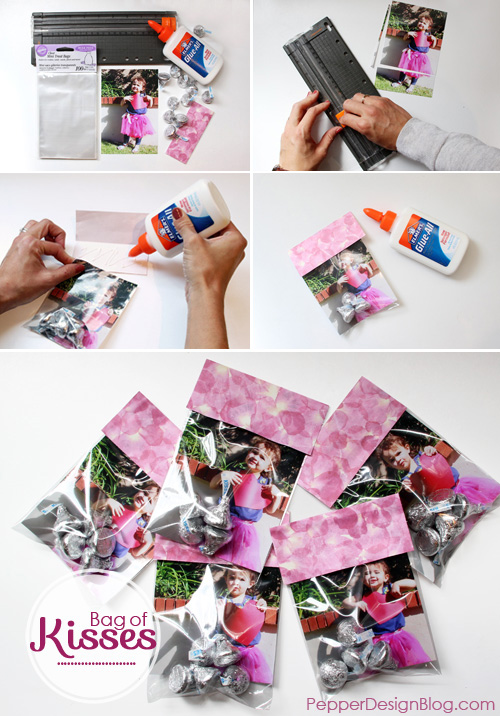 ********************************************************************************************
This is a favorite and easy project in our house, we've made them for Mother's Day (which I referenced above here) but you could use them for parties (they make great favor 'thank you' bags) or as treats for school. You could really add any image (be it a favorite photo, paper, fabric square, etc) as the backdrop or even leave it blank as a clear bag. Use a solid piece of paper at the top to include a little message, too! And we've also filled these with miscellaneous goodies such as confetti or glitter just for added fun.
Valentine's Day is just around the corner! Here's a quick link to search by all heart-day related posts.
Tags:
Crafty Solutions
,
Parties & Entertaining
,
Party Favors
,
Pink
,
Red
,
Tutorial
,
Valentine's Day
Posted in
Crafty Solutions
,
DIY
,
Family & Friends
,
Favorites
,
Handmade Gifts
,
Holidays
,
Olivia
,
Parties & Entertaining
|
6 Comments »
January 23, 2013
One of my favorite, super-quick-to-throw-together ideas from Liv's party was to create little favor pouches for gummy bears to hand out to all of the kids on their way home.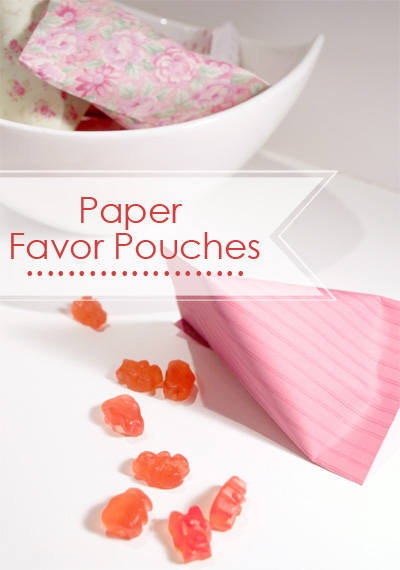 I didn't get a very clear photo of the treat bags at the actual party, but here's the gist on how we put them together: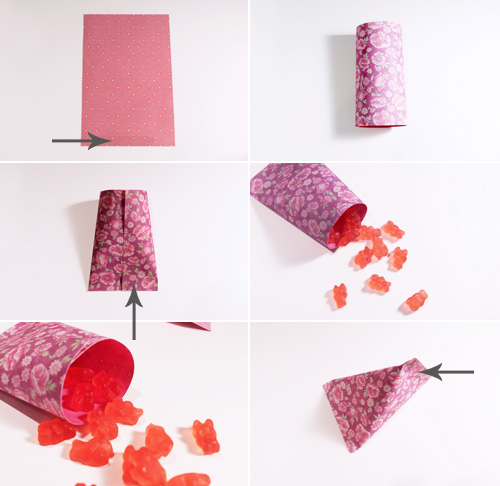 The grey arrows indicate where a piece of double sided tape was added to adhere two sides together. The pouches were popping open after a while, so I might try something stronger than plain old sticky tape next time. Maybe even cute staples or scrapbooking tape + a dab of glue in a few key areas (such as the corners).
They were a cute and easy addition to the party! And we literally made them as people were walking in (and as it dawned on me that I had meant to put favor bags together but had completely forgotten about them… luckily I remembered a few variations of this idea on Pinterest - not to mention those cool popsicles that used to be sold out of similar pouches when I was a kid – and happened to have paper and pink candy on hand!). Big thanks to my brother and friend Trish (the invaluable party co-preppers) for helping me assemble.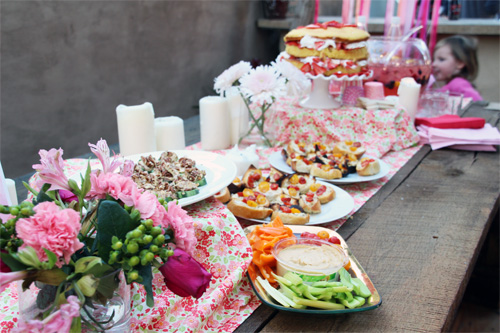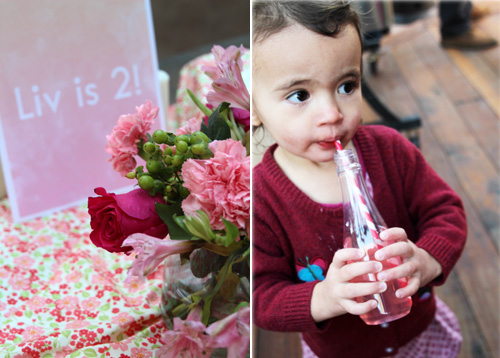 More pictures from Liv's 2nd birthday right here, and you can filter all party ideas posted on the blog by theme here!
PS this would be very cute for Valentine's Day treats, don't you think?
Tags:
Baby Shower
,
Birthday
,
By Color
,
Crafty Solutions
,
Decorating
,
DIY
,
Kids Party
,
Parties & Entertaining
,
Pink
,
Tutorial
,
Valentine's Day
,
Wedding
Posted in
Crafty Solutions
,
DIY
,
Family & Friends
,
Holidays
,
Olivia
,
Parties & Entertaining
|
1 Comment »