August 21, 2012
Because Kevin and my's families are each a decent drive (or flight) away, I try my best to keep grandparents and great grandparents alike up-to-date with recent pictures of Olivia and our little family. It's actually pretty simple and easy, and not at all a bother when it comes time to write a little note, print out a few photos and toss an entire batch of cards into the mailbox for the postman.
What helps to make the process so simple is a small, quarter-of-a-drawer letter writing station just for this purpose. After a year or so of pulling my big ol' stationary box off of the top shelf, hunting for stamps, addresses, and finally envelopes large enough for photos, I finally set aside a small space within easy access of my desk just for this job.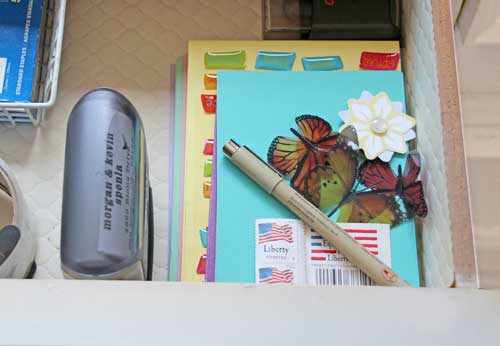 What prompted me to share this today is that I actually just transferred this space to my new office drawers as I'm getting ready to send a batch of cards out to the great grandparents. (There's so much more storage space in my new white dressers!)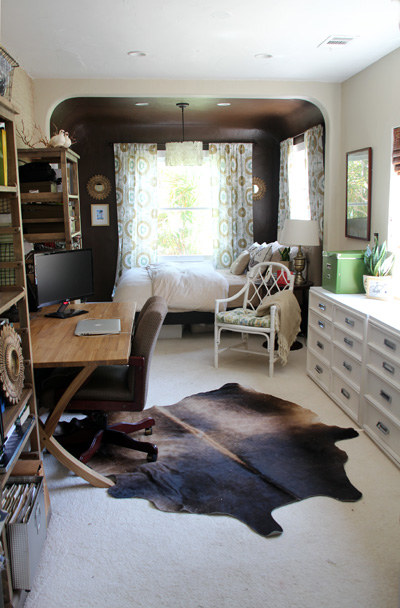 Within reach are envelopes that easily fit 4×6 Costco photos (a box of colorful pastel 4 3/4 x 6 1/2 found at Staples or online at Amazon), a stack of blank colorful note cards (Target) and little stickers or embellishments from my scrapbooking days (I have another giant box of these elsewhere, but I pull out a few every couple of months to replenish this supply). I'm totally serious about those butterflies too – sometimes it's the sweet little details that make receiving a letter extra special!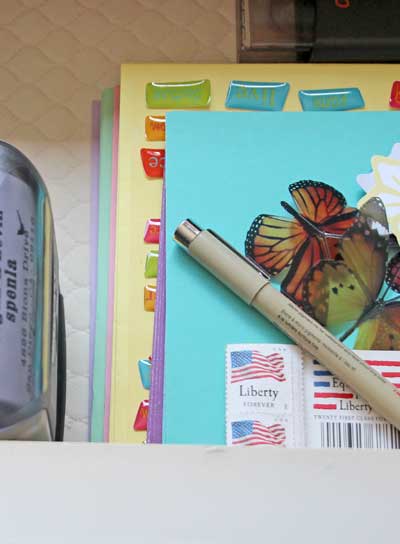 When we make a Costco run, I send a head a batch of favorite photos to pick up (five of each, for each of our grandparents and great grandparents). A hand scrolled note is added to the envelope (perhaps a scribble by Liv), a stamp from my pre made, self-inking address label (wonderful investment from Etsy) and into the mail it goes. Done and done.
Maybe one day I'll even pre address them as well.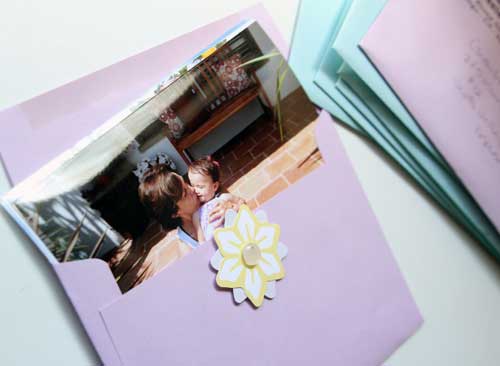 I know that Liv's great grandparents in Denver, Des Moines, Phoenix and Santa Cruz especially appreciate this little gesture, and when we visit sure enough their favorites of the photos are covering the fridge or in frames. I hope that Liv does this for me one day

. That is, if I haven't already purchased the house across the street from my future grandkids.
I still keep that stationary box full of birthday cards and thank you notes on the bookshelf for special occasions: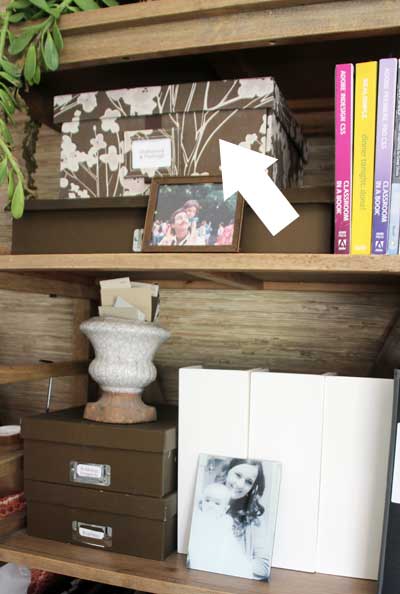 But this little letter writing station has its own purpose.

Of course this blog's purpose is, in a way, here to do the same thing. If only four of the six great grandparents that we send snail mail to knew what a blog was…
Tags:
Home
,
Office
Posted in
Family & Friends
,
Home
,
Olivia
,
Organizing
,
Tips & Ideas
|
2 Comments »
June 1, 2012

Happy Friday! I can't believe it's already the end of the week, four day weeks are just the best. Today I have a great interview to share with you from a very lovely blogger. Jen of IHeart Organizing joins me to answer PDB's usual four questions, and as she does so she weaves in her favorite decorating and organizing tips! Topics that she's quite well known for these days (have you spotted her over at BHG? she recently showcased one of my very favorite office spaces). And this idea is one that I hope to copy for Liv's room very soon!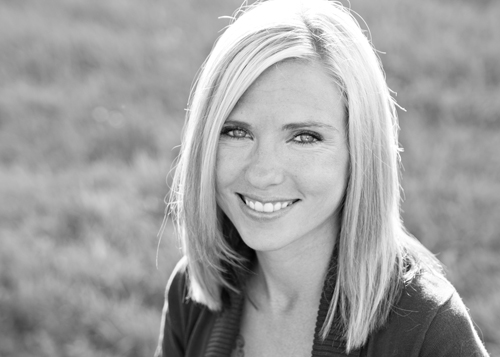 I love to be organized – there's something about it that just feels so satisfying, whether it's the planning, the process or the triumph when you actually go looking for something and you find it immediately! But staying organized is not my forte – I can go weeks and even longer ignoring painfully obvious piles of to-do. So reading Jen's blog for me is inspiration! A breath of fresh air.
But without further ado… jump on over to read Jen's interview and to peruse a few of her favorite home pics. Read more »
Posted in
Guest Blog
,
Home
,
Interview
,
Organizing
|
4 Comments »
May 24, 2012
Thank you for your birthday wishes!
The dining room has been on my mind all week… it's making such progress! We have the new light fixture installed, the buffet was made over and now it's time to tackle the bookshelves on the opposite wall.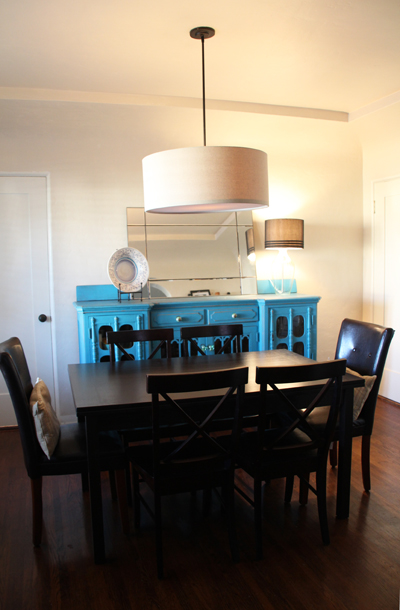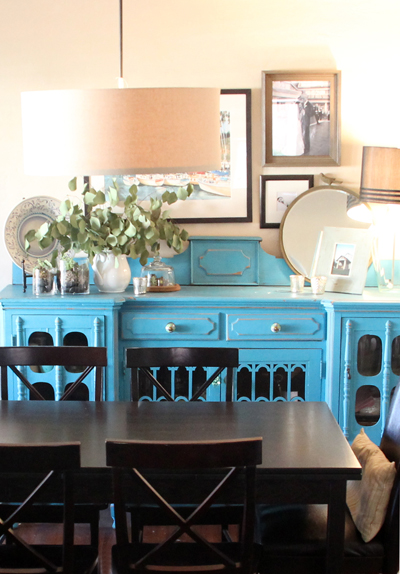 Looking at the buffet the bookshelves are actually behind you, leaning up against either side of the arches facing into the living room.
Here's a 'before we moved in' to give you a really clear idea of the wall space available there (that second door is now sealed up and a part of the new bathroom, and that older kitchen you see in the first door is now here):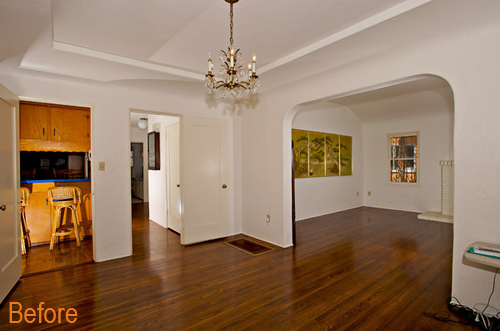 This was a hard spot to figure out how to utilize. Big clunky bookcases would stick out like a sore thumb but I knew the wall space could be so much more than room for hanging photos. This was also right about that time when the leaning bookshelf craze was in full effect, and I really liked that they were backless, the depth narrowed from the base to the top, and that they were much less obtrusive than your usual variety.
When I found a set of leaning C&B bookshelves on Craigslist I knew they would fit perrrrfectly. Here's a slightly awkward, coming in to the dining room from the guest room shot to show how these bookcases fit: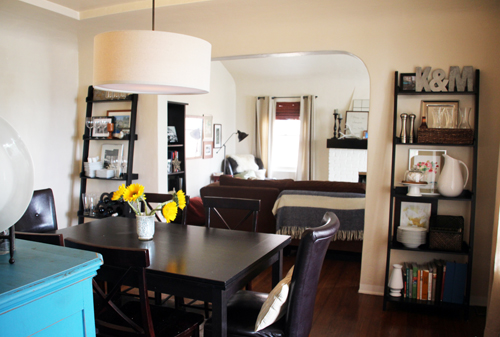 The leaning bookcases hold just enough storage – I keep wine and beer glasses, cookbooks and extra dining dishes on these guys – plus they're lean enough to allow plenty of walk around room.
I had first styled them like this: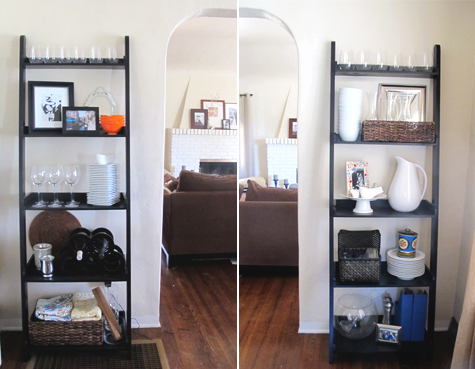 We didn't repaint, those are just grainy, washed out pictures from last year. Darn camera settings that I must conquer.
And after yesterday they look more like this: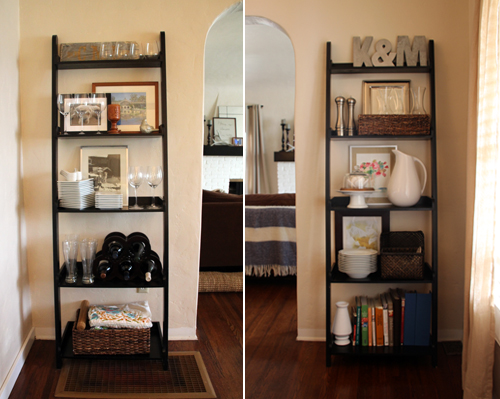 One day I will master the focus on the camera. One day.
A few of my new goodies include pictures and prints that I've collected over the past year.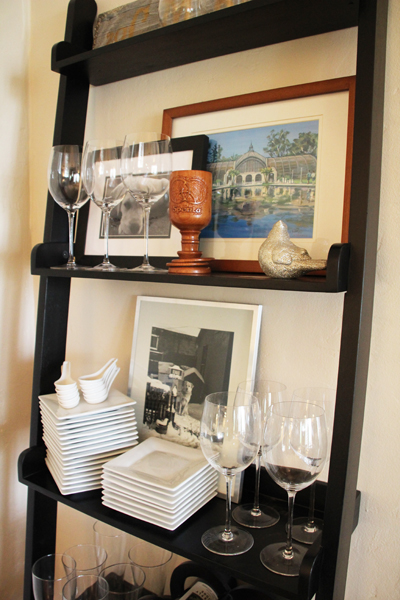 It was hard to get this shot without a horrible glare, but this black and white is a photo that my mother-in-law gave me for Christmas – she had taken it in college as an art major and had framed it for me for Christmas. The juxtaposition is amazing (the 'Beware of Dog' sign in the foreground and the kind looking observer just a few feet behind) and I can just picture Eileen at 20, stopping to see this ironic pose and kneeling down to get closer to the dog's eye level, hair flipped back in some feathered 70′s do.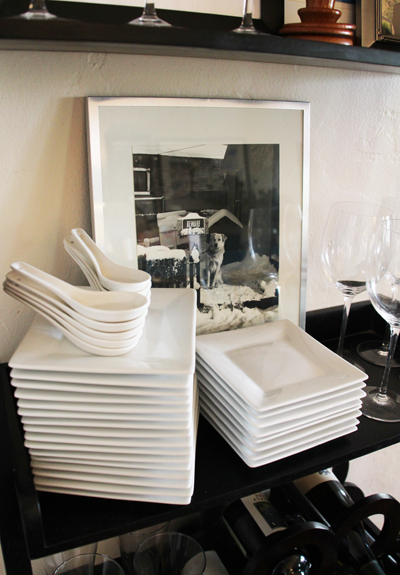 The next shelf up holds a picture of Bodie when he was just a couple of months old by my mom with his big sweet nose close against the camera lens, and next to that a Mother's Day print that I picked out when we were at Balboa Park. The arboretum there is one of my very favorite buildings and I was thrilled to find a local artist in the park selling his paintings and prints.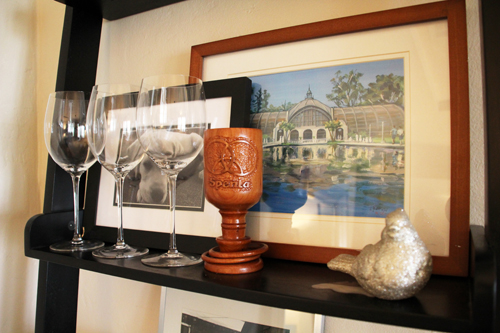 I chose a warm wood frame that compliments a handmade cup from our wedding from Kevin's best man. My little silver bird is attempting to hide a candle wax stain that discolored the bookshelf! Bummer. Ha, in this particular shot it kind of looks like something else…
The other bookshelf is home to my new favorite vignette which includes a cloche (a thrift store find and a gift from a friend who knew I was dying to find one) and a water color by the etsy Honolulu artist behind Pineapple Bay Studio.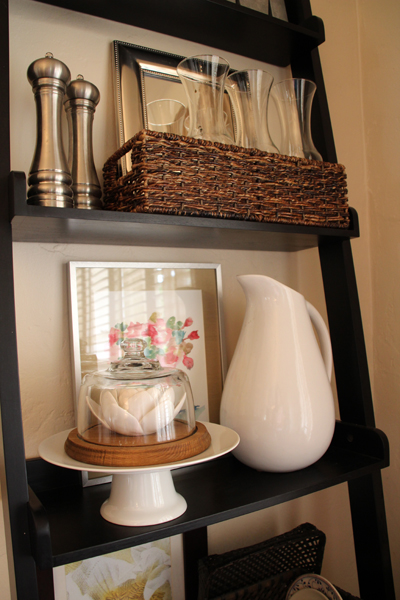 The colors provide just the pop of contrast this space needs!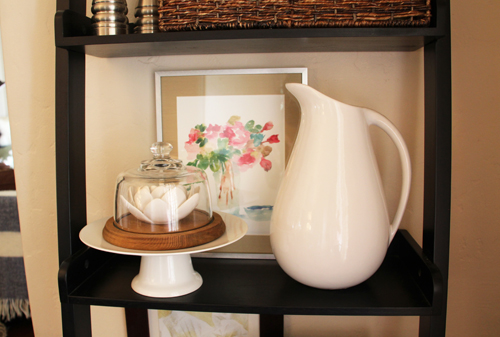 The cake platter and pitcher are Target finds from way back, and I'm pretty sure the white ceramic water lily is from West Elm. The galvanized metal letters at top are from Anthropologie and that picture on the same shelf as my square basket (to hold votive holders and what not) is a poster of giant magnolias that I cut apart and framed – sometimes framed art is as easy as taking apart packaging or gift cards!
There's something about filling in a backless bookcase with sporadic art and height that keeps the shelves feeling airy, but brings in enough content so that it doesn't feel sparse and lonely.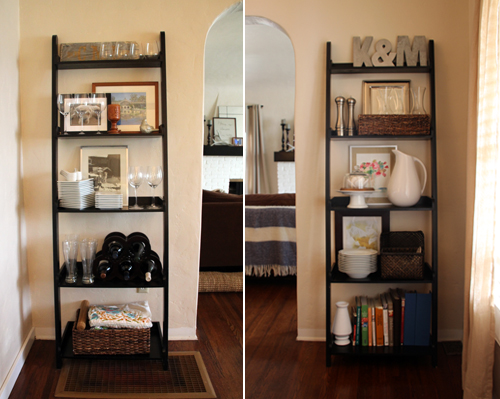 My favorite suggestions are to work in odd numbers, keep a variation of height on each shelf (with at one least one over-sized or tall piece) and mix up the colors while keeping some sort of consistent theme throughout (in this example I'd say it's my white ceramic dishware and vases that show up frequently throughout both bookshelves, and maybe a basket or two).
One more item checked off of that list. Next up is a new rug, new curtains, reupholstered chairs? or maybe cushions? plus some huge piece of art or a mirror for that big blank wall where that extra door used to be. But in no particular order, it's all part of the adventure

.
Read the full dining room story by starting here: a buffet-over, upgrading the lighting, the before
Tags:
Decorating
,
Dining Room
,
DIY
,
Home
Posted in
DIY
,
Home
,
Organizing
,
Our Dining Room
,
Renovating Adventures
|
19 Comments »