July 15, 2010

Kevin and I had fun coming up with a creative way to share the big news with our family. We decided something personal would be extra special and I made onesies for each of our parents out of iron-on screen transfers and singlets from Target. It was a simple and fun way to share the surprise – but I know each member of the family loved their own onesie and is looking forward to a future grandchild to fill it!
At top, we have my step Dad who is excited to bring a 'Future Trojan' into the mix (I graduated from USC), my Mom who owns her own martial arts studio loved her 'Sifu-Ma' (Sifu is a term in Gung Fu and a play on Grandma) onesie. My Dad was behind the camera and we missed a shot of the 'Future Traveler' onesie.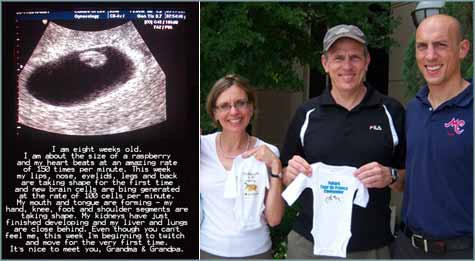 We celebrated the big announcement with my in-laws while at a family graduation. Here is my wonderful mother-in-law with her 'Future Michelangelo' onesie (she's a fabulous artist), and my father-in-law with his Tour de France' outfit (a big biker).
We also presented them each with a little visual… I created a postcard-sized note in photoshop with an early sonogram image and a description of what was developing at that moment with their little grandchild.
It was a wonderful way to share the good news!
Posted in
Family & Friends
,
Other
|
6 Comments »
July 12, 2010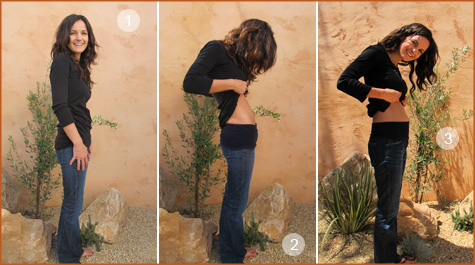 I have some big news to share! Much celebrating has been going on over here at the casa as we finally break ground on the new kitchen, finish up decorating a few of the main rooms in the house… and begin excitedly preparing for Baby S!
Remember a while back during our 3rd anniversary post that I casually mentioned getting ready for the next big surprise in our life? I was trying so hard not to spill the beans… but our big surprise is on it's way!
Here's my month-by-month photoshoot of the growing belly (month 2 leaves me looking for a sign of something… anything…) but it wasn't until month three that the growing grapefruit (actual size, so I read) decided to make a little appearance. We thought it might be fun to chronicle the changes of a nine month adventure and so I purchased this pair of maternity jeans and an extra-stretchy black top early on. Here's hoping I still fit in them by month nine?? We take photo number four this week!
Posted in
Family & Friends
,
Other
|
20 Comments »
June 24, 2010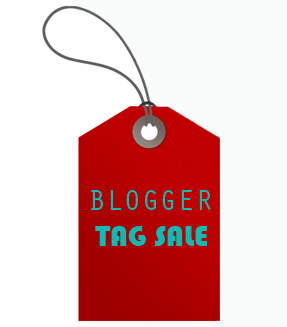 Have you heard of this little sale that's buzzing 'round the blogs this week? I just discovered it over at Brooklyn Limestone and love the idea!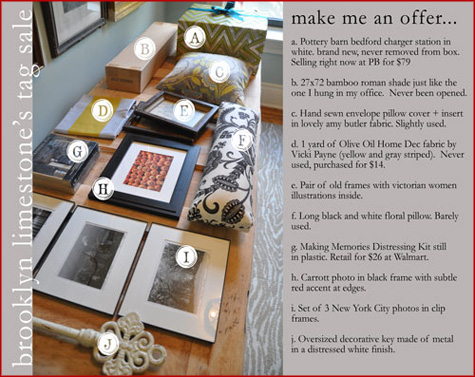 Here's a sneak peak at what's for sale over there… and here are all of the other participating blogs in case you'd like to go virtual shopping today:
http://chicmodernvintage.blogspot.com
http://www.sketch42blog.com
http://thingsthatsparkleblog.blogspot.com/
http://hellandheartaches.com/
http://www.thirtysecondlife.com/
http://theambershow.net/
http://decoratortagsale.com/
http://www.prettypleasedblog.com/
http://www.fromtherightbank.com/
http://cottagelove.blogspot.com/
http://www.mythologyvintage.com/
http://www.brooklynlimestone.com/
http://www.designblahg.com/
http://visualvamp.blogspot.com/

Haven't checked most of these blogs out yet… so I'm on my way to peruse!
PS Thank you for all of the anniversary notes and wedding comments – it made my day (as did the hubby and a wonderful dinner out to one of our favorite *date night locals*).
Posted in
Blog World News
,
Other
|
Comment »