November 30, 2011
It's been a while since I've made any decor updates to our current full bathroom (which we plan to turn into the master bath once our new guest bath is finished – I owe an update on that) so when I was out and about looking for capiz shells for this pendant project I also picked up a few sand dollars and white starfish to add to my current collection.
I thought it would be kind of cool to frame the shells for the bathroom since it doesn't really have any art going on. We haven't put much effort into it (other than painting it, DIYing a striped shower curtain and buying a few accessories – more about the $100 makeover here) because we know it will be demoed and gone in the next year.
But I'm off track… okay, back to the shadow boxes! Shadow boxes are an easy way to frame goodies and treasures to create instant art. It's easy to get carried away, but if you stick with one object (or multiples of the same object or same colored objects) it can look modern and fun.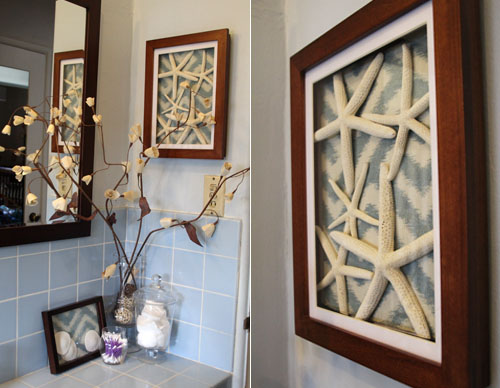 This bathroom is currently the house's only full bath (there's a little half bath in our room but it's about the size of a 4×4′ box so it's rarely used). Ignore the yellowing switch plate! It's little updates like these that we haven't put any time into because it always feels like we're oh-so-close to redoing the whole space. Plus, I searched and searched for a two-switch-plus-an-outlet light cover and these are definitely not to code any more. So no new outlet cover for us.

**************************************************************************
Fabric Shadow Boxes
mfra
Materials: shadow box, treasures to frame, fabric remnant, spray adhesive, velcro (depending on how well your box stays closed when hung)
To make the fabric lined shadow boxes I picked up a shadow box (in the kid's section!) of Aaron Brothers with my 40% off coupon and a smaller one from Michaels with their 40% off coupon. Gotta love those.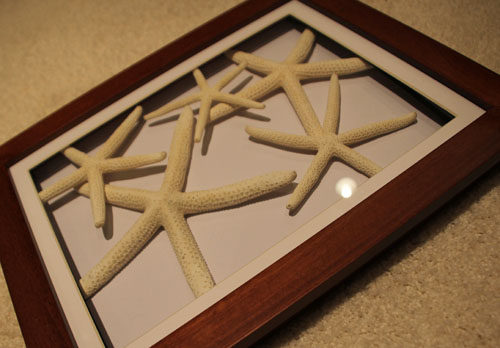 I played around a bit with the layout until I found a design that I liked. Liv oversaw production.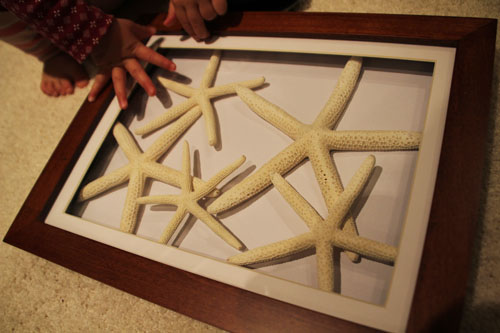 I bought my first batch of these starfish on eBay for a shower years ago just in case you don't have a shell shop near you. Is that just us with shops like that?

I cut up a remnant from my fabric box for the back of the shadow boxes that I thought worked well with the shells and added a little modern pop of pattern.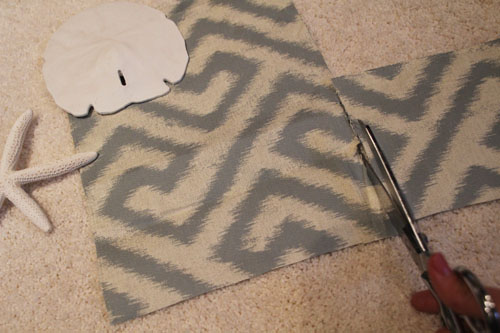 I used a little spray adhesive to attach the fabric to the inside of the boxes: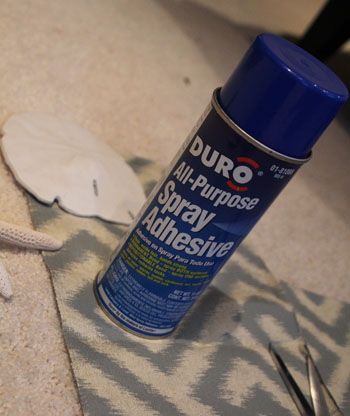 and applied a bit of super glue to the back of each shell before positioning them into the frame on top of the fabric.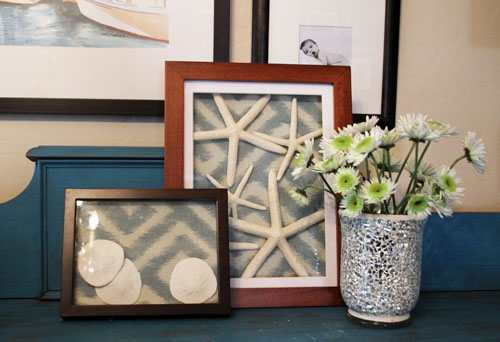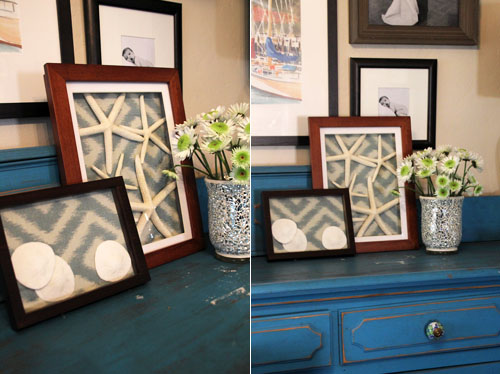 The would look great on top of the vintage buffet in the dining room but their real destination was the bathroom: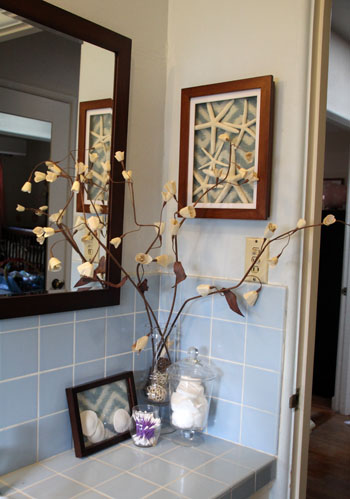 The little frame might stay there or it might move over to the shelves above the toilet. To be determined.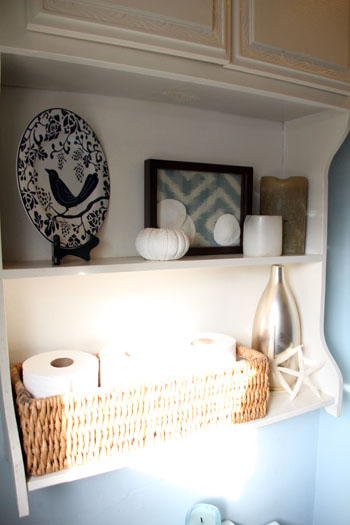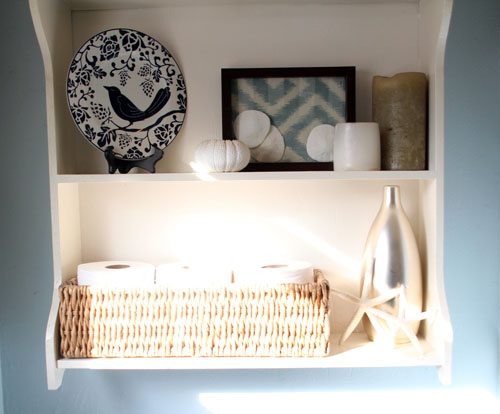 One of the shadow boxes continued to open up on me so I added a little piece of circular stick on velcro to each side of the frame to keep everything from sliding around.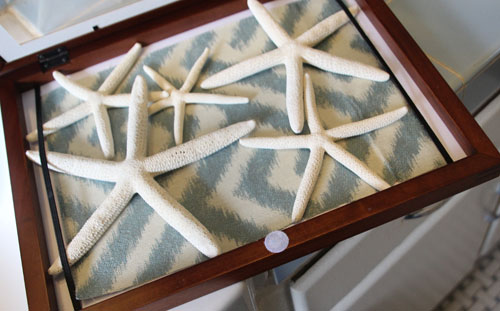 **************************************************************************
And there's my quick update for a space that needed a little bit of art! I loved how the shadow boxes turned out.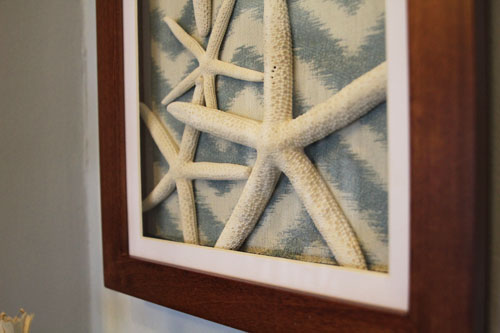 Tags:
Accessories
,
Blue
,
Crafty Solutions
,
Decorating
,
DIY
,
Fabric
,
Home
,
Our Bathroom
,
Patterns & Color
,
Tutorial
Posted in
Construction
,
DIY
,
Home
,
Our Bathroom
,
Renovating Adventures
|
10 Comments »
May 2, 2011
It's about time for a bathroom update. Our bathroom-from-scratch doesn't feel like it's moving along quickly, but I have to remind myself that it's well underway and in a state of in-progress projects (like the most recent day of tiling!).
Here's a little in-progress update and a tiling overview of the new shower nook. I love the color of the tile! so zen: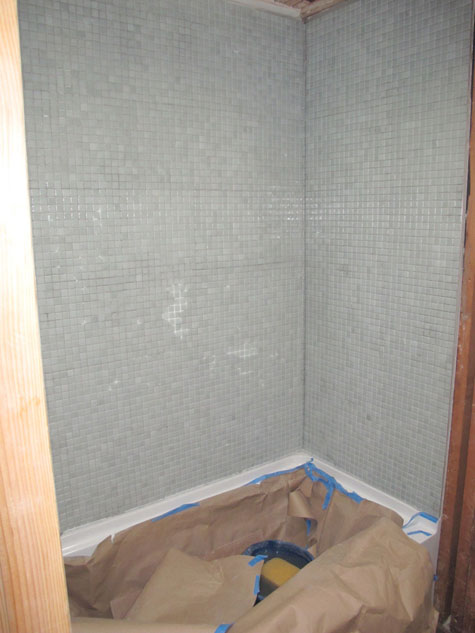 The newly framed out guest bath looked like this just a few weeks ago: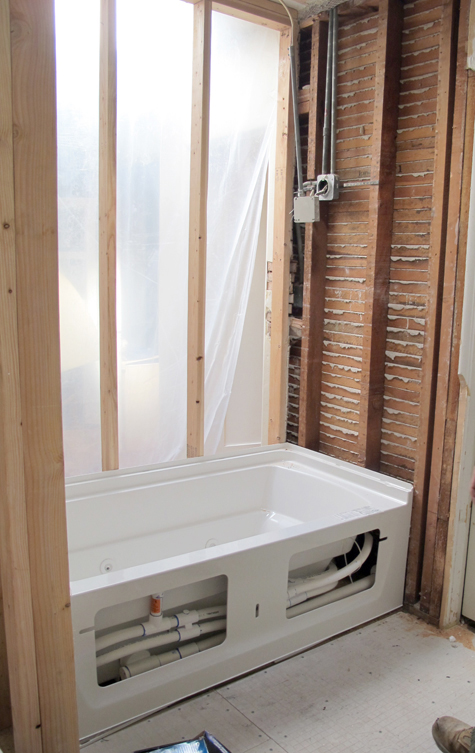 Then the tar paper (a barrier for moisture intrusion) was stapled into place: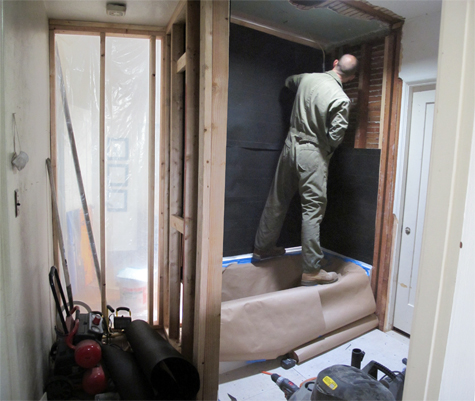 A final layer of drywall was added (I wish I had a better picture) before the shower walls were ready.
We chose Elida Ceramica recycled glass tile in Moonlight for a variety of reasons – it's beautiful! and we love to encourage and support sustainable home remodeling (did you know that despite recycling, more than 70% of our glass ends up in landfills?). It looks unassuming on the shelf, but up in our bath it's stunning and we're really happy with it.
As for cost? As you can see below the going rate for our choice is $4.44 (on sale from $4.98) for a 12×12 sheet of tile. This notably is on the cheap end of tile, let along recycled tile! Your average glass tile sheet per square foot will run you about $15 and I've noticed that recycled and regular is pretty comparable on that front. We love the look and feel of the tile and in our opinion quality definitely wasn't compromised for such a fantastic price. Enough tile for our shower nook would average $180 + tax for the Elida Ceramica recycled glass tile in Moonlight (Lowe's actually offers four different color choices in this price range), to tile it at the average cost of glass tile could easily cost you $600 plus.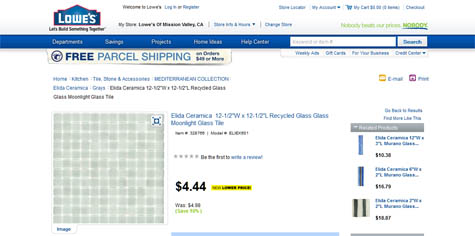 Recycled glass is formed by melting down industrial and everyday glass waste in boilers that are heated to over 2000 degrees. The molten glass is then formed into various sizes and styles of tile for the bathroom, kitchen, outoors, etc. Some of the benefits of recycled glass include: it's incredibly durable (most often scratch, stain and heat resistant), it uses less fossil fuels (reshaping glass takes less time and energy than making glass from scratch), it's easy to clean, it's resistant to chemicals and stains, it does'nt allow certain types of bacteria to grow, it reflects light and brightens up areas, it creates a use for the overabundance of post-industrial glass, and finally it helps to reduce waste in landfills.
********************************************************************************************
Tiling Glass 1×1 Tiles

n
Materials: glass tile, thinset mortar, tiling trowel, bucket for mixing thinset, several sponges, non sanded grout (double check your tile instructions – usually located on the back of the tile sheet), bucket for mixing grout, dry soft cloth
A few points to keep in mind when tiling with small glass tiles:
While dry setting (or laying out your tile pattern before adding thinset) is not easy to do when you're applying the tile to the wall, it's a good idea to layout your design on paper and to measure to make sure you take into account any necessary tile cuts.
Cuts can be made with a tile saw or glass snippers (if the tiles are tiny).
Mix your thinset to the consistency of creamy mashed potatoes – let sit 8ish minutes and then mix once more before using. A cage-type or paddle-type mixer attached to your drill in a 5 gallon bucket is the best way to achieve this.
Use the straight side of a tiling trowel to first 'skim coat' a section of wall with thinset, then use the grated side to spread the thinset out (this order is important).
If your tile comes on sheets of mesh and with a sticky back side (like ours), peel off the paper and apply directly to thinset. If your tile does not have a sticky back side, 'butter' the back of the tile sheet with a swipe of thinset and then apply to the wall.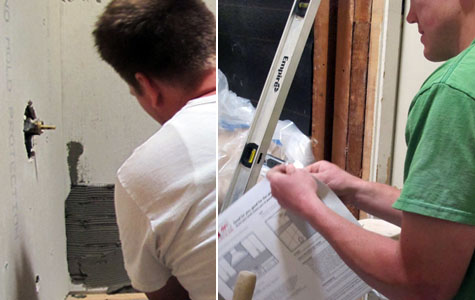 Be careful to not overbuild your thinset on the wall, this can cause a wavy, uneven final product (plus it increases the possibility that the thinset might shrink when it dries).
Carefully press the glass tile into the wall.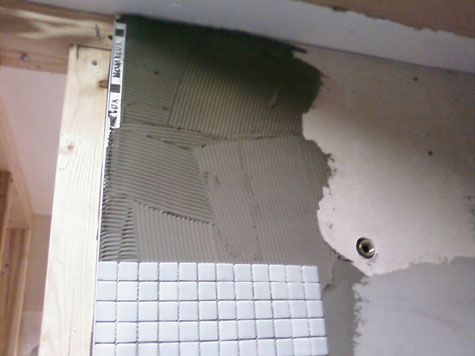 Repeat and repeat a few times more until your wall is complete.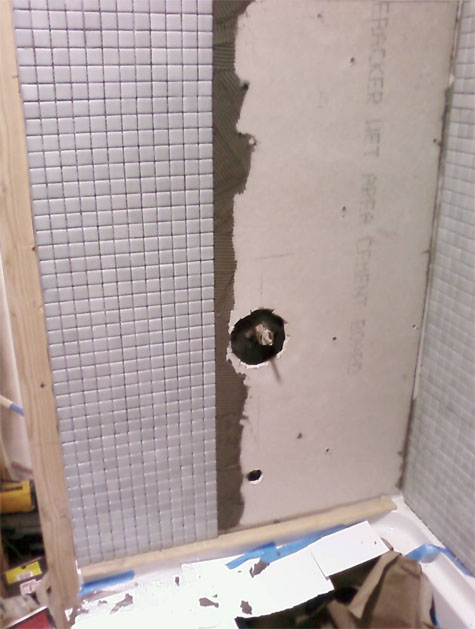 Grout should be mixed to the consistency of a milkshake. Apply a glop to the top of the dry tile and spread with a sponge. Press into all spaces and don't worry about getting the tile dirty!
Lightly wash the tile with a wet sponge removing larger chunks and streaks of grout.
Wait 48 hours and wipe the glass tile down again with a soft cloth, removing all excess grout.
Seal the tile
We haven't reached the grouting/sealing portion of the project yet but the overall installation process has been great. Usually small 1×1″ tiles are tricky to work with, but the mesh backing and thinner tiles (thinner than ceramic) have made it really easy.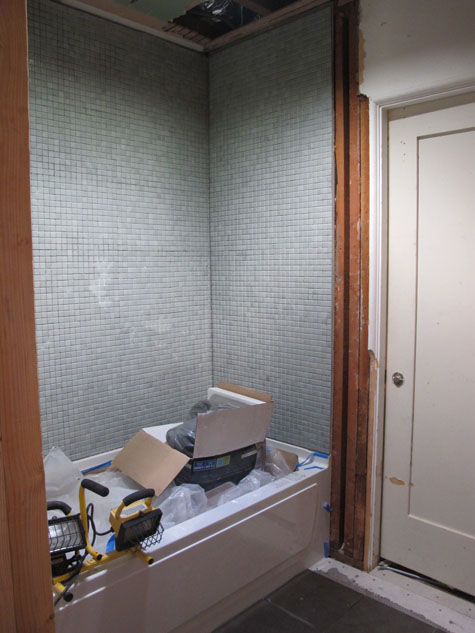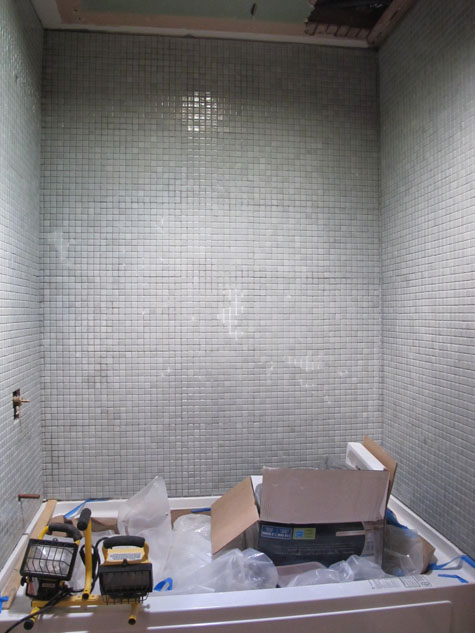 Now onto the floors – the new bath is coming along!
More building a bath from scratch posts: rub-a-dub-dub choosing and installing a tub, demo time, initial inspiration and where it all started – a Lowe's collaboration.
Tags:
Construction
Posted in
Construction
,
Crafty Solutions
,
DIY
,
Home
,
Our Bathroom
,
Project Lowe's
,
Renovating Adventures
|
9 Comments »
April 11, 2011
We've made major progress on our closets-turned-new-bathroom project, with choosing and installing the bathtub as the biggest item crossed off of the list recently.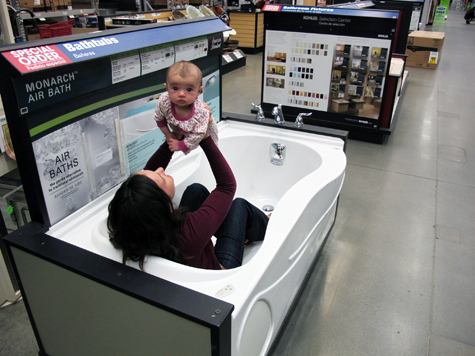 We haven't had a working bathtub in at least a year (maybe two? I've lost count of the days…), so as you can imagine, I was skipping down the plumbing aisles imagining what it would be like to soak in any one of the beautiful baths hanging from the shelves. And to upgrade Liv's bath time from the kitchen sink (or showering with Mom or Dad) to an actual bathtub? Exciting.
Olivia: What is this magical place? This must be bath-land, the land that Mommy dreams about.
Liv's quite the little shopper, and she's easily impressed: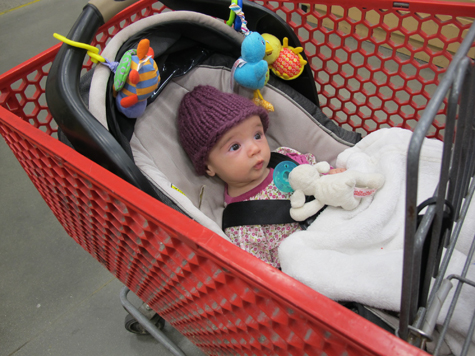 There's plenty of criteria to consider when you're shopping for the perfect tub. If you find yourself in the plumbing aisle anytime soon, consider the following:
Style: This is an easy one, but there are two main styles of tubs – free-standing and wall-mounted. The design aesthetic of the overall bathroom can easily be affected by your choice, let alone installation. While our goal is to create a modern bath with plenty of vintage-esq accents (to help tie the bathroom into the rest of the 1930′s home), we decided that a free-standing clawfoot bath would take up too much room in our small ~75 square feet of space and opted for a wall-mounted version instead. Clawfooted tubs come with the traditional claw, with a pedestal mount or with ball feet.
Size & Features: If you're replacing an older tub in a current bathroom, you'll be limited on the size and plumbing of your new bathtub. The location of the drain, for example, is already set. The average bath tub is about 60″ wide, 30″ deep and 14-16″ high – though this can range on what year your home was built and what style of tub was installed. If you are building from scratch, take into consideration which wall will be plumbed and how the layout of the bathroom will affect your tub placement. Then choose a bathtub that fits the appropriate space, lines up with the drain lines and is skirted on the correct outside edge.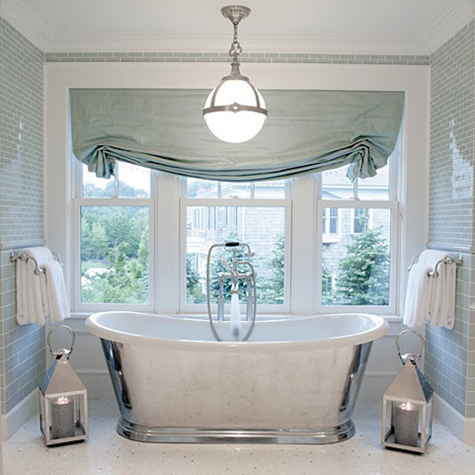 A free-standing tub is stunning but requires plenty of space.
Cost: A final limitation can be cost. While free-standing tubs are beautiful, they can often run in the $1,000 plus range (even from a salvage shop). Wall-mounted tubs are much more cost-effective and you can expect to spend somewhere around $250 for a basic version up to $800 for a whirlpool-style tub.
Cool fact: Roman tubs are deeper than your standard wall-mounted variety, and Japanese tubs are even deeper than Roman tubs.
Final notes: Be sure the tub allows for a shower installation and double check that your current water heater can support a new bathtub (especially a really large one!). If you're installing a bath tub into a brand new space, make sure the floor area can support the new weight.
We opted for a recessed bathtub (three sides will be wall-mounted while the fourth side, or "apron", is exposed – the most common style of tub) with a custom tiled shower (as opposed to a wall-kit, or a plastic lined shower). We found the perfect Kohler option right off of the Lowe's shelf. It's small enough to fit comfortably in a 5 foot nook in the wall, but still offers relaxation features such as a row of jets for the best spa-like experience (without being out-of-this-world pricey or jacuzzi-like).
Here's a peek though the dining room door: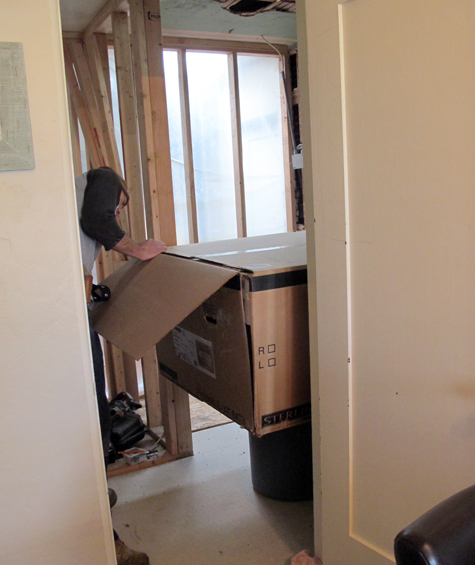 At this point the walls were framed (see all of the demo and before closet shots here) and the space for the new tub was ready to be filled. That's a layer of hardibacker there on the floor, evening out the different styles and sizes of the closet floors.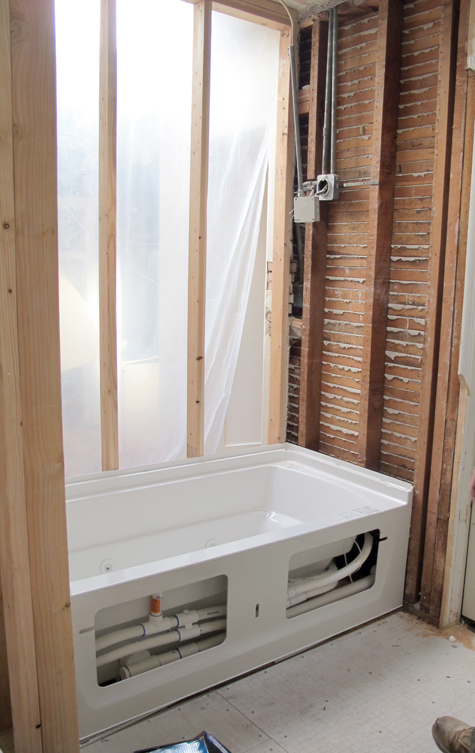 The skirt (or apron) is open for plumbing purposes.
Once the tub is in place (the framed walls firmly hold the 60″ bathtub) a roll of tar paper is applied to the walls to add an additional water-resistant layer.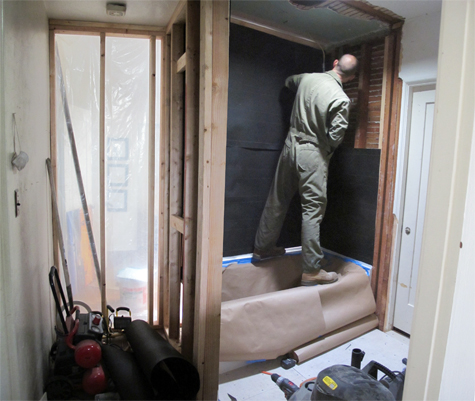 That's a future closet space over to the left and the rest of the walls remain to be lined and filled in with dry wall.
A staple gun is the easiest application for adhering the tar paper to the studs, though a hammer and tack nails would do just as well. Attach tar paper directly to wood frames and don't be afraid to use as many staples as necessary to keep the paper taut. Corners should be pressed in manually so that they are especially tight.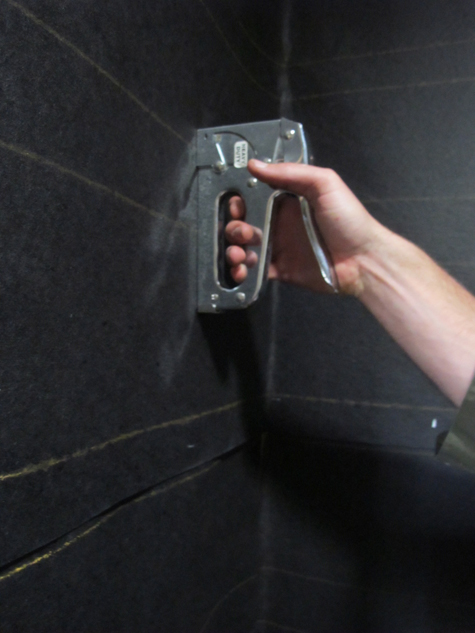 The edge of the tar paper should meet the edge of the tub and not overlap it.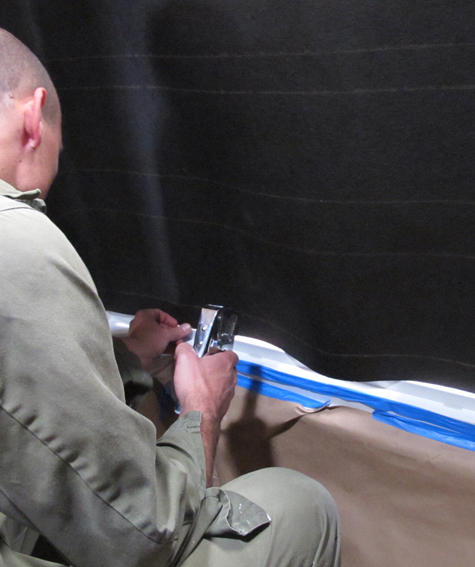 Use a utility knife to identify any spaces for future fixtures, these holes won't be visible at the end but will help you stay organized and aware of the space of the entire project.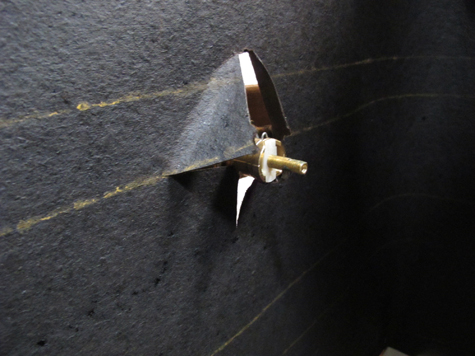 We haven't covered plumbing here because it's so very specific to each home. Consult a plumber or head out to the land of Google to find out more details on converting a current bath or building one from scratch. A detailed project, indeed!
In other news, Liv is three months old! I'll be back shortly with a round-up of our favorite baby products for the first three months and an update on the mantel and nursery projects.
Tags:
Construction
,
DIY
,
Our Bathroom
Posted in
Construction
,
Home
,
Our Bathroom
,
Project Lowe's
,
Renovating Adventures
|
4 Comments »