November 7, 2012
This past weekend we were incredibly blessed to witness the baptism our dear friends' son, Gabriel, as his Godparents. It was a very special afternoon, a very joyous occasion!
After a special Mass in his name, we celebrated picnic-style with sandwiches and dessert on a big lawn outside of the chapel. My contribution was an attempt at a 'non-meltable, child-friendly' dessert that did in fact begin to melt (chocolate, even as a garnish, is still chocolate. oops). But the kids (and adults) seemed to approve!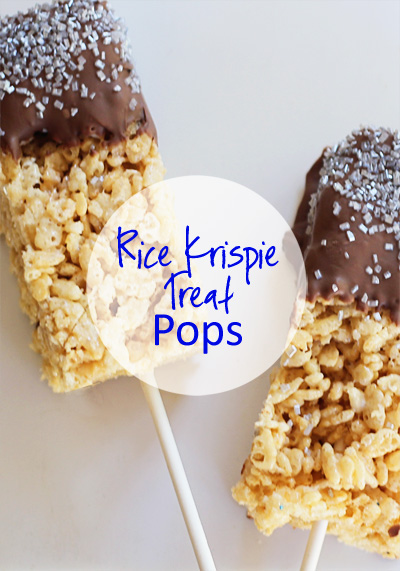 Rice krispie treats are one of those no-bake wonders that require a bit of prep work, are a lot of fun to create, and fall into the monster clean-up category (hardened marshmallow 5-quart pans, anyone?). Oh but it's all worth it.
To assemble pops, I made a usual batch of rice krispie treats just as the directions off of the box suggested. Butter + marshmallow + cereal = finished.
I smooshed my rice krispie goodness into a baking pan coated in butter and pressed the cereal into the pan throughly so that these pops would be a bit more condensed (and sturdier) over your average bar.
Once the pan had cooled, I cut the treats into rectangular shapes and added a lollipop stick to each (found at your local craft store, I picked mine up at Michael's).
Using a double boiler (a sauce pan filled with a couple of inches of boiling water + a glass bowl that fits snuggly on top), I melted my Ghirardelli milk chocolate chips (mmmmmmmmm) until they were a smooth and satiny consistency. No need for butter or water or any other additive.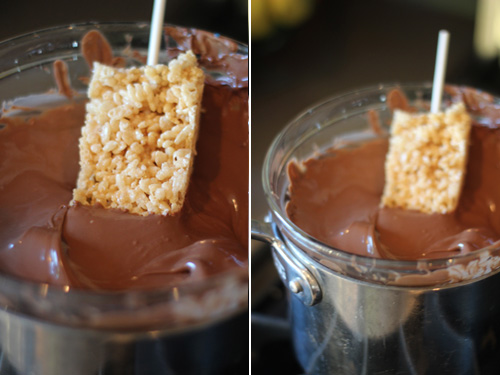 In go the pops until the first inch or two is thoroughly coated!
A new cookie sheet lined with wax paper (also with a coat of butter) awaited the dripping chocolate treats. I kept the pops here to cool for a bit before adding sprinkles (or it can become a messy, melty task).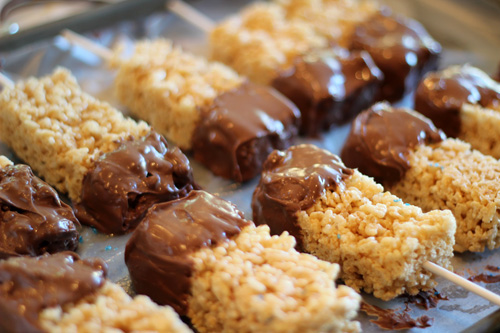 After a little experimenting (including dunking the pops into a coffee mug full of sprinkles), I found the best way to coat the pops was to use a plate and my (or Liv's) fingers to manually sprinkle those sprinkles on.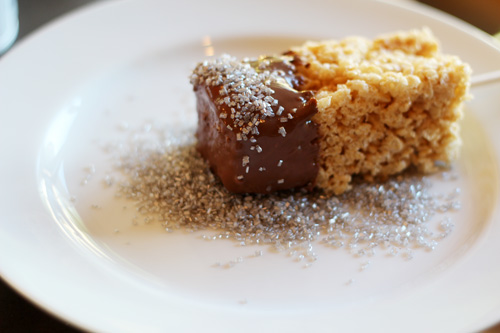 Such a great helper.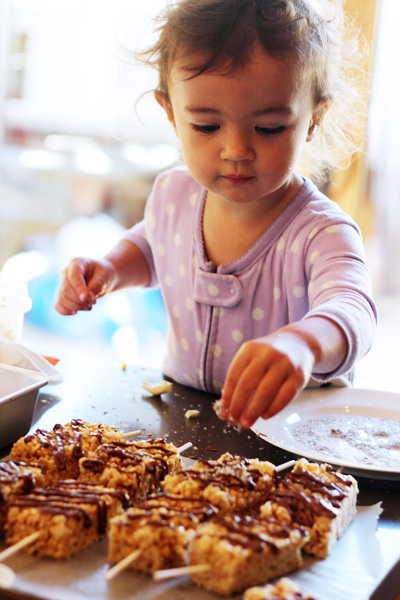 Some pops received a lighter 'glazing' of chocolate via a 1 quart ziplock bag with the tip cut off and warm, gooey chocolate inside.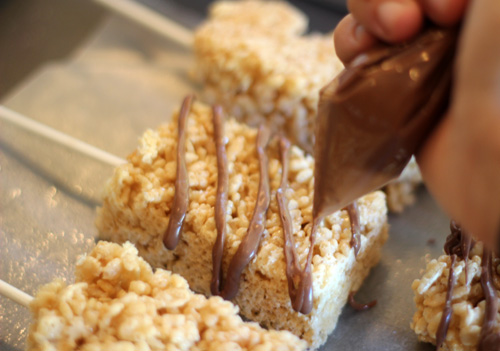 Let sit until chocolate hardens! Oh, and do keep out of the sun or store in an icebox until almost ready to serve. Lesson learned. Although I was grateful to find a cooler when arriving at the baptism so my semi-melted creation could recover a bit

.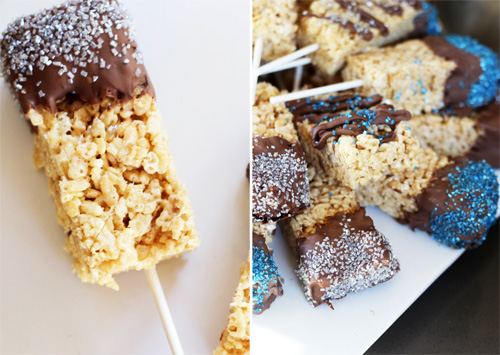 Ready for a few shots of mister handsome Gabriel being baptized? Here we are just before and after the priest surprised him with water.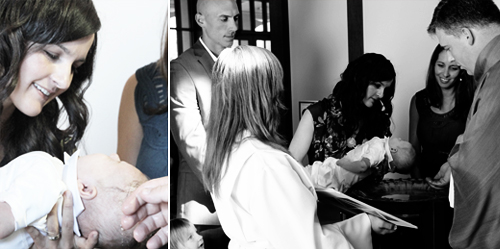 Woah, what was that?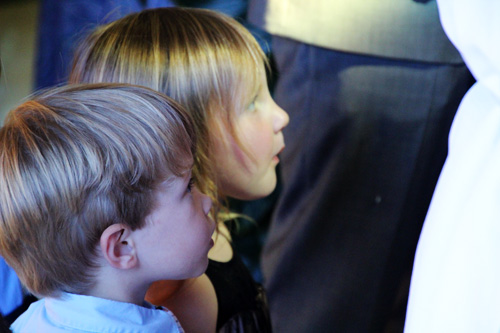 And the adorable sign that Gabriel's mom made for the special day.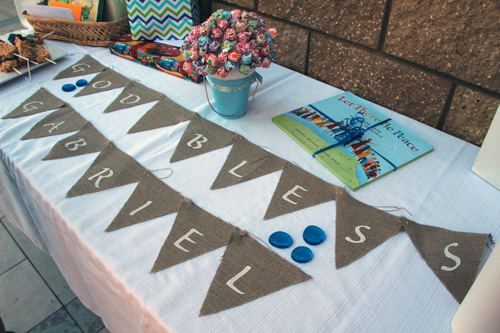 More yummy Good Eats recipes filed away right here. Mmmmm enjoy!
Tags:
Baptism
,
Desserts
,
Recipes
Posted in
Family & Friends
,
Parties & Entertaining
,
Recipes
|
2 Comments »
November 1, 2012
Hope you all had a wonderful Halloween! I meant to post pictures of Liv's costume and our party prep yesterday, but time started to run out and costume changes were being made with cobwebs still to be hung… and then everyone arrived for trick-or-treating. So here we are with a fun little round up of yesterday's events! I hope you had a wonderful, safe night full of trick-or-treating (or handing out candy, or sitting fireside with a nice glass of wine), too! Those being affected by Sandy right now, you are in our prayers.
First up a few halloween decoration shots from around the house. We didn't go crazy this year, just a few sprigs of black spray painted fake flowers to mix in with the usual mantel decor (made those guys a few years ago) and a couple of pumpkins (that we can keep up through Thanksgiving).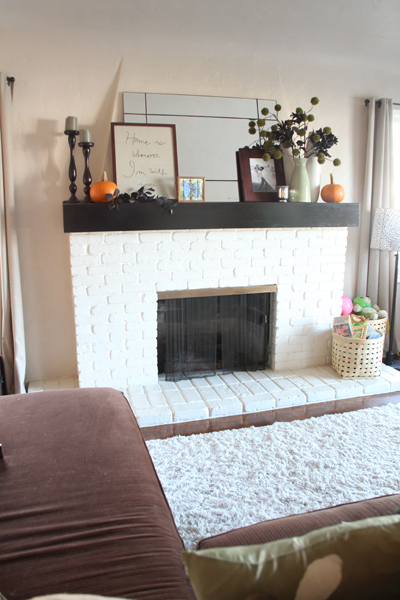 I also added a few Halloween additions to the gold dipped pumpkins on the buffet…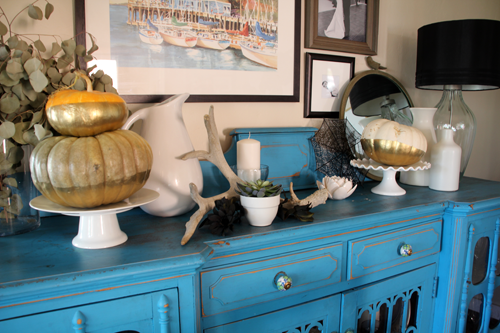 And spent most of my time decorating outdoors on our new deck! Look at that baby, she's finished! Needs a coat of stain but she's ready for a Halloween party.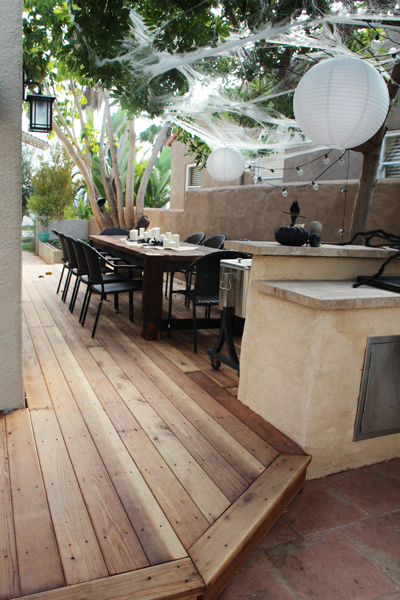 A few globe lights and white paper lanterns in the trees and near the fireplace, too.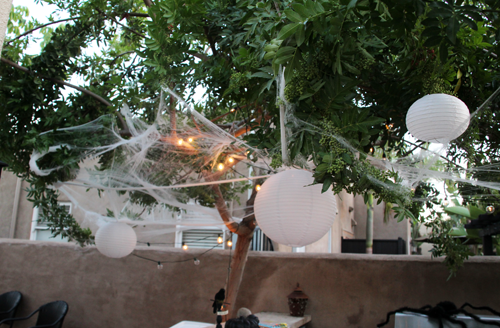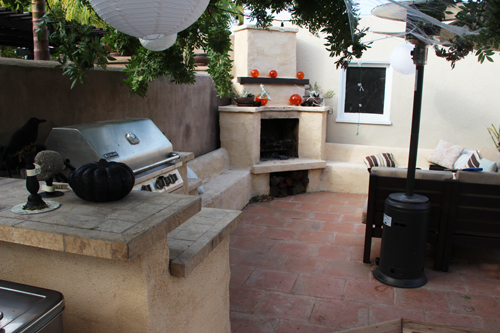 And a row of candles, burlap and black frames for the NEW table that Kevin built for the side yard (more on that to come!).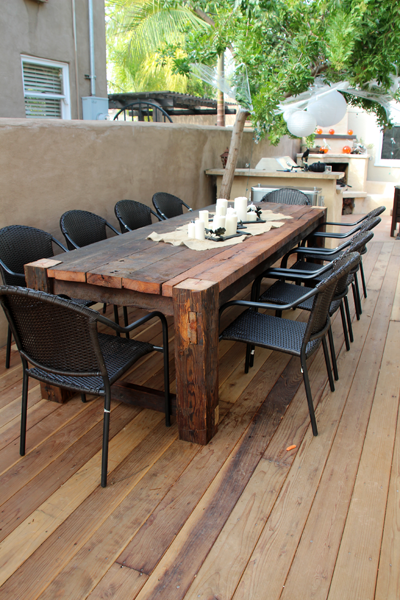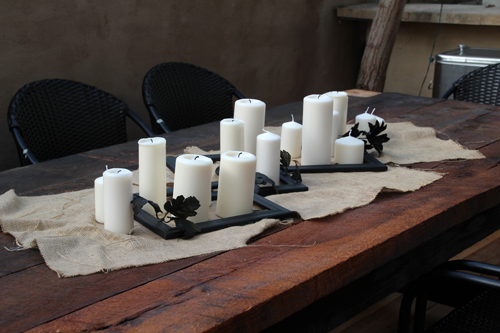 Then our little trick-or-treating crew began to arrive!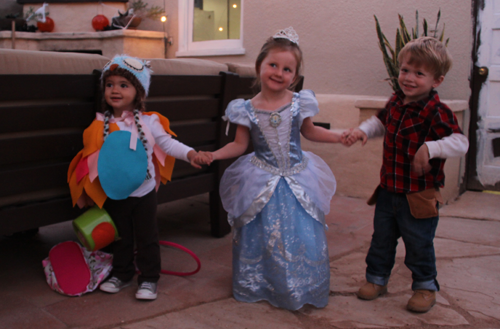 And soon we had the entire gang. No one was very happy about the obligatory group pic.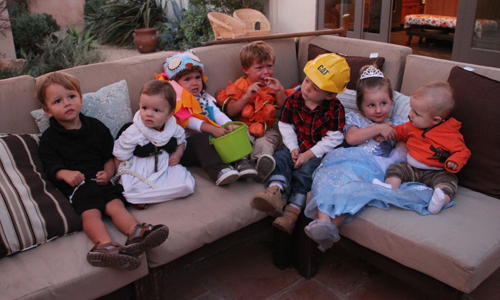 (Check out these same babes just a couple of years ago. Some of them weren't here just yet…)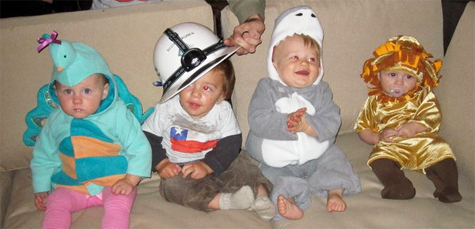 And then off to trick-or-treat! Forgive the blurry photos, I didn't realize my focus wasn't set correctly until the night was through.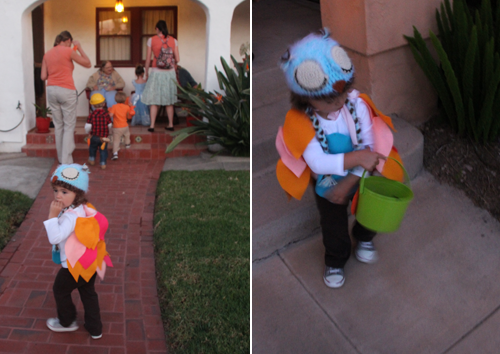 We actually went through a few costumes with Liv before she agreed to dress up for Halloween, and even then it was as her friends were arriving that she put on her final attire (nothing like a little peer pressure…). My first costume for her was a cute little cupid outfit (with momma and daddy wearing hearts that connected), but I should have realized earlier that the tiny wings were just too overwhelming and would result in tears every time we pulled them out of their box.
Soooo plans b & c were a cow costume that Mimi (Grandma) sent or a duck (thank you for Killer B for the fabulous last-minute inspriation!). Liv decided no cow (they'll work great as PJs) and so we went with the yellow and pink wings that resulted from my morning felt fest (while on a conference call with our main office with my regular 9-5 job… shhhhh don't tell).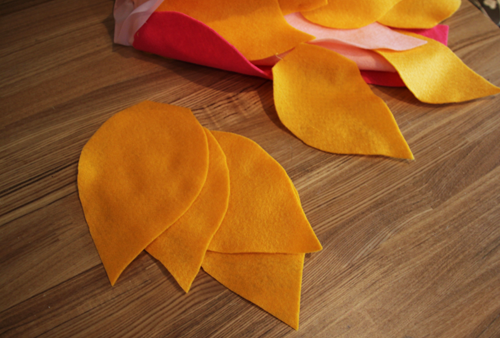 The process to create the cape was quite easy. I first cut enough 'feathers' to cover my cape template (which was basically a slightly curved rectangle) and applied a simple stitch to hold each overlapping feather in place. A ribbon at the top allowed me to tie the cape around Liv's shoulders.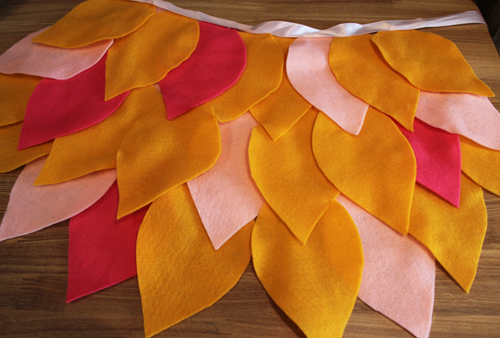 At the last minute Liv wanted to wear her owl cap (a previously brainstormed costume), so we added a turquoise belly and brown pants to her outfit and turned her into an owl!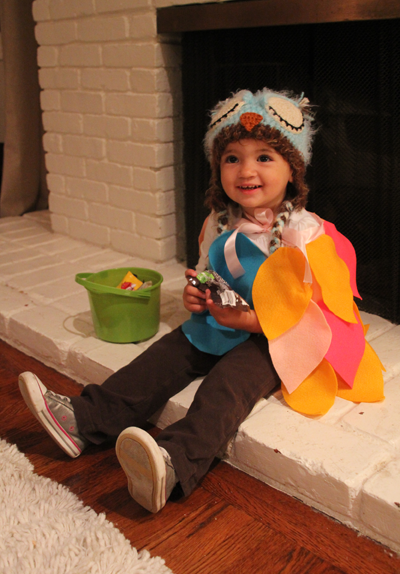 Which she was keen on and we were all happy.
After candy sorting, it was time to continue the party and share a delicious potluck dinner.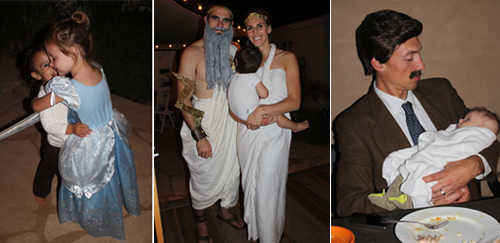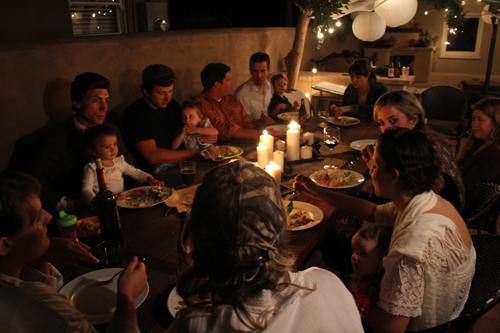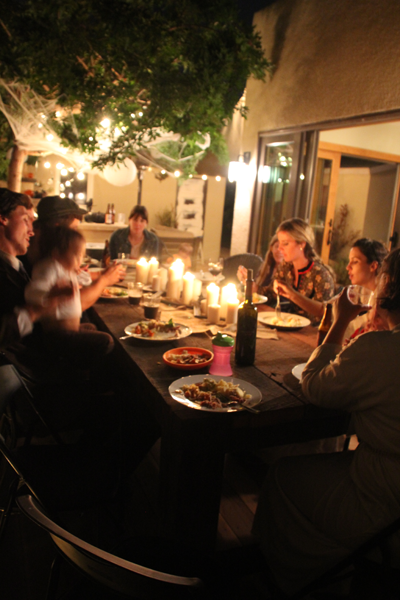 Followed by delicious Halloween desserts! Nice job, Steph and Melanie. Below are adorable owl-oreo cupcakes and nutter butter ghosts. We also had little mini cupcakes and delicious creamscicle cocktails that I neglected to photograph.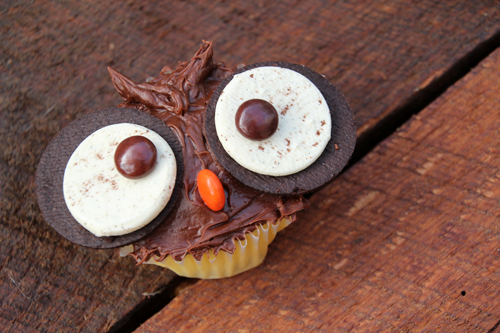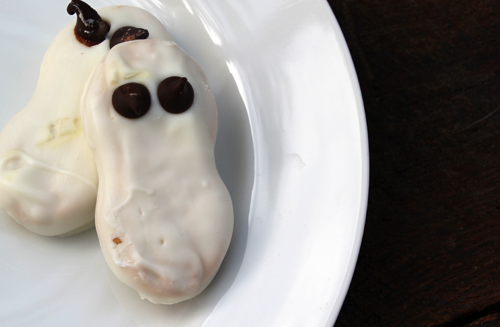 That's our Halloween! A fun night with great friends and a lively street full of trick-or-treaters. And just in case you're wondering, that's Kev above in his last minute costume as Ron Burgundy/Ron Swanson in the wig and mustache. You stay classy, San Diego.
Happy day after Halloween

.
Tags:
Crafty Solutions
,
Decorating
,
Desserts
,
DIY
,
Halloween
,
Parties & Entertaining
Posted in
Crafty Solutions
,
DIY
,
Family & Friends
,
Holidays
,
Olivia
,
Parties & Entertaining
|
1 Comment »
October 25, 2012
After a recent second trip to the pumpkin patch with my mom and Liv (I'm thinking that you cannot have too much pumpkin patch + homemade pie this time of the year), I found myself with a stash of beautiful mini white pumpkins. For some reason I am especially attracted to white and gold this fall, so finding a gold sharpie to feed my addiction, I put together a few ideas for Halloween dinner party place cards. Or Thanksgiving? These might work perfectly for Thanksgiving as well.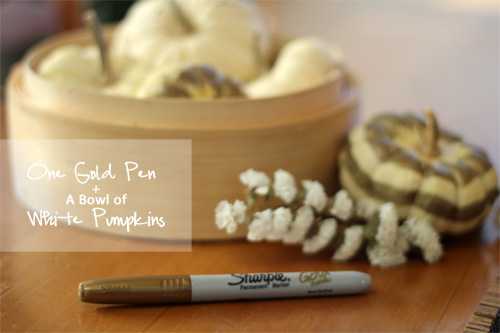 Having a gold sharpie around can be dangerous! Imagine all of the possibilities…
First up, a gold flowered top. I used the natural creases of the pumpkin to form my little petals and then scribbled away. It offers a neat affect from above.
The pumpkin itself makes for a great place card, just write those names nice and slowly, using a pencil first if necessary.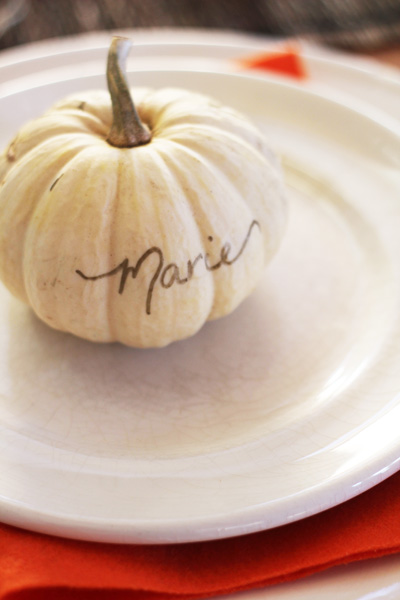 Liv saw all of the fun I was having and plopped herself down on my lap, picked up the sharpie and began to create her own. I like the result! And then I was fishing a waving sharpie out of a toddlers hand (ah!).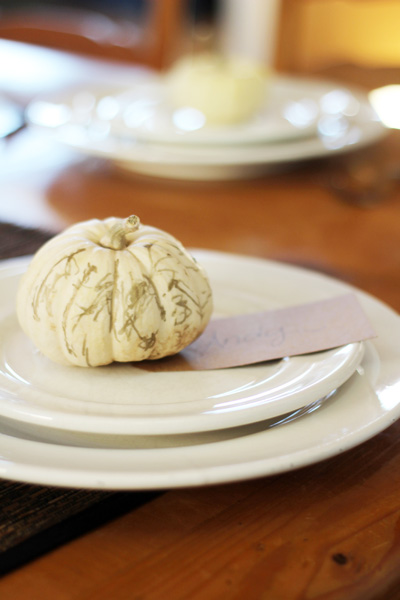 This chevron guy was fun. You really can't go wrong with a variety of patterns and a little time (best while watching a movie. Or maybe the World Series, go Giants.)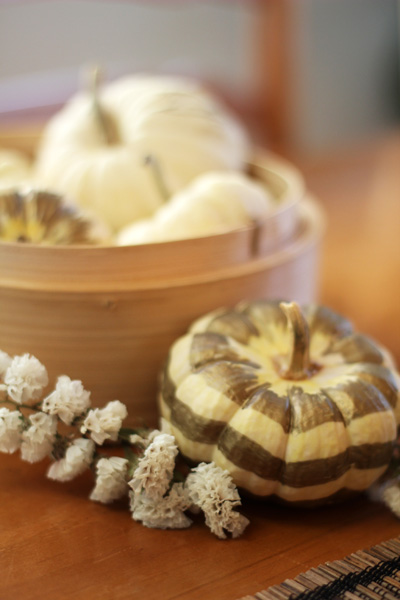 My goldifying days may or may not be over, I'm leaning towards the latter. I'm so glad gold is back. (What else can I sharpie while I'm at it??)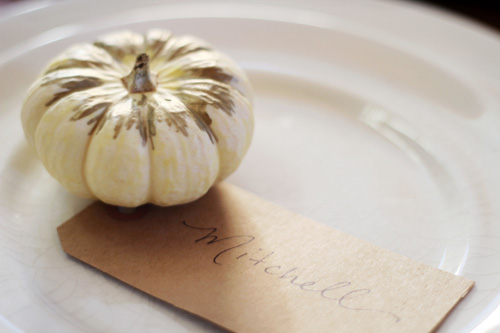 Back to that second trip to the patch. We visited nana and papa this weekend and made a trip to Gizdich Ranch to decorate their house for Halloween. A few slices of fresh apple and olallieberry pie later and we wandered the farm to play. Here are a few fun moments caught on film: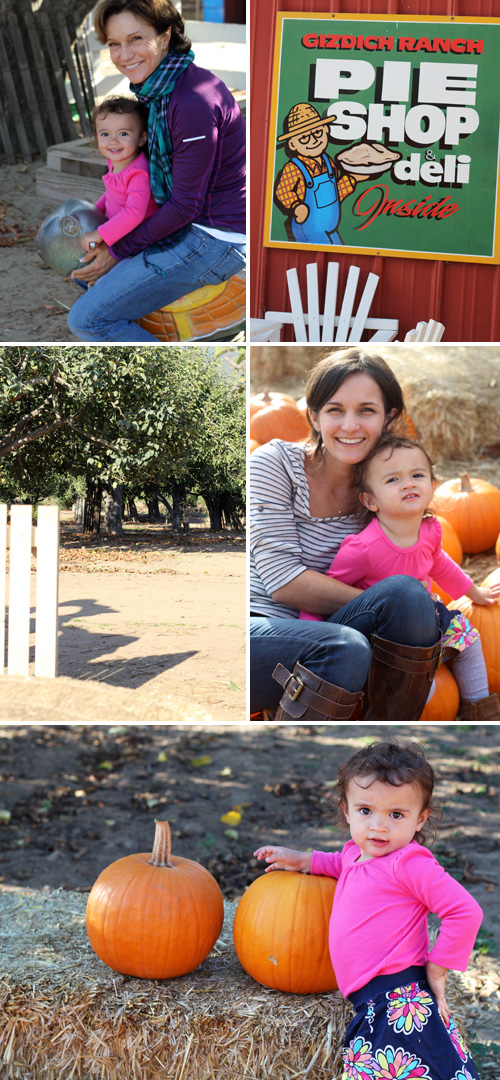 Liv was not so keen on the obligatory shot with momma, but she rocked out on that spring horse with nana. And that last shot? A favorite. Strike a pose. Happy Thursday! Cant believe it's less than a week until Halloween.
Tags:
Crafty Solutions
,
Decorating
,
DIY
,
Gold
,
Halloween
,
Thanksgiving
,
Tutorial
Posted in
Crafty Solutions
,
DIY
,
Parties & Entertaining
|
3 Comments »