January 19, 2012
Calling all awesome parties and projects! Head on out to the Project Gallery and upload your links to everything party and entertaining. With Liv's birthday on the brain, I would love to see some more wonderful inspiration for baby showers, bridal showers, birthday celebrations, spring soirees, backyard bbqs, you name it added to the mix. That plus all of the wonderful project details and recipes that go into those parties! Link up here.
It's a great way to share your creativity with the group and to gain some exposure for your blog

.
Posted in
Parties & Entertaining
,
Project Gallery
|
2 Comments »
December 9, 2011
Have you guys visited the Project Gallery lately? There are some seriously awesome projects in there. You can peruse or add your own project/room/party/recipe/styleboard to share by jumping out to the gallery here.
And a quick announcement – if you have a craft project, mantle, decorating idea, table setting, etc to share related to the holidays, feel free to upload!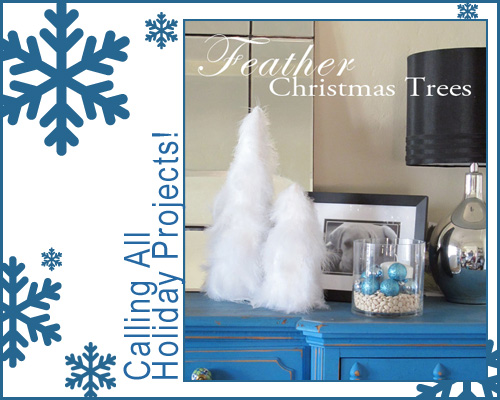 Here's a quick peek at what was added last month: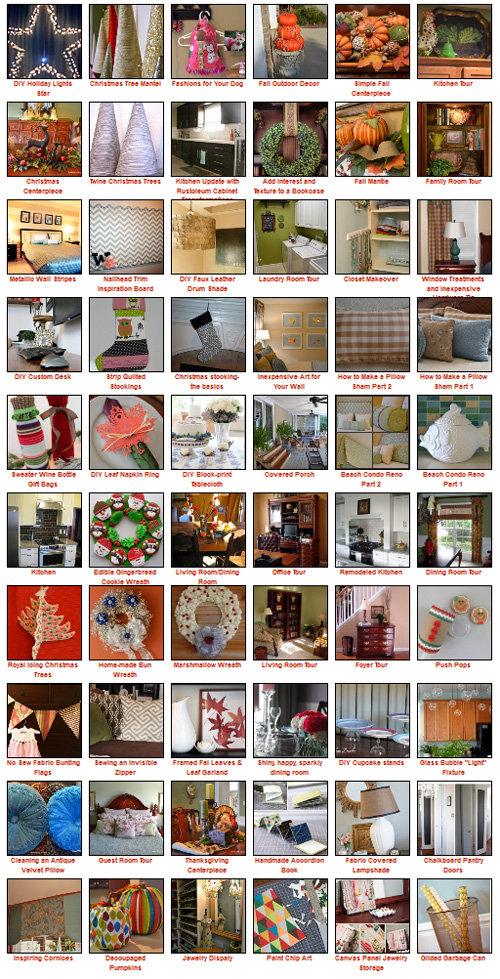 So many fun projects. You can sort through the gallery by selecting a specific theme (for example, boy's baby shower) or by scrolling through the categories (rooms, craft projects, parties, etc).
The best part about uploading a project is that the Project Gallery serves as a directory only, when someone clicks on your project they jump directly out to your blog (it's a great way to get exposure).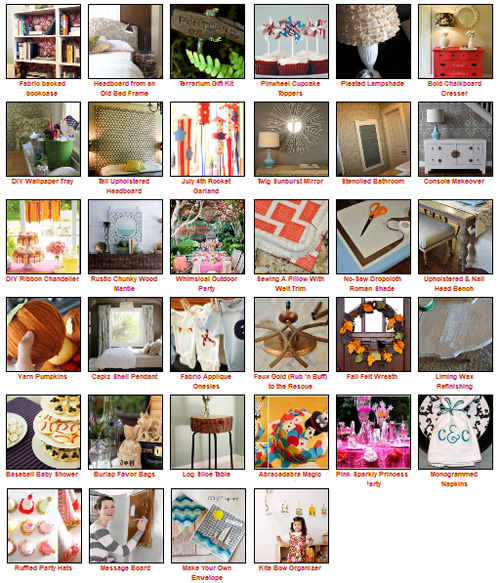 Thanks to everyone who uploaded their creative ideas!
Posted in
Project Gallery
|
Comment »
November 14, 2011
Very exciting news today! The Project Gallery – that I've been working on for such a long time – is live!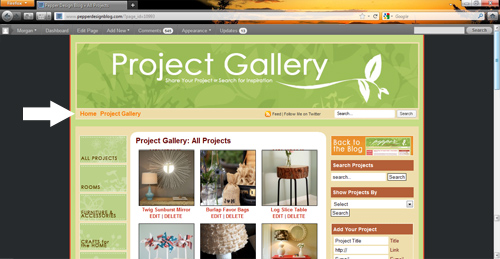 Find the direct link to the Gallery in the menu bar just below the header.
The Project Gallery is a database of projects that anyone and everyone can upload their work to. It functions similarly to a giant Link Party (if you've participated in one of those), and here's the super simple idea behind it:
1. Add your own: Upload your project to share with others by using the submission form in the right hand sidebar (give your project a title, add a link to your direct post, choose an image and identify a category and as many tags that apply). An image will appear in the gallery along with a direct link out to your blog post.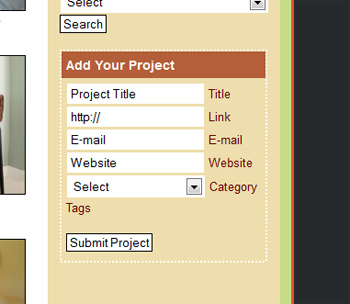 OR
2. Search for inspiration: Search through projects by category in the left sidebar and then narrow down your results by tags. You might be hunting for a tutorial on distressing a dresser or on how to make pinwheel cupcake toppers – this gallery can help you find a blog post for either!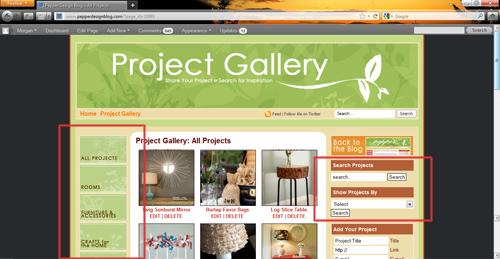 The Gallery is small today but I hope that it grows and grows. I've asked a few bloggers to help me add initial projects so that she's not totally empty on launch day: Janell of Isabella & Max Rooms, Jennifer from Seakettle, Cristin from Simplified Bee, Disney of Ruffles and Stuff, and Courtney of Pizzazzerie.

Once monthly I'll host a round-up on the blog of all projects added, so this is a great way to feature your room and furniture makeovers, parties, crafts, wardrobe boards and recipes! All submitted projects are linked directly back to the original blog post through the image in the gallery.
*******************************************
Spot a bug? Feel free to let me know at: morgan at pepperdesignblog dot com so I and my awesome co-programmer can get right on fixing it.
Speaking of co-programmer, let me introduce you to a very hard working, sharp and kind fellow who as of the latter half of this year has helped me keep up with some of the programming needs on the site. When break-fixing small errors or developing new features (like this one!) became too taxing on my own, I enlisted the help of Tim (who can be found at: technotim@gmail.com) to assist. I highly recommend his work for the smallest (questions like 'why is my formatting off?') to the biggest ('I'd like a shopping cart or custom plugin for my site') projects because he always goes above and beyond and is incredibly fair with hourly pricing. Every blogger needs a really great programmer in their back pocket.
I do hope you like the new Project Gallery and I hope you find it a useful tool for looking up and searching for projects (from so may different sources of inspiration) quickly

.
Posted in
Blog World News
,
Project Gallery
|
16 Comments »