December 5, 2012
This weekend I finished my first batch of handmade Christmas presents. Warning friends and family – you may or may not be gifted one of the several projects that I'm planning to feature over the next two weeks. If you are, pinky swear you'll act surprised.
This first gift is inspired by our love of cooking. Kevin and I are the type that really dig those usual (and sometimes a little crazy) gifts of thyme-infused syrup, lemon sea salt, curry pistachio paste, pickled potatoes… you know, the weird stuff that you can experiment with in the kitchen. This actually happens to be my favorite find of all time, I keep containers of it in our pantry and add it to almost every finished dish. Especially raw avocados. Mmmm.
My goal was to make something unique – and not too crazy – for kitchen use for friends and family. Actually, many of my homemade ideas this year stem from some sort of favorite cooking or bartending technique.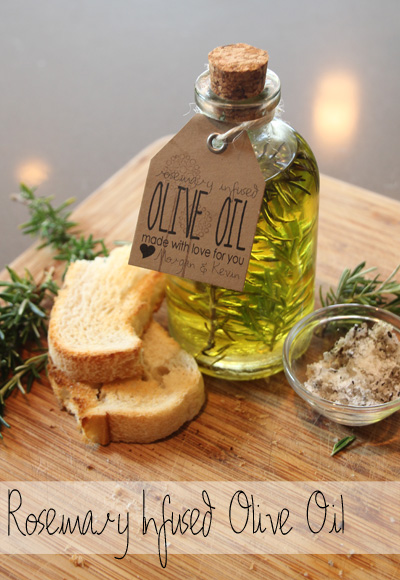 Pretty, inexpensive and not too time consuming! The trifecta of handmade gifting. I really enjoyed spending this past Saturday morning decorating for Christmas with this delicious fragrance roaming through the house in the background. A homemade gift that I highly recommend.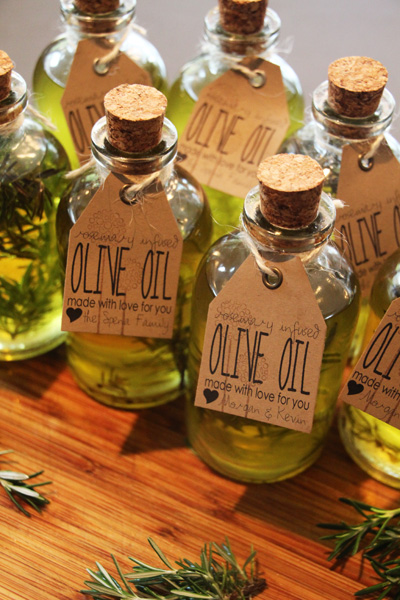 The infusion will now sit until Christmas, soaking up all of that wonderful rosemary goodness while the oil becomes the perfect base for salad dressings and marinades, or drizzled alone over sliced heirloom tomatoes or crusty bread.
Rosemary Infused Olive Oil
m
Materials for six 8oz bottles: 15-20 fresh rosemary sprigs, one half gallon of olive oil, small glass bottles with a sealable lid
A quick note on materials. You really could swap out any fresh herb in exchange for rosemary (or even lemon, garlic or roasted veggies, for that matter – though you'll want to read up on how to prep these to avoid bacterial growth). Olive oil is completely subjective to taste but I've read that original (and not extra virgin) is ideal for taking on infused flavors. I imagine EVOO would work great as a substitute in a pinch. I considered ordering a fancy gallon of olive oil online and then I read the rave reviews and blind taste testing results for Costco's very own and was sold. It's supposedly one of the best! Finally, any glass bottle will do (even canning jars) and I've heard that Ikea carries a nice selection as well.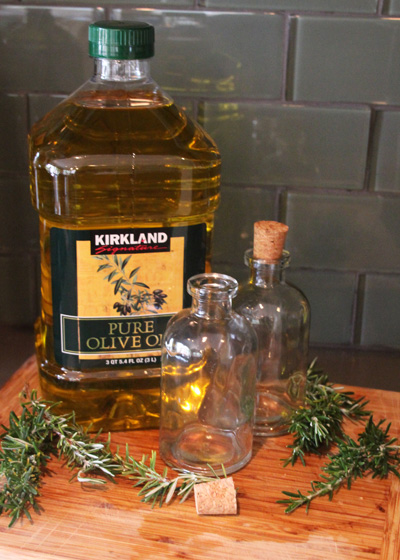 One big secret here is to use fresh herbs, preferably those that you grow just under your window sill (or in your front yard, we have waaay too much rosemary in our front yard, but it does smell fresh and yummy year round).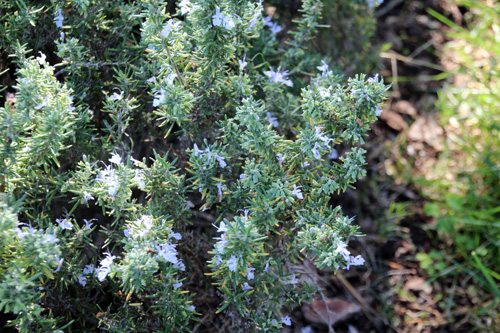 I found my little glass bottles at Save-On-Crafts after searching and searching (my kind sister noticed my dilemma over Thanksgiving and a day later she pointed me to a pinterest link for these adorable bottles! Thanks sis.) and was pleasantly surprised at the quality, price ($1.29 each!) and adorable little corks. When the bottles arrived, they received a thorough dishwasher washing and were allowed to completely dry.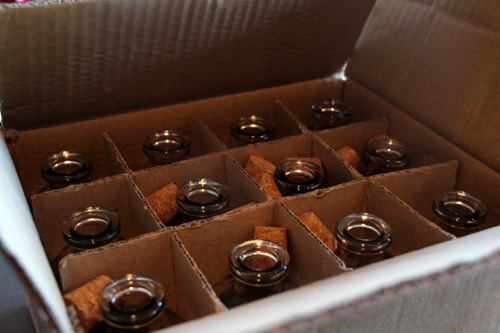 The rosemary, mind you it's straight from the garden where bugs live and children play, was cut down to sprig size and thoroughly rinsed. The whole bunch was left to soak in a water bath for about an hour. This is a sure fire way to uncling any unnecessary flavoring, if you know what I mean, from the sprigs. Followed by a few more rinses.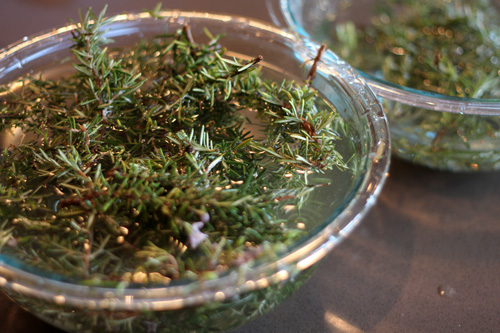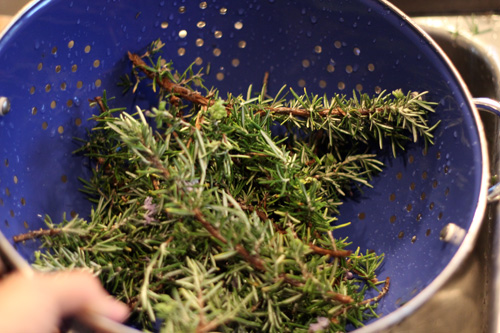 Once the rosemary is thoroughly washed, allow it to thoroughly dry (either out on the counter or by speeding up the process on a low temp in the oven). This is especially important for the rosemary sprigs that will go straight into the bottles (rather than the infusion) – any type of moisture allows for the possibility of mold. Update: my very first batch began showing mold at the very top of the rosemary in several jars after two weeks. I did a bit of research and realized that by soaking the rosemary I had allowed too much moisture into the bottle. For my second round, I let my rosemary dry out for several days so that no water was present during bottling.
To prep my infusion, I poured half of the olive oil and half of my clean rosemary into a large pot on low heat. To keep the olive oil from frying the herbs, ensure all goes in at the same time and that the oil is not spattering when you dust a little water over its surface, the oil should be luke warm. Let the mixture sit and infuse for 5-10 minutes, there's no science to this process but you'll know that much of the flavor has been steeped out of the herbs when they begin to wilt and turn a different shade of green. Turn heat off and let cool completely.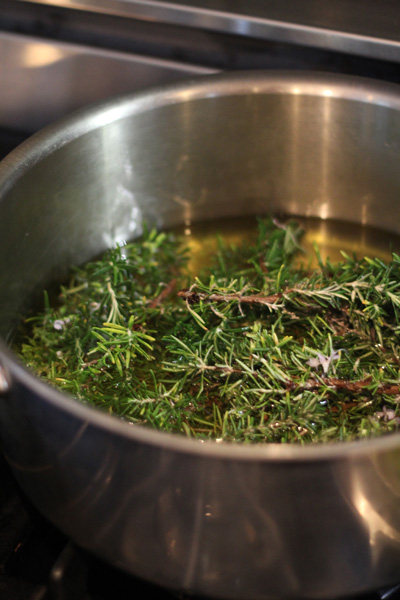 Meanwhile, use the other half batch of fresh rosemary to fill your glass bottles. You don't want to reuse the same rosemary in the above process, this rosemary is now a sad shade of green and will droop in your bottles.
I used a small liquid measuring cup to scoop out the rosemary infused olive oil from the pot to pour slowly into each bottle. It's okay if some rosemary leaves and even sprigs are transferred with the oil. Fill each bottle half way with warm, infused olive oil and half with your remaining fresh olive oil.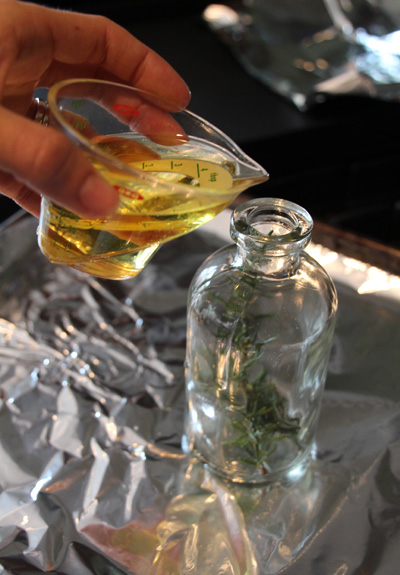 Pouring over a foil lined cookie sheet makes clean up a breeze. Simply scrunch up the mess when you're done, no gooey oil to sop up.
Oh it smells sooo good.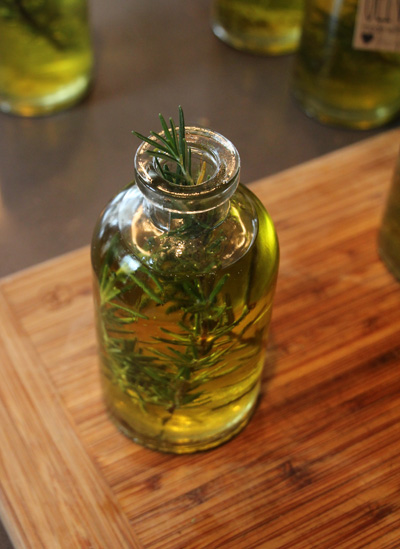 Cork well and let sit for 1-2 weeks for a full infusion. If you're planning on gifting right away, the oil will still be deliciously infused after just a few days, but mention to the giftee that if they let it sit in the cupboard for a full two weeks the olive oil will reach its peak.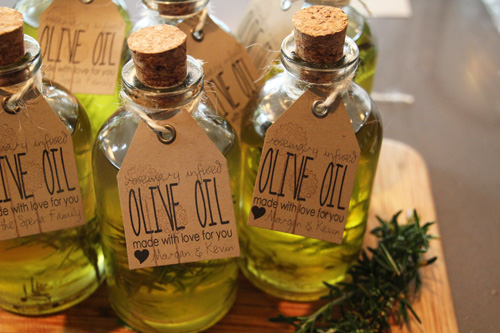 I made these labels on my computer at home and printed on brown card stock. A little stamp in the background adds a subtle handmade touch. Do you use Illustrator? You're welcome to my template if you'd like, just shoot me an email since I can't post ai files directly on the blog.
Update: So thrilled there are so many of you who would like to try this out! I've made a generic pdf template without the 'Love, Morgan & Kevin' that you can download here, you could always leave it blank or write in your own name on the printed version. Of course I'm also happy to share the .ai file, too!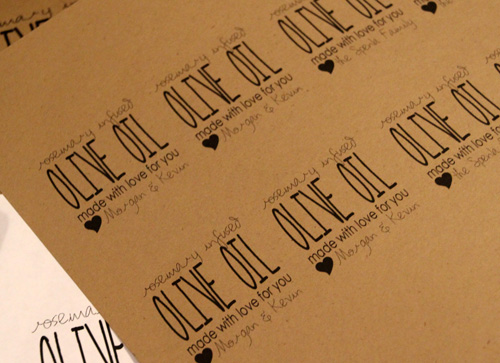 A couple of snips, a grommet and some twine later, and my rosemary infused olive oil project is finished.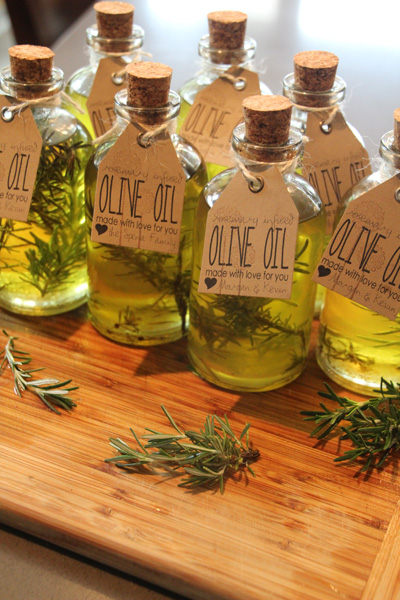 Did I mention it's delicious with just plain bread and salt? Oh man.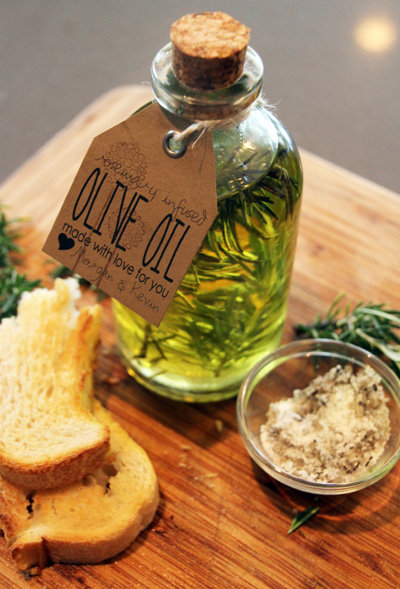 Happy cooking!
Tags:
Christmas
,
Crafty Solutions
,
Parties & Entertaining
,
Recipes
,
Tutorial
Posted in
DIY
,
Handmade Gifts
,
Holidays
,
Parties & Entertaining
,
Recipes
|
9 Comments »
November 7, 2012
This past weekend we were incredibly blessed to witness the baptism our dear friends' son, Gabriel, as his Godparents. It was a very special afternoon, a very joyous occasion!
After a special Mass in his name, we celebrated picnic-style with sandwiches and dessert on a big lawn outside of the chapel. My contribution was an attempt at a 'non-meltable, child-friendly' dessert that did in fact begin to melt (chocolate, even as a garnish, is still chocolate. oops). But the kids (and adults) seemed to approve!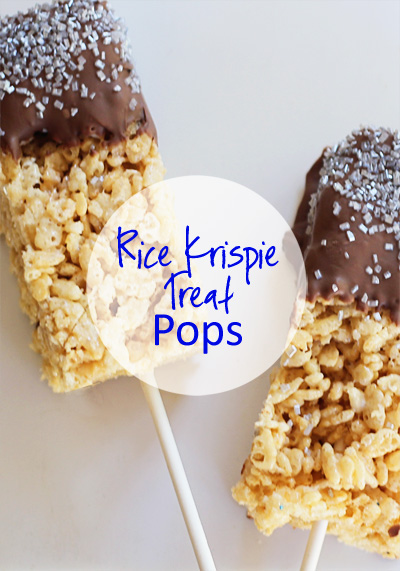 Rice krispie treats are one of those no-bake wonders that require a bit of prep work, are a lot of fun to create, and fall into the monster clean-up category (hardened marshmallow 5-quart pans, anyone?). Oh but it's all worth it.
To assemble pops, I made a usual batch of rice krispie treats just as the directions off of the box suggested. Butter + marshmallow + cereal = finished.
I smooshed my rice krispie goodness into a baking pan coated in butter and pressed the cereal into the pan throughly so that these pops would be a bit more condensed (and sturdier) over your average bar.
Once the pan had cooled, I cut the treats into rectangular shapes and added a lollipop stick to each (found at your local craft store, I picked mine up at Michael's).
Using a double boiler (a sauce pan filled with a couple of inches of boiling water + a glass bowl that fits snuggly on top), I melted my Ghirardelli milk chocolate chips (mmmmmmmmm) until they were a smooth and satiny consistency. No need for butter or water or any other additive.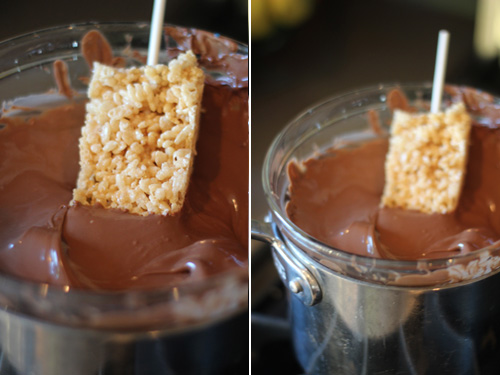 In go the pops until the first inch or two is thoroughly coated!
A new cookie sheet lined with wax paper (also with a coat of butter) awaited the dripping chocolate treats. I kept the pops here to cool for a bit before adding sprinkles (or it can become a messy, melty task).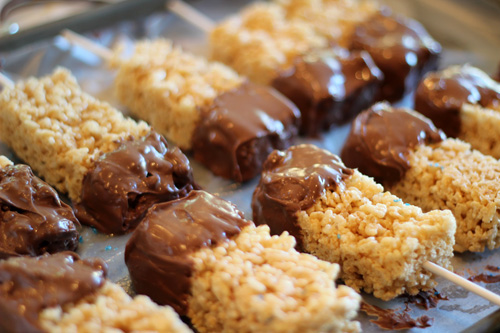 After a little experimenting (including dunking the pops into a coffee mug full of sprinkles), I found the best way to coat the pops was to use a plate and my (or Liv's) fingers to manually sprinkle those sprinkles on.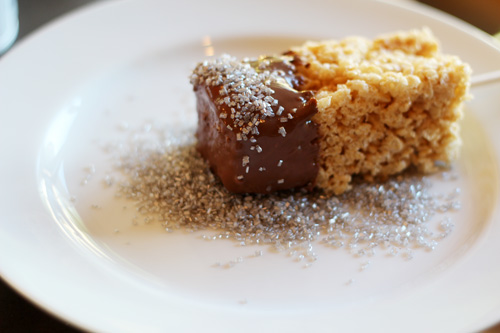 Such a great helper.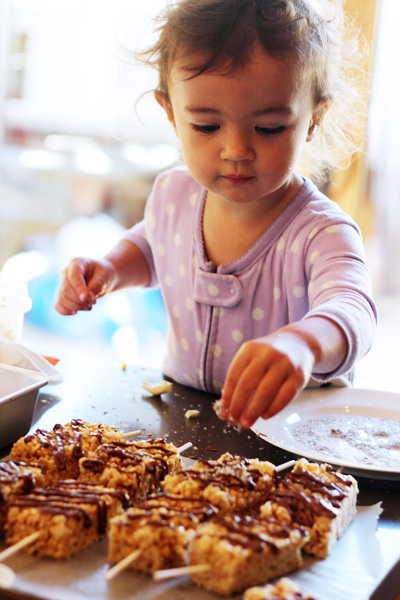 Some pops received a lighter 'glazing' of chocolate via a 1 quart ziplock bag with the tip cut off and warm, gooey chocolate inside.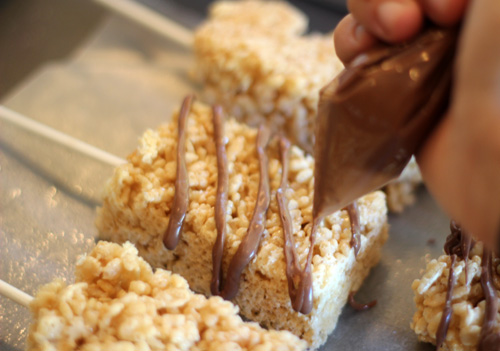 Let sit until chocolate hardens! Oh, and do keep out of the sun or store in an icebox until almost ready to serve. Lesson learned. Although I was grateful to find a cooler when arriving at the baptism so my semi-melted creation could recover a bit

.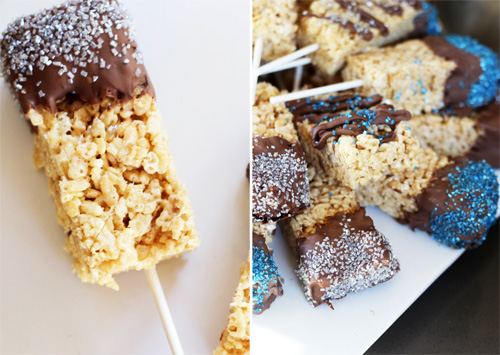 Ready for a few shots of mister handsome Gabriel being baptized? Here we are just before and after the priest surprised him with water.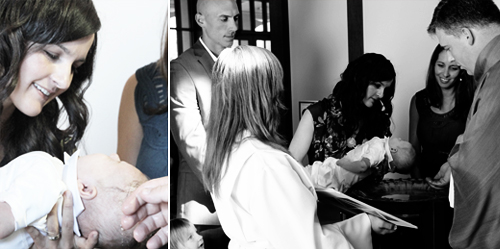 Woah, what was that?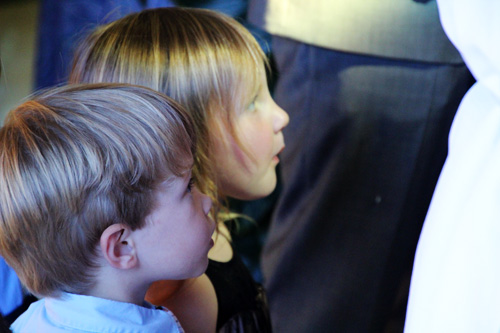 And the adorable sign that Gabriel's mom made for the special day.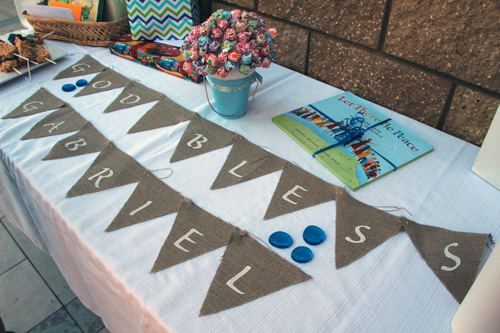 More yummy Good Eats recipes filed away right here. Mmmmm enjoy!
Tags:
Baptism
,
Desserts
,
Recipes
Posted in
Family & Friends
,
Parties & Entertaining
,
Recipes
|
2 Comments »
September 26, 2012
Taking a break from the travel updates today to share a favorite recipe with you. With all of the running around we're doing over here, I'm barely squeaking out favorite travel photos/posts to share – but I can't believe I have a line up of home/entertaining/interview posts on the back burner to help fill the calendar with while we are *absent* too. Ha! We might be on vacation but absent apparently we are not

. Europe is full of opportunities to jump on the internet (gone are the college days of seeking out a cafe to pay $2 for 10 minutes to check email) be it for good or bad (we've actually spent quite a few late nights working on 'real work' projects – bad! but we've also used our nifty iphone GPS system, surfed for B&B recommendations and have stayed in contact with family). A blessing and distraction in one. Hopefully I'll finish up a bit of that editing – until then, enjoy!
Here's an easy recipe that can be converted into little loaves of bread, into a dessert cake or even into mini breakfast muffin bites. And it's in the 'healthy' category! Sort of.
I call it the Farmer's Market Cupcake recipe because you can incorporate just about any yummy fruits and veggies left over in the produce drawer of the fridge at the end of the week, or feel free to shop your local Farmer's Market with these ingredients in mind.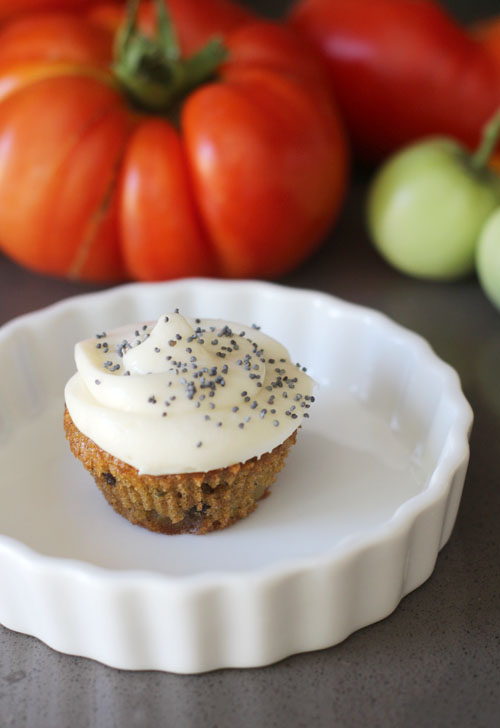 Farmer's Market Cupcakes
(Makes roughly 3 dozen mini cupcakes)
1 cup granulated sugar
1/3 cup vegetable oil
2 tablespoons orange juice (any juice or even applesauce is great)
1/2 teaspoon pure vanilla extract
2 large eggs
1 teaspoon baking powder
1/2 teaspoon baking soda
1/2 teaspoon ground cinnamon
1/4 teaspoon ground nutmeg
1/2 teaspoon salt
1 cup flour (feel free to sub in whole wheat)
2 ish cups of any combination of the following shredded or finely shopped: carrots, zucchini, squash, hard fruit such as peaches, nectarines, apricots, plums, apples, coconut, pineapple – you name it! Strain to remove excess juice, or sub out this juice instead of OJ above.
1/2 ish cup chopped walnuts
1/2 ish cup of raisins, cranraisins, golden raisins, chopped dates, etc
Poppy seeds for garnish
Cream cheese frosting (if making as a dessert)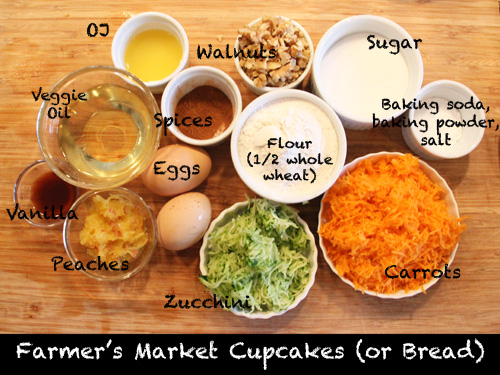 1. Preheat over to 300 degrees. In a bowl, combine sugar, vegetable oil, orange juice, vanilla extract and eggs. Stir in baking powder, baking soda, cinnamon, nutmeg and salt. Add flour slowly and mix. Stir in shredded fruit, veggies, walnuts and raisins.
2. Pour batter into mini cupcake tins (oiled or lined with paper), or divide amongst small loaf pans. Double recipe to make a large loaf of bread. Bake until toothpick inserted comes out clean (usually 25 minutes for large cupcakes or loafs, 15 ish minutes for minis – but I watch carefully because a moist cupcake can make all the difference!).
3. If for a dessert, frost with your favorite cream cheese frosting and garnish with slices of fruit or poppy seeds. If served as the main sweet treat of the event, sometimes I'll cut in half traditional sweet vanilla frosting, half cream cheese for a sweeter finish. Enjoy!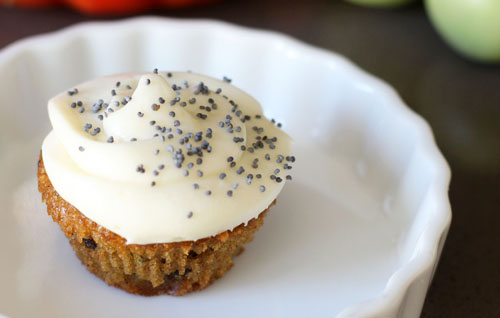 To achieve that swirled icing look, I used a quart sized ziplock plastic bag (freezer bags are sturdiest) with a hole in the corner – just like in this cupcake post.
I've actually used these for quite a few events this summer, from an Olympic-themed brunch (where are those darn pics?) to little Gigi's 3rd birthday party (an adorable fairy themed bash – nice job Cassie) they're an easy go-to.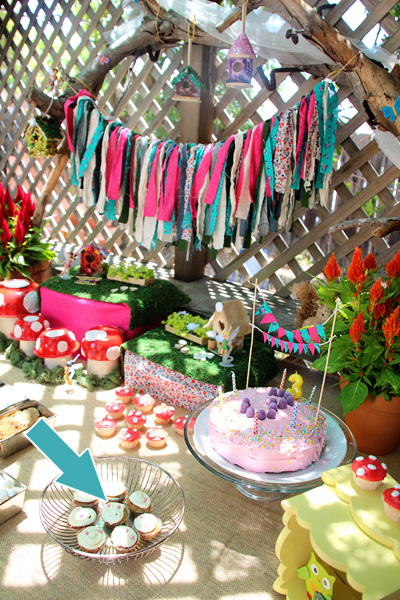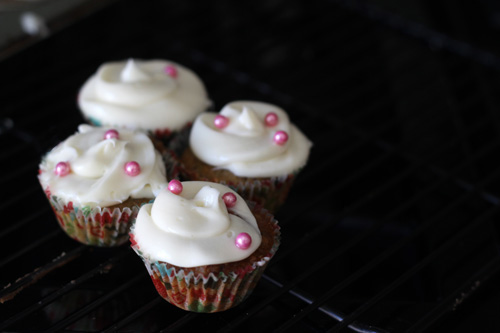 Bite sized bits of moist deliciousness! And I'm sure there are many more healthy subs that can be made. Time to empty out the fruit bowl and the veggie drawer.
Tags:
Breakfast
,
Desserts
,
Recipes
Posted in
Recipes
|
3 Comments »