June 5, 2012
I would love to invite you all over for a rug party. But logistically that could be tough, so let's have a virtual one! I have been slowly *testing* out rugs over the past couple of weeks to see if one sticks and I've been photographing the journey so that I can play a game of comparisons.
Our dining room tends to be a fairly high traffic space – you need to pass through it to get to any other room in the house. It's also a space that welcomes you from near the moment you walk through our door, so it's equally important that it be warm and inviting. A couple of needs for this space that we had to keep in mind: must be pet-friendly (no dhurrie or woven rugs – bummer that they collect and hold onto pet hair because they're so well priced), kid-friendly (wool is usually better than jute for cleaning purposes and darker colors or patterns reign) and finally budget-friendly (we are traditionally Craigslist people even when it comes to this sort of thing *I love me a good rug cleaning though* because area rugs can be so expensive, but I've found a few options in the few hundred dollar range that I'm really loving). Ready? Let's start.
PS the dining room makeover all started here if you'd like to read these posts in order!
A classic jute…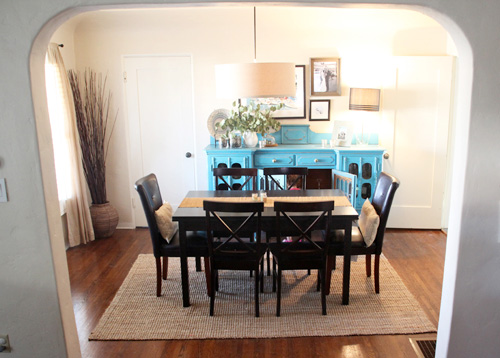 Fits the bill size-wise and price-wise (I believe with the family discount at Ikea this guy rang in at $70) and has a nice, neutral feel. Would easily work with any of the curtain options. I'm a huge fan of natural fiber rugs and while I usually opt for a softer version (with a wool or chenille mixed in), this Ikea jute rug might work well in an area where kids won't necessarily be playing on the floor.
The only con is that jute is tough to clean, even by the professionals (I buy Groupons for area rug cleanings twice a year these days – it's just one of those items I budget in with pets and a baby, but totally worth the trade off

). In fact I've found that natural fibers are doubly tough to have cleaned and often require special care and a trip to a shop if it gets a liquid stain (ask the poor hallway carpet after Halloween 2009 when Bodie chewed a mini pumpkin right into the slobbery fibers).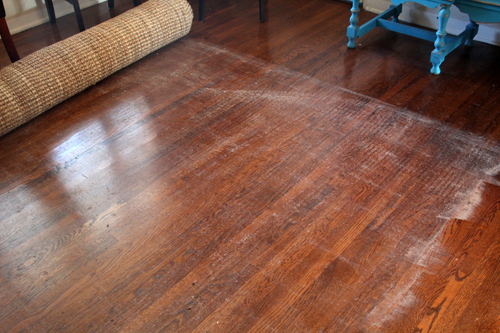 Plus they shed. At least cheaper jute rugs tend to. If this guy stays he'll be getting a rug pad (the above was only this bad once when switching out carpets. A quick mop and I haven't seen the likes of the loose fibers since).
Next up is an indoor/outdoor ikat option. Outdoor rugs can be just the best! Depending on the rug, cleaning can require as little as a hose, a scrub brush and dish soap in the backyard. This is a great rug by Ballard Design for a great price – but I do worry that I would be incredibly limited by curtain choice with this guy.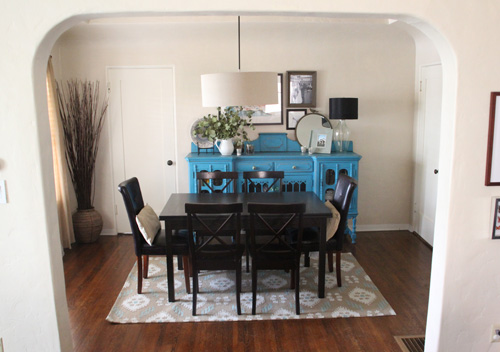 What about bringing that jute back in to add a little warmth?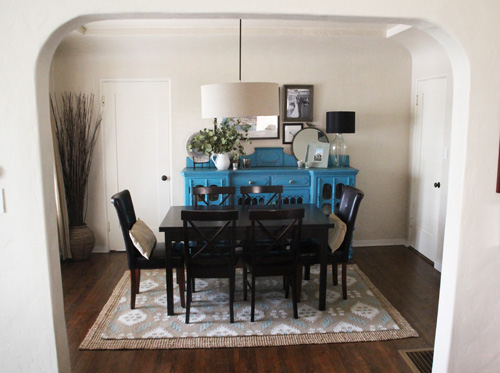 Hmmm… I love the general size of the Ikea rug (bigger than 5×8 but not quite 6×9, you know how those crazy Ikea metrics work) and the border is a nice addition. This is a nice solution for the space?
What are your thoughts on cowhide? I've been a fan of the look for some time and I especially love when hides are used in living rooms and dining rooms. Here's a little inspiration: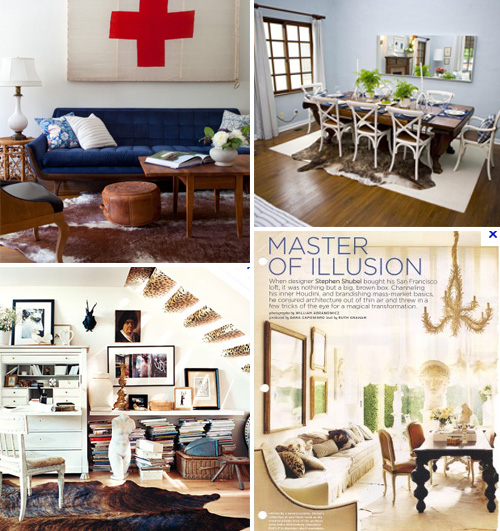 Sources: Emily Henderson x2, Domino, Tandy Leather – Girl in the World
White would not work so well in this space for so many reasons, but a darker cowhide would be easy to maintain (I'm thinking warm water and soap, or perhaps cutting a more permanent spill right out of the hair). So when a really wonderful deal popped up on Fab I pounced and ordered the rug to try it out.
The fact that it's an animal hide doesn't bother me so much. I like the idea of producing as little waste as possible and because we eat steak and meat on various (not too often but every once in a while) occasions means that using the by-products is a good thing. But now I'm starting to sound like I skinned the darned thing myself.

I really dig this look. Ignore that tripod there to the right…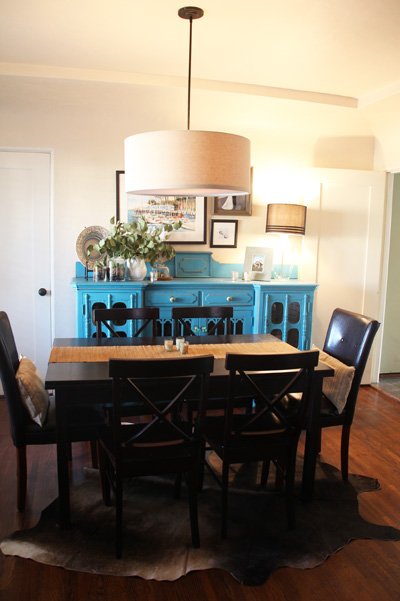 With that jute still rolled up on the left you can see where I'm going with the next idea: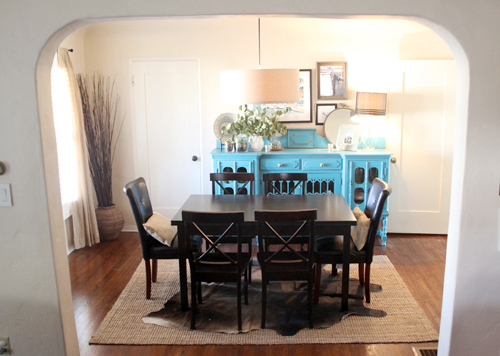 But maybe with the hide at a bit more of an angle.
Nothing is set in stone, *sigh* (I can be a horrible decision maker!) I can always use this rug in a different room or even resell on eBay for the crazy price that I was able to nab it for.
Here are some other rug ideas that I'm thinking about: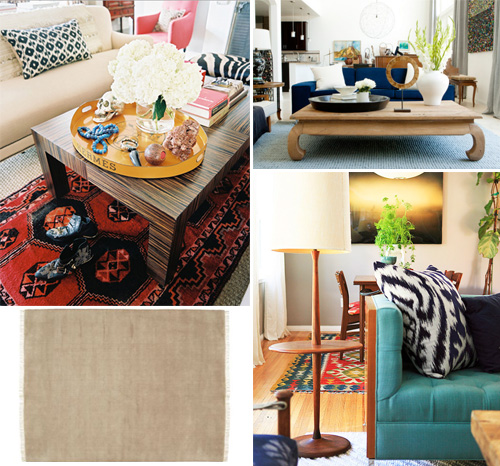 Sources: Little Green Notebook, Emily Henderson, Pottery Barn
What are your thoughts on dining room rugs? Practicality over design? Or can you accomplish both?
Read the full dining room story by back tracking from here: curtain call part 2, curtain call part 1, newly styled bookshelves, a buffet-over, upgrading the lighting, the before.
Tags:
Accessories
,
Blue
,
Decorating
,
Dining Room
,
Fabric
,
Green
,
Home
,
Patterns & Color
,
Teal
,
Turquoise
Posted in
Home
,
Our Dining Room
,
Renovating Adventures
|
12 Comments »
May 30, 2012
Yesterday I posted on my curtain dilemma. Six great designs but how to decide which one? Or are any of these right for this space? These are the questions that keep me up at night.;) (But hey, that's far preferred to the usual spreadsheets or parenting quips, so I say bring on the design conundrums).
I couldn't help but throw together a rough photoshop version for each – sometimes a visual is all you need to get the brain juices brewin'. Here's the space as is right now (boo for capturing the seam of the pendant shade, now in every. photo.):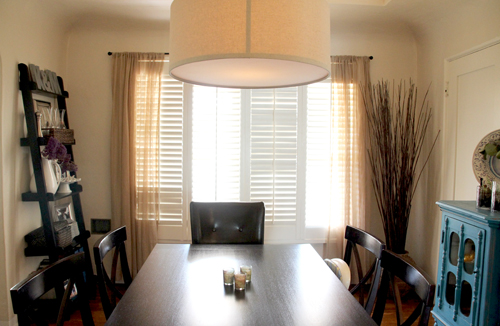 Here's that lovely Tilbury in Lapis that I'm sure I'd be 100% head over heals for if I didn't have some sort of suzani/ikat print for curtains in the guestroom and in our bedroom: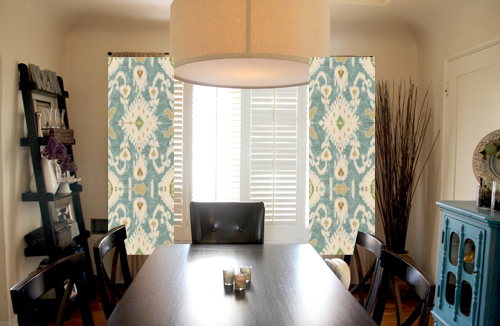 I've always loved this Thomas Paul print, but when it was featured as curtains (hadn't though of that!) in May's BHG issue, I fell for Perch all over again. Bah, beautiful!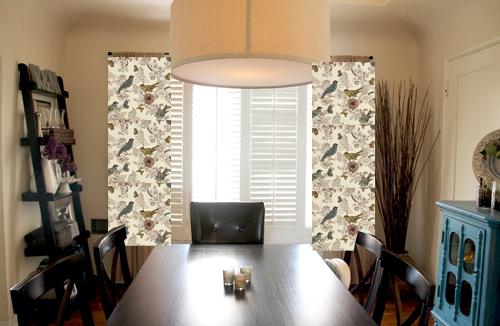 Here's a modern print that I really dig. I love that the pattern immediately updates the space but that the colors still play nicely with the slightly muted palette we've got going on in the dining room. The catch? I'd have to make the curtains out of an Orla Kiely duvet cover!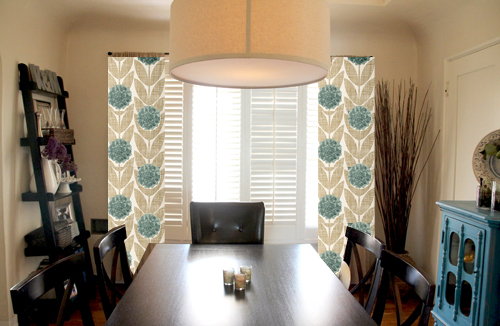 Cannot go wrong with a classic suzani like this Ubud by Iman Home Fabrics. I'm leaning least towards this one at the moment, I think the weight of the fabric might drown out too much natural light from the space.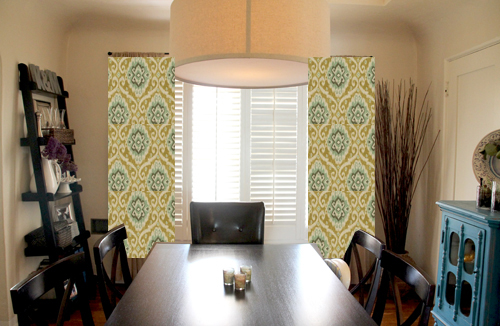 Such a fun print! Is that bright yellow too much of a pop or just right? Dahlia by Thomas Paul: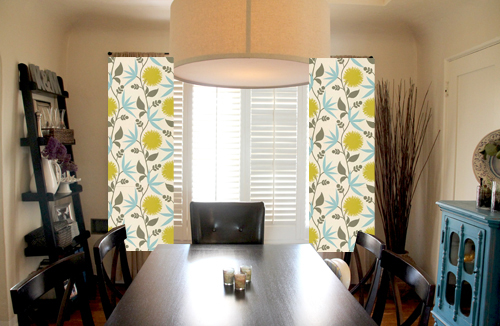 One more Thomas Paul print that I love. Botany features an illustrated pattern similar to the Perch above but with just florals. The nice white background is soft and perty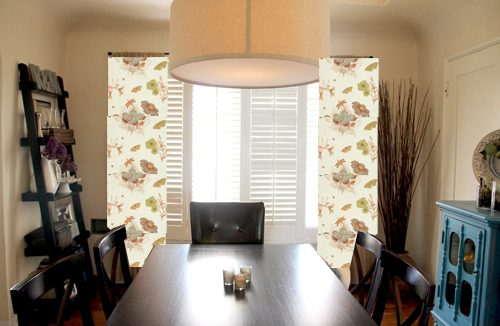 Can you guess which one I'm leaning towards? Do you have a favorite? The right fabric might not be any of the above *sigh*, but then again maybe I'll just have to sleep on it…
Read the full dining room story by starting here: curtain call part 1, newly styled bookshelves, a buffet-over, upgrading the lighting, the before.
Tags:
Decorating
,
Dining Room
,
Home
,
Patterns & Color
Posted in
Home
,
Our Dining Room
,
Renovating Adventures
|
37 Comments »
May 29, 2012
Hope you had a wonderful Memorial Day! Our neighborhood hosts a parade, pick-up basketball games and relay races every year – it's a big deal around these parts – and we loved it all. Plus, there's nothing like waking up on Monday morning to realize that you have another day of weekend, another day of family fun. Despite all of the sunshine and relaxing, I'm reminded of what the holiday really stands for and I'd like to offer a big thank you to all of our service men and women. Especially those readers who have family members serving us today! You might remember that Kevin served in the Marine Corp and that I think the world of the sacrifice that you all make as families.
Back to that post title. Curtains! The dining room could use a splash of color near the windows and while we have white wood plantation shutters for privacy (from the previous owners) I can't help but that think this is the perfect spot for bright curtains that will compliment the color of our buffet: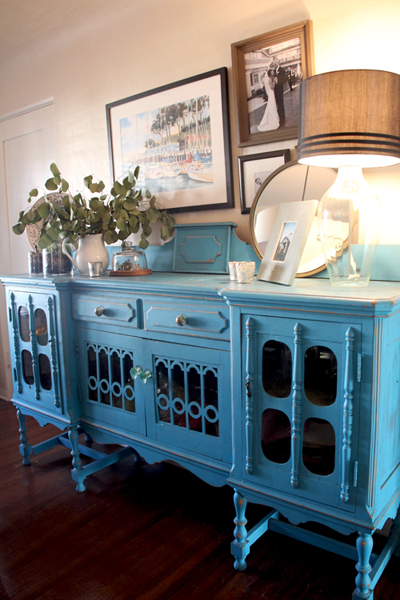 The room gets an okay amount of light. Nothing drastic, just enough to light the space during certain times of the day but not enough to keep the room from feeling fairly dark on a regular basis.
For that reason I'll probably have to stick to something light and fresh in here rather than a thicker fabric with darker details (like the fabric I chose for the bedroom), fabrics that I am inevitably more drawn to.
Here are a few I have in mind: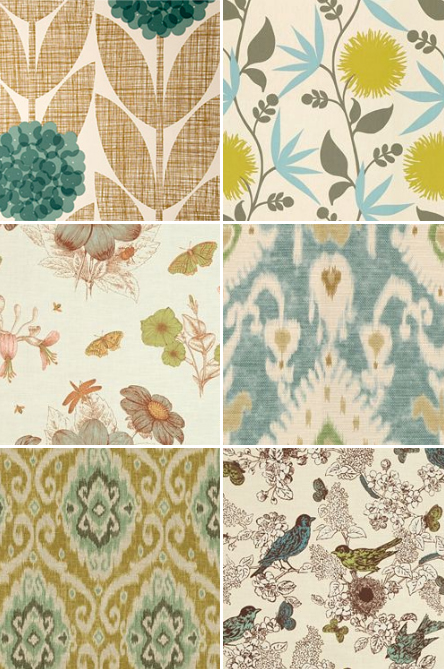 Orla Kiely – Lichen Flower Blossom, Thomas Paul – Dahlia, Thomas Paul – Botany, Tilbury – Lapis, Iman Home Fabrics – Ubud, Thomas Paul – Perch
I love each of these for so many different reasons! I have a few reservations that some of these prints will be too dark (such as the Iman Ubud or Tilbury in Lapis) in the space while a few of the lighter, whiter ideas might not have enough eye popping detail (Thomas Paul's Botany). I'm hoping that I might find the first Orla Kiely in a fabric (I've seen it out there before… but linked to the wallpaper) and I do love that dahlia print! Is having too much suzani or ikat print a bad thing? I'm using it alot in the house these days but I still love these Tilbury and Iman patterns.
Kim Cornelison's dining room from the May 2012 issue of BHG has really inspired me, and seeing her Thomas Paul Perch curtains has confirmed how much I love that fabric: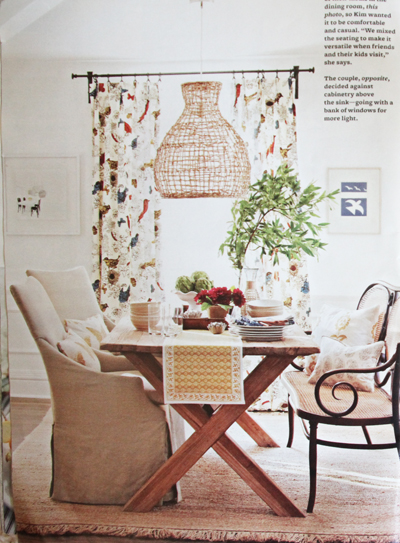 I could not find this image online for the life of me, so here's a snapshot of my BHG magazine. Hard to see in the above photo but flip open to page 38 in your May Better Homes & Gardens for a great injection of inspiration – if you don't have a subscription I highly recommend

.
Here's our window near straight on: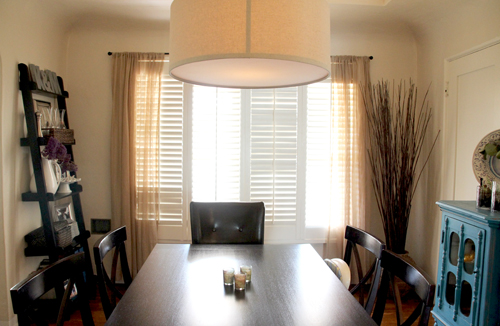 The shutters are closed to prevent a serious washout of the window, but see what I mean about fairly dark? Dark furniture and those dark branches in the corner do not help. Right now I have a sheer tan on the windows (and I'll probably reinstall the curtain rod 6″ higher – we thew this guy up over four years ago) and I'm ready for something new!
Here's a cool little tool I've been using to get a better curtain visual of several of my Calico Corners fabric choices: www.CurtainsMade4You.com (and possibly a great resource for those of you who prefer to have the curtains made by the professionals!). It's a sister site to the popular Calico Corners fabric store.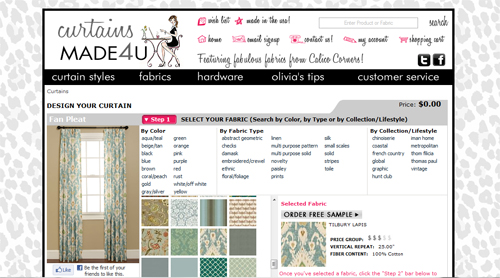 Oooh, that Tilbury Lapis is a good one!
Still on the hunt though… Maybe I should try something completely out there on the opposite end of the color wheel, or maybe I should go peruse my local Joanns for a bit of variety. We'll see what we find!
Read the full dining room story by starting here: newly styled bookshelves, a buffet-over, upgrading the lighting, the before
Tags:
Decorating
,
Dining Room
,
Fabric
,
Home
,
Patterns & Color
Posted in
Favorite Fabric
,
Home
,
Our Dining Room
,
Renovating Adventures
|
5 Comments »