March 9, 2012
What are your thoughts on wallpapered accent walls? I'm in the mood to give my hallway a good shake up and I'm thinking that one wall covered in a beautiful design would be just the way to mix things up. Plus it's a hallway, and some how that makes me feel better about committing to an all-over pattern. Funny, I know.
Here's where the hallway's located in our house, and that wall that the arrow is pointing to would be my new, fun accent wall: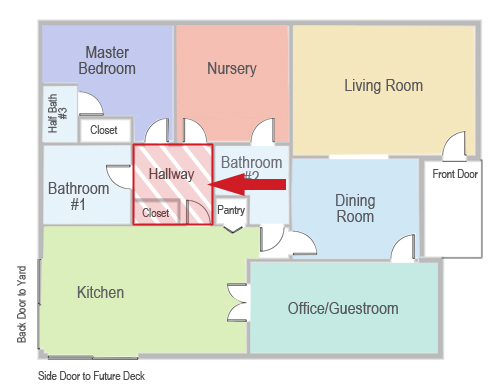 Originally, I began pulling images that inspired me regardless of color or pattern. The hallway leads to Liv's room (as well as ours) so I even threw a few kids patterns in the initial inspirational mix. Here's just a piece of what was in that folder: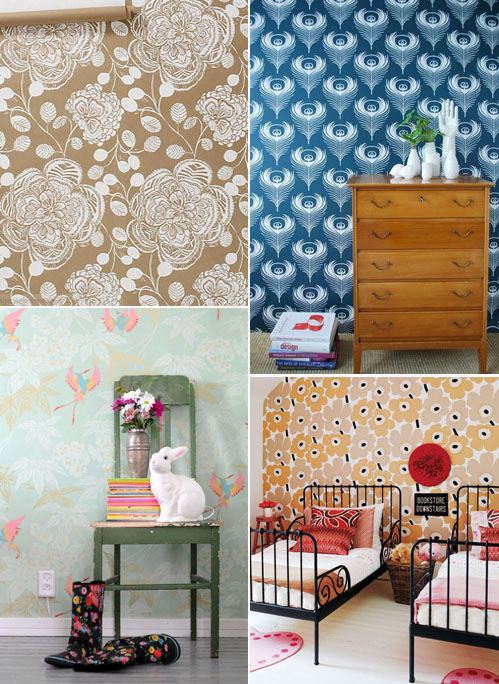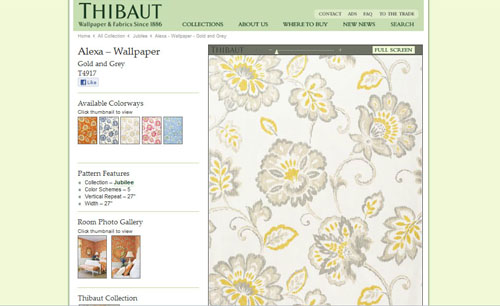 Please forgive the lack of sources… I am usually really really great about crediting (that the correct person of an idea receives proper credit & that an idea is easy to track down are both really important to me) but many of these images have been sitting in my Wallpaper folder for a loooong time, or sometimes I wasn't able to find the source on Pinterest (really hope that's fixed over there soon!). But where I do have credits I definitely included them

.
So I had my big modge podge folder of ideas and I began visualizing that future space and I couldn't shake the color blue. The current hallway is tan, and blue feels fresh and new! Here's where that train of thought slowly wound me: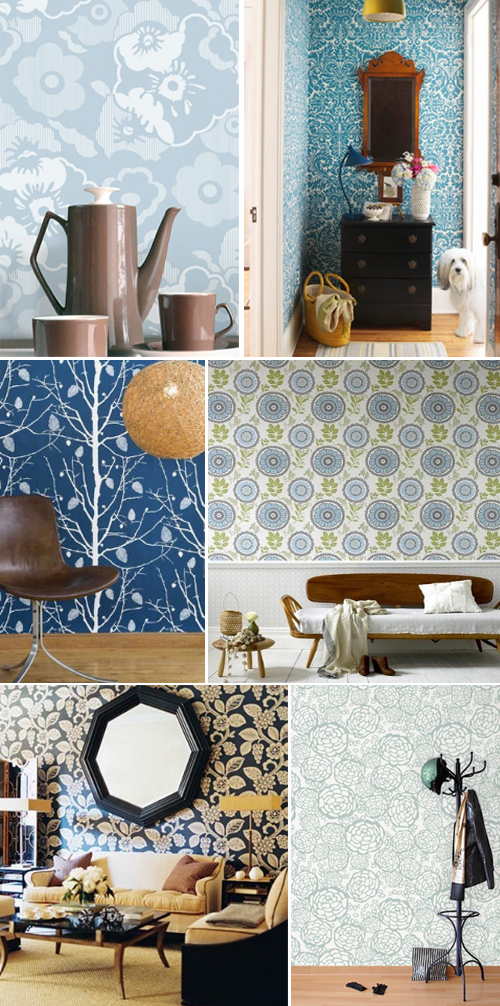 So many choices! And so much looking. I saved my favorites and kept them close by for quick contemplating throughout the day which is a little exercise I often do when I'm super indecisive. But even after much thought into what the right pattern might be, I just couldn't settle on one (Oh sweet indecisiveness! You and I are best friends).
See more of my journey over on Pinterest.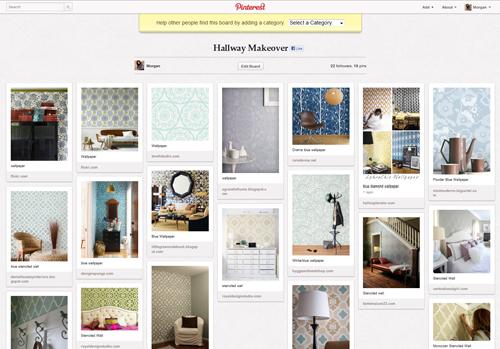 I eventually decided that I might have a bit more flexibility (and save some serious $) if I gave stenciling a try. Stenciled spaces can be stunning! And that basic block print has always been a look that I gravitate towards. Here are a few of my favorite patterns/inspiration with a stenciled hallway in mind: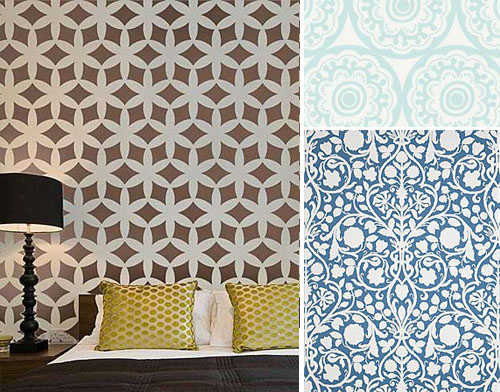 Actually, I'm not sure all of the above are stencils. I know that that brown and white wall on the left is from here, but those blue patterns might actually be wallpaper. Either way, I was immediately inspired by the one color + white design look.
I had finally committed to an application and a vision.

Then I read about the winter edition of the Pinterest challenge (a challenge encouraging you to create one of the many items you've pinned) and I was set! I have my idea board, I have my project that needs tackling, and now I have my motivation to get. it. done.
The verdict? I'm going to attempt a unique wall pattern that is all my own with a roll of painter's tape, a chair rail, a quart of black chalkboard paint and a quart of the perfect blue hallway paint. I feel like I'm setting up a magic trick…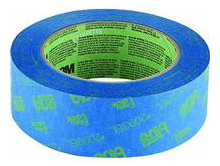 See you on Monday!
PS In local home stores in 5 cities (Atlanta, Dallas, Sacramento, Salt Lake City and San Diego) ScotchBlue Painter's Tape with EdgeLock is offering a buy-2 get-1 free by mail offer until March 12th.  Check it all out here.
Tags:
Crafty Solutions
,
Decorating
,
DIY
,
Home
,
Patterns & Color
,
Pinterest Challenge
Posted in
Crafty Solutions
,
DIY
,
Home
,
Our Hallway
,
Renovating Adventures
|
4 Comments »
March 1, 2012
I thought a nice bird's eye visual of how our home is laid out might be helpful when keeping up with our renovating adventure.
When it comes to titling posts over here at PDB, I try and label different home renovating topics by the room that we're tackling (Building a Bathroom, Project Nursery, etc). All of those remodeling posts fit under the larger category of Renovating Adventures (you can always filter posts here by just our Renovating Adventures by clicking on the pink button in the right sidebar titled 'Home Makeover Project'. Hmmmm…. perhaps I should rename it so they match).
But, I realize that even with all of the labeling, tagging and categorizing it can get a little confusing to navigate our house, so I thought that maybe a floor plan would help. Here's a closer look at just the house: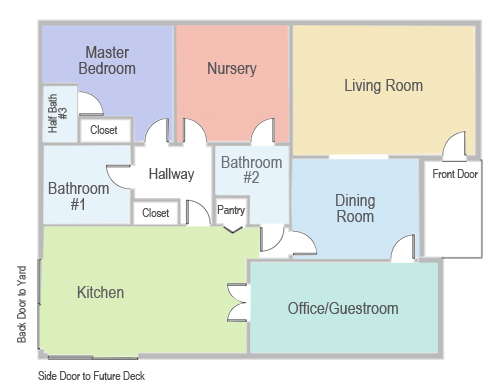 That's our current floor plan above. PS did you know we have a granny flat in the backyard? (see top floor plan) It's a little studio that we rent out to a friend and that little supplement was one of the main reasons we were able to buy into the neighborhood we're in. That, plus buying a home highly in need of gutting. (We tried to buy into the best neighborhood we could afford, even if it meant buying a home in need of a lot of TLC and sweat equity.)
PSS I filled it in so that the colors are kinda, sort of similar to the color scheme in that room. A lot more blue than I had thought – all blue bathrooms now that I think about it.
Just for comparison's sake, here's the floor plan of the house when we moved in in 2008: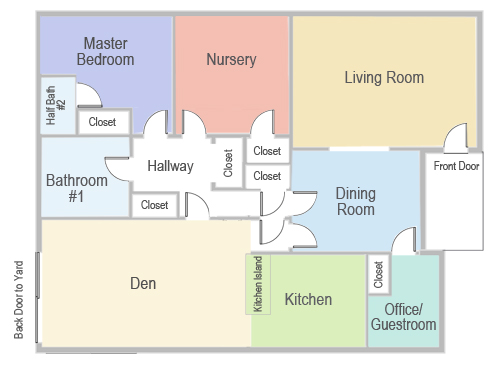 Do you see all of those closets? Don't get me wrong – storage is awesome. But that's a lot of closets.
When it comes to walls moved, here's what we bumped around over the last three and a half years: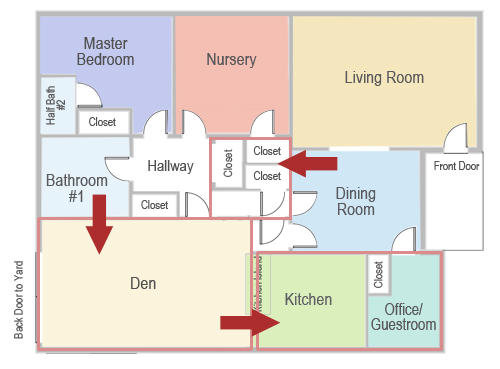 And here's our current floor plan one more time just to clarify all of those arrows above: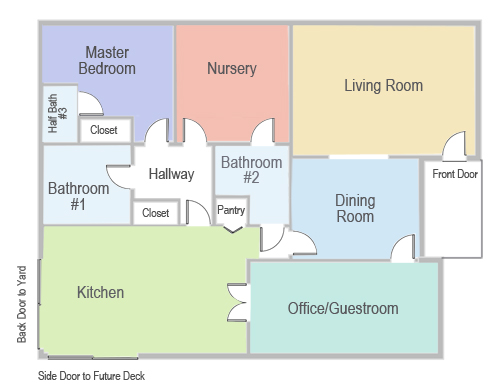 The den became the new kitchen, the kitchen and office were combined to create one large bedroom and three closet spaces in the hallway became a 3rd bathroom for the house.
And just for fun, here's a sketch of what we have in mind for this and next year: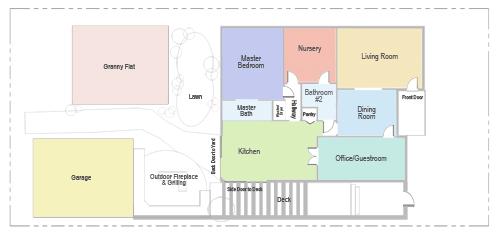 It primarily involves creating a master suite out of one of the bathrooms, part of the hallway and the current back bedroom. I'd also love to bring the washer and dryer indoors (out of the garage) in a stackable format in a new closet in the hallway.
As far as outside goes, we'd like to expand on our current outdoor fireplace and grilling area (that Kevin built three years ago) with a deck, pergola and extended block wall in the side yard, as well as a stone path and lawn area in the back.
I've been meaning to put one of these guys together for a while (finally updated a version Kev had made for an architecture class) and I hope it's a helpful visual as you see our before and after photos and read our renovating posts! I'm a map person and sometimes I have to get my bearings by getting a bird's eye view on things, then it all makes sense. I'll keep this guy easily accessible just in case you need to find your bearings around here in the future.
Posted in
Home
,
Our Guest Bathroom
,
Our Guestroom/Office
,
Our Hallway
,
Our Kitchen Remodel
,
Our Living Room
,
Our Master Bathroom
,
Our Master Bedroom
,
Renovating Adventures
|
4 Comments »