February 20, 2013
Organization has been on my mind lately… somehow stacks of paperwork and magazines and yesterday's mail are slowly starting to creep up and take over favorite spaces of mine, like the breakfast table in the kitchen. It's high time that we add a functional and easy-to-use corner somewhere in the house that can display Liv's adorable works of art (I've waited so long for those!), wedding invitations, birth announcements and important family reminders.
Inspired by our big chalkboard addition (but not wanting to cover that guy in glitter and pink construction paper), I've found the perfect home for such a display.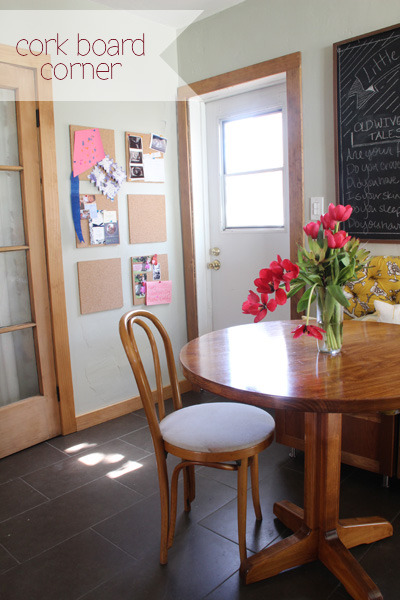 We actually previously had a white board here (that a friend of mine helped me to construct to size from molding and white board from Lowe's – I swear I had pictures somewhere…) but we never used the white board to actually 'write' anything on it. I ended up just taping important announcements directly to the board, and that became really crowded really fast.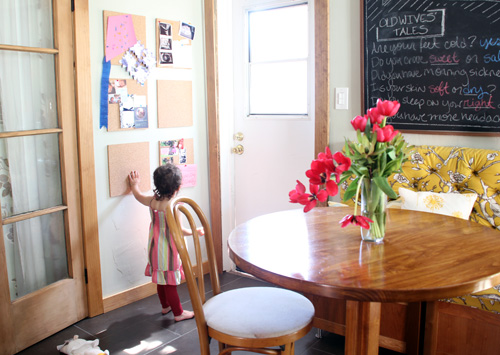 Now there are spots for Liv's artwork (she likes to help arrange), photo cards, invites, you name it. And we can circulate items in and out to fit the seasons or what's most important right now.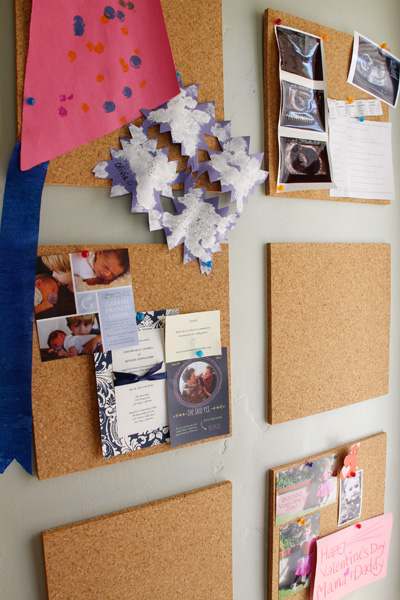 I thought the idea of a cork board would be most realistic for what we need – aka a space to pin, pin, pin – but didn't want one giant long piece of cork along the wall (our chalkboard across the way is already massive enough). Squares made sense, but most of the cork tiles available these days online and in craft stores are too flimsy at just a 1/4″ thick.
I took a chance and ordered these guys sight unseen from Amazon:

Package of six? Perfect. 3/8″ thick? Much better than 1/4″. Self-adhesive? Bonus.
Once they arrived, applying them to the wall was as simple as unpackaging them (directions instructed to leave the cork out for 72 hours to acclimate to the air so that they can expand before adhering to wall), unpeeling the self-adhesive backing and sticking them up.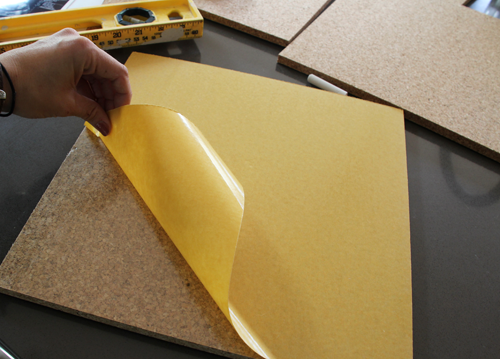 The sticky backside made these cork tiles very easy to install. Most tiles come with little adhesive squares, but the all over strong 'sticky side' of these made me a little more confident that they might actually stay put. One week later (we finished this project just before our Gender Reveal Party) and I'm noticing a few edges that are lifting up. Might have to readhere with something stronger in the future.
To create a grid on the wall, I used a level and chalk during installation.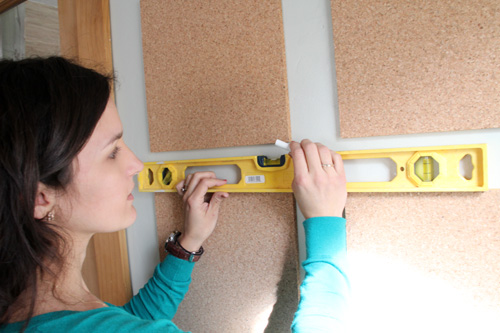 And then at the suggestion of the instructions, a rolling pin with lots of pressure. Finally, time to decorate the tiles!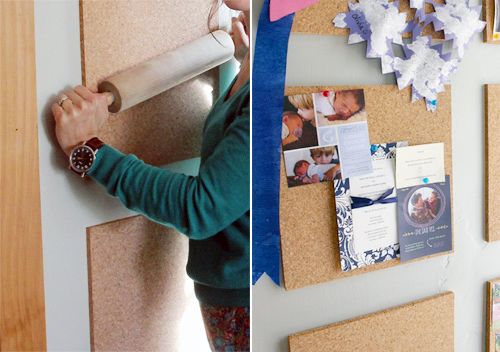 Liv's Valentine's Day tile is one of my favorites right now

: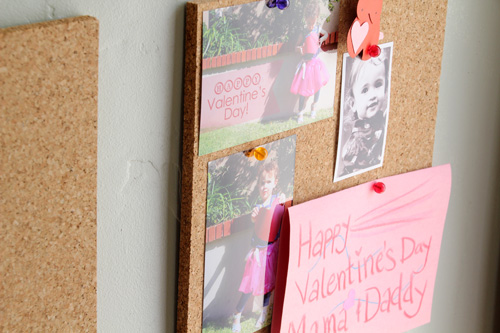 She made us that sweet card and Kevin delivered the below beautiful red tulips!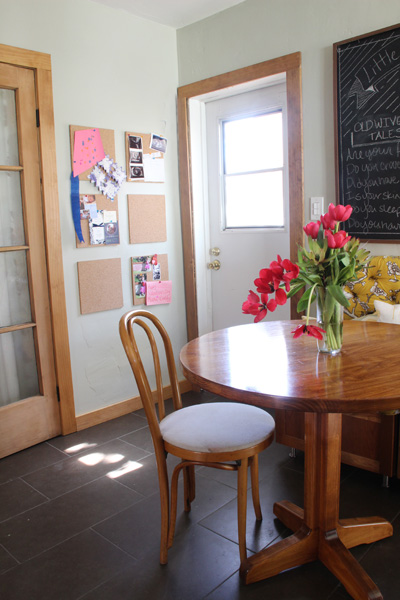 We've just ordered a replacement door for the white one above, shortly all of the doors in the kitchen will be matching (yay!). Still a big improvement from this, though

: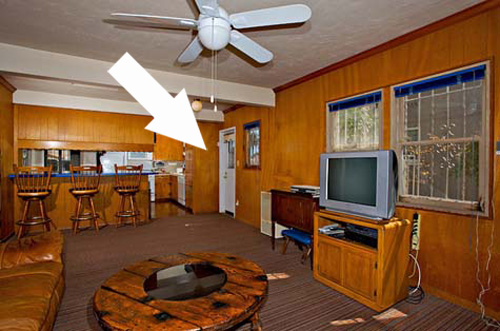 That's the new cork board corner above!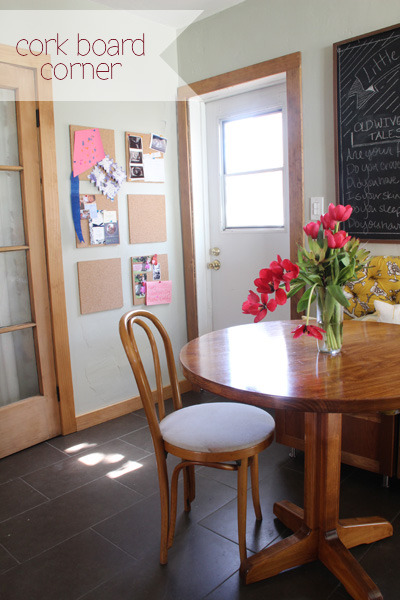 Our new mail/message/art station is finished and the kitchen is almost at a place where I can confidently call it finished (for a little while, at least…).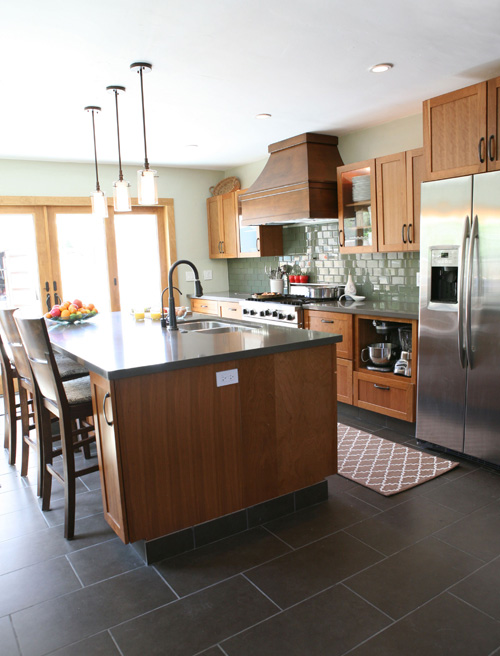 PS To start at the beginning of the remodel (or checkout projects like the tufted breakfast nook), see all kitchen posts sorted right here.
Tags:
Accessories
,
Before & After
,
Crafty Solutions
,
Decorating
,
DIY
,
Home
,
Kitchen
Posted in
Crafty Solutions
,
DIY
,
Home
,
Organizing
,
Our Kitchen Remodel
,
Renovating Adventures
|
4 Comments »
February 5, 2013
I have one more quick project to share from building the breakfast nook in the kitchen. See that big ole chalkboard above the new bench and table? Figuring out how to fill that space proved to be one of the hardest puzzle pieces with this entire project.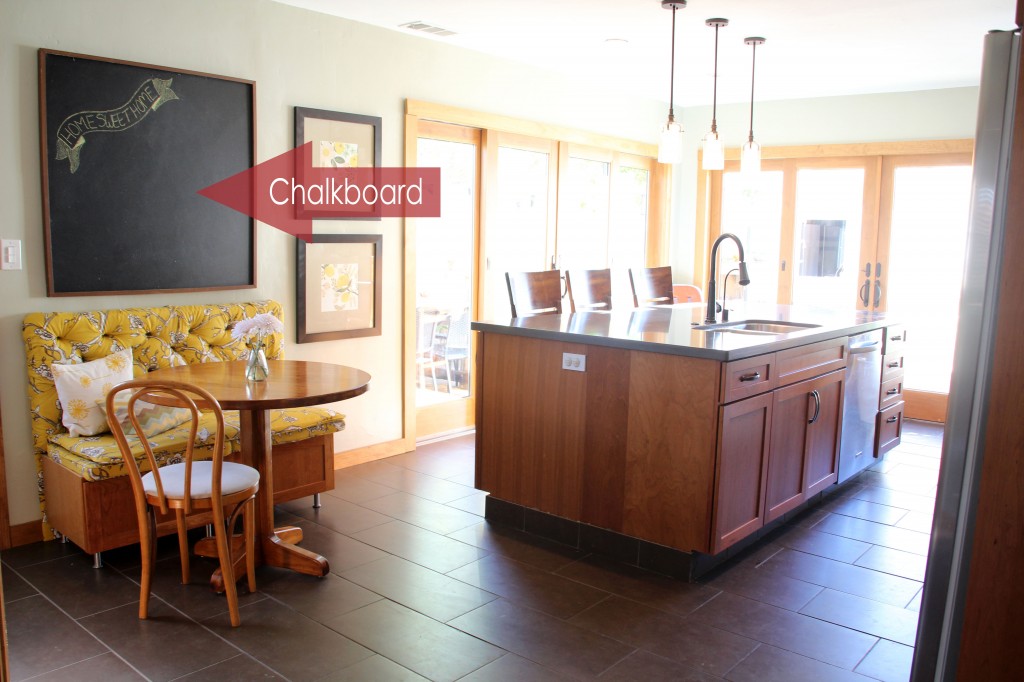 I love the final solution and it has already been a fun spot to share family messages (like Liv's 2nd birthday!) but it took me a while to figure out how we would temporarily cover that massively large gap (and old window that's hiding behind plywood and needing repair – on the list for this summer) that was left in the kitchen when the bench was finished.
We brainstormed ideas ranging from framed fabric wall art (one of my favorites), finding actual wall art, hanging a whiteboard or cork board, creating a faux roman shade (very clever, Mom) to a chalkboard. Nothing too permanent because we may end up opening up that window again this summer or trying something brand new with the space.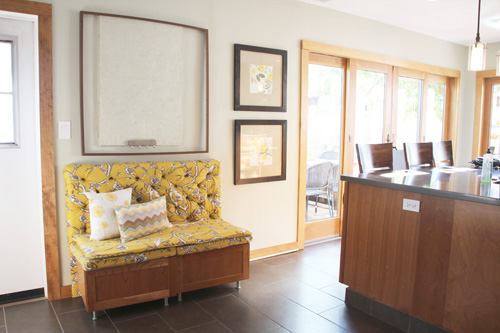 I thought a cool piece of fabric (like a remnant, silk scarf or even a chunk of something random like a tablecloth) framed would fit the bill, but then struggled to find a fabric that I wanted to hang as a focal point in the room — and one that also played nicely with the new tufted bench seat, pillows and bar stool cushions. No luck. I love me some mixed patterns but there were just too many in that little space.
My back up plan was an awesomely large frame to house a chalkboard. You can never have too many of those.
I made the frame first because it was such an awkward size. It had to be tall enough to cover the window and wide enough to look like it's supposed to be there (and is not just covering up a flaw in the wall, which it actually is).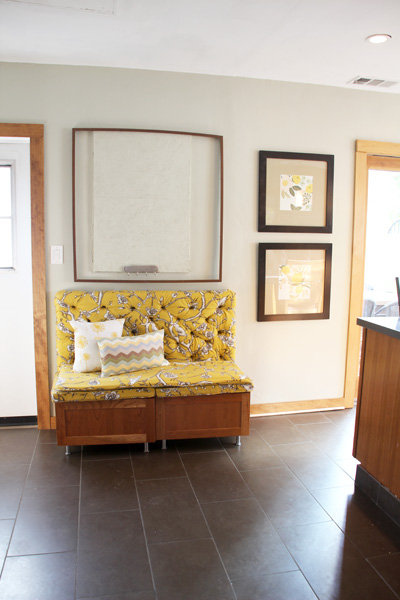 I could have built a frame from scratch, but that felt very, very daunting. I priced out purchasing a custom frame at that crazy size. Waaaaay out of budget. Then I stumbled again upon these giant Ribba frames at Ikea: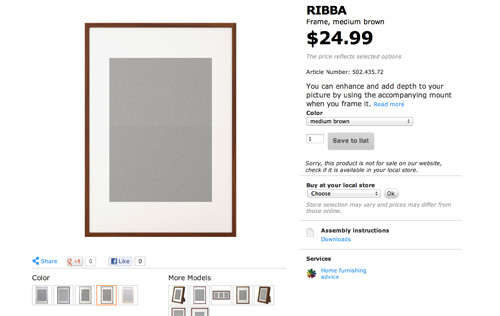 This frame is the same poster frame that I used on my semi-DIY fabric canvas artwork in the living room (my local Ikea doesn't carry the birch version anymore

). It's SO big at just over 28×40″, and at $25 it's a killer steal in the framing world.
One would have not looked purposeful, it would have oddly sat above the breakfast nook and would not have tied in in the two Rifle prints to the right of the seating area. The chalkboard needed to go big. After carefully measuring, I purchased two of the Ribba frames with this plan in mind:
First disassemble both frames, next reassemble one giant frame using just the longer 40″ edges.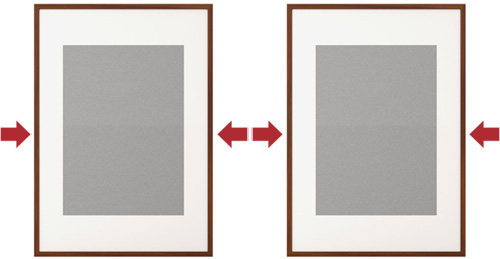 Disassembling was actually quite tricky! You would think that an Ikea frame would pop easily apart. Oooohhhh no. I assumed I could pull out the staples that held the perfectly mitered corners together (the hardest part of building your own frame) and re nail gun the edges. But after a little sawzall action late at night and about 20 nail gun holes later, I managed to reassemble my giant frame.
I wish I had pics of that night! Me, my red slippers, an air compressor and the power tools (don't let anyone try to fool you – power tools are just larger versions of the craft tools we ladies know and love).
But it looked something like this when I was done: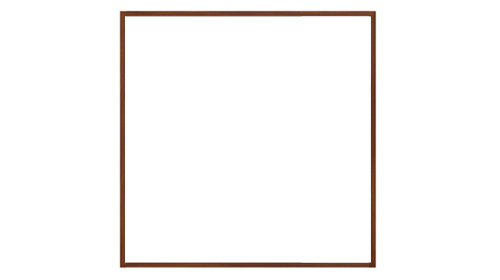 Except that if you're ever over at the house, don't look so carefully at the corners. They are not so pretty with their wood glue remnants (who knew it wouldn't dry perfectly clear?) and nail marks. I just keep telling myself it's a great temporary solution.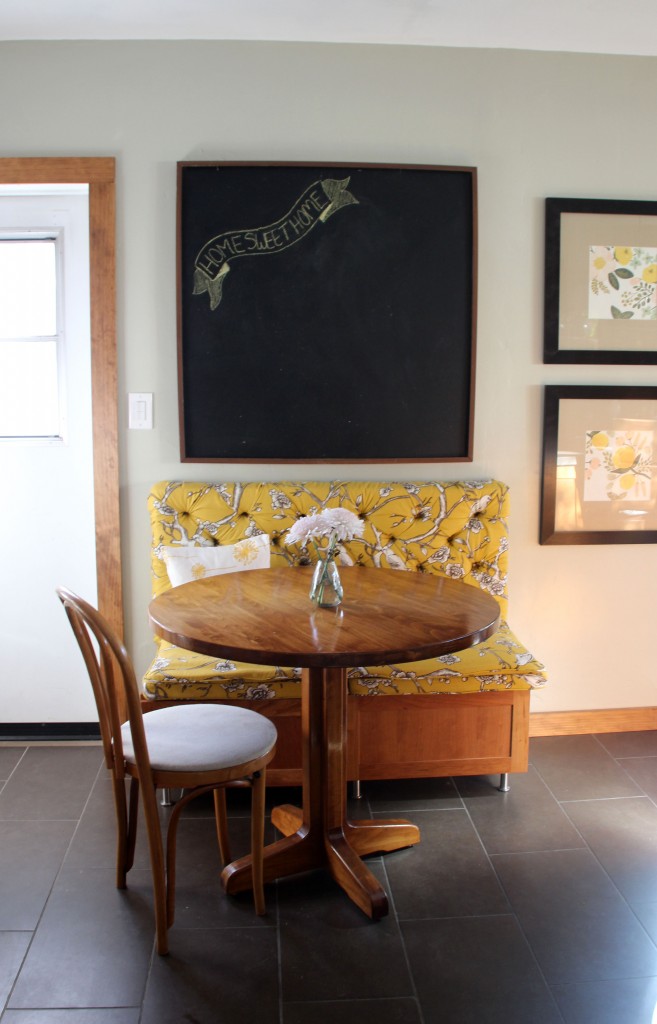 For the chalkboard on the inside, I headed down to my local Lowe's, found a sturdy and flat piece of particle board and gave the nice milling guy my dimensions.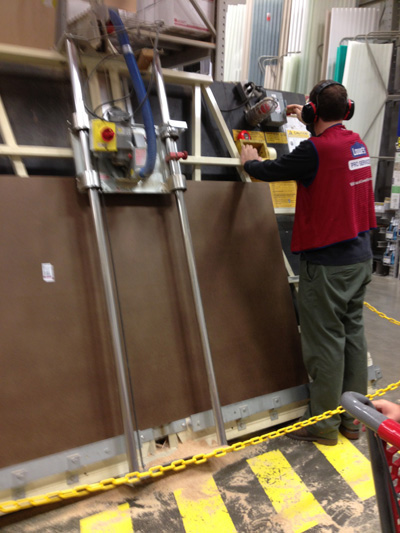 Three coats of chalkboard paint later and we were done! Also don't look too closely at the black paint either – you might see an accidental footprint. For the record I also added three coats of magnetic paint under the chalkboard paint but the finished product is not quite strong enough to hold anything up. Ah well.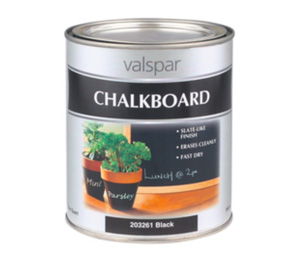 Hanging the frame and board was a bit of a challenge… the Ikea frame was not sturdy enough to hold such a large board (even particle board) so I reinforced the entire frame by driving a few nails directly though the chalkboard and into that plywood window that we were trying to cover up. Very convenient that it was there! An alternative might be to use a much lighter type of board (perhaps even plexiglass?) or to build a much sturdier frame to support so much weight.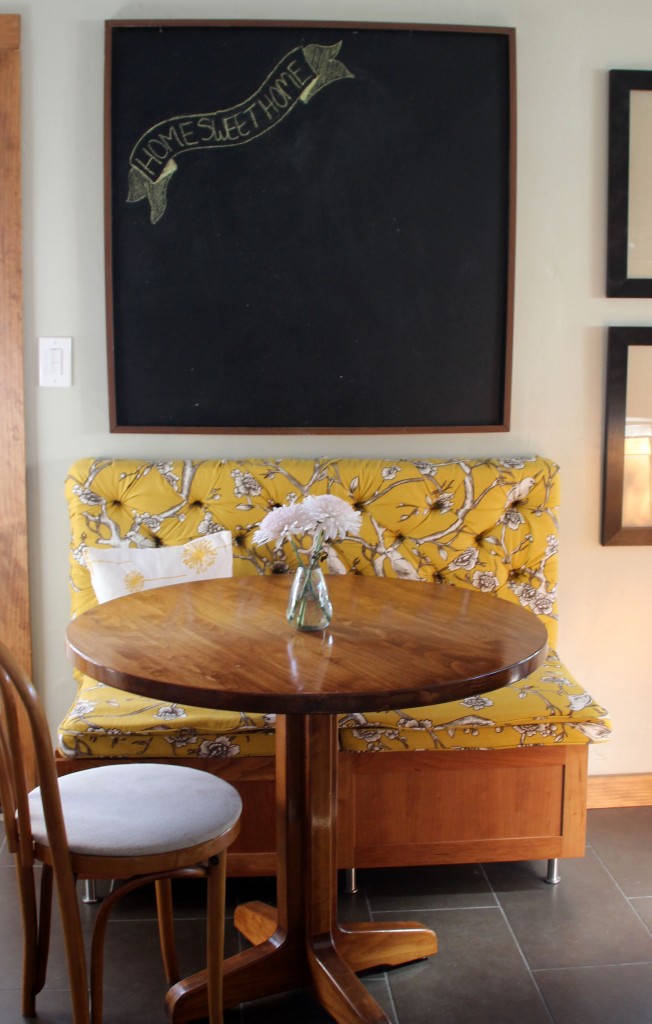 And that's the story behind the giant chalkboard

.
These days I love how the black paint looks against the black of the botanical frames and the grey floors, it really is the perfect solution for this spot.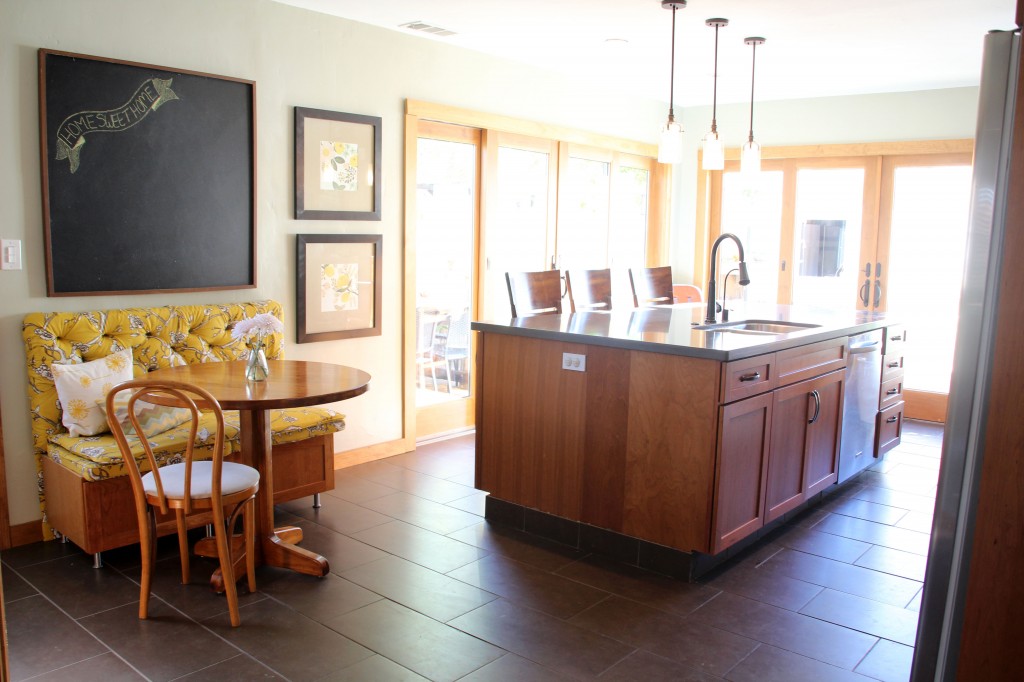 PS More kitchen renovation posts found right here. And breakfast nook building here: part 1, 2, 3, 4, 5, 6, 7
PPS Thank you so much to Calico Corners for including my breakfast nook project in your most recent newsletter! Such a big honor, thank you, thank you, thank you.
Tags:
Accessories
,
Crafty Solutions
,
Decorating
,
DIY
,
DIY Art
,
Home
,
Kitchen
Posted in
Crafty Solutions
,
DIY
,
Featured In
,
Home
,
Our Kitchen Remodel
,
Renovating Adventures
|
6 Comments »
January 29, 2013
I'd love to introduce you to a special little space in our home today: the pantry. I know, I know, not nearly as exciting as a nursery remodel or tearing down a bathroom, but wait until you see what we have in store for this 4×4′ space!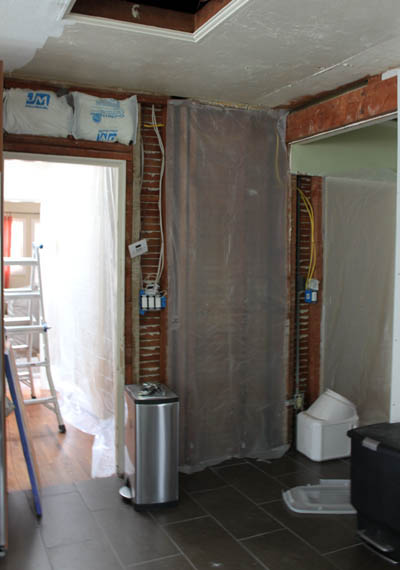 That's an in-progress photo for you from the middle of last year.
We actually framed it out back when we built our guest bathroom from the original three hallway closets that used to take up this space. It was Kevin's idea to save a bit of that room for storage in the kitchen. I wanted it all for the bathroom and now I'm SO happy that we marked off more space for storage (especially since we are three closets lighter in the house).
The pantry has made much improvement since then! I haven't wanted to blog about it all since I had no 'after' picture to share (and that's no fun), so now I can catch you all up and hopefully, very soon, share the finished pantry! The cans and boxes smashed into our kitchen cupboards will rejoice.
But let's start at the beginning… here's the layout of the three closets that were in the very center of our house.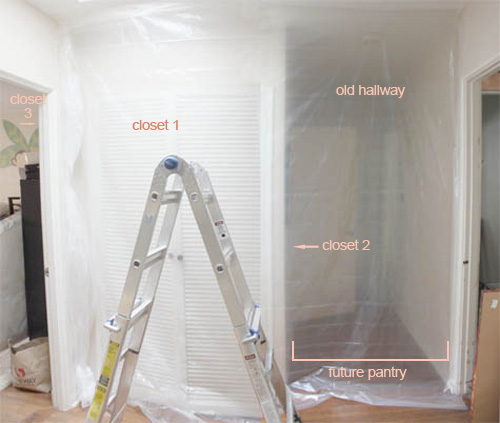 Here's an overhead shot of the floor plan of our house the day we moved in: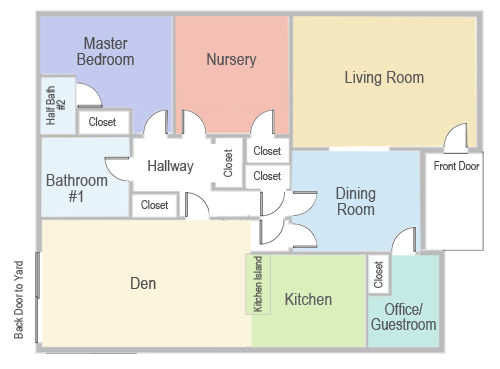 And how the house looks now, note the three closets at the very center that no longer exist: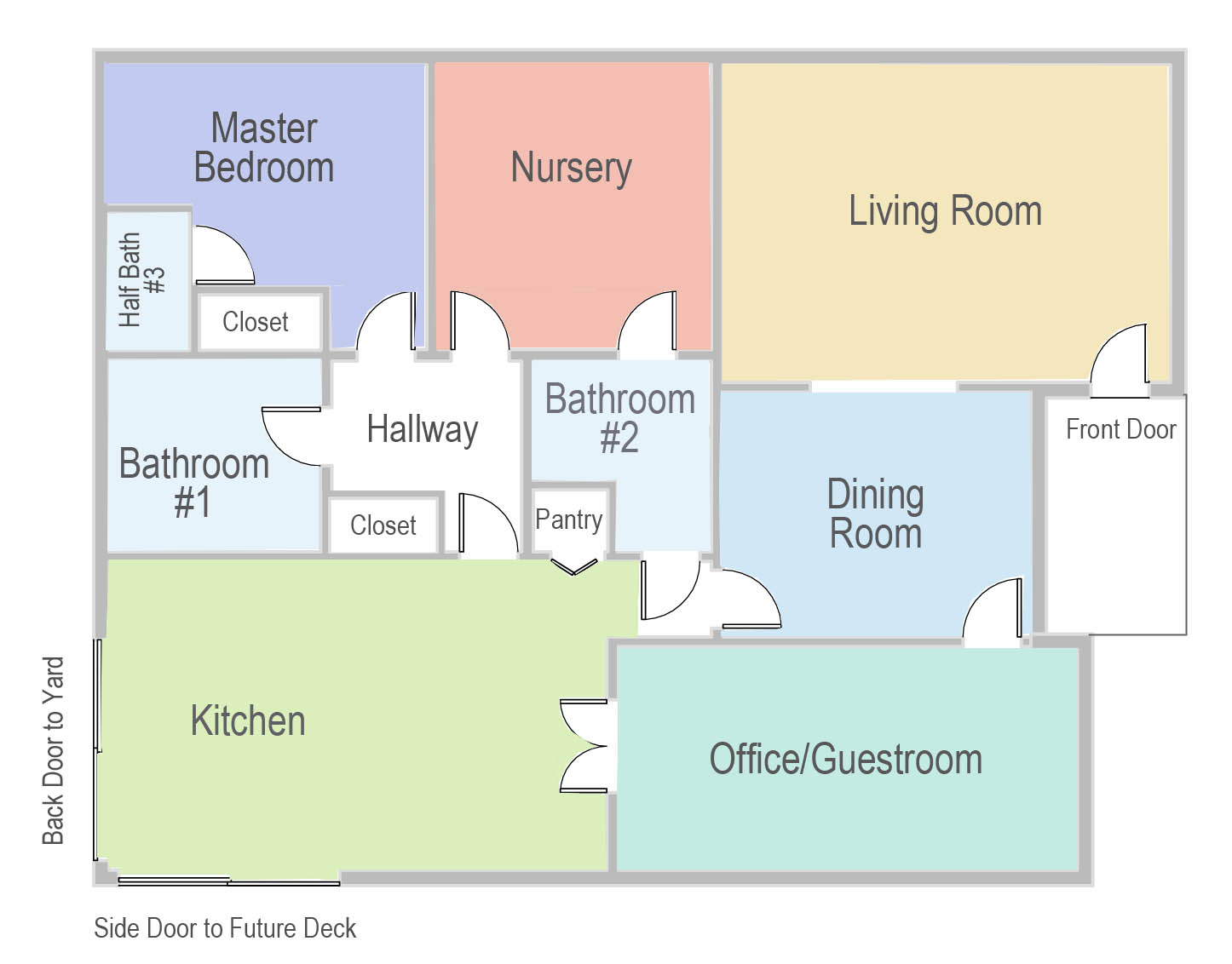 We began work on the new bathroom in 2011 and finished up just about a year ago. There's the spot of the future pantry as we were just beginning to demo.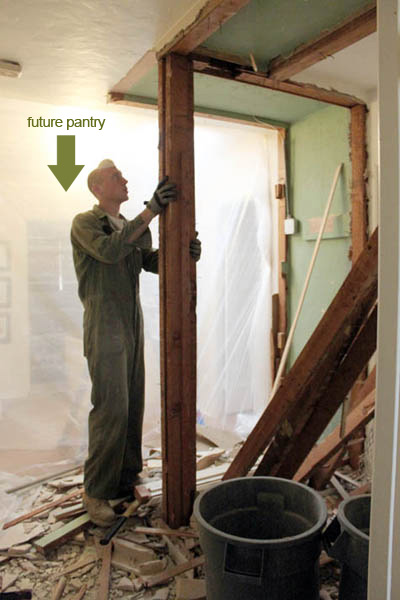 Then slowly the space transformed from a bathroom closet into a kitchen pantry when we decided to move the access door to face the kitchen.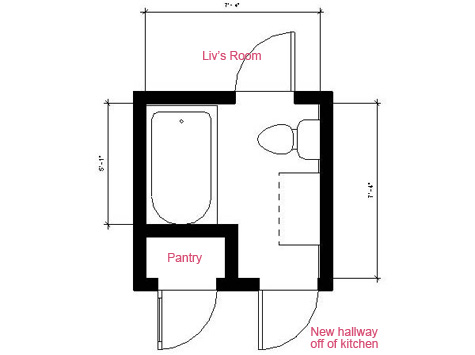 And so a wall was added so that on the opposite side of the closet there was just enough room for a new bathtub/shower.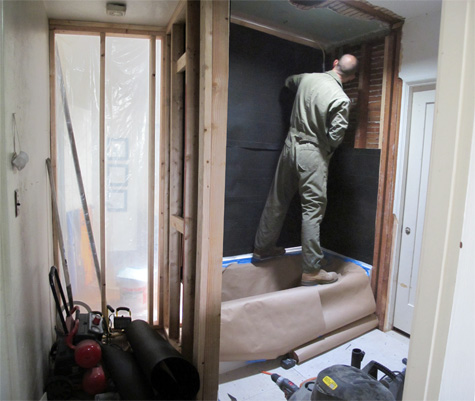 And when I say it was a tight squeeze…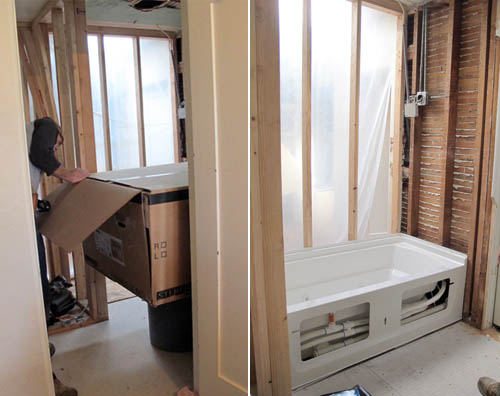 But slowly the pantry began to take shape and visions of super organized shelves with alphabetical labeling and perfectly partitioned baskets and drawers began filling my dreams (ha!).
The pantry has turned into the man cave of the house (not to be confused with the one that's in our garage…). Kevin drew up plans, researched like crazy, tracked down salvaged wood, an industrial pendant, rope lighting (yes, you read that right), a bag of wine corks and even a wine fridge. We bought that guy last spring (even though it is being hooked up for the first time as we speak) and on sale, I believe, pre Europe and all of the big remodeling we finished last fall. We must have been feeling very very giddy about the transformation because I can't believe that squeezed itself into the budget

.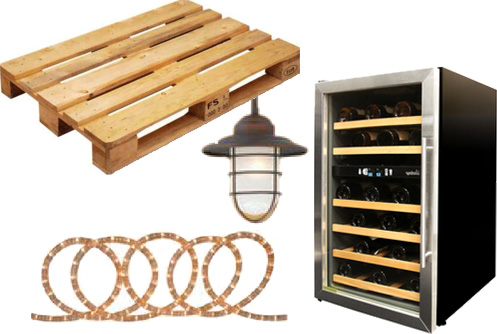 Being the home brewer that he is, I expect the little fridge will more frequently be filled up with local San Diegan and home brew bottles.
And so this: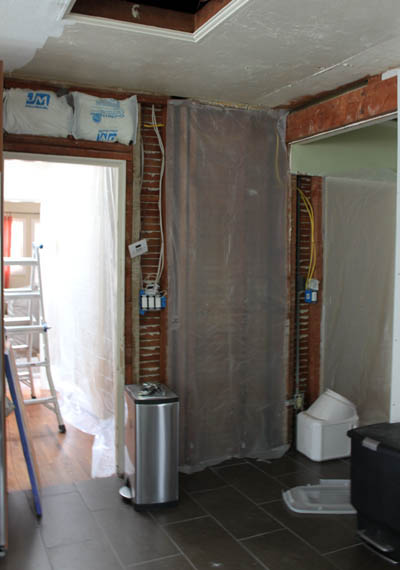 Slowly transformed into this: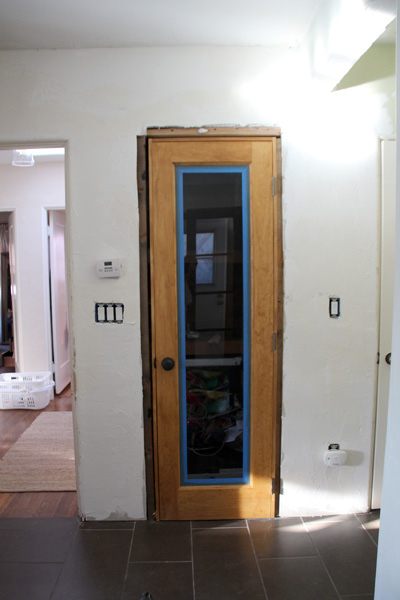 Kevin really wanted a clear door. Now we must be a super organized family – every guest can actually see inside our pantry (gasp).
But we did stain, frame and install the door ourselves to save a little $. And to stain in the exact same color our kitchen sliding doors.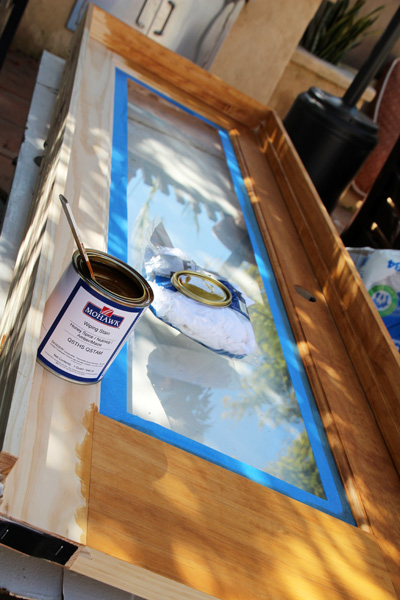 I'm on a mission to update every door knob in our home to oil rubbed bronze. Even back when the rest of the world was on their silver kick I have always loved the look of ORB in old homes and installed a deeply discounted kitchen faucet in our island (maybe that's why it was so discounted?? Just not cool enough at the time). So clean, so simple and looks great with the stain.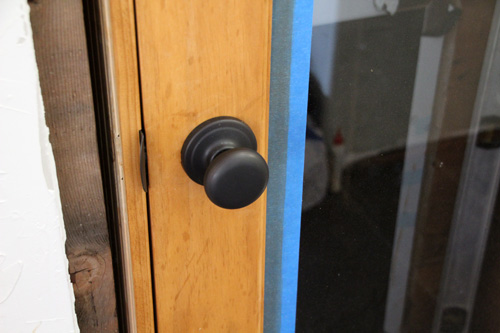 Soon the outside of door was patched and painted a matching Buzz Brown to the rest of the kitchen, and the light switch covers were added back to their appropriate outlets.
And here she is today!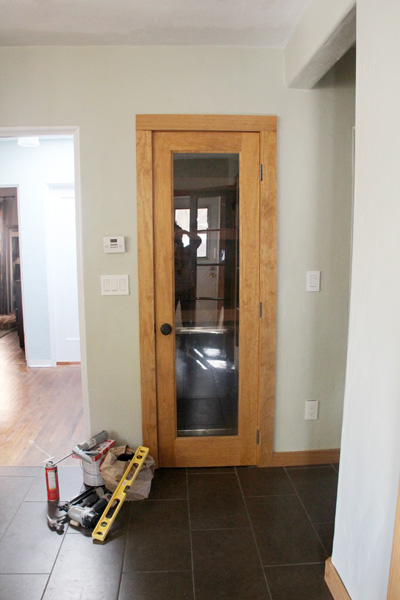 I can't wait to show you the inside as soon as Kevin finishes up his pallet salvaging…
PS We've been on a kitchen kick! All kitchen remodel posts sorted on the blog right here.
PPS Today is my Mom's birthday!! To the greatest mother on the planet, I love you so very much. Happy, happy birthday and we can't wait to celebrate with you!!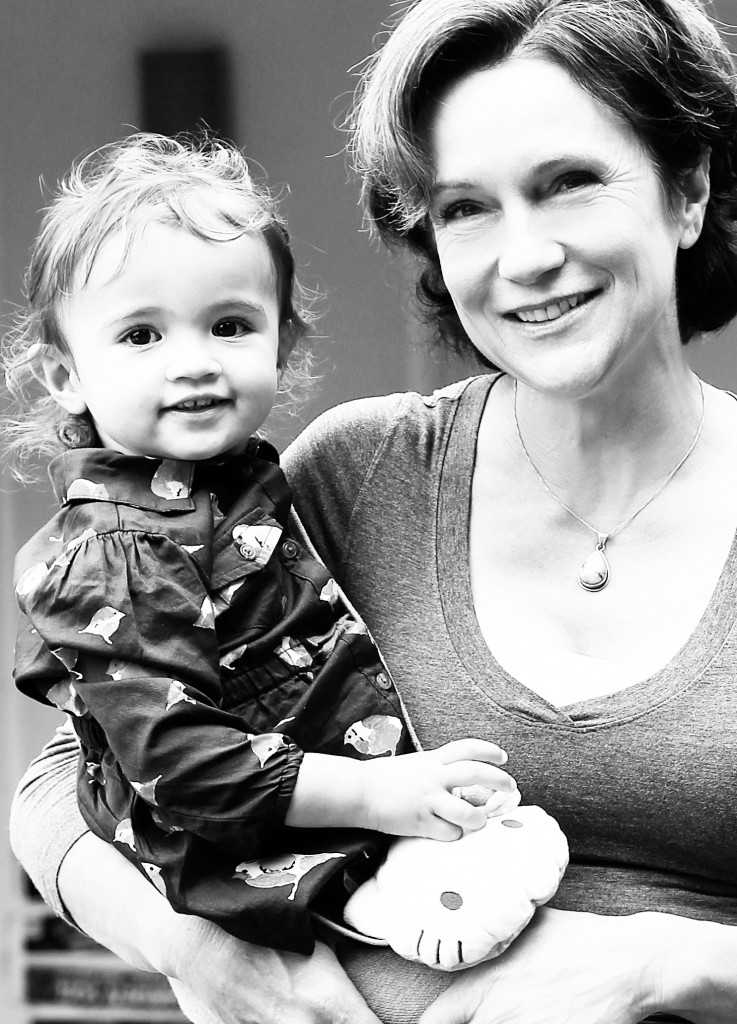 Love you, Mom & Nana!
Tags:
DIY
,
Home
,
Kitchen
Posted in
Construction
,
DIY
,
Home
,
Our Kitchen Remodel
,
Project Lowe's
,
Renovating Adventures
|
5 Comments »