October 23, 2012
When we turned the back den in our home into our kitchen a couple of years ago, one of my favorite parts about the entire remodel was how we opened up the space to our back yard area and into an entertaining zone (pending outdoor yard transformation) with big four pane glass doors at each corner.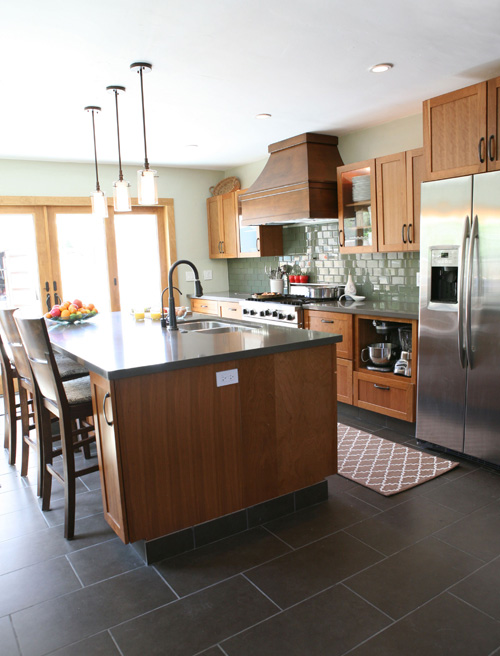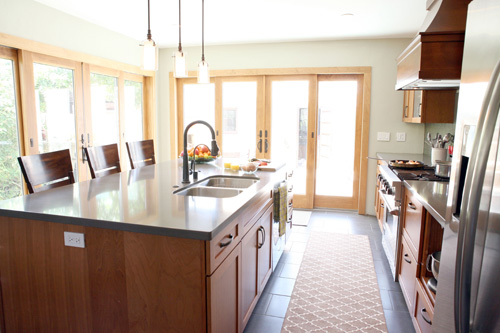 It helped to add plenty of light to a darker space (the floors really add to that), but it also moved all of the attention of the space to the very end of the giant room, where the center of the kitchen sat. The space between the island and my office has always felt like some sort of empty zone that you had to pass through to get to the kitchen, and not really as if it was connected in a functional way. It's an odd space in need of a cozy, textile-filled lift that would help soften and bridge kitchen to rest of house.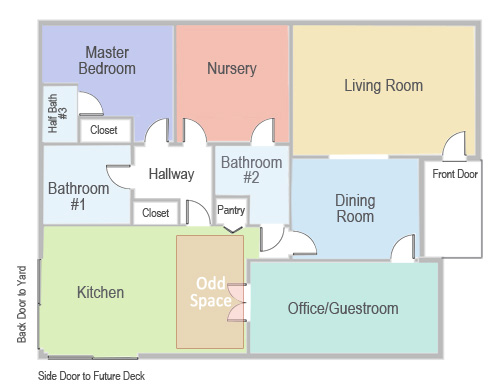 We've played around with the idea of building some sort of additional cabinetry or bar into that open area, but the more and more I think about it, the more and more a breakfast 'nook' is calling my name.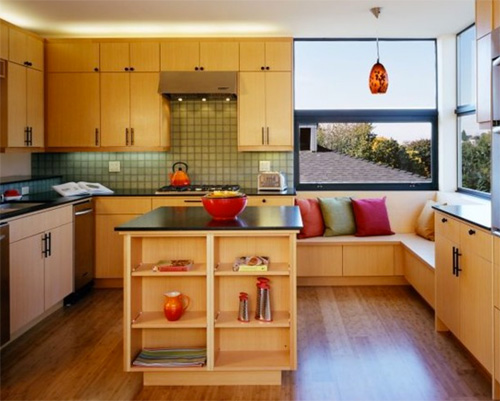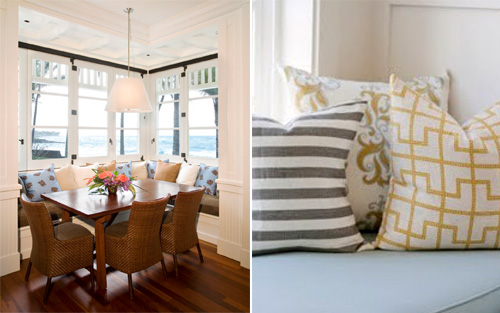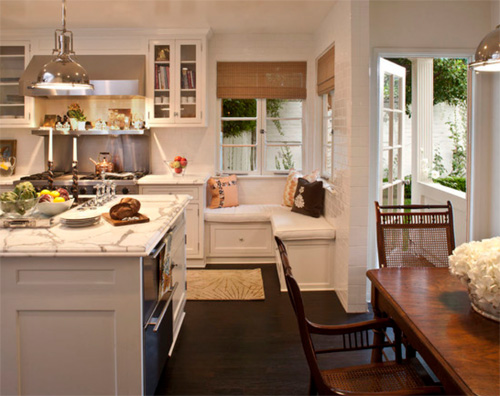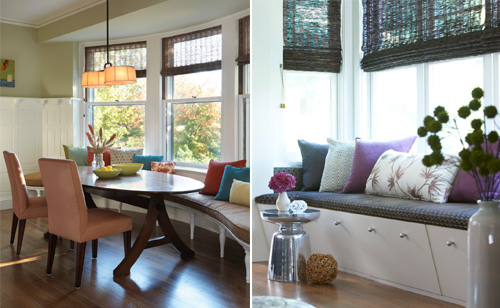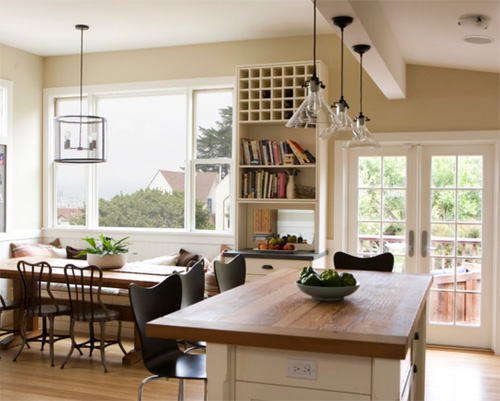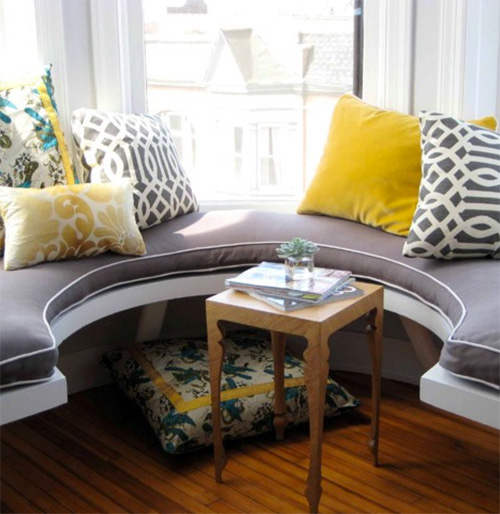 I would like to bring sunny yellow and maybe one contrasting pop of color in in the form of a cheery bench fabric and pillows. As far as the seating goes, I have a couple of ideas on how we can either repurpose a piece of furniture or use the same cabinets that are in the rest of our kitchen, but maybe with the addition of legs to form a bench. With our dining space just off of the kitchen, Kevin is not so sure it's the best use of space, while I can already picture reading the morning paper and drinking coffee curled up. Inspirational photos are always helpful in making these decisions.
We've come a long way since it all began four and a half years ago!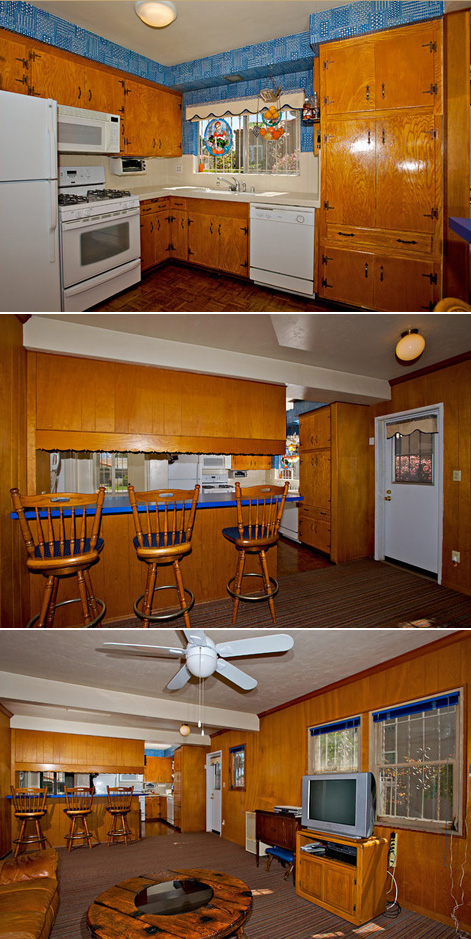 And back to light filled kitchen…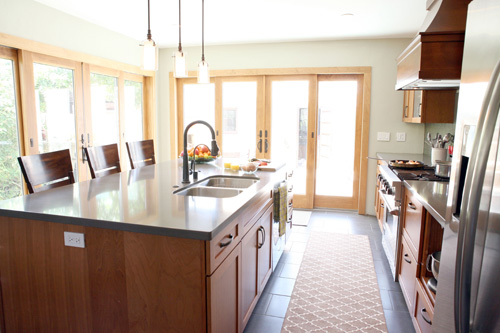 PS You can filter all posts by just our kitchen remodel (and watch the entire room start from scratch) here.
Tags:
Breakfast Nook
,
Decorating
,
Fabric
,
Home
,
Kitchen
Posted in
Home
,
Our Kitchen Remodel
,
Renovating Adventures
|
1 Comment »
July 5, 2012
A while back, I noticed that Jenny of LGN was growing a citrus tree right in her NYC apartment. And I thought it was brilliant. We don't have much room on our property for fruit trees but there's something about producing your own cooking accoutrements (delicious thyme and rosemary and dill) that is so appealing. Lemons fall into that category for me. They can be found in nearly every dish, from fresh fish to a salad dressing to a cold glass of iced tea, and so I decided to give indoor gardening a go. Our little herb garden on the side of the house will produce the seasoning for daily meals, and now perhaps my indoor fruit tree will provide several lemons to give us juice on a semi-regular basis.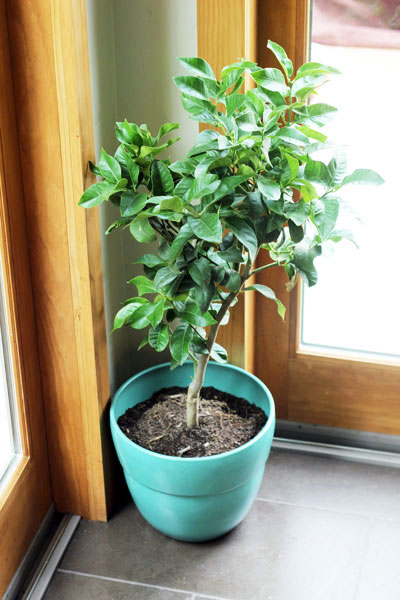 Worst case it becomes a pretty green addition for the kitchen. Of course when he gets too big (though he is a dwarf lemon) I'll have to transplant him into a large pot on the future deck. But for now, my little lemon tree has found the perfect spot to flourish.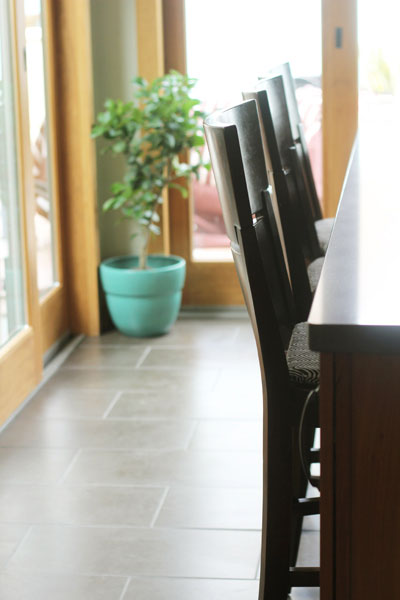 I'll keep you updated on the success of indoor fruit harvesting. Back when I was in grade school I attempted this with a tomato plant and produced little cherry tomatoes year round by placing it at the corner of two bright windows. Will lemons act the same I wonder?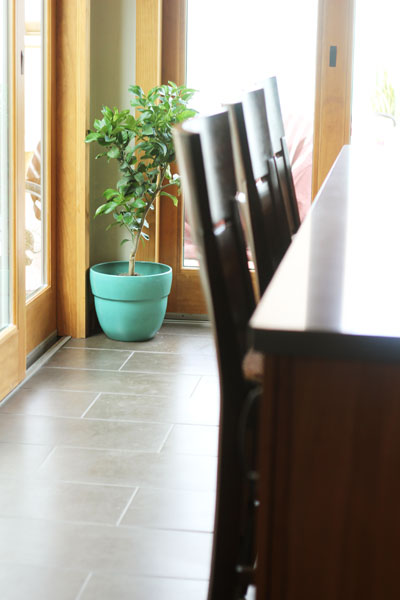 I have become mildly obsessed with houseplants of late. Trees for various rooms and beautiful crawling vines for the tops of bookshelves. The added greenery and life brings energy to a space – an organic vibe that I am really drawn to at the moment.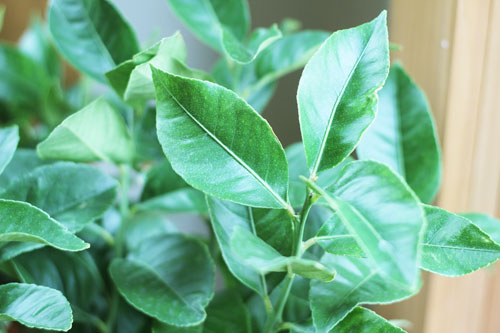 This lemon tree is just what the kitchen ordered. I chose a dwarf Eureka lemon, mostly because I thought it was much prettier than the Meyer up close (which was my original plan) and would be a tad more attractive as an indoor varietal.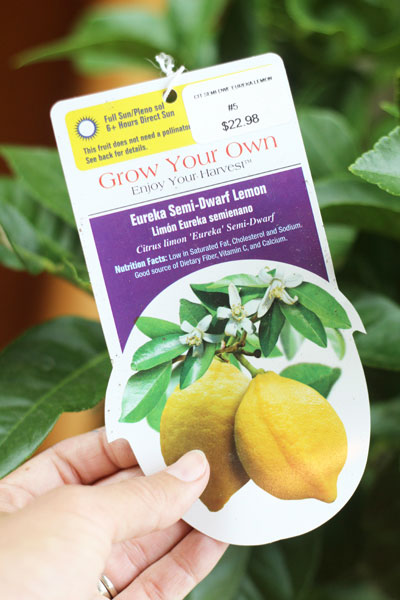 Here's what I've learned about the two common types: Eureka's are "true" lemons while Meyer's are actually a hybrid, whose origin is unknown but is believed to be a cross between a lemon and a mandarin orange or orange. Eureka's have fewer seeds but their lemons are a tad more acidic. Eureka's blossom with full white blooms in mid spring and offer a winter harvesting period which lengthens as the tree ages. I should expect fruit now (the plant is roughly 2-3 years old) but it will continue to get fuller as it gets older. I can keep him a dwarf with regular pruning and should be able to easily control the span and size, though it definitely will not need a new pot for at least a year. Should I attempt this again in the future I'll probably seek out true dwarf rather than a semi-dwarf, but I didn't really learn the difference until Googling post-purchase.

I've placed him next to the sliding glass doors so that on especially bright days I can pull him outside and into direct (rather than window-muted) sun.
Here's a reminder of our kitchen remodel so you can see the amount of light that this space gets on a regular basis: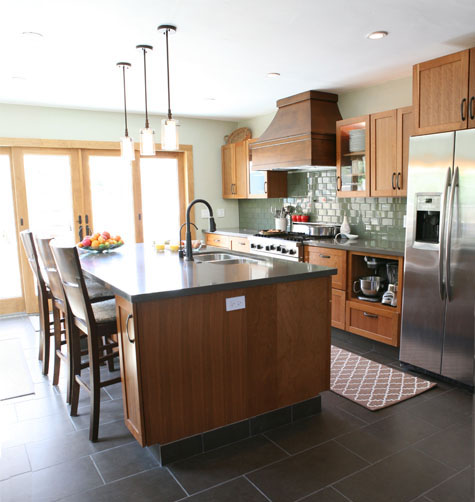 I love love my turquoise pot (a find from Lowe's) and I might fill in that showing dirt with a thin layer of lime green moss. Sort of like this example from Martha.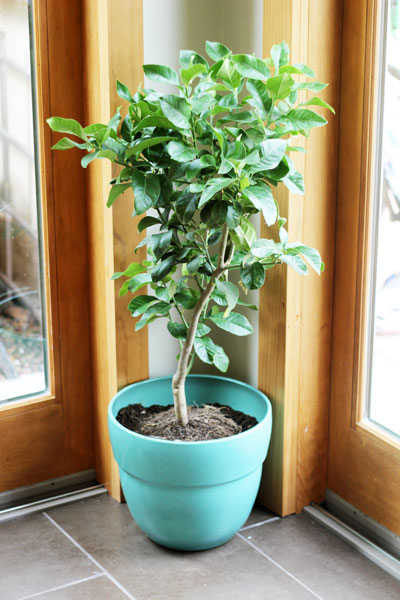 I've been watching closely for several weeks now at the brand new green leafy clumps that are stretching out of the branches, and just as we were leaving town this week I noticed my first little bud. The sign of new life. And it could not have peeked out at me at a better time.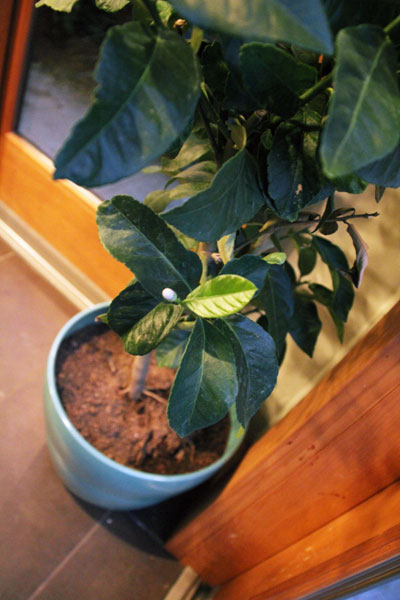 To be continued when the first little green-yellow ball takes shape… more tips on indoor citrus gardening from Jenny here, she highly recommends Calamondin orange trees and shares plenty of pretty inspiration.
Tags:
Decorating
,
Green
,
Home
,
Kitchen
,
Yellow
Posted in
Gardening
,
Home
,
Our Kitchen Remodel
,
Renovating Adventures
|
11 Comments »
May 8, 2012
Have you seen those adorable chalkboard decals floating round the web? I was initially inspired by this one, but decided that it was a bit ornate and pricey for our space. So instead I ordered a long sheet of chalkboard vinyl off of Amazon and made my own.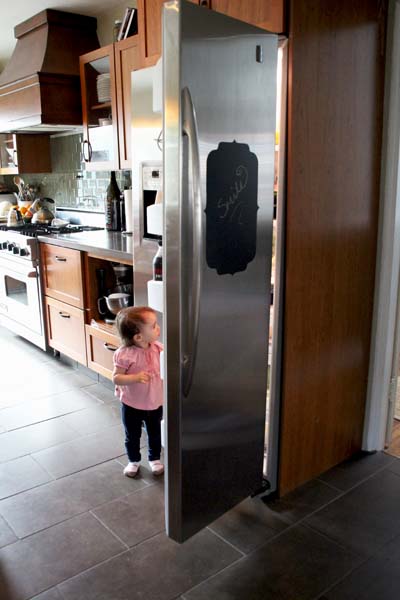 Our fridge is stainless steel so it doesn't hold on to magnets for lists or invites or pictures that we want to hang. It's usually nice to keep it clutter free (and we actually have a little white board for proudly displaying invites, cards and Liv drawings in the corner of the kitchen) but I thought a memo pad for the fridge would be nice.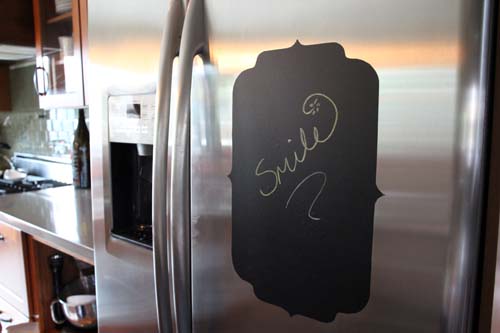 It's proved to be a pretty little addition to the space, too!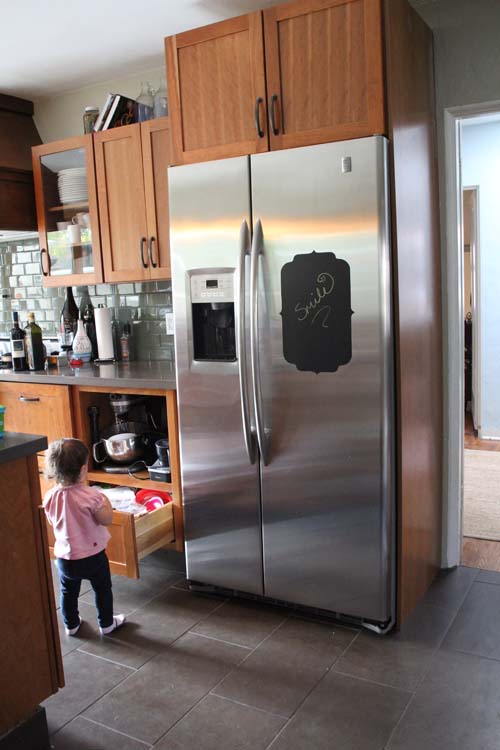 ************************************************************************
DIY Chalkboard Decal
m
To create the chalkboard memo pad, I designed a little swirly edged rectangular shape in Adobe Illustrator and printed it out on 16×20″ paper (here's a link to download my high res version). The graphic ended up being about 12×18″ to accommodate the size of the vinyl.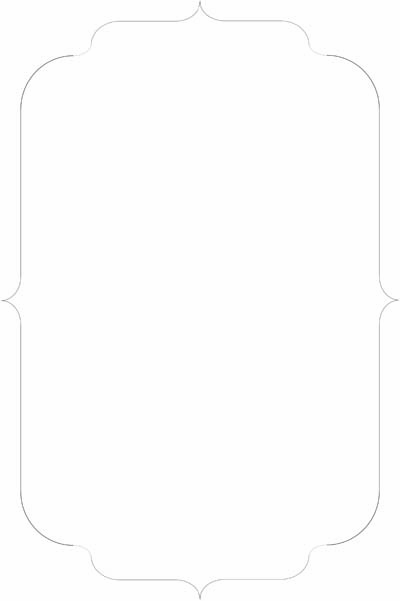 Then I cut the above out and traced it onto the back of my vinyl paper.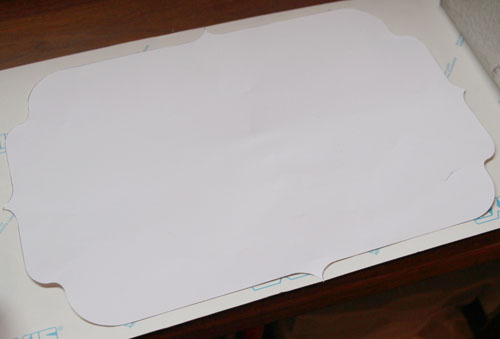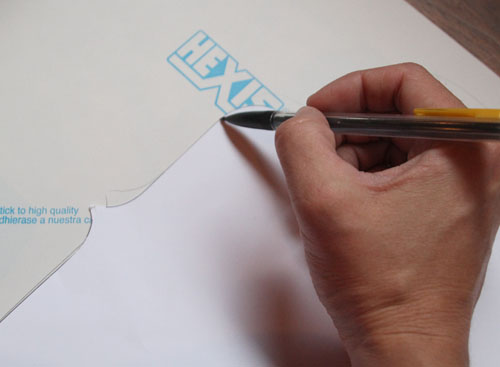 And then carefully cut out my vinyl decal.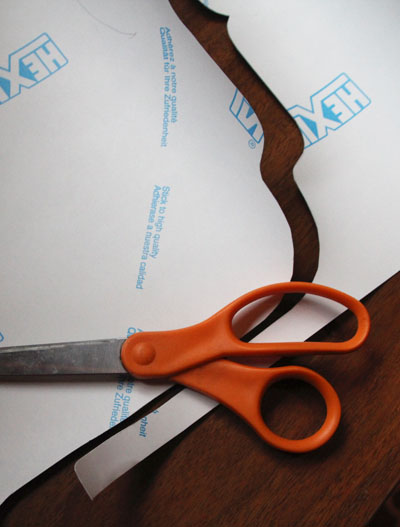 Easy peasy.
Attaching to the fridge took a little bit of time and a lot of smoothing (my Driver's License worked great for slowly smoothing out bubbles as I applied the decal). I used the ice and water fridge door insert as my guideline for where the decal should sit on the door. This stuff is completely repositionable! I must have pulled it off and reapplied it 5 or 6 times before settling on the final placement.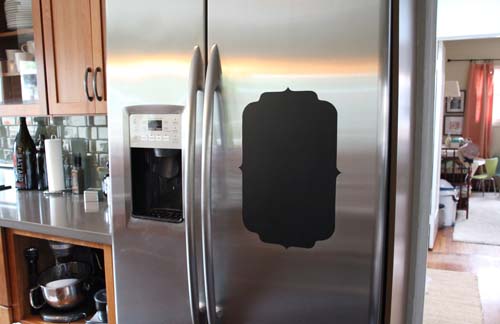 Will the vinyl decal leave a mark when it's removed? I love my fridge too much not to double triple check! The packaging said that absolutely no residue would be left behind, but I tested anyhow.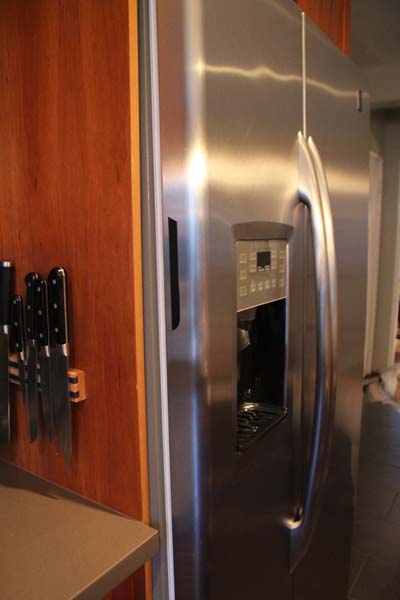 I cut a little strip of the decal and left it on the side of the fridge for a couple of hours and no residue – and then a second strip for over two weeks! with no residue to be found when I gently pulled the decal up.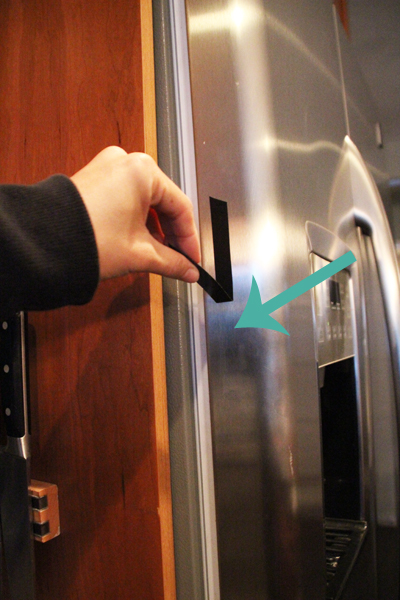 There was a faint outline of where the decal had been placed, but I think it was a little bit of moisture build up because a dry cloth was all it took to gently wipe it away.
************************************************************************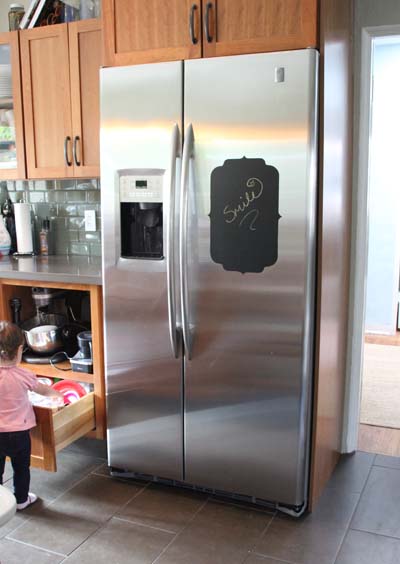 Now the memo pad is available for little grocery messages or inspirational reminders. The easiest way to memorize a helpful quote or saying is to see it everyday, after all! I think that that probably becomes especially useful as kids get older. But, if we change our minds long before Liv can read, I can rest assured that this baby should come off with no problems and no damage, at least as far as our particular fridge is concerned.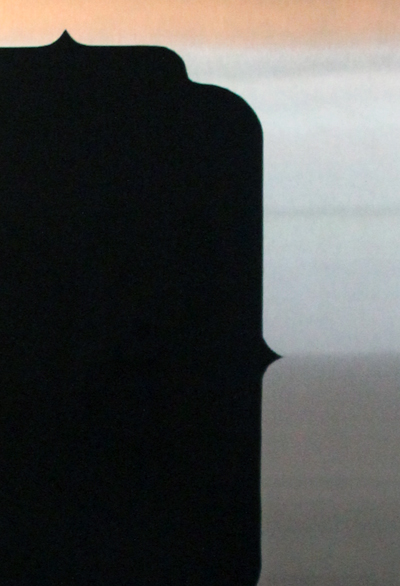 Kind of adds a little something, don't you think? A little curvy art to a big grey box has a nice look to it.
No eraser needed if I want to remove the message, just a soft cloth and a little water and it's completely gone. Not a trace of chalk left behind. In that sense it's not really chalkboard material – no opportunity to screechingly scratch nails (thank goodness), the decal is actually more of a vinyl feel.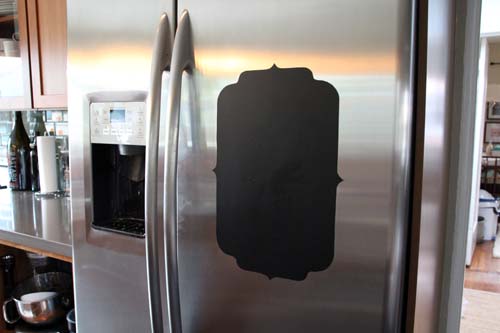 Now both chalkboards are in full use at the house! Liv loves her kid-friendly height version, and my list-making side loves my kitchen version.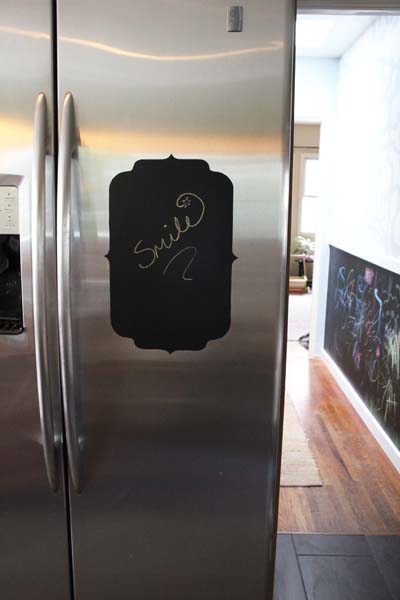 If you're not interested in making your own, here are some great Etsy options, too! There are so many great options out there.
But now back to the refrigerator, which Liv finds incredibly fascinating. So many good things come in and out of it all day – I wonder what sort of magical box she must think it is.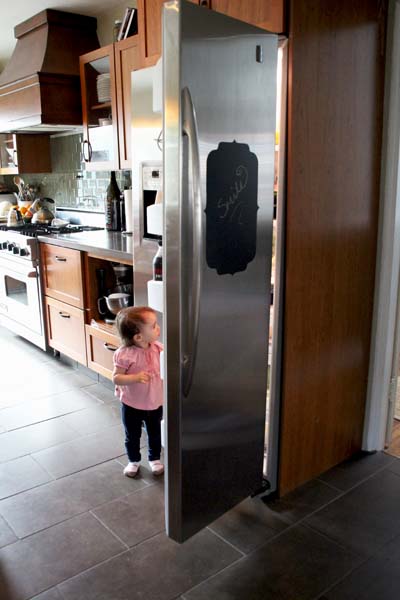 All kitchen makeover posts can be found right here.
Tags:
Accessories
,
Crafty Solutions
,
Decorating
,
DIY
,
Home
,
Tutorial
Posted in
Crafty Solutions
,
DIY
,
Favorites
,
Home
,
Our Kitchen Remodel
,
Renovating Adventures
|
10 Comments »