April 19, 2011
Remember when our living room fireplace looked something like this? the mantel was in need of a makeover.
One day I'd like to either knock down the brick to expose an original (fingers crossed) fireplace or fill in the brick with plaster to create a Spanish-style fireplace to match the house. Until then though, my first thought was to create a solid beam look by fitting a wooden box to the top of the current mantel. Kind of like the last image in this post.
So… I took my ideas and layout to my local hardware store that has a milling department and we created a mitered edge box that was just what I had in mind. But it came back looking like this.
And now, we're finally back on track!
First up is staining. Since different types of wood will each have their own unique look with different types and colors of stain, I flipped the wood mantel over and tried out three different stains. The perfect shade? We chose the red mahogany in the center.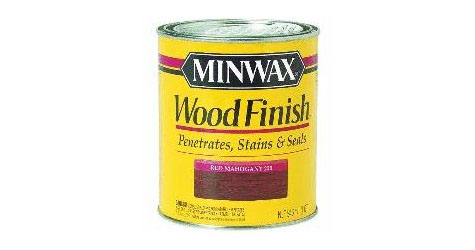 If our mantel had been cut from a softwood (uneven wood grain or blotchy patterns indicate that wood might be softwood), I would add a pre-stain wood conditioner to prevent an uneven covering (the conditioner seeps into the wood to create a consistent surface). Back when we were choosing materials originally, my carpenter friend recommended a vertical grain cut, this means that the growth rings run at 45 degrees and that the wood was quarter-sawn at the lumberyard – it increases the hardness by 20%, is a bit more expensive, but it looks beautiful.
Staining step-by-step:
1. Stir stain well.
2. With rubber gloves on, I used a brush (you can also use a sponge or old rag) to cover the bottom of the mantel. Applying stain to the bottom first means you don't have to worry about dripping while the mantel is upside down! Or I should say the stain will still drip, but you'll be covering it up when you stain the front – and cover it up quick, that dripping stain dries immediately. Next up is the top of the mantel and then finally the front, making sure to brush in one continuous movement in the same direction of the grain.
3. I then let the first coat of stain dry and reapplied several times.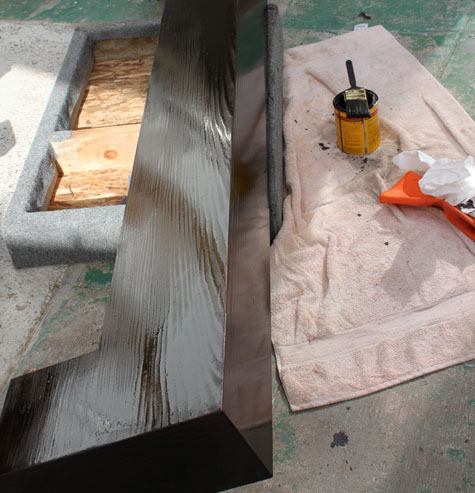 4. It's a good idea to apply a top coat of polyurethane to seal in the mantel (and off gasses) and to protect it from water rings from future vases, wine glasses, etc.
5. The entire mantel stayed outside for 3-4 days to prevent any off gassing in the house.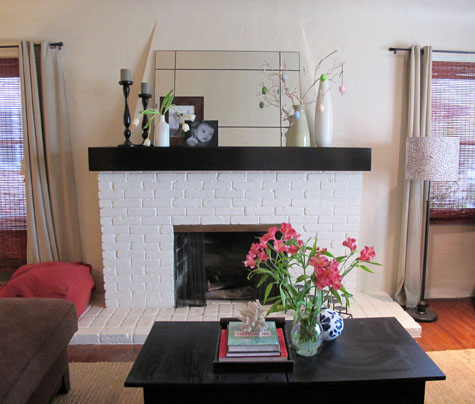 Here she is, all dressed for Easter! It makes such a difference in the room, I love it.
The extent of our Easter decorations this year is fresh flowers and beautiful hand blown eggs decorated by my Mom when she was my age.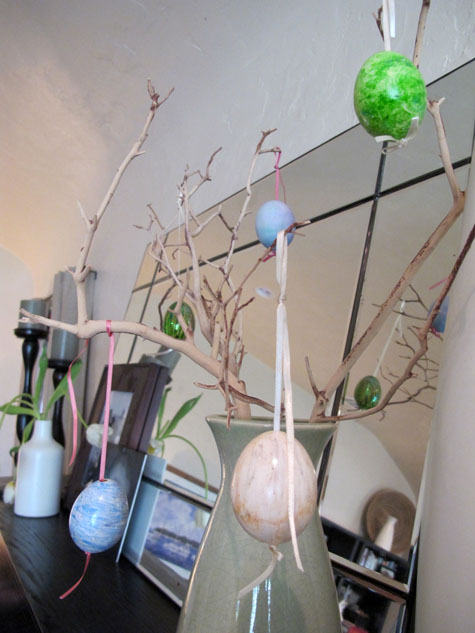 What a neat gift to pass down through the generations, right?
My dad recently sent us this picture that he took of Liv when she was just two weeks old, he had it mounted on photo board – I love her little expression and her little scrunched forehead. So alert when she was so young!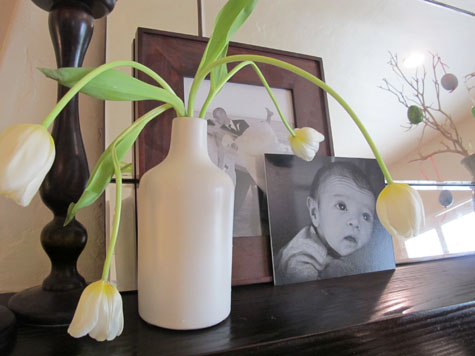 And now the living room has a brand new look!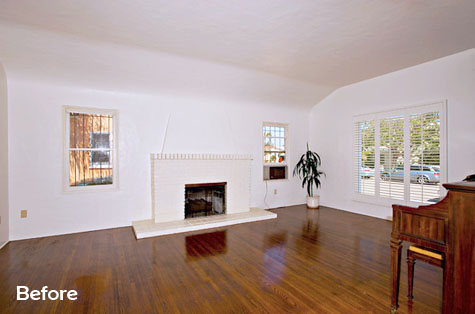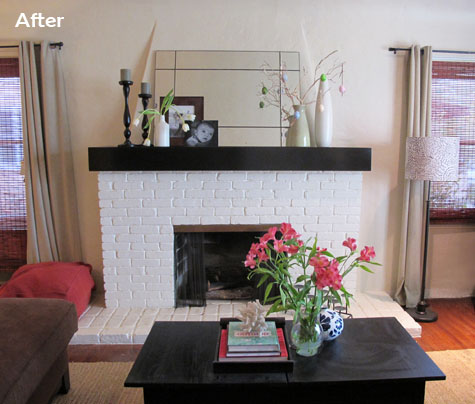 More living room posts: mantel progress, updating a fireplace mantel part 1, bookshelf styling tips, decorating in layers: stage 1, inspiration boards, picking the perfect couch, custom lampshade, coffee table-to-ottoman, and the'before' photos.
Tags:
Before & After
,
Construction
,
Crafty Solutions
,
DIY
,
Home
,
Living Room
,
Tutorial
Posted in
Home
,
Our Living Room
,
Renovating Adventures
|
14 Comments »
March 17, 2011
When we first moved into our home we fell in love with the large living room space and the beautiful arched ceilings.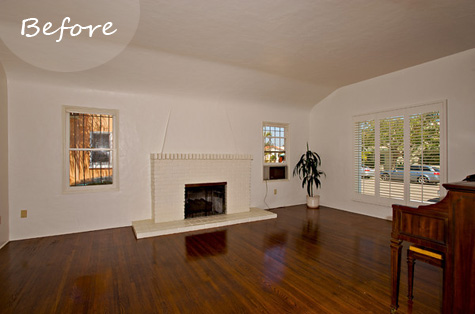 We were also thrilled to finally have a fireplace! A fireplace of our very own.
High on our priority list was tearing down the white brick to reveal (hopefully) the original Spanish-style fireplace within. Well… two and a half years later that big fireplace reveal has moved quite a ways down the list.
The mantel decor has seen a few changes over the past two years, but here's a look at in-progress photos from 2010: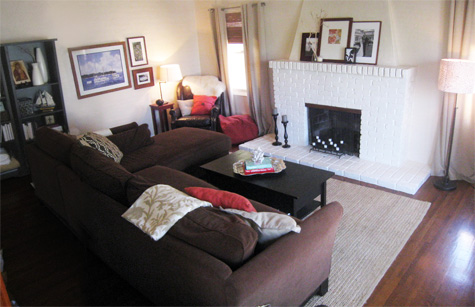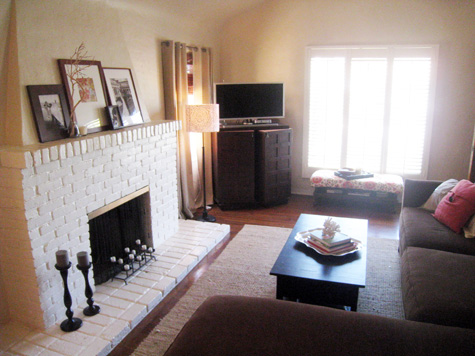 Remember the big mirror or photo collage debate? Here's a shot of the mirror option.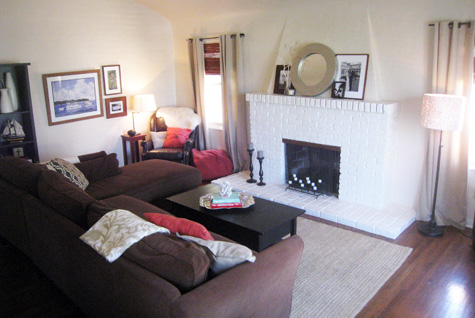 So while the fireplace is now low on the re-do totem pole, I'd still love to give it a quick, attractive update before it gets its big makeover somewhere down the line.
My initial thought was a simple, sleek beam that would grace the top of the fireplace and sit like one large block right on the existing brick mantel. Something like these photos: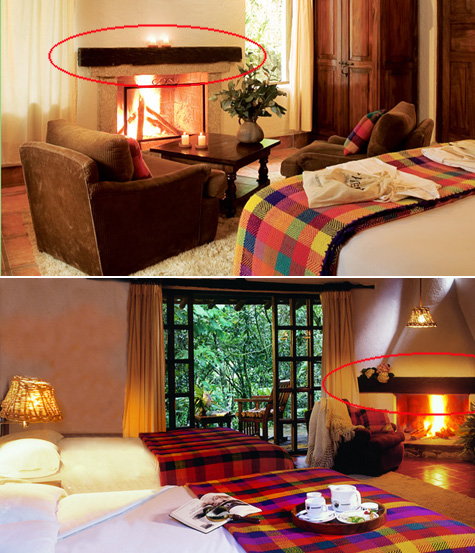 It might even function like a hollow wooden box that sits on the top row of bricks with all of the edges mitered to create a seamless look. Easy, right? A little staining and a new mantel? We'll see. I'm off to share my idea with a carpenter friend to see what the options (and cost) might be.
More living room posts: bookshelf styling tips, decorating in layers: stage 1, inspiration boards, picking the perfect couch, custom lampshade, coffee table-to-ottoman, and the 'before' photos.
Finally, I'm headed to New Orleans this weekend! Any suggestions?
Tags:
Construction
,
Crafty Solutions
,
DIY
,
Living Room
Posted in
Home
,
Our Living Room
,
Renovating Adventures
|
5 Comments »
October 20, 2010
As mentioned earlier in the week, we made it to the pumpkin patch on Sunday! I haven't been to a pumpkin patch (pumpkins on the vines and all) for years… but now that our little group of friends has a group of little ones, everyone was excited to take photos and enjoy the fall scenery.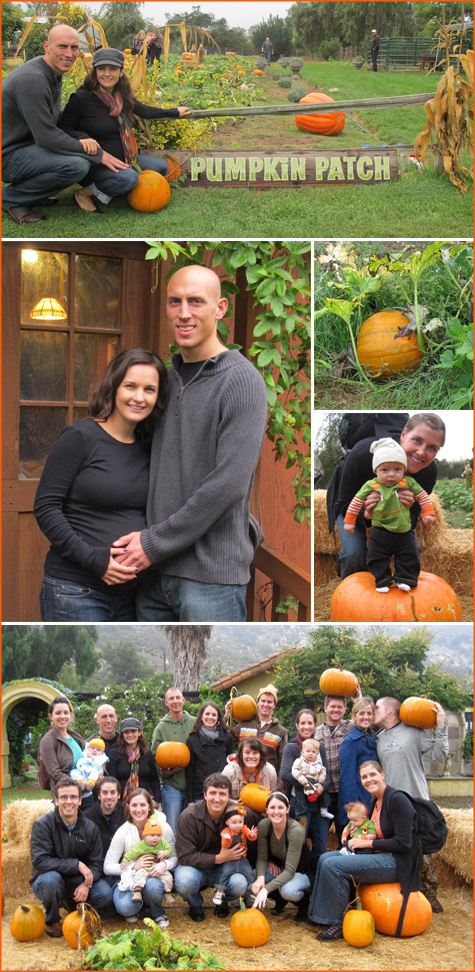 The farm was beautiful and full of photo opportunities… my favorite is Kevin attempting to empathize with my growing belly (bottom right photo). I told him he should carry the weight of the pumpkin under his shirt for the rest of the day if he really wanted to understand!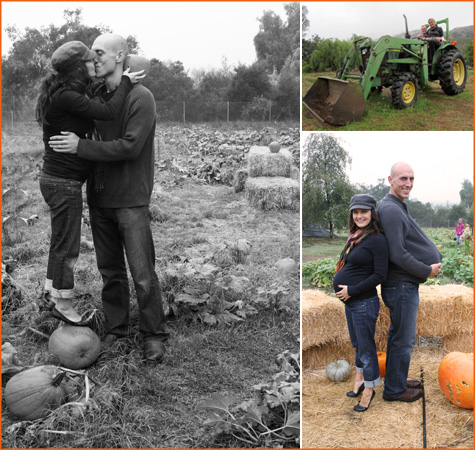 After plenty of delicious cider and pumpkin chili at a friend's house, it was time to get back to the 'spooky' mantel.
We throw an annual Halloween party and decorating the house is a fun part of the preparation process – the mantel being a central feature! This year's mantel was full of garage sale finds from Saturday's hunt, a few new store additions and plenty from last year's inventory.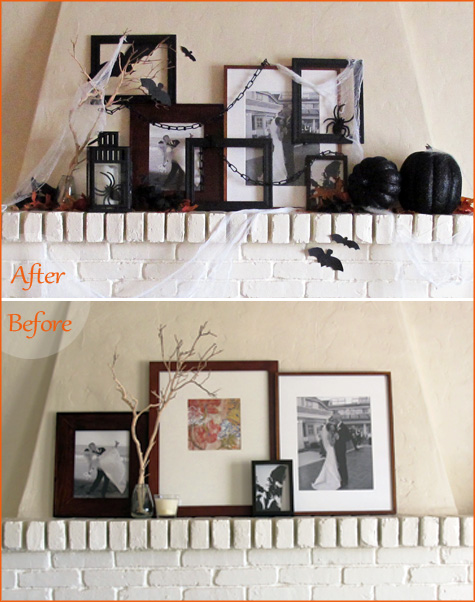 I was really hoping to create something glittery for the mantel and was excited to find already-glittered pumpkins on sale at Target. The 'decor' aisle of grocery stores is usually full of great deals just about this time of the October month and I scooped up two plastic skulls, rubber spiders and cheese cloth.
The garage sale finds and plastic skulls received a coat of flat black spray paint (including chain links – haggled to have those thrown in for free – which were inspired by Centsational Girl's haunted mantel):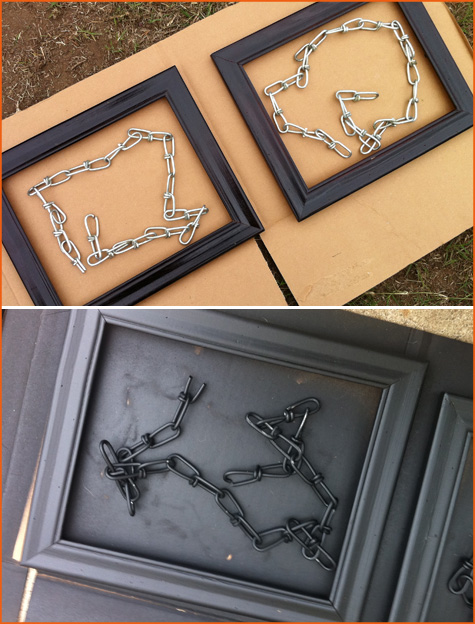 Black & white photos stayed on the mantel while the colorful prints were cleared and replaced with the black empty picture frames. Cut out bats and plastic spiders from last year's decorating made the perfect spooky fillers for the frames while cheese cloth and spider webbing draped the entire fireplace for an aged look.
An orange leaf garland cut into strips (used for fall decor too) added a bit of color amidst black flowers (diy dead centerpieces from last year) at the base of the frames. My Ikea black lantern fit right in.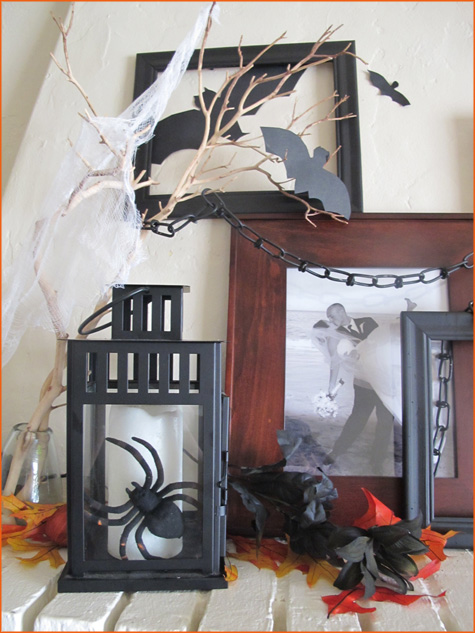 The rest of the home received a few frightful updates as well. I resurrected last year's construction paper cut outs and mixed in a few new friends made from vellum for picture frame pop outs (a great project for kids!). My husband wondered why the ghosts had hands… but I think think they look a bit friendlier the most Casper-like they are

: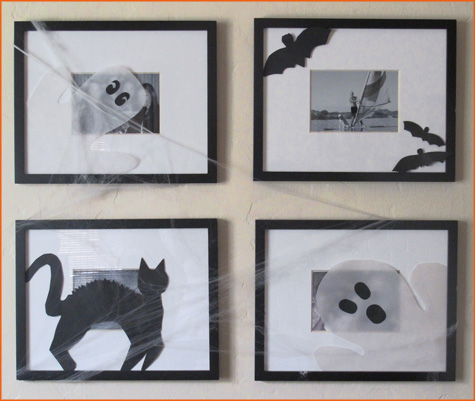 The bathroom apothecary jar collection was spruced up with plastic painted skulls, more cheese cloth, rubber spiders and my favorite spray painted faux florals: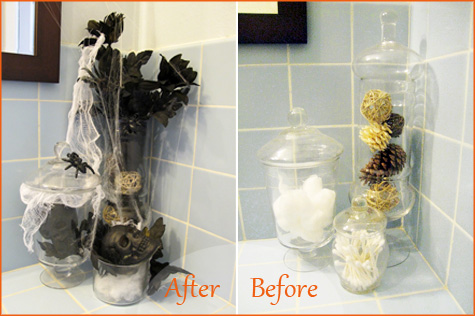 And that's the Halloween update! A few fun additions to a growing box of seasonal goodies… and it all topped out at just about $25 (including those great glitter pumpkins!). Can't wait for the party in just a week and a half… I guess it's about time to get planning. Here's a look at the event from last year.
Tags:
Crafty Solutions
,
Decorating
,
DIY
,
Halloween
,
Home
,
Parties & Entertaining
Posted in
Crafty Solutions
,
Home
,
Our Living Room
,
Renovating Adventures
|
8 Comments »