August 8, 2012
…okay, so the garage isn't quite finished in the back, and there are still a ton of small spots to fix up… But I couldn't wait to share the results of our new color on the house!
It's really the perfect color for this home and Kevin and I are so happy with our choice. Over the top happy!
It might not read the same on all computers, but picture a slightly smoky tan that is not quite a true beige (in the yellow ways that beiges can go) but a tan with grayer undertones and one that really highlights the true Spanish charm of this bungalow. And one that goes so, so well with those red, umber saltillo tiles.
Both of the houses on either side of us are a little bolder in color choice (brown on the left, a light orange on the right), so it was important the the home still keep that light, neutral, casual color between the two (both are beautiful – we lucked out with a set of neighbors that are invested in some curb appeal as well).
What's amazed me most about the transformation of white to tan is how much the home appears to have grown up! It's hard to explain, but I drive home now and think 'wow! check out that mature, sophisticated house. That's my house!' If a you could compare a paint color to a a clock, our home went from a teenager (not that there's anything wrong with being a teenager) to a classy, polished Spanish overnight (or over a month?).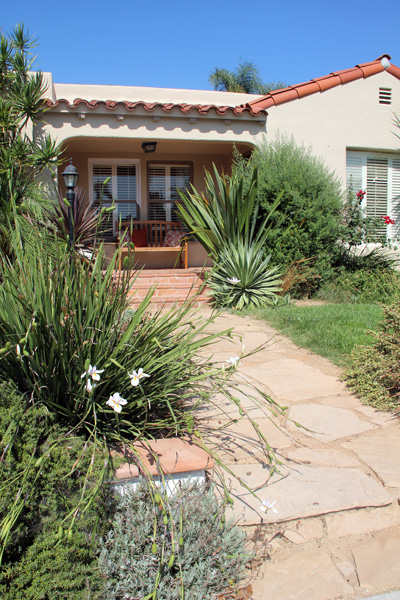 Bah, I'm trying not to go over the top here but seriously we're pretty stoked on how it looks in person.
Yes those windows are a bit mismatched

. Still haven't decided on a trim color… more on that soon.
Here's a before and after, a quick reminder of the white coating that adorned her prior to very recently: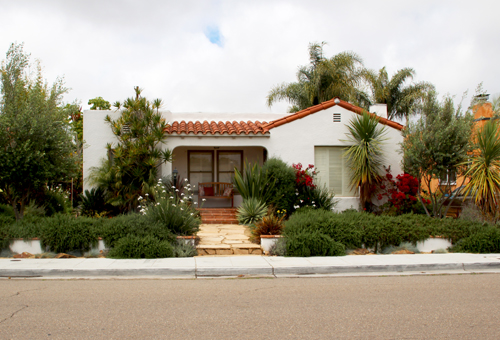 And today!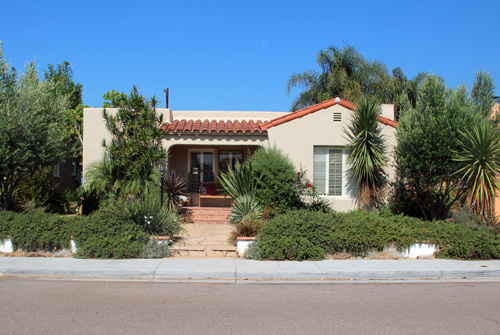 If we really want a blast from the past, here's a reminder of the house the year we moved in: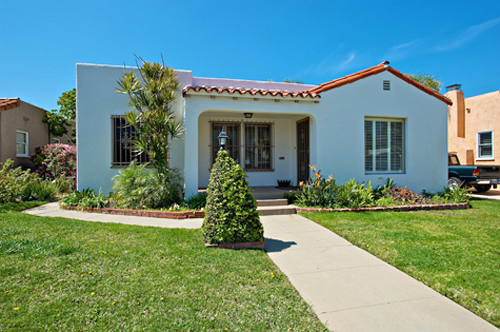 Tan suites her well, don't you think? I could not be happier with the Dusty Trail color we chose from Olympic. Choosing paint can be so risky! And even if you love a 5×5′ swatch on the side of your house, it's quite the adventure covering your entire home in it, fingers crossed while you anxiously await how it will look as various light from various angles hits it, how the different times of the day result in different shades…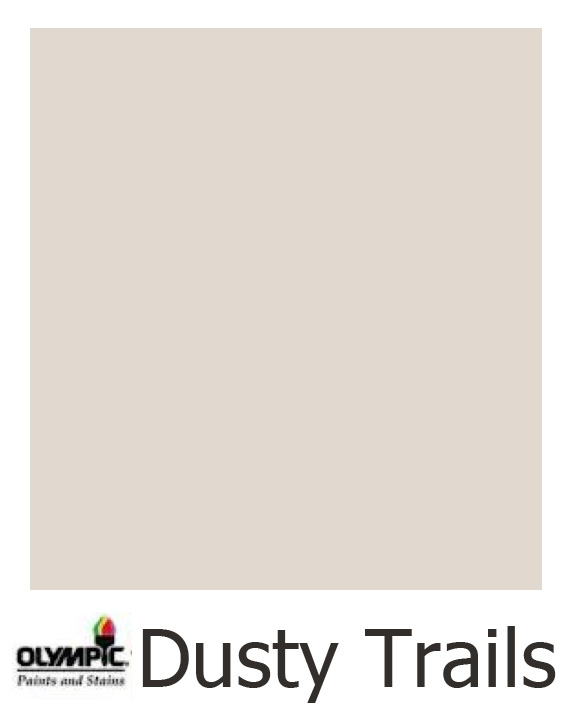 Now that it's up I'm sure we could not have chosen a better tan. As I mentioned above, in person it's sort of a husky, grey/green tan – no under tones of yellow or orange or pink.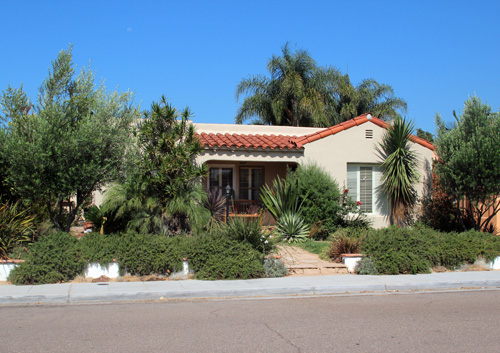 It's beautiful in full sun, but it's equally alluring at dusk when it most reminds me of a new and improved house. I will have to take a setting sun shot so you don't have to just take my word for it… but it's very pretty.
What was a really helpful tool in helping us with this process was this online ColorClix tool that Olympic suggested we use when we first began our partnership with them earlier this summer.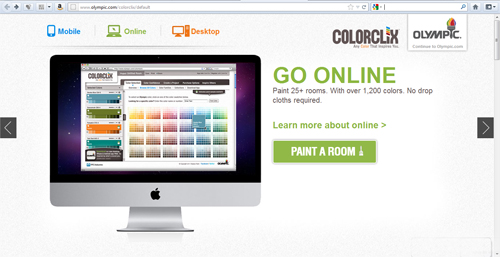 Which led us to uploading a photo of our exterior and playing with different shades. Here's Dusty Trails (and here's a few others that we considered):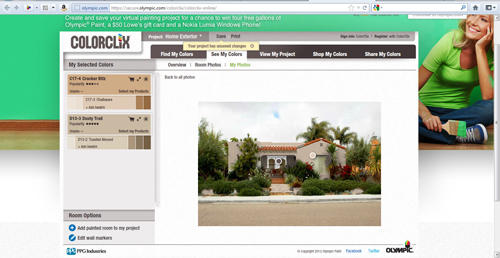 Maybe a little bit darker than how the house actually turned out, but pretty darn close, right?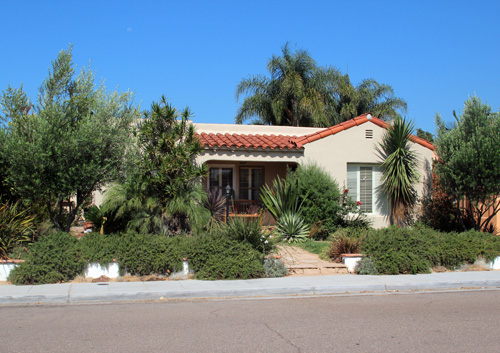 Ignore that bright white retaining wall! That's on the to-do this week.
I believe the tool is at peak performance for playing with the color of indoor rooms, so it's definitely worth a trial if you have any indoor painting projects coming up (and it's so much faster than photoshopping! for those of us that try a bazillion colors by using my favorite photo editing tool).
Here's that upgrade one more time:
I wish you could all see it in person at this moment, I know you would love it even if you weren't a full blown Spanish home type person (it's a Southern California thing, I think).
But I would only ask that you ignore that trim. We're not there yet, and we're very. very. slow decision makers. We know that both the house and the trim colors will make a huge difference, and that we won't be changing them for a very long time! So we are patiently painting and repainting those two window frames there in the front (just as we did with big ol' swatches on the side of the house) until we either A. happily agree on a color or B. let the mutual patience run out and make a swift decision. We have four color ideas left in the running.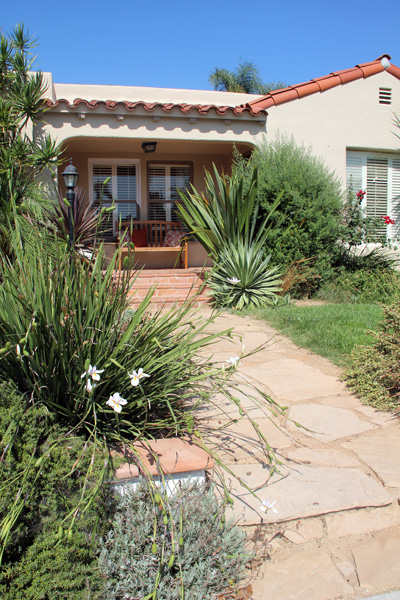 And you can always find more yard-related posts right here!
PS We worked with Lowe's, Olympic and Graco on our summer curb appeal project and we plan on sharing all of our feedback on the application of paint, recommended exterior types and suggested tools very soon. 
Tags:
Home
,
Paint
Posted in
Curb Appeal
,
Home
,
Our Yard
,
Project Lowe's
,
Renovating Adventures
|
3 Comments »
July 20, 2012
It is officially curb appeal month at the Spenlas. Make that season. I'm sure all of these projects will take us at least the rest of the beautiful summer season

.
Kevin is traveling for a crazy project that he is undertaking (more details soon… crazy is the only word I have for it right now) but before he left we worked a bit more on the front of the house. This particular project is one that he finished up a while ago but that I haven't had a chance to mention here on the blog just yet, and being Curb Appeal month it fits right in!

Our front yard has always been high on our priority list. When we first moved in the very first task we took on was transforming the entrance and street level view of our home into something warm, inviting and well-loved. It's a great way to meet new neighbors (nothing like working outdoors to meet dog walkers, bikers and stroller mommas), too!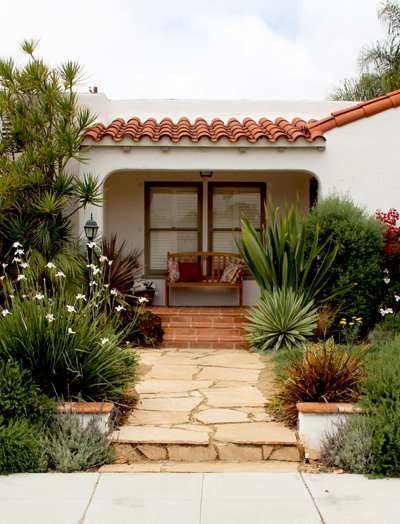 The most recent updated may not appear to be all that exciting… but it has made a world of a difference when you're walking up and down those front steps everyday. Kev's new weekend project was to grout and seal the saltillo tile on our front porch.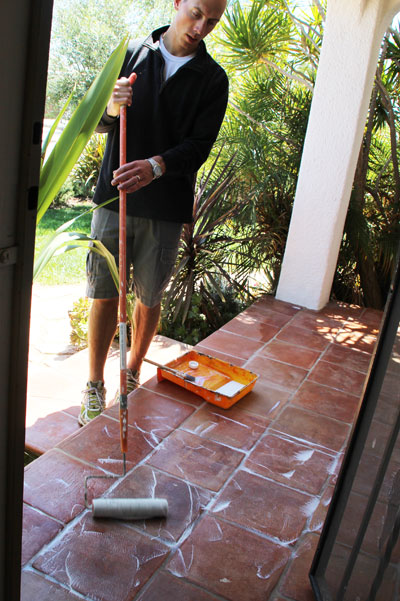 I know, I know, exciting stuff. But finishing a project is always a plus (especially when it was started four years ago) and a grouted front porch landing has made all of the difference! Sometimes it really is that last 10%.
This project involved renting a power washer to really clean the tile and clear out any debris from the cracks. Next a wet gloss sealer was applied directly to the tile, a roller brush is helpful for application. Grout is prepped and smoothed over all adjoining tile spaces and any excess is wiped away with a wet rag. Last but not least, another coat of wet gloss sealer after the grout has cured.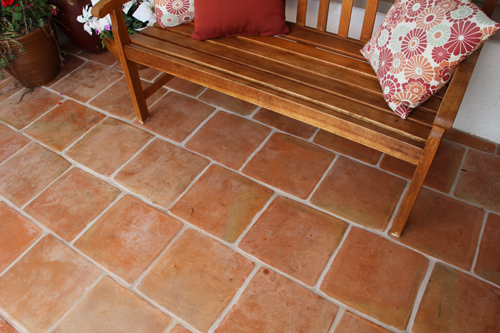 I was not on top of it and completely forgot to take pictures of the naked cement porch and the porch with just tiles. But here's another shot of the house a couple of months before we bought it and you can kind of see the bare brown slab that originally occupied this space.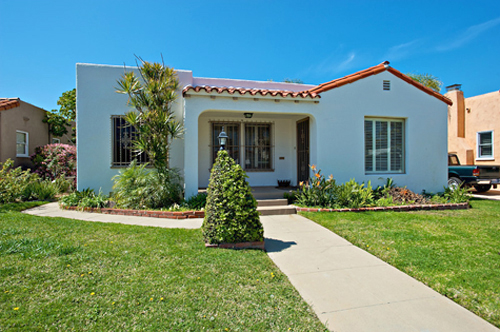 The beauty about saltillo tile (which is very traditional Spanish and will look great with the new paint color! on our little Spanish bungalow) is that it looks better and better with age. It's supposed to be weathered, a bit messy, not-so-perfect.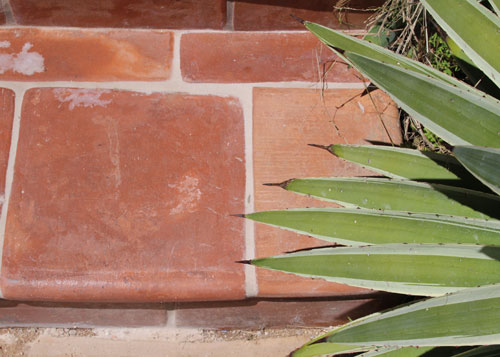 All great features for a front porch that will see plenty of wear and tear.
While grouting the front, Kevin went ahead and tackled the back patio as well. Here's a shot post-grout, pre-wiping down the tiles of excess wet grout shot.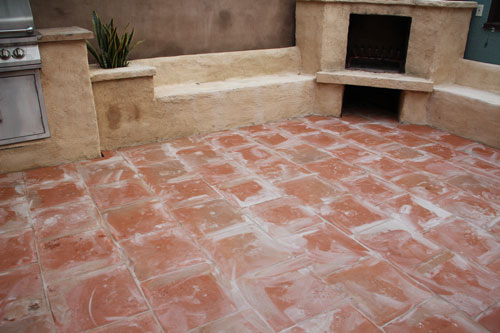 Keeping up with the theme of front porch, Kev also pulled our wood slatted bench out of the entrance and applied a honey shade of stain followed by a coat sealer.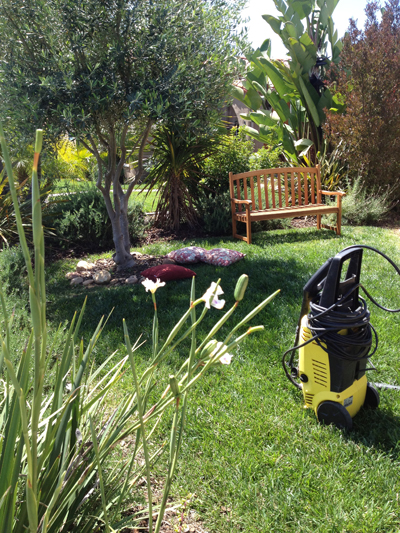 (That's the power washer in the foreground.)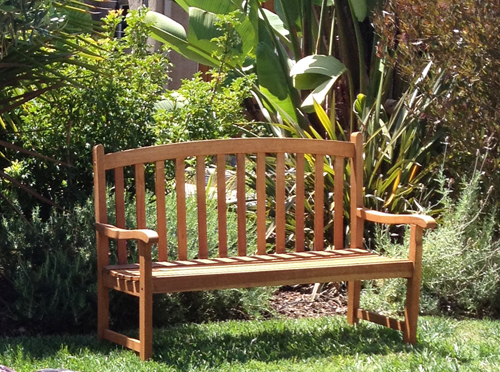 The bench was a housewarming gift from my parents and I love how it looks on the porch, especially with its fresh coat of glaze.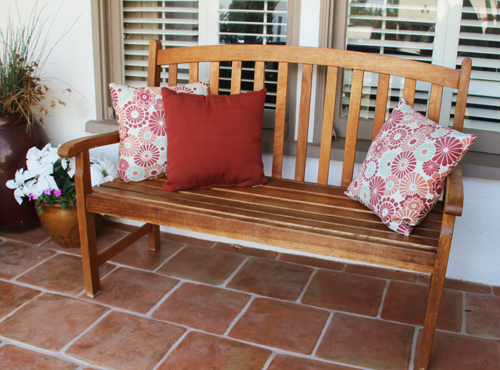 One more curb appeal project down! Plenty to go through summer, but you can read all about that here.
Have a great weekend.
PS More Curb Appeal projects right here.
Tags:
DIY
,
Home
Posted in
Curb Appeal
,
DIY
,
Home
,
Our Yard
,
Renovating Adventures
|
9 Comments »
June 27, 2012
Kevin and I headed up to San Francisco for a quick trip to celebrate our 5th anniversary and we had such a great time! Thanks to those who left a comment or sent an email wishing us a great day!
Now that Kevin is out of school for the summer, I cannot think of a better anniversary present than spending some time together working on a few big changes for the front of our home. We tend to reserve major renovation projects for when Kev finishes up classes for the summer (which, by the way, I'm so proud of him for right now! Three of his hardest years down, two to go until he finishes up his degree in architecture ), and he just wrapped up finals last week.
This summer is no exception with a big wrap around deck (side yard and back), pergola, outdoor eating area, side yard wall, landscaping and overall outdoor beautification on the list. I am even more excited about that fact that we are once again partnering with Lowe's to help participate in their Trend & Design theme for the summer – curb appeal!
The above is our home today, and here's a quick reminder of where we started at: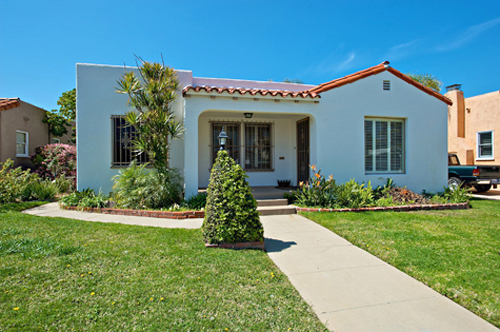 Not too shabby so far, right? But we have BIG plans, starting with painting the house!
Olympic and Graco have offered to partner with us for this project and of course that made the reality of such a big undertaking feasible for us to move ahead with as early as this upcoming weekend! Wow.
I have been patiently looking forward to updating the traditional white on the front of our home since the day we moved in four years ago and excited doesn't even begin to capture my feelings at the moment. Overwhelmed, giddy, smiling ear to ear might get me a little closer.
Olympic has a helpful tool that allows you to upload a picture and then play with paint colors. I can't get too color carried away as we live in a Spanish style house and I tend to love these particular bungalows in beiges, tans and browns anyway, but that's where we're starting our search.I uploaded our current outdoor photo into ColorClix to get a better idea of what our home would look like in a few favorite shades.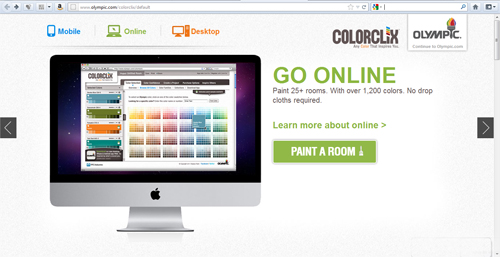 The first step is to use the tool markers to identify what is a paintable wall vs plants vs roof, etc. (these same steps apply for interiors, but identifying interior walls, furniture, windows and trim instead).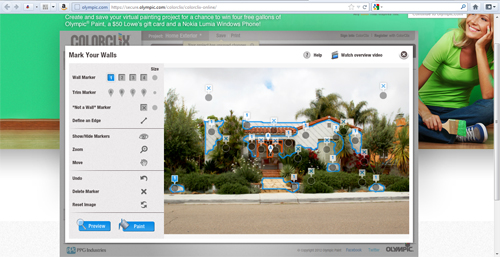 Then it was time to experiment away!
This light Vanilla Brandy is a favorite: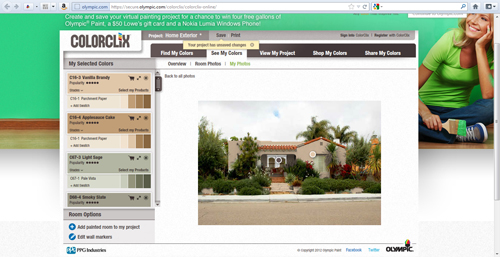 As is Dusty Trails with its ever so smoky-tan appeal:
A slightly darker option is Stony Creek: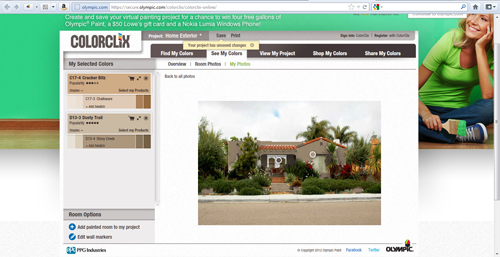 Applesauce Cafe rounds out my fourth favorite tan (I sometimes wonder where these names come from – what a fun job) with its honey undertone: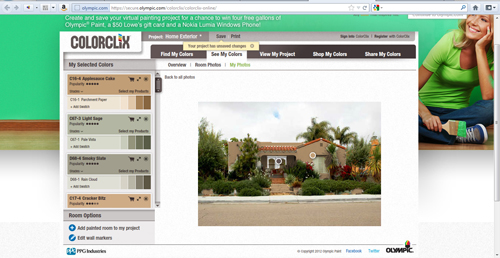 Kevin really digs the idea of a mossy grey house. If we lived in any other style I think that I would be on board (or at least seriously consider the option), but I'm not such a fan for our home: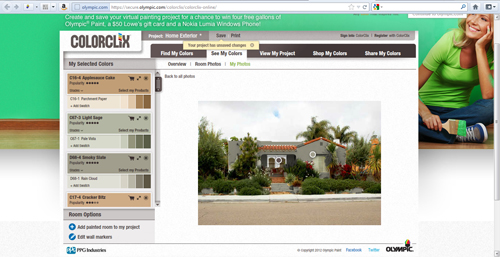 Will keep you posted on the progress! We are deciding colors asap and it's quite daunting.
Next up on the paint list is trim. I'm thinking white, but perhaps a dark brown would be option 2. Spanish homes are known for their creative trim-on-trim styles and maybe an even better, dual option is out there somewhere… this is when long walks with Liv and sneaky iPhone camera shots of my favorite homes in the neighborhood become very helpful as local inspiration. It's not odd to pretend like you're talking to someone at arms length while you line up a shot of the neighbor around the corner's home, right?
Any home painting tips, thoughts? or do you have any big projects lined up for this summer?
Tags:
Decorating
,
DIY
,
Home
Posted in
Curb Appeal
,
DIY
,
Home
,
Our Yard
,
Project Lowe's
,
Renovating Adventures
|
3 Comments »