July 10, 2012
Terribly cheesy title I know, but today's post is all about one of my favorite new paint trends + a necessary home addition for a very busy toddler.
Lately Liv has turned into quite the independent lady. If it's at all possible (and she can figure it out), she wants to do it herself. 90% of the time that's a little tough, though we do try. 10% of the time it's to accomplish basic tasks like washing of hands after a messy breakfast. This type of independence I love, most toddlers run from a wet washcloth honing in on yogurt smeared cheeks, but Liv still finds cleaning up a delight.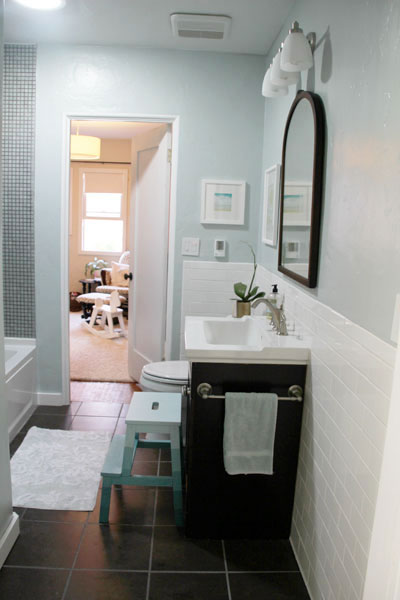 So I've been searching out a fun step stool for her bathroom. I was really hoping for something older with beautiful curved lines (more Jenny Lind – like Liv's changing table – less modern and boxy) but when I came across this little birch stool from Ikea for $15 I couldn't pass it up. It was begging for a fun coat of paint, too!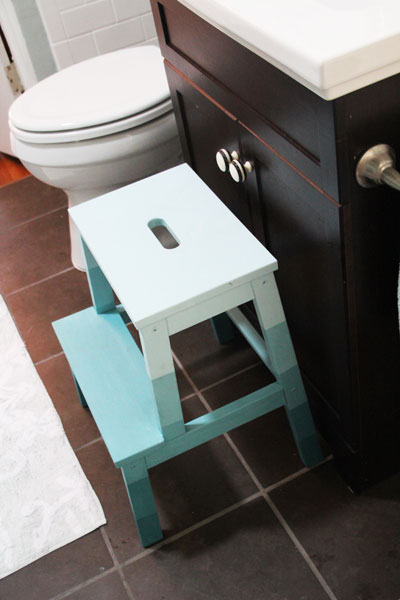 When Sherry and Katie announced their summer Pinterest challenge last week, I decided it was time to tackle this project and make it happen. (PS if you haven't heard of this fun challenge I definitely recommend checking it out. If you are a procrastinator like myself and thrive on deadlines, this is a great opportunity to give yourself a deadline to tackle one crafty project you've had your eye on).

The real Pinterest inspiration for this challenge is actually this coffee mug that has hunkered down in the back of my brain image gallery for some time.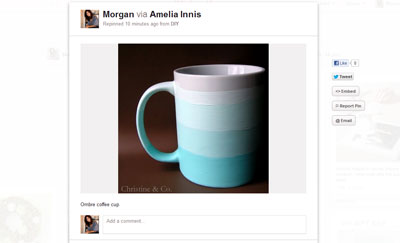 I've actually become quite enamored with the ombre trend as of late and have a few idea of else where in the house I might be able to spice things up with a bit of graduated paint colors…
And now for our much inspired ombre step stool: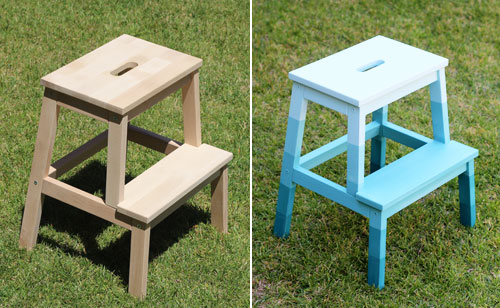 I used two paint samples and a quart of white paint to mix my ombre layers.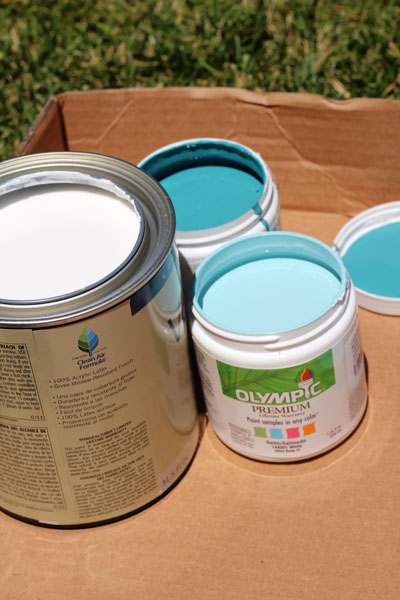 Which left me with five variations of teal blue – from a beautiful deep peacock to a clear summer's day sky blue.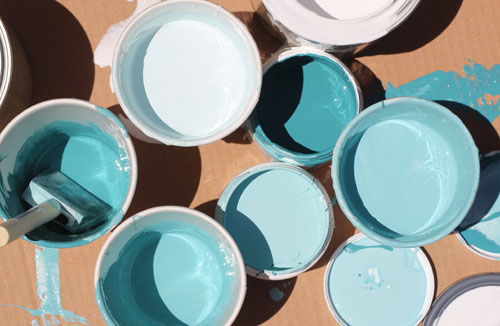 My first layers of paint were pretty rough. I began at the top and slowly worked my way down the stool painting in loose stripes and not bothering too much with exact lines.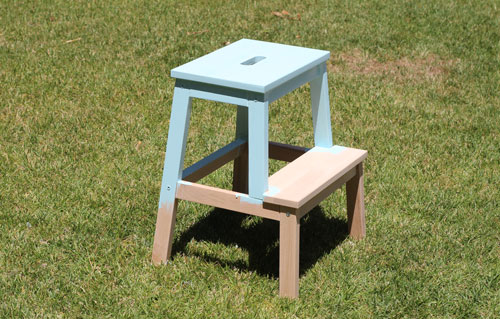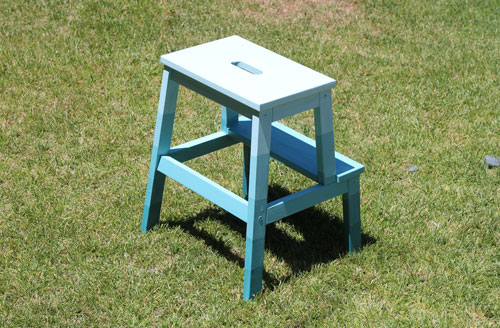 After some time in the sun, I went back with painter's tape and measured out my layer heights so that each transition could result in a sharp contrasting line.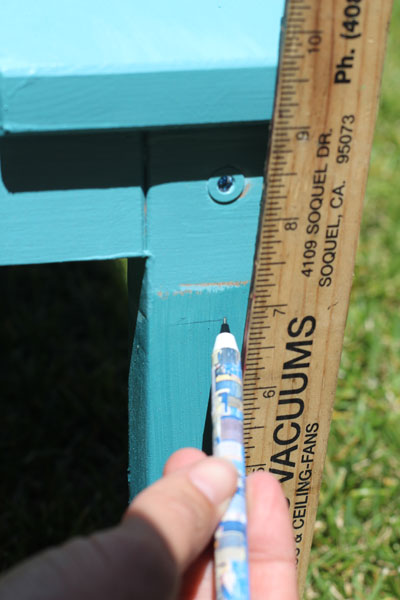 The top tier is the widest, slowly working down by 1/2″-1″ increments (roughly 5.5″ for tier 1, 4.5″ for tier 2, 3.75″ for tier 3, 3.25″ for tier 4, 3″ for tier 5) so that the stripes at the base were skinnier than the ones at the top.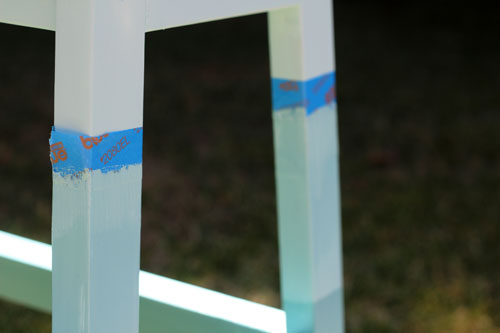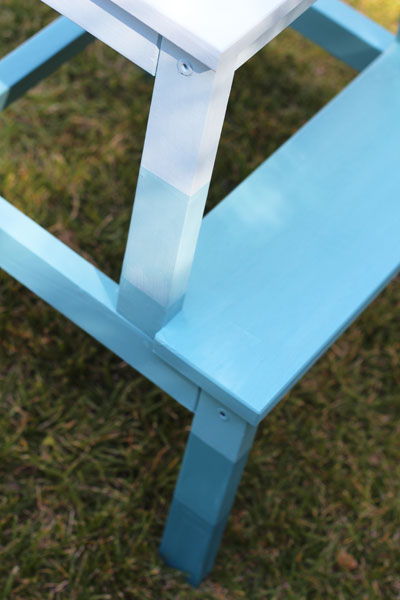 It turned out just as I had hoped for! I really dig the colors.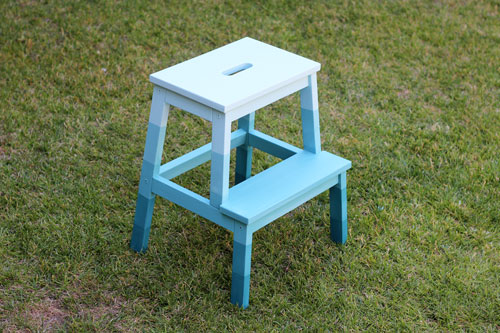 Nana helped to distract Liv on the other side of the yard, but occasionally she's wander up behind me and grab onto my neck. I ended up wearing paint for days and I'm still surprised she left the scene without a drop on her.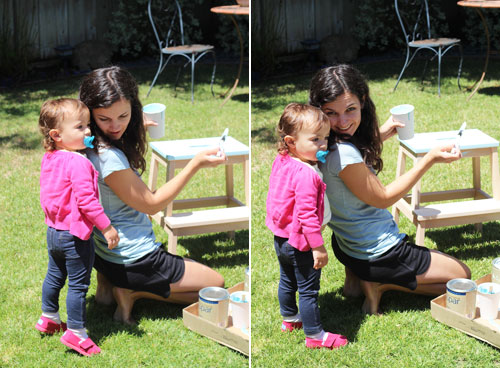 The stool is taller than I anticipated (it comes in a flat box from Ikea and I hadn't paid close attention to the overall height) but it seems to work really well with Liv's 18 month old reach.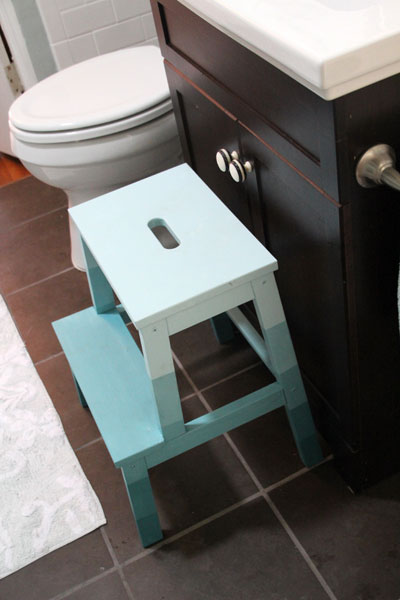 I had chosen the colors right from the existing shades in the space and I love how the turquoise pops against the tiles in the shower, the blues in the artwork, the pale hand towels.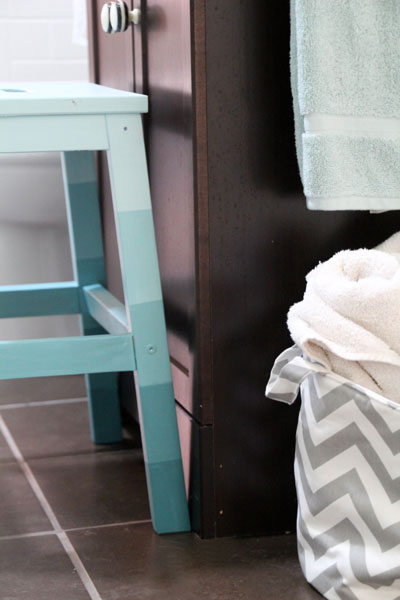 So far she dares to make it to the first step. It might get a little tricky after she figures out that she really can crawl to the top on her own.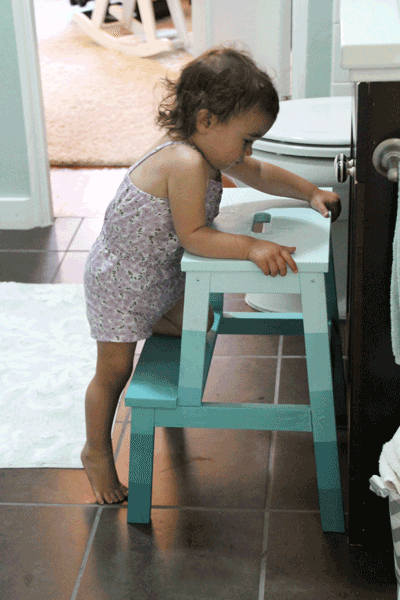 But when it comes to hand washing she gets a little help.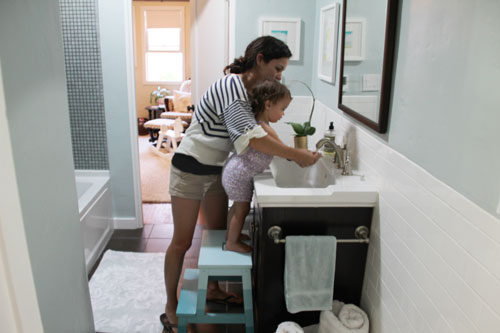 Oh wow how she loves it! After the stool moved its way inside, it was all I could do to distract her from trying to wash her hands every 10 minutes.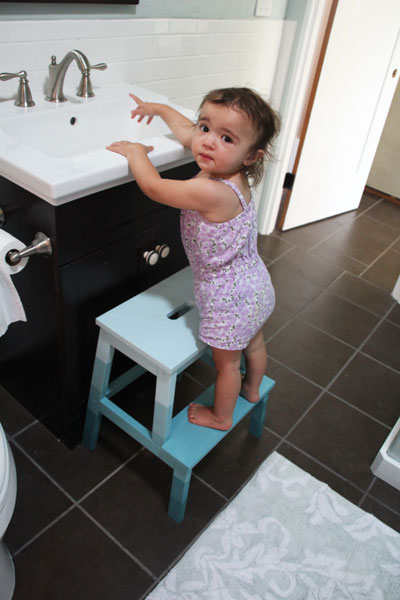 I'm glad she loves it as much as I do!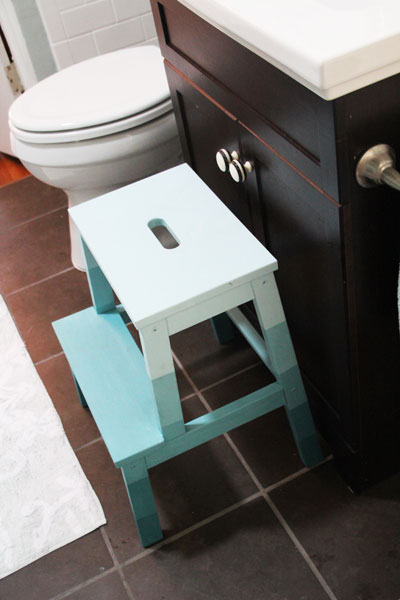 Yay for projects that make you get to-do's done.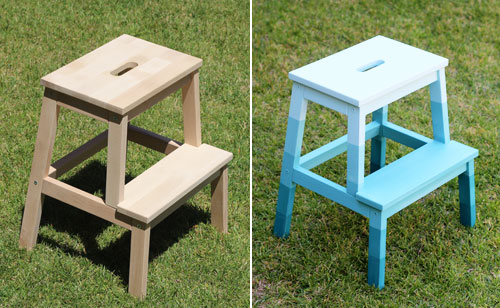 Here's a quick link to the previous Pinterest challenges that I've worked on. Still quite proud of that capiz chandelier, painter's tape wallpaper and gold mercury glass. But don't forget to head on over to Sherry's post and Katie's post (and Kate's and Michelle's! who are guest hosts) to find all kinds of crafty and fun ideas.
Tags:
Accessories
,
Before & After
,
Blue
,
Crafty Solutions
,
Decorating
,
DIY
,
Home
,
Paint
,
Pinterest Challenge
,
Teal
,
Turquoise
,
Tutorial
Posted in
Crafty Solutions
,
DIY
,
Home
,
Our Guest Bathroom
,
Renovating Adventures
|
11 Comments »
July 9, 2012
Busy week! We went to a beautiful wedding on Saturday night, took a mini vacation to visit my parents and each tackled a couple of projects on our summer list.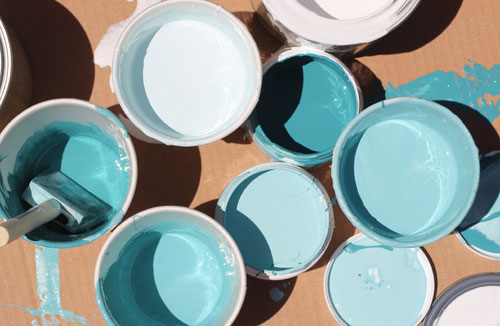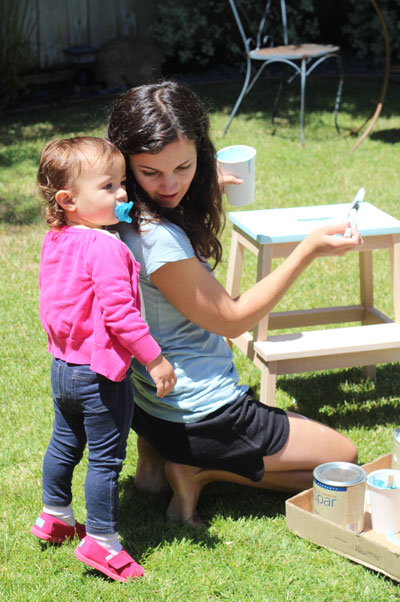 Our house painting project is underway. Thrilled to see the first layer of Olympic's Dusty Trails tan exterior paint on the garage. 100 square feet down, many many more to go.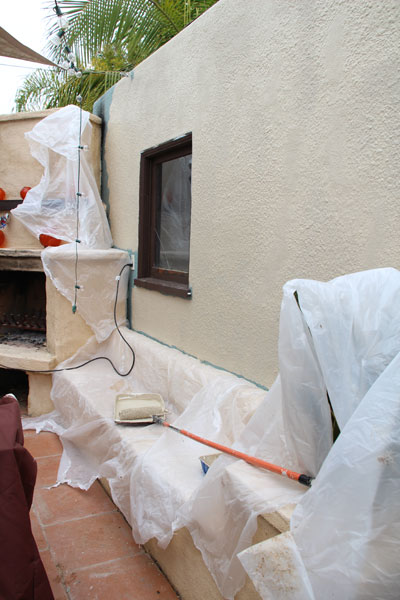 Go ahead and ignore the slightly messy back patio

.
Check in with me tomorrow when I reveal my stool transformation (for Liv's bathroom) for this fun challenge (which I've been participating in every season for a while now, and this weekend it's been a great little distraction). Hope you had a relaxing, calming, productive weekend, too!
Tags:
Home
Posted in
Curb Appeal
,
DIY
,
Home
|
4 Comments »
July 5, 2012
A while back, I noticed that Jenny of LGN was growing a citrus tree right in her NYC apartment. And I thought it was brilliant. We don't have much room on our property for fruit trees but there's something about producing your own cooking accoutrements (delicious thyme and rosemary and dill) that is so appealing. Lemons fall into that category for me. They can be found in nearly every dish, from fresh fish to a salad dressing to a cold glass of iced tea, and so I decided to give indoor gardening a go. Our little herb garden on the side of the house will produce the seasoning for daily meals, and now perhaps my indoor fruit tree will provide several lemons to give us juice on a semi-regular basis.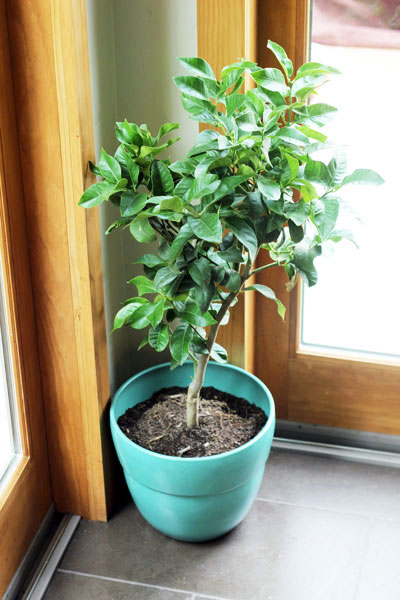 Worst case it becomes a pretty green addition for the kitchen. Of course when he gets too big (though he is a dwarf lemon) I'll have to transplant him into a large pot on the future deck. But for now, my little lemon tree has found the perfect spot to flourish.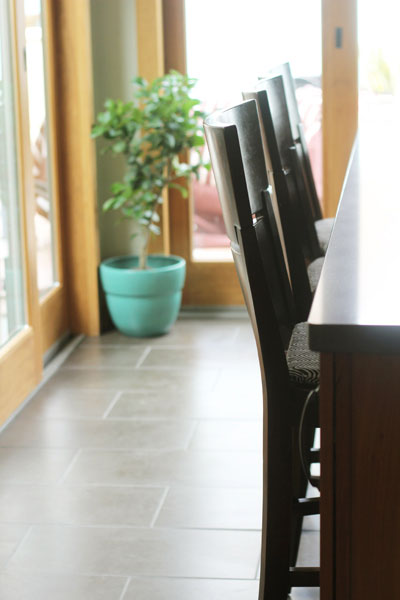 I'll keep you updated on the success of indoor fruit harvesting. Back when I was in grade school I attempted this with a tomato plant and produced little cherry tomatoes year round by placing it at the corner of two bright windows. Will lemons act the same I wonder?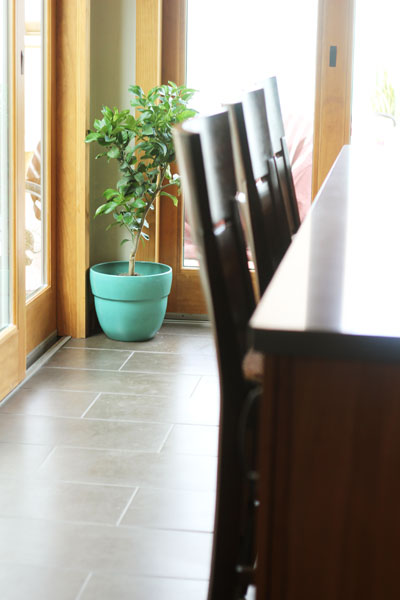 I have become mildly obsessed with houseplants of late. Trees for various rooms and beautiful crawling vines for the tops of bookshelves. The added greenery and life brings energy to a space – an organic vibe that I am really drawn to at the moment.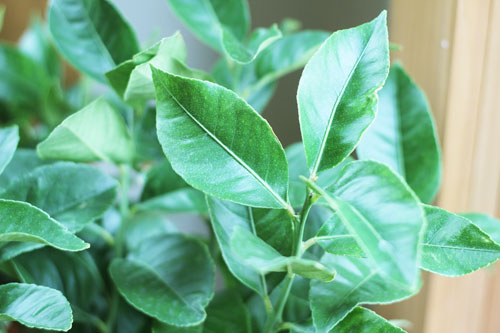 This lemon tree is just what the kitchen ordered. I chose a dwarf Eureka lemon, mostly because I thought it was much prettier than the Meyer up close (which was my original plan) and would be a tad more attractive as an indoor varietal.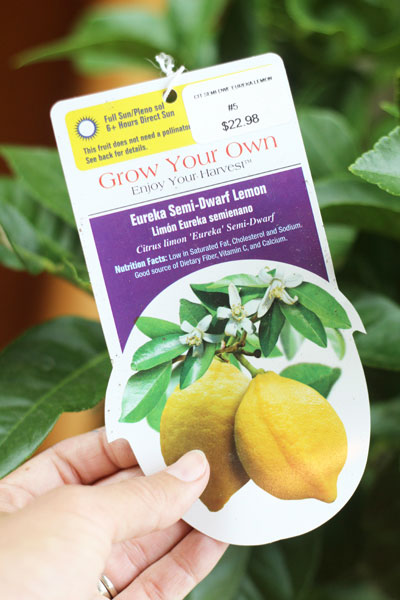 Here's what I've learned about the two common types: Eureka's are "true" lemons while Meyer's are actually a hybrid, whose origin is unknown but is believed to be a cross between a lemon and a mandarin orange or orange. Eureka's have fewer seeds but their lemons are a tad more acidic. Eureka's blossom with full white blooms in mid spring and offer a winter harvesting period which lengthens as the tree ages. I should expect fruit now (the plant is roughly 2-3 years old) but it will continue to get fuller as it gets older. I can keep him a dwarf with regular pruning and should be able to easily control the span and size, though it definitely will not need a new pot for at least a year. Should I attempt this again in the future I'll probably seek out true dwarf rather than a semi-dwarf, but I didn't really learn the difference until Googling post-purchase.

I've placed him next to the sliding glass doors so that on especially bright days I can pull him outside and into direct (rather than window-muted) sun.
Here's a reminder of our kitchen remodel so you can see the amount of light that this space gets on a regular basis: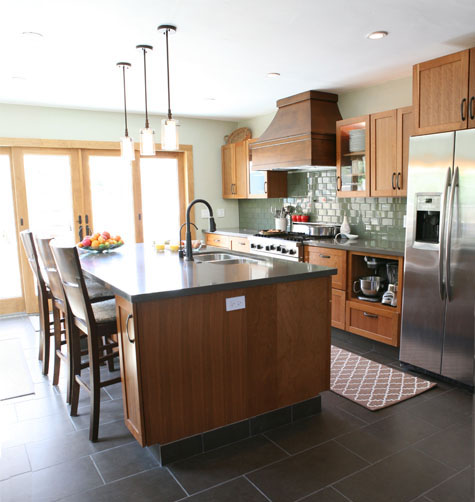 I love love my turquoise pot (a find from Lowe's) and I might fill in that showing dirt with a thin layer of lime green moss. Sort of like this example from Martha.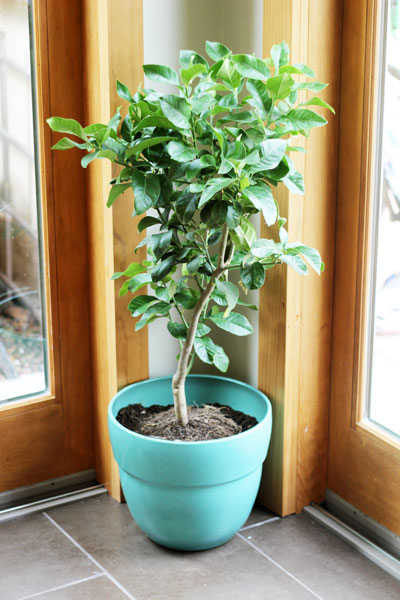 I've been watching closely for several weeks now at the brand new green leafy clumps that are stretching out of the branches, and just as we were leaving town this week I noticed my first little bud. The sign of new life. And it could not have peeked out at me at a better time.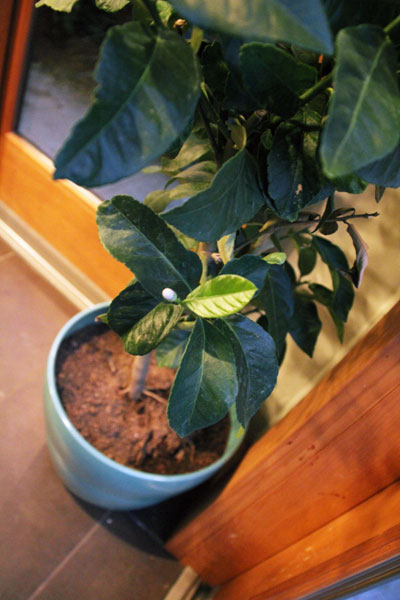 To be continued when the first little green-yellow ball takes shape… more tips on indoor citrus gardening from Jenny here, she highly recommends Calamondin orange trees and shares plenty of pretty inspiration.
Tags:
Decorating
,
Green
,
Home
,
Kitchen
,
Yellow
Posted in
Gardening
,
Home
,
Our Kitchen Remodel
,
Renovating Adventures
|
11 Comments »