June 12, 2012
Back before Liv was born and I was unsure if we were having a little boy or girl, I had put together a pretty gender free nursery (we added the coral and pink touches just after Liv's birth) inspired by cute little playful baby animals. I hadn't wanted to carry the theme too far throughout the room and stuck to these awesome wall designs with coordinating solid and patterned fabrics. But I had always had an eye for these guys!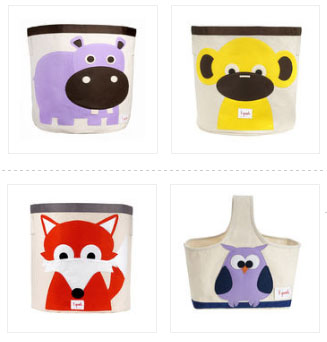 I had imagined making my own with whichever storage bins we ended up needing for the space. 18 months later and I've finally given it a go, converting a standard brown canvas hamper into a cute little owl bin for dirty clothes.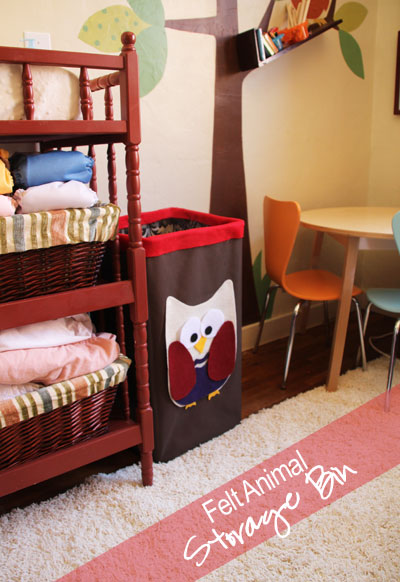 A fabric bin like this would be great for toys, too!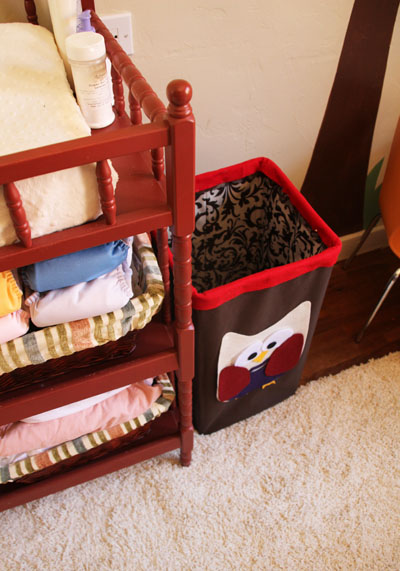 The process could have been incredibly simple but my quest for a smaller-than-average laundry basket proved to be daunting! The usual (in case you're interested) is roughly 14x14x30″ and is quite a big size for a nursery space. I finally found the above at The Container Store and spent a little more than I had planned (this guy was on sale for $22.99) for my 11.5×11.5×23.5″ mini-me laundry bin.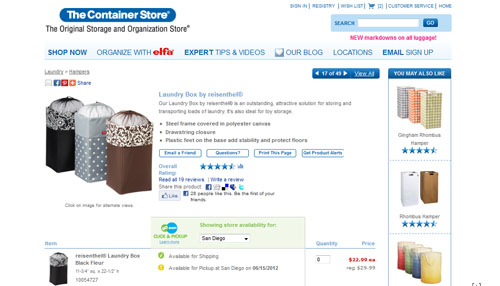 The good news! If a regular laundry bin will fit your space, there's a plethora of options in all colors and price points over at Amazon.
I created the little owl out of felt sheets from Michaels (I think they were $.99 each) and sort of winged the design (hehe) after Googling images of nursery owls. This guy ended up with an oatmeal tan body, burgundy wings and purple feathers.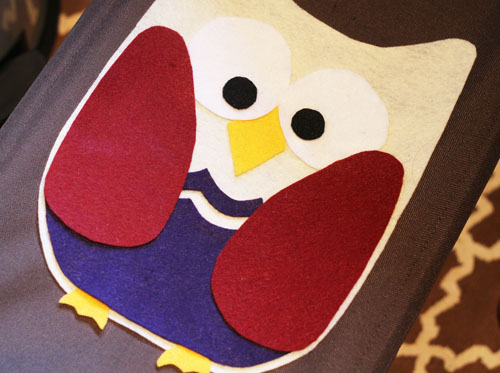 I used a standard white glue to adhere him together, though I noticed that it started to seep through the felt! and ended up creating a few funny blotches. I might try using just a little crazy glue next time instead, hot glue would be tough as I bet it might melt parts of the felt material.
Next up was the top red lining. You'll notice in the picture from The Container Store that the actual hamper has a damask fold over lining and a mesh closure, both of which I didn't need and both of which I carefully cut out.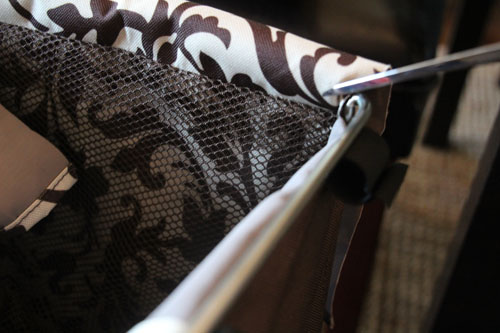 Here's a shot of the outside lip which is now sans the fold over lining and mesh: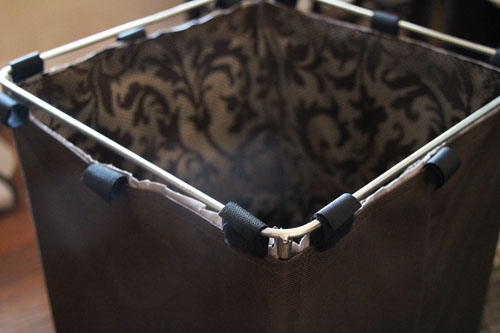 And one of the inside of the bag: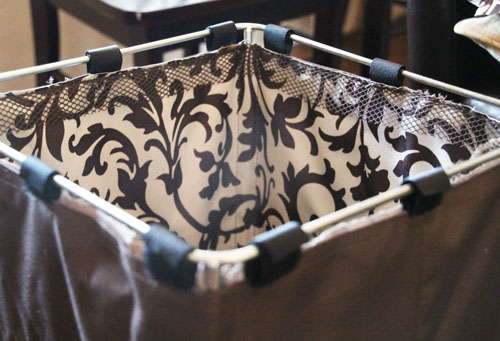 If you had a laundry basket that is ready to go as is, this is where you'd jump into the tutorial to add the top lining and animal on the front.
I made the red lining for the top of the bin out of red felt as well.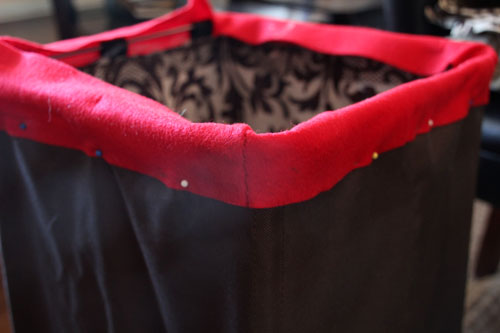 Because my edges were 11.5″ in length, I cut four 12×3″ sections of felt and then sewed the lengths together to create one long piece with three seams.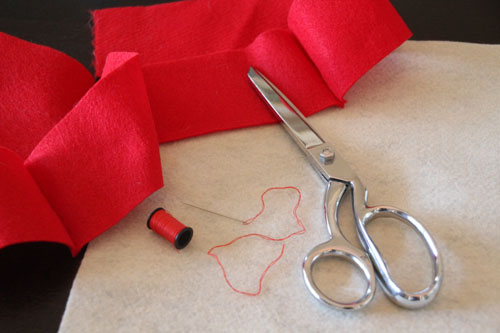 Then I added a few stitches at each corner, sewing the felt seams directly to the hamper seams. You could always use a ribbon for a similar effect but I wanted a material I could actually fold over the metal bars of the hamper rather than just line the very top edge.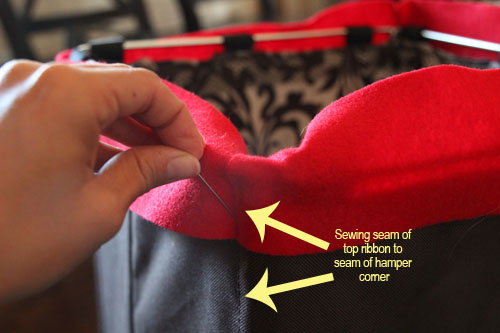 Instead of continuing my stitch (which could have taken a long time! plus I was going for a pretty seamless look) I used a line of glue down both the inside and outside of the lining and pinned the felt in place on the laundry bin to dry (ended up needing pliers to pull the glued pins out, maybe I waited too long

, clothes pins might be a nice alternative).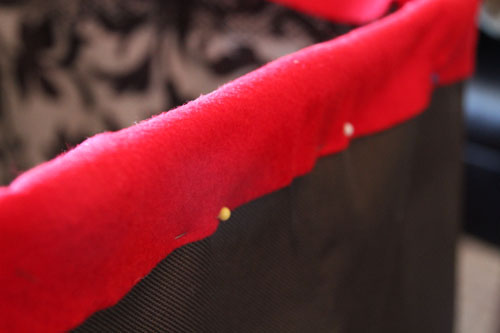 And here she is! Ready for clothes and ready for action.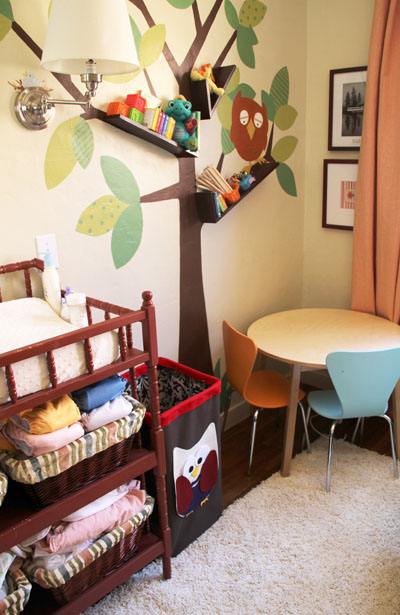 Do you like my empty Aaron's Brothers frame up there in the right corner? I have so many pictures that I really need to hang up…
I looove how small it is, it fits perfectly into the space between Liv's reading/play nook and her changing table. The damask lining actually adds a nice, unexpected touch!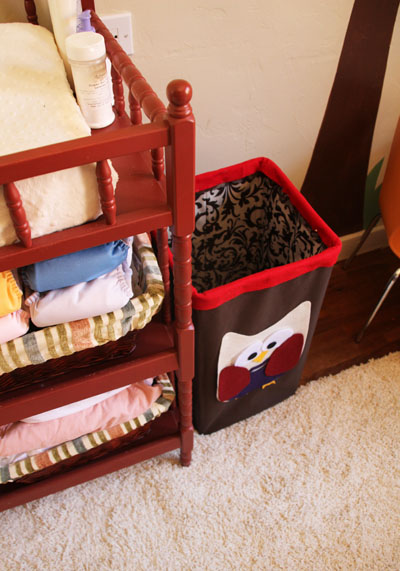 Now how fun would it be to convert these storage bins into toy catch-alls around the house? or on a bookshelf in a playroom?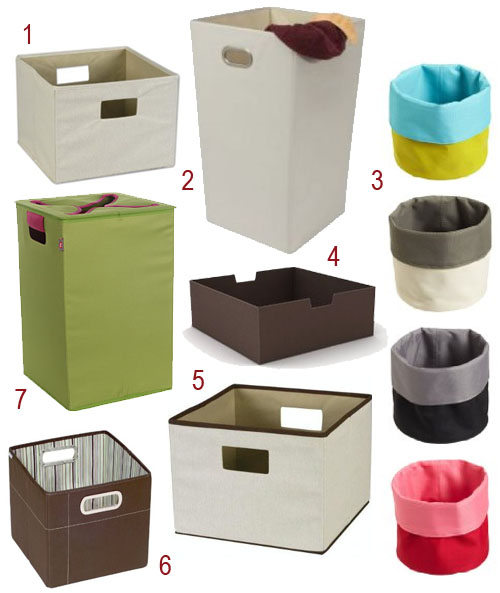 Happy crafting

.
PS If you want to go waaaay back, here are more Project Nursery posts: tree branch floating shelves, tree branch bookshelf inspiration, newly updated felt mobile, a new reading nook part 1, finished after photos, no sew fabric pennant, baby clothing art, handmade felt butterfly mobile, DIY crib skirt, basket liners part 1, part 2, the, glider makeover, recovering an ottoman, sewing lined curtains part 1, part 2, part 3, curtain fabric selection, nursery fabric board, rocking horse find, new pendant light, new sconce lighting, vintage wall art addition, changing table makeover, nursery wall striping tutorial , painted animal project, the initial inspiration board breakdown, the before pictures
Tags:
Accessories
,
Before & After
,
Crafty Solutions
,
Decorating
,
DIY
,
Fabric
,
Home
,
Nursery
,
Patterns & Color
,
Purple
,
Red
,
Tutorial
Posted in
Crafty Solutions
,
DIY
,
Favorites
,
Home
,
Liv's Nursery
,
Renovating Adventures
|
6 Comments »
June 5, 2012
I would love to invite you all over for a rug party. But logistically that could be tough, so let's have a virtual one! I have been slowly *testing* out rugs over the past couple of weeks to see if one sticks and I've been photographing the journey so that I can play a game of comparisons.
Our dining room tends to be a fairly high traffic space – you need to pass through it to get to any other room in the house. It's also a space that welcomes you from near the moment you walk through our door, so it's equally important that it be warm and inviting. A couple of needs for this space that we had to keep in mind: must be pet-friendly (no dhurrie or woven rugs – bummer that they collect and hold onto pet hair because they're so well priced), kid-friendly (wool is usually better than jute for cleaning purposes and darker colors or patterns reign) and finally budget-friendly (we are traditionally Craigslist people even when it comes to this sort of thing *I love me a good rug cleaning though* because area rugs can be so expensive, but I've found a few options in the few hundred dollar range that I'm really loving). Ready? Let's start.
PS the dining room makeover all started here if you'd like to read these posts in order!
A classic jute…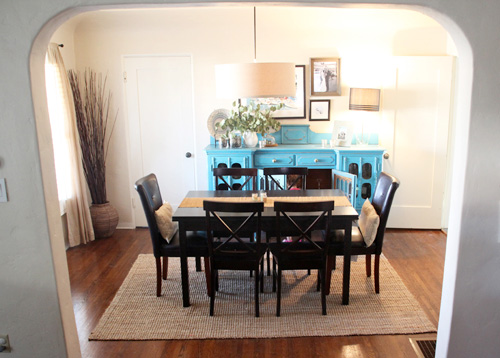 Fits the bill size-wise and price-wise (I believe with the family discount at Ikea this guy rang in at $70) and has a nice, neutral feel. Would easily work with any of the curtain options. I'm a huge fan of natural fiber rugs and while I usually opt for a softer version (with a wool or chenille mixed in), this Ikea jute rug might work well in an area where kids won't necessarily be playing on the floor.
The only con is that jute is tough to clean, even by the professionals (I buy Groupons for area rug cleanings twice a year these days – it's just one of those items I budget in with pets and a baby, but totally worth the trade off

). In fact I've found that natural fibers are doubly tough to have cleaned and often require special care and a trip to a shop if it gets a liquid stain (ask the poor hallway carpet after Halloween 2009 when Bodie chewed a mini pumpkin right into the slobbery fibers).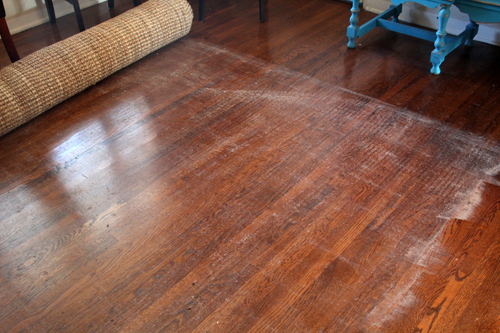 Plus they shed. At least cheaper jute rugs tend to. If this guy stays he'll be getting a rug pad (the above was only this bad once when switching out carpets. A quick mop and I haven't seen the likes of the loose fibers since).
Next up is an indoor/outdoor ikat option. Outdoor rugs can be just the best! Depending on the rug, cleaning can require as little as a hose, a scrub brush and dish soap in the backyard. This is a great rug by Ballard Design for a great price – but I do worry that I would be incredibly limited by curtain choice with this guy.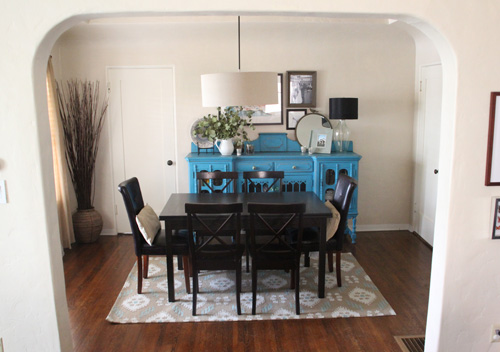 What about bringing that jute back in to add a little warmth?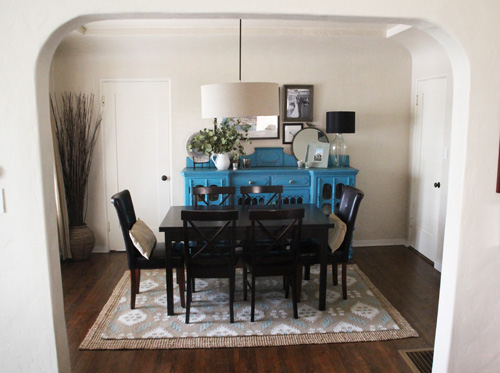 Hmmm… I love the general size of the Ikea rug (bigger than 5×8 but not quite 6×9, you know how those crazy Ikea metrics work) and the border is a nice addition. This is a nice solution for the space?
What are your thoughts on cowhide? I've been a fan of the look for some time and I especially love when hides are used in living rooms and dining rooms. Here's a little inspiration: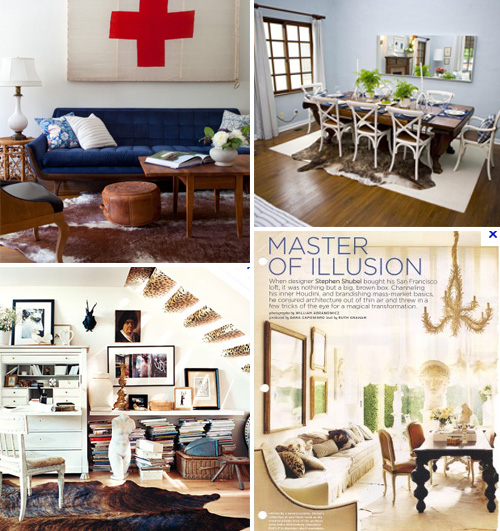 Sources: Emily Henderson x2, Domino, Tandy Leather – Girl in the World
White would not work so well in this space for so many reasons, but a darker cowhide would be easy to maintain (I'm thinking warm water and soap, or perhaps cutting a more permanent spill right out of the hair). So when a really wonderful deal popped up on Fab I pounced and ordered the rug to try it out.
The fact that it's an animal hide doesn't bother me so much. I like the idea of producing as little waste as possible and because we eat steak and meat on various (not too often but every once in a while) occasions means that using the by-products is a good thing. But now I'm starting to sound like I skinned the darned thing myself.

I really dig this look. Ignore that tripod there to the right…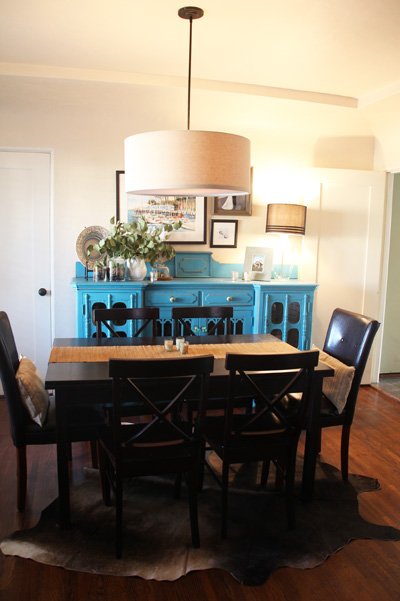 With that jute still rolled up on the left you can see where I'm going with the next idea: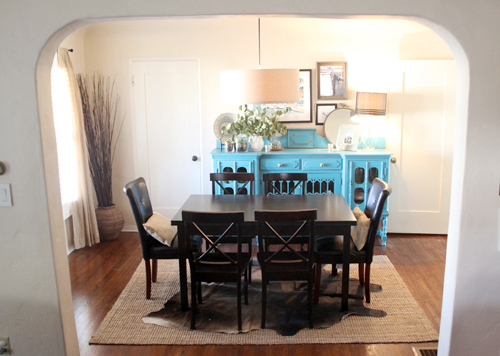 But maybe with the hide at a bit more of an angle.
Nothing is set in stone, *sigh* (I can be a horrible decision maker!) I can always use this rug in a different room or even resell on eBay for the crazy price that I was able to nab it for.
Here are some other rug ideas that I'm thinking about: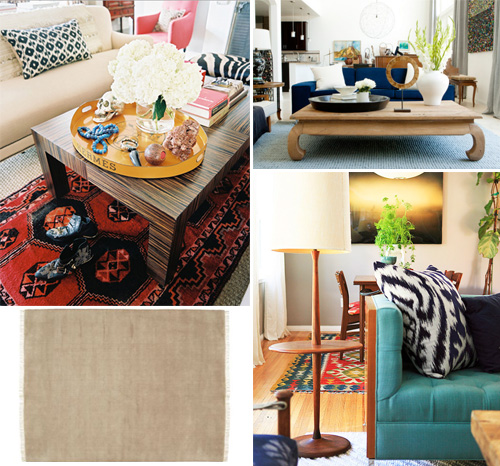 Sources: Little Green Notebook, Emily Henderson, Pottery Barn
What are your thoughts on dining room rugs? Practicality over design? Or can you accomplish both?
Read the full dining room story by back tracking from here: curtain call part 2, curtain call part 1, newly styled bookshelves, a buffet-over, upgrading the lighting, the before.
Tags:
Accessories
,
Blue
,
Decorating
,
Dining Room
,
Fabric
,
Green
,
Home
,
Patterns & Color
,
Teal
,
Turquoise
Posted in
Home
,
Our Dining Room
,
Renovating Adventures
|
12 Comments »
May 30, 2012
Yesterday I posted on my curtain dilemma. Six great designs but how to decide which one? Or are any of these right for this space? These are the questions that keep me up at night.;) (But hey, that's far preferred to the usual spreadsheets or parenting quips, so I say bring on the design conundrums).
I couldn't help but throw together a rough photoshop version for each – sometimes a visual is all you need to get the brain juices brewin'. Here's the space as is right now (boo for capturing the seam of the pendant shade, now in every. photo.):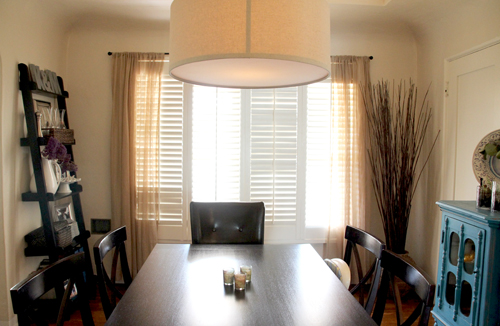 Here's that lovely Tilbury in Lapis that I'm sure I'd be 100% head over heals for if I didn't have some sort of suzani/ikat print for curtains in the guestroom and in our bedroom: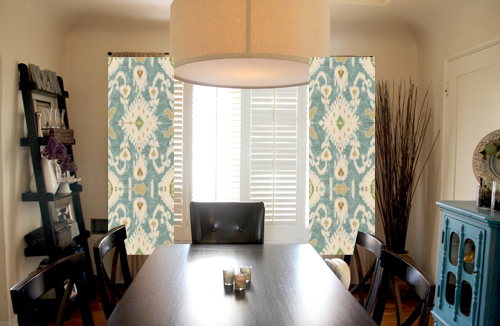 I've always loved this Thomas Paul print, but when it was featured as curtains (hadn't though of that!) in May's BHG issue, I fell for Perch all over again. Bah, beautiful!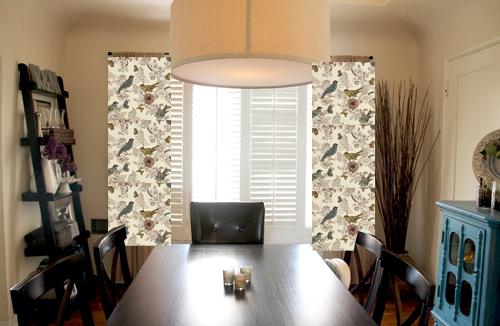 Here's a modern print that I really dig. I love that the pattern immediately updates the space but that the colors still play nicely with the slightly muted palette we've got going on in the dining room. The catch? I'd have to make the curtains out of an Orla Kiely duvet cover!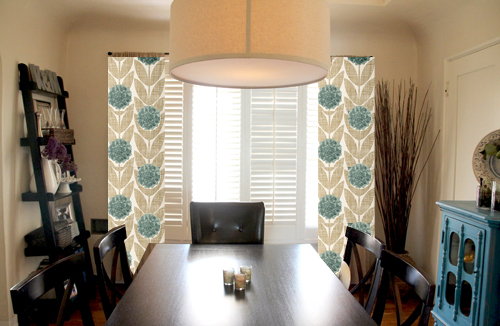 Cannot go wrong with a classic suzani like this Ubud by Iman Home Fabrics. I'm leaning least towards this one at the moment, I think the weight of the fabric might drown out too much natural light from the space.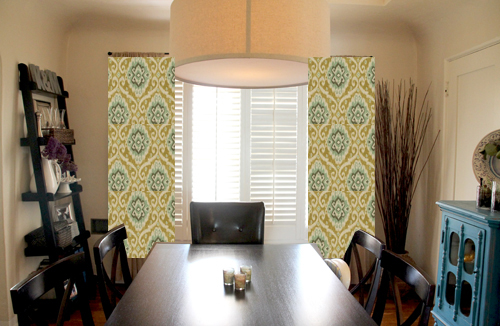 Such a fun print! Is that bright yellow too much of a pop or just right? Dahlia by Thomas Paul: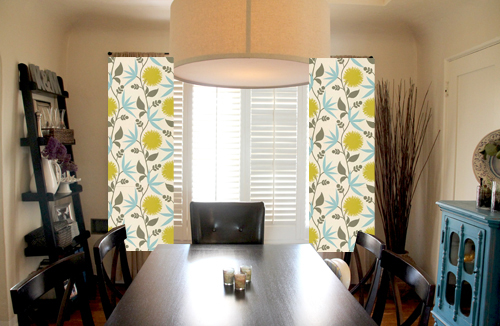 One more Thomas Paul print that I love. Botany features an illustrated pattern similar to the Perch above but with just florals. The nice white background is soft and perty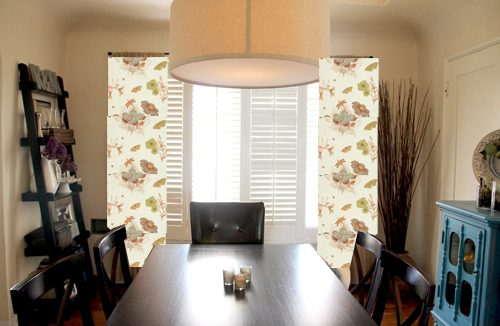 Can you guess which one I'm leaning towards? Do you have a favorite? The right fabric might not be any of the above *sigh*, but then again maybe I'll just have to sleep on it…
Read the full dining room story by starting here: curtain call part 1, newly styled bookshelves, a buffet-over, upgrading the lighting, the before.
Tags:
Decorating
,
Dining Room
,
Home
,
Patterns & Color
Posted in
Home
,
Our Dining Room
,
Renovating Adventures
|
37 Comments »