January 5, 2012
We have a project over here that's been underway for some time. Eight months to be exact. For those eight months we've had a rather large hole in the very center of the house, a hole waiting to be filled with a brand new full bathroom.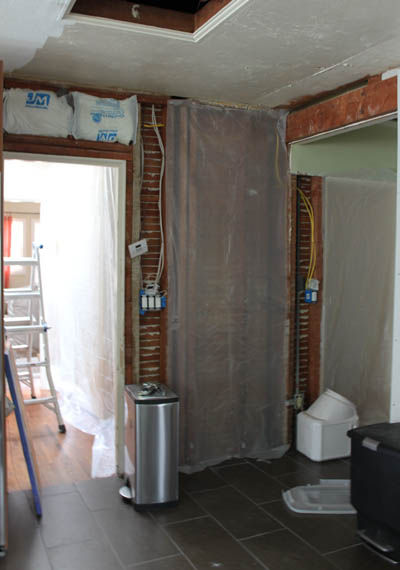 We've always known that adding a second full back to the house would be a necessity at some point, and it was about a year ago that we decided to take on the monster task of converting three adjoining hall closets into a bathroom complete with tub and shower.
But what I think I always glossed over (funny how that happens) was that this bathroom was, much like our kitchen, going to be built from scratch. So before we could pick out pretty tile and I could get excited over lighting and vanities, there would be serious demo, electrical, plumbing (oh what a messy, time consuming project – if your hubby tells you not to use the bathroom while he's cutting into the main sewer line, DON'T forget no matter how badly you have to pee), venting, sky light placing, wall building, dry walling and plastering to do. That plus creating plans and getting approval from our city's inspection office to determine that those crazy changes were in fact structurally sound. Wait, are you still laughing at the plumbing part? True story.
So we were way ambitious on breaking ground in March of 2011 and overshot our projected two month timeline after many delays that we just couldn't prevent. Two months turned into eight and eight felt like for.ever. Here's the visual: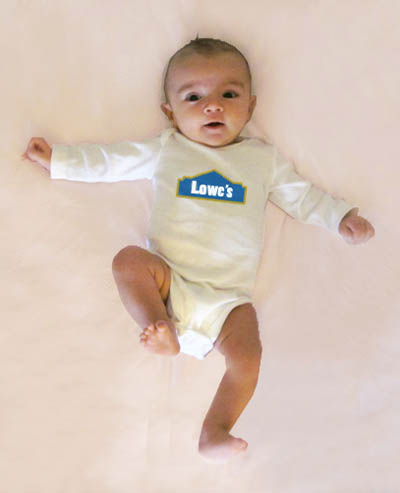 Just four months old!
And here she is at almost a year.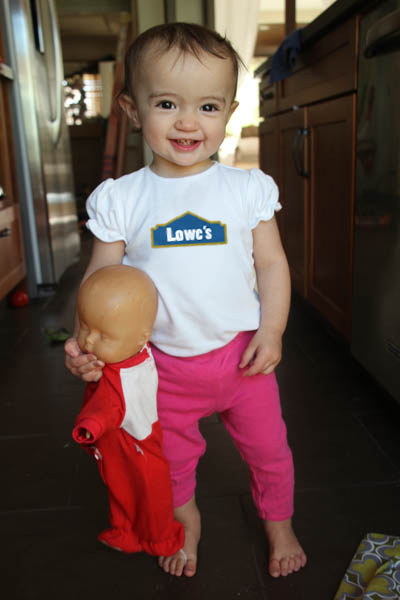 So much bigger! Eight months can feel like a long time. I'm so ready to patch up the 10×10′ hole in the center of the house!
As you might recall, we're partnering with Lowe's on this project to get it done! There's a Lowe's just around the corner from us and we've conveniently shopped there for so many different projects in the house (kitchen cabinets, guestroom, outdoor kitchen…). They've always had a much greater selection of decor related items too, Lowe's is where I found an awesome silver leafed full length mirror a few years ago (see master bedroom), a nice selection of wallpaper (credenza project) and have you checked out their recent line of Waverly curtains? They carry this brown trellis fabric that I recently found at Ballard Design for $40/yard before snatching up a single panel curtain (3 yards!) for $14.99 in the exact same design.
Needless to say we were so excited to team up with Lowe's to create a unique bathroom that was us and that fit our little bungalow well.
It's been a while, so I'll quickly catch you up to speed on the progress that we made back in April, and then the few weeknights that we tore back into her in an effort to speed things up. The story starts with a set of three hall closets that sit in the middle of a rather large hallway at the very center of the house. There's Liv's room to the left, the dining room through that hallway at the front and the new kitchen to the right.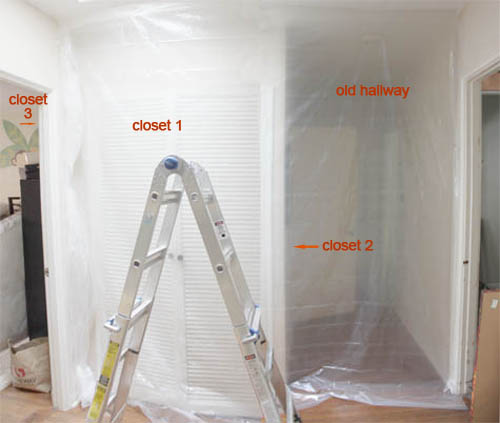 Closet 1 was a coat closet of sorts that opened into the hallway, closet 2 opened at the other side of the hallway and stored all of our cleaning products, closet 3 was the closet in Liv's bedroom for extra bedding. What you can't see in this photo is closet 4, which is behind me taking the picture and to the right. It also opened to the hallway and was plenty large enough to hold the necessary hallway goods.
So what to do with three adjoining closets so perfectly poised to become a space on their own?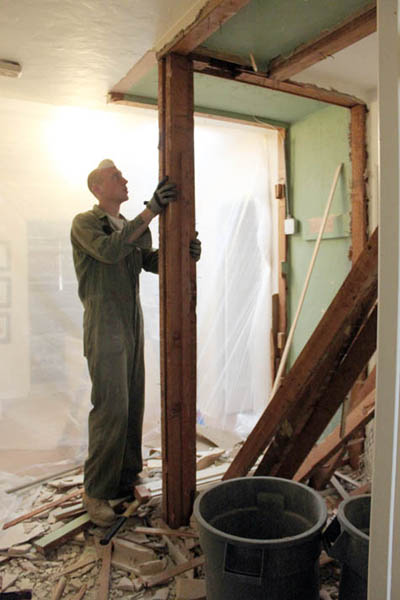 The house is just too small to justify four closets and so much unused hallway space. Plus, a second full bathroom means we can seal off the first for the master suite (which we hope to tackle at some point) and Liv will have her very own kids bath, plus guests will have their very own shower. As you can see, one of the doors to the bathroom opens right into Liv's room, making it perfect for use with kids and guests.
Demoing was the easy part. Next was framing out the new space and determining the proper layout for the bathroom.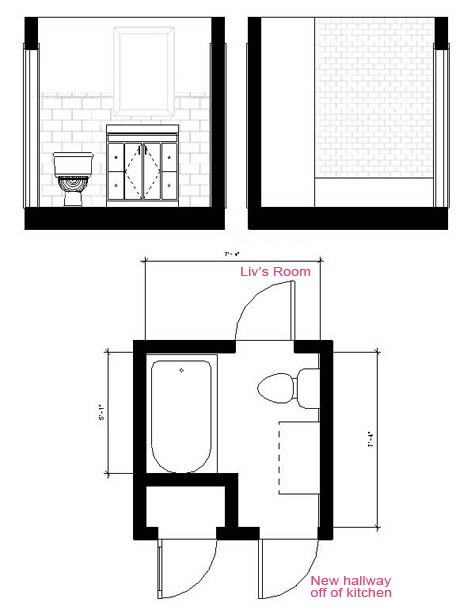 Once we had a plan in mind (that new little closet to the left of the door to the bath facing the hallway will become the pantry to the kitchen) we set out to find materials.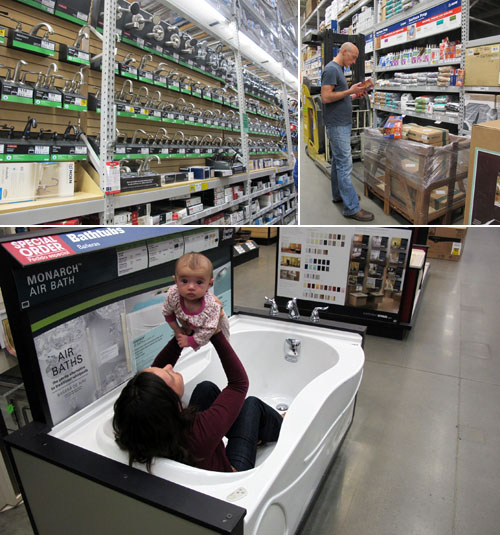 Oh man I love Liv's face in the bottom photo. And she doesn't even realize she's flying in a bathtub in the middle of a store. We haven't picked out everything just yet… but this is the color palette we decided early on.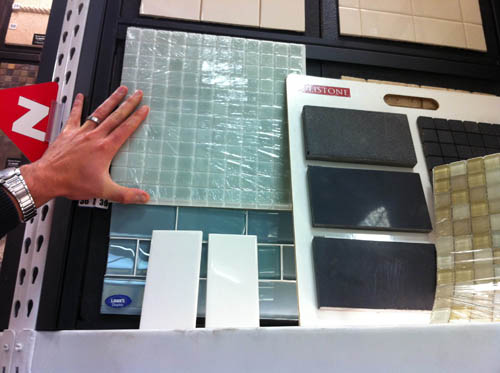 Which goes well with the inspiration image that we're working with. This is also my best tip for happy remodeling – choose an inspirational image (or images, board, etc) that you both love before any work is started and use that image to resolve differences in decorating opinions (that's the PC way to put it) when they come up. Does Kevin want to suddenly incorporate a ruby red tile skirt around the bathroom? Nope, not in the inspiration image(s). No, he really didn't make that suggestion but we've had a few 'let the inspirational image decide' moments

.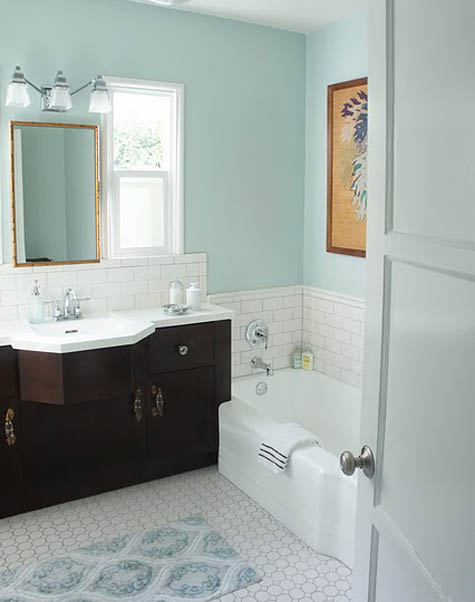 We chose a tub back in May and installed it in the new space. Read all about that decision and how we chose the one we chose here.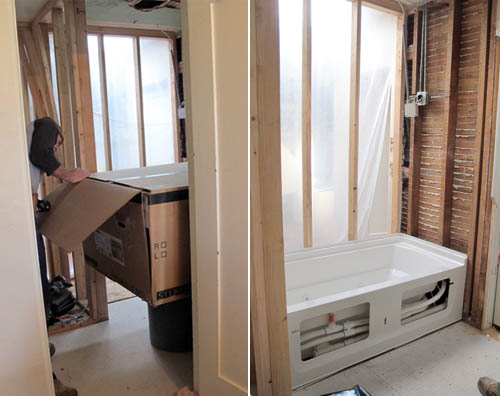 Next up came sealing in the walls around the tub. First was installing tar paper to keep that nook extra water resistant and then a layer of drywall.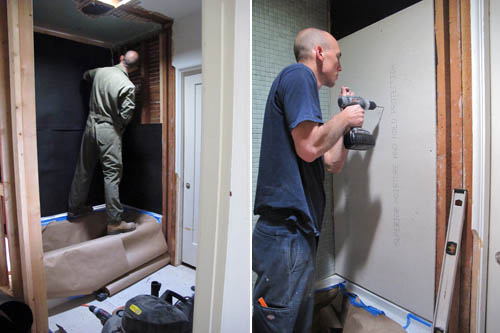 Our little tiling tutorial (for those tricky 1×1″ tiles) can be found here.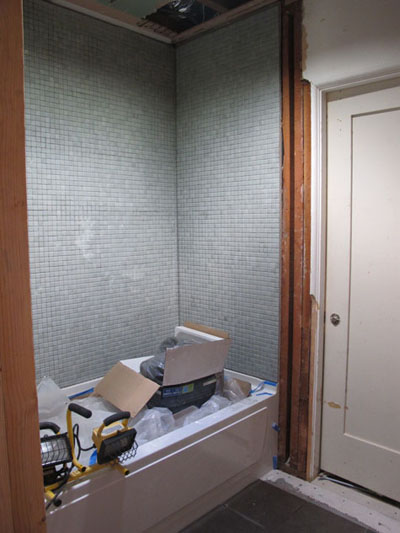 And now you are up to speed! The exciting news is that we have dedicated a whole week (Kevin's on winter break) to knock out this bath from here to the finished product. Let the clock start now. (happy dance)
Tags:
Blue
,
Construction
,
demo
,
DIY
,
Home
,
Our Bathroom
,
Turquoise
Posted in
Construction
,
Home
,
Our Bathroom
,
Project Lowe's
,
Renovating Adventures
|
12 Comments »
January 2, 2012
2012 is here! And the whirlwind of 2011 has officially come to a close. I'm not a huge fan of the idea of New Year's resolutions (sounds so daunting!) but we do have some goals this year for our home and our family.
First up is the house. As you know, we purchased our little Spanish bungalow in 2008 and have literally lived in open demolition and construction somewhere indoors from day one. To see a line up of what rooms we tackled in 2011, check out this post. We don't have plans to stop but we do plan on taking some of the demo outdoors which will be kind of a nice break.
But before we head outdoors, the bathroom is back!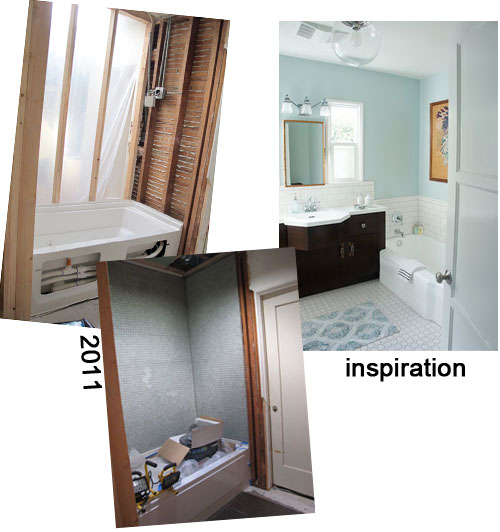 We ripped three closets and a hallway open in April of 2011 in hopes of throwing together a perfect little full bath in the middle of the house (we eventually have plans to turn the current full bathroom into the master bath so the addition of a new one was necessary). More on this soon, but it took a lot longer than anticipated. Inspiration image found here.
Next, I plan to give our master bedroom a serious makeover.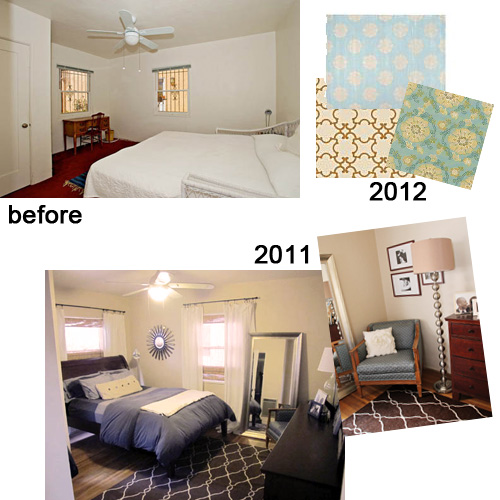 Before we moved it in was hard to picture where it would end up… and after living in it for a couple of years with our furniture and a few decorative details I finally have the start of my plan in mind. The dhurrie rug is a dog hair attractor and the white curtains (while nice and flowy) are not grounding the space really well. No big demo in here but a healthy dose of pattern should update the space.
Our office will still be working its way to the finish line with a few outstanding projects: a big, comfy wingback chair find and makeover, duvet and bedding for the guest bed, new office chair upholstery, neat artwork finds and quite a bit of organization.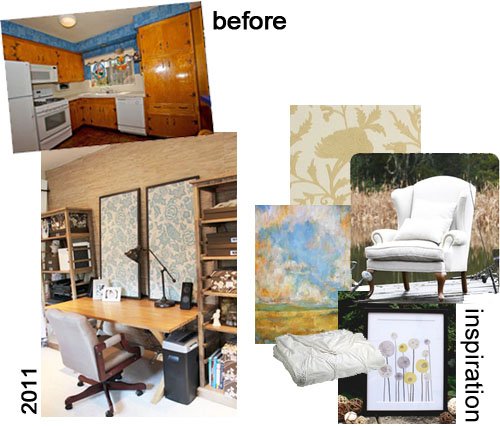 Yep, the before was the original kitchen! So the room has come quite a ways, but the finishing touches are always important.
Then there's the dining room. This room is in need of a new lighting solution, a larger rug, better curtains, new artwork and some serious patching after the bathroom is complete.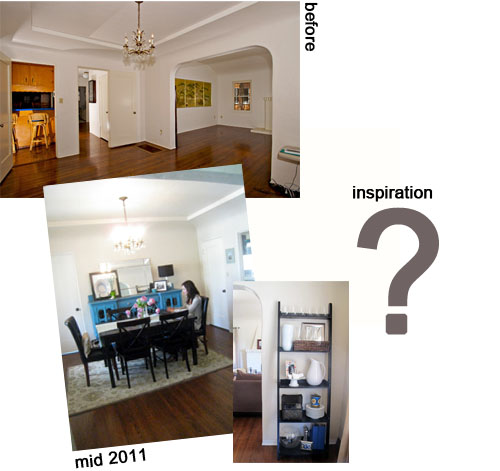 The 'before' pic is just before we moved in and taken from an angle in the far corner of the room. You can see into the hallway and what it looked like before the new bathroom-in-progress took over! The current state of the room is livable and homey but a design direction is needed. As for the inspiration? The ideaboard is wide open.
When we take it outdoors we'll completely overhaul our side yard with the goal of creating an outdoor dining spot to compliment the outdoor kitchen we built from scratch in 2010.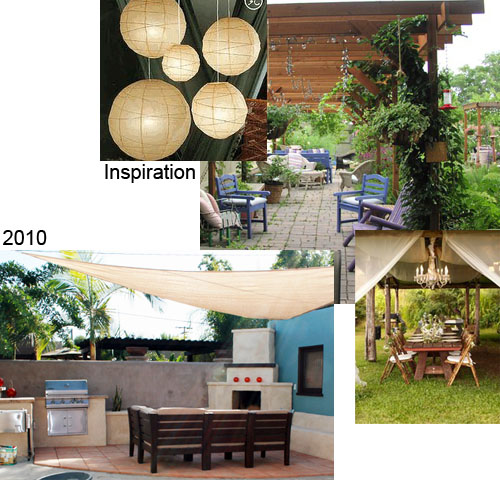 The plans are that the new side yard will get a deck, a big arbor (maybe some neat hanging lanterns or moravian lights?), a rustic farmhouse table and right now I'm picturing some cool mismatched chairs. We'll repaint the blue wall in the current outdoor fireplace area, add quite a bit of greenery (crawling figs, maybe a diy outdoor fountain) and a few kid-friendly details like a sand pit or grassy patch.
If we have time, we plan to work on the breakfast nook and bar area of the new kitchen. But I don't want to get too far ahead of ourselves… after all we have to do all of the above on a super tight budget and in full on do-it-yourself style.
That ought to get us off to a good start.
When it comes to our family lifestyle, we have a couple of goals in mind:
1. Time management. Because our schedules are so unusual (with Kev being a full time student and me working from home (which means I don't ever 'leave the office') we tend to let work pour into play and sometimes even vice versa. I think I'm more guilty of trying-to-get-too-much-done and I'm hoping to really incorporate a few simplifying and decluttering solutions.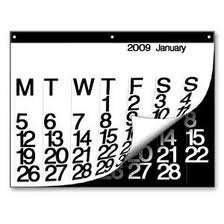 2. Be healthy. Kevin hopes to take our Going Green to a new level by trying to purchase as much as possible from local farmers via CSA and farmer's markets. His goal is to rarely visit the supermarket. I hope that means that I'm not the default for that plan…
3. Do something crazy. We know that we'll be expanding our family soon if we hope for Liv to have a sibling close in age (and it takes 9 months to cook those little additions) so we want to do something fun and crazy in 2012. It might involve some cool traveling on a budget.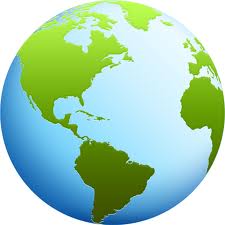 I don't expect this next year to slow down much with what we've decided to try and tackle in the ways of our home remodeling project, my job and the expansion of my creative marketing business (I work full time as a marketing director for a motion control company and I'm launching a couple of ventures on the side – it's going to be fun!), Kevin's 4th year of school and Liv's ever growing and developing ways, but that's the way we like it! but as you can see from our family goal, I hope to manage it and corral it all in with some serious organization overhaul.
I'm exhausted just thinking about it all…
What are your plans for the New Year?
Posted in
Construction
,
Family & Friends
,
Home
,
Our Bathroom
,
Renovating Adventures
|
12 Comments »
December 31, 2011
Wow this year has flown by! Before we usher in the new year (2012!?) here's a quick look back at some of my favorite projects from 2011.
Rooms tackled in the house…

Crafts and more diy fun …
And our biggest project to date!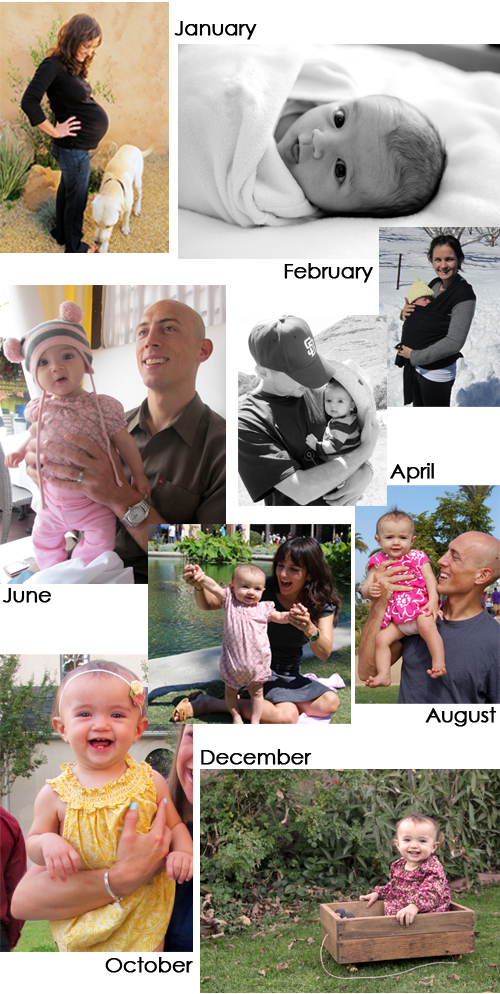 We wish you all a Happy New Years!! So long 2011 – you were good to us!
Tags:
New Year's Eve
Posted in
Holidays
,
Renovating Adventures
|
8 Comments »