April 4, 2011
We're turning three adjoining closets in the center of our house into a full bathroom – and we've broken ground! We're building this bathroom from scratch, so the first thing on the list was to bring those walls down.
Here's a look at the largest of the three closets. You can see the hallway that continues on to the living room on the right and Liv's bedroom to the left. Behind me is our current bathroom. We have a new hallway now next to the new kitchen, so this hallway will add additional square footage to the new bath.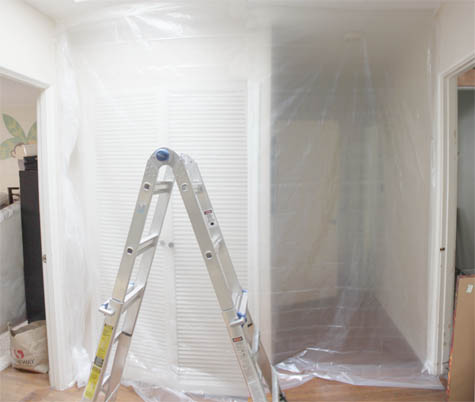 Remember when we received the best email ever? It's so exciting to be on the move.
After a few hours of work the walls to the closet were down. Here's a hazy peek through the plastic: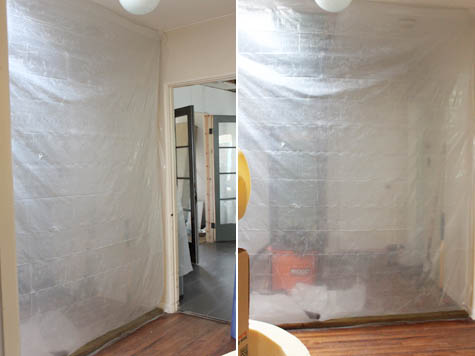 The worst part of tearing down three closets is losing three prime storage spaces. Our in-progress office is now filling up with brooms and mops and baskets of towels and coats… and everything else you keep in hallway closets

.
And a better look from the other side of the new bath (looking in from the dining room):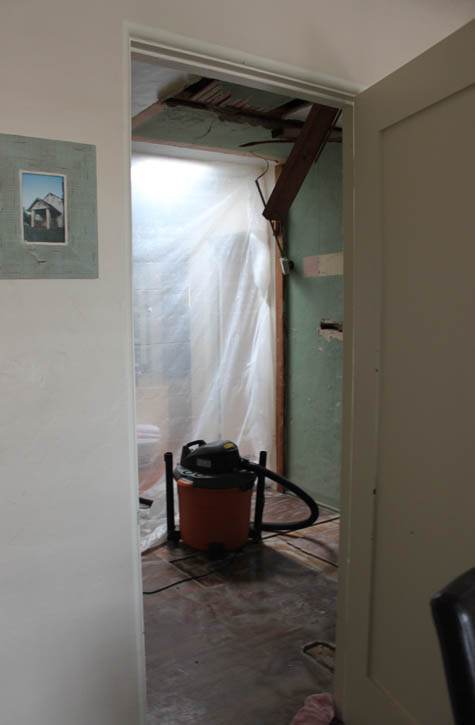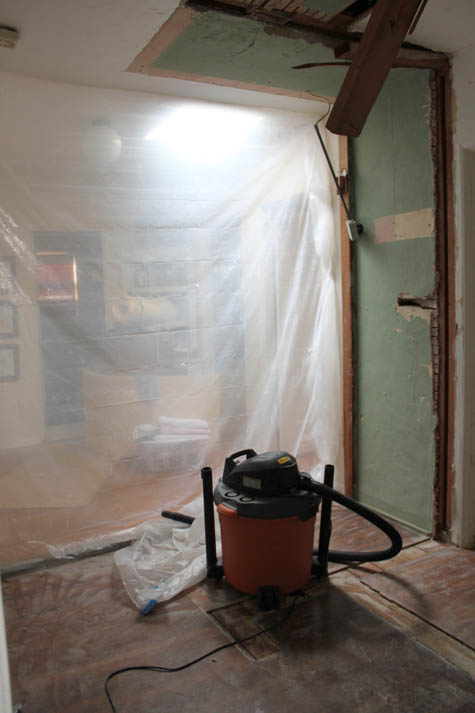 A few things to keep in mind when demoing:
*Dust is a drag – staple gun plastic sheets (painter's plastic) as make-shift walls when working, a spare 2×4 works excellently as a weight where the sheet meets the floor. Always wear protective eye/mouth gear and be extra cautious when working in an older home – asbestos, old/rotted wood and termites are real issues.
*Be sure to turn your breaker box off before you begin. If you're removing old electrical work, don't forget to properly cap off all wires.
*Salvage where you can – you might not need those old cabinets, doors and windows but Habitat for Humanity or a local charity might benefit from the donation.
*Have a truck bed empty and ready to fill. Moving your recently demoed pieces directly from the room into the bed saves time and your muscles from lifting and rearranging too many piles. As soon as the bed is full make your dump run. Trust me – you won't be motivated to do it the next day.
An in-the-moment shot: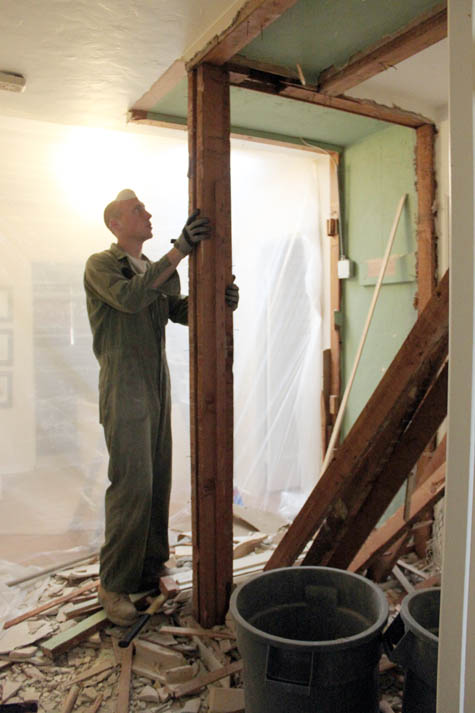 You can see the old closet outlines on the ceiling. I'd love to know what decade the walls were that mint green color, we've uncovered it in nearly every room!
Just to give a better idea of placement within the house, there's the office on the right, the kitchen is behind me and that hallway there leads to Liv's room and the master bedroom. You see what I mean how the broom closet has relocated to the office? Bummer.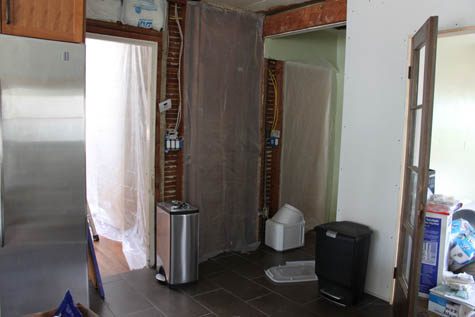 Be back soon with more updates!
Tags:
Construction
,
DIY
,
Our Bathroom
Posted in
Home
,
Project Lowe's
,
Renovating Adventures
|
1 Comment »
April 1, 2011
Check out this before & after, I'm so thrilled with the results!
Before: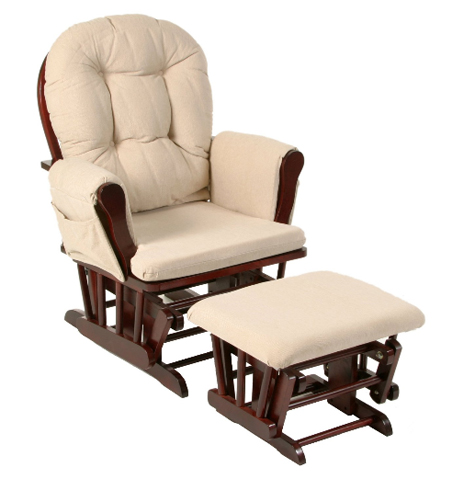 After: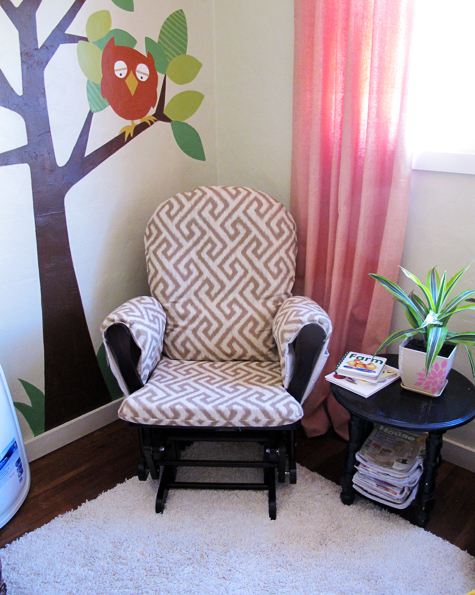 I'll be recovering the footstool shortly in the same Thibaut print which I so L-O-V-E. I'd cover every chair in my house with it if I could.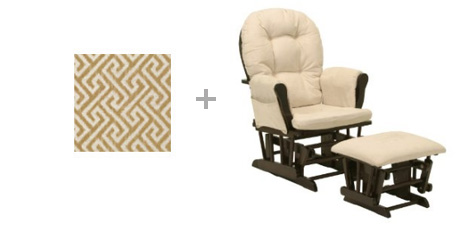 My dad purchased our Stork Craft Hoop Glider as a gift for the nursery back when we found out we were expecting. I loved the comfort of the glider but wanted to add a slip cover for two reasons, a. I wanted a washable option just in case spit up, etc stained the cushions and b. it was a great opportunity to add a modern pattern to the room.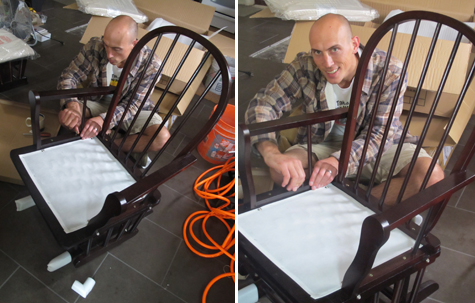 Instead of tackling the project myself (beginning sewing novice over here…) I took the cushions to my local alterations/dry cleaning company (a hidden gem for upholstery work) and had the chair cushions covered for just $15 per piece. I had an actual upholstery company quote me just over $300 to do the same job.
I'm just getting the cushions back now because of my ordering error on the fabric. Lesson learned: always take into account shrinkage due to washing fabric before you determine how much you need! The 54″ width of the fabric shrunk to 48″ and I ended up needing twice as much in length to account for the missing width.
But the glider is in full use in the nursery now and it looks great! I couldn't be happier!
More Project Nursery posts: sewing the curtains part 1, part 2, part3, nursery fabric board, curtain fabric selection, rocking horse find, new pendant light, vintage wall art addition, changing table makeover, nursery wall striping tutorial, painted animal project, the initial inspiration board and the before picture posts.
Tags:
Accessories
,
Before & After
,
Decorating
,
Fabric
,
Home
,
Nursery
,
Patterns & Color
,
Sewing
Posted in
Home
,
Liv's Nursery
,
Renovating Adventures
|
19 Comments »
March 23, 2011
Our new guest bath design was originally inspired by the latest Decor & Trends project videos that were recently released by the Lowe's PR team (not available on the website so be sure to check them out here). After hopping out to the Lowe's website to explore additional how-to ideas (listed under Home Ideas and Projects on the site), I was surprised at how many great diy suggestions, articles and videos that they share online as well.
One particular video from the Decor & Trends section happened to feature a bathroom that rang very similar to what we had envisioned for our new guest bath and it was quickly added to the 'inspiration folder' on my desktop. Here's a sneak peek: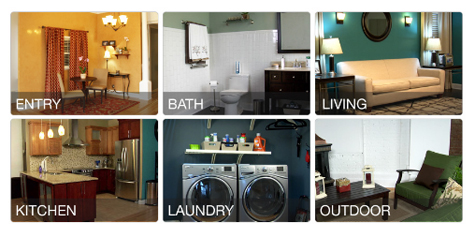 What we loved about the bathroom decor was the simple integration of old-world style melded with modern furnishings and details. The white subway tile (a favorite of ours as we used a glass version in our kitchen remodel) brought in an original, traditional element that will stand the test of time, while the vanity, eco-friendly touches and rich colors keep the bathroom modern.
Having several visual images to work off of is so helpful for Kevin and me when remodeling – it helps to keep us on track with the overall look we're trying to achieve (it's easy to get distracted when you start shopping and there are so many choices out there) and since we've already decided on a plan it keeps us from mid-aisle disagreements about the shade of this paint over that. When the decisions get tough, we can pull out our handy inspirational images to see what color grout might be best or how various tile & paint colors work together in a final room.
The diy sections and videos are totally worth a look!
Tags:
Blue
,
Construction
,
DIY
,
Home
,
Our Bathroom
Posted in
Construction
,
Home
,
Our Bathroom
,
Project Lowe's
,
Renovating Adventures
|
4 Comments »