January 1, 2011
Hope you had a wonderful New Year's Eve! I can't believe 2011 has found us and is already underway… it seemed like 2010 just flew by. We're up to our eyebrows in projects over here and working to wrap up bigger undertakings such as the new kitchen, office and nursery. Before we jump into those, a quick update on our bedroom.
Our master bedroom is not complete but I'm happy to say that we've pulled it together to a place that Kevin and I are both happy with and both enjoy.
Since we are on baby watch and expecting any day now, the room will have to stay as is until the storm that is about to be our crazy lives settles down… but we did manage to pull the new rug, new mirror and diy curtains together to create a space that is relaxing and comfortable – especially after a busy day!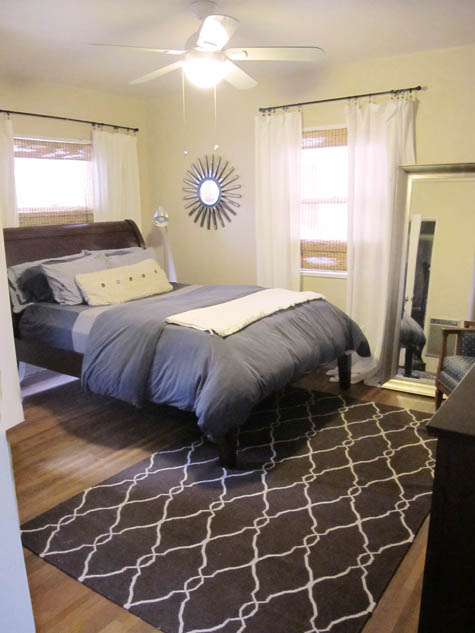 Up next for this little room includes a light fixture update, wall artwork and photos, a new nightstand (currently hunting down a small one to fit that narrow space!) and incorporating more color to add that 'pop'.
A run down of resources so far: the sunburst mirror is a Michael's find, the rug is from Overstock.com, the bed from Pottery Barn (but found by us on Craigslist), the duvet and sheets from Garnet Hill, the pillow cases by Calvin Klein, the knit throw pillow from West Elm on sale, the bamboo shades were found at Lowe's, the over-sized mirror from the clearance section at Lowe's, and the reading light and curtains are from Ikea.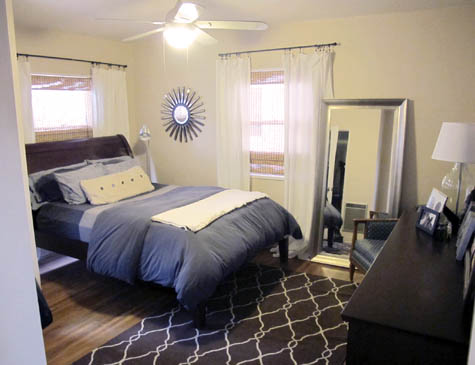 The opposite side of the room is waiting for its big reveal… but there are a few missing puzzle pieces here and there that should fill in shortly. We did salvage a very neat occasional chair for the corner next to the tall mirror that I'll share about as soon as it gets some more diy love (you can see it poking its boxy frame out above).
Here's the before we moved in shot: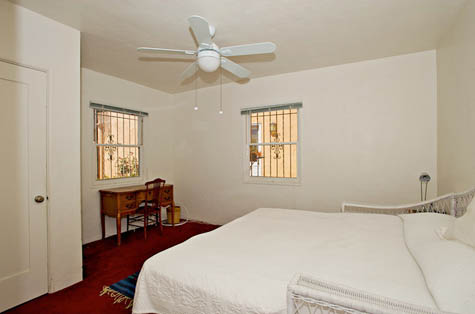 Gotta love that maroon carpet and the bars on the outside windows. We originally had the room in a configuration close to the above, with the bed against the right wall and the dresser under the window, but by switching it up we gained a large amount of space unexpectedly. Sometimes all it takes is moving around furniture to create a fresh, new feel.
We've made a minor modification for Baby S as well, he/she will be joining us at night and for naps in a new co-sleeper that slips just beside our bed.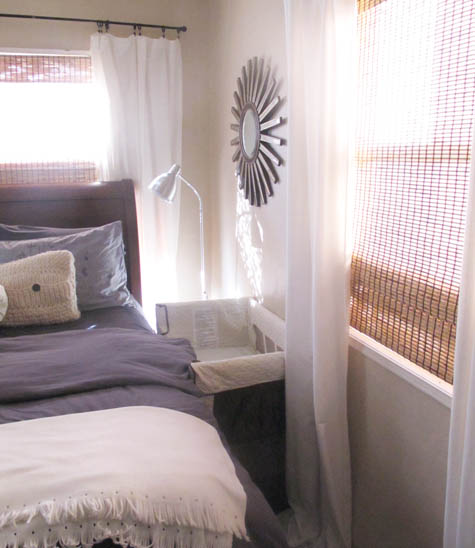 Makes it easy for momma and baby to 'co-sleep' without actually sharing bed space. I love the idea behind co-sleeping but know that I wouldn't be able to fall asleep worrying about the safety of little one in our bed (and I love the idea of not having to get up out of bed in the wee hours to retrieve a hungry baby from a bassinet or crib).
And about that missing side table… do let me know if you spot anything on the narrow side out there (it's tempting to say we can survive without night stands but the pile of books, etc at the head of the bed is getting pretty bad!). I'm thinking a skinnier pedestal table like this one might be neat?
Tags:
Bedroom
,
Before & After
,
Blue
,
Decorating
,
DIY
,
Home
Posted in
Home
,
Renovating Adventures
|
14 Comments »
December 29, 2010
We've been on the search for a changing table for some time. Since the rest of the furniture in the nursery is a bit more traditional and boxy in style, I thought it would be fun to find a piece with softer lines, such as this Jenny Lind changing table: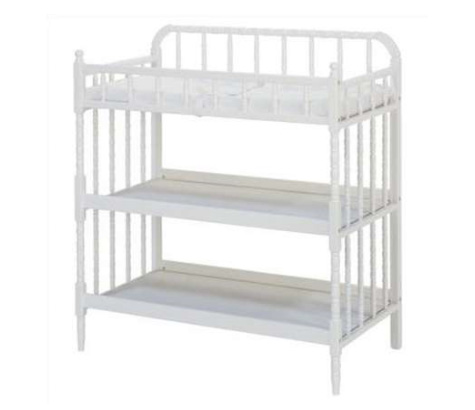 I searched and searched… and being the great price it already is on Amazon was near tempted to purchase, when it popped up on Craigslist one day for just $25!
And so home with us it came and very soon after received a coat of rust red paint. There aren't many spray paint color options out there so this little combo is actually Valspar's primer (which conveniently is a rust color) covered by Valspar's clear satin to provide that shine and function as the top coat of the primer.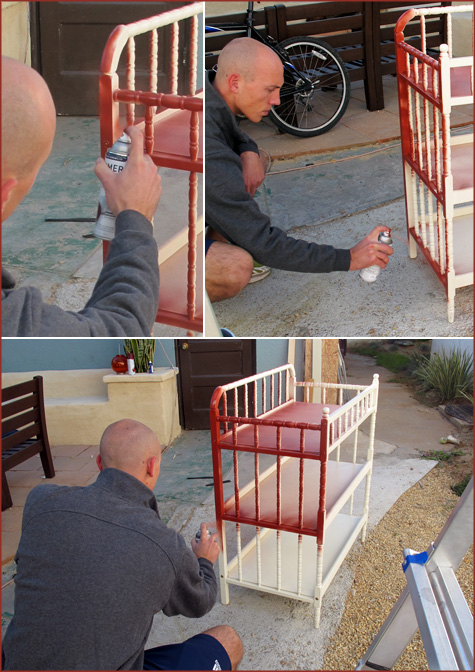 After testing in a few places we felt pretty confident that skipping the sanding process would not interfere with how the paint would adhere to the surface. I'd recommend a light buffing with rough sand paper to be sure the wood is paint-ready though. The changing table stayed painted and ready outside for a full weekend so the fumes had a chance to dissipate long before it was brought inside.
The original inspiration board for the room included browns and reds, but with the addition of the awesome animals on the walls (see more on that project here), the bright brick red we had originally envisioned transformed to a rusty, less saturated version of primary red to match.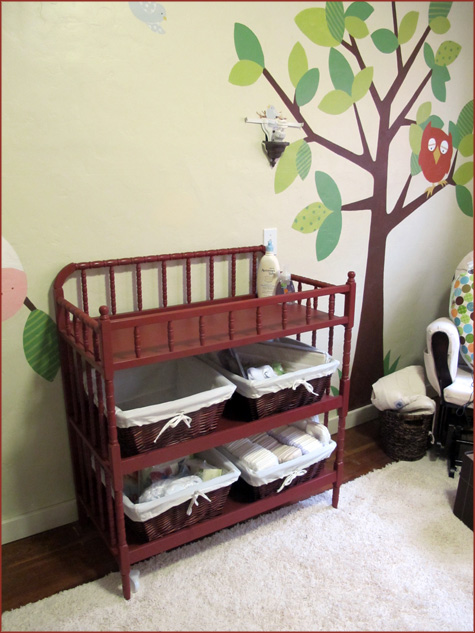 Now the table works into the palette and looks great with Mr. Owl! (That awkward sconce/light is about to undergo it's own diy project… it won't be staying like that).
Next up was finding baskets to sort all of the changing table goodies. Anyone who has hunted down the right sized baskets for a space can attest that it's pretty tricky! I checked out all of the usual hot spots: Target, Ikea, Bed Bath & Beyond, Marshalls, Kohls… you name it. Finally I took my measurements to the net and found this set on Amazon. I think it might be fun to make new patterned liners one day but for now the baskets do their job quite well: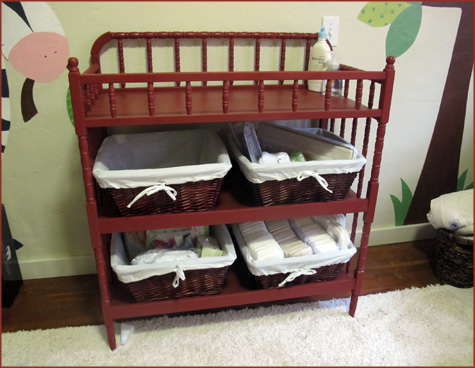 The room has received several more updates such as the new base board that Kevin installed and a white rug that helps to balance and soften the space. We're almost there!
Today's my official due date but babe is still very content and happily curled up in his/her space so we have even more time to build up the nursery in anticipation of the big arrival. We plan on keeping little one in a co-sleeper for the first couple of months in our bedroom anyhow, so even if he/she arrives tomorrow we are more than ready to go.
Tags:
Accessories
,
Before & After
,
Decorating
,
DIY
,
Home
,
Kid's Rooms
,
Nursery
,
Paint
,
Red
Posted in
Crafty Solutions
,
Home
,
Liv's Nursery
,
Renovating Adventures
|
12 Comments »
December 22, 2010
It would not be far fetched to suggest that the projects we've taken on this year have grown in equal proportion to the belly.
Quick recap: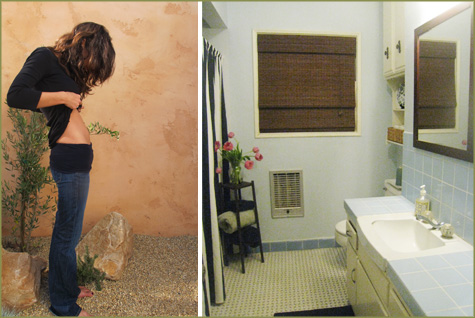 We started with a $100 minor bathroom upgrade during the first trimester. No major demo, just a quick touch-up with paint, fabric and fresh accessories.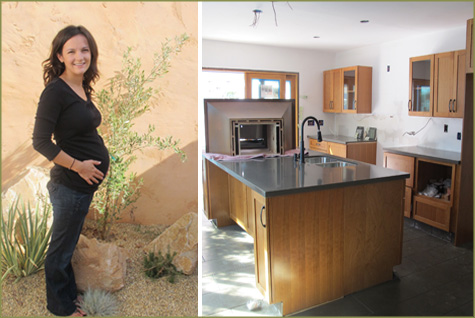 The second trimester brought with it a major overhaul on the den which became our new kitchen. It's nearly complete with just a few final finishing touches needed. The above picture is roughly midway through the renovation.
And then this past week…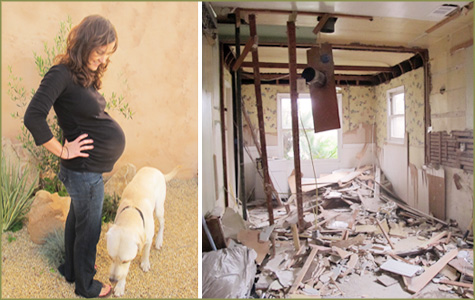 That would be the week before little Baby S is due, we tore into the old kitchen to create a third bedroom and home office.
Here's what the old kitchen looked like when we moved in: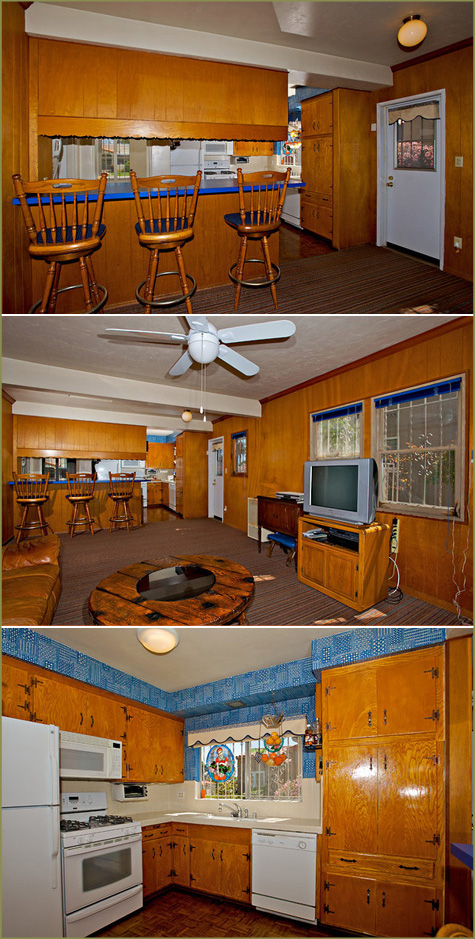 We made minor live-in updates, like covering up that blue formica and staining the cabinets a dark espresso. Here's a look at the space today from the same angle (from the sealed-off perspective and just inside):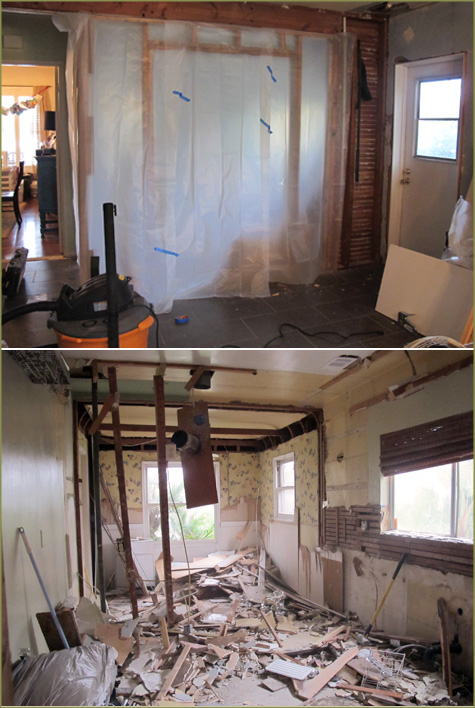 Woohoo! Thrilled that we're tackling this project before little one is here. Dust and debris would not be ideal in the air in just a couple of weeks and thankfully baby is obliging by staying put so far.
A little in-process action: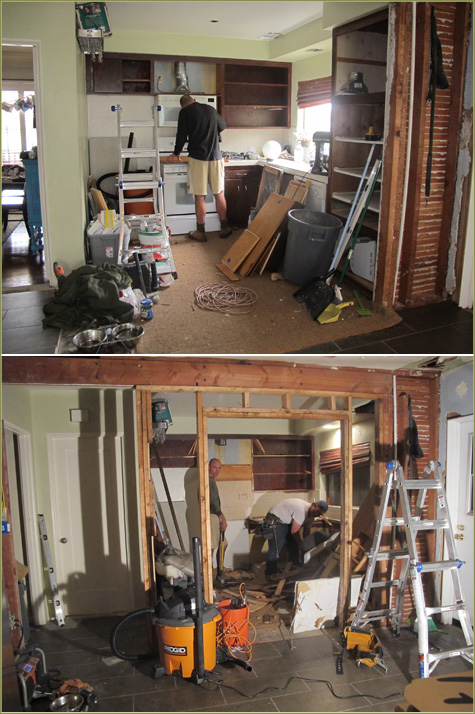 We knocked down the wall between the kitchen and the front bedroom as well, here's a look at that front room when we moved in: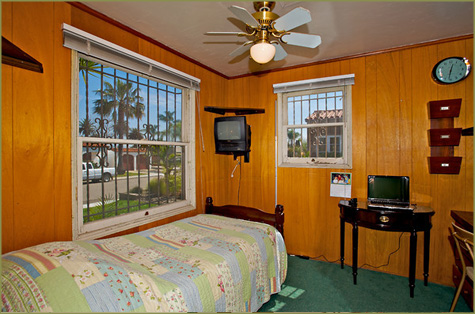 Boy did that family love wood paneling! We painted the space to create faux beadboard around the entire room and tore out the carpet, but today the little bedroom received a big overhaul: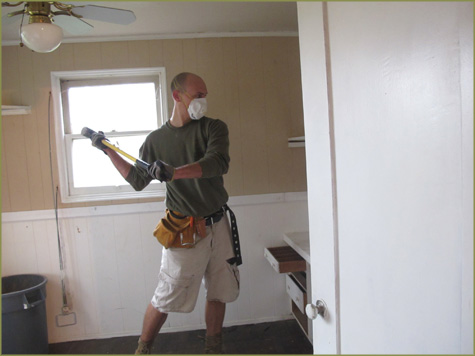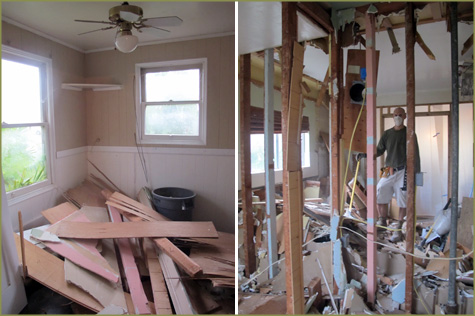 We pushed this part of the renovation off until Kevin wrapped up school just last week, knowing full well that if babe came at all early we'd have to hold off for months to turn these two useless spaces (nobody really needs two kitchens…) into a new office and guest room.
Big plans brewing for the new space! And don't worry – the nursery, master bedroom and kitchen are all receiving little updates (thank goodness for nesting overdrive right now) that I look forward to posting about soon.
Three days until Christmas!
Tags:
Bedroom
,
Before & After
,
Construction
,
DIY
,
Home
,
Office
Posted in
Home
,
Renovating Adventures
|
10 Comments »